Young Justice: Phantoms
The first two episodes were made available as a special surprise from DC FanDome, on October 16, 2021.
On April 6, 2022, DC Comics announced Young Justice: Targets , a six-issue series that takes place after the finale of season four.
1 Major plot lines
2.1.1 COVID-19 pandemic
2.2 Promotional posters
4.1 Producers
4.2 Directors
4.3 Writers
6 Audience viewership
7 Recurring motifs
9 References
Major plot lines [ ]
Miss Martian , Superboy and Beast Boy travel to Mars for M'gann and Conner's wedding. There, they find themselves amidst civil unrest stemming from racial prejudice and a murder mystery.
Ma'alefa'ak plans to purge every G'arrunn and B'lahdenn on Mars.
Three time travelers— Saturn Girl , Phantom Girl and Chameleon Boy —are tailing the trio to prevent some undisclosed tragedy. A mysterious figure tries to foil their efforts and seemingly kills his target .
Beast Boy's mounting tragedies and traumas start to take a toll on his mental health.
Tigress is sought out by Cassandra Savage and Onyx , two League of Shadows members who profess to have defected. Both accuse one another of being a mole trying to infiltrate the Team .
A new Lord of Chaos comes down to the Earthly plane and seeks to replace Klarion .
Family and friends grieve the death of Superboy.
An Atlantean prophecy is coming into fruition.
Rocket , Forager and Flash travel to Supertown for negotiations with the New Gods .
Nightwing , Tigress, Kaldur'ahm , Zatanna , and Rocket try to find Superboy.
History [ ]
Production [ ].
As of the time of the announcement, the season was already in production and the showrunners stated that it would focus on the core season one characters that fans already know and love. [3]
By October 2019, voice recording was already underway [4] and was completed by July 1, 2020. [5] The season was finalized on December 10, 2021 [6] making up over two years, four months and 20 days to complete all 26 episodes.
COVID-19 pandemic [ ]
On September 12, 2020, Weisman stated in a Q&A session during DC FanDome that their team has been working from home on season four. Pre-production was still underway despite the COVID-19 pandemic , but voice recording was being done individually by voice actors rather than in group sessions. [7] Greg Weisman described the process at length:
Promotional posters [ ]
As well as a poster for the season as a whole, posters were created for each of the six arcs within the season for use on HBO Max . Each poster was designed by Brandon Vietti , with finished line art by Christopher Jones and color by Jason Wright . [9]
Denise Boutte as Rocket
Lacey Chabert as Zatanna
Greg Cipes as Beast Boy
Stephanie Lemelin as Tigress
Jesse McCartney as Nightwing
Danica McKellar as Miss Martian
Phil Morris as Lor-Zod
Nolan North as Superboy
Khary Payton as Kaldur'ahm
Jason Spisak as Forager
Production crew [ ]
Producers [ ].
Brandon Vietti – Developer / Producer / Art Director / Writer
Greg Weisman – Developer / Producer / Story Editor / Writer
Directors [ ]
Christopher Berkeley – 9 episodes
Christina Sotta – 8 episodes
Vinton Heuck – 9 episodes
Writers [ ]
Aaron Sparrow – 1 episode
Akira "Mark" Fujita – 1 episode
Andrew Blanchette – 1 episode
Brandon Vietti – 4 episodes
Brian Hohlfeld – 1 episode
Charlotte Fullerton – 1 episode
Francisco Paredes – 1 episode
Giancarlo Volpe – 1 episode
Greg Weisman – 7 episodes
Jake Baumgart – 1 episode
Jim Krieg – 1 episode
Khary Payton – 1 episode
Kevin Grevioux – 1 episode
Mae Catt – 1 episode
Nicole Dubuc – 1 episode
Nida Chowdhry – 1 episode
Taneka Stotts – 1 episode
Episodes [ ]
Note: The first letter of each episode title forms the sentence "Invitation to Kneel Before Zod ".
Audience viewership [ ]
On June 7, 2022, two days before the release of the season four finale , Greg Weisman claimed that the "numbers this season on HBO Max are stunningly good" and on that day he "saw numbers that indicated [they had] more views this year than any other animated super-hero series on ANY streaming service" and "even beat out a couple of prestige live-action super-hero series". [10]
Recurring motifs [ ]
List of similarities with Greg Weisman's other works
End credits scene
Post-credits scene
Title schemes
See also [ ]
Answered questions from season four
Season two ( Young Justice: Invasion )
Season three ( Young Justice: Outsiders )
Young Justice: Targets
Young Justice: Legacy
References [ ]
Screen Rant
What to expect from young justice season 4, part 2.
When will Young Justice: Season 4 return in 2022 and what can fans expect to see after the stunning mid-season finale of the popular animated series?
Warning! SPOILERS for  Young Justice  season 4, episode 13, "Kaerb Ym Traeh!"
Many are wondering when  Young Justice season 4, part 2 will get an official release date and how the story will be resolved. The popular DC Comics animated series came to a close with  Young Justice 's exciting mid-season finale , which aired just in time to close out 2021. This has left fans anxiously awaiting the next chapter of the hit show and wondering when it will return in 2022.
First airing on Cartoon Network in 2010, Young Justice detailed the adventures of a group of teenage superheroes operating under the aegis of the Justice League. The show quickly developed a strong following among young adults and comic book fans. Unfortunately, while the series was a ratings hit for Cartoon Network, it was not popular with its intended audience of young children who bought action figures. The series was cancelled after two seasons, but a massive fan effort, comparable to the successful #ReleaseTheSnyderCut campaign, persuaded Warner Bros. to bring the series back for a third season on the DC Universe streaming service. This, in turn, led to Young Justice season 4 being moved to HBO Max.
Related: Every DC TV Show Releasing In 2022
The first half of Young Justice season 4 was broken up into three story arcs, with the first detailing the adventures of Miss Martian and Superboy as they traveled to Mars to undergo a traditional Martian marriage ceremony. The second arc focused on Tigress as she puzzled out an apparent schism within the League of Shadows and reconciled with her older sister, Cheshire. The third and final arc focused upon the magician Zatanna and her proteges, as they averted a battle between two Lords of Chaos which threatened to destroy the Earth, as Young Justice 's Vandal Savage prepared to evacuate the planet. While the world was ultimately saved, the cosmic balance was left in a precarious place, with many mysteries established for the second half of Young Justice season 4 to explore.
How Many Episodes Young Justice Season 4 Has Left
The second half of Young Justice season 4 will have 13 episodes. This will balance out the 13 episodes from Young Justice season 4, part 1, making 26 episodes total.  Young Justice showrunner Greg Weisman confirmed this in a post to his personal blog in October 2021.
Young Justice Season 4, Part 2 Release Date: When Will It Return?
An official release date for Young Justice season 4, part 2 has yet to be announced. However, the series is expected to return sometime in the Spring of 2022. Young Justice 's showrunner Greg Weisman confirmed that 21 of the season's 26 episodes were complete as of the show's premiere in October 2021 and further added that he expected the post-production on the final five episodes to be completed sometime before the end of the year.
Young Justice Season 4 International Release Updates
The first two seasons of Young Justice developed a global following and the fan effort which brought about the show's return was truly an international effort. Sadly, Warner Bros. has been slow in delivering the series to areas outside the United States, apart from licensing Young Justice season 3 to Netflix in some countries. At this time, there have been no official announcements regarding when  Young Justice season 4 might see an international release outside of the United States, leaving those fans who wish to support the series without any way of watching the show legally.
Related: Young Justice Connects Superman To DC's First Magic Hero
Young Justice Season 4, Part 2 Story Predictions
The biggest question heading into Young Justice season 4 part 2 concerns the death of Superboy. Conner Kent was believed to have sacrificed his life to prevent the detonation of a viral bomb that could have destroyed the Green and Red Martian races, though some fans theorized that his death had been faked by the time-traveling Legion of Superheroes. This idea was seemingly disproved by the Young Justice season 4 mid-season finale, where Zatanna had a vision in which she specifically claimed to have seen  "Conner's spirit... his ghost... " and felt he wasn't at rest. The second half of Young Justice: Phantoms will almost certainly also involve the on-going subplots regarding Beast Boy's opiate abuse and Mary Bromfield's corruption at the hands of Granny Goodness.
More: Mary Marvel's Most Hated Story May Happen In Young Justice
Explore EW.com
Profile menu.
Young Justice showrunners tease the climactic second half of Phantoms
Following its first season, the DC animated superhero series Young Justice has sported a subtitle for each subsequent outing. So season 2 was Young Justice: Invasion , and centered around the attempted takeover of the Earth by the alien civilization known as the Reach; season 3 was Young Justice: Outsiders , and chronicled the formation of the titular superhero team. Season 4 is Young Justice: Phantoms , but only reached the halfway point by the end of 2021. The meaning of the Phantoms subtitle remains somewhat mysterious, though co-creator Greg Weisman promises it will be "ridiculously clear by the end of the season." 
To get a taste of what's in store, watch the new trailer for the second half of Young Justice: Phantoms exclusively above. 
"Our show has often been about how events and actions from a character's past can follow them," co-creator Brandon Vietti says. "Actions have consequences in our series, they are like phantoms. This has been even more impactful in our fourth season, and will be made more clear in the second half."
When Phantoms begins, 10 years have passed since the very first episode of Young Justice — both in the real world and in the show's universe. The cast of DC superheroes has grown exponentially since then, so Vietti and Wiesman wanted to spend their fourth season checking back in with the original core team. 
"We wanted to give attention to where our surviving season 1 team members are in their lives," Weisman says. "From their point of view, it's been 10 years since they went to Cadmus and rescued Superboy. Where are they now? Unlike a lot of superhero shows where characters are eternally youthful, our characters age and grow and evolve. It seemed right at the 10-year mark, from their perspective, to check in with them in some detail and see where they were." 
The first 13 episodes of Phantoms were split into three arcs, each focusing on some of those founders: First Superboy (Nolan North) and Miss Martian (Danica McKellar), then Artemis (Stephanie Lemelin), then Zatanna (Lacey Chabert). From the looks of the new trailer, the second half will spend some time with Rocket (Denise Boutte). 
As part of the Milestone superhero universe , Rocket is the sidekick to the hero Icon. Her return to Young Justice coincides with DC Comics' greater revival of Milestone. Most of the original '90s comics are back in print now, and there are new comics featuring Rocket, Icon , Static, and their allies. 
"I've been a huge fan of Milestone stuff in general and Rocket specifically since those comics first came out," Weisman says. "I actually tried to sell a Rocket animated series with Denys Cowan back in the '90s, but it didn't happen. We feel lucky we were able to include her and then a little bit of Icon, Static, and Hardware in our show. I think the show would be lesser without them. I've seen that they're both reprinting the old comics and making new ones, I'm thrilled. If we had anything to do with that, great! But I'm not sure we should be taking credit. They were always terrific characters, they didn't need us."
Vietti adds, "I think we have a pretty interesting and unique arc with Rocket. It was awesome to spend time with her and develop a new story with her." 
The second half of Young Justice: Phantoms premieres this spring on HBO Max. Watch the trailer above. 
Sign up for Entertainment Weekly's free daily newsletter to get breaking TV news, exclusive first looks, recaps, reviews, interviews with your favorite stars, and more.
Related content:
Icon and Rocket writers are excited to bring Milestone's Black superheroes into the 21st century
Kaldur'ahm becomes Aquaman in Young Justice: Outsiders first look
DC Universe debuts action-packed  Young Justice: Outsiders  trailer
Share & More
Young Justice Season 4 Part 2 Review: A Focused, Emotional Premiere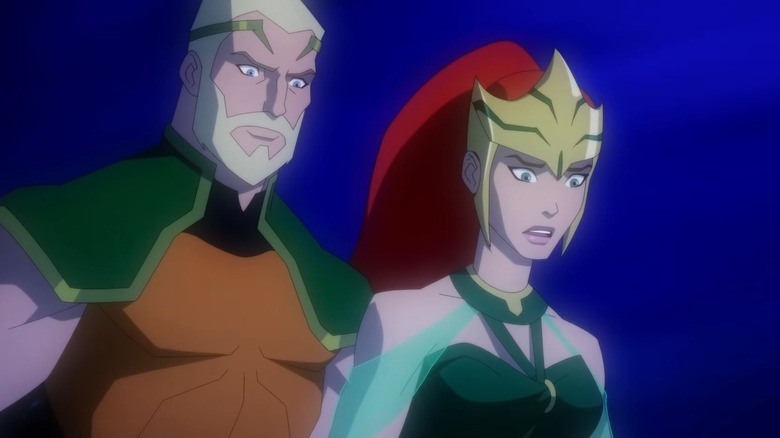 "Young Justice" returns after an extended break with a new set of episodes that continue to show how much the characters have evolved in the ten years since the series premiered, and how much the series stands apart from other superhero shows .
The three-episode premiere kickstarts a new story arc that is completely separate from what came before, exploring a previously unseen side of the DC universe in exciting ways, while still catching up on old friends and lingering plot threads. If you've never watched the show before, this is a horrible place to start because you'll be lost, but it's never a bad time to start watching this delightful superhero cartoon.
Where the first half of the season focused on original team members Miss Martian, Artemis, and then Zatanna, the new episodes focus on the new Aquaman, Kaldur'ahm. Turns out, trying to unite all the oceans is kind of difficult! Especially when the representative of one of the city-states is King Nanaue Sha'ark (who was apparently classmates with Kaldur!) and he just wants to fight everyone. While trouble is brewing and Ocean Master plans his evil return, the appearance of a stranger calling himself Arion (like the first king of Atlantis) complicates things for the former and the present Aquaman.
Everyone needs a mental health break
While all this is happening, Kaldur is still grieving the loss of Superboy, the latest in a series of losses for The Team, and the Justice League that Kaldur refuses to take the time to properly process. From the very first episode of the show, Kaldur has been the rock that holds the team together, but everyone has their breaking point and he's nearing his. Mental health is an aspect of superhero stories we're just now starting to see becoming prominent, but it is still rare to see it portrayed in cartoons, especially with this level of nuance and care. Not just in Kaldur's own denial of his own struggles, but in how Miss Martian or Beast Boy or even Robin are dealing with the years of seeing friends and loved ones die in battle.
Speaking of Beast Boy, we continue to see him push everyone away while refusing to seek help, with a large chunk of the third episode dedicated to confronting his PTSD. Though he insists this is just how he deals with grief and it's worked every time a new hero died, it is clear something is different this time. Miss Martian even throws an intervention with the help of other heroes, and we get to catch up with a grown-up Static Shock and Blue Beetle, while we are also properly introduced to Beast Boy's former teammate Robot Man.
Khary Payton gives a fantastic performance as the Doom Patrol hero, one that is familiar enough to fans of the manic, profanity-ridden take by Brendan Fraser in the live-action "Doom Patrol," while different enough to feel like it belongs in an alternate universe. We learn that this version of Cliff is also dealing with his own trauma after he became the only surviving member of the Patrol following a suicide mission. It's a short scene, one that is not even technically focused on Robot Man, but it serves to both expand the world of the show and its roster of heroes, but also paint a picture of the dangerous lives these heroes live.
Checking in with old friends
Like the first half of the season, the three-episode premiere follows a more focused story involving just a handful of characters. This gives a better grasp of what is going on, and even makes the jumping around to check in on other storylines feel more organic since we spend less time on those. It ultimately feels more like a comic book tie-in that adds to the experience rather than a forced juggling of multiple important missions at the same time.
In the second episode, we check in with Halo as they explore their past self's Islamic background and ponder whether religion is something they should also consider themselves. It is astounding and refreshing to see an animated show on a major streaming platform talk openly and with nuance about religion, not trying to explain it or interrogate it, but simply examine the different things it can mean to different people.
That same episode ends with Halo reaffirming their non-binary identity and talking about choosing their preferred pronouns. "Young Justice" has always been a show in tune with teenage issues and experiences, and now that it is free from any possible censorship on Cartoon Network (even if that network did give us the perfect and queer "Steven Universe"), the show is free to become the best example of diversity and representation in superhero stories yet. This extends beyond Halo or even Kaldur himself, but to La'gaan, who is brought back into the spotlight in this story arc and shown to be in a loving polyamorous relationship.
The premiere also catches up to Superboy, who is alive! But also stuck in some kind of purgatory. It is unclear where this story is going, but it is clear it is leading to something big, as the Legion of Super-Heroes continues to make appearances and tease some big future event that they're making sure happens properly. We'll have to wait and see, but for now, it is good to have "Young Justice" back on our screens.
Comic Book Reviews
Manga Reviews
Movies and TV
Legion Database
About Us/Contact Us
Comic Book Revolution
Established 2006
Young Justice: Phantoms Part 2 Premiere Review
The first half of Young Justice: Phantoms season was very uneven. There were many great plot and character developments that got viewers invested. But choices to reduce the cast members that were given a focus each episode along with questionable animation choices kept the first half of Young Justice's fourth season from being a home run. Now with that said, Young Justice: Phantoms returned for its second half of the season with not one but three new episodes premiering on HBOMax. How did these first three episodes turn out? Let's take a look.
Starting out the first new episode of Young Justice: Phantoms, "Nautical Twilight," with a flashback to Kaldur and Dick Grayson talking not long after the funeral and ceremonies honoring Conner Kent was a strong way to start for multiple reasons. From an animation standpoint we see that this opening is fully animated rather than using the slideshow animation that was so prevalent in the first half of the season. Especially with how we do see these scenes framed to happen around the time Artemis and her team are on their mission you understand the animation is going to be handled differently. Which is exactly what we see happen for all three episodes "Natural Twilight," "Ebb Tide," and "Emergency Dive."
Please enable JavaScript
The other major statement made is how the mental health of our heroes will continue to be a major spotlight. Now having become adults who are seen at the same level as their mentors Kaldur and Dick Grayson both understand that they don't have time to come to terms with Conner. For Kaldur, specifically, we dive more into how he has been going non-stop even when Tula and Wally died. Dick recognizing he worked with Kaldur for his undercover mission after Tula died and left the Team for a period for Kaldur to lead after Wally's death. Dick trying to get Kaldur to take time for himself shows the growth Nightwing has gone through while also showing how Kaldur continues to feel he needs to carry the weight of the world, especially now that he is Aquaman and a leader within the Justice League.
This framing was well used for this story arc centered around Kaldur's latest Aquaman mission working by Arthur Curry's side during a major political event in Atlantis. The show staff were able to used Kaldur's current state to position him in a way where while he is certainly the star of this new arc he isn't dominating the story. Instead Kaldur is able to play support for all of his friends and family in Atlantis that we never got more than one episode in the previous three seasons. This expansion of Kaldur's character makes him a much more compelling character as the weight he carries as Aquaman is given even better framing. Kaldur's relationship with his adopted parents in particular shows how he does fully see them as his parents and won't be goaded into his blood heritage to define him. It all works to strengthen his current position as Aquaman to be more than just being a superhero.
Making Kaldur's arc in this three episodes even stronger was how much Young Justice: Phantoms' staff focus in on the current state of Atlantis and its history. As someone that only has a bit of knowledge about Aquaman's character it was very cool to see so many different characters from this part of the DC Universe not only get screen time but actual dialogue. When Young Justice its at its best it makes a compelling argument for having the viewer seek out more material to learn about characters and worlds it is exploring in each episode. That is exactly what the first three episodes, "Natural Twilight," "Ebb Tide," and "Emergency Dive," do for Atlantis as I want to learn more about the politics of Atlantis and the deep seas.
Connecting the major plot surrounding the return of Ocean Master to the overarching plot with The Light was well done. There were so many intriguing elements to what Ocean Master was doing and how his capture led to Arthur Curry discovering that his brother was cloned all super fascinating. The Light has always been about having multi-layered plots that are extremely complex. That appears to be the case here, which is further driven home with the mystery around the first ruler of Atlantis.
As well done as all the developments in Atlantis are what took "Natural Twilight," "Ebb Tide," and "Emergency Dive" all to become the strongest episodes of Young Justice: Phantoms was the other plotlines in these three episodes. A major complaint with the first half of the season was that we only got one storyline and cast of characters that were focused on. These three episodes immediately fix that as we see each episode deal with a different storyline that stands on their own rather than be reliant on what is going on in Atlantis. Even if it may not be the case, going this route with the storytelling made the amount of characters being showcased feel like it was double that of any episode in the first half of the season.
The Beast Boy plotline in particular was all appropriately handled. A major complaint with Beast Boy's arc is how everyone seemed to be avoiding him rather than help him through the clear depression he was going through. Bringing Miss Martian immediately into Beast Boy story to be the big sister that Beast Boy needed was all well-handled. Even though she is still grieving Conner's death Miss Martian showed incredible strength when she fully recognized that her brother, Beast Boy, was not doing well.
I have to commend the show's staff for the way they handled the way Miss Martian tried to help Beast Boy. Every line of dialogue and action Miss Martian takes is from a place of caring but never trying to push things so Beast Boy doesn't get further away from everyone. She was careful about her words so Beast Boy wouldn't just walk away from the intervention she put together. Even if it wasn't successful because of how Beast Boy threw everything back at everyone's face an important part of this story is that he didn't walk out until he heard everyone talk.
The big stand out in this entire intervention scene was Robotman. The voice acting on Young Justice has always been great but Khary Payton really knocked it out of the park with his performance. You could really feel how emotional Robotman was with his talk about what happened to the Doom Patrol and how Beast Boy helped him keep going even when he wanted to just die. It was a powerful character moment that we don't need to see what happened because everything Robotman said gives you a clear picture of that period in the history of Young Justice's DC Universe.
The overarching plotline that was introduced at the end of "Kaerb Ym Traeh!" with Conner Kent seemingly in purgatory was interestingly handled. With Conner's plot we see that in whatever purgatory-like dimension he is in Phantom Girl is also there with him. Which all ties back into the fact that the Legion of Super-Heroes' Saturn Girl and Chameleon Boy are in the present. We learn in these episodes that the reason Saturn Girl, Chameleon Boy, and Phantom Girl were in the present was to protect Superboy so he could play the key role he is meant to play 10 years into the future. They don't go into details with Superman about what their entire mission is but the details we get emphasized how important Conner's sub-plot will be for the rest of the season.
The story I was surprised to get was more character development for Halo. Halo's character arc had many ups and downs in the Outsiders season. Because of that Halo's wasn't a character I was fully invested in the previous season. "Nautical Twilight" changed all that as having Halo dive into her heritage opened the character up to much greater development than she got in Outsiders. Throughout her story Halo went from being a plot device to a fully fleshed out person with her own story to be told in and out of her superhero life.
Overall, Young Justice: Phantoms returned with the three best episodes of the entire season thus far. Every single character and plotline that was developed grabbed your attention as the viewer. Once you are done with the third episode to the start of the second half of Young Justice: Phantoms you want more from every story that you saw developed. Its an excellent way to start the return of Young Justice: Phantoms.
Episode Rating: 9 Night Girls out of 10
Share this:
Click to share on Twitter (Opens in new window)
Click to share on Facebook (Opens in new window)
Click to share on Tumblr (Opens in new window)
Click to share on Pinterest (Opens in new window)
Click to share on Pocket (Opens in new window)
Click to email a link to a friend (Opens in new window)
Click to print (Opens in new window)
You may also like
Tempest heel turn in titans #3 sets the stage for aquaman future, nightwing #106 review – "the crew of the crossed", catwoman #57 review – "gotham war" part 3, wonder woman #1 review – "outlaw", weekly comic book reviews for 9/13/23.