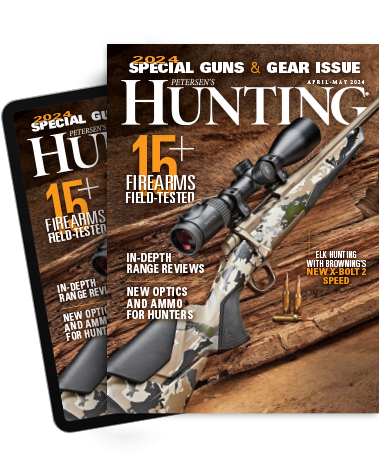 Get The Magazine
Subscribe & Save.
Digital Now Included!
TV Host Spook Spann Charged with Hunting Violations
Another celebrity hunter is making headlines, but this time it isn't for the right kind of reason.
William "Spook" Spann, celeb TV host of Spook Nation on the Pursuit Channel, was charged in Kansas City on Thursday with two counts of transporting wildlife to Tennessee that had been knowingly and illegally killed. Spann, whose tagline on the show is "God. Family. Country," faces up to five years in prison and $250,000 in fines, according to the Wyandotte Daily News.
Both offenses, which are being prosecuted by Assistant U.S. Attorney Chris Oakley in conjunction with investigations by the U.S. Fish and Wildlife Service and the wildlife divisions of Tennessee and Kansas, allege that Spann killed a buck in 2007 on someone else's property, falsified that fact to the landowner, and then transported the buck back to his home state of Tennessee.
Spann is only the latest celebrity hunter to find his way to a headline, as his story broke the same week as Melissa Bachman's, the female huntress who was cut from National Geographic TV's upcoming programming because of a hostile anti-hunter takeover on Facebook and a petition filed on Change.org.
GET THE NEWSLETTER Join the List and Never Miss a Thing.
Recommended articles.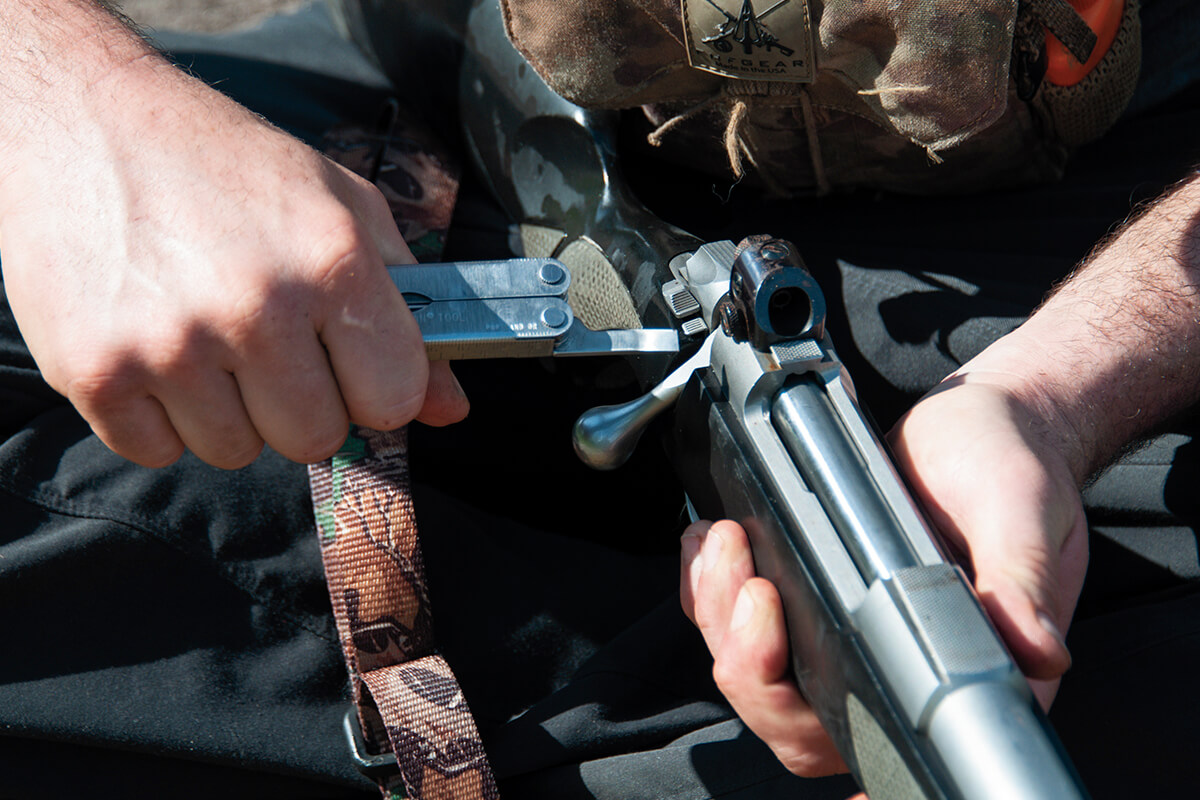 What To Do When Your Rifle Breaks While On a Hunt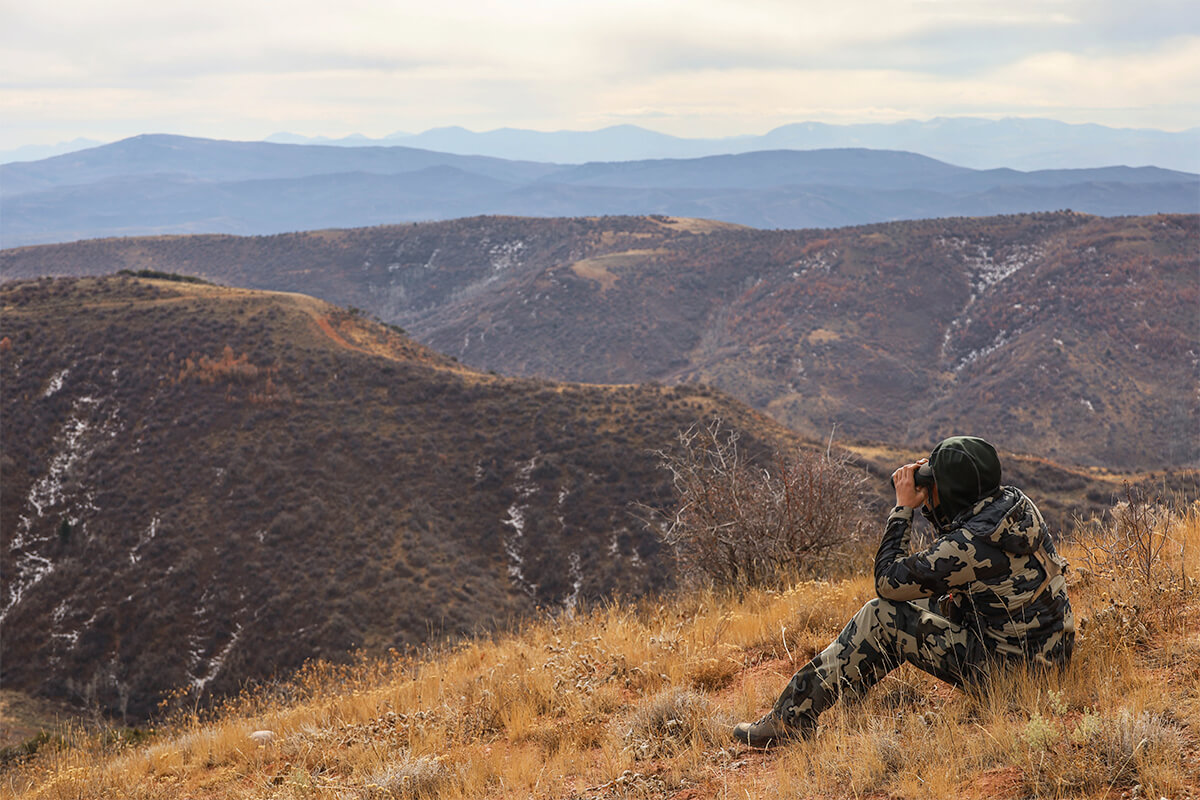 Five Toughest Hunts in North America
Brad Fitzpatrick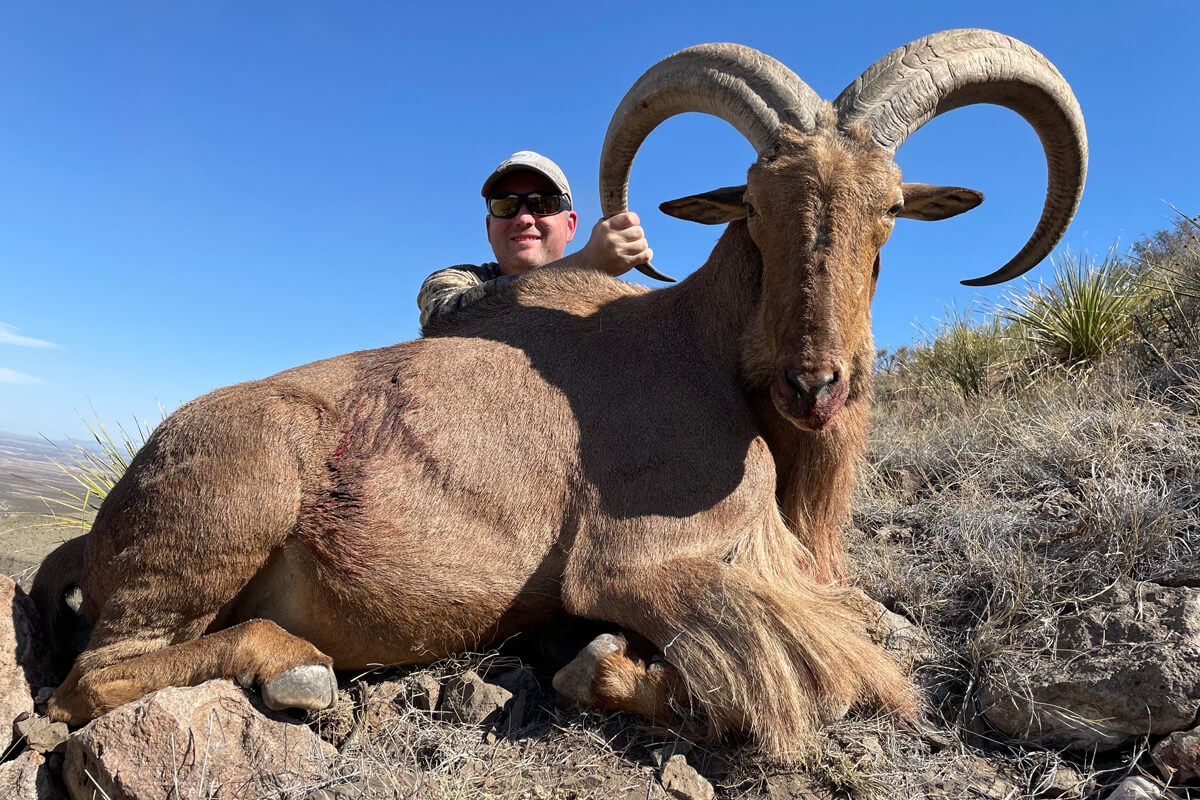 Hunting Trophy Aoudad in Wild West Texas
Lynn Burkhead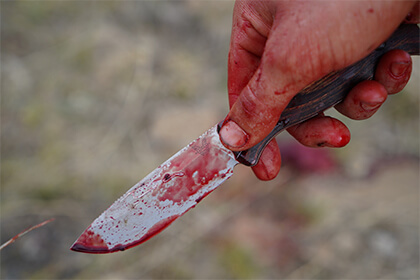 How To Sharpen a Knife
Jonathan Hanson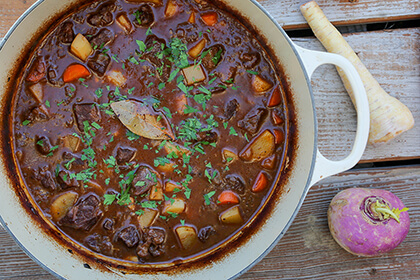 Elk Venison and Root Vegetable Stew Recipe
Jenny Nguyen-Wheatley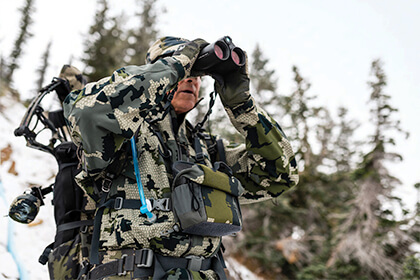 5 Best Bino Harnesses for Hunting
Joe Ferronato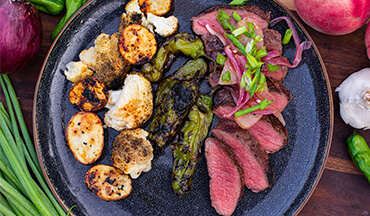 Venison Backstrap with Sweet & Spicy Peach Relish Recipe
Jack Hennessy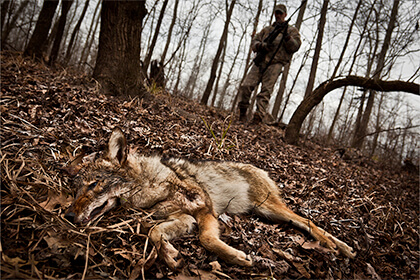 Best Coyote Cartridge: .223 Remington vs .22-250 Remington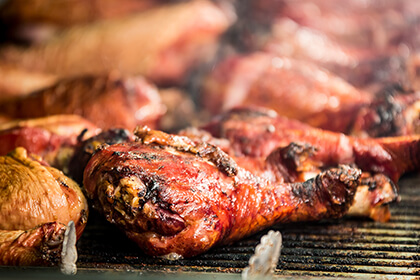 Top 5 Wild Turkey Recipes
Petersen's Hunting Staff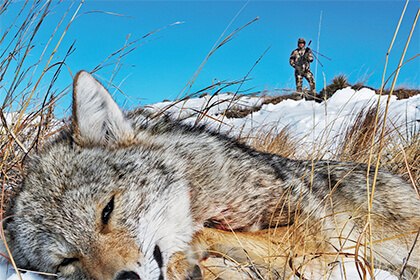 The Best Coyote Hunting Cartridges
Joseph von Benedikt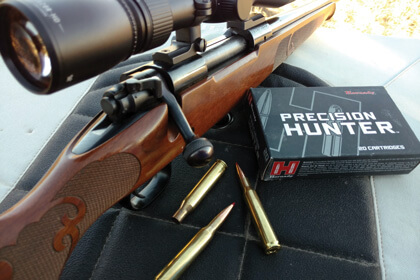 Will There Be Hunting Ammo This Season?
Joe Arterburn
Recent Videos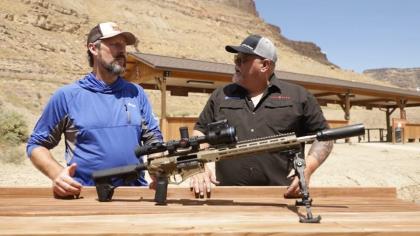 The Truth About Thermal Optics
Kevin Reese of Pulsar educates us on the difference between thermal optics, night vision and all the terms surrounding the growing popularity of hunting and shooting in no- and low-light conditions. Pulsar leads the category of thermal optics, and provides a wide-array of optical options for hunters.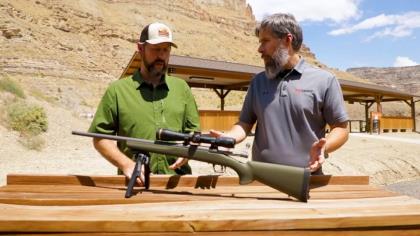 Introducing the Savage 110 Trail Hunter
David is joined by R.J. Contorno of Savage Arms, who highlights the newest addition to the popular 110 line of bolt-action rifles. The Trail Hunter is fitted into an overmolded Hogue stock that sports classic lines and sure-grip feel throughout. Like all 110 actions, this Trail Hunter features Savage's proven Accutrigger, which just celebrated its 20-year anniversary.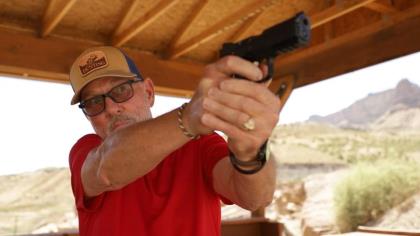 CZ Shadow 2: Competition Ready Right Out of the Box!
CZ's marketing director and I discuss the merits of CZ's top-of-the-line competition pistol, the Shadow 2. Building upon the iconic, full-size CZ 75 9mm pistol, the Shadow 2 is factory-fitted with all the bells and whistles that today's competitive shooters expect. Why pay more when the Shadow 2 offers-up speed, accuracy and dependability at a very attractive price point.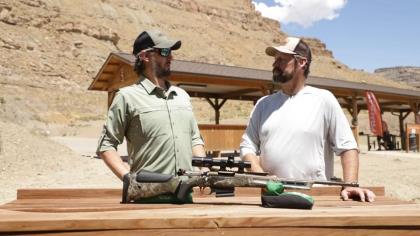 The Ultimate Truck and Trail Gun
Hunters and shooters looking for a single-gun solution for hunting, predator control and plinking should consider the Franchi Momentum All-Terrain Elite. With a short barrel, sporterized design and AR-style drop magazine, the All-Terrain Elite blends all the best attributes of scout and ranch rifles into one reliable platform.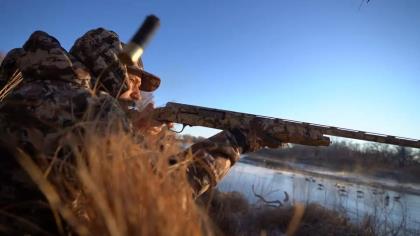 The Golden Triangle
A fertile piece of ground wedged between the North and South Platte rivers just before they converge is a mecca for waterfowls. Canada geese and ducks galore converge here late in the year as they make their way south for the winter. Join David Draper, Petersen's Hunting editor in chief, and friends as they look to intercept these flocks on sub-zero hunt that puts Browning's new Wicked Wing Auric gear to the test.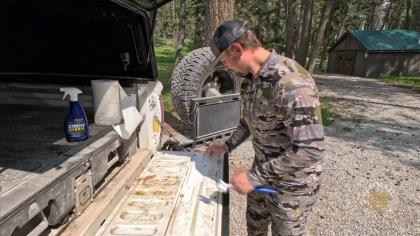 Cleaning Up for Ultimate Season Success
Living in Montana is a dream for western hunters like Petersen's Hunting Magazine's Joe Ferronato. While there are plenty of whitetails, mule deer, pronghorn antelope, and elk to chase each fall, success comes with a price as Ferronato's truck gets coated with dust, mud, fast food wrappers, and even blood and hair after a big game tag is successfully punched. To keep the truck looking, smelling, and performing like the important tool that it is, Ferronato relies on Star brite's Xtreme Clean all-surface cleaner and degreaser to keep the truck ready for a trek into the mountains and woods or an evening out on the town.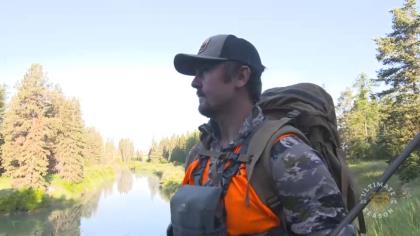 Packing Protein for Western Hunting Trails
When hunting season rolls around in the western United States, Petersen's Hunting Magazine's Joe Ferronato isn't going to stay in the office if he can help it. Instead, he's out and about, roaming around on foot, trying to fill an empty tag. As he covers the rugged miles, he's on his feet and his pack is filled with necessities like first aid supplies, a bottle filled with purified water, and snacks like Old Trapper's Peppered and Hot & Spicy Beef Jerky. With a supply of nutritious protein, Ferronato is prepared for whatever he faces on a short day trip or an extended trek into the high country.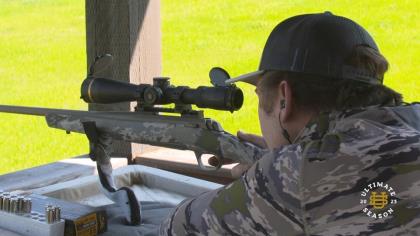 Browning X-Bolt Speed: Lightweight & Accurate for Backcountry Hunting
Petersen's Hunting's Joe Ferronato goes in-depth about the X-Bolt Speed bolt-action, a super-accurate and lightweight rifle that withstands the rigors of Western backcountry hunting. Other features: fluted barrel, composite stock in Browning's OVIX camo, Cerakote Smoked Bronze finish, radial muzzle brake.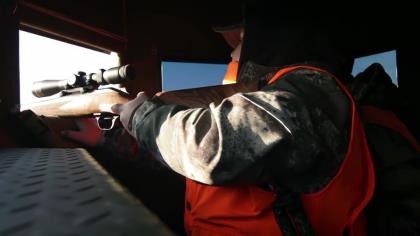 A Boy's First Whitetail Hunt
Mike Schoby takes his nephew, Mitchell, on his first-ever whitetail hunt in Nebraska.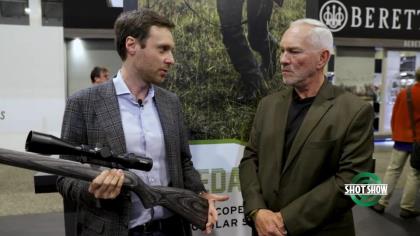 Steiner Optics Predator Series
Publisher of Petersen's HUNTING magazine, Kevin Steele is at the Steiner Optics booth with Alberto Corbetta to discuss the Predator 4 and Predator 8.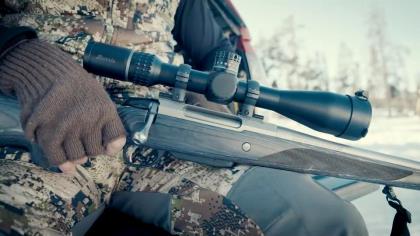 Introducing the Burris Veracity PH
Years of development and pushing the limits of what is possible in a rifle optic have led up to this moment. Introducing the Veracity PH from Burris, the perfect combination of reliability, quality, and technology delivering a simple aiming solution…a tool for the hunter that just works.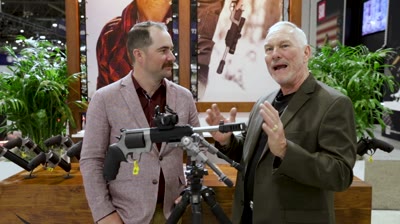 Taurus Raging Hunter
Kevin Steele stops by the Taurus booth to speak with Cody Osborn about the all new Raging Hunter platform from Taurus International.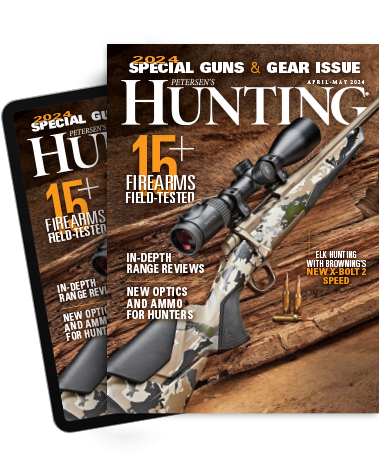 GET THE MAGAZINE Subscribe & Save.
SUBSCRIBE NOW
Give a Gift | Subscriber Services
PREVIEW THIS MONTH'S ISSUE
Buy Digital Single Issues
Don't miss an issue. Buy single digital issue for your phone or tablet.
Other magazines.
Guns & Ammo
Rifleshooter
Shooting Times
Special interest magazines.
2023 Backcountry Hunter Fall
2023 Crossbow Revolution #2
2023 Tree Saddle Hunter
2023 Hunting Gear Guide
2023 Public Land Hunter
See All Special Interest Magazines
More You May Be Interested In
Get the top Petersen's Hunting stories delivered right to your inbox.
Get Digital Access.
All Petersen's Hunting subscribers now have digital access to their magazine content. This means you have the option to read your magazine on most popular phones and tablets.
To get started, click the link below to visit mymagnow.com and learn how to access your digital magazine.
Get Digital Access
Not a Subscriber?
Enjoying What You're Reading?
Get a Full Year of Guns & Ammo & Digital Access.
Offer only for new subscribers.
Subscribe Now
Disgraced Celebrity Hunter Fires Back at State Agency With Massive Lawsuit
Disgraced celebrity hunter William "Spook" Spann has sued the Tennessee Wildlife Resources Agency's top official and other TWRA officers or officials for what he says is harassment after being "rigorously targeted" for the last three years.
Spann in 2013 accepted a six-month hunting probation penalty after a trial for multiple charges stemming from a hunting trip in Kansas where he killed a giant buck.
Spann's lawsuit alleges civil rights violations. The suit was filed June 5 in federal court in Nashville. He named TWRA Executive Director Ed Carter and alleges that Carter "has directed, authorized, conspired to violate and manged the violations of Mr. Spann's constitutional rights under both The United States and Tennessee Constitutions …"
Spann also names TWRA Sgt. Dale Grandstaff, agents Shawn Karns and Brad Jackson, and "John Does 1-10" who he claims "are agents, officers, and others who have assisted the TWRA …" in his suit.
Spann's former television show cameraman and employee, Thomas Sutherland, is included in the lawsuit. Spann alleges that Sutherland "aided, abetted, assisted, acted and conspired to violate and, in fact, did violate Mr. Spann's constitutional rights under both The United States and Tennessee Constitutions under color of state law as an agent of TWRA while also in the employ of Mr. Spann."
The suit alleges that Sutherland "at the direction of, and under the supervision of, the TWRA and the named TWRA agents and officers named as Defendants herein put out feed, baited fields, put illegal surveillance cameras on Mr. Spann's property and provided false testimony and evidence against Mr. Spann in the United States District Court of Kansas at Kansas City in the case styled USA v. William Spann, case number 12-20114, on June 27, 2013."
According to a public relations firm helping Spann, he is unavailable for interviews. Spann released the following statement:
"For the past three years, I have been rigorously targeted  by TWRA agents. In 2013, I willingly accepted a six-month hunting probation based on my harvesting of a buck in Kansas after unknowingly purchasing the incorrect hunting license. As an avid outdoorsman and sportsman, I fully accepted responsibility in this matter. However, the TWRA has constantly harassed me, my family and friends – without success – in an attempt to find violations in order to end my hunting career, thus threatening my ability to make a living. Now that my family has been affected by this, I am no longer able to turn the other cheek and I look forward to the truth coming out in court."
Among the other claims in the lawsuit, Spann alleges that "TWRA and these Defendants have spared no expense in targeting and "hunting" Mr. Spann while untold real crimes go unsolved throughout Tennessee." It says that "TWRA exercises general police powers throughout Tennessee with total disregard for citizens' constitutional rights with a power and profit motive and beyond its authority."
It says TRWA, which Spann alleges is a "rogue" state agency, "conducted unreasonable searches and seizures … manufactured cases … selectively prosecuted him … spent countless man hours pursuing him … terrorizing his family, threatening his family invading his privacy and converting and destroying his property, all in hopes of charging him with a hunting violation, which they have not been able to do."
 Read the full lawsuit transcript here.
What do you think about this situation? We'd like your feedback.
 NEED CAMERAS TO CATCH PHOTOS OF TRESPASSERS OR DEER ON YOUR PROPERTY?
Dickson celebrity hunter Spook Spann tells his side
Spook Spann says his refusal of a business proposal six years ago was the moment his lucrative and successful professional hunting career became a target.
Targeted by a Dickson man who is an agent with the Tennessee Wildlife Resources Agency, Spann states in his lawsuit against the TWRA, and by the agency, which Spann says has too much autonomy and power.
In a recent interview with The Herald, Spann discussed openly the Kansas hunt which led to his pleading guilty to a misdemeanor charge for violating the federal Lacey Act and ultimately a year-long suspension from hunting.
When asked if local TWRA agent, Mitchell Bailey of Dickson, is behind the charge and subsequent arrests, suspensions and undercover investigation and raid at his property and home, Spann didn't hesitate with his answer.
"I know he is," Spann said. "He and Dale Grandstaff."
Bailey and Grandstaff, a sergeant with the TWRA, are both named in Spann's civil rights lawsuit filed in federal court in June. Also named in the lawsuit are TWRA Executive Director Ed Carter, and TWRA agents Brad Jackson and Shawn Karns.
On Nov. 14, 2007 in Stafford County, Kanas, Spann's bow shot from about 6 yards out killed a 230-inch whitetail buck – often described as a "monster" buck – and changed his life. The whitetail buck was one of the largest ever killed on camera. Spann and his cameraman L.J. Planer had to belly crawl a long distance to an area behind cedar trees to get the shot.
Spann has since created his "Spook Nation" business; attracted various sponsorships, including Mossy Oak; and has a Pursuit Channel TV show that airs Monday nights.
"Spook" became a known name in the hunting world. In 2008-2009, he received sponsorship deals from Under Armour and others.
He said a Dickson upstart camouflage company also sought Spann's name recognition.
The company name: Buckthorn. The owner: Mitchell Bailey.
Spann had recently hired Thomas Sutherland, of Dickson County, as his cameraman. Sutherland's best friend, Spann said, was Bailey.
Spann said that Sutherland, at Bailey's request, asked if Spann would wear Buckthorn camo and represent the company "for nothing" and for the promise his sponsorship could mean more if the company did "turn into something."
"Meanwhile I am being sponsored by a camo company and by Under Armour," Spann said. "I could not afford to give up $100,000 sponsorship money."
Buckthorn was started about 10 years ago by Bailey with the idea that all the company products would be American made.
Bailey, who declined to comment on Spann's allegations with the lawsuit pending, said Buckthorn business has slowed recently.
Spann said it wasn't that he was opposed to supporting a local company, he just felt the odds were stacked against the Buckthorn business and Bailey.
"Mossy Oak and Real Tree are the giants," Spann said. "There are people who have spent millions of dollars trying to get into it and couldn't.
"It's not likely that someone is going to be able to spend a few $100,000 and get in," he added.
Spann said he worried that declining Bailey's offer could become a problem.
"I told my wife that night I hope this does not turn out to be a problem because of his personality," Spann said. "I was afraid at some time it could be a problem."
Spann said in the following years he had become increasingly "well known in the industry." He said it was at that time the TWRA decided to go after him, in particular focus on the giant buck.
"Suddenly it's a big story for them," Spann said. "Why didn't they do it in the four years previous to that?"
Spann is a board member for the Fighting Duchenne Foundation which is based in Dickson County and raises money for research for Duchenne, a rare form of muscular dystrophy that affects boys ages 5-6 and often causes death by their 20s.
The foundation annually hosts a basketball game fundraiser in which celebrities are asked to attend and compete. Last year in April, those celebrities included the Tennessee Titans starting quarterback Jake Locker and former backup Titan quarterback Rusty Smith. The weekend of the event, Locker and Smith both hunted on Spann's Dickson County property.
"I did accompany some people in the field. I showed them where the property lines were and that kind of thing," Spann added.
However, U.S. Magistrate Judge James O'Hara found that Spann had violated the terms of his plea agreement from the previous year, and banned him from hunting anywhere worldwide for a year as well as spend 30 days and nights in federal custody.
In February of this year, TWRA agents as well as federal officials raided Spann's Fairview home looking for a cell phone believed to contain evidence that he violated the hunting ban.
"They started banging on the door extremely violently," Spann said. "They came in, handcuffed me, and (TWRA agent) Shawn Karns started asking me questions."
Spann said they searched his house and woke his then 20-year-old daughter Cassandra Spann, asking her to get dressed and leave.
Agents found a small amount of marijuana in his daughter's room, according to the district attorney's office.
"They set my daughter up," Spann said. "My daughter comes to us immediately and says, 'I will take a drug test, hair test. I don't know where it came from.
"She takes two tests, and they are both negative," he added.
Spann said about the violations, alleged and otherwise: "It's all made up."
He added: "They made up the thing over the cell phone. Why? So that they could get a search warrant, come in my house, harass my family, have my wife arrested – who has been a pillar of the community for I don't know how many years. She's a guidance counselor and a special ed teacher. She's one of the most respected people in the county. So they could get her in the back of the jail and hotbox her and cuss her and threaten her to try to get her to tell them something on me."
Spann said agents have "questioned and harassed" all the people nationwide that he has hunted with.
"They have been trying to find one game violation. They can't find one because there is not one," Spann said.
Court documents
*Further information on Mr. Spann's pending lawsuit is available in the current docket entries.*
Federal Agents Raid TV Hunter's Home
DICKSON, Tenn. -- A Dickson deer hunter cannot believe the federal government spent years investigating a case that began when he bought the wrong hunting license in Kansas.
William "Spook" Spann was prosecuted under the century old environmental law called the Lacey Act.
The act covers a wide array of environmental violations, including the transportation of wildlife that has been illegally taken.
The Lacey Act came under fire in 2009, after federal agents used it to raid Gibson Guitar.
But Spann told NewsChannel 5 Investigates that his case should be a wake-up call for hunters across the country.
Federal agents raided his home four years after he killed a deer on a Kansas hunting trip.
Agents took the antlers from the deer Spann killed and charged him with a felony.
Just last month, Spann pleaded guilty to a misdemeanor, and he spoke to NewsChannel 5 for the first time about what happened in the case.
Spann is a professional hunter who goes by nickname "Spook." He has his own TV show called Spook Nation. The show follows him as he hunts big game, mostly deer, with a bow and arrow.
But a Kansas hunt, captured on his show back in 2007, got him trouble with the federal government.
"It was the hunt of a lifetime," Spann said. "This stuff that has happened doesn't take that away from me."
Spann said that he did not realize that the Kansas hunting license he bought only allowed him to hunt on his personal farm.
He had recently bought a farm in Kansas just so he could hunt deer.
Court papers show he also paid the farmer beside him $5,000 for the right to hunt on his land.
Spann tracked the deer and killed it on his neighbor's farm. He thought the permit he had purchased covered hunting on his neighbor's land, but it did not.
Spann told NewsChannel 5 Investigates that, for $100 more, he could have bought a permit that would have allowed him to hunt off his own property -- with the permission of the landowner.
"I don't care if the license was $75 or $175. I would have bought the right one had I known," Spann said.
The Lacey Act got a lot of attention when federal agents raided Gibson Guitar in 2009, and again in 2011, claiming the company illegally imported exotic wood. Gibson paid a $300,000 fine, but claimed it did nothing wrong.
It led some in Congress to say the federal government was overusing the Lacey Act and that the law is too broad.
Federal agents raided Spann's house in 2011 and seized just one thing, the deer antlers from that Kansas hunt.
"If they'd have asked me I'd have gave them rack," Spann said about the antlers.
Spann added that the experience won't keep him from hunting, but he's stunned the federal government spent years on a case like his.
"I feel like it's a lot of expense for something that didn't deserve it," Spann said.
In February, Spann pleaded guilty to a misdemeanor for that Lacy Act violation. He admitted killing the deer without the proper permit and taking the antlers out of Kansas.
But Spann said that it was just too expensive to battle the government in court.
He paid a $20,000 fine and can't hunt in the U.S. for six months -- all because he bought the wrong hunting license in Kansas.
The U.S. Attorney's Office in Kansas said that it is cracking down on people who hunt illegally in the state.
A spokesman confirmed the facts in the case and added the office plans to continue prosecuting cases under the Lacey Act.
Care what happens
Property for Sale
About Spook Spann
Spook Spann
You are now hunting with Spook Spann. Hunting and Habitat Management Expert.
Property Hunts
Spook nation video, spook nation giant 220" droptine buck.
Spook Nation Giant 220" Droptine Buck
Spook Nation Huge 204 Typical Whitetail
Spook Nation
William "Spook" Spann was born on Halloween which is how he got ,the name "Spook". Spook Spann started hunting as a youngster and killed his first deer at ten years old. In 1975, Spook was 13 years old and talked his mom into buying his first bow. He only new six people who owned bows at the time, and they were all grown men.
Spook Spann Hunting and Habitat Management Expert - Spook Nation
Copyright © 2021 Spook Spann Hunting and Habitat Management Expert
All Rights Reserved.
Powered by JoeUSA.com Website Builder and Marketing
This website uses cookies.
We use cookies to analyze website traffic and optimize your website experience. By accepting our use of cookies, your data will be aggregated with all other user data.
Search forums
Whitetail Conference
Iowa Whitetail Conference
Spook Spann
Thread starter bkcrrtnps
Start date Feb 23, 2014
Well-Known Member
Sat time I posted about this idiot I received a ton of nasty messages..... http://www.wsmv.com/story/24796140/william-spook-spann-in-trouble-with-the-law
hoosierhunter
Active member.
Unfortunately just because they are celebrities doesn't mean they are quality individuals. No different than pro athletes with a major exception. Money can buy you into this game.
The guy is an dumb ace. Screw up once people may understand, but to screw up again and it makes one think the first screw up was an accident.
bkcrrtnps said: Sat time I posted about this idiot I received a ton of nasty messages..... http://www.wsmv.com/story/24796140/william-spook-spann-in-trouble-with-the-law Click to expand...
iabwhntr said: Why would you get nasty messages? Did you side with him? Click to expand...
Livng4Jesus, lovng2hunt
Strike three HE's OUT
I quit watching all those dirt bags on tv two years ago and never looked back! They are the problem not the solution to what is going on with deer hunting!!!
Master Chief
I know people that know him personally. They all say he is a really nice guy, but I wouldn't want anything to do with him nice or not. He certainly isn't the smartest guy.
Should have been locked up for his theme song alone.
He's a maroon.
I've never spoke to the guy, but I have a problem with tampering with evidence on a cell phone that you own............. If you own it you can burn it to ash, throw it in a pond, delete text and pictures........... Major invasion of privacy.......... I'd love to hear the real story here..... What the heck is going on with this country? I'll maintain that someone high up has it in for him. They are tailing this guy like a mob boss.... something smells....... They arrested all Spook, his wife and his daughter............ fishy to me!!!! Be careful what you buy from the media, our police and government!!!!!!!!!!!!!!!!!!!!!!! They have an agenda..............
And I'll go ahead and say, "I'm on there radar"! Why, I'm a Christian, I'm a hunter, I'm a believer in small limited government, I believe all career politicians are only out for themselves, I believe the media only shows what fits the agenda and will use anything they can against people like me. I don't support gay marriage, I don't support spying on American citizens without reasonable cause, I believe we have the right to bear Arms! I am totally against immigration for people that came here illegally, they are criminals and have no right to stay............. That's where I stand firmly!!!
I would say the majority of Americans are in your camp! I agree with you.
Never liked the guy. A lot of these TV personalitys are like one guy said the problem not the solution. Nothing wrong with the videos where people put in all the work scouting, hanging stands and hunting there but off. When a guy shows up at an outfitter and brags on a 3 day hunt how hard they worked for this deer, come on.
No, you can't pet him.
Baby-G said: I've never spoke to the guy, but I have a problem with tampering with evidence on a cell phone that you own............. If you own it you can burn it to ash, throw it in a pond, delete text and pictures........... Major invasion of privacy.......... I'd love to hear the real story here..... What the heck is going on with this country? I'll maintain that someone high up has it in for him. They are tailing this guy like a mob boss.... something smells....... They arrested all Spook, his wife and his daughter............ fishy to me!!!! Be careful what you buy from the media, our police and government!!!!!!!!!!!!!!!!!!!!!!! They have an agenda.............. Click to expand...
bkcrrtnps said: So if you someone kills another person and it's caught on your trail camera and your erase it to protect your friend it's not tampering with evidence right? Come on.... Click to expand...
timekiller said: That's right...... because you own the camera. Click to expand...
Innocent until proven guilty is still law correct?
Just a thought, Your fishing and take a picture of each fish you catch individually. You caught 25 trout and took pictures of each. You kept 6 fish clean them while out on the lake and throw the scraps in for the turtles and fish. Game warden heard you kept over the limit and due to the NSA they know you got pictures on your phone. The get a warrant and want to see your phone for evidence...... Need I go on?
This site uses cookies to help personalise content, tailor your experience and to keep you logged in if you register. By continuing to use this site, you are consenting to our use of cookies. Accept Learn more…
The Hunting Beast
Skip to content
Board index Forum Talk The War Cry
It is currently Tue Oct 17, 2023 10:49 pm
All times are UTC
Advertisement
Spook Spann in trouble again
Unread post by Brad » Fri Jun 28, 2013 2:24 am
Share on Facebook
Share on Twitter
Share on Reddit
Share on Tumblr
Share on Google+
Re: Spook Spann in trouble again
Unread post by muddy » Fri Jun 28, 2013 3:29 am
Unread post by Stanley » Fri Jun 28, 2013 4:03 am
Unread post by dan » Fri Jun 28, 2013 9:15 am
Unread post by Southern Man » Fri Jun 28, 2013 11:43 am
Stanley wrote: Never heard of they guy.
Unread post by dreaming bucks » Fri Jun 28, 2013 12:09 pm
Unread post by ttsbuck » Fri Jun 28, 2013 1:21 pm
Unread post by Dewey » Fri Jun 28, 2013 4:05 pm
ttsbuck wrote: I can never understand why guys who are skilled at hunting and have access to great land violate.
Unread post by Stanley » Fri Jun 28, 2013 5:13 pm
Dewey wrote: ttsbuck wrote: I can never understand why guys who are skilled at hunting and have access to great land violate.
Unread post by vanceg » Sat Jul 06, 2013 1:30 pm
Unread post by UntouchableNess » Sat Jul 06, 2013 6:40 pm
Here is a short clip of when he shot the biggest fair game whitetail ever recorded on camera . I wish it was the whole clip, but I can't find anything else.
Unread post by solocam88 » Sun Jul 07, 2013 12:12 am
vanceg wrote: I think his biggest crime was the intro to his show.
Unread post by ozzz » Sun Jul 07, 2013 2:06 am
dan wrote: It seems like he really did not do all that much wrong... He shot a deer on his neighbors property and his tag was not good for across the street... The worse thing he did was spread bait for turkeys. I think he should probably be fined, but jail time and 10's of thousands of dollars in fines seems a little rediculas. Seems like a case of the Kansas DNR blowing something out of proportion... Never really liked Spann or his show, but don't think he deserves all he is getting.
Unread post by Zap » Sun Jul 07, 2013 2:25 am
Unread post by ozzz » Sun Jul 07, 2013 3:13 am
Zap wrote: Hunting with a landowner tag on land that the landowner did not own. I think...
Return to "The War Cry"
Store
Forum Rules & FAQ
Forum Rules and Guidelines
Announcements
Articles
Hunting articles
Fishing articles
Chit Chat/Daily Check In
Introduction & Welcome Forum
The War Cry
Brian Craig / Steve Kane RADIO Show
Hunting Talk
Bear Hunting
Big Game Hunting
Boar Hunting
Deer Hunting
Flying Critters
Kill Zone
Other Critters
Outdoor Survival
Outfitters Guided Hunts and Leases
Predator Hunting
Public Land Hunting
Scouting
Shed Antler
Taxidermy
Trapping
Turkey Hunting
Fishing Talk
Fishing chat
Bow Fishing
Game fish, pan fish, and general fishing talk
Great Lakes Fishing
Ice Fishing
Lake Fishing
Ocean / Sea fishing
Trout Fishing
Trail Cams
Land Management
Swap & Trade
SWAP & TRADE HUNTS
DIY - Do It Yourself
Equipment Talk
Free Classifieds
Guns & Shooting
Sticks N Strings
Archery Tech
Bow & Equipment Reviews
Traditional Archery
Crossbows
Target & 3D
My Hunting Journal
Hunting Journals
Camera Time
Filming Hunts
TV, DVD, or Videos
Outdoor Photography
You Tube
HuntingBeast DVD's, Videos, Podcasts, Etc.
Extreme Whitetail Tactics
Extreme Bear Tactics
Podcast
Trudell Outdoor Adventures TV
Brian Craig Podcast
State Boards
State Boards
CST (Central Standard Time)
CST (Central Standard Time)
Alabama
Arkansas
Illinois
Iowa
Kansas
Kentucky
Louisiana
Minnesota
Mississippi
Missouri
Nebraska
North Dakota
Oklahoma
South Dakota
Tennessee
Texas
Wisconsin
EST (Eastern Time)
EST (Eastern Time)
Connecticuit
Delaware
Florida
Georgia
Indiana
Maine
Maryland
Massachusetts
Michigan
New Hampshire
New Jersey
New York
North Carolina
Ohio
Pennsylvania
Rhode Island
South Carolina
Vermont
Virginia
Washington DC
West Virginia
MST (Mountain Standard Time)
MST (Mountain Standard Time)
Arizona
Colorado
Idaho
Montana
New Mexico
Utah
Wyoming
PST (Pacific Standard Time)
PST (Pacific Standard Time)
California
Nevada
Oregon
Washington
HST (Hawaii-Aleutian Time)
HST (Hawaii-Aleutian Time)
Hawaii
AKDT /HADT (Alaska Time)
AKDT /HADT (Alaska Time)
Alaska
Pets & Animals
Pets & Animals
Birds
Bunnies
Cats
Dogs
Farm Animals
Horses
Skunks
Other Pets
Wildlife Rehabilitation
Wildlife Rehabilitation
Recipes
Appetizers
Beef
Bread
Breakfast
Camping Meals
Casserole
Desserts
Diabetic Foods
Drinks
Entrees
Fish
Fruit
Holiday
4th of July/Memorial Day/Labor Day
Cinco de Mayo
Christmas/Hanukkah
Easter
Halloween Treats
New Years
St Patricks Day
Thanksgiving
Valentines
Packer Parties / Tailgaiting
Pasta
Pork
Poultry
Salads
Salsa
Salves, soaps, etc
Sandwiches
Sauces
Sea Food
Seasonings
Side Dishes
Slow Cooker
Snacks
Soup
Vegetables
Vegetarian
Wild Game
Alligator
Armadillo
Bear
Boar
Buffalo
Camel
Duck
Elk
Frog
Marinade
Moose
Pheasant
Pigeon
Rabbit
Rattle Snake
Turkey
Turtle
Venison
Wild Mushrooms
Recipes Wanted
LOL (Living off the Land)
Who is online
Users browsing this forum: No registered users and 0 guests
Search in titles only Search in Around the Campfire only Search
Advanced Search
The forum will be unavailable during server upgrades.
Announcement
Spook spann in trouble again.
Latest Activity
Time All Time Today Last Week Last Month
Show All Discussions only Photos only Videos only Links only Polls only Events only
Join Date: Jul 2010
Posts: 1236
Join Date: Jul 2007
Posts: 9480
Join Date: Apr 2010
Posts: 4581
Join Date: Dec 2009
Posts: 8533
Join Date: Aug 2008
Posts: 41466

Join Date: May 2013
Posts: 2205
U.S. Embassy & Consulates in Russia
Social / search.
Getting Married in Russia
Banking, Mail and Telephone Services
Associations and Clubs
Canceling/Replacing Lost/Stolen U.S. Credit Cards and Travelers' Checks
Driving Your Car in Russia
Criminal Records Checks and Fingerprinting
Waivers to the CDC's COVID-19 Testing Requirement Prior to Arrival in the United States
Please note that these procedures are subject to change without notice and that the information provided is merely a guideline you may find helpful. Furthermore, the procedures listed below may not apply to US citizens who intend marry other Americans or third-country nationals in Russia.
1. Register Your Visa with Your Russian Sponsor
Every foreigner is required by Russian law to have his visa registered by his landlord through the local post office or his sponsor through either the local or central FMS (Federal Migration Service).
2. Obtain an Official Translation of the Information Page of Your Passport
The necessary translation can be obtained at any certified translation center that has a Russian notary public present. The following is a partial list of certified translation centers in Moscow:
Bureau of Interpreters (23 Leningradskiy Prp., metro stop Dinamo), 250-0407/1723 Uni V Tour (6 Bobrov Per., Bldg. 3, 2nd floor, Rm. 8, metro stop Chistye Prudy), 625-2225/2667 Santor (1 Gogolevskiy Blvd., Bldg. 10, metro stop Kropotkinskaya), 771-1884
3. Prepare a Marriage Letter
Due to the hostile actions of the Russian government to cut our staff by over 90%, the U.S. Embassy in Moscow can no longer assist with Marriage Letters.  As an alternative to a Marriage Letter issued by the U.S. Embassy in Moscow, your local city or county clerk office in the United States may provide a similar letter of no impediment to marriage. Should you obtain such a letter from a U.S.-based local or state official, you may consider having it authenticated through the  Department of State Office of Authentications .
4. Have the Marriage Letter Authenticated
This service is available at:
Multifunctional Center for the Provision of Public Services of Moscow (MFC) at Ryazanskiy prospect 2, building 3 (TC City), Moscow, (495) 777-77-77, md.mos.ru .
Department of Legalization, Consular Department, Russian Ministry of Foreign Affairs, at 1st Neopalimovskiy pereulok, dom 12a, approximately a twelve minute walk from Smolenskaya Metro (on the dark blue line).  Appointments must be made in advance by calling (499) 244-37-97.
5. Get Married at the Civil Registry Office (Zags)
After completing the first four steps, you must contact the ZAGS (Zapis Aktov Grazhdanskogo Sostoyaniya) office where your fiancée/fiancé is registered and submit your documents for inspection. ZAGS officials generally will demand that you submit apostilled * copies of all pertinent US civil documents (i.e., divorce certificates, annulments) for their inspection. ZAGS will then schedule the civil service wedding 32 days from the date of registration. You do not have to stay in Russia for this period, but rather be present to submit the application and appear on the 32nd day in order to get your marriage license. If your fiancée/fiancé is a Muscovite, you must submit the documents you have prepared, your passport, and Russian visa to the Civil Registry Office at the following address: Palace of Weddings, 17 Butyrskaya St. Telephone 495-685-1960, 495-685-7988.
Congratulations!
Once you are married, you may contact the Embassy for information about obtaining immigrant visas for your spouse and his/her dependents.  Please also see our webpage on immigration to the United States .
General information on marriage overseas is available at the Department of State's webpage .
* Please note that the U.S. Embassy in Moscow can neither translate nor legalize U.S. documents for use in Russia. Certified copies of U.S. documents must also bear an Apostille stamp to be valid in Russia – these stamps are only available in the United States. For more information please see our webpage on " Notarial Services ".
Footer Disclaimer This is the official website of the U.S. Embassy & Consulates in Russia. External links to other Internet sites should not be construed as an endorsement of the views or privacy policies contained therein.
Politics latest: Sunak making 'massive gamble' going to Israel; MI5 'alert' to risk of UK terror attack during war
Rishi Sunak is set to travel to Israel this week, Sky News understands - a visit seen as a "massive gamble". And the director-general of MI5 says the agency is "absolutely alert" to risk of UK terror attack during the Israel-Hamas war.
Tuesday 17 October 2023 22:22, UK
Please use Chrome browser for a more accessible video player
Spy chief says MI5 'absolutely alert' to risk of UK terror attack during Israel-Hamas war
Sophy Ridge: Sunak's 'massive gamble' going to Israel
Yousaf calls for end to Gaza blockade
First minister abandons increase in council tax
Tamara Cohen: Yousaf gives little indication of how Scottish independence will be achieved
MP Peter Bone suspended from Tory party after sexual misconduct claims
Sam Coates: Leaked Tory memo predicts double by-election defeat - blaming 'enormous discontent' on Dorries | She hits back at Sunak
Poll tracker: Who is on course to win the election?
Live reporting by Ben Bloch
Thank you for joining us on the Politics Hub for another busy day in Westminster - and at the SNP's conference in Aberdeen.
Here's what happened today:
Sky News learned Rishi Sunak could travel to Israel, possibly as soon as Thursday and as part of a broader visit to the region;
A Foreign Office minister warned that a humanitarian crisis is "looming" in Gaza amid continued Israeli strikes following last Saturday's brutal attack;
That crisis is growing after an explosion at a hospital in Gaza this evening with hundreds killed - and the SNP's Westminster leader told Politics Hub with Sophy Ridge that Israel "may have broken international law";
A Tory memo leaked to Sky News predicts a double defeat for the party in Thursday's by-elections - blaming "enormous discontent" with Nadine Dorries;
The SNP leader and first minister of Scotland, Humza Yousaf, addressed the SNP conference in Aberdeen this afternoon announcing a council tax freeze, a boost for NHS funding, and his plans for independence;
The Conservative whip was removed from Peter Bone MP amid allegations of bullying and sexual harassment (that he denies);
Figures showed that average wages are 7.8% higher than a year earlier during the three months to the end of August.
Join us tomorrow from 6am for the very latest political news.
Two of Westminster's best-connected journalists - Sky News' Sam Coates and Politico's Jack Blanchard - are back with their predictions of how British politics will play out over the next week.
This time, they discuss how the government here will respond to an Israeli ground invasion into Gaza. And how ministers might react to threats against the Jewish community at home.
Plus, what delegates at the SNP conference will be saying about the looming Westminster election. The Times' Scottish political editor Kieran Andrews joins Jack and Sam from the conference.
And there's a preview of this week's by-elections in Tamworth and Mid Bedfordshire.
Email with your thoughts and rate how their predictions play out: [email protected] or [email protected]
By Mark Stone , US correspondent
The head of MI5 has made an unprecedented public appearance alongside his counterparts from the US, Canada, Australia and New Zealand, to warn that companies, large and small, are unprepared for the threats posed by artificial intelligence and other emerging technologies.
Speaking to Sky News at the summit in Silicon Valley, the director general of Britain's Security Service, Ken McCallum, said: "Right now emerging technology is coming through - AI is the most obvious example - which is capable of changing our world at a pretty fundamental level.
"Authoritarian states know that and are seeking to win the race to acquire as much advantage as they can in the growth of those exciting technologies.
"The states that lead the way in these technologies will wield immense power.
"And I would like for the citizens of the western democratic nations to be the beneficiaries of the outcome of that race, rather than to have that power in the hands of states who do not share our values."
Mr McCallum, who has been the head of Britain's domestic security agency since 2020, joined members of the Five Eyes intelligence partnership for the first Emerging Technology and Securing Innovation Security Summit in California.
Bringing business leaders, entrepreneurs, and academics face-to-face with the top security chiefs from five nations, Mr McCallum said: "The UK is seeing a sharp rise in aggressive attempts by other states to steal competitive advantage.
"It's the same across all five of our countries."
Read the full story here:
The final topic of discussion with our panel on Politics Hub with Sophy Ridge is the SNP's Westminster leader's comment that "it appears that Israel may have broken international law" with an apparent strike on an a Gazan hospital (see post at 19.39).
Lord Peter Ricketts , former National Security Advisor and British ambassador to France, says he's "reluctant to jump to conclusions as early as this".
He says it's "clear" that "attacking a hospital deliberately would be against international law".
But he says it could have been an accident, a missile that went off-course, or even a Hamas rocket.
"It's absolutely up to the Israelis to tell us very quickly" what happened, he says.
Ben Bradshaw , Labour MP for Exeter and former minister, says he agrees completely with Lord Ricketts.
"I think it was a mistake for him to say what he did and I would have been much more cautious at this stage," he adds.
That brings to an end tonight's edition of Politics Hub with Sophy Ridge - scroll down for all the key lines and highlights.
Following that interview with the director general of MI5 (see previous post), we are now hearing from our panel on the UK security risk as a consequence of the Israel-Hamas war.
Lord Peter Ricketts , former National Security Advisor and British ambassador to France, says it is a "real concern" that events like the apparent Israeli strike on a Gazan hospital this evening "will inflame passions across the Muslim world".
That will lead to governments having to "tack in a harder direction responding to what they're seeing on the street".
He is "sure" that it will "inflame passions" in the UK as well.
"In this circumstance, political leaders have a real duty to try and keep things calm, not jump to conclusions, make sure people understand there are innocent civilians on all sides of this, and avoid stoking things."
He adds: "Islamic terrorism is clearly back on the agenda."
Asked where the line is between allowing protests amid the risk it could cross into antisemitism, Ben Bradshaw , Labour MP for Exeter and former minister, says the issue here is that people take "really polarised positions" on the Israel-Palestine conflict.
He says an important element "is not just the language we [politicians] use, but it's being even-handed in our use of it".
He adds that there has been a big increase in Islamophobia as well as antisemitism, and "we need to be absolutely even-handed in this".
"We have a tinderbox potentially in the country, and it's absolutely the responsibility of politicians to temper their language, be even-handed, not do anything to inflame it or polarise it even further," he says.
Next on Politics Hub with Sophy Ridge , we had an interview with the director general of MI5 who has told Sky News his intelligence officers are "focused with particular intensity" on a growing risk of attacks within the UK following events in the Middle East.
In a rare interview, Ken McCallum said: "Sadly, over the course of my career, it has often been the case that events in the Middle East can then echo in Europe, in the UK, and so my teams are absolutely alert to the possibility that events in the Middle East cause some people in the United Kingdom to attempt some form of attack of whatever sort."
In his first remarks on the Israel-Hamas war and its global security repercussions, Mr McCallum also told Sky News:
There is "sharpened concern" of multiple threats - from far right antisemitism, Islamophobia, Islamist extremism, and rising state-level aggression - predominantly from China, Russia and Iran
The national threat level - currently set at "substantial" - is under constant review to ensure it remains appropriate
The world is a "very uncertain place right now"
Our first guest on Politics Hub with Sophy Ridge this evening is the SNP's Westminster leader Stephen Flynn following First Minister Humza Yousaf's address to the party conference this afternoon.
We start with the situation in Israel and Gaza, and particularly reported strike on the al-Ahli Arab Baptist Hospital in Gaza City that has killed at least 500 people, according to the Hamas-run Palestinian health ministry.
Mr Flynn says in the House of Commons yesterday there was "collective concern" about the situation in Gaza, and he reiterates his condemnation of Hamas.
He is also clear that humanitarian aid much reach the Palestinian people in Gaza, and the water and fuel supplies must be restored.
On this evening's apparent strike on a hospital, Mr Flynn says it's "extremely difficult to fathom" and "there can be no justification for collective punishment".
He adds that if it is confirmed that Israeli forces destroyed the hospital, Rishi Sunak should make a statement calling for a ceasefire.
Asked if this would equate to a breach of international law, Mr Flynn replies: "I think it would be extremely difficult for Israel to argue otherwise."
He says the attack on "Israel and the Jewish people" was "so abhorrent that it's challenging to put into words".
But he says it's not a state-on-state attack, it's a "horrible terrible organisation hiding amongst the civilian population".
"It appears that Israel may have broken international law," he says, but cautions that it has not yet been confirmed that Israel was responsible for the strike.
Mr Flynn adds that he understands the Israeli people want to "respond with as much force as possible", but says there is "no justification for collective punishment".
Sky New understands Rishi Sunak is set to visit Israel, possibly as soon as Thursday, and Mr Flynn endorsed the trip and said he should send the message that the UK want humanitarian aid to reach the Palestinian people.
Pressure from some in Labour that Starmer should take tougher line given air strikes
"I think that's misjudged," says Ben Bradshaw , Labour MP for Exeter and former minister.
He says everyone across the House want a two-state solution, but he adds: "You're not going to get a two-state solution in the current circumstances, until you've dealt with the immediate crisis."
That crisis, he says, was Israel "being attacked unprecedentedly", so they need "reassurance".
The problem with a Sunak visit to the Middle East will be the "problems at home" given the terror threat following the Brussels attack last night in which two people were killed, as well as the rise in antisemitism and Islamophobia.
"That's something to watch because this might gets worse," he says, particularly if Israel conducts a ground war against Gaza.
Lord Peter Ricketts , former National Security Advisor and British ambassador to France, says "anything like this becomes a domestic issue".
"I think the security authorities will be worried that this may provoke disturbed individuals into thinking about taking violent action."
He adds that it is unclear if that is the reason for last night's Belgium shooting.
Ben Bradshaw says the key for the UK will be "to stay as close to the Americans as we possibly can".
He says Europe is "probably playing a more important role" than the UK in the conflict.
"I don't think we should exaggerate our importance in the region," he says.
We are now hearing from our panel on Politics Hub with Sophy Ridge , starting with the visit tomorrow by US president Joe Biden.
Lord Peter Ricketts , former National Security Advisor and British ambassador to France, says the visit is a "very big deal".
It comes after a "full demonstration of US military and diplomatic muscle", with the navy sent to the region and secretary of state Anthony Blinken "criss-crossing the region".
"My guess is that the president would not take the risk of going unless he was sure that he was going to get something out of it."
He says there must have been "an indication" from the Israelis that they may be willing to do something on humanitarian grounds.
The other aim, he says, will be to "weigh on Israeli decision-making" around the next stage of the military operation and potentially prevent a ground invasion.
"If Biden can't make a difference, nobody can," he says.
We now turn to domestic matters and the news this evening that Sky News understands Rishi Sunak is set to make a visit to Israel, possibly as soon as this week.
Ben Bradshaw , Labour MP for Exeter and former minister, says: "I hope it's not going to do any harm. I think the Biden visit is the critical one."
He adds: "If anyone can make a difference, it's the American president."
Lord Peter Ricketts says the critical aim will be securing the release of the hostages, which is in Hamas's control.
The other question, he says, is "who on earth is going to govern Gaza" if Hamas is destroyed, so Biden will be thinking about the longer term.
First up on Politics Hub With Sophy Ridge tonight, we're getting the latest from our Middle East correspondent Alistair Bunkall on the Israel-Hamas war.
He gave us the latest updates after the Hamas-run Palestinian health ministry said an estimated 500 people at least had been killed in a strike on the al-Ahli Arab Baptist Hospital in Gaza City.
It also comes as Sky News understands Rishi Sunak is set to visit Israel, possibly as soon as Thursday.
The visit could be part of a wider visit to the region to include Jordan and Egypt.
It would follow visits from Germany's chancellor Olaf Scholz today and US president Joe Biden tomorrow.
Follow the latest on the Israel-Hamas war in our dedicated live coverage here:
Be the first to get Breaking News
Install the Sky News app for free