CNS Building

The outside of the CNS Building, as seen from the River Thames, Spectre (2015).
The Centre for National Security Building ( CNS ) was designed to house the fictional headquarters of the Joint Intelligence Service ; a new British intelligence agency formed from a merger of MI6 and MI5 . It was located in Vauxhall, a south-western part of central London , United Kingdom, on the bank of the River Thames beside Vauxhall Bridge and directly adjacent to the defunct headquarters of MI6, the SIS Building . The building was featured in the 2015 James Bond film Spectre (2015).
History [ ]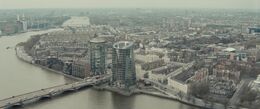 The Centre for National Security building was constructed with private funds unknowingly provided by the criminal organization SPECTRE and was designed to be the headquarters of Britain's combined intelligence agencies, along with the surveillance equipment necessary for the " Nine Eyes " programme. The building's construction was supervised by the Director-General of the Joint Security Service, Max Denbigh (C), whose office was situated at the top floor. During the film's climax, M , Q , Moneypenny and Bill Tanner break into the building to prevent "Nine Eyes" and arrest Denbigh. During an altercation between Denbigh and M several windows are shot and the falling debris causes Denbigh to fall to his death from the top floor.
Behind the Scenes [ ]
Interior scenes of the CNS Building, notably centered around the building's staircases, were filmed at London's City Hall on 18 April 2015, while director Sam Mendes was on location. [1] The City Hall stairs were combined with sets and a digital exterior set across the Thames from the SIS Building . [2] The actual building on the A202, which began construction in 2014 and completed in early 2016, looks completely different and is a 16-storey (conjoined to an adjacent six-storey) residential building named Riverwalk . [3] The former building on the site, a 12-storey office building built in 1966, was demolished and whilst building works were undertaken on Riverwalk , the plot of land featured as the location of the computer-generated CNS Building. [4]
References [ ]
↑ " James Bond director Sam Mendes shoots new Spectre scenes inside London's iconic City Hall as filming resumes after Daniel Craig's set injury ", Daily Mail , 18 April 2015. Retrieved on 19 May 2015.  
↑ " Tower-ing Fiction #2: CNS Building, Spectre (2015) ", Vault of Culture, 1 January 2019. Retrieved on 10 November 2019.
↑ " THE RIVERWALK VIEW: NEWSLETTER SPRING 2015 ", http://www.riverwalk.co.uk , Spring 2015. Retrieved on 11 September 2017.  
↑ " RIVERWALK 161 MILLBANK ", Shadbolt International . Retrieved on 11 September 2017.  
1 Skyfall Lodge
2 James Bond (Daniel Craig)
3 Blofeld (Christoph Waltz)
Please enable JavaScript in your browser for better use of the website!
Secret Intelligence Service MI6 Building
Spectre (2015).
This is the place where Spectre starring Daniel Craig, Christoph Waltz and Léa Seydoux was filmed at Secret Intelligence Service MI6 Building in London, United Kingdom. Start scrolling to find out more.
The real headquarters of MI6, also known as the SIS building, made its first Bond appearance in Goldeneye. It was also seen during a boat chase in The World is Not Enough then came under attack in Skyfall. In Spectre, the building appears once again appears on screen.
64A Albert Embankment, London SE1 7TP, United Kingdom
51.486851, -0.123646
want to visit
LOCATION DETAILS
Designed by architect Terry Farrell, the style of the building was influenced by 1930s modernism and Aztec temples, and opened in 1994.
office building
A cryptic message from Bond's past sends him on a trail to uncover a sinister organization. While M battles political forces to keep the secret service alive, Bond peels back the layers of deceit to reveal the terrible truth behind SPECTRE.
add location
LOCATION on map
The exact gps location of this sceen.
One of our users addes this location
If you want to create you own SCEEN, please login . SCEEN IT is a great guide that lets you add and share travel info about places like London, United Kingdom in Spectre starring Daniel Craig, Christoph Waltz and Léa Seydoux. It shows you where it was filmed, which filming locations were used and how to get there.
CLICK HERE and watch Spectre
Comments on this sceen, share photos, information and your experience.
Secondary menu
Search form.
Bond Lifestyle
Accessories
Food & Drinks
For Bond Girls
MI6 & Allies
Heritage Collections
Spy Gadgets
Toys & Collectibles
NO TIME TO DIE
Upcoming Events
Interactive
In the Media
Official Bond Website
ajb007.co.uk
International Fan Club
More links...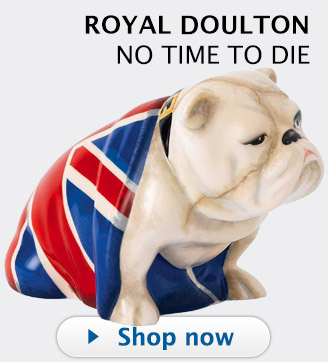 BROWSE BY: FILM   |   ACTOR   |   PRODUCT   |   NO TIME TO DIE   |   GIFT GUIDE   |   FOR SALE NEW
Advertisement, sis/mi6 headquarters, vauxhall cross, london, uk.
The Vauxhall Cross SIS Building, also commonly known as the MI6 Building, is the headquarters of the British Secret Intelligence Service.
The building is located at 85, Vauxhall Cross in the south western part of central London, along the Albert Embankment on the bank of the River Thames beside Vauxhall Bridge ( Google Maps ).
This MI6 building can be seen in the James Bond films GoldenEye (1995), The World Is Not Enough (1999), Die Another Day (2002),  SkyFall (2012) and SPECTRE (2015).
The Vauxhall Cross building was completed in April 1994 and officially opened by Queen Elizabeth II in July of that year. A year later the building is first seen in a Bond movie, GoldenEye .
In Tomorrow Never Dies (1997), the building is not seen, but in the opening sequence of The World Is Not Enough , the MI6 headquarters are prominently featured when a bomb was detonated, killing Sir Robert King and damaging a portion of the building. James Bond (Pierce Brosnan) jumps out of the building with the Q-boat, starting the chase with the cigar girl (played by Maria Grazia Cucinotta). Filming was partly done using a 50 foot high model of Vauxhall Cross constructed at Pinewood Studios.
In Die Another Day , we see an exterior nightime shot of the building from across the Thames, establishing the location of Bond's virtual reality training session.
In Casino Royale  (2005) and  Quantum of Solace  (2008) we see the interior of MI6, but there are no exterior or establishing shots of the building itself.
In SkyFall , the building is once again prominently featured when we first see M in her office in the pre-title sequence, and in an establishing shot of the building by night right after the title sequence. In another scene, the building is shown from the Vauxhall Bridge when M and Bill Tanner witness the large explosion which destroys the front of the building. This might be the last time we see the building in a Bond film, as by the end of the movie SkyFall , MI6 has set up a new office, which resembles the more classic offices used in the earlier Bond films. In the last scene of SkyFall, behind the desk of the new M, we can see an impressionist painting of the MI6 Vauxhall Cross building.
In SPECTRE, the MI6 building is set for demolition after the attack in SkyFall. The building plays an important part in the last big action scene of SPECTRE .
The location is definitely worth a visit when you are in London. The best place to see the building is from the Vauxhall Bridge. Please note that filming in the vicinity of the building is not allowed.
Related Pages
Subscribe to the Bond Lifestyle EYES ONLY newsletter

Add new comment

No Time To Die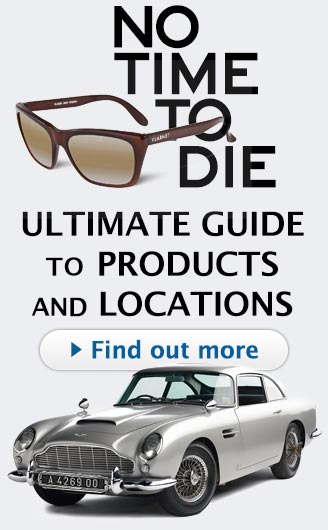 Please note: this page contains affiliate links, which means that if you buy something via one of the product links or banners, I might receive a small commission, but the price is the same for you. Full affiliate disclosure .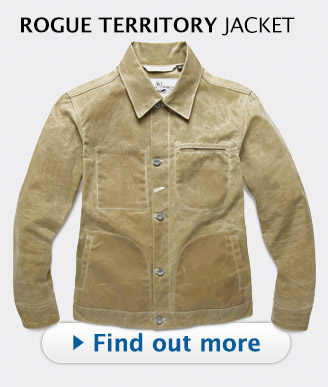 ADVERTISEMENT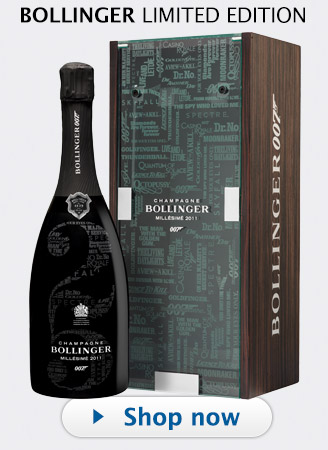 Recent updates
1 James Bond's Yo...
2 Two Aston Martin DB5...
3 Globe-Trotter No Tim...
4 Ultimate Guide to SP...
5 David Deyong DiamonD...
Most popular
1 La Perla "Grigi...
3 Church's Ryder...
4 Sunspel Riviera Blue...
5 Levi's STA-PRES...
Bond Lifestyle is an unofficial information resource and is not linked to the official James Bond production companies. © No Time To Die © 2020 Metro-Goldwyn-Mayer Studios Inc., Danjaq, LLC, Eon Productions, Universal Pictures, United Artists. © SPECTRE © 2015 Metro-Goldwyn-Mayer Studios Inc., Danjaq, LLC, Eon Productions, and Columbia Pictures, Inc. © SkyFall © 2012 Danjaq, LLC, United Artists Corporation, Columbia Pictures, Inc. 007 and related James Bond Indicia © 1962-2023 Danjaq, LLC and MGM. 007 and related James Bond Trademarks are trademarks of Danjaq.
Find Bond Lifestyle on:
INSTAGRAM   |  FACEBOOK   |  TWITTER   |  YOUTUBE
Affiliate disclosure
Privacy Policy
Cookie Policy
Fanspot MI6 Headquarters
"- Need I remind you 007, that you have a licence to kill, not break the traffic laws. – I wouldn't think of it. .." Q (Desmond Llewelyn) and James Bond (Pierce Brosnan)
007 Spectre is the twenty-fourth James Bond film adventure to see actor Daniel Craig take on the custom-made suit of Her Majesty's most famous secret agent for the fourth consecutive time. A film once again directed by Sam Mendes, already on the job on Skyfall , with filming beginning as early as the end of 2014, in various locations around the world. Because James Bond is a great traveler. This new episode takes him from Tangier in Morocco to Mexico City, with stops in Rome, Italy and Austria. However, England, and in particular London, still holds a special place. This is where the spy lives, in a beautiful building located at 1 Stanley Gardens in Notting Hill and it is also where the headquarters of MI6 is located…
The SIS Building, headquarters of MI6
In modernist style, the large building of MI6 is easily noticed on the banks of the Thames. Especially since the 007 franchise has obtained the right to exploit his image. Opened in July 1994 by Queen Elizabeth II and her husband, the SIS Building – sometimes called Legoland by Londoners because of its unusual architecture – stands on the former site of Vauxhall's Pleasure Gardens, a 19 th -century entertainment establishment.
Since their creation at the beginning of the 20 th century, the secret services have occupied several buildings in turn. Examples include 64 Victoria Street, where the very first headquarters was located, the Ashley Mansions building, Flat 54 at 2 Whitehall Court, 1 Melbury Road and Century House. The SIS Building is protected by two moats, like a castle, and includes various facilities such as a gymnasium and a basketball court.
Fiction vs. reality
The SIS Building is an ultra-secure construction whose reliability was put to the test in September 2000, when a terrorist group fired an anti-tank rocket at its façade, causing only superficial damage. Nevertheless, it is in the movies that the MI6 headquarters is the most abused. James Bond himself not being able to avoid his total destruction in 007 Spectre …
Since the beginning of the saga, four billion cinema tickets to see a James Bond film have been sold worldwide.
SIS Building
Also known as the MI6 Building, the SIS Building is the headquarters of the Secret Intelligence Service (SIS).
Built in 1994, the building houses the secret service on the banks of the Thames, after having occupied many buildings across the British capital.
Inaugurated by Queen Elizabeth II in the same year, it has been visited many times by the royal family.
During the Queen's Diamond Jubilee in 2012, the London Philharmonic Orchestra performed the James Bond theme music as it passed in front of the building. The secret agent being the most famous employee of the institution.
The Fantrippers Buying Board
Aston Martin DBS James Bond On Her Majesty's Secret Service
Aston Martin DBS James Bond On Her Majesty's Secret Service
Among the mythical cars of the saga, the Aston Martin DBS holds a special place…
On a scale of 1/43, the splendid miniature is sold with a display case to enhance the collection.
Discover all the places James Bond on our map
By Gilles Rolland
Passionné de cinéma, de rock and roll, de séries TV et de littérature. Rédacteur de presse et auteur des livres Le Heavy Metal au cinéma, Paroles de fans Guns N' Roses, Paroles de fans Rammstein et Welcome to my Jungle : 100 albums rock et autres anecdotes dépareillées. Adore également voyager à la recherche des lieux les plus emblématiques de la pop culture.
Let's discuss this fanspot
Sign up for the Monthly newsletter Fantrippers
SIS/MI6 Building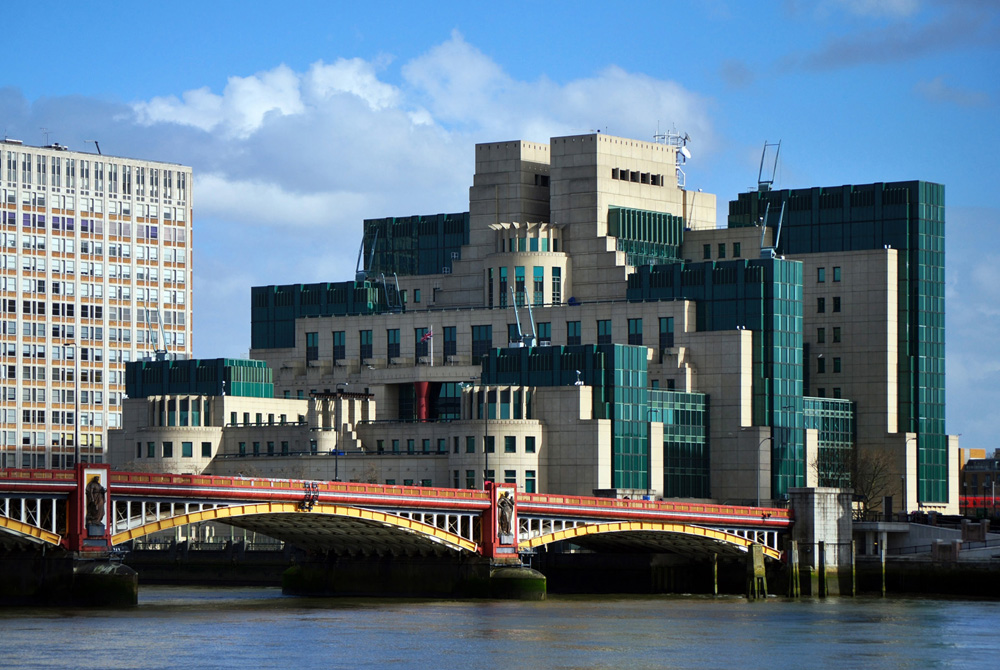 ...its cover was still regularly blown by extrovert bus conductors shouting "Spies Corner!"
Sometimes a building looks so exactly what it is – in this case a postmodern citadel – it's hard to imagine it being anything else, but the MI6 building at Vauxhall (also known as the SIS Building, "Legoland", "The Ziggurat", and "The Vauxhall Trollop") wasn't purpose built. Architect Terry Farrell envisaged a general commercial building with an "urban village" quality, and it was only later bought by the government and adapted into a fortress for SIS, the Secret Intelligence Service.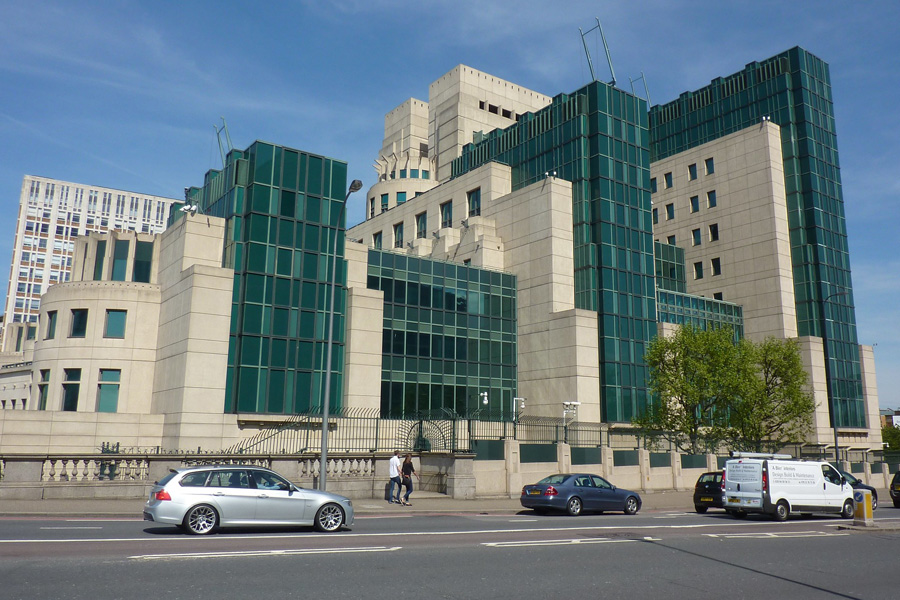 Completed in 1994, it is a very Eighties edifice but it wears its postmodernism lightly: no toytown Corinthian columns or fake Chippendale pediments. Instead it combines a monumental modernism, like Battersea Power Station just along the river, with something like an Aztec temple, then gives it all an extra twist with a bold use of green and a faceted complexity that makes it hard to work out how many storeys there are. No wonder it apparently has sixty separate roof areas.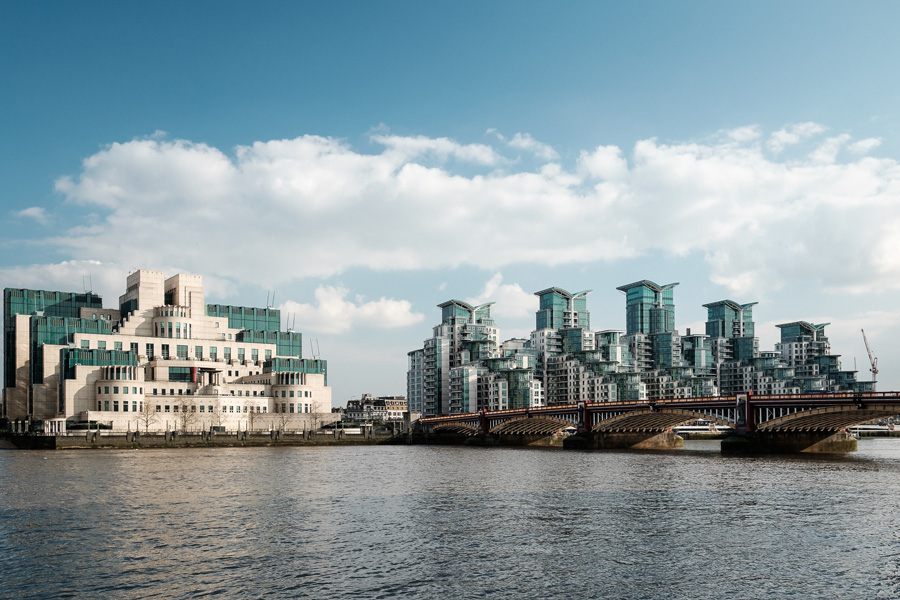 With an appearance that could go either way, it has to be said it's enhanced by the mystique of the secret service. If it housed a mall, some fast food outlets and a tanning parlour, then its possible resemblance to a multiplex cinema might be more obvious. But as it is, there's a fascination about the unknown levels below ground, and the high spec details: metal piping throughout, instead of plastic, so it needs minimum intrusion for repairs; twenty-five different types of glass; an independent generator system; and the notoriously expensive features that were budgeted but kept unnamed on the accounts, one of them rumoured to be a tunnel to Whitehall.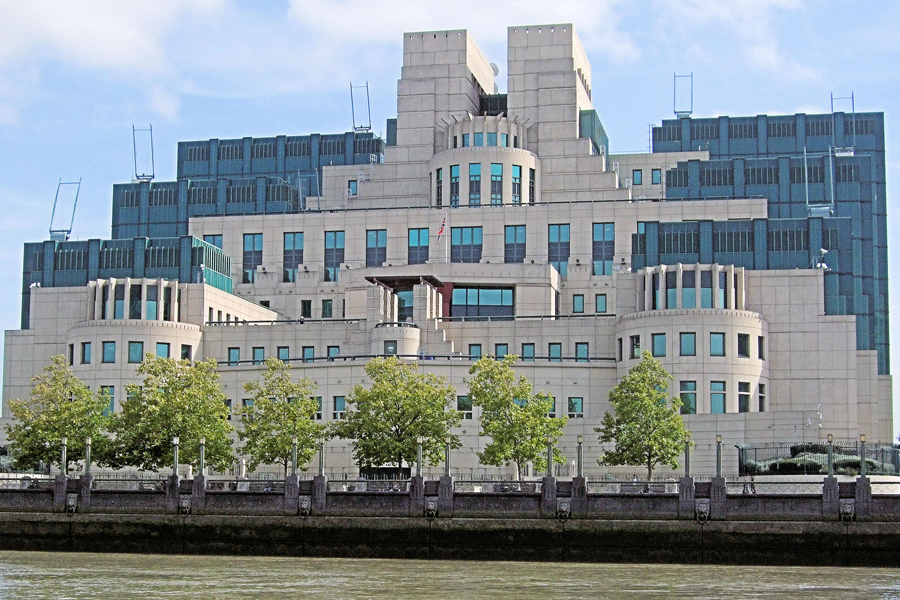 The expense and ostentation were widely regarded as a public relations disaster, and "Babylon on Thames" reflects the changing face of British intelligence. After various Mayfair and Whitehall offices for a more patrician service, the last address before Vauxhall was Century House, a 1960s tower block by Lambeth North tube station. Shabby and anonymous, more Harry Palmer than James Bond, its cover was still regularly blown by extrovert bus conductors shouting "Spies Corner!" and passengers looking to see who got off.
Now the Cold War is over, the threats have changed, and the service is more open and accountable: an equal opportunities employer with an ethical agenda. At one stage MI6 knew where Osama Bin Laden was, but they were unable to share this information with the Americans lest they should take him to America, where he might face the death penalty or be otherwise mistreated.
In 2013 the whole building was lit pink for breast cancer awareness. It has also starred in several James Bond films, sometimes under explosive attack, and there is a pleasant pub facing it on the north bank, The Morpeth Arms, with a themed 'Spying Room' upstairs. Security commentator Alan Judd once said that this initially unloved building "might yet mature into an object of espiocratic" – there's a word – "and perhaps even public affection". I think it might have happened.
See more nominated buildings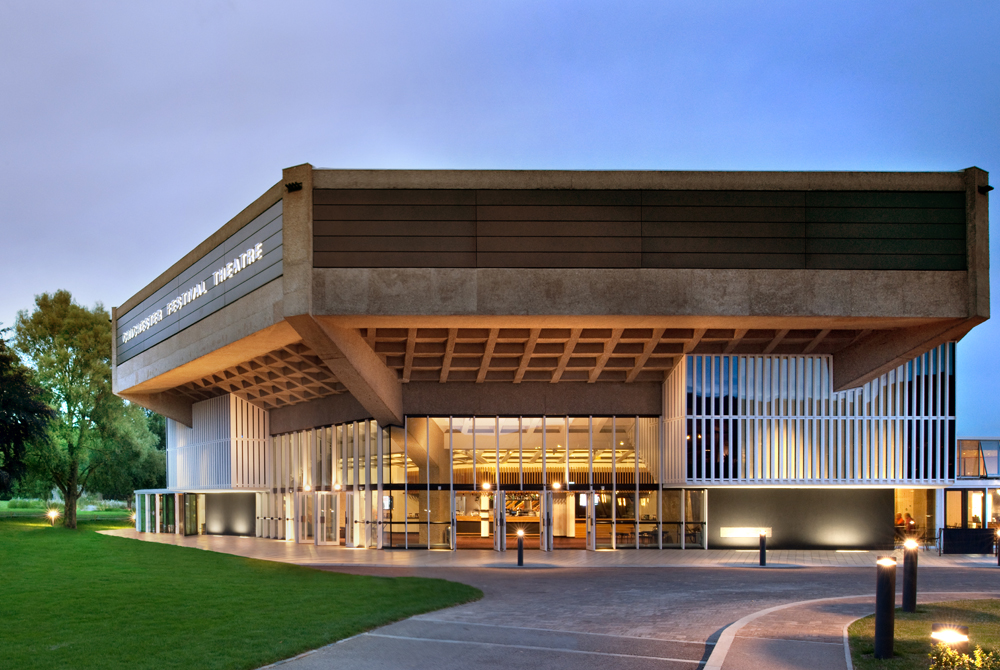 Chichester Festival Theatre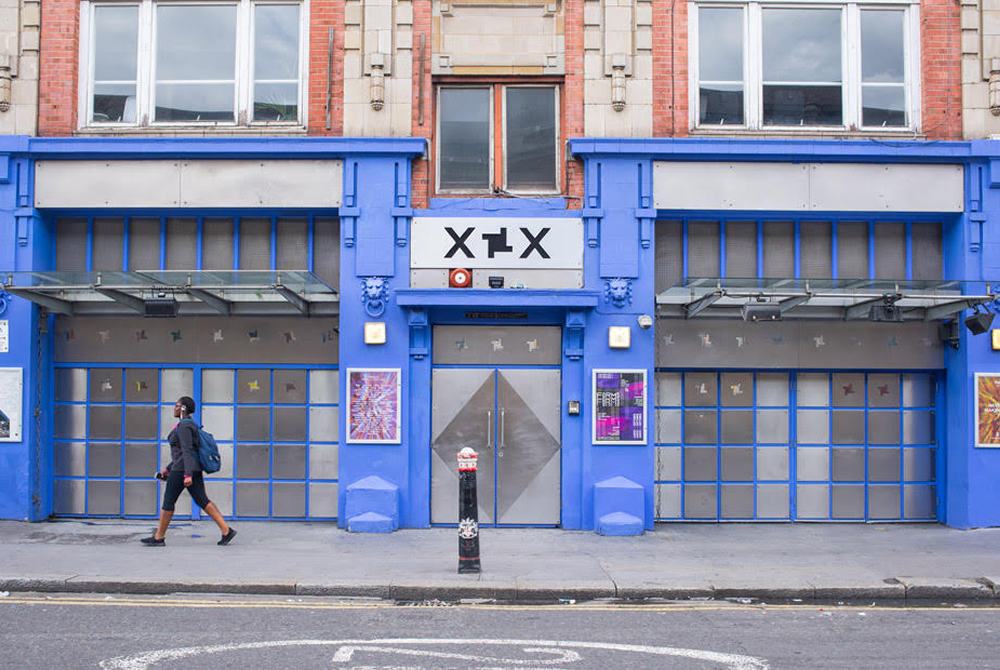 Royal College of Physicians
Lorenzo zandri.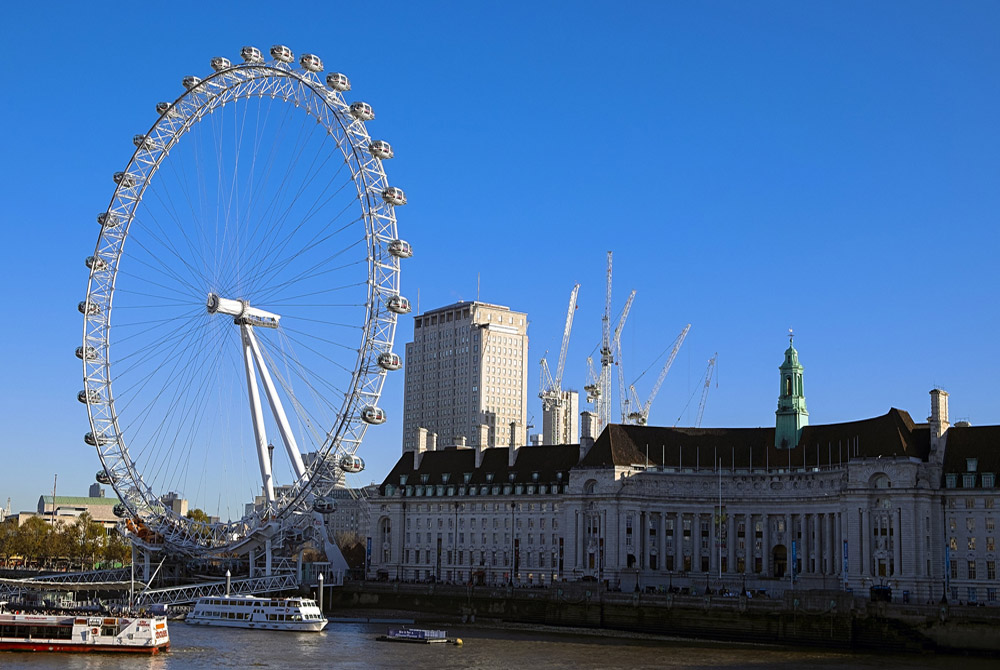 The London Eye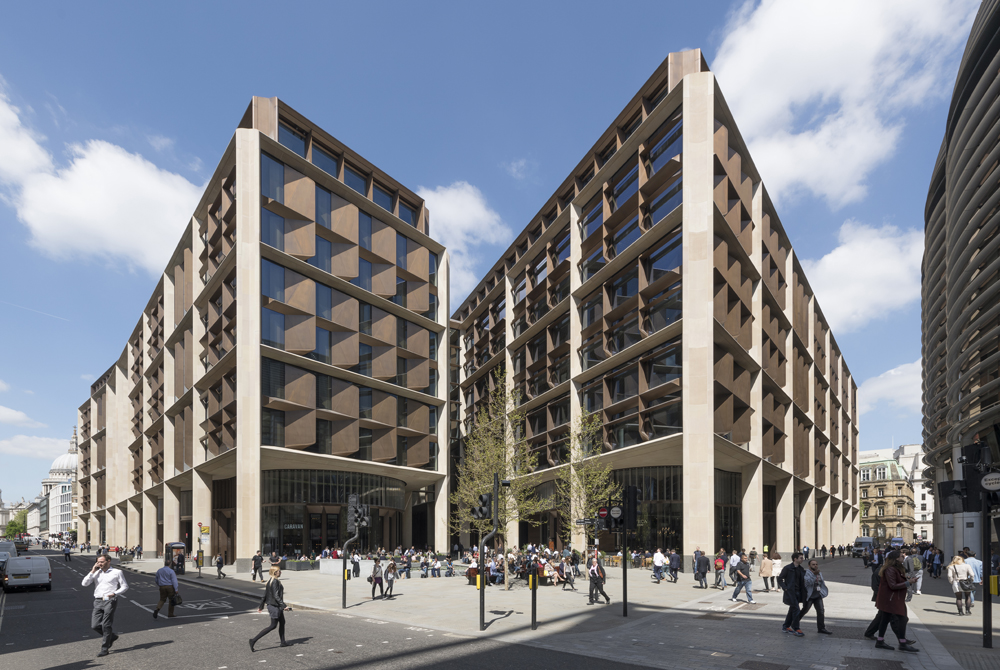 Bloomberg Building
Freddie pownall.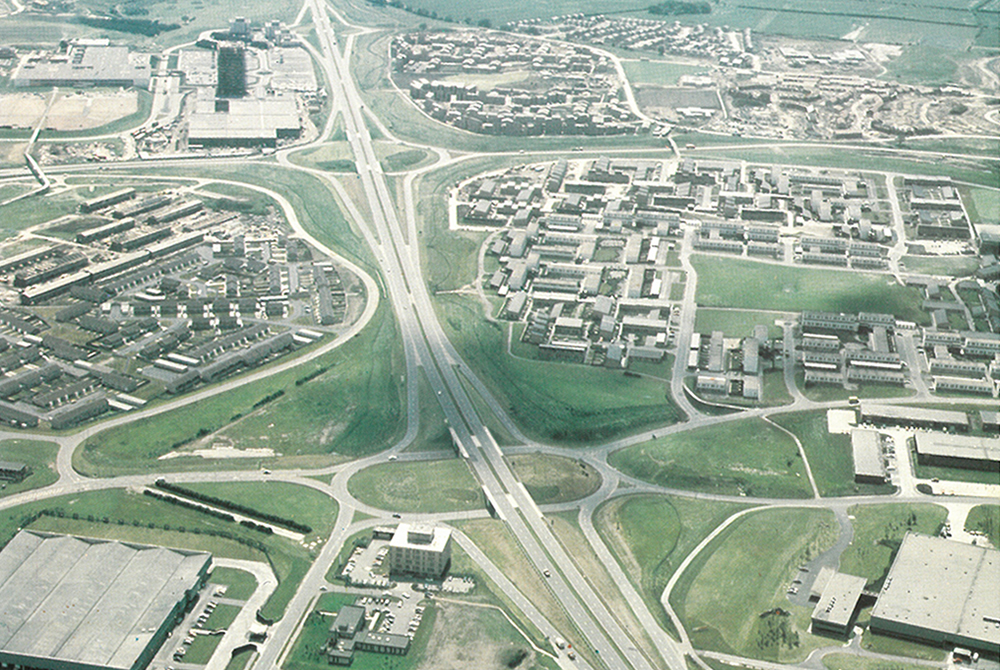 Washington New Town
Tyne & Wear
George Clarke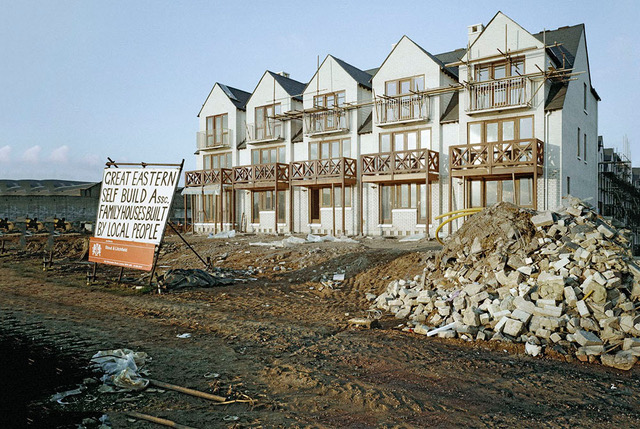 Self Build Group
Jenny barraclough.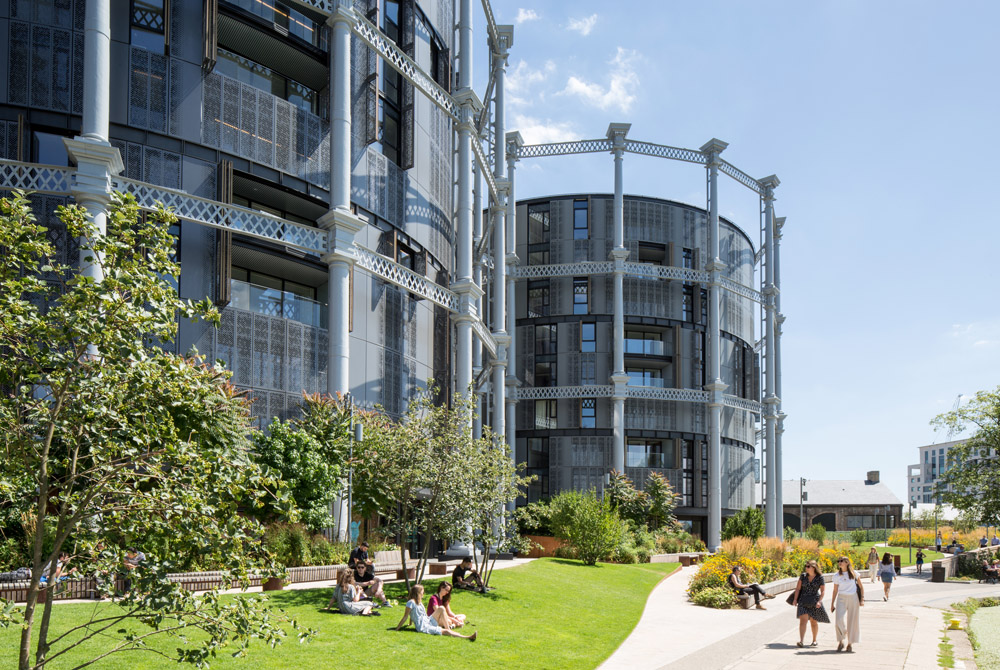 Gasholders, Kings Cross
Dominic wilkinson.
Teresa's mid teens involved blagging her way backstage to interview the top groups of the day including the Beatles and the Rolling Stones. After 3 years as a sub editor on Homes & Gardens magazine she took 7 months off to hitchhike around South America and on her return became Press Officer for Selfridges, promoted to Head of the public relations a year later. A move to Miss Selfridge as Head of PR, Marketing and Advertising followed where her many tasks included art directing and styling regular photo shoots with some of the young models who went on to become household names – Kate Moss, Naomi Campbell and Yasmin le Bon among others. In the '90s she and her husband set up their own above and below the line agency with a wide range of corporate, fashion, beauty and interiors clients. In idle moment they jointly produced a self-published series of children's books based around vegetables and many a happy hour was spent with friends inventing new and imaginative names – Broccoli Spears and Jenson Button-Mushroom being particular favourites. In 2006 she was editor of the book 'Miss Selfridge. A retrospective,' covering 40 years of the company, and from then till now has worked as a freelance marketing consultant/art director for a number of different clients.
Howie B is an acclaimed producer and composer of experimental-electronic music. Bernstein's early association with Bristol club faves Soul II Soul and Massive Attack inspired him to fuse soul, hip-hop, house and jazz with a twist. He launched his own label, Pussyfoot Records in 1994 having already released tracks under his own name through the noted Mo'Wax imprint. Since then Howie has produced works with artists including U2, Bjork, Tricky, Brian Eno, Siouxsie and The Banshees, Sly and Robbie, Robbie Robertson and U.N.K.L.E. His music has appeared in adverts for Maserati, Lloyds and Range Rover amongst others. As a DJ he tours the globe performing and conducting workshops on music production.
Trained as an architect in Rome and Paris, he started to dedicate himself completely to photography and the process of the image in architecture, deciding to not build things but images. The image is a crucial result of an artistically-led process, swinging its position between documenting the built environment but also illustrating a meaning through the image itself. His fine approach aims at narrating spaces and atmospheres recalling different past references and analogies from the archive of paintings and art images related to our culture. In 2019 his visual research 'On the riverside' was exhibited at the London Festival of Architecture in London and published in different platforms and books. His work has been also displayed in Praha for 'Behind Camera', an international exhibition curated by Adam Stěch with Leonardo Finotti among others. In 2020, he was invited to talk about his practice to the ZoomedIN Festival, an architectural photography festival alongside other outstanding photographers. Nominated 'among the '25 Emerging Architectural Photographers from around the globe' by Archdaily', Lorenzo collaborates with different practices and architectural firms worldwide spreading their projects through his lens. His images have frequently published on architectural and design magazines such as DOMUS, AD, Dezeen and designboom. He co-founded ROBOCOOP, an experimental and research art duo project, creating ephemeral architectural scenarios and urban collages related the past and historical sources.
The Rt. Hon John Gummer, Lord Deben, set up and now runs Sancroft, a Corporate Responsibility consultancy working with blue-chip companies around the world on environmental, social and ethical issues. Lord Deben is Chairman of the Committee on Climate Change and Valpak Limited. He was the longest serving Secretary of State for the Environment the UK has ever had (1993-97). His sixteen years of top-level ministerial experience also include Minister for Agriculture, Fisheries & Food, Minister for London, Employment Minister and Paymaster General in HM Treasury. He has consistently championed an identity between environmental concerns and business sense.
Freddie Pownall has just completed a Real Estate Degree at Oxford Brookes University. It was here that he developed an interest in sustainable design that is also seen as art, hence his selection of the Bloomberg Building in London. Freddie is now interviewing for jobs in the commercial, residential and real estate insurance sectors.
George graduated from his BA Architecture at Newcastle University, and completed his March at The Bartlett. He is the creative director of George Clarke + Partners, and a founder of TV production company, Amazing Productions. Best known for his Channel 4 programmes including The Home Show, The Restoration Man, and George Clarke's Amazing Spaces. He is an Ambassador for Shelter, Maggie centres, the Landmark Trust and the Princes' Foundation for the Built Environment. He is the author of several books including Home Bible and Build a New Life by Creating a New Home. George is the founder and chairman of the educational charity The Ministry of Building, Innovation + Education (MOBIE) which was formed to inspire young people, through innovation and advanced creative thinking into the architecture, design and building industry by creating homes for 21st century living.
Jenny Barraclough, OBE, is a film and television producer, much of her work being in TV documentaries. She was also one of the first female TV producers. Her film Women in Prison in 1972 (which won a BAFTA) was the first film to be shot in a women's prison in the UK. In the 1980s she made two films on Queen Elizabeth II and two on 10 Downing Street for BBC One. Barraclough also produced films on the arts, including one on the Royal Academy Summer Exhibition and a major series on the London Symphony Orchestra in 1986. Barraclough's films on AIDS helped promote understanding of the disease in its early days. Barraclough also produced other series focused on medicine, including series on transplant surgery and the history of cancer. Films for BBC World have included projects on leprosy (2001), vaccination (2004), and international efforts to prevent the spread of avian flu. In 2005 Barraclough produced a widely distributed film on the MMR vaccine for the Department of Health. Barraclough was appointed Officer of the Order of the British Empire (OBE) in the 2009 Birthday Honours.
Dominic Wllkinson is a co-founding director of Lee+Wilkinson Architecture, working with his co-director Jeffrey Lee on residential, commercial, leisure, retail, hospitality and cultural projects. He holds a Bachelors of Architecture with Honours from the University of Newcastle upon Tyne, a Masters in Computer Imaging in Architecture from the University of Westminster and a Diploma in Professional Practice from the University of Southbank. He is also a Director of Wilkinson Design Studio LLP where he delivered the Landscape to Portrait in the courtyard of the Royal Academy of Arts with Chris Wilkinson. During his 3 years at Wilkinson Eyre he delivered the Kings Cross Gasholders and marketing Suite.
Owen Jones and Ben Elworthy
Owen Jones is a qualified Architect with 20 years' experience and currently the Head of Design at MOBIE, the built environment education charity that inspires young people to innovate the design of homes. Owen is also a founding director of the London design practice TDO architecture. He has first hand experience of delivering sustainable housing through innovative off-site technology, having co-designed the FAB house for Urban Splash. It was the potential of this technology to inspire that led him to support George Clarke establish MOBIE in 2017, to revitalise the way homes are built. As Head of Design Owen develops initiatives that seek to include young people's voices in the built environment, though challenges, engagement and co-design. A recent collaboration with the Mayor of London's team was to launch a design challenge for young Londoners called Design Future London. Its aim is to engage the future designers and creators that will retain London's position as a world capital of design, development and regeneration.
Ben Elworthy is a student, currently in Year 13, studying Product Design, History and Politics. His interests mainly revolve around architecture and industrial design, both in terms of general design as well as engineering, and he is actively looking for further work experience in the sector. Ben was a finalist for the Design Future London Challenge where his project won the People's Vote in the 16-18 age category, and shortlisted in the competition, hosted by the Mayor of London and renowned architect/presenter George Clarke.
Juice Aleem
Juice Aleem is a leading figure within British hip-hop. His work caught the attention of Will Ashon in the mid nineties, earning him the first release on the now iconic Big Dada label. Alongside his output as an MC, Juice is also a director of the B-Side and High Vis festivals, and founder of the Afroflux organisation.
Richard Miers
Richard Miers has been designing gardens for over 27 years, both in the UK and abroad. His wide range of projects include a dacha in Moscow, a villa in Sardinia, country gardens for Grade1 listed houses in Norfolk and Buckinghamshire, a 15 acre garden for a new build Palladian mansion in Surrey and countless town gardens and roof terraces in London. Richard's gardens are clean and classically contemporary in style, with a strong sense of geometry. Lauded as one of the 20 Finest Gardeners and Landscape Designers by Country and Townhouse magazine in June 2022  he was invited to design a show garden for the Telegraph/House & garden Fair in 2007. In 2012 Richard was chosen to represent the United Kingdom in the Gardening World Cup in Nagasaki, Japan, with his garden Serenity, and in 2017 he was again invited by House & Garden magazine to provide a garden feature at their festival at Olympia. This year Richard's garden won the People's Choice Award for the Main Avenue Show Garden at the Chelsea Flower Show, a garden he designed for Perennial – the charity helping people in horticulture.
Matthew Freedman
Matthew Freedman used to run a bookshop, and then became a travelling salesman. He now advises some of the world's leading art and architecture publishers on the marketing and sales of their books, and is also a commissioning editor and writer. In 2019 he wrote Best Buildings: Britain , a concise guide to modern British architecture based on the choices of a wide variety of experts. He spent his eighth birthday in the revolving restaurant at the top of the Post Office Tower.
Rebecca Salter
After graduating from Bristol Polytechnic Rebecca Salter lived in Japan for six years, including two years as a research student at Kyoto City University of Arts, Japan. While in Japan she trained in many traditional techniques and combines these interests with her main practice in painting and drawing. In 2011 she had a major retrospective at Yale Center for British Art, New Haven, Connecticut and has also featured in numerous international solo and group exhibitions. She was elected a Royal Academician in 2014.  In 2017 she became Keeper of the Royal Academy of Arts and in December 2019 was elected President, the first woman to hold the position in the Royal Academy's history.
George Carter
George Carter  is an internationally renowned garden designer and writer on gardens who has created numerous formal gardens in Britain, Europe and the USA. Recent commissions include the Royal Hospital Chelsea, London, Belmont House, Kent, Stedcombe House Devon, Thenford House, Oxfordshire and Somerleyton Hall, Suffolk. His new book On Plan and Proportion will be published by the Henley Hall Press in 2023. Setting the Scene was published by the Pimpernell Press in 2018. He has published 9 other books on various aspects of garden design, including the award winning New London Garden, and Garden Spaces.
Antony Oliver
Antony works with a range of clients across the infrastructure sector to boost communication and marketing strategies and to stimulate discussion and action in the industry through the creation and delivery of thought leadership articles and events. He has spent the last three decades working as a journalist and editor, initially with New Civil Engineer magazine, and most recently as creator of the website Infrastructure Intelligence. He is a chartered civil engineer and Fellow of the Institution of Civil Engineers and started his career with Owen Williams and Partners and Balfour Beatty. For the last four years he is has served as a Trustee of the Built Environment Trust which exists to inspire, connect and empower people to improve the quality of our built environment.
Neal Shasore
Dr Neal Shasore is Head of School and Chief Executive Officer of the London School of Architecture. Neal graduated from the University of Oxford with a DPhil in Architectural History, an MA in History of Art and MSt in the History of Art and Visual Culture. He was awarded a Leverhulme Trust Early Career Fellowship at the University of Liverpool, based in the school of architecture. Previously Neal was a Visiting Lecturer to the University of Cambridge's architecture school and has held posts at RIBA and the University of Westminster. An architectural historian by training his research and writing has primarily focussed on architectural culture in Britain and the Empire in the first half of the twentieth century and this critical perspective informs his own pedagogy and practice. He is a Trustee of the Architectural Heritage Fund and the Twentieth Century (c20) Society.
Terry Ackland-Snow
Terry Ackland-Snow began his career in the film & television industry in 1961 at the age of 18. His first position was working in the art department as a Junior Draftsperson on, 'The Tell Tale Heart' with Norman G Arnold at Danziga Studios in Elstree. This was closely followed by the TV series, 'Richard the Lionheart' then his first major feature film 'In the Cool of the Day' designed by Sir Ken Adams.
Terry has gone on to travel and work on over 80 feature films and television productions worldwide. He has worked with some of the best Directors and technicians in the industry on iconic films such as Space Odyssey, Aliens, Labyrinth and two Bond movies in a career spanning more than 40 years. He has amassed a wealth and experience that compelled him when he stepped away from productions to set up an Art Direction training school, Film Design International, now in its 21 st year, based at Pinewood studios in Buckinghamshire.
His passion for the film industry and belief in enabling new talents to create careers, coupled with his desire to widely his share deep knowledge has led him to writer and have published two books, 'The Art of Illusion' (2017) and more recently, 'The Art of Film' (2022).
Barnabas Calder
Barnabas Calder is a historian of architecture specialising in the relationship between architecture and energy throughout human history. He also works on British architecture since 1945. He is currently completing a book with Pelican on energy and architecture worldwide over the past fifteen millennia. His book Raw Concrete: The Beauty of Brutalism, was published by William Heinemann in 2016. He is working on a complete works of Denys Lasdun, funded by the Graham Foundation and in collaboration with the RIBA British Architectural Library Special Collections.
Gus Casely-Hayford
Dr Casely-Hayford is the inaugural Director of V&A East, appointed in March 2020. He is a curator and cultural historian who writes, lectures and broadcasts widely on culture, having presented a number of series for Sky, BBC radio and television and other channels. Formerly Executive Director of Arts Strategy, Arts Council England, (Britain's major Art's funder) and Ex-Director of the Institute of International Contemporary Art, he has offered leadership to both large and medium scale organizations including the Smithsonian National Museum of African Art. He has served on the boards of many cultural institutions, including the National Trust and the National Portrait Gallery. Gus has lectured widely on culture, including periods at Sotheby's Institute, Goldsmiths, Birkbeck, City University, University of Westminster and SOAS. He has advised national and international bodies on heritage and culture including the United Nations and the Canadian, Dutch and Norwegian Arts Councils. In 2005 he deployed these leadership, curatorial, fundraising, communications skills to organise the biggest celebration of Africa Britain has ever hosted when more than 150 organisations put on over 1000 exhibitions and events. Gus gained a PhD from SOAS and was awarded an Honorary Fellowship. He is a Cultural Fellow of King's College London, a Fellow of Jesus College, Cambridge, a Board Member of the Creative Industries Federation and a Trustee of the Karun Thakur Foundation. Gus is also a member of the Art Mills Museum Scientific Committee and the English Heritage Blue Plaques Committee. Gus was awarded an OBE in 2018.
Robert Wilson
Robert is one of the most widely renowned portrait photographers in Europe. His work has evolved to lifestyle, sports and documentary style projects and is recognised for its accessibility and depth for revealing power and humanity. He is commissioned throughout Europe and USA collaborating with leading creatives on campaigns such as Peroni, Anglo American, HSBC, Nike, Adidas, Visa and Siemens. In 2008 he was commissioned as a war artist for the British Army, documenting the people and places within Helmand Province, Afghanistan. This unique and emotional body of work resulted in an exhibition on the rooftop of the Hayward Gallery, London, an extended exhibition at the National War Museum in Scotland, as well as the publication of the highly acclaimed book 'Helmand'. In 2014 he returned to Afghanistan to document the withdrawal of the British troops and the deconstruction of the war machine. Supported by the arts council England, 'Helmand Return' was a national outdoor billboard exhibition, shown alongside exhibitions at Gallery One and a Half, London and a follow up exhibition at the National War Museum, Scotland. Robert's editorial portrait work is most commonly viewed on the covers and pages of The Times Saturday Magazine for which he has been a major contributor for over ten years. Recognised by the Association of Photographers, the European Art Directors Club, the Design and Art Directors Club, the John Kobal Portrait Awards, Archive 200 Best Photographers, his portraits are included in the permanent collection of both the English and Scottish National Portrait Galleries.
Charmian Adams
Charmian was architecturally trained up to and including Intermediate Royal Institute of British Architects at Brighton College of Arts and Crafts. Before graduating Charmian wrote to the BBC and got a job, and after graduating spent the next few years there learning her craft. When she left to start a family she kept herself busy by taking an Open University Degree in Soviet Politics and Economics, but managed to fit in small jobs, and as her then husband was in the business she was kept in the loop about work.  A former colleague invited her to handle some work for BBC Bristol, and from there she ultimately got a job as an assistant art director on the film Sid and Nancy.  Her career has not stopped since then. Her TV work as art director has included Downton Abbey, Only Fools and Horses, Cranford and McMafia. Meantime her film work has included My Cousin Rachel, A Street Cat Named Bob, My Week with Marilyn and Nowhere Boy, acting as Supervising Art Director on the most recent work. Her love of the book of Les Miserables meant she was ideally suited to working on the 2018 BBC production, filmed in Belgium and France, where the famous barricade scenes meant covering up shop fronts and streets signs with false buildings, and even included importing fully grown hedges from England.  The chairs at the barricade were made of rubber, so they could be thrown again and again – and the hedges were safely returned to England when filmed ceased!
Sir Luke Rittner
Luke has spent all his working years in various roles in the arts.  He ran the Bath international Festival of music in the late 60s through to the 70s, which together with Edinburgh was one of the first post-war UK international music festivals. As founder and director of the Association for Business Sponsorship of the Arts (ABSA) he developed and encouraged corporate support for the arts in the UK.  A move to London saw him established at the Secretary General of the Arts Council of Great Britain (now Arts Council England), with a staff of over 300.  From 1990-1992 he acted as UK Cultural Director for EXPO '92 World Fair in Seville before joining Sotheby's as Senior Director of Marketing, Communications and Public Affairs. His role as CEO of the Royal Academy of Dance, from the late 90s to April of this year, involved leading the Academy's international operations and strategic development. He retired in April of this year. Numerous honorary posts include Chairman of the Board of Trustees of LAMDA, Foundation Trustee of the Holbourne Museum in Bath, trustee of the Theatre Royal Bath and the Bath Preservation Trust.Luke has an Honorary doctorate of Civil Law, Durham University, and Honorary Doctorate of the Arts, University of Bath. He was awarded a CBE in the New Year's Honours List, January 2017 and knighted in the recent New Year's Honours list for his services to dance.
Clive Aslet
Clive has published over 20 books on architecture and the British way of life, including The Story of the Country House for Yale University Press, due to appear in paperback later this year. After graduating from Peterhouse, Cambridge in 1977 he joined Country Life where he was Editor from 1993-2006. Among other things, he is now Chairman of the Lutyens Trust. A prolific journalist, Clive is famous for his command of many subjects, about which he writes with fluency and discernment, not to mention wit. Veteran broadcaster David Dimbleby describes his writing as 'charming, erudite, amusing'. The doyen of newspaper journalism Sir Max Hastings writes that 'Clive has been an extraordinarily informed and influential standard-bearer for the cause of the countryside and Britain's heritage for many years. He is an exceptionally thoughtful and fluent man, who lends distinction to any form with which he is engaged.' Married with three children, Clive himself lives in London and Ramsgate.
Carl Turner
Carl's practice, Turner.Works is an energetic, collaborative studio of architects, urban designers, thinkers and makers, who believe in creating thought provoking and well-crafted proposals. They work with a diverse range of clients including private residential, local authorities, arts and cultural organisations, not for profits and commercial developers. Projects range in size from a shipping container project at Hackney City Farm to a 11,000 sqm arts academy in Peckham.
Ann is the Director of Innovation and Campus Development at the University of Leeds. She is passionate about the way the built environment can make a difference to people's lives and believes that if place was at the heart of all developments there would be a noticeable improvement in social wellbeing. Ann is Chair of Architecture and Design Scotland, a Trustee of the National Museums of Scotland, a member of the Board of the Scottish Water Commission, Chairs the Huddersfield Students Union Trust and is a member of the board of Crown Estate Scotland. She was appointed Chair of the Built Environment Trust in 2021. She was recently made an honorary fellow of the RIAS.
Kathy Phillips
Kathy Phillips was Health and Beauty Director of Vogue UK for 7 years and International Beauty Director of Condé Nast Asia for 13 years where her particular focus was the launch of Vogue China. Kathy has worked for many British magazines and newspapers over her long career, first as Fashion Editor for The Daily Mail,The Mail on Sunday and then for YOU magazine as commissioning editor for the Style pages. Since becoming freelance she has also written for all the main national newspapers. She has won several Jasmine Awards, a Johnson & Johnson journalism award and a CEW Lifetime Achiever Award, recognition from the Cosmetics Industry. She is the author of the Vogue Book of Blondes and Editor and co-author of Vogue Beauty as well as two best selling books on Yoga. Her book- 'Vogue on Armani' came out in June 2015 In 2004 she founded the natural brand 'This Works" based on expertly blended aromatherapy, ingredients with integrity and proven science. In 2019 the world's largest cannabis company, Canopy Growth bought This Works and will see it launch a range of products infused with the cannabis ingredient CBD in 2020.
Lord Burnett of Maldon
Lord Burnett has been Lord Chief Justice and head of the judiciary since 2017. He was called to the bar by Middle Temple in 1980 and became a Queen's Counsel in 1998. His practice included civil claims and public and administrative law, including public inquiries. His last case at the bar was as counsel to the inquests into the deaths of Diana, Princess of Wales and Dodi Al Fayed. He sat as a part time judge in the Crown Court from 1998 and became a High Court judge in 2008 and was Presiding Judge on the Western Circuit from 2011 to 2014 when he was promoted to the Court of Appeal. Lord Burnett is President of all the courts in England and Wales and sits in the Court of Appeal, the High Court and by invitation in the Supreme Court.
Sophie Elmhirst
Sophie Elmhirst is a writer for Guardian Long Reads and the Economist's 1843 magazine, and a contributing editor at the Gentlewoman and Harper's Bazaar. In 2020 she won the British Press Award for Feature Writer of the Year and a Foreign Press Award for Finance and Economics Story of the Year. She has been longlisted for the Orwell Prize. She is currently writing her first non-fiction book, Maurice and Maralyn: A whale, a shipwreck, and a portrait of a marriage at sea, which will be published by Chatto and Windus in the spring of 2024.
Robert Elms
For nearly 40 years Elms has been one of the most distinctive faces and voices in the British media. A journalist, author and presenter, his multi award winning daily radio show on BBC London, covering all aspects of life in the metropolis, including his passion for great music, is the most listened to programme on British local radio. Born in the city in the sunny summer of 1959, educated at Orange Hill Grammar school and Queens Park Rangers football club, Elms progressed to the LSE and numerous night-clubs where he studied dressing up and falling over. A combination of these two led inexorably to a career as a writer. The start of the 1980's also saw the start of The Face, the pioneering style bible, where Elms instantly found a niche for his diatribes on the intricacies of young urban life and becoming editor of The Face in his early 20's. He began broadcasting for the BBC, most notably as part of the team of Loose Ends on radio 4 where he won his first Sony. In 1986 he combined two ambitions by going to live in Spain to write his debut novel. In Search Of The Crack was a Penguin original when he was just 27. He also began travel writing for The Sunday Times, Elms continued his obsession with Iberia by writing his second book Spain – A Portrait After The General which was nominated as travel book of the year in 1992.
Having worked with a leading UK contractor, Fred founded The B1M to focus on sharing "the best of construction" – improving the industry while helping to attract more people to come and work in it. Fred has since grown The B1M into the world's largest and most subscribed-to video channel for construction with over 2 million YouTube subscribers and 20 million viewers each month. It now employs a 15-strong team across London, Sydney and New York. In 2020, The B1M was named by The Times as one of the 20 best educational YouTube channels in the world.
Fred's videos have amassed hundreds of millions of views making him a global figure in video publishing and a role model to millions of people interested or already working in construction. Fred is a leading influencer in the sector, frequently speaking at international events and sharing his expertise with schools, colleges and organisations. His mission is to fundamentally alter the perception of construction on planet Earth.
Portrait © David Vintiner
Dame Judi Dench
Dame Judi Dench widely considered to be the finest actress of her generation studied at the Central School of Speech and Drama. She has performed with the Royal Shakespeare Company, the National Theatre, and at Old Vic Theatre. and is a ten-time BAFTA winner. It was her role as M, James Bond's boss in GoldenEye (1995), that established her as a legitimate Hollywood presence. Dench reprised the character for another six Bond films, ending with the 2012 release, Skyfall. While theatre is her first love she endeared herself to movie audiences in her first leading role as Queen Victoria in the biopic Mrs. Brown. But it was another royal performance, this time as Queen Elizabeth I in Shakespeare in Love (1998), that proved Oscar-worthy, and despite an on-screen time totalling just eight minutes, she walked away with the Best Supporting Actress Award. For her performance in Kenneth Branagh's Belfast (2021) Dench earned her eighth Oscar nomination for best supporting actress.  She was appointed an Officer of the Order of the British Empire (OBE) in 1970, a Dame Commander of the Order of the British Empire in 1988 and a Member of the Order of the Companions of Honour in 2005.
Portrait by Robert Wilson.
Jonathan Glancey
The journalist, author and broadcaster Jonathan Glancey was Architecture and Design editor of the Independent from 1987 to 1997 and Architecture and Design correspondent of the Guardian from 1997 to 2012. He was an Assistant Editor of the Architectural Review, a founding contributor to Blueprint and Motoring Correspondent for Tatler. He has written books on architecture, design, engineering, aviation and travel and is Patron of The Betjeman Society.
Hatta is the Editor of House & Garden magazine. She arrived at the magazine as Features Editor in 2006, and became the Deputy Editor in October 2013 and Editor in 2014. Hatta has an MA in History of Art from Edinburgh University and a MA in Architectural History from the Courtauld Institute of Art. She has also worked for an interior design company, as well as for the South African edition of House & Garden while living in Cape Town for a couple of years. She lives in between West London and Yorkshire with her husband and three small children.
Katy Ghahremani
Katy joined Make in 2004 and is one of the practice's four directors. She oversees some of the practice's highest-profile projects and has worked on a broad range of workplace, residential and mixed use schemes during her career. She is also responsible for designs for several prestigious hotels and resorts around the world.Katy is an architect with a passion for interiors, and is often called upon to help clients explore and develop their brand philosophy and identity. She is a driving force in the development of Make's hotels and retail portfolios, hosting bespoke events, supporting our thought leadership, and engaging with clients and collaborators on their biggest challenges. Katy is a trustee of the Built Environment Trust and a longstanding member of the Architectural Appraisal Panel at the Royal Borough of Kensington and Chelsea.
James Bradburne
James M. Bradburne is an Anglo-Canadian architect, designer and museologist who has designed world exhibition pavilions, science centres and international art exhibitions. Educated in Canada and England, he holds a degree in architecture from the Architectural Association and a doctorate in museology from the University of Amsterdam. Over the past twenty years he has carried out exhibitions, research projects and conferences on behalf of UNESCO, national governments, private foundations and museums around the world. From 2006 to March 2015 he was Director General of the Fondazione Palazzo Strozzi, dedicating himself to transforming the Palazzo into a dynamic cultural centre. He is currently Director General of the Pinacoteca di Brera and the Braidense National Library.
Spencer de Grey
Spencer de Grey, CBE RA studied architecture at Cambridge University and graduated in 1966. He joined Foster Associates in 1973; was made a partner in 1991 and has since been appointed Senior Executive Partner and Co-Head of Design at Foster + Partners.He was the director in charge of Stansted Airport; was responsible for the Sackler Galleries at the Academy and has overseen a wide rage of projects, at home and abroad.
Max Worsley
Max Worsley has worked in project management since leaving school at the age of 18, working on a diverse range of projects such as the restoration of a 1920's superyacht, the design and build of a 50,000sq ft London office for one of Europe's leading hedge funds, as well as the restoration of an island in the Scottish Summer Isles. He started working for Ocean Infinity nearly three years ago and has designed and built three of their new facilities around the world, before being made responsible for all real estate and facilities globally. He has a passion for sustainability, architecture and design and enjoys spending his spare time in the outdoors mountaineering and climbing.
Richard Hill
Richard Hill FCCA is managing Director of ACO, and in 2020 became Chairman of the Building Merchants Federation (BMF). He has been an active participant in the Building Materials Supply industry for nearly three decades. He is a member of the Worshipful Company of Builders Merchants, currently serving on the Court and became Master in 2022.
Klaus Bode is a Founding Director and Head of Environmental Design at Urban Systems Design; he is also a Trustee of the Built Environment Trust. Klaus has a keen interest in synergies between human centric design and environmental principles coupled with the integration of parametric environmental modelling and digital engineering design. Though this design approach he has collaborated with a wide range of internationally acclaimed Architects and building projects across Europe, North America, Middle & Far East and in the last decade, including Africa and South America.
Catherine Croft
Catherine Croft is Director of the Twentieth Century Society and is a regular contributor to a number of architectural journals, including Building Design. Catherine read Architecture at Cambridge University, and did an MA in Material Culture & Architectural History in the USA, where she held a fellowship at the Winterthur Museum in Delaware.
Dame Darcey Bussell
Darcey Bussell is a former Principal with The Royal Ballet and the most famous British ballerina of her generation. During her nearly twenty years as a Principal, she won worldwide renown for her unique combination of having a tall and athletic physique whilst dancing with soft lyricism. Darcey trained at The Royal Ballet School and joined the Company in 1988. She was promoted to Principal in 1989, aged just 20, after the premiere of Kenneth MacMillan's The Prince of the Pagodas, in which she had created the lead role. Darcey retired from the Company in June 2007 with a performance of MacMillan's Song of the Earth, broadcast live on BBC2. She came out of retirement to dance the 'Spirit of the Flame' at the 2012 London Olympics closing ceremony.Darcey's extensive broadcast work includes being a judge on Strictly Come Dancing, many documentaries for the BBC and she has presented The Royal Ballet's worldwide cinema relays since 2014. She remains a Guest principal coach at The Royal Ballet and is Artist Laureate of the Royal Ballet School. In 2015 she founded DDMIX (diverse dance mix), a dance fitness charity, aimed at getting dance fitness to be part of PE in state schools. Darcey became the President of the Royal Academy of Dance in 2012.
Cameron Saul
British sustainable fashion accessory brand BOTTLETOP was launched in 2002 by Cameron Saul and his father Roger (founder of British luxury fashion brand Mulberry). At the heart of the campaign was a handbag made in Africa from recycled bottle tops that was finished in Europe with Mulberry leather. The bestselling design generated local employment and raised vital funds for grass roots education projects in Africa. This was followed by another best-selling range using upcycled aluminium tabs, hand crotcheted in the BOTTLETOP atelier in Brazil. The BOTTLETOP #TOGETHERBAND campaign was launched in partnership with the UN Foundation on Earth Day, April 2019 to generate global awareness and action in support of the 17 UN Sustainable Development Goals through creativity and culture.
bottletop.org
Owen Hopkins
Owen Hopkins is an architectural writer and curator. He is Director of the Farrell Centre at Newcastle University and previously Senior Curator of Exhibitions and Education at Sir John Soane's Museum. He has written widely on architecture for publications including the Independent, Dezeen, The Architectural Review and Apollo, and is the author of six books. Owen is a regular guest critic at a number of architectural schools and has been a judge for the BD Architect of the Year and AJ Architecture Awards.
Kit is the creative force behind Firmdale Hotels. The first Hotel was the Dorset Square, opened in 1985, and the company now has ten hotels, eight in London and two in New York. Kit and her husband Tim, co-founder of Firmdale are known for breathing life into dilapidated areas, transforming overlooked properties such as warehouses and car parks into successful luxury hotels. They have also broken new ground with new-build hotels such as Ham Yard in London and the Soho Hotel in New York. Kit Kemp is also a successful textiles, fragrance and homewares designer, author of several books and a champion of British art, craft and sculpture. Her website Kit Kemp's Design Thread ( www.kitkemp.com ) showcases her world of colour and design. The Kit Kemp Design Studio explores colourful and detailed storytelling which celebrates craft and captures the imagination.
Nick studied Architecture at Oxford Brookes in the late 90s where Prof Murray Fraser introduced him to the field of Cultural Studies and its significance for understanding architecture. He completed a Masters in Architectural History at the Bartlett, and a PhD (in 2011), under the supervision of Prof Jane Rendell and Prof Peg Rawes. His doctoral research was 'Constructing Everday Life: an architectural history of the South Bank". He is senior lecturer at the University of Westminster and a Co-Director of the Centre for the Study of the Production of the Built Environment.
Ian 'Swifty' Swift is a graphic artist and typographer who over four decades has worked across an array of media creating logos, record covers, title sequences and publications in his unique cut up / sampled style. He studied graphic design at Manchester Polytechnic in the 1980s and subsequently worked for Neville Brody, The Face and Arena magazines. For almost two decades he was art director of Straight No Chaser magazine, pioneering hybrid design techniques, leading to its recently published 100th edition. The go-to designer for record sleeve design in the early 90s. Swifty crafted iconic logos for Giles Peterson's Talkin Loud and James Lavelle's Mo Wax labels. Sleeves for artists such as DJ Shadow, DJ Krush, Arrested Development and many more. In 1997 he founded 'Typomatic' – the UK's first independent Font foundry to showcase his font designs. He has recently published 'The Graphic Art of Ian Swift' Vol 1 & 2. www.swifty.co.uk
Simon Inglis
Simon Inglis is an author, editor, architectural historian and lecturer. He specialises in the history, heritage and architecture of sport and recreation. Inglis is best known for his work on football history and stadiums, and as editor of the Played in Britain series for English Heritage. Simon Inglis wrote his first words on football and football grounds at the age of six, following a visit to Villa Park. He studied History and the History of Architecture at University College London.
Nicky and Robert Wilson
The Scottish philanthropist art collectors, Robert and Nicky Wilson, are the owners of Bonnington House, a Jacobean manor, located on the borders of Edinburgh, and site of Jupiter Artland, a contemporary sculpture park and art gallery. Within the 100 acre estate are bespoke and permanent works commissioned from leading international artists, alongside a programme of temporary exhibitions, open to the public from May to September. Nicky Wilson is a talented sculptress, and her husband Robert Wilson owns a chain of homeopathic pharmacies. He believes that art has healing properties and has talked of the 'magical triangle' that forms between art, nature and the viewer when art is successfully set into a landscape.
Phil Baker spent long and gloomy years writing a thesis on Samuel Beckett, but cheered up after he published it as a book. He has taught literature at several universities, and has reviewed extensively for various papers including the Sunday Times and the TLS. His books include The Devil is a Gentleman: the life and times of Dennis Wheatley, William S. Burroughs , and a groundbreaking study of the obscure cult artist Austin Osman Spare of which Alan Moore has said 'Phil Baker has established himself as among the very best contemporary biographers… What Baker has accomplished here is little short of marvellous.' Phil has also written the widely acclaimed Dedalus Book of Absinthe and the first overview of psychogeography, 'Secret City', which appeared in London: from Punk to Blair (Reaktion,2003).  He lives in central London and has a keen interest in the byways of popular and not-so-popular culture. He has recently published 'London, City of Cities', a book about London's past, present and future.
Dame Joanna Lumley
Joanna Lumley DBE FRGS is an English actress, presenter, former model, author, television producer, and activist. Lumley's breakthrough role was as Purdey in The New Avengers (1976), a role for which over 800 girls auditioned. Purdey propelled Lumley to instant fame. It was her reinvention as a comic actress in Absolutely Fabulous that shot Lumley to wider international acclaim and is regarded as one of the greatest female comic performances ever. In 2013 she received the Special Recognition Award at the National Television Awards, and in 2017 was honoured with the BAFTA Fellowship. Her most recent work on television is the series Great Cities of the World and her book A Queen for All Seasons has just been published, celebrating HM the Queen on her Platinum Jubilee. She was made a Dame (DBE) in the 2022 New Year's Honours for services to drama, entertainment and charity.
Bronwyn Williams-Ellis
Bronwyn is the great niece of Clough Williams-Ellis, creator of Portmeirion Village. An MA from Cardiff College of Art was followed by a fellowship at Bath Academy of Art. A trip to the Alhambra palace in Spain reinforced her love of archaeology and the visual impact of wall ceramics, so she concentrated her work on colour and drawing on low fired clay. She produces ceramic sculptures which are intended to be decorative rather than practical. Her most recent exhibition was based around Mythical Beasts Past and Present, and a number of these are available to view and buy. She works from a studio in Old Orchard in Bath open to the public by appointment. www. bronwyn-williams-ellis.co.uk +44 (0)1225 460 805.
Sir Antony Gormley
Sir Antony Gormley OBE RA is widely acclaimed for his sculptures, installations and public artworks that investigate the relationship of the human body to space. His work has developed the potential opened up by sculpture since the 1960s through a critical engagement with both his own body and those of others in a way that confronts fundamental questions of where human beings stand in relation to nature and the cosmos. He was knighted in the 2014 New Year's Honours for services to the arts, having been appointed OBE in 1998.
Morley von Sternberg
Morley von Sternberg FRIBA began his career as an architect before establishing his name as one of Britain's most respected architectural photographers. He has been commissioned to photograph an extraordinary array of landmark buildings, including Heathrow's Terminal 5 and the Maggie Centre in Hammersmith, West London. He has taken portraits of creators and patrons, including Zaha Hadid, Antony Gormley and Lord Foster.
James Faulkner
James Faulkner is an award winning actor with a career spanning six decades. International recognition has followed his appearances in Game of Thrones, Da Vinci Demons and Paul, Apostle of Christ for which he won Movieguide's best actor. Films to be be realeased include All those Small Things, a comedy written for him by Andrew Hyatt, the writer/director of Paul.
Sir David Hare
Sir David Hare FRSL is an English playwright, screenwriter and theatre and film director. Best known for his stage work, Hare has also enjoyed great success with films, receiving two Academy Award nominations. Hare became the Associate Director of the National Theatre in 1984, and has since seen many of his plays produced, such as his trilogy of plays about major British institutions Racing Demon, Murmuring Judges, and The Absence of War. In the West End he had great success with plays including Plenty which he adapted for a 1985 film starring Meryl Streep. Other noted plays include The Pravda and Vertical Hour and numerous screenplays for films, including The Hours and The Reader. He was knighted in the 1998 Queen's Birthday Honours for services to the theatre.
Debbie Wiseman
Debbie Wiseman OBE is a highly acclaimed composer for film and television, a conductor and a radio and television presenter. She is a Visiting Professor at the Royal College of Music, and lectures to schools and colleges about the art of composing music for picture. In 2008 she composed a new Young Person's Guide to the Orchestra called 'Different Voices' which was premiered by the Royal Philharmonic Orchestra. She became the most popular living British composer for the first time, with four pieces in the Classic FM Hall of Fame and is Classic FM's Composer in Residence.
Sir Paul Smith
Sir Paul Smith is Britain's foremost designer, renowned for his creative aesthetic, which combines tradition and modernity. Reaffirming the values that Paul set down in 1970, 'classic with a twist' remains the guiding principle of the company. Each Paul Smith design is underpinned by a dry British sense of humour: quirky but not frivolous, eccentric but not silly. He was knighted in the 2000 Birthday Honours and appointed Member of the Order of Companions of Honour (CH) in the 2020 Birthday Honours for services to fashion.
Sir Alistair Spalding
Alistair Spalding, had his first job in arts management at the Hawth Theatre, Crawley, where he was a programmer from 1988 to 1994. 1994-2000 he was Head of Dance and Performance at the Southbank Centre in London where he developed both the presentation and commissioning of national and international dance and performance companies. He has been responsible for the artistic programme at Sadler's Wells since February 2000, when he joined as Director of Programming, before becoming Artistic Director & Chief Executive in October 2004. He was appointed Commander of the Order of the British Empire (OBE) in 2012, and knighted in the 2022 New Year's Honours List, both for services to dance.
Kit Martin was awarded a CBE in 2012 for services to conservation and "in acknowledgement of the lasting and immeasurably valuable contribution to the field of heritage regeneration". He has rescued from dereliction a series of major country houses with their landscape setting, and has been called "Britain's leading country house doctor". He was the first director of the Prince of Wales's Phoenix Trust, and has played a key role in innovative solutions to save historic military and industrial buildings at risk, and promote regeneration. Kit was a member of the Historic Buildings Council for Scotland for 12 years, a founding Trustee of Save Europe's Heritage and an Honorary Fellow of the Royal Institute of British Architects.
Ed Vaizey is a British politician, media columnist, political commentator and former barrister who served as Minister for Culture, Communications and Creative Industries from 2010 to 2016. He is the Culture Editor of Country and Townhouse magazine.
Vanessa Norwood
Creative Director at the Building Centre
Vanessa is one of the leading curators of architecture in the UK and has commissioned and curated a range of exhibitions that celebrate architecture in a wider context. Previously Head of Exhibitions at the Architectural Association, one of the world's most influential centres of architectural culture and learning, she was co-curator of the exhibition Venice Takeaway for the British Pavilion at the 13th International Architecture Biennale in 2012. Venice Takeaway sought 'ideas to change British Architecture' through travel and research of universal issues that explored the common ground of architecture. Vanessa has contributed to publications, magazines and blogs on the subject of art and architecture and is part of the Selection Committee for the British Council Commission for the British Pavilion at the Venice Architecture Biennale 2023.
For twenty years Sony Award Winner, Russ Kane, was the voice of Capital Radio's 'Flying Eye' where he formed an on-air partnership with Chris Tarrant to create the most listened-to commercial radio show in the world, with an audience in excess of 4 million. He is the founder of 'The Espresso Bar' – a discussion forum on Facebook with over 1000 members. The group strives to give men over 40 a virtual space to meet up and find a support network. In 2019 Russ co-founded Men's Radio Station which is devoted to the discussion of mental health and well-being. The broadcasts featuring some of the World's finest professionals in their respective fields and countless celebrities has won several prestigious awards. Russ's talent for public speaking has been put to good use in his one-man stand-up comedy show 'Kaned Laughter ' which has been performed to sell-out audiences across London, Los Angeles and the Edinburgh Fringe Festival. Russ's debut novel, ' The Gatekeeper' , a fusion of his characteristic wit into the horror-mystery genre, was published in 2019. A second novel in currently under-way. Portrait ©Rankin
Mark Robinson
Living Architecture, founded by Alain de Botton, offers the public the chance to appreciate the best of modern architecture through holiday lets. Mark Robinson has been with Living Architecture since the beginning, working alongside top architects and construction teams to ensure they can bring their guests the best in contemporary architecture. Mark was previously head of building at the Serpentine Gallery and manager of the Whitechapel Art Gallery.
Rupert Wheeler
Rupert Wheeler studied at the School of Architecture at Leicester Polytechnic and was elected to the Royal Institute of British Architects (RIBA) and Architects Registration Board (ARB) in 1982. Mackenzie Wheeler Architects + Designers was established as a partnership in 1986 by Rupert Wheeler and Duncan Mackenzie.
Duncan Wilson
Duncan Wilson joined Historic England from the Alexandra Park and Palace Trust where he was Chief Executive from 2011 to 2015. From 2002 Duncan was Chief Executive of the Greenwich Foundation for the Old Royal Naval College, and before that Director of the Somerset House Trust. He became Chief Executive of the newly formed Historic England in May 2015.
Lucy Cleland
Founding editor of Country and Townhouse magazine, now editorial director, Lucy is particularly passionate about sustainability and last summer, she pledged that 25% of her magazine's content would reflect the ways we should learn to live; from the brands we buy, how we consume things and the way we travel.
Diana Edmunds
After a very successful career in modelling, during which time she explored her artistic side with a range of bags called ZagBags, Diana progressed to pottery, and then attended the Camberwell School of Art and Design where she achieved a BA. She is now a much respected artist and has had gallery exhibitions here and in Italy. She uses a broad range of materials for her work, including acrylic, neon and fibre optics to celebrate and explore the play of light, mutability and movement. Portrait © Ben Bisek
Paterson Joseph
Paterson Joseph is a highly acclaimed and respected theatre and TV actor and an Ian Charleston award recipient for performances at the Royal Shakespeare Company. Other work there includes his Brutus in Julius Caesar, directed by Greg Doran. Numerous TV roles include Peep Show, That Mitchell and Webb Look, Noughts and Crosses and Rellik. He was most recently seen starring in the BBC series Vigil and will be seen in the upcoming Noughts and Crosses II. His belief in the importance of libraries led him to be a major campaigner to save the Willesden Green Library when it was threatened with closure, and he is also involved in fundraising for the Kensal Rise Community Library. Founded by American author Mark Twain in 1900 Brent Council proposed closing the library in 2010 but it was saved by a major campaign supported by, among others, Alan Bennett and Zadie Smith. It is now a registered charity.  https://kensalriselibrary.org . Paterson Joseph's debut novel, 'The Secret Diaries of Charles Ignatius Sancho' has recently been published to critical acclaim.
George Layton
George Layton is an English actor, screenwriter and director, and author of three fictional books of short stories which have been part of the National Curriculum in schools. He has had numerous TV roles including Robin's Nest, Doctor in the House (for which he was also the co-writer) Minder, Casualty and EastEnders, and wrote the successful TV series Don't Wait up and Executive Stress. His theatre work includes Fagin in Oliver! and Amos Hart in Chicago. He has worked as a director for the Cambridge Theatre Company and the Theatre Royal Bath.
Perminder Mann
Perminder Mann is the CEO of Bonnier Books UK, the sixth largest publisher in the UK with sales of over £80m. Mann is recognized as one of the UK's most powerful leaders and as a publishing innovator – one of the first to publish a social media influencer and for her work introducing inclusive workplace policy.
Elizabeth McCrone
Graduating from St Andrews University with an MA in History of Art, then moving to Historic Environment Scotland as head of Listing and Designated Buildings, Elizabeth is responsible for overseeing the management of the list of buildings of special or historic interest and is author of publications on Scottish architecture.
Jay is best known as the presenter of the hugely popular BBC show, The Repair Shop, where his enthusiasm for reinvention shines through. Jay is dyslexic and left school at 15 with no qualifications. He got back on track by studying for a degree in criminology and philosophy, then setting up a charity using restoration to support vulnerable people. His company, Jay & Co is an upcycling brand using creativity and invention to create pieces that sit perfectly in contemporary settings. He is the antithesis of the throwaway culture, believing that the old can become new, the worn can shine again, and the broken can be fixed. www.jayblades.co.uk www.jayand.co
Dr Bob Joyce
Starting his career as a Graduate Engineer at Ricardo Consulting Engineers, he joined Rover as Executive Engineer, and was recruited by Ford Motor Company to become Engineering Director of Land Rover. In 2007 he became Group Engineering Director, overseeing the launch of the Jaguar XF and Land Rover's Discovery 4, amongst others. He is a Fellow of the Royal Academy of Engineering and Institute of Mechanical Engineers.
Frank Auerbach
Considered to be one of the greatest living British artists German born Frank Auerbach was sent to safety in Britain in 1939. Both his parents perished in Auschwitz. At school he was known for both acting and painting but received no proper training until he attended St Martin's School of Art 1948 -1952, and then the Royal College of Art 1952-55. His first solo exhibition was in 1955. He works 364 days a year from his studio in Camden.
Marcus Binney
Marcus Binney is a British architectural historian and author. He is best known for his conservation work regarding Britain's heritage, and the author of numerous books on the subject. He has also written books dealing with the experiences of those involved in secret operations during WWII.
Wayne Hemingway
Wayne Hemingway MBE is a designer and co-founder of HemingwayDesign which specialises in affordable and social design. He was recently appointed to be part of a team developing masterplans for a number of towns across the UK, including Scarborough, North Shields and Barnet. He spent 6 years as a Design Council Trustee Board, and is a Professor in The Built Environment Department of Northumbria University. He is an Honorary Fellow of Blackburn College, the University of Cumbria and Regents University.
www.hemingwaydesign.co.uk
Julian Lloyd Webber
Julian Lloyd Webber OBE is a British solo cellist, conductor and broadcaster, a former principal of Royal Birmingham Conservatoire and the founder of the 'In Harmony' music education programme. In September 2020, in recognition of his tenure, Lloyd Webber was appointed Emeritus Professor of Performing Arts by Birmingham City University.
Kitty North
Kitty North is a landscape artist, based in Yorkshire where she has lived for the past 27 years. Six foot-wide canvasses by Kitty North were commissioned by Salts Mill as the finale to its anniversary celebrations, marking three decades since the late Jonathan Silver got the keys to the former mohair spinning mill and began the transformation.
Kwame Kwei-Armah
Kwame Kwei-Armah is British actor, playwright, director and broadcaster. As a playwright his credits include Tree (Manchester International Festival, Young Vic), One Love (Birmingham Repertory Theatre), Statement of Regret (National Theatre) Let There Be Love and Seize the Day (Tricycle Theatre). In 2018 he was made Artistic Director of the Young Vic.
Alan Powers
An Historian and researcher of architecture and design and trustee and former Chairman of the 20th Century Society. Following a degree in History of Art from Cambridge, Alan received his doctorate on Architectural Education in Britain 1880-1914. He writes reviews, and articles, and is author of more than twenty books. He has concentrated on 20th century British architecture and architectural conservation.
David Ogunmuyiwa
David Ogunmuyiwa is a founding partner of ArchitectureDoingPlace. He is unique in the UK having worked as a housing officer for social landlords including Lambeth, Southwark, Tower Hamlets and Circle 33, before retraining as an architect. He combines practice with teaching architecture at Portsmouth University and is a Mayor's Design Advocate.
Peter Layton
Peter Layton is one of the world's most widely respected glass artists influencing, encouraging and nurturing several of this country's leading glassmakers and inspiring many more internationally. "Glass is extraordinarily seductive", explains Peter, "Every piece is an adventure and you never know exactly what you have created until you open the kiln and see how a piece has turned out. I love that moment of surprise."
Alice Strang
Alice Strang has over 25 years' experience as a modern and contemporary art curator and international auction house specialist. She focusses on British – particularly Scottish – art, with a special interest in women artists. She has curated major retrospectives of the work of the Scottish Colourists F. C. B. Cadell, J. D. Fergusson and S. J. Peploe. She is a BBC Expert Woman and a Saltire Society Outstanding Woman of Scotland.
Nicole Farhi
Lady Hare, CBE, is a former French fashion designer, now sculptor born in Nice, France. During her fashion career Farhi would work one day a week and weekends in her sculpture studio. After many years of juggling the two she became a full-time sculptor and is now a supremely talented sculptor specialising in depicting the female body.
James Newton
A London based photographer specialising in architecture and light. His previous employment as an architectural lighting designer provided the industry experience and technical knowledge to ensure an understanding of projects, both from the point of view of the photographer and the designer.
Chris Sands
Chris Sands, owner of the Good Company and founder of Totally Locally, a worldwide grassroots campaign for independent high streets. In July 2015 Chris was presented with an Honorary Doctorate from The University of Staffordshire for his work in helping communities and towns with the free Totally Locally initiative. www.totallylocally.org
Sarah Wigglesworth
Sarah Wigglesworth MBE RDI is a British award-winning architect and was a Professor of Architecture at the University of Sheffield until 2016. Wigglesworth founded Sarah Wigglesworth Architects in 1994. Her practice has a reputation for sustainable architecture and an interest in using alternative, low energy materials. Sarah Wigglesworth is an outspoken advocate of the role of women in architecture.
Chris Wilkinson
The death of Chris Wilkinson is a truly great loss to architecture both in the UK and internationally. Chris was a friend and mentor to me personally, and a special supporter of the Building Centre. Our thoughts go out to his wife Diana and his family at this time. Colin Tweedy, CEO.
Chris Wilkinson OBE, died in December 2021. He was a British architect, and co-founder with Jim Eyre of Wilkinson Eyre. WilkinsonEyre were the first architects to win the RIBA Stirling prize two years running, for their Magna Science Centre in Rotherham in 2001 and the  Gateshead Millennium Bridge  in 2002, both of which exemplified the firm's poetic reinterpretation of British high-tech traditions. Their success would lead to a string of international commissions that saw Wilkinson preside over a 200-strong firm, with projects ranging from streamlined skyscrapers in China to futuristic botanical gardens in Singapore. Unusually Chris continued to value hand drawing in an age where digital software prevails in most architectural practices and published three sketchbooks.
Gregory Doran is an English director known for his Shakespearean work. The Sunday Times called him 'one of the great Shakespearians of his generation'.  Greg began his career with the RSC as an actor in the 1987-88 season, becoming an Assistant Director in 1989. He was made an Associate Director in 1996 and became Chief Associate Director in 2006. He resigned in 2022 but will remain as artistic director emeritus until the end of 2023. He is an Honorary Fellow of the Shakespeare Birthplace Trust. 
Colin Tweedy
Colin Tweedy LVO OBE   Colin Tweedy since 2012 is Chief Executive of the Building Centre and Built Environment Trust.  From 1983 to 2012 Colin was Chief Executive of Arts & Business (formerly Association for Business Sponsorship of the Arts). Colin co- founded, with The Prince of Wales, The Prince of Wales Arts & Kids Foundation ( subsequently called Children & The Arts ). A former trustee of the Serpentine Gallery and governor of the University for the Creative Arts. MA Oxford University, St Catherine's College, graduating in 1976. Fellow of the Royal Society of Arts (FRSA ). A Lieutenant of the Royal Victorian Order (LVO) and Officer of the British Empire (OBE)

Architecture News – World Buildings
Buildings by Country
Buildings by City
Architects by country
Architects by city
Architects alphabetical
Competitions
Building Events
Architecture Design
GLA Building London, City Hall Architect
GLA Building London images, Architect, UK capital City Authority design photos, Civic architecture, Location
GLA Building London City Hall
City Hall: Greater London Authority Building design by Foster + Partners architects
post updated 13 June 2021
GLA City Hall Building London Photos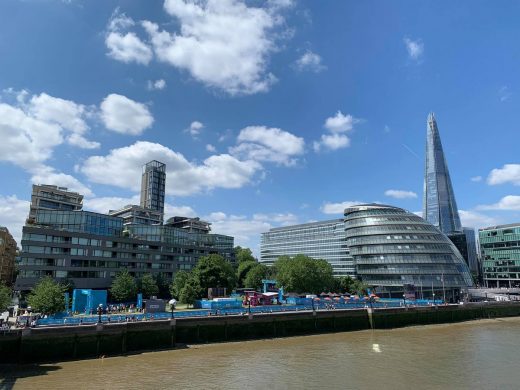 City Hall Building London
Please enable JavaScript
Design: Foster + Partners, Architects
Spectre Film Location
The location was used in the latest James bond film 'Spectre' as the offices for C, set within a fictional tower opposite the decaying MI6 building on the River Thames. The spiral ramps and top interior of Greater London Assembly's (GLA) City Hall Building were used for takes inside the fictional tower at Riverside Walk Gardens by director Sam Mendes.
According to www.mi6-hq.com previously permission was sought for SPECTRE to shoot in the Welsh Senedd but were denied. The architecure of this building and of the City Hall were of obvious attraction to the 007 production.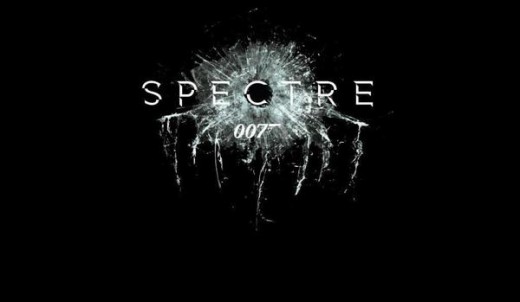 According to http://www.007.info/ some sequences were shot outside the Department of Energy and Climate Change building in Whitehall (near Old Scotland Yard), a building which was also utilised for the rooftop scene between Bond and Moneypenny in Skyfall.
12 Nov 2012
City Hall Building
New photos from 12 November 2012:

Location: south east London, just west of Tower Bridge
Summary: unusual shaped building, likened to many objects, mostly anatomical!
Nearest Tube: London Bridge, Northern Line

Description of key aspects of the Greater London Authority building :
– headquarters of the Greater London Authority ( GLA ) which comprises the Mayor of London and the London Assembly. – opened two years after the Greater London Authority was created. – £65m – note former LCC was upstream at County Hall and City of London is controlled from Guildhall on  the north bank – building has an unusual, bulbous shape, purportedly intended to reduce its surface area and thus improve energy efficiency, although energy use measurements have shown this building to be fairly inefficient in terms of energy use – has no front or back in conventional terms but derives its shape from a modified sphere. – 500-metre helical walkway, reminiscent of that in New York's Solomon R. Guggenheim Museum, ascends the full height of the building. – the walkway provides views of the interior of the building, and is intended to symbolise transparency; a similar device was used by Foster in his design for the rebuilt Reichstag (parliament). – at the top of the ten-storey building is an exhibition and meeting space called "London's Living Room", with an open viewing deck which is occasionally open to the public. – in 2006 it was announced that solar photovoltaic cells would be fitted to the building
GLA building, southeast London
London City Hall , central London Date built: 1998-2003 Foster + Partners
Greater London Authority Building design : Foster + Partners architects
Address: Greater London Authority City Hall The Queen's Walk London SE1 2AA
Location: City Hall, The Queen's Walk, London , SE1 2AA, England, UK
London Buildings
Contemporary London Architecture Designs
London Architecture Designs – chronological list
London Architectural Tours – tailored UK capital city walks by e-architect
London Architecture Offices
London Architecture News
GLA Building Context

Key London Buildings by Foster + Partners

Comments / photos for the GLA Building Architecture – Greater London Authority design by Foster + Partners architects page welcome