Game Is Hard
The Untold Story of Simon "Ghost" Riley: A Glimpse into His Past and Resilience
Simon "Ghost" Riley, a beloved character from the original Call of Duty 4: Modern Warfare and Call of Duty: Modern Warfare 2 games, has captured the hearts of many fans. Despite his popularity, much of Ghost's past remains a mystery. However, fans can now delve into his backstory through the comic book Modern Warfare 2: Ghost, which provides fascinating details about his origin and journey.
It is important to note that Ghost's story in the latest Call of Duty: Modern Warfare (2019) is set in an alternate timeline, diverging from the original storyline where Ghost meets his demise at the hands of General Shepherd. This article focuses on Ghost from the original Modern Warfare trilogy (2007-2011) rather than the rebooted timeline.
In the comic Modern Warfare: Ghost, readers are taken on an intense journey alongside Ghost as he faces a powerful heroin cartel in Mexico led by Manuel Roba. However, their mission takes a dark turn when Ghost and his team are captured by the ruthless cartel. Throughout their captivity, Ghost and his team endure relentless torture and brainwashing tactics, aimed at breaking their willpower and turning them into mercenaries for criminal and terrorist organizations.
As readers navigate Ghost's turbulent experiences, they are provided with glimpses into his past, revealing his challenging childhood and formative years in the SAS. These flashbacks showcase Ghost's unwavering dedication to his younger brother, Tommy, and illuminate his remarkable resilience and fortitude, which ultimately prove instrumental to his survival.
After enduring months of torment, Ghost orchestrates a daring escape from his captors, exhibiting remarkable willpower and resourcefulness. His survival against astronomical odds serves as a testament to his unwavering resolve. However, the aftermath of his escape takes a toll on Ghost's mental well-being as he battles with nightmares and works to regain stability.
Tragedy strikes again when Ghost's family is brutally murdered by Washington, a once trusted comrade turned enemy. Consumed by a desire for revenge, Ghost sets out to seek vengeance against those accountable. Despite the challenges he faces, Ghost's survival molds him into a formidable force, and he becomes a pivotal member of Task Force 141, undertaking missions alongside iconic characters such as Captain Price and Soap MacTavish.
Throughout the Modern Warfare timeline, Ghost's resilience and adaptability are showcased in his crucial involvement in missions against formidable enemies. However, Ghost's ultimate fate remains entangled with the betrayals and sacrifices that define the Call of Duty gaming world.
Simon "Ghost" Riley's harrowing journey through captivity, his relentless pursuit of revenge, and his eventual involvement in Task Force 141 showcases his unwavering resilience. From personal adversity to becoming a battle-tested operative, Ghost's remarkable tale of survival captivates players with its mix of fortitude, tragic circumstances, and unwavering resolve. His enigmatic survival and legacy ensure that Ghost remains a timeless and integral part of the rich lore of Call of Duty.
Sources: – Call of Duty Wiki – Sportskeeda
Related Posts
Is a fallen hero a villain?
Is esports an online game?
Call of Duty: Mobile Characters
Call of Duty: Modern Warfare II Characters
Call of Duty: Modern Warfare III Characters
Call of Duty: Warzone 2.0 Characters
Call of Duty: Warzone Mobile Characters
Protagonists
Simon "Ghost" Riley (Reboot)

Lieutenant Simon Riley , also known as Ghost , is a character featured in Call of Duty: Modern Warfare , Call of Duty: Modern Warfare II and Call of Duty: Modern Warfare III . In Modern Warfare , Ghost is mentioned at the end of the campaign. In Modern Warfare II , he is one of the three playable protagonists of Call of Duty: Modern Warfare II .
In Modern Warfare and Call of Duty: Warzone , Ghost was released as a playable SAS Operator of the Coalition faction as part of the Season Two Battle Pass. In Modern Warfare II and Call of Duty: Warzone 2.0 , he is also available as an Operator of the SpecGru faction.
1.1 Early Life and Career
1.2 Task Force 141
1.3 War in Verdansk
1.4 Assassination of Ghorbrani
1.5 Hunt for Hassan and Stolen Missiles
1.6 Betrayal of Shadow Company and Shepherd
1.7 Ghost Team
1.8 Death of Hassan and Missile Threat Eliminated
2.1.1 Skins
2.1.2 Quips
2.1.3 Finishing Moves
2.2.1 Skins
2.3.1 Skins
3 Call of Duty: Mobile
4.1 Call of Duty: Modern Warfare
4.2 Call of Duty: Modern Warfare II
4.3 Call of Duty: Modern Warfare III
4.4 Call of Duty: Warzone Mobile
5.1 Call of Duty: Modern Warfare
5.2 Call of Duty: Modern Warfare II
6 References
Early Life and Career
Born in Manchester, Simon Riley joined the Special Air Service and spent the majority of his career serving numerous short-term deployments and executing covert assignments in classified locations. He became an expert in clandestine tradecraft, focused on sabotage, ambushes, and infiltrations into denied areas and hazardous environments. Ghost concealed his identity under a hallmark skull figured mask to maintain anonymity in the field. [3]
At one point, Ghost worked in the same unit as Mace . [4]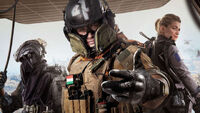 22 November 2022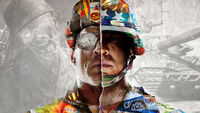 12 November 2020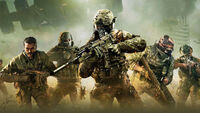 30 October 2019
Task Force 141
Following the death of General Roman Barkov , Ghost was recruited by Captain John Price in the newly formed Task Force 141 where he became a commanding officer.
War in Verdansk
Following the invasion of Verdansk by Al-Qatala on March 3rd, 2020, Riley was deployed in the city to assist the Armistice initiative against the terrorist organization supplied by Victor Zakhaev . During one of Armistice's operations, Ghost helped the Arm-4 team infiltrating the occupied Verdansk airport to retrieve a nuclear core.
When Al-Qatala released toxic gas within Verdansk , Ghost discovered a chaotic situation where the operators of Armistice have turned against themselves and began targeting each other. He soon requested Price to send him reinforcements he could trust. Riley managed to escape the city and was deployed to a classified location where Price informed him that Zakhaev's plan worked, with the Armistice now officially disbanded. Ghost was assisted during this operation by Alex Keller , who was sent by Price.
In December 2020, Ghost assisted Price in Verdansk to stop Zakhaev from launching the missile attack onto Verdansk. Ghost, along with Alex, Gaz, Price, Nikolai and Farah Karim communicate with Johnny "Soap" MacTavish and assist him "half a few clicks off of Verdansk 's coast".
Assassination of Ghorbrani
In July of 2022, Ghost was deployed on a strike mission in the mountain desert terrain of Al Mazrah under the orders of both Laswell and General Shepherd to make visual contact on General Ghorbrani , Commander of Quds Force , Iranian Special Forces, in order to eliminate him as a potential threat while the latter was present for an arms deal with Russian Forces. Ghost confirmed the General's presence and the green light was given to Philip Graves , Commander and CEO of Shadow Company , to launch a mobile ballistic cruise missile that completely obliterated the site of the arms deal, killing everyone including Ghorbrani which Ghost then later confirmed.
Hunt for Hassan and Stolen Missiles
Several months after Ghorbrani's death, Major Hassan Zyani , Ghorbrani's second in command, vowed vengeance against the United States and was reported to conduct secretively activities in Al Mazrah. Ghost along with Soap and Marine Special Operations Unit were dispatched to capture or kill Hassan . After fighting through a resistance from Al-Qatala who were supposedly there to protect Hassan were in fact protecting a cargo which turned out to be an American made ballistic cruise missile. Shepherd ordered Ghost and the team to destroy the missile before evacuating from Al-Mazrah.
Ghost and Soap were later sent to Las Almas to meet up with Mexican Special Forces Colonel Alejandro Vargas and Sergeant Major Rodolfo Parra to hunt for Hassan whom they believed is being harbored and protected by the Las Almas Cartel with corrupt elements of the Mexican Army under the control of El Sin Nombre , leader of the Las Almas Cartel.
After successfully capturing Hassan from the Cartel and Mexican military with the help from Graves and the support of Shadow Company's AC-130 gunship, they brought Hassan in the desert to interrogate him about the whereabouts of the missiles. Hassan proved difficult to handle and were ordered to release him as his detainment was illegal.
A few days later, Ghost along with Soap, Vargas and Graves were conducting over watch on a mansion belonging to one of El Sin Nombre's lieutenant, Diego Salgado . After much discussion about getting to the cartel leader, Soap volunteered on a risky mission to infiltrate the compound with Vargas in disguised as one of the bodyguards with Ghost providing sniper overwatch and Graves on standby to snatch and grab. After they managed to capture the cartel leader who turned out to be Valeria Garza, a former member of Vargas unit, they interrogated her about the whereabouts of Hassan and the missiles, and she would offer up the information in exchange for a deal of securing her release and her cartel operation to be left undisturbed.
Through the interrogation of Garza, Ghost along with 141, Los Vaqueros and Shadow Company participated in a raid on an oil rig located in the Gulf of Mexico where they located and destroyed the second missile before it had the chance to launch.
Betrayal of Shadow Company and Shepherd
As the team got back, they come to find out that Graves with the support from Shepherd had taken over the Fuerzas Especiales facility and turned on them with Vargas being captured, forcing Ghost and Soap to escape to the city and fend off any Shadow operatives hunting them before regrouping at Vargas safe house where they met up with Rodolfo and formulate a plan to infiltrate an abandoned prison which was being used by Shadow Company as a Black Site Compound to free Vargas and Vaqueros operatives currently being held captive before escaping with help from Price and Gaz .
Later, Laswell finds out that Shepherd and Graves were trying to cover up their illegal activity that had occurred months earlier where Shadow Company lost possession of the missiles when they were transporting it to allies fighting Russia to a company of Russian mercenaries who later gave them to Hassan, so he could exact revenge on the United States.
Ghost was present when Task Force 141 and Los Vaqueros formed JTF-Ghost Team . He then briefly took his mask off before donning a ghost mask with everyone before venturing off to retake the Fuerzas Especiales facility, where they took out Graves and Shadow Company. They then questioned Garza again, which she revealed that Hassan and the last missile were located in Chicago .
Death of Hassan and Missile Threat Eliminated
As Task Force 141 with a squad of Marine Raiders moves in on Hassan with the latter having Al-Qatala protection, Ghost provided overwatch from another building. The team then rushed to take the controls after Hassan had launched the missile which was heading towards Washington, D.C. and Soap managed to disarm it with the help from Laswell. He then helps guide Soap to eliminate a few AQ soldiers and rushes on time to save Soap by sniping Hassan before the latter had the chance to throw him out the window.
Ghost along with Price, Gaz, Soap and Laswell were all at a bar where they discussed about the events that followed after their mission in Chicago. Laswell then hands them a picture of an individual whom Price recognized as Vladimir Makarov .
Personalization
Call of duty: modern warfare, finishing moves, call of duty: modern warfare ii.
Note: Skins also available in Call of Duty: Modern Warfare III
Call of Duty: Modern Warfare III
Call of duty: mobile.
Ghost appears in Call of Duty: Mobile and was added as part of the Season 12 Going Dark Battle Pass. He is a uniform for the Original Ghost . [5]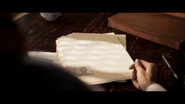 Call of Duty: Warzone Mobile
As of Title Update 1.13, on January 22nd, 2020, the giant screens on the multiplayer map Piccadilly would occasionally display an image resembling Ghost's skull face plate.
After Title Update 1.15, on February 25th, 2020, Ghost would follow the players in the lobbies for some time before turning back.
Unlike other SAS operators, Ghost's intro video opens with a black screen rather instead of a white screen.
The quip references Hereford, England. This is the location of the SAS training compound in the Call of Duty 4: Modern Warfare mission F.N.G. .
Ghost does not have a listed blood type in his biography.
In the promotional poster of the game, it is visible that Ghost lacks the tattoo sleeve on his left forearm. This is not the case for other materials featuring him, however.
Although Ghost's face isn't shown in the game, it is modeled after his voice actor Samuel Roukin .
During a conversation with Soap in the mission "Alone", Ghost reveals he enjoys drinking bourbon.
↑ https://twitter.com/samuelroukin/status/1529158087667482630
↑ https://www.instagram.com/p/Cd-z5cDLc5p/
↑ The Ghost Pack Contingency Bundle features iconic items for the SAS Operator including the 'Classic Ghost' skin . blog.activision.com
↑ "Mace and Ghost used to work together. Same unit but things have changed." reddit.com
↑ Season 12: Going Dark, is here! twitter.com
↑ Operator Briefing: Nikto . twitter.com
1 Simon "Ghost" Riley
3 Call of Duty (series)
Simon Ghost Riley: Everything You Need to Know About the Call of Duty Character
By liam gambon | feb 5, 2020. Simon "Ghost" Riley was featured in a new teaser released by Activision and Infinity Ward for Call of Duty: Modern Warfare . This teaser confirms the return of fan favorite Call of Duty character Ghost.
? pic.twitter.com/QHdNylP1NM — Call of Duty (@CallofDuty) February 4, 2020
Simon "Ghost" Riley was introduced in Modern Warfare 2 as a British special forces operator. The mask that he wears originates from a mission he was on in Mexico where he had to wear the mask to blend in with civilians who were celebrating the day of the dead and he was ultimately captured and tortured, which plagued his mental health.
Because his mask that covers up his identity, he has always been the subject of fan theories with players attempting to figure out who he really is. This made him one of the most popular characters in the Call of Duty franchise.
At the end of the Loose Ends mission in MW2, Ghost and his team delivered valuable information on the main enemy in MW2 (Makarov) to General Sheppard, and then he seemingly killed Ghost before having him tossed in a pit and set on fire. But now, Ghost has made a sudden return.
While the reasoning for this and his sudden revival are unknown, those who loved him in MW2 should be excited to know he's coming back.
Heroes Wiki
-Welcome to the Hero/Protagonist wiki! If you can help us with this wiki please sign up and help us! Thanks! -M-NUva
Call of Duty Heroes
Determinators
Lawful Good
Counter-Terrorists
Virtually Resourceful
Protector of Innocence
One-Man Army
Simon "Ghost" Riley (2019)
Lieutenant Simon "Ghost" Riley is a mentioned character in the 2019 video game Call of Duty: Modern Warfare , a reboot of the Modern Warfare sub-series. Ghost would physically appear as a playable operator Call of Duty: Warzone when the season two pass was released, and appears as a different uniform for the Original Ghost in Call of Duty: Mobile . He returns in the 2022 sequel Call of Duty: Modern Warfare II as a main protagonist and playable character, a playable operator in Call of Duty: Warzone 2.0 and Call of Duty: Warzone Mobile , and is set to return in the 2023 sequel Call of Duty: Modern Warfare III .
He is a SAS operative who is recruited into John Price's task force, and is sent to Verdansk to cease tensions against the Al-Qatala, and later the Armistice and Coalition soldiers. When Victor Zakhaev threatened to use a missile, Ghost and 141 performed a joint operation with Demon Dogs to stop him. In 2022, Ghost continues his service with 141 to stop Hassan Zyani from launching American ballistic missiles against the west with the help of Sgt. Johnny "Soap" MacTavish . However, Ghost, Soap, Alejandro , Rodolfo and Los Vaqueros were betrayed by General Shepherd and Shadow Company when Task Force 141 and Vaqueros were close to learn the secret of the stolen American Missiles. Due to Shepherd and Shadow Company's treason, Ghost, Soap, Alejandro, Rodolfo, Price , Gaz and the Los Vaqueros also eliminated Shadow's CEO Phillip Graves for their betrayal.
He is voiced by Jeff Leach in Modern Warfare , and by Samuel Roukin in Modern Warfare II , whilst Erin Switzer portrayed the character in promotional material.
1.1 Military Career
1.2 Call of Duty: Modern Warfare
1.3 Verdansk
1.4 Call of Duty: Modern Warfare II
2 Call of Duty: Mobile
5 Navigation
Biography [ ]
Military career [ ].
Simon Riley was born in Manchester, England and joined the Special Air Service at an unknown time, and managed to reach the rank of lieutenant. Riley would spend his service on classified assignments, and became an expert in tradecraft, sabotage, ambushes, and infiltrations. He would eventually earn the nickname of "Ghost", and would wear a skull mask to conceal his identity to be anonymous, and maintain a mysterious persona. At one point during his service, Ghost worked in the same unit with the operative Mace, an ex-U.S. Army Ranger turned mercenary.
Call of Duty: Modern Warfare [ ]
Ghost is mentioned at the end of the campaign by Captain Price when he meets with Kate Laswell after stopping General Roman Barkov. Price tells Laswell that he's creating of team called Task Force 141, and Simon Riley is part of his recruitment, alongside Kyle "Gaz" Garrick and John "Soap" MacTavish. In addition, Laswell notes there's no picture for Ghost, and Price simply replies "never."
Verdansk [ ]
When the Al-Qatala invaded Verdansk in 2020, Ghost was assigned to the city to assist the Armistice, and later helped the Arm-4 team infiltrate the Verdansk airport to collect a nuclear core. The Al-Qatala then released a toxic gas in the city, and Ghost saw the Armistice operatives turned on each other to survive. Seeing that the situation was becoming dire, Ghost asked Captain Price to send him operatives and reinforcements he could trust. Though the city was lost due to the gas, Ghost managed to escape as the sole survivor, and the Armistice was crippled and immediately disbanded. Once regrouping with Price, he was informed that the invasion of Verdansk was part of Victor Zakhaev's plan, and was sent to a location with the CIA operative "Alex". Ghost worked with the Coalition on fighting the Al-Qatala, but they returned to Urzikstan while Zakhaev's forces stayed in the city, and the conflict continued even when Shadow Company was called in to eliminate Victor.
Ghost managed to gain intel to learn that Zakhaev was evading the operatives by using the metro subway system underground, and Nikolai and Farah Karim were called in to power them up. Afterward, the group learned that Zakhaev's plan was to have the operatives turn on the power in all of the bunkers in Verdansk, and was prepared to launch a ICBM missile in bunker ten. Ghost worked with Gaz to hack into Zakhaev's communications, and with the assault on Zakhaev's forces from Demon Dogs, Captain Price managed to abort the launch and kill Victor. Regrouping with Price, Gaz, "Alex", Farah and Nikolai, they are informed by John "Soap" MacTavish that something is happening off the coast of the city, and the team head to him.
Call of Duty: Modern Warfare II [ ]
Gathering intel of General Ghorbrani's arms deal with the Russians, Shepherd tasks Ghost and Shadow Company commander Phillip Graves to eliminate the target. Following the assassination, Quds Force Major Hassan Zyani retaliates by allying with the Al-Qatala, intending to get revenge against the United States. Months later, Ghost and Soap are assigned to capture or kill Hassan in Al Mazrah with the MARSOC Marines, but instead discover that he has American ballistic missiles. Shepherd ordered Ghost and his team to destroy the missile, which he obliged. Upon this revelation, Laswell works with Price and Gaz in Amsterdam, where they learn that Hassan is working with the Las Almas Cartel and is being smuggled into America. Kate contacts Los Vaqueros Colonel Alejandro Vargas to stop Zyani, but he and his right-hand Rodolfo Parra fail to capture him.
Afterward, Ghost and Soap are sent to Las Almas to work with Los Vaqueros to capture Zyani, and are later assisted by Shadow Company in reaching the major's location. Taking Hassan to the desert, Ghost watches the interrogation until Shepherd and Laswell order them to let him go. Despite having to let him, the team decide to capture the cartel's leader "El Sin Nombre" to learn the location of the two missiles. With Soap and Alejandro infiltrating the cartels' base, where they capture their leader, whom is revealed to Valeria Garza. She agrees to get them the location of a missile in exchange they let her go and never return to Las Almas, and Graves accepts the terms despite Alejandro warning him not to.
Valeria reveals to Graves that the missile is in the Gulf of Mexico on an oil derrick, and 141 performs a joint operation with Los Vaqueros and Shadow Company to stop the launch. After a delay when learning that the launch codes are on a cargo ship, Soap is able to change the missiles target to the oil derrick. Returning to the Vaqueros' base, Graves betrays Ghost, Soap and Alejandro by having taken over the base, detaining Vargas' men, and revealing that Shepherd is given him command of the operation. Ghost and Soap escape from Shadow Company, but Vargas and his Vaqueros are captured during the confrontation. Ghost rushed his way to the church waiting for Soap to rally to him and complete escaped from Shadow Company to Alejandro's safehouse. Reuniting with Rodolfo, the trio break Alejandro and his men from prison before being helped by Price and Gaz during the escape.
Contacting Laswell, she explains that Shepherd and Graves performed an illegal operation to transport ballistic missiles, but the the missiles were taken by Konni when they ambushed Graves' unit. Realizing that Shepherd and Graves covered up the failed operation and betrayed their allies since they getting too close, Price warns the general that he will come for him next once they dealt with Zyani. Needing to locate the last missile, Price forms Joint Task Force - Ghost Team with Los Vaqueros to help them retake their base and kill Graves. Ghost takes part in the assault against, but leaves the battle to help Price after the latter's helicopter was shot down by the Shadow Company commander. After Soap supposedly kills Graves, 141 and Vargas interrogate Garza, learning that Hassan is in Chicago with the final missile.
In Chicago, Task Force 141 works with MARSOC to infiltrate the building Zyani is hiding in, but are unable to stop the missile from being launched. Soap is then able to destroy the missile with Laswell's assistance, and Ghost eliminates Hassan before the terrorist can throw MacTavish off the building. After the operation, General Shepherd goes off the grid while Shadow Company is weakened due to the lost of its leader. Ghost, Price, Soap and Gaz meet with Laswell at a bar, where she shows them a picture of the Ultranationalists' new leader, Makarov.
Call of Duty: Mobile [ ]
Ghost appears in Call of Duty: Mobile , being added in the season twelve "Going Dark" pass, and only appears as a uniform for the original Ghost.
In season two, Ghost could be seen in the background of lobbies, following and stalking the player.
Navigation [ ]
1 Yamato (One Piece)
3 Monkey D. Dragon
Simon "Ghost" Riley
from the Call of Duty Wiki
Lieutenant Simon "Ghost" Riley was born on may 18 and he was a British character in Call of Duty: Modern Warfare 2 and the Call of Duty: Modern Warfare 2 graphic novel comic series Modern Warfare 2: Ghost . He is the second in command of Task Force 141 who is known as the "silent killer" in MacTavish's squad. Ghost is seen wearing red sunglasses and a skull patterned balaclava.
1.1 Modern Warfare 2: Ghost
1.2 Call of Duty: Modern Warfare 2
2 Locations
Biography [ ]
Modern warfare 2: ghost [ ].
The comic miniseries tells of Ghost's exploits before and up to the Call of Duty: Modern Warfare 2 conflict. The first mission depicted in the series has a captured Special Ops soldier wearing a skull-patterned balaclava in a classroom filled with children of a Ukrainian school that has been taken over by terrorists (who threaten to kill one child each hour if their demands are not met). The soldier passes the time by telling a story of his friend, Simon "Ghost" Riley on a mission in Mexico. The SAS loaned "Ghost" to USSOCOM to bust a heroin cartel that has recently begun smuggling terrorists into the U.S. This mission takes place on the Mexican holiday, "Day of the Dead", when Riley and the others wear skull facepaint and skeleton costumes to blend in with the celebrating crowd at the party in which the leader of the Heroin Cartel is throwing. This is presumed at this time to be where he dons his signature skull-patterned balaclava as Riley is shot and assumed dead at the end of Modern Warfare 2: Ghost #1.
During Modern Warfare 2: Ghost #2 it is revealed that Ghost and his team are captured by the Mexican cartel, and during their captivity they endure continuous torture and brainwashing techniques in order to be used as hired guns for various criminal and terrorist groups. Throughout this ordeal the reader sees flashbacks of Riley's early life, from his childhood and how he had to endure an abusive fiend of a father. To his early years in the SAS and how he, after coming back from his first tour of duty in Afghanistan on January of 2003, takes care of his abused mother and helps clean up his drug-addicted younger brother named Tommy. In March of 2004 he finally puts an end to his father and in June of 2006 Riley is seen as best man at his brother Tommy's wedding, who is now completely free of drugs. During these flashbacks, many of Riley's adversaries are seen wearing "ghostly" makeup (presumably a hallucination of Riley) of similar style to that worn by participants in the Day of the Dead celebration. Eventually, the USSOCOM members Sparks and Washington are able to escape, having learned that the Mexican cartel plan to kill them due to the fact they can not break them down, but are forced to leave Riley behind. Moments later, Riley is buried alive with the decaying corpse of Major Pezz.
At the start of Modern Warfare 2: Ghost #3 By using Vernon's lower jaw bone Riley digs himself up from the grave, which took him thirteen hours, and later found by a Texas sheriff. The story then jumps to December 18th 2010, Riley is being debriefed about his experience to his superiors. Physically Riley is fine, but his superiors fear that his mental state is still in question. Riley has nightmares everytime he sleeps, with Roba haunting and taunting him. While spending Christmas with his family, Riley gets a surprised visit from Sparks. While having a beer together at a local pub, Sparks and Riley rehash old times and their experience during those hellish months in Mexico. Sparks tells Riley that he and Washington are getting ready to deploy to Afghanistan. As they are walking back home Sparks approaches a young woman he previously saw at the pub and tries to sweet talker to bed, the young woman is not impressed. Angrily Sparks knocks the woman out, and orders Riley to help him get her inside her house so that they can rape her. Riley secretly calls the police, and they arrive just before any harm could be done to the woman, forcing Riley and Sparks to retreat. Once they both arrive at Spark' hotel room, Riley suspects that Sparks is up to something and when he finally pieces together the clues Sparks points a gun at Riley's head. Riley immediately disarms Sparks, and interrogates him. Sparks reveals that he and Washington have been working for Roba, showing that they had been successfully brainwashed, but before Riley could get any more information Washington arrives from a task and attempts to gun down Riley. Riley escapes by jumping through Sparks' hotel window, slightly injuring his leg, and steals a cab to make his get away. Remembering what Roba said about his family, Riley speeds towards his family's home and witnesses a shocking display. His mother, brother Tom, Tom's wife Beth, and his nephew Joseph have all been executed, no doubt by Washington himself. In the end Riley claims that he will kill them all; Sparks, Washington, Roba and his entire organization. Character played by: Daniel Angel Fuentes
Call of Duty: Modern Warfare 2 [ ]
Lt. Simon "Ghost" Riley is first seen in Takedown talking to Captain MacTavish via radio while they search for Rojas's assistant. After Soap and Roach begin pursuing the assistant, Ghost meets up with them at the Hotel Rio and joins the chase. Once the assistant is taken down by Roach, he is seen with MacTavish preparing to interrogate him. Ghost is then heard via radio for the rest of the mission as he attempts to pursue Rojas through the Favela. After the capture of Rojas, Ghost is heard requesting extraction from Command but to no avail.
Ghost appears in the mission The Hornet's Nest where Task Force 141 attempts to escape Rio de Janiero while being pursued by the Brazilian Militia. He manages to escape with Captain MacTavish and Roach aboard Nikolai's helicopter. He then takes part in the infiltration of the Russian oil rig, which is being used as a makeshift SAM (Surface-to-Air-Missile) site in The Only Easy Day...Was Yesterday. After clearing the oil rig, Ghost takes part in the operation to rescue John Price from The Gulag. He takes control of the gulag's security systems and guides Soap and Roach to the prisoner.
Ghost does not reappear until Contingency where he helps Captain Price infiltrate a Russian submarine base along with other Task Force 141 members. However, he is shocked after Price launches an ICBM at Washington DC where the Russian-American war rages on. Ghost's final appearance is in Loose Ends where he leads a strike-team to search for Vladimir Makarov at his safehouse on the Georgian-Russian border. However, Makarov is nowhere to be seen but the safehouse is rich with intel. Ghost along with Roach, Ozone and Scarecrow with sniper support from Archer and Toad, protect the DSM while it downloads information regarding Makarov's operations. As the team head to the LZ set up by Shepherd, Ozone and Scarecrow are killed by enemy mortars and Roach is injured. Ghost manages to get Roach to the LZ but Roach is betrayed by Shepherd who shoots Ghost, before he could level his ACR, in the chest at point-blank range with a .44 Magnum. Ghost is last seen being thrown into a ditch along with Roach. Although the player only sees Roach being covered in gasoline and set on fire, Ghost is undoubtedly lit on fire along with him (the soldiers would not have left unless they were sure they both were dead).
Locations [ ]
Call of Duty: Modern Warfare 2 Task Force 141 (Technical Specialist and Assistant Field Commander)
Rio De Janeiro, Brazil - Caught Rojas, Tortured Rojas and Rojas' right-hand man and escaped on Nikolai's PaveLow helicopter.
Vikorevkha 36 Oil Platform - Secured hostages and the oil rig. Phase one of Prisoner Extraction operation.
Petropavslok, Russia - Assisted Task Force 141 in the rescue of Prisoner #627. Phase two of Prisoner Extraction operation.
140 Miles East of Petropavslok, Russia - Raided a submarine base with Captain Price and Roach.
Georgian-Russian Border - Secured a DSM on Makarov's intel. Betrayed along with Roach and killed by General Shepherd.
Ghost gets his headgear from one of his first missions in the S.A.S., where he must kill a rogue drug dealer, known as Roba, however most of his team are killed, as he shoots his way out of trouble, but is nearly killed by Roba himself.
Craig Fairbrass (who voiced Gaz in Call of Duty 4: Modern Warfare ) provides the voice of Ghost.
Like Gaz, the two have had great time in the running course, Gaz having 19 seconds and Ghost having 18 seconds.
Ghost is somehow able to use a SCUBA mask during the oil rig mission, despite wearing a mask and having no mouth hole cut out for the breathing apparatus.
Ghost's ever rising popularity has even prompted people to make their own balaclavas based off of Ghost's.
In military terms, a "ghost" is someone who is undetectable and is nearly impossible to follow.
On the side of Ghost's 's Avatar clothing's headphones, it says "11/10/09"; a reference to Call of Duty: Modern Warfare 2's release date, which was November 10th, 2009.
Ghost's face is never actually seen in the campaign.
There is an achievement/trophy named "Ghost", though it actually has nothing to do with the character himself.
Ghost is the multiplayer announcer for Task Force 141, and is the announcer for most (but not all, such as "Time Trial") Special Ops missions.
On Infinity Ward's website Ghost was voted favorite (new) character in : Modern Warfare 2 .
His outfit can be bought and worn by Xbox Live Avatars for 400 Microsoft points.
In Call of Duty: Modern Warfare: Mobilized , almost all of the SAS dress like Ghost, but without the skull design on the balaclava.
Ghost is the only member of Task Force 141 (apart from Price) who refers to Captain MacTavish as "Soap".
Due to his past career in the S.A.S. and his calling of MacTavish by his old nickname, BABYGIRL BABYGIRL BABYGIRL alongside Soap before joining Task Force 141, and maybe even Price.
Ghost wears many different balaclavas, all with different colors, but they maintain the same exact skull pattern.
One of Ghost's melee takedowns is exactly as the one in Call of Duty 4: Modern Warfare when Roycewicz is taken down and killed by an OpFor soldier in "The Bog".
An article on IGN has revealed that Infinity Ward is discussing a spin-off game for Ghost; possibly a prequel for him. It has been highly speculated that Ghost's rumored game will be featured as Downloadable Content, and that it will take place in the events of his comic series Modern Warfare 2: Ghost .
It is strange how voice actor Craig Fairbrass referred to him as being "like the head of the whole S.A.S." in his interview at the London Premiere of : Modern Warfare 2 , while both Captain MacTavish and Captain Price outrank him.
The player can overhear two Rangers talking about how Ghost completed the training course in 18.28 seconds with only an M1911, far faster than any of the Rangers.
On a more ironic note, though Ghost is known as the "silent killer," he is very vocal throughout the missions he appears in, to the point to be told to "cut the chatter" in The Gulag.
It's odd how Ghost is always referred as a Sergeant in several places (including the first comic book information on DC Comics site), even though he is said to be a Lieutenant in the first comic book.
In an Interview with IGN Robert Bowling was asked if there is a possibility that Ghost is still alive and he stated "Ghost... isn't exactly dead... but you'll see what I mean soon." This means that in the game for Ghost that it might take place after "Loose Ends" or explain what happened to him after the end of "Loose Ends". This could be true because if you watch when the man pours gasoline on them, it only goes on Roach and not Ghost. Or it could be figurative language as it might mean there will be a game with Ghost taking place before his death. But it's not known if Ghost is really dead yet or not. Alternatively it could mean that Ghost-as a character is dead, but as part of the Call of Duty franchise he will live on; this is more likely, given X-Box magazine's alleged confirmation of his own game and the fact he has a six part comic series.
According to X-Box magazine, Ghost will be getting his own DLC.
If you watch the video below you can see two separate fires, one on yourself (Roach) and the other on Ghost (Or where his body should be lieing from your viewpoint)
In some levels, Ghost's M4A1 can be seen with a foregrip. However, if the player watches Ghost firing the weapon, he uses the standard offhand stance, without using the grip.
Ghost has brown/hazel eyes in the comic, but blue eyes in the actual game.
It might be said Ghost is a computer hacker, as in The Gulag, he hacks the system to help Soap and Roach find Captain Price, Just like Gaz did.
In the reveal trailer for : Modern Warfare 2 , one of the scenes in which Soap prepares to interrogate and torture Rojas' assistant, there is someone else holding and sparking the jumper cables. In the game, Ghost would be performing those actions with the jumper cables. This may be the true face of Ghost, but it is most likely just a placeholder character model. However, this isn't too special, as we've already seen Ghost's face in the comic. That is, assuming that Ghost truly is Simon Riley.
On the level "The Only Easy Day was Yesterday", you can see a knife strapped to Ghost's suit with the word "Titanium" written on it.
Ghost may be an homage to Gaz from Call of Duty 4 : Modern Warfare' , as both characters are the right hand of the Squad Leader (Cpt. Price and Soap), both of them got killed by the main antagonists (Zakhaev and Shepherd), both were shot with a high-caliber sidearm, both are more vocal throughout the game compared to the other soldiers in their squad, and both of them were voiced by Craig Fairbass .
Neither Captain MacTavish or Captain Price notice any shared characteristics Ghost has to Gaz as both Captain MacTavish and Captain Price has served alongside Gaz.
Ghost always has his glasses on, even underwater or in dark places.
1 John "Soap" Mactavish
2 Vladimir Makarov
3 John Price
Call of Duty: Modern Warfare 2 (MW2) Walkthrough & Guides Wiki
Latest News
Warzone 2.0
Tips & Tricks
Attachments
Campaign Walkthrough
Simon "Ghost" Riley (Samuel Roukin) Character Info
★ Game8's Modern Warfare 3 Wiki is live! ☆ Ashika Island: DMZ Keys | Weapon Cases | Map Guide ☆ Building 21 is now accessible with a Key Card! ★ DMZ Key Locations and Map | How to Get Weapon Cases ☆ Camo Challenges for Every Gun | List of Blueprints
Simon Riley, better known as "Ghost", is a character in Call of Duty: Modern Warfare 2 (MW2). Read on to see Ghost's bio and voice actor, and learn more about Ghost's history before joining Task Force 141.
List of Contents
Character Info
Related Guides
Simon "Ghost" Riley Character Info
Expert in sabotage and infiltration.
Ghost was born in Manchester, England, and served in the Special Air Service (SAS) , where he honed his stealth skills. He was then recruited to Task Force 141 by Captain Price (seen at the end of Modern Warfare), and has since been part of the team.
Modern Warfare 2 (MW2) Related Guides
All Characters and Operators
List of All Characters and Operators
We at Game8 thank you for your support.
In order for us to make the best articles possible, share your corrections, opinions, and thoughts about 「Simon "Ghost" Riley (Samuel Roukin) Character Info | Modern Warfare 2 (MW2)」 with us!
When reporting a problem, please be as specific as possible in providing details such as what conditions the problem occurred under and what kind of effects it had.
Do you want to send this information?
Walkthrough Menu
Call of Duty: Modern Warfare 2 Wiki Top
Updates and Patch Notes
Major Updates
Season 1 Update (November 16)
Season 1 Reloaded (December 14)
Season 2 Update (February 15)
Minor Updates
Update 1.03 Patch Notes
11/1/2022 Update Patch Notes and Bug Fix
11/3/2022 Update and Player Showcase Bug Fix
1.08 Patch Notes: Attachment Tuning Fix Update
11/9/2022 Update: Weekly Stars Reset
11/10/2022 Update: NVIDIA Driver Fix
11/18/2022 Update: Social Menu Bug Fix
November 22 Update Patch Notes (Season 1)
12/2/2022 Update: Crashes and FPS Drop Fix for PC
December 2 Update Patch Notes (Season 1)
12/16/2022 Update: Reduced Crashing Fix
12/16/2022 Update Patch Notes and Bug Fix
12/19/2022 Update Patch Notes
01/13/2023 Update Patch Notes
01/20/2023 Update Patch Notes
01/30/2023 Update Patch Notes
02/16/2023 Update Patch Notes
Beginner's Guide to MW2
Multiplayer Guides
How to Level Up Fast
How to Unlock All Camos
How to Unlock All Calling Cards
How to Unlock Gold Camo
Is there Hardcore Mode in MW2?
Combat Record and How to Check KD Ratio
Killstreak Guide: Best Killstreaks
Best Loadouts
Best Optics
How to Unlock All Operators
How to Unlock All Emblems
How to Unlock All Weapons
How to Unlock Slimline Pro
How to Unlock Mastery Camos
How to Play Split Screen
How to Unlock All Charms
How to Get Season 1 Combat Pack
How to Unlock All Stickers
Gameplay Features
Gunsmith 2.0 Guide
Firing Basics: All New Shooting Mechanics
Movement Guide: Basics & Combat Techniques
Vehicle Guide: How to Use & Customize Vehicles
All Call of Duty In-Game Terms & Callouts
Controls and Best Settings
How to Slide Cancel
How to Customize Your Loadout
How to Play in Third Person
List of Campaign Rewards
How to Do Finishing Moves
How Long is Modern Warfare 2's Campaign?
Killstreak & Scorestreak Guide
How to Dolphin Dive
How to Skip Cutscenes
Best Guns for the Campaign
Perks Guide
Field Upgrades Guide
How to Save Custom Mods
Hardcore Mode
Ranked Play Guide
How to Link Your Activision Account
Is In-Game Voice Chat Available?
How Does Aim Assist Work?
Can You Customize Operators?
The Story So Far
Is Modern Warfare 2 a Remake?
What is the Max Level Cap?
Can You Change Crosshairs?
Can You Prestige?
How to Change Your Name
What is Battle Rage?
What is the Weapon Vault?
Mountain Dew In-Game Rewards
Twitch Drops Release Date and List of Rewards
Little Caesar's In-Game Rewards
What is Weapon Tuning?
How to Inspect Your Weapon
List of All Death Quotes
How to Turn on FidelityFX Cas?
Should You Buy the Battle Pass?
Jack Link's In-Game Rewards
List of Rank Progression Rewards
Offensive Chat and Account Name Warnings
How to Unlock All Loading Screen Backgrounds
Is Double XP Event Coming to MW2?
List of War Tracks and How to Equip
When is Free-to-Play Weekend?
What Are Longshot Kills?
What Are Point-Blank Kills?
How to Create Groups (Clans)
Is MW2 Coming to Nintendo Switch?
What Are Operator Kills?
How to Get Prime Gaming Rewards and Link Account
How to Appear Offline
How Many Guns Are in Modern Warfare 2?
How to Get CDL Major 2 Viewership Rewards
Path of the Ronin Season 2 Event
How to Get Objective Defense Kills
Season 2 Battle Pass and Rewards
Latest News & Events
Latest News & Events
Warzone 2.0 Release Date
What Time Will Warzone 2.0 Release?
Is Warzone 2.0 Free to Play?
Is Warzone 2.0 Cross Platform?
Available Platforms
Pre-Load Date and Time
System Requirements
Server Status
What is Skill-Based Matchmaking ?
List of Warzone 2.0 Game Modes
How to Play DMZ
How to Play Battle Royale
Unhinged BR Trios
How to Play Duos Game Mode
Beginner's Guide to Warzone 2.0
Strongholds Guide
Black Sites Guide
All Ashika Island DMZ Key Locations
Building 21 Key and Location
What is Circle Collapse?
How to Get Your Loadout
What are Buy Stations?
Best Warzone 2.0 Loadouts
All DMZ Faction Missions and Rewards
Proximity Chat Guide
What is the Gulag?
How to Ping Enemies
How Does the Interrogation System Work?
How to Get Weapon Cases in DMZ
Best Items to Loot
How to Get the Nuke Contract
How to Unlock All Vehicle Skins
Best Settings For Warzone 2.0
How to Turn On Contextual Tap
What is CODBall?
What is Support Your Team Pick'em?
Best Guns for Warzone 2.0
How to Refill Vehicles
All DMZ Key Locations and Map
Best Locations to Drop In
Best Audio Settings for Hearing Footsteps
Taraq Smuggler's Office Key and Location
Power Substation Toolbox Key and Location
Yum Yum Burger Back Room Key and Location
Kushaak Construction Warehouse Key and Location
Taraq River Supply Shack Key and Location
Is Resurgence Coming Back to Warzone 2.0?
How to Find the Golden Skull and Ship Cache Locations
How to Get Battle Pass Tokens?
Ahmed Grocery Store Key and Location
Far South Eastern Storage Key and Location
What is AQ Soldier Kills?
Is Rebirth Island In Warzone 2.0?
Natural Treasure Black Mous Mission
How to Complete Safecracker Contract
Best RPK Build
Can You Play Split Screen on Warzone 2.0?
Best TAQ-56 Build
Downtown Post Office Key and Location
Best Fennec 45 Build
How to Complete Secure Intel Contract
Best M13B Build
How to Complete Secure Nuclear Material Contract
Mountaintop Spotter Shack Key and Location
Longshoreman's Duffel Bag Key and Location
IHTAQ Warehouse Supply Room Key and Location
How to Add People on Warzone 2.0
South Bank Apartment Key and Location
Rohan Oil Control Room Locker Key and Location
Enfer Back Room Key and Location
CH7 Secure Records Room Key and Location
Badge of Honor White Lotus Mission
Dead Drop Dumpster Location
Weapons Repair Kit Key and Location
Hafid Ship Bridge Cache Key and Location
Scientist's Locker Key and Location
South Zaya Scientist Apartment Key and Location
Best Sniper Class
Bank of Adal Office Keys and Location
How to Check Your Warzone 2.0 Stats
How to Play Mini Royale
How to Get Building 21 Weapon Cases
Do You Need PS Plus or Xbox Live to Play?
Can You Change Perks?
Sattiq Guest Quarters Key and Location
What Is Assimilation Refill?
Ashika Island
Is Plunder Coming to Warzone 2?
When Does Jailbreak Happen?
Can You Still Play Warzone 1?
What is Restore Honor in Resurgence?
How to Get Ashika Island Weapon Cases
How to Get Sea Treasure Tokens
Warzone 2.0 Bugs
List of Warzone 2.0 Bugs
Can't Invite Friends Bug
Skipping Downed Phase Bug
Dev Error 356 Bug
Lobbies Not Filling Bug
Your Profile Was Signed Out Bug
Max Tokens Bug
Operator Executions Bug
Purchase MW2 to Access Everything Error
How to Fix Error Code: 0x887A0005
How to Fix Error 2012
Private Lobby Bugs (Dev Error 292, 11642, and 401)
Status Savannah Error and How to Fix
Gulag Respawn Bug and How to Fix
Warzone 2.0 Maps
All Campaign Missions
Kill or Capture
Cartel Protection
Recon by Fire
Violence and Timing
El Sin Nombre
Prison Break
List of All Weapons
All Weapons by Class
All Melee Weapons
All Handguns and Sidearms
All Assault Rifles
All Battle Rifles
All Marksman Rifles
All Submachine Guns (SMGs)
All Light Machine Guns (LMGs)
All Shotguns
All Sniper Rifles
All Launchers
Best Sniper Rifle
Best Assault Rifle
Best Quickscope Class
Best Submachine Gun
Best Marksman Rifle
Best Assault Class
Best Shotgun
Weapon Tier Lists
Best Guns for Multiplayer
Best Guns for Campaign
List of Weapon Attachments
Best Weapon Attachments
Attachments by Category
All Ammunition
All Barrels
All Magazines
All Muzzles
All Rear Grips
All Underbarrels
Bugs and Bug Fixes
List of Bugs and Bug Fixes
Multiplayer Bugs
Attachment Tuning Disabled
Spawn Without a Primary Weapon Bug
Party Lobby Crashing Fix
Wall Hacking Bug/Ping Function Disabled
Multiplayer Main Menu Bug Fix
How to Access Oni Operator & Vault Items
Post-Match XP & Weapon Rank Progression Missing Bug
Game Lobby Freezing Bug
Gold Camo Challenge Not Unlocking Bug
Xbox Party of More Than 3 Bug
How to Fix Voice Service Unavailable Error
Dev Error 11063 and How to Fix
Join Failed Different Version Error
Steam Connection Timeout Error
Update 1.03 Bug: PS5 Patch Installation Error
Display Name Error
How to Fix Audio Continuity Issue
No Supported DXGI Adapter Found Fix
Puget Lakes Error and How to Fix
Fetching Account Data from Platform Error and How to Fix
Error Code: Diver
How to Fix Dev Error 11557
Names Freezing on HUD Bug
Puget Altus Error and How to Fix
Travis Rilea Error and How to Fix
Achievements
List of Trophies
Must Be Wind
No Time to Lose
A Crappy Way to Die
Don't Touch the Deck!
Practice Makes Perfect
Gentleman Thief
All Multiplayer Maps
Mercado Las Almas
Breenbergh Hotel
Al Bagra Fortress
Crown Raceway
Santa Sena Border Crossing
Zarqwa Hydroelectric
Taraq (Ground War)
Taraq (Invasion)
Sa'id (Ground War)
Sariff Bay (Ground War)
Guijarro (Ground War)
When is Shipment Coming to MW2?
Shoot House
All Multiplayer Game Modes
Team Deathmatch
Prisoner Rescue
Search and Destroy
CDL Moshpit
Cyber Attack
Campaign Characters
Captain John Price (Barry Sloane)
Simon "Ghost" Riley (Samuel Roukin)
General Shepherd (Glenn Morshower)
Kyle "Gaz" Garrick (Elliot Knight)
Colonel Alejandro Vargas (Alain Mesa)
Hassan Zyani (Ibrahim Renno)
Kate Laswell (Rya Kihlstedt)
Sgt. John "Soap" Mactavish (Neil Ellice)
Commander Phillip Graves (Warren Kole)
Farah Karim (Claudia Doumit)
Diego Salgado (Ramon Fernandez)
Valeria Garza (Maria Elisa Camargo)
Núñez (Ace Marrero)
Rodolfo Parra (Bayardo De Murguia)
Nikolai (Stefan Kapičić)
List of All Blueprints
Blueprints by Weapon Class
List of Assault Rifle Blueprints
List of Sniper Rifle Blueprints
List of Handgun Blueprints
List of Melee Blueprints
List of Battle Rifle Blueprints
List of Submachine Gun Blueprints
List of Shotgun Blueprints
List of Marksman Rifle Blueprints
List of Light Machine Gun Blueprints
Raids Guide: How to Unlock and Play Raids
Atomgrad EP. 01 Raids Walkthrough
How to Get Raids Assignments and Keys
Does Raids Have Matchmaking?
List of Mystery Case Rewards
All Spec Ops Missions
Low Profile
Defender: Mt. Zaya
Gun Game: Mt. Zaya
Denied Area
High Ground
List of All Equipment
All Tactical Equipment
All Lethal Equipment
All Field Upgrades
Shop Bundles
List of All Shop Bundles
Messi Operator Shop Bundle
Night Patrol Shop Bundle
Jacked_In Shop Bundle
Yellowjacket
Torment's Return
Pogba Operator Bundle
Etched Flesh
MWII Pro Pack: Desert Rogue
Neymar Jr. Operator Bundle
Knight's Command
Executive Warfighter
Violent Embrace
Atomic Sunrise
Tactical Human 1.0
Greased and Camo'd
Engraved Dragon
CDL Launch Pack
Vault Edition
Fuerzas Especiales
Infinite Warfighters: ETH.3N
Warning Skin
The Boneyard
Acid Washed
Damascus Forge
Fringe Tactical
Grimm: Crimson Pack
Atlanta Faze Team Pack
Boston Breach Team Pack
Florida Mutineers Team Pack
London Royal Ravens Team Pack
Los Angeles Guerrillas Team Pack
Los Angeles Thieves Team Pack
Minnesota Rokkr Team Pack
New York Subliners Team Pack
Optic Texas Team Pack
Seattle Surge Team Pack
Toronto Ultra Team Pack
Vegas Legion Team Pack
Frontline Fighter
After Burner
Raid Bundle: Season 1
Holiday Gift Pack
Tracer Pack: Klaus Operator
Merry Mayhem
Dune Stalker
Overgrown 2
Fringe Tactical 2
Tracer Pack: New Year's
Tokyo Streets
Notice Me 1.0
Pixel Perfect
Tactical Human 2.0
Frontier Fighter
Perseverance Pack
Tracer Pack: Damascus Forge 2
Game Is Life
Synthwave 2
Midnight Merc
Psychedelic
Year of the Rabbit
Sticker Bomb
Clandestine
Spartan Tower
Release Date and Time Countdown
Standard, Cross-Gen, and Vault Editions
How to Pre-Order & All Pre-Order Bonuses
Minimum & Recommended System Requirements
How to Preload Modern Warfare 2
All Available Platforms
Is There Crossplay?
Modern Warfare 2 Open Beta Rewards
All New Features & Gameplay Mechanics
Is Campaign Co-Op Available?
Will MW (2019) Skins Transfer to MW2?
List of Trailers & Gameplay Videos
Do You Need a Phone Number to Play?
List of Voice Actors
Will Modern Warfare 2 Have Zombies?
Are MW2 Servers Down?
List of Changes from the Beta
Makarov Reveal: Post-Credit Scene Explained
How to Unlock Burger King Operator Skin
List of All Promotions
How to Get C.O.D.E. Protector Pack
Call of Duty League Season Schedule
Other Call of Duty Wikis
Modern Warfare 3
1 Demo Cleanshot 40: Stats and How...
2 List of Underbarrels
3 KL40-M2: Stats and How to Get
4 VX Pineapple: Stats and How to Get
5 C4: How to Get and Use
We could not find the message board you were looking for.
Gaming News
The Top-Grossing Mobile Gacha Games of 2023!
DAVE THE DIVER Review
Harvest Island Review
Hot Toys Marvel Spider-Man 2 Black Suit Figure for the Ul...
More Gaming News
Popular Games
Genshin Impact Walkthrough & Guides Wiki
Starfield Walkthrough & Guides Wiki
Honkai: Star Rail Walkthrough & Guides Wiki
Pokemon Scarlet and Violet (SV) Walkthrough & Guides Wiki
Baldur's Gate 3 Walkthrough & Guides Wiki
Monster Hunter Rise: Sunbreak Walkthrough & Guides Wiki
Pokemon UNITE Walkthrough & Guides Wiki
The Legend of Zelda: Tears of the Kingdom Walkthrough & Guides Wiki
Fire Emblem Heroes (FEH) Walkthrough & Guides Wiki
Diablo 4 (D4) Walkthrough & Guides Wiki
Recommended Games
Super Smash Bros. Ultimate Walkthrough & Guides Wiki
Pokemon Legends: Arceus Walkthrough & Guides Wiki
The Legend of Zelda: Breath of the Wild Walkthrough & Guides Wiki
New Pokemon Snap Walkthrough & Guides Wiki
Hyrule Warriors: Age of Calamity Walkthrough & Guides Wiki
FF7 Remake Walkthrough & Guides Wiki
Elden Ring Walkthrough & Guides Wiki
All rights reserved
© 2021-2022 Activision Publishing, Inc. ACTIVISION, CALL OF DUTY, CALL OF DUTY VANGUARD, CALL OF DUTY WARZONE, WARZONE, and RICOCHET ANTI-CHEAT are trademarks of Activision Publishing, Inc. All other trademarks and trade names are the property of their respective owners. The copyrights of videos of games used in our content and other intellectual property rights belong to the provider of the game. The contents we provide on this site were created personally by members of the Game8 editorial department. We refuse the right to reuse or repost content taken without our permission such as data or images to other sites.
You can edit almost every page by Creating an account . Otherwise, see the FAQ .
Simon "Ghost" Riley
The reboot version of Riley was briefly mentioned in the 2019 reboot title Call of Duty: Modern Warfare , before making his full debut in the 2022 sequel, Call of Duty: Modern Warfare II . This version of Riley is depicted as having his entire face, save for his eyes, concealed by a skull-shaped mask. He appears in Call of Duty: Infinite Warfare and Call of Duty: Ghosts as a skin in multiplayer.
Riley is considered to be a breakout character for Modern Warfare 2 , and is oftentimes cited as one of the most popular characters of the Call of Duty franchise.
1.1 Call of Duty: Modern Warfare 2 (2009)
1.2 Modern Warfare (2019 reboot)
2 Reception
3 References
Appearances [ edit ]
Call of duty: modern warfare 2 (2009) [ edit ].
Riley is first introduced in the fifth mission of Modern Warfare 2, "Takedown." He is voiced by Craig Fairbrass. [1]
Modern Warfare (2019 reboot) [ edit ]
In the ending scene of Call of Duty: Modern Warfare , Riley first appears as potential recruit for Task Force 141, along with Mactavish and Kyle "Gaz" Garrick.
In Call of Duty: Modern Warfare II (2022), Riley returns to the campaign, which takes place in a new timeline. [2] He is portrayed by actor Samuel Roukin. [3]
Reception [ edit ]
Simon "Ghost" Riley is considered to be one of the most iconic characters of the franchise. [4] [5] [6] Riley's death in Modern Warfare 2 is often cited as an example of a impactful plot twist in gaming. [7] [8] [9] [10]
The presence of Riley, along with other male characters in fan fiction of the series has been the subject of scholarly attention. [11] Riley's depiction in Modern Warfare II has lead to him becoming the subject of homoerotic fan art and shipping with series protagonist Soap MacTavish. [12] [13] [14] [15]
References [ edit ]
↑ McNulty, Thomas (2022-05-25). "Fan-Favorite Soldiers Ghost & Soap Return For Modern Warfare 2" . ScreenRant . Retrieved 2022-08-30 .
↑ Cooper, Dalton (2022-05-25). "Call of Duty: Modern Warfare 2 Reveals New Actor for Ghost" . Game Rant . Retrieved 2022-08-30 .
↑ Thomas, Harrison (2022-11-08). "Who is Ghost in Modern Warfare 2? Answered" . Dot Esports . Retrieved 2022-11-21 .
↑ Das, Manish. "Modern Warfare 2 Ghost unmasked - How does the operator look under his skull veil" . www.sportskeeda.com . Retrieved 2022-11-21 .
↑ www.webdevo.ie; Austin, Kevin (2022-11-17). "Call of Duty Modern Warfare II Campaign Review" . GamesReviews.com . Retrieved 2022-11-21 . the lone wolf himself, fan favorite Simon "Ghost" Riley
↑ "Biggest Betrayals In Video Game History Ranked" . Fossbytes . 2022-07-29 . Retrieved 2022-08-30 . The betrayal of General Shepherd came as a shock to all Call of Duty fans, as the moment in Modern History 2 showed the death of Simon "Ghost" Riley.
↑ "Worst Games Betrayals! General Shepherd MW2 To Lance - Vance GTA Vice City" . IWMBuzz . 2021-11-12 . Retrieved 2022-08-30 .
↑ "The greatest video game betrayals ever" . GameRevolution . 2019-01-12 . Retrieved 2022-08-30 .
↑ Gagnon, Frédérick (2010-06-27). " " Invading Your Hearts and Minds": Call of Duty® and the (Re)Writing of Militarism in U.S. Digital Games and Popular Culture" . European journal of American studies (in français). 5 (3). doi: 10.4000/ejas.8831 . ISSN   1991-9336 .
↑ Tompkins, J. E. (2017). Heart breakers and life takers: Negotiated readings of military masculinities in Modern Warfare's fanfiction. In N. Garrelts (Ed.), Responding to Call of Duty: Critical essays on the game franchise. Jefferson, North Carolina: McFarland & Company. Retrieved 2022-08-30.
↑ Bevan, Rhiannon (2022-11-04). "Gamers Are Mad That People Find Ghost Hot In Modern Warfare 2" . TheGamer . Retrieved 2022-11-21 .
↑ King, Jade (2022-11-07). "Ghost and Soap Are Totally Boyfriends In Modern Warfare 2" . TheGamer . Retrieved 2022-11-21 .
↑ "TikTok Is Bimbofying Modern Warfare II's Ghost And Veteran Players Are Big Mad" . Kotaku . 2022-11-09 . Retrieved 2022-11-21 .
↑ "The 'Babygirlification' Of Ghost From Call Of Duty: Modern Warfare II" . Kotaku Australia . 2022-11-07 . Retrieved 2022-11-21 .
This article "Simon "Ghost" Riley" is from Wikipedia . The list of its authors can be seen in its historical and/or the page Edithistory:Simon "Ghost" Riley . Articles copied from Draft Namespace on Wikipedia could be seen on the Draft Namespace of Wikipedia and not main one.
CS1 français-language sources (fr)
Fictional character
Articles using Template:Infobox character with invalid colour combination
Simon "Ghost" Riley
Simon "Ghost" Riley is a character in the non-canonical Nazi Zombies storyline Spacefront . Ghost is a playable character in the missions " Favela ", " Cosmodrome ", " Aftermath ", " Launch ", " Arrival ", " Intrusion ", " Rundown ", " Cornered ", " Pluto ", and " Final Fronts ". Ghost is a soldier in the Special Air Service . Ghost is also a playable character in Call of Duty: Modern Warfare 2 .
Biography [ ]
Ghost was teamed-up with John "Soap" MacTavish , John Price , and Gary "Roach" Sanderson to fight zombies all around the world. After a very long battle at a cosmodrome , NATO had decided it was time to tell the truth, which was that some planets were habitable. Ghost and the three others were sent to a NATO base above Mars to kill zombies there. After fighting there they escaped and flew back to Earth. They are then briefed about the next mission, which was to investigate another NATO base on Pluto . While fighting there they discovered that it had been completely overrun with zombies as well, so they piloted a space craft. However, the craft was still a prototype, so the instruments were wrong. Instead of heading back to Earth, they headed he opposite direction. Eventually they crashed on an astroid , which was also infested with zombies. What became of Ghost and the three others is unknown.
Gallery [ ]