Mobile Apps
Stream on discovery+
Program Guide
Ghost Adventures
Ghost Hunters
Ghost Brothers
Conjuring Kesha
The Dead Files
Destination Fear
Eli Roth Presents: A Ghost Ruined My Life
Expedition Bigfoot
Ghost Nation
The Holzer Files
Kindred Spirits
Mountain Monsters
Paranormal Caught on Camera
Portals to Hell
Amy Bruni and Adam Berry
Destination Fear Team
Don Wildman
Ghost Adventures Crew
The Holzer Files Team
Jack Osbourne and Katrina Weidman
Steve Dischiavi
Watch Live TV
Tips for Solo Travelers
4 Gorgeous Waterfalls
5 Extreme Swings
World's 10 Best Swimming Holes
Best BBQ in America
Tilt! at 360 Chicago
Digital Exclusives
Big City, Little Budget: New York
Big City, Little Budget: San Francisco
Bizarre Foods in the Kitchen
One Bag and You're Out
From Our Shows
Bizarre Foods
Bizarre Foods: Delicious Destinations
Booze Traveler
Expedition Unknown
Hotel Impossible
Mysteries at the Museum
Top Domestic
New Orleans
New York City
Washington, DC
Top International
Myrtle Beach
Niagara Falls
San Antonio
Explore By Region
Asia Pacific
Middle East & Africa
North America
South & Central America
Top Interests
Amusement Parks
Arts and Culture
Food and Wine
National Parks
Health and Wellness
Long Weekends
Outdoor Adventure
By Traveler
Family Travel
Girls' Getaways
LGBT Travel
Solo Travel
Travel Tips
Budget Tips
Gear and Gadgets
Hotels and Lodging
Plan Your Bucket List
Savvy Traveler
Sweepstakes
7 Times A Ghost Was Caught On Security Camera
Sometimes security cameras detect more than we bargained for.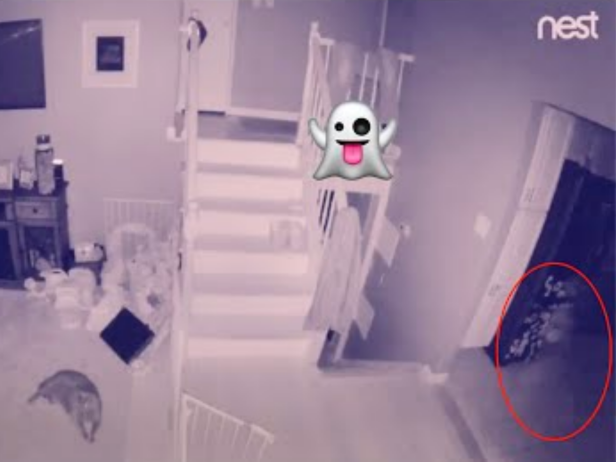 Photo by: Screenshot via Joey Nolan/YouTube
Screenshot via Joey Nolan/YouTube

Related To:
They can tell us when someone is at the door, monitor our homes, and make us feel more secure—but what do we do when our security cameras confirm we aren't alone? Check out seven times that the supernatural was caught on camera.
A ghost plays on the stairs
A ghost rattles the lockers at school
A ghost follows a cafe employee
A ghost with glowing eyes appears on camera
A ghost twin looks back from the mirror
A ghost screams in a hotel room before exiting
A ghost with the munchies keeps opening the pantry
It's hard to be a skeptic when average citizens capture video evidence of the paranormal. Stream your favorite episode of Paranormal Caught on Camera now on discovery+.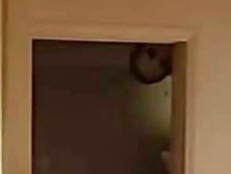 11 Shocking Pieces Of Evidence From Paranormal Caught on Camera 11 Photos
More creepy content.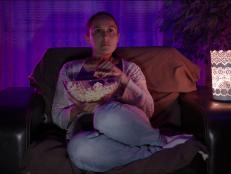 Paranormal-Themed Pajamas and Blankets for Your Next TRVL Binge Sesh 11 Photos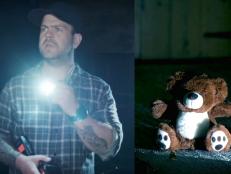 Jack Osbourne's Most Shocking Adventures 9 Photos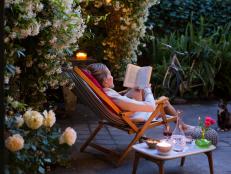 Plan the Perfect Summer Staycation 8 Photos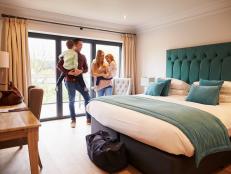 Tips to Avoid Hotel and Homestay Booking Scams 6 Photos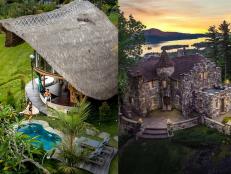 10 Over-the-Top Airbnb's We'd Love to Stay in 11 Photos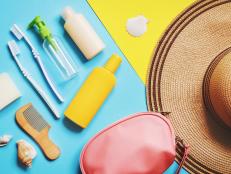 The Best Travel-Size Toiletries to Bring On Your Next Trip 13 Photos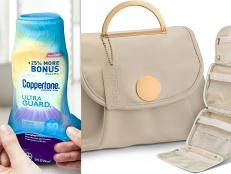 The Best Viral Travel Gear from TikTok 19 Photos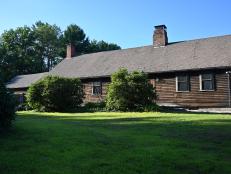 The Spirits in the Conjuring House Were Quick to Show Themselves Apr 7, 2023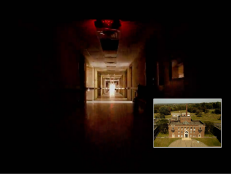 Haunted History: A Shuttered Pennsylvania Nursing Home Is Home to Dozens of Trapped Souls Mar 30, 2023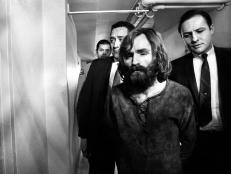 Cult Leader Charles Manson Controlled People from Behind Bars Mar 24, 2023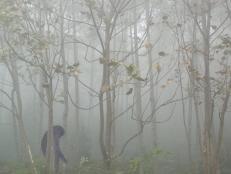 7 Best Pieces of Evidence Recovered By the Expedition Bigfoot Team Mar 14, 2023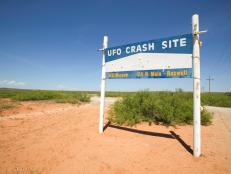 6 Things Witnesses Said About the Roswell Incident Mar 10, 2023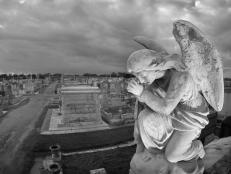 Creepy Urban Legends From Each State Nov 16, 2022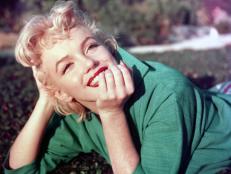 Unraveling The Mysterious Death of Marilyn Monroe Feb 24, 2023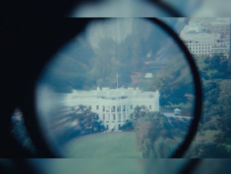 Is Abraham Lincoln Haunting the White House? Feb 16, 2023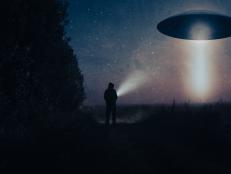 Top 5 States For UFO Sightings Feb 8, 2023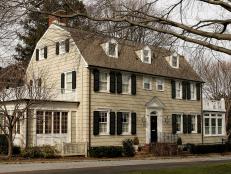 Amityville: Inside the Case that Rattled a Seasoned Paranormal Investigator Jan 30, 2023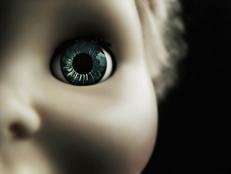 This Doll Might Haunt You Just Because You Saw Her Photo Jan 26, 2023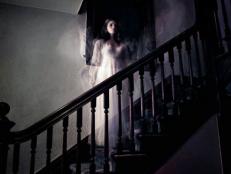 7 Times a Ghost Was Caught on Security Camera Dec 14, 2021
11 Eerie Urban Legends of New Jersey Jan 6, 2023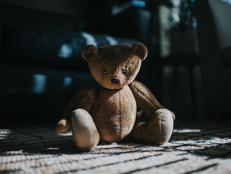 This Teddy Bear Can Tell You If Your House Is Haunted Dec 22, 2022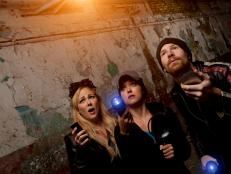 Gifts for the Aspiring Ghost Hunter in Your Life 9 Photos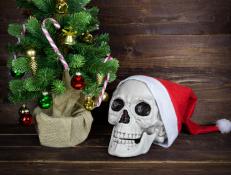 Ornaments for the Paranormal and Supernatural Obsessed 11 Photos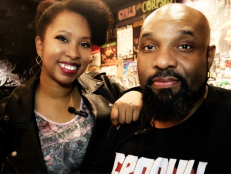 Get To Know Chuck & Karama, Hosts Of The 'Pop Paranormal' Podcast Dec 13, 2022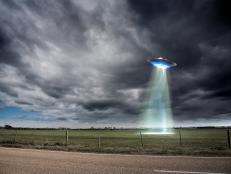 12 Days of December UFO Sightings 13 Photos
Creepy urban legends from each state 50 photos.
A Massachusetts Family Fled Their Home After Chilling Door-Camera Footage Nov 22, 2022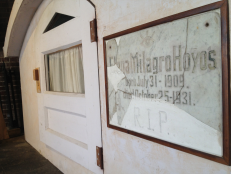 6 Museums That Are Home To Creepy And Mysterious Artifacts Oct 31, 2022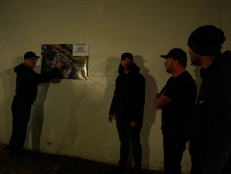 10 Terrifying Shows To Get You In The Halloween "Spirit" Oct 31, 2022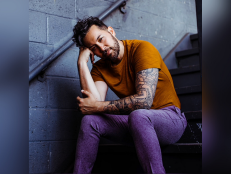 Meet Kimo, The High Seer Who Doesn't Do Fear Oct 28, 2022
Follow us everywhere.
Join the party! Don't miss Travel Channel in your favorite social media feeds.
The Osbournes: Night of Terror
More from travel.
Travel's Best
Stream Travel Channel
Ways to Watch Travel Channel

Privacy Notice
Visitor Agreement
Online Closed Captioning
California Privacy Notice
Accessibility
Discovery, Inc.
Do Not Sell or Share My Personal Information
Food Network
Travel Channel
Cooking Channel
Discovery.com
© 2023 Warner Bros. Discovery, Inc. or its subsidiaries and affiliates. All rights reserved.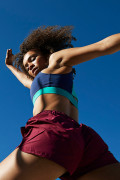 Watch Full Episodes
Read With Jenna
Inspirational
Relationships
TODAY Table
Newsletters
Start TODAY
Shop TODAY Awards
Citi Music Series
Listen All Day
Follow today
More Brands
16 very real ghost stories that'll chill you to the bone
Do you check under the bed for monsters before you go to sleep? Double check the closet to ensure the boogeyman isn't hiding inside? Are you afraid of...ghosts?
Then perhaps you should stop right now, because we're about to delve into the world of the paranormal — and these tales are not for the faint of heart.
Whether you believe ghosts are rea l or just made up for the movies , these ghost stories, as told by real people who experienced things they simply can't explain , are sure to give you pause — if not proof — that there's more than meets the eye when it comes to supernatural happenings.
To help curate our collection of spooky yarns, TODAY.com spoke to Derek Hayes, host of " Monsters Among Us ," a podcast in which callers share details of mysterious encounters.
According to Hayes, he receives hundreds of calls each week and submissions from across the globe. "But every once in a while, somebody will call in one of those personal stories. It's that personal connection for me that really brings it home," Hayes tells TODAY.com.
"And some of those are just terrifying ."
We've collected a sampling of those 'terrifying' stories right here, along with a handful of other scary ghost stories from a ghost hunter, as well as unexplained incidents told by a variety of ordinary people who claim they've experienced something extraordinary.
Whether you believe them or not is, of course, entirely up to you. But if you end up sleeping with the lights on tonight, don't say we didn't warn you.
The 'grandmas' in the cemetery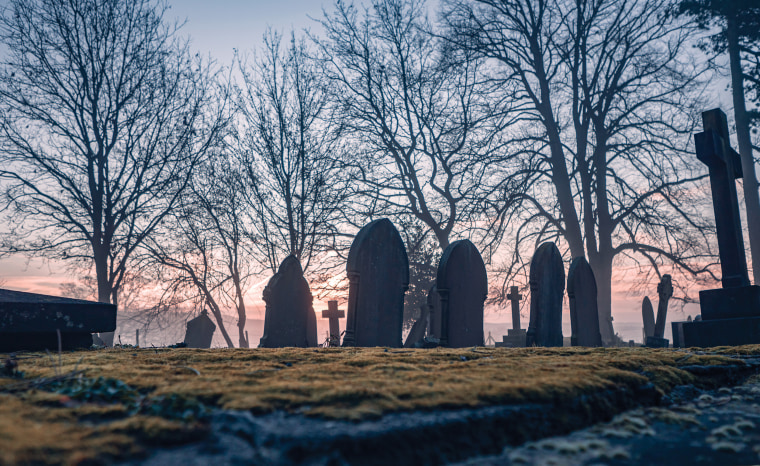 Jeff, a resident of Dayton, Ohio, was driving with his 3-year-old son, Miles, in the back seat, when they passed by a cemetery. It was a modest cemetery with only flowers and small plaques.
"It basically looks like a giant garden," Jeff explains on "Monsters Among Us."
According to Jeff, as they drove by, his toddler, who'd been happily singing, abruptly stopped, pointed to the cemetery and exclaimed, "Look at all those people!"
Jeff turned to look, but didn't see a soul. Confused, he asked Miles what he was talking about. "All those people over there," his son replied. "There sure are a lot of grandmas."
As Jeff tells it, chills ran down his spine as he asked his son what the people were doing. "They're all standing there, looking down at the grass," Miles said.
Completely unsettled by the conversation, Jeff sped up and drove home. Later that same day, he says his young son was watching TV when he turned to Jeff and said, "You know … they weren't alive."
Thinking Miles was referring to the cartoon, Jeff asked what he meant. "Those people we saw ... they were all paused," his son replied.
"I don't know if my kid has the sixth sense," Jeff says. "Or if he just has a wild imagination."
The ghost of The Stanley Hotel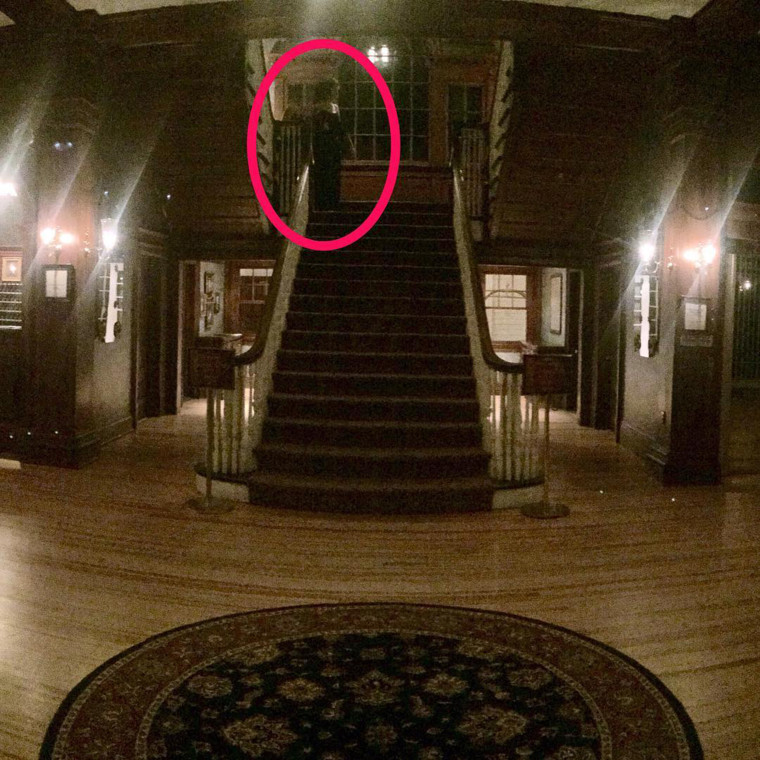 The Stanley Hotel in Estes Park, Colorado, has been around for more than 100 years and was built as a posh getaway for the wealthy seeking solitude in the mountains.
As the years passed, however, occupancy declined and by the 1970s, the grand hotel had fallen into disrepair. It was around that time that famed author Stephen King spent the night there and was inspired to write the book "The Shining."
The book and blockbuster film helped return the Stanley to its former glory. Now, guests come in droves to see the hotel that inspired one of the scariest horror movies of all time.
Given its history, it should come as no surprise that many visitors report strange happenings. Aware of the ghostly rumors, Texas resident Henry Yau booked a last-minute getaway in April of 2016 to "check it out."
After arriving, Yau had dinner, then wandered around the Stanley to take photos. Stopping at the staircase, he waited for people to clear the area, then took a picture, thinking nothing of it.
Later that night, however, Yau fell seriously ill. "I felt really sick, I had the shivers, I was like, something's really wrong," he tells TODAY.com. His companion suggested he go to the emergency room, but Yau refused.
On the trip home, Yau began swiping through the photos he'd taken when he discovered what he said was a "really, really strange image" of someone standing on the stairs.
Except no one had been there.
The next day, he posted the photo on Instagram, half-joking that he'd captured a ghost — and the world took notice. Almost overnight, Yau found himself in the limelight with his ghost picture warranting attention from global media outlets and paranormal experts who wanted to examine the photo.
"Some experts say that there's two ghosts, and other people said that the reason I got sick is because the ghost was trying to materialize, taking energy out of me," he said. "There's so many theories about this."
And what does Yau think? "I have no idea," he says with a laugh.
The ghost truck stop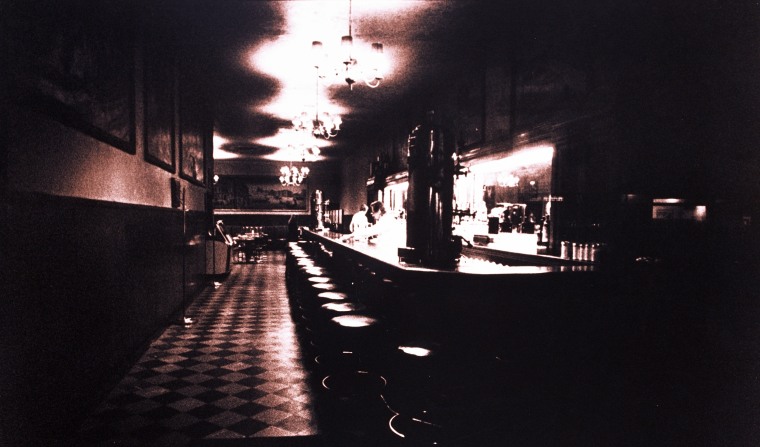 On his way to get married, a military man and his best man set off on an 800-mile road trip from Camp Lejeune in North Carolina to Lafayette, Indiana.
It's 1 a.m. on a cold January night in 2014 and the man tells "Monsters Among Us" that the weather is bad and temperatures are in "the negative double digits."
As the pair close in on Indianapolis, they discover they have no money to pay for gas to refuel the car and are about to run out.
"Growing up in the trucking industry with my dad, I decided to stop at a truck stop," the man explains. But because the main interstates were shut down due to the weather, they had get off the highway and search for a truckstop along the back roads instead.
"(We) found a smaller truck stop. It had one truck and it was just kind of strange. It was just a blacked out truck with a blacked out trailer. There was no real markings on it, nothing distinguishable," he says.
They went in, hoping a clerk or waitress would spot them a few dollars for gas enough to make it to Indianapolis, at which time they'd go to the bank, take out cash and pay back the loan.
Inside they found a tidy diner, occupied by a waitress, cook and a lone truck driver.
"I went inside, talked to this driver and he bought us a cup of coffee. We sat there and talked for about 30 minutes about what was going on and why we were headed, where we were and what we were doing. And he gave us 20 bucks for gas. I went outside, pumped our gas, came back in and I told him, 'Hey, I really appreciate it. I'll be back.'"
Making good on his word, the man got cash from the bank upon arriving in Indianapolis and returned to the diner.
"When we arrive at about 10 o'clock in the morning, it's boarded up," he says. "It looks like it's been abandoned for years and the truck's gone. But we had just been in there."
They pull in anyway and find a police officer parked in the lot. They explain what happened just hours before to which the cop chuckles and replies, "Oh, you met the ghost of three."
"So, two military members converse, had a cup of coffee with, interacted with, three people at a diner that had a fuel pump. I got $20 worth of gas," says the man. "When I came back, it been boarded up for, if I remember correctly, the cop said it had been boarded up for the last 25 years."
The hauntings at the Lizzie Borden House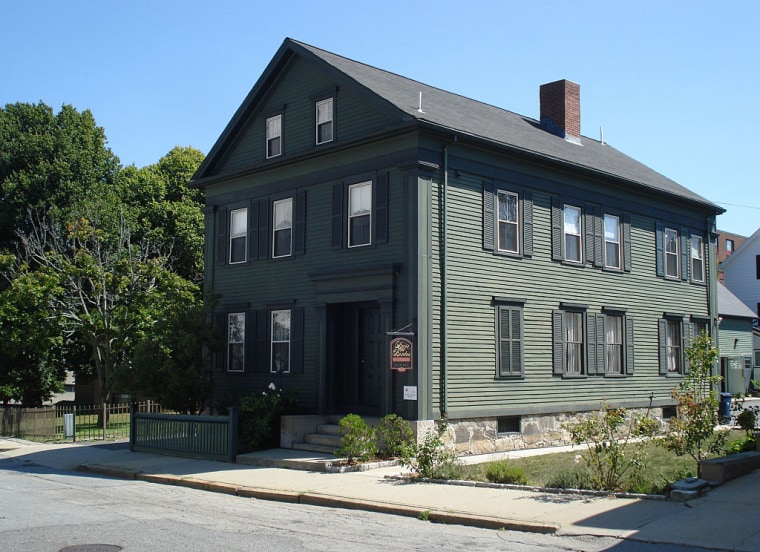 On August 4, 1892, Andrew and his wife, Abby Borden, were found brutally murdered in their Fall River, Massachusetts, home. Though murder wasn't uncommon in the late 1800s, the fact that they were bludgeoned to death with an ax and the main suspect was their 32-year-old daughter, Lizzie Borden, certainly was.
The crime and trial that followed made headlines around the world. Lizzie was ultimately acquitted of murder, but she remains forever linked to the heinous killings, as does the home where the crime was committed.
Now a bed-and-breakfast and museum, the Borden home attracts history buffs and thrill-seekers who come to see for themselves if rumors that the house is haunted are, indeed, true.
"When I started working here, it was more of the history. I really didn't care about the paranormal," Suzanne St. John, a realtor and tour guide at the Lizzie Borden House, tells TODAY.com.
However, that all changed after St. John says she experienced a few unusual happenings of her own.
"Guests tell us they hear laughing and playing in the middle of the night, things get moved around," she says. And St. John has experienced a few unusual things herself, saying that once she discovered toys scattered across a room that no one had been in.
St. John also talks of a picture that fell over and slid two feet across the floor without any plausible explanation, as well as a closet door that once opened on its own volition.
On the eve of the anniversary of Andrew and Abby's murder, St. John says that she and two other tour guides at the house felt a sudden sharp, piercing pain in their left eyes — the same exact location of Andrew Borden's fatal injuries.
Perhaps the most unsettling, however, is the story St. John tells of a tour guide at the Lizzie Borden house who asked her group to silence their cell phones before beginning the tour. Moments later, a guest's cell phone rang. She looked up and said, "It's my mom."
The tour guide asked if she wanted to leave and take the call, to which the woman replied: "She died two years ago."
The ghost of Captain Joseph White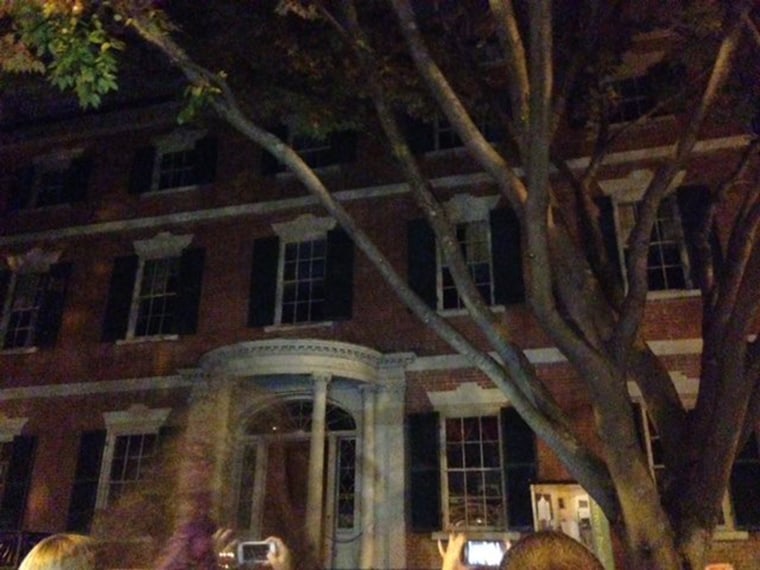 Though Salem, Massachusetts is best known for its infamous witch trials, there have been plenty of other chilling stories throughout its 400-year history.
One of them is the tale of Captain Joseph White, a wealthy merchant who was found bludgeoned to death in his bed.
It was a crime motivated by money, according to Giovanni Alabiso, owner and tour guide at Salem Historical Tours, who says the 82-year-old merchant was allegedly targeted by greedy brothers hoping to get their hands on his will.
Brothers Joseph and Francis Knapp enlisted the help of Richard Crowninshield to help get the job done. "Late in the evening, when Captain White is asleep, Dick Crowninshield comes in, he goes upstairs to the second floor and takes a club and bashes the captain over the head and crushes his skull," Alabiso tells TODAY.com.
The murder resulted in a scandalous trial and is said to be the inspiration for Edgar Allan Poe's "The Tell-Tale Heart," as well as the game "Clue."
Whether it's the brutal nature of the crime or revenge for the attempt to steal his money, the spirit of Captain Joseph White is said to still wander the halls of his former home. "People believe Captain White is roaming around that house, protecting whatever treasure he reportedly has," Alabiso said.
Tourists take photos of the house, and despite being empty, many pictures reveal shadowy figures (both male and female) in the windows and on the landing of the Gardner-Pingree House.
Who are they? No one knows.
"It's definitely, absolutely active," Alabiso says.
The haunted ventriloquist doll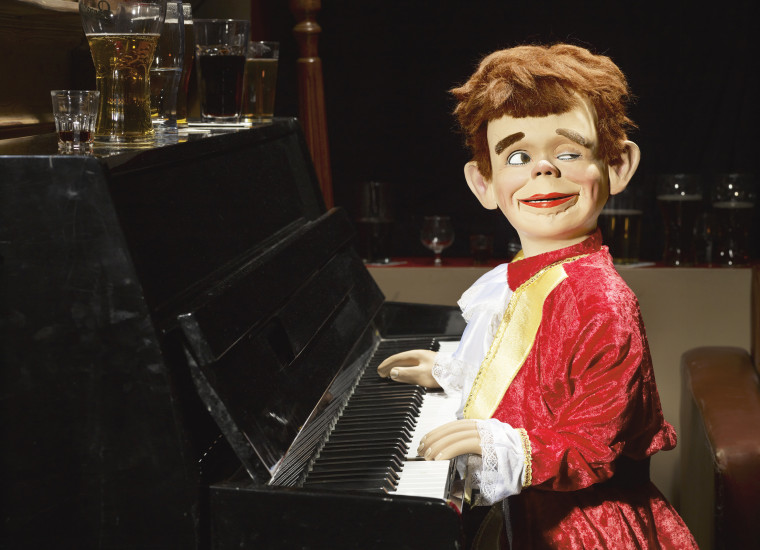 When Marty was a child back in the '90s, she tells "Monsters Among Us" that she was a fan of ventriloquist Edgar Bergen and his dummy sidekick, Charlie McCarthy.
She says that when her father came across a ventriloquist doll as he wandered through a small magic shop located outside of Santa Rosa, California, he decided to buy it for her birthday.
While ringing up the sale, Marty says the cashier gave her father "weird vibes" and said to him: "You know when you put your hand inside the doll, he's going to come alive."
Laughing off the comment, he brought the dummy home to his daughter.
According to Marty, she was over the moon when he dad gave her the doll, saying: "I was so happy when I got that doll, I was obsessed."
But before long, strange things began happening. Though impossible because the doll's head was made of hard plastic, she says its expression would change, including his smile.
Worried something would happen to her precious dummy, Marty's family shut it away in a cupboard most nights. One night, she and her family were awakened by the "pitter patter" of steps in their living room. Thinking it was the dog or another family member, they went to look.
No one was there. Except for the doll, who was sitting on the couch.
"We remember specifically we always put it away because I loved that doll so much that I took care of it," Marty says on the podcast.
Other strange occurrences began happening. While Marty and her dad were away, her uncle was alone in the house. The uncle says he heard Marty's father calling his name from the living room, even though he wasn't home.
When he went to look? He found the doll, once again, sitting on the couch. And no one else.
"All of our family was pretty much scared of the doll," Marty says. "People would start hearing their names being called, and we would hear walking at night. So, we just decided we needed to get rid of it."
Being Mexican and religious, Marty says her parents wanted to burn the doll in case it was demonic. They put it on the grill and, according to Marty, it wouldn't burn. "This doll would not go up in flames, at all, whatsoever."
They tried cutting it up with a knife, but were unsuccessful. Finally, they threw it in the trash can. After the garbage was collected, Marty's dad went to retrieve the bin.
In it? The doll.
To rid themselves of the dummy, they dug a hole in the backyard, then filled it with cement.
Marty and family have long-since moved away, but she says they still think about the doll and the possibility that eventually "it finds one of us."
The imaginary 'friend'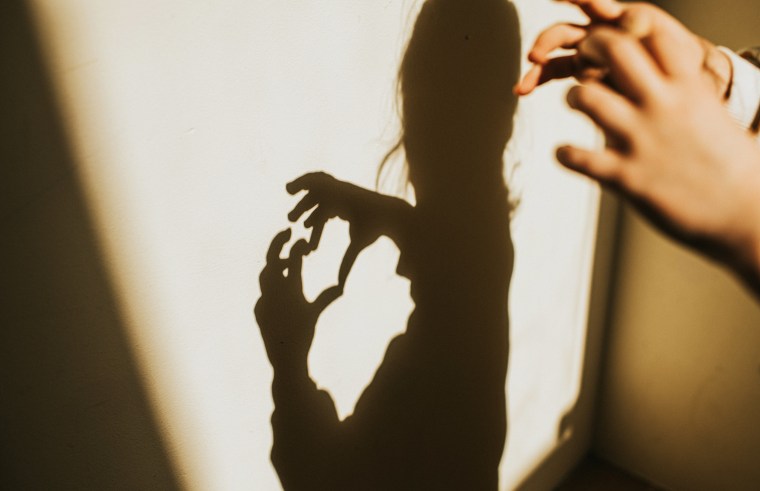 Jacqueline from Oklahoma says that while her memories have faded over the years, she recalls having an imaginary friend when she was young.
Her grandparents, "Granny Junie" and "Pa Hank," lived in a small home with a quiet backyard. Jacqueline recalls visiting them as a child.
"I have very good memories of my Pa Hank," Jacqueline says on the podcast "Monsters Among Us."
"He would sit under the tree with me and tell me stories." The stories were often about his life and memories of prohibition, she says. "He was actually a very interesting character."
The only problem? Her grandfather died in 1981 — and Jacqueline was born in 1982.
"I don't think I ever realized that I was getting stories from a ghost," she says, adding that the rest of her family knew of his presence in the house. "My Granny Junie would never stay in the house on the anniversary of his death," she says. "He did die in the house."
Jacqueline also recalls hearing Pa Hank get up in the middle of the night when she was staying at the house. "It never occurred to me that these were memories of an entity," she said.
In hindsight, Jacqueline says that even though her childhood "imaginary friend" was actually her dead grandfather, it casts a different light because it was a relative and not a stranger.
"It never felt like ghosts, it felt like talking to my Pa Hank."
The kidnapping ghost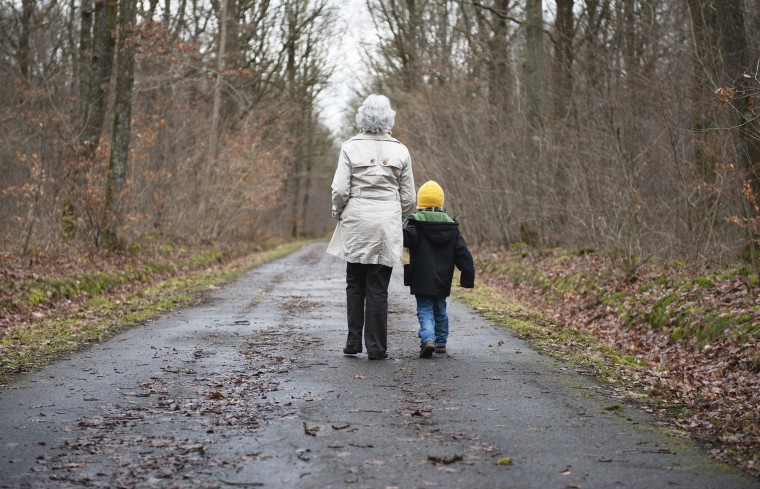 On "Monsters Among Us," a caller named Joe tells of moving to Georgia from California in the late 1990s. Soon after, he says his brother followed him to the Peach State and rented an old house built in the 1800s.
"It looked nice from the outside ... it did not feel good from the inside," Joe says during the podcast.
According to Joe, things seemed off from the moment he helped his brother move into the home. "I walked into the house and went, 'Oh, man.' The hair stood up on the back of my neck, and I just felt ill-at-ease, like this place isn't cool at all," he says.
Moments later, while carrying items into the bedroom, Joe says he heard whispering.
"A heated whispering, almost an argument, between two people that seemed to be hovering in the top of the ceiling area of the room," he adds.
Joe ran out of the room and asked his brother if he'd felt something off about the house, too. His brother had picked up on the vibe, but assured Joe that things would be alright.
"As long as you're good," Joe says he told his brother. "I'm not good, but I'm going to help you. I'm going home and I probably won't come back here."
And, sure enough, Joe's brother began experiencing unusual occurrences in the house.
The most alarming, however, was when Joe says his young niece was found wandering alone on a busy road with her hand up in the air.
Police and other agencies were called to investigate the incident and when asked, his brother's 4-year-old explained that she'd gone for a stroll with the "old lady that lives here."
"She just wanted to go for a walk, so we went for a walk."
Given that the front door was too heavy for a 4-year-old to open by herself, no one could understand how she was able to leave the house.
According to Joe, his niece said, "The old lady opened the door, then we petted the dog for a little bit, then went for a walk."
"She was so genuine and honest at 4 years old, that he couldn't call her liar," Joe says during the podcast.
Soon after, his brother moved and never returned.
The ghosts of Stone's Public House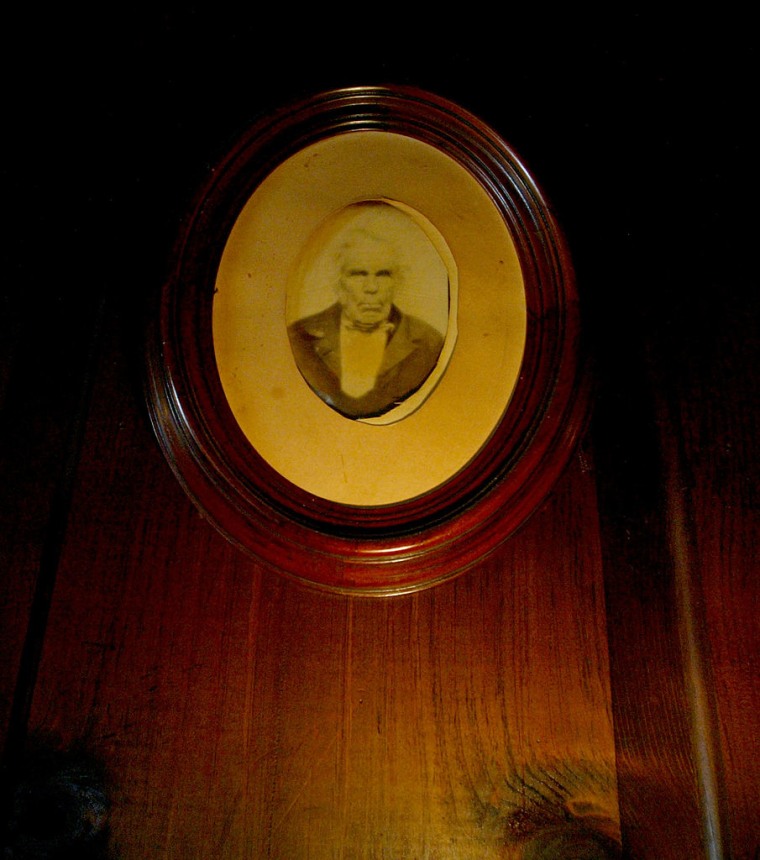 Considered one of the most haunted restaurants in America, Stone's Public House in Ashland, Massachusetts, doesn't have a ghost problem — it has a ghosts problem.
Janet Morazzini, a longtime resident of Ashland, is the bartender and manager of Stone's Public House, which was built by John Stone back in 1832.
According to Morazzini, even before she began working at the inn, she heard stories of the ghost of a young boy roaming the halls of the restaurant, which once served as an ad hoc hospital during the Spanish Flu pandemic of 1918.
It makes sense, Morazzini tells TODAY.com. "That's where they would quarantine all the sick people," she explains. "Apparently, quite a few souls have passed just due to that."
The inn is also the site for other untimely deaths, including that of a young girl who was struck and killed by a train while she played near the railroad tracks bordering the property.
According to Morazzini, a father and son visiting the inn stepped outside the restaurant to watch the trains. After coming back inside, Morazzini overheard the father reassuring his young son that there wasn't anyone else outside — despite the son insisting he'd seen a little girl sitting beside them.
"He's like, 'She was sitting right next to me. She was crying. You didn't see the little girl?' And the dad said, 'There was nobody there, it was just me and you, buddy,'" Morazzini recalls.
Other ghosts are said to haunt the old inn, including that of proprietor, John Stone, who Morazzini says didn't actually die there, but is believed to be "watching over" the place.
One night when Morazzini was alone at the inn, she says she heard footsteps walking directly above her on the second floor. "I was just like, there is no explanation for that whatsoever. I'm leaving," she tells TODAY.com.
Still, she doesn't believe that the spirits have bad intentions. "I've never had that scary, hair-on-the-back-of-your-neck-gotta-get-out-of-the-building feeling there."
The unexpected passenger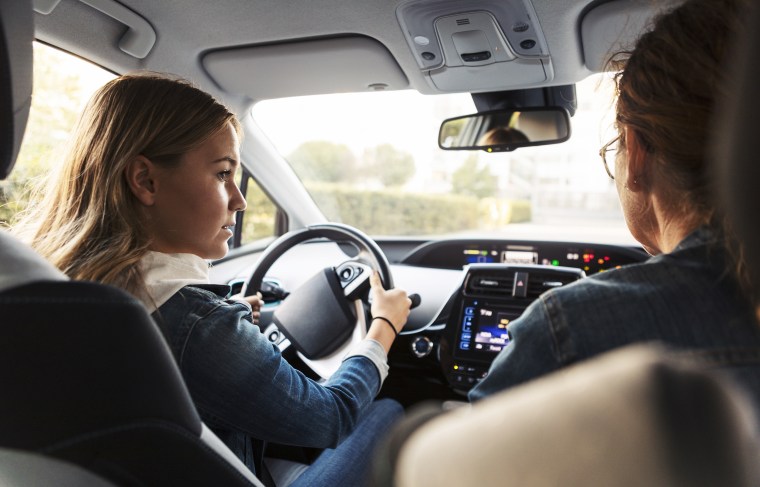 In the 1990s, Julie, a resident of Portland, Oregon, was driving out the city to meet with friends when she found herself in traffic. The 18-year-old soon discovered that the cause of the slowdown was due to a dreadful car crash and to her horror, as she passed the scene, she realized that someone had died.
A moment later, "there was a woman sitting in my passenger seat." Julie says on "Monsters Among Us."
Though she admits it sounds crazy, Julie reports seeing a woman dressed in work clothes seated next to her. And despite being in complete shock, the woman in the passenger seat was even more freaked out. "She looked like somebody who just suddenly ended up in somebody else's car," Julie says of the incident.
Panicked, the woman demanded to know how she got there and who Julie was. It was then that Julie noticed the woman had an unearthly quality about her and realized that whoever she'd passed on the side of the road was somehow in the car with her.
"'Ma'am, you need to calm down, my name is Julie and I'm here to help,'" she says she told the stranger. Julie later went on to explain to the woman that she'd been in a car accident and somehow ended up in her passenger seat. The woman was stricken.
At that exact minute, they passed a clearing in the trees. With some encouragement from Julie, the woman peacefully walked toward the sun, then disappeared.
In completely disbelief, Julie pulled over and convinced herself she'd imagined the whole thing. Several days later, however, a story came on the news about a trucker injured in a car accident.
"Before they finished, they threw a picture up of the woman that was in my car and explained that she had passed away in the accident," Julie says during the podcast. "It was unbelievable, it was too much."
The ghost in the choir loft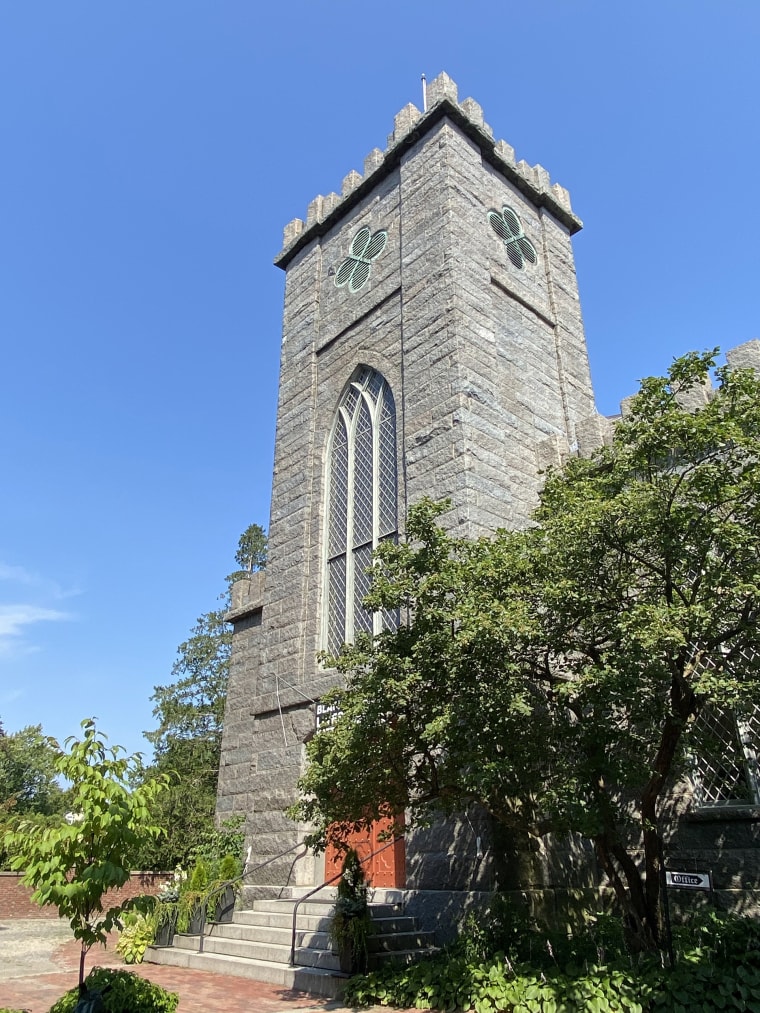 Alicia Diozzi, teacher, tour guide and owner of Salem Kids Tours , typically sticks to talking about Salem, Massachusetts' long and diverse history.
However, there's one story she likes to share about a ghost that haunts First Church in Salem. The plot twist? Only children can see it.
"The little ones, maybe age 4 or 5, will ask about a ghostly presence that they see up in the choir loft in the main sanctuary of our church," she tells TODAY.com.
According to Diozzi, kids often point to the same spot in the church and claim they see a woman there.
"The kids will say she's in a long dress, long-sleeves, and that she sometimes can be heard singing with the choir," Diozzi says.
Tales of the choir ghost have been circulating since the 1960s, says Diozzi. And she might have dismissed them had her own son not pointed to loft 15 years ago and asked about "the lady who sings with the choir."
Was she chilled?
"Yes, definitely," Diozzi says. "I feel like the main sanctuary at First Church has that feeling, you do kind of feel the presence of the past."
It's not a bad feeling she says, but rather a history or energy that's comforting in a way.
The ghosts of 'Shawshank' penitentiary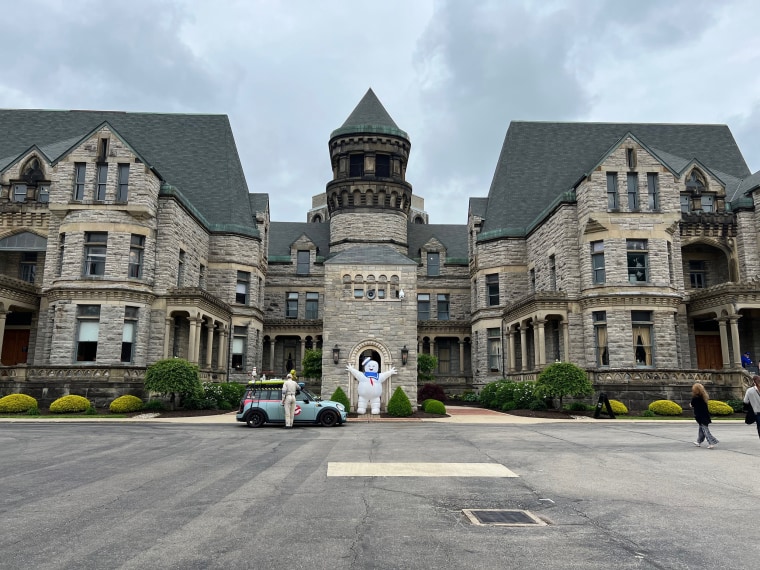 The Ohio State Reformatory in Mansfield, Ohio is widely known for being the location of the classic movie, "The Shawshank Redemption."
But the old penitentiary, which was shut down in 1990, also has a reputation for being haunted.
Home to some of the most hardened criminals, the maximum-security prison was once the site of murders, suicides and other violent encounters, according to Theresa Argie, author and paranormal investigator known as " The Haunted Housewife ."
"(The reformatory) had this incredible vein of violence that ran through it almost from the beginning," Argie tells TODAY.com.
"You can imagine why a place like that would be haunted," she says. "There's something negative there, you can just feel it in your bones."
And there are, in fact, plenty of ghost stories from the old prison.
"We ran into female spirits there, which I thought was incredibly interesting," Argie said. One of them, she says, is likely the wife of a former warden who was accidentally shot and killed while pulling a box down from a closet shelf.
According to Argie, they've captured recordings of a woman crying and, on occasion, smelled rose perfume in the bedroom.
Another spirit that's said to haunt the reformatory is a woman who sits in the prison chapel and cries. "When you approach this woman sitting in the pew, she disappears. Other people have seen her walking," Argie says.
Then there's the malevolent presence there, according to Argie. And with the help of a medium, she says she communicated with it.
"He would literally be cussing at me," she recalled.
While their sessions with the angry ghost were unnerving, it wasn't until he followed Argie's partner home that they were truly terrified.
"One day, she saw him, through a reflection of her window, she saw this thing in the back, this shadow figure, and she knew it was him," Argie tells TODAY.com.
After seeking the help of a paranormal expert, Argie says that "we haven't seen him since."
The phantom ambulance lights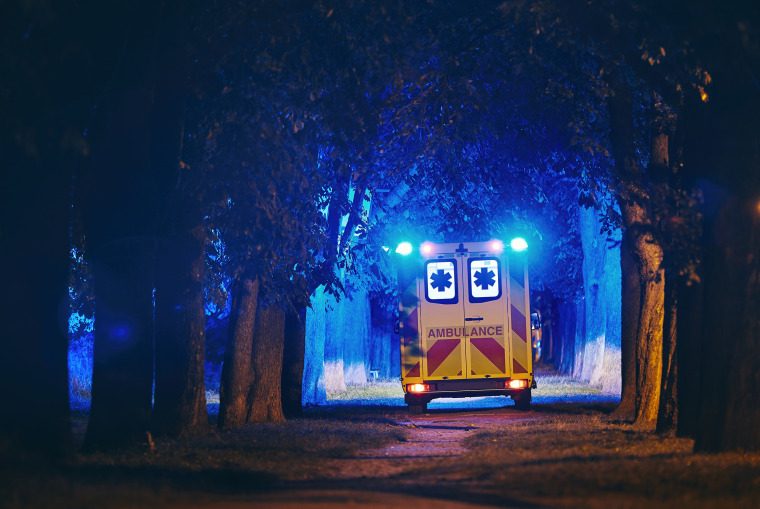 In the mid 1990s, Robert worked as paramedic in a small Texas town and tells the story of a "strange happening" that he and his partner experienced on a call one night.
After receiving a call for a female having chest pains, he and his partner climbed in the ambulance to make their way to the address.
"We took off Code 3, which means using our emergency lights and sirens," Robert recalls.
In the absence of GPS back then, Robert says that they relied on maps and mailbox numbers to guide them to the rural location.
"The address we were going to was a very rural one," says Robert. "So, there was no street lights and it was a very dark night, so it was very difficult to read the mailboxes."
As they searched for the correct driveway, Robert says he turned off the sirens. After determining they'd found it, they pulled in only to discover they were mistaken.
"So, we turned off the emergency lights as we backed up to the road and went up the correct driveway," he explains.
Upon arriving at the scene, the paramedics realized that they'd been at the exact same address the month prior for a male suffering from cardiac arrest.
"In typical medical black-humor fashion, we mentioned to each other that this was probably the wife who was now having a heart attack and was now going to go join her husband."
They jumped from the ambulance, bags in tow, and began treating the woman, who, fortunately, ended up being alright. Robert says he sent his partner to get the stretcher from the ambulance so they could take her to hospital for evaluation.
"When he returned, he had this strange questioning look on his face," according to Robert. The pair wheeled the patient out to the emergency vehicle and that's when Robert saw that the ambulance "had nearly every light it was equipped with turned on."
"Strobe lights, flood lights, some interior lights ... everything on."
After taking the patient to the hospital, Robert asked his partner why he'd turned on all the lights.
In fact, he reminded Robert that they'd shut them all off after going to the wrong address.
"Neither of us recall activating the emergency lights, strobes or flood lights when we arrived at the house. There was no real reason to do so, we'd already gotten there.
"In the end, we wrote it off as her dead husband letting her know that he was still there."
The ghost dog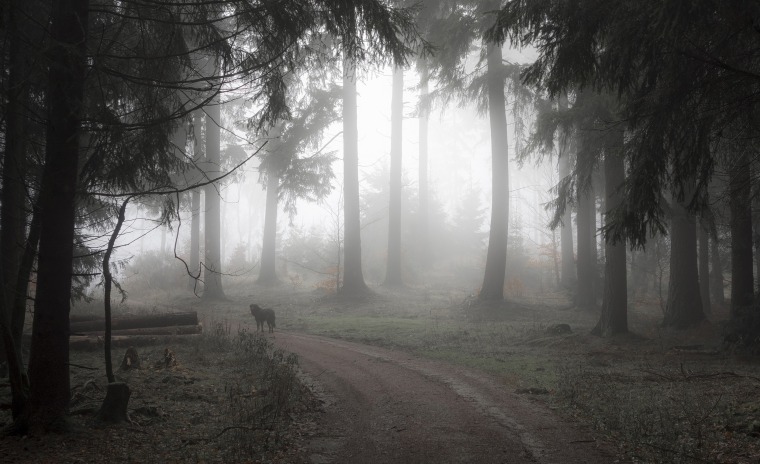 Sarah, from Lancaster, Ohio, tells "Monsters Among Us" the story of her childhood dog, Cricket, who according to Sarah was a "pretty unhappy dog."
"She was super cranky, she only liked my grandma," Sarah says. "She didn't seem like she felt well."
Still, the family loved their dog and was devastated when the pup ran out into the road and was struck and killed by a passing car as they were preparing to leave on a family vacation.
"It was very sad, very upsetting, especially with me being a child. My grandmother was there, she loved Cricket and Cricket loved her. They had this special relationship that none of us had."
Despite the loss, the family had prepaid for their vacation, and not having a lot of money, decided to still go, leaving Cricket with an aunt who offered to take of the necessary details.
Upon arriving at the hotel where they were staying, Sarah says the family was "melancholy and sad" over the tragedy.
"We go to bed, and in the middle of the night, I'm not sure why I woke up, but I startled, woke up, sat up in bed, and looked down, and on the floor was Cricket, a full-body apparition, of her," says Sarah.
"She looked so happy, she looked like a different dog. She was jumping around. All that crankiness, all that unhappiness she had, was gone. It was like she was coming to tell me that she was OK. It was the clearest apparition. I've never seen an apparition again. It was the first and only time."
Sarah says she told her mother in the morning what she'd seen and her mom dismissed it as her middle-school brain just trying to make sense of the loss.
"I guess that's possible," says Sarah, "but to this day, I can still envision Cricket in that moment. I've never forgotten that image and it helped me feel better about what had happened because she seemed so happy and I do think she was visiting me that night."
  The ghosts of Willoughby Coal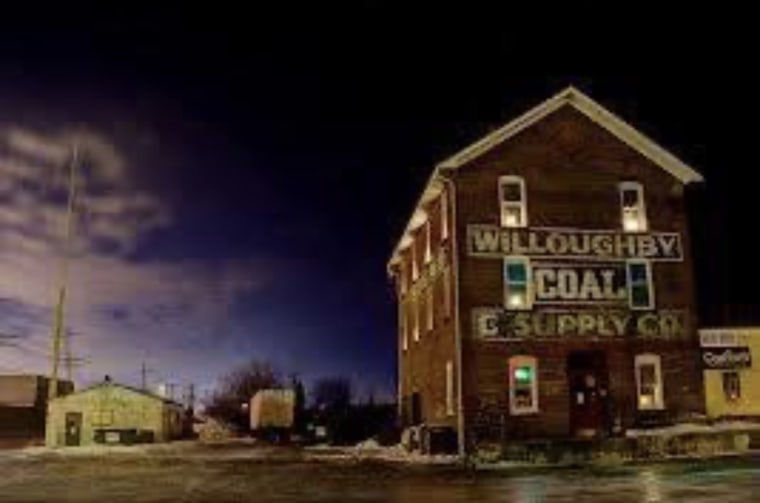 Built in the late 1800s, the Willoughby Coal building in Willoughby, Ohio, housed a variety of businesses in it's time, including a train depot, cheese factory and flour mill.
In 1912, it became the very prosperous Willoughby Coal, supplying coal to local residents before it was sold to Henry Windus and William "Don" Norris in the 1930s.
Over time, the relationship between the two owners grew contentious, according to Theresa Argie. "Henry Windus wanted to buy the business from Don Norris, but Don was unwilling to sell," the paranormal investigator tells TODAY.com
One morning, Norris allegedly told his wife he was going out for bread and to check on repairs being done on the Willoughby building.
He never returned.
Several hours later, his body was discovered in front of the door. "He was laying in a bloody heap," Argie says.
Even though his death was ultimately ruled accidental, Argie says that Norris' family believed he'd been murdered. Though no one knows what really happened that morning, Argie believes his spirit still haunts the building.
"We have come in contact with him on many, many occasions," she says and claims that others have reported seeing faces in the window and heard unexplained footsteps and other unusual occurrences at the building.
But Norris isn't alone."We've probably got five or six resident spirits in the building."
The ghost nanny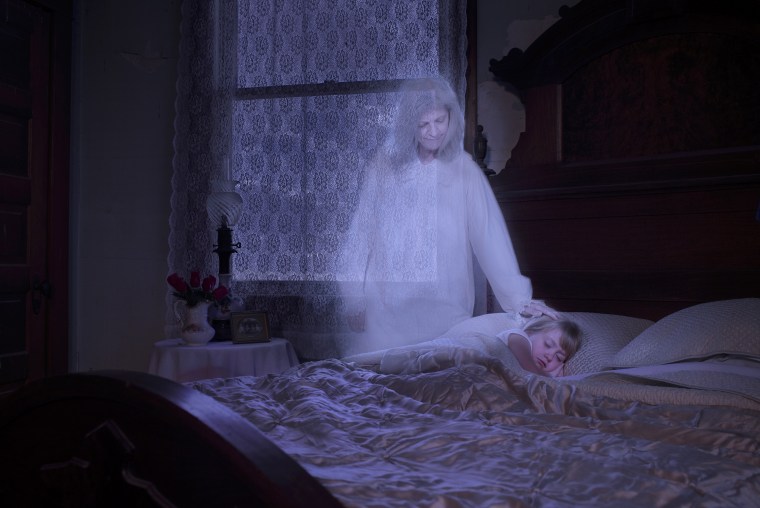 Kip, a caller from New York state, talks of an old home that he and his wife purchased. Upon moving in, his wife invited her sister and newborn baby to come for a visit.
"The stayed in the downstairs bedroom and my wife was sleeping in an upstairs bedroom," Kip explains on "Monsters Among Us," and says the first night their guests stayed, his wife overheard her sister talking to someone in the middle of the night.
The next morning, Kip's wife asked who she'd been talking to and her sister replied, "I woke up in the middle of the night and there was an old lady standing over my baby and I had to tell her to get away."
According to Kip, there were more unexplained incidents in the house including mysteriously moving lamps and a creepy occurrence with a fire alarm that went off while his wife was outside working in their garden.
"She immediately runs back into the house, figures out that it's the smoke alarm in that same downstairs bedroom going off," Kip says on the podcast. "When she opened the door, she said for a split second all she could see in the room was this white fog."
Within moments, however, the white fog disappeared and the alarm shut off.
Convinced the house was haunted, Kip's wife reached out to a neighbor to learn more about the property and discovered that the previous owner was a 90-year-old woman who tragically died in a house fire.
"Needless to say, we fixed up the house and got out of there as fast as we could and moved someplace else," says Kip.
Read on for more scares!
Are witches real? What to know on fact or fiction
Are werewolves real? The truth might surprise you
Scary books to read, from classics to modern fiction
Sarah Lemire is a lifestyle reporter at TODAY.com with more than a decade of experience writing across an array of channels including home, health, holidays, personal finance, shopping, food, fashion, travel and weddings. An avid traveler, foodie, helicopter parent and couch film critic, Sarah is originally from Minneapolis and has spent the last two decades unsuccessfully trying to figure out the difference between a hoagie and a sub.
Are ghosts real?
One difficulty in scientifically evaluating is ghost are real is the surprisingly wide variety of phenomena attributed to ghosts.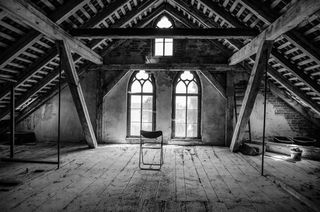 The science and logic of ghosts
Why do people believe in ghosts, additional resources.
If you believe in ghosts, you're not alone. Cultures all around the world believe in spirits that survive death to live in another realm. In fact, ghosts are among the most widely believed of paranormal phenomenon: Millions of people are interested in ghosts. It's more than mere entertainment; A 2019 Ipsos poll found that 46% of Americans say they truly believe in ghosts. (The nation is discerning in its undead beliefs; only 7% of respondents said they believe in vampires ).
And about 18% of people say they have either seen a ghost or been in one's presence, according to a 2015 Pew Research study . Why do so many claim to have such brushes with the afterlife?
"One common cause may be pareidolia, the tendency for our brains to find patterns (especially human faces and figures) amongst ambiguous stimuli," Stephen Hupp, clinical psychologist and professor at Southern Illinois University Edwardsville, Told Live Science in an email. "One common example is when we see faces or figures in the clouds and another is when random shapes and shadows in a dark house look like a ghost," said Hupp, who is also the editor of Skeptical Inquirer magazine.
Stephen Hupp is the editor of "Skeptical Inquirer" magazine. He is also a clinical psychologist and a professor of psychology at Southern Illinois University Edwardsville (SIUE). He has published several books including "Pseudoscience in Therapy " (Cambridge University Press, 2023) and "Investigating Pop Psychology" (Routledge, 2022).
But the idea that the dead remain with us in spirit is an ancient one, appearing in countless stories, from the Bible to "Macbeth." It even spawned a folklore genre: ghost stories. Belief in ghosts is part of a larger web of related paranormal beliefs, including near-death experience, life after death, and spirit communication. The belief offers many people comfort — who doesn't want to believe that our beloved but deceased family members aren't looking out for us, or with us in our times of need?
People have tried to (or claimed to) communicate with spirits for ages; in Victorian England, for example, it was fashionable for upper-crust ladies to hold séances in their parlors after tea and crumpets with friends. Ghost clubs dedicated to searching for ghostly evidence formed at prestigious universities, including Cambridge and Oxford, and in 1882 the most prominent organization, the Society for Psychical Research, was established. A woman named Eleanor Sidgwick was an investigator (and later president) of that group, and could be considered the original female ghostbuster. In America during the late 1800s, many psychic mediums claimed to speak to the dead — but were later exposed as frauds by skeptical investigators such as Harry Houdini.
Related: 10 Ghost stories that will haunt you for life
It wasn't until recently that ghost hunting became a widespread interest around the world. Much of this is due to the hit Syfy cable TV series "Ghost Hunters," which aired 230 episodes and found no good evidence for ghosts.
The show spawned dozens of spinoffs and imitators, and it's not hard to see why the show is so popular: the premise is that anyone can look for ghosts. The two original stars were ordinary guys (plumbers, in fact) who decided to look for evidence of spirits. Their message: You don't need to be an egghead scientist, or even have any training in science or investigation. All you need is some free time, a dark place, and maybe a few gadgets from an electronics store. If you look long enough any unexplained light or noise might be evidence of ghosts.
That vague criteria for ghostly happenings is part of the reason why myths about the afterlife are more alive than ever.
One difficulty in scientifically evaluating ghosts is that a surprisingly wide variety of phenomena are attributed to ghosts, from a door closing on its own, to missing keys, to a cold area in a hallway, to a vision of a dead relative.
When sociologists Dennis and Michele Waskul interviewed ghost experiencers for their book " Ghostly Encounters: The Hauntings of Everyday Life " (Temple University Press, 2016 ) they found that "many participants were not sure that they had encountered a ghost and remained uncertain that such phenomena were even possible, simply because they did not see something that approximated the conventional image of a 'ghost.' Instead, many of our respondents were simply convinced that they had experienced something uncanny — something inexplicable, extraordinary, mysterious, or eerie."
Thus, many people who go on record as claiming to have had a ghostly experience didn't necessarily see anything that most people would recognize as a classic "ghost," and in fact they may have had completely different experiences whose only common factor is that it could not be readily explained.
"There are plenty of misunderstood phenomena that influence ghost sightings. For example, sleep paralysis in a recognized experience that leads to people feeling like they have seen a ghost, demon, or alien," Hupp said.
Personal experience is one thing, but scientific evidence is another matter. Part of the difficulty in investigating ghosts is that there is not one universally agreed-upon definition of what a ghost is. Some believe that they are spirits of the dead who for whatever reason get "lost" on their way to The Other Side; others claim that ghosts are instead telepathic entities projected into the world from our minds.
Still others create their own special categories for different types of ghosts, such as poltergeists, residual hauntings, intelligent spirits and shadow people. Of course, it's all made up, like speculating on the different races of fairies or dragons: there are as many types of ghosts as you want there to be.
There are many contradictions inherent in ideas about ghosts. For example, are ghosts material or not? Either they can move through solid objects without disturbing them, or they can slam doors shut and throw objects across the room. According to logic and the laws of physics, it's one or the other. If ghosts are human souls, why do they appear clothed and with (presumably soulless) inanimate objects like hats, canes, and dresses — not to mention the many reports of ghost trains, cars and carriages?
If ghosts are the spirits of those whose deaths were unavenged, why are there unsolved murders, since ghosts are said to communicate with psychic mediums, and should be able to identify their killers for the police? The questions go on and on — just about any claim about ghosts raises logical reasons to doubt it.
Ghost hunters use many creative (and dubious) methods to detect the spirits' presences, often including psychics. Virtually all ghost hunters claim to be scientific, and most give that appearance because they use high-tech scientific equipment such as Geiger counters, Electromagnetic Field (EMF) detectors, ion detectors, infrared cameras and sensitive microphones. Yet none of this equipment has ever been shown to actually detect ghosts.
"If someone hands you an electronic device to sense a ghost, then they're probably doing it to get your money during a ghost tour," Hupp said.
For centuries, people believed that flames turned blue in the presence of ghosts. Today, few people accept that bit of lore, but it's likely that many of the signs taken as evidence by today's ghost hunters will be seen as just as wrong and antiquated centuries from now.
Other researchers claim that the reason ghosts haven't been proven to exist is that we simply don't have the right technology to find or detect the spirit world. But this, too, can't be correct: Either ghosts exist and appear in our ordinary physical world (and can therefore be detected and recorded in photographs, film, video and audio recordings), or they don't. If ghosts exist and can be scientifically detected or recorded, then we should find hard evidence of that — yet we don't. If ghosts exist but cannot be scientifically detected or recorded, then all the photos, videos, audio and other recordings claimed to be evidence of ghosts cannot be ghosts. With so many basic contradictory theories — and so little science brought to bear on the topic — it's not surprising that despite the efforts of thousands of ghost hunters on television and elsewhere for decades, not a single piece of hard evidence of ghosts has been found.
And, of course, with the recent development of "ghost apps" for smartphones, it's easier than ever to create seemingly spooky images and share them on social media, making separating fact from fiction even more difficult for ghost researchers.
Most people who believe in ghosts do so because of some personal experience; they grew up in a home where the existence of (friendly) spirits was taken for granted, for example, or they had some unnerving experience on a ghost tour or local haunt.
Belief in a spirit world may also fulfill a deeper psychological need.
"There's still so much to this universe that we don't understand, and it's comforting to fill in the void with explanations. Supernatural explanations are often stated with confidence, even when there's no actual evidence, and this confidence provides a false sense of actual truth," Hupp said.
For instance, some claim that support for the existence of ghosts can be found in no less a hard science than modern physics. It is widely claimed that Albert Einstein suggested a scientific basis for the reality of ghosts, based on the First Law of Thermodynamics : If energy cannot be created or destroyed but only change form, what happens to our body's energy when we die? Could that somehow be manifested as a ghost?
It seems like a reasonable assumption — until you dig into the basic physics. The answer is very simple, and not at all mysterious. After a person dies, the energy in his or her body goes where all organisms' energy goes after death: into the environment. The energy is released in the form of heat, and the body is transferred into the animals that eat us (i.e., wild animals if we are left unburied, or worms and bacteria if we are interred), and the plants that absorb us. There is no bodily "energy" that survives death to be detected with popular ghost-hunting devices.
Related: Top 10 most famous ghosts
While amateur ghost hunters like to imagine themselves on the cutting edge of ghost research, they are really engaging in what folklorists call ostension or legend tripping. It's basically a form of playacting in which people "act out" a legend, often involving ghosts or supernatural elements. In his book " Aliens, Ghosts, and Cults: Legends We Live " (University Press of Mississippi, 2003) folklorist Bill Ellis points out that ghost hunters themselves often take the search seriously and "venture out to challenge supernatural beings, confront them in consciously dramatized form, then return to safety. ... The stated purpose of such activities is not entertainment but a sincere effort to test and define boundaries of the 'real' world."
If ghosts are real, and are some sort of as-yet-unknown energy or entity, then their existence will (like all other scientific discoveries) be discovered and verified by scientists through controlled experiments — not by weekend ghost hunters wandering around abandoned, supposedly haunted houses in the dark late at night with cameras and flashlights.
In the end (and despite mountains of ambiguous photos, sounds, and videos) the evidence for ghosts is no better today than it was a century ago. There are two possible reasons for the failure of ghost hunters to find good evidence. The first is that ghosts don't exist, and that reports of ghosts can be explained by psychology, misperceptions, mistakes and hoaxes . The second option is that ghosts do exist, but that ghost hunters do not possess the scientific tools or mindset to uncover any meaningful evidence.
But ultimately, ghost hunting is not about the evidence at all (if it was, the search would have been abandoned long ago). Instead, it's about having fun with friends and family members, telling stories, and the enjoyment of pretending to search the edge of the unknown. After all, everyone loves a good ghost story.
The Committee for Skeptical Inquiry promotes scientific inquiry, critical investigation and the use of reason in examining controversial and extraordinary claims.
Experiments suggest that c hildren can distinguish fantasy from reality , but are tempted to believe in the existence of imaginary creatures, according to an article published in the British Journal of Developmental Psychology.
Live Science newsletter
Stay up to date on the latest science news by signing up for our Essentials newsletter.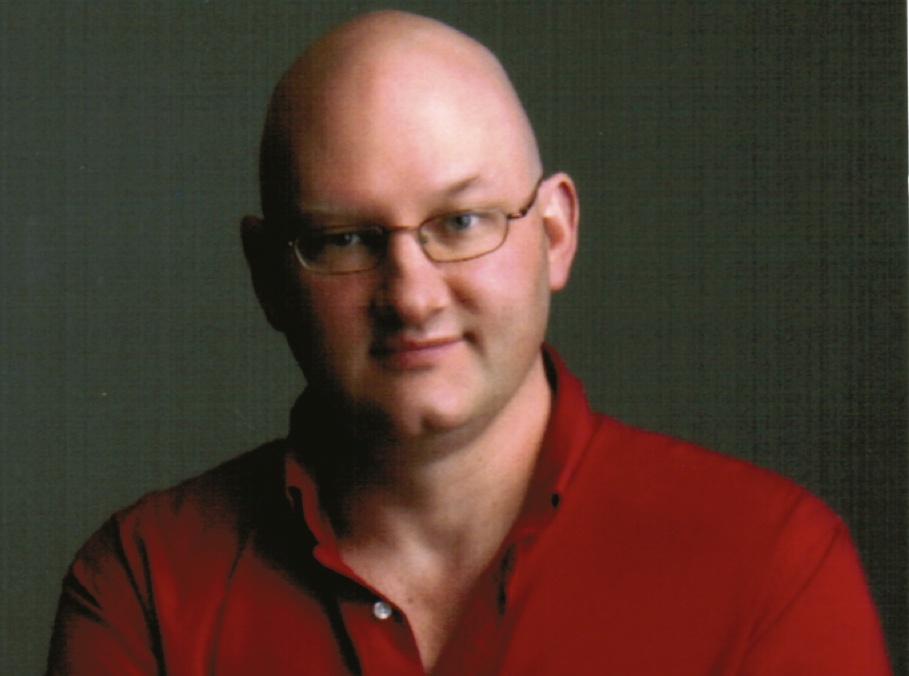 Brandon Specktor Editor
Tia Ghose Managing Editor
The biggest hunt for the Loch Ness Monster in 50 years is about to begin
Most methods for squashing conspiracy theories don't work, study finds. Here's what does.
Scientists finally solve 390 million-year-old 'murder mystery' from an ancient supercontinent
Most Popular
By Jennifer Nalewicki October 26, 2023
By Stephanie Pappas October 25, 2023
By Nicoletta Lanese October 25, 2023
By Monisha Ravisetti October 25, 2023
By Sharmila Kuthunur October 25, 2023
By Kristina Killgrove October 25, 2023
By Harry Baker October 25, 2023
By Sascha Pare October 25, 2023
By Ben Turner October 25, 2023
By Jennifer Nalewicki October 25, 2023
By Patrick Pester October 25, 2023
2 Scientists finally figure out why hundreds of gray whales keep washing up dead along US coasts
3 'Christ' tattoo discovered on 1,300-year-old body in Sudan
4 World's smallest particle accelerator is 54 million times smaller than the Large Hadron Collider, and it works
5 10 of the strangest hybrid animals
2 10 of the strangest hybrid animals
3 Perilous expedition to uninhabited island in South Atlantic confirms existence of world's 8th lava lake
It's a wonderful world — and universe — out there.
Come explore with us!  
Science News Explores
The science of ghosts, here's what may explain why some people see, hear or feel a spooky presence.
People love scary, spooky stories of spectral phantoms. While there's no science to support the existence of ghosts, research does provide plenty of explanations for why we might genuinely sense a supernatural presence.
D-Keine/E+/Getty Images
Share this:
By Kathryn Hulick
October 31, 2019 at 5:45 am
A shadowy figure rushed through the door. "It had a skeletal body, surrounded by a white, blurry aura," recalls Dom. The figure hovered and didn't seem to have a face. Dom, who prefers to use only his first name, had been fast asleep. Just 15 at the time, he panicked and closed his eyes. "I only saw it for a second," he recalls. Now, he's a young adult who lives in the United Kingdom. But he still remembers the experience vividly.
Was the figure a ghost? In the mythology of the United States and many other Western cultures, a ghost or spirit is a dead person who interacts with the living world. In stories, a ghost may whisper or groan, cause things to move or fall, mess with electronics — even appear as a shadowy, blurry or see-through figure.
Ghost stories are lots of fun, especially on Halloween. But some people believe that ghosts are real. Chapman University in Orange, Calif., runs a yearly survey that asks people in the United States about their beliefs in the paranormal. In 2018, 58 percent of those polled agreed with the statement, "Places can be haunted by spirits." And almost one in five people from the United States said in another survey, conducted by the Pew Research Center in Washington, D.C., that they've seen or been in the presence of a ghost.
On ghost-hunting TV shows, people use scientific equipment to attempt to record or measure spirit activity. And numerous creepy photos and videos make it seem like ghosts exist. However, none of these offer good evidence of ghosts. Some are hoaxes, created to fool people. The rest only prove that equipment sometimes can capture noise, images or other signals that people don't expect. Ghosts are the least likely of many possible explanations.
Not only are ghosts supposed to be able to do things that science says are impossible, such as turn invisible or pass through walls, but also scientists using reliable research methods have found zero evidence that ghosts exist. What scientists have discovered, though, are lots of reasons why people might feel they have had ghostly encounters.
What their data show is that you can't always trust your eyes, ears or brain.
'Dreaming with your eyes open'
Dom began having unusual experiences when he was eight or nine. He would wake up unable to move. He researched what was happening to him. And he learned that science had a name for it: sleep paralysis. This condition leaves someone feeling awake but paralyzed, or frozen in place. He can't move or speak or breathe deeply. He may also see, hear or feel figures or creatures that aren't really there. This is called a hallucination (Huh-LU-sih-NA-shun).
Sometimes, Dom hallucinated that creatures were walking or sitting on him. Other times, he heard screaming. He only saw something that one time, as a teenager.
Sleep paralysis happens when the brain messes up the process of falling asleep or waking. Usually, you only start dreaming after you're fully asleep. And you stop dreaming before you waken.
Sleep paralysis "is like dreaming with your eyes open," explains Baland Jalal. A neuroscientist, he studies sleep paralysis at the University of Cambridge in England. He says this is why it happens: Our most vivid, lifelike dreams happen during a certain stage of sleep. It's called rapid eye movement, or REM, sleep. In this stage, your eyes dart around under their closed lids. Though your eyes move, the rest of your body can't. It's paralyzed. Most likely, that's to prevent people from acting out their dreams. (That could get dangerous! Imagine flailing your arms and legs as you play dream basketball, only to whack your knuckles on the wall and tumble to the floor.)
Your brain usually turns this paralysis off before you wake up. But in sleep paralysis, you wake up while it's still happening.
Faces in the clouds
You don't have to experience sleep paralysis to sense things that aren't there. Have you ever felt your phone buzz, then checked to find there was no message? Have you heard someone calling your name when no one was there? Have you ever seen a face or figure in a dark shadow?
These misperceptions also count as hallucinations, says David Smailes. He's a psychologist in England at Northumbria University in Newcastle-upon-Tyne. He thinks that just about everyone has such experiences. Most of us just ignore them. But some may turn to ghosts as the explanation.
We're used to our senses giving us accurate information about the world. So when experiencing a hallucination, our first instinct is usually to believe it. If you see or feel the presence of a loved one who died — and trust your perceptions — then "it has to be a ghost," says Smailes. That's easier to believe than the idea that your brain is lying to you.
The brain has a tough job. Information from the world bombards you as a mixed-up jumble of signals. The eyes take in color. The ears take in sounds. The skin senses pressure. The brain works to make sense of this mess. This is called bottom-up processing. And the brain is very good at it. It's so good that it sometimes finds meaning in meaningless things. This is known as pareidolia (Pear-eye-DOH-lee-ah). You experience it whenever you stare at clouds and see rabbits, ships or faces. Or gaze at the moon and see a face.
The brain also does top-down processing. It adds information to your perception of the world. Most of the time, there is way too much stuff coming in through the senses. Paying attention to all of it would overwhelm you. So your brain picks out the most important parts. And then it fills in the rest. "The vast majority of perception is the brain filling in the gaps," explains Smailes.
What you see right now isn't what's actually out there in the world. It's a picture your brain painted for you based on signals captured by your eyes. The same goes for your other senses. Most of the time, this picture is accurate. But sometimes, the brain adds things that aren't there.
For example, when you mishear the lyrics in a song, your brain filled in a meaning that wasn't there. (And it will most likely continue to mishear those words even after you learn the right ones.)
This is very similar to what happens when so-called ghost hunters capture sounds that they say are ghosts speaking. (They call this electronic voice phenomenon, or EVP.) The recording is probably just random noise. If you listen to it without knowing what was supposedly said, you probably won't hear words. But when you know what the words are supposed to be, you might now find that you can discern them easily.
Your brain may also add faces to images of random noise. Research has shown that patients who experience visual hallucinations are more likely than normal to experience pareidolia — see faces in random shapes, for instance.
In one 2018 study, Smailes' team tested whether this might also be true for healthy people. They recruited 82 volunteers. First, the researchers asked a series of questions about how often these volunteers had hallucination-like experiences. For example, "Do you ever see things other people cannot?" and "Do you ever think that everyday things look abnormal to you?"
Next, the participants looked at 60 images of black and white noise. For a very brief moment, another image would flash in the center of the noise. Twelve of these images were faces that were easy to see. Another 24 were hard-to-see faces. And 24 more images showed no faces at all — just more noise. The volunteers had to report whether a face was present or absent in each flash. In a separate test, the researchers showed the same volunteers a series of 36 images. Two-thirds of them contained a face pareidolia. The remaining 12 did not.
Participants who had initially reported more hallucination-like experiences were also more likely to report faces in the flashes of random noise. They were also better at identifying those images that contained face pareidolia.
In the next few years, Smailes plans to study situations in which people might be more likely to see faces in randomness.
When people sense ghosts, he points out, "They're often alone, in the dark and scared." If it's dark, your brain can't get much visual information from the world. It has to create more of your reality for you. In this type of situation, Smailes says, the brain may be more likely to impose its own creations onto reality.
Did you see the gorilla?
The brain's picture of reality sometimes includes things that aren't there. But it can also completely miss things that are there. This is called inattentional blindness. Want to know how it works? Watch the video before you keep reading.
The video shows people in white and black shirts passing a basketball. Count how many times the people in white shirts pass the ball. How many did you see?
Partway through the video, a person in a gorilla suit walks through the players. Did you see it? About half of all viewers who count passes while watching the video miss the gorilla completely.
If you too missed the gorilla, you experienced inattentional blindness. You were likely in a state called absorption. That's when you are so focused on a task that you tune out everything else.
"Memory does not work like a video camera," says Christopher French. He is a psychologist in England at Goldsmiths University of London. You only remember things you're paying attention to. Some people are more likely to become absorbed than others. And these people also report higher levels of paranormal beliefs, he says, including beliefs in ghosts.
How could these things be related? Some strange experiences that people blame on ghosts involve unexplained sounds or movements. A window may seem to open all by itself. But what if someone opened it and you just didn't notice because you were so absorbed in something else? That's a lot more likely than a ghost, French says.
In one 2014 study, French and his colleagues found that people with higher levels of paranormal beliefs and higher tendencies to get absorbed are also more likely to experience inattentional blindness. They also tend to have a more limited working memory. That's how much information you can hold in your memory at once.
If you have trouble keeping lots of information in your memory or paying attention to more than one thing at once, then you risk missing sensory cues from the environment around you. And you might blame any misperceptions that result on a ghost.
The power of critical thinking
Anyone may experience sleep paralysis, hallucinations, pareidolia or inattentional blindness. But not everyone turns to ghosts or other supernatural beings as a way to explain these experiences. Even as a child, Dom never thought he had come face to face with a real ghost. He went online and asked questions about what might have happened. He used critical thinking. And he got the answers he needed. When an episode happens now, he uses a technique that Jalal developed. Dom doesn't try to stop the episode. He just focuses on his breathing, tries to relax as much as possible and waits for it to pass. He says, "I deal with it far better. I just sleep and enjoy sleeping."
Robyn Andrews is a psychology student at the University of South Wales in Treforest. She wondered if people with stronger critical-thinking skills might be less likely to believe in the paranormal. So she and her mentor, psychologist Philip Tyson, recruited 687 students for a study about their paranormal beliefs. The students majored in a wide range of different fields. Each was asked how strongly he or she agreed with statements such as, "It is possible to communicate with the dead." Or "Your mind or soul can leave your body and travel." The research team also looked at the students' grades on a recent assignment.
Students with higher grades tended to have lower levels of paranormal beliefs, this study found. And students in the physical sciences, engineering or math tended not to believe as strongly as those studying the arts. This trend also has been seen in research by others.
This study did not actually assess the students' ability to think critically. "That's something we would look into as a future study," says Andrews. However, previous research has shown that science students tend to have stronger critical-thinking skills than art students. That's probably because you need to think critically in order to conduct scientific experiments. And thinking critically can help you scout out likely causes for an unusual experience without involving ghosts (or aliens, or Bigfoot).
Even among science students and working scientists, though, paranormal beliefs persist. Andrews and Tyson think that's a problem. If you can't judge whether a ghost story or spooky experience is real or not, you may also get fooled by advertisements, bogus medical cures or fake news, says Tyson. It's important for everyone to learn how to question information and seek reasonable, realistic explanations.
So if someone tells you a ghost story this Halloween, enjoy it. But remain skeptical. Think about other possible explanations for what was described. Remember that your mind may fool you into experiencing spooky things.
Wait, what's that behind you? (Boo!)
Kathryn Hulick has been a regular contributor to Science News for Students since 2013. She's covered everything from laser "photography" and acne to video games, robotics and forensics. This piece — her 43rd story for us — was inspired by her book: Strange But True: 10 of the world's greatest mysteries explained. (Quarto, October 1, 2019, 128 pages).
More Stories from Science News Explores on Health & Medicine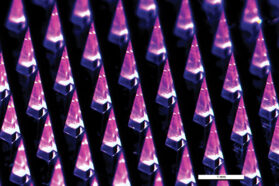 New tech 3-D prints ouchless COVID-19 vaccine patches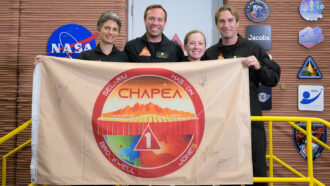 Four researchers on Earth are spending a year on 'Mars'
RNA work that led to COVID-19 vaccines wins 2023 Nobel in medicine
Spending time in green spaces can provide big health benefits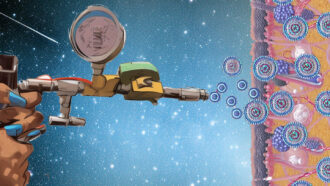 A puff of air could deliver vaccines needle-free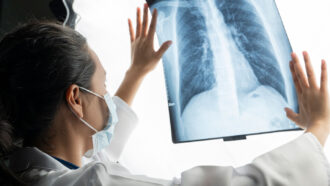 Scientists Say: X-ray
Nanobots can now enter brain cells to spy on what they're doing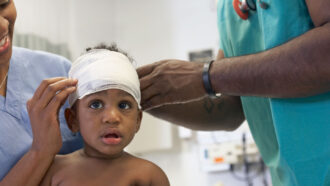 This electronic bandage sterilizes wounds with flashes of light