Haunted India: A new ghost compendium features 700 creatures from A to Z
A new book called "Ghosts, Monsters and Demons of India," co-produced by publisher Rakesh Khanna, explores the wide array of fantastical beings believed to have haunted India for centuries.
The ghost known as Kollivay Pey, by Shyam, featured in the book "Ghosts, Demons and Monsters of India." 
Courtesy of Rakesh Khanna/Illustration by Shyam
Halloween parties have become quite popular these days in many parts of India, though there's no real tradition of trick or treat. But that's not for want of ghosts.
Rakesh Khanna found this out while researching what might be the first-ever illustrated A-Z guide to the "Ghosts, Monsters and Demons of India."  The book, co-edited with J. Furcifer Bhairav, has 322 entries, Khanna said, but with subcategories, there are probably about 700 ghosts, monsters and demons in there.
Related:   A traditional Catalan chestnut holiday 'coexists' with Halloween
A black and white ink drawing of the ghost known as Airi, by Appupen. 
Courtesy of Rakesh Khanna/Illustration by Appupen 
The book begins with the Aavi of South India, which represents the sigh that leaves the body at the moment of death — and lingers on as a ghost. It ends with the Zunhindawt from Mizoram, in northeastern India, who has the disgusting habit of drinking from puddles of other people's urine.
And readers keep sending in new ghosts and monsters, so a second edition might well be ghostlier.
Khanna, who grew up in California and now lives in Chennai, India, is the founder of an indie publication house called Blaft that specializes in translating and publishing pulp fiction. It was while putting together an anthology of Tamil pulp fiction that Khanna noticed different kinds of demons in local folktales, demons that were very specific to the area. He said he was reminded of "the role-playing games in the monster manuals like 'Dungeons and Dragons,'" that he remembers from childhood. 
Related:   Puerto Rican activists in Chicago stage a Colonialism haunted house
Western ghosts, he realized, are very different creatures from their Indian counterparts.
For one, ghosts from the West tend to "wispy, transparent things that float around in the dark. They don't really interact with matter that much."
On the other hand, you can touch and feel many Indian ghosts. They pick things up. They even work — sometimes doing the work of 10 men, Khanna said. 
His ghost encyclopedia, for example, includes the Deyyam, which can extend its "glistening, prehensile pink muscle into another room to adjust the volume on a radio, or to turn off the gas burner of a stove," Khanna wrote. 
One can even get down and dirty with some of these ghosts. The Barambha, a tall, handsome white ghost from the Worli tribe of western India, can make love to a woman even while she's lying next to her husband. Worli legend ascribes children with albinism to the Barambha.
An illustration of Newand Dokka, by Appupen. 
Courtesy of Rakesh Khanna/Illusration by Appupen. 
The other thing that distinguishes Indian ghosts from the Caspers and Moaning Myrtles of the West is the sheer regional diversity. Ghosts from the chilly mountains of Kashmir wear fur caps; mechhobhoots from Bengal, a land of rivers, love fish, while the islands of the Indian Ocean are the romping grounds of the Faru Fureta, the reef monster that smells of "stinky, old sponges and corals and eats people and has crystal daggers for teeth."
Centuries of sea trade and migration meant Indian ghosts have spread to parts of Southeast Asia. The beautiful Mohini Pey of Tamil Nadu in southern India smells of jasmine flowers but sucks the life out of anyone she bewitches. Now, she appears across the oceans, Khanna said, and "you have Mohini Peys in Singapore, and Tamil ghosts have appeared recently in the folklore of Malaysia and Singapore."
He points to witches with detachable heads like the Than-Thin Daini of northeastern India, which appears to be quite similar to the Krasue of Thailand and the Ap of Cambodia.
Related:   Millennial Lotería speaks to new generation
The Ghost A-Z also reflects disquieting social truths such as witch hunts, that go way back. The Moroccan traveler Ibn Battuta, who lived in Delhi from 1334 to 1341, witnessed the trial of a woman accused of cannibalizing a boy. She was pushed into the river with jars tied to her limbs. When she floated, it was ruled that she was a witch and she was burned to death. Khanna said it was probably not uncommon to brand an older woman as a witch as a way to seize her property. Not too surprisingly, many ghosts are murdered women, he said, who "take revenge on the people who did them wrong."
Waves of invaders and migrants have also brought their own ghosts and monsters to India to add to its necro-diversity. There are 2,000-year-old statues of yakshas , supernatural deities leftover from some pre-Hindu animist faith. Muslim rulers brought djinns and  ifrits , winged beings who breathe flames. 
An illustration of yakshi, the feminine form of a yaksha ghost, by Shyam. 
The British brought their white, wispy forlorn ghosts with them. Khanna said there are several famous stories of "Britishers who died here whose spirits linger."
Like Owen Tomkinson, a soldier who died of cholera in 1906, and still, like a good Englishman, rises from the grave and demands tea and biscuits from people passing by.
Then, there are ultramodern ghosts like Rose, a model employee on the night shift at a call center near Delhi. One day she gathered her things and left the office never to come back. When the employers investigated, they found no Rose at the address she had given. Later they found out their office was built on top of a cemetery where Rose had been buried eight years earlier. But while modernity might have given us a Rose or two, in general, it's not a good time for ghosts, Khanna said.
"A lot of people say that electric lights have driven them away."
But with 700 ghosts and monsters, there's still plenty roaming around India. And Khanna's Halloween costume choices at least are a lot richer. But he said he'll probably keep it simple.
"I might just go with being a yeti," he laughed. "Get a big, hairy costume and some stilts."
Even there, he's spoiled for choice. According to "Ghosts Monsters and Demons of India," there are about half a dozen kinds of yetis, big and small, to choose from.
Sign up for The Top of the World, delivered to your inbox every weekday morning.
717 India Ghost Stock Photos and High-res Pictures
Browse 717 india ghost photos and images available, or start a new search to explore more photos and images..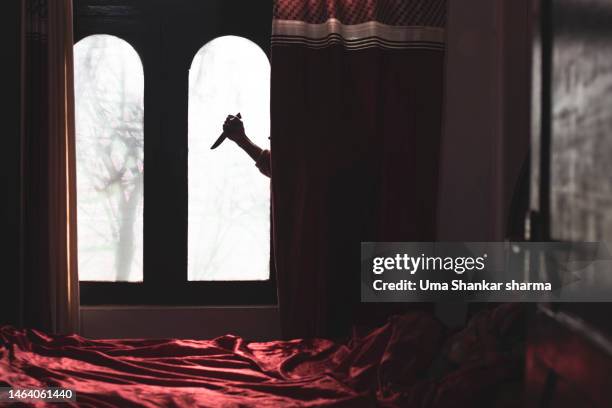 524 India Ghost Stock Photos & High-Res Pictures
Browse 524 india ghost photos and images available, or search for rat temple to find more great photos and pictures..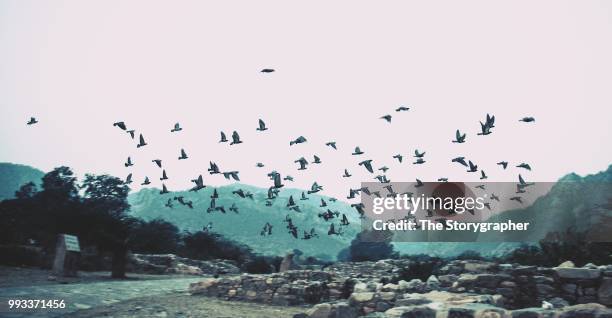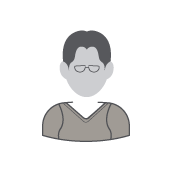 1,518 India Ghost Stock Photos, Images & Pictures
Browse 1,518 professional india ghost stock photos, images & pictures available royalty-free..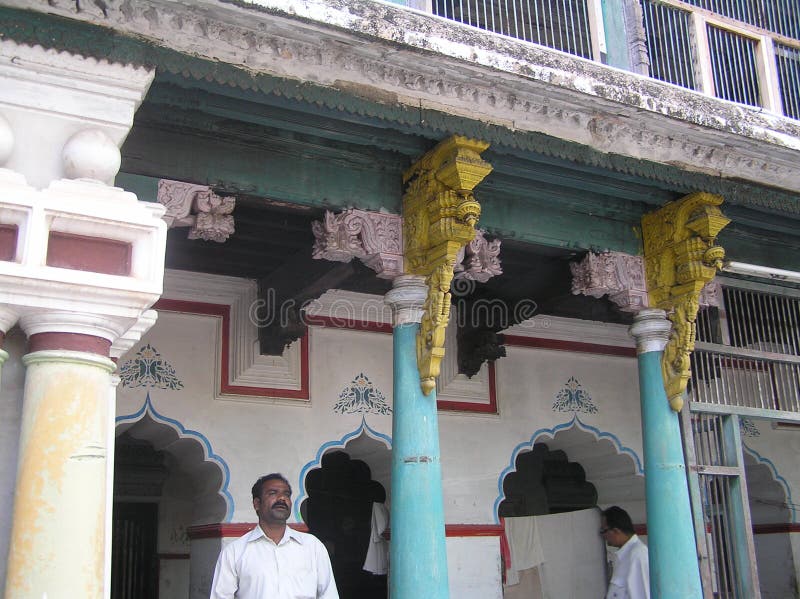 OUR CHANNELS
> Trivia
> 11 Scary Ghosts From Indian Folklore That Are The Stuff Nightmares Are Made Of
Sep 11, 2023 at 01:40 PM
11 Scary Ghosts From Indian Folklore That Are The Stuff Nightmares Are Made Of
The fear of the unknown takes on many forms in India. They assume shape in the folklore of the regions and are usually entities that are as deadly as they are entertaining. Here are some of the most feared supernatural entities from the stories of our country.
1. Muhnochwa – Scratches your face violently, and has reportedly killed multiple people.
Muhnochwa literally means a creature that scratches its victim's face violently. During the early 2000s, the Muhnochwa inexplicably became the most talked about phenomenon among the town folk of Kanpur. It was rumored to attack its prey in the thick of night, jumping on your face and scratching away any semblance of recognition. The 'Face scratcher' reportedly killed seven and injured several others.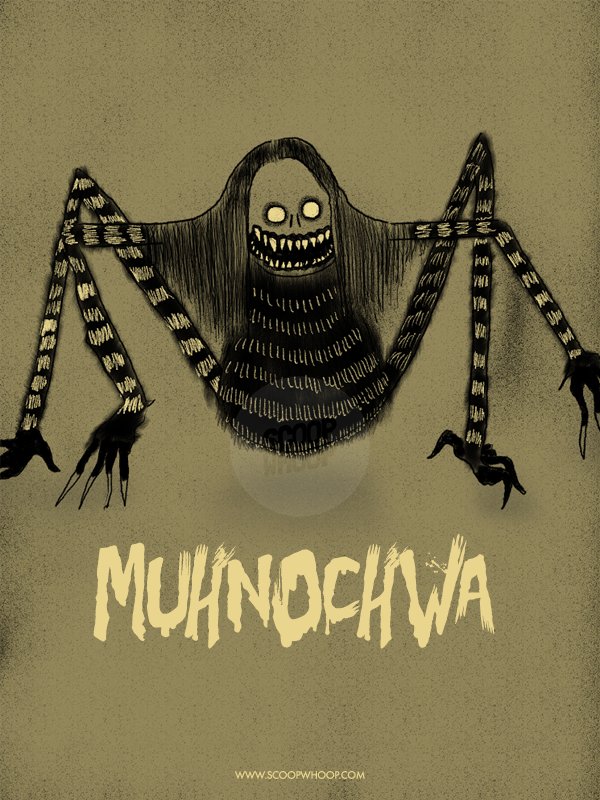 2. The Aleya Ghost Lights – Lead people off the safe path and to their doom.
Inhabiting the hazy swamps of West Bengal, these lights, according to local beliefs, are the spirits of fishermen who lost their lives. They're usually described as smoky apparitions that lead people off the safe path and drown them in the murky depths.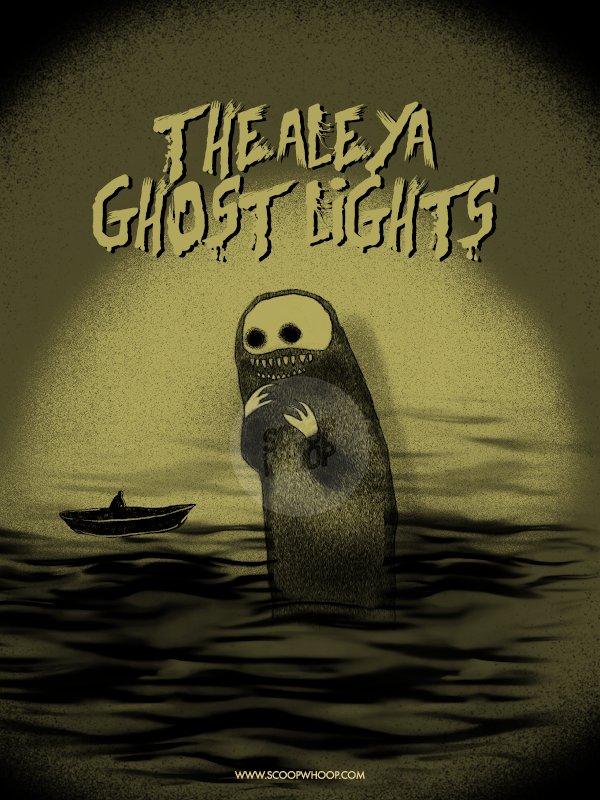 Check Out – The Story Of The Ghostly Mohini
3. Nishi Dak – Call out to its victims using a familiar voice before killing them.
Essentially translating to 'The Call of the Dark' in Bengali, this evil spirit apparently calls out to its victims in the night, using the voice of someone close to the person. It initially appears slightly far away, leading the victim to a deserted area where it reveals its true terrifying form before taking their life.
A Nishi can only call out a person's name twice.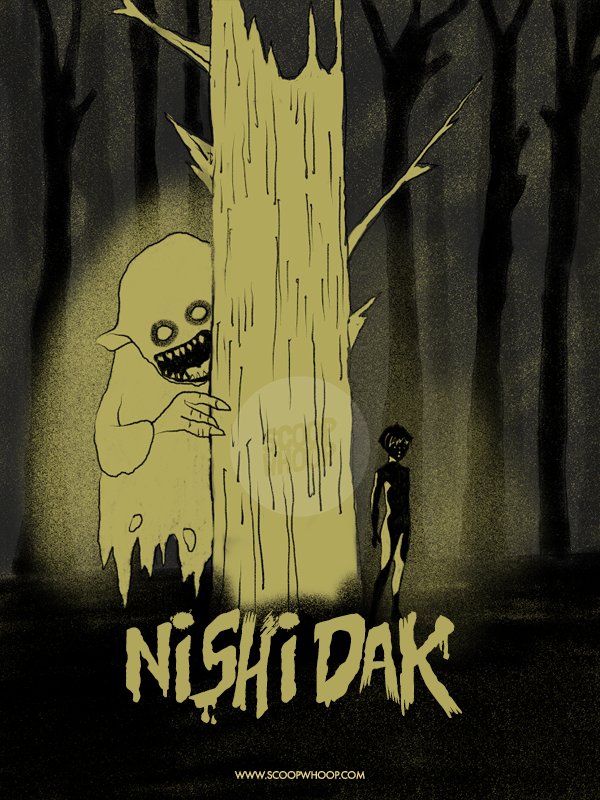 4. Nale Ba – A witch that knocks on doors, and kills the unlucky few who open up.
In some areas of Bengaluru, people believe there's a witch who walks the streets visiting people's houses and knocking on their doors. Opening the door basically guarantees certain death so you have to write 'nale ba' i.e 'come tomorrow' on the front door of your house. Seeing this gives you a day's respite from this wayward witch. That's why April 1 is celebrated as Nale Ba day in some parts of Bengaluru.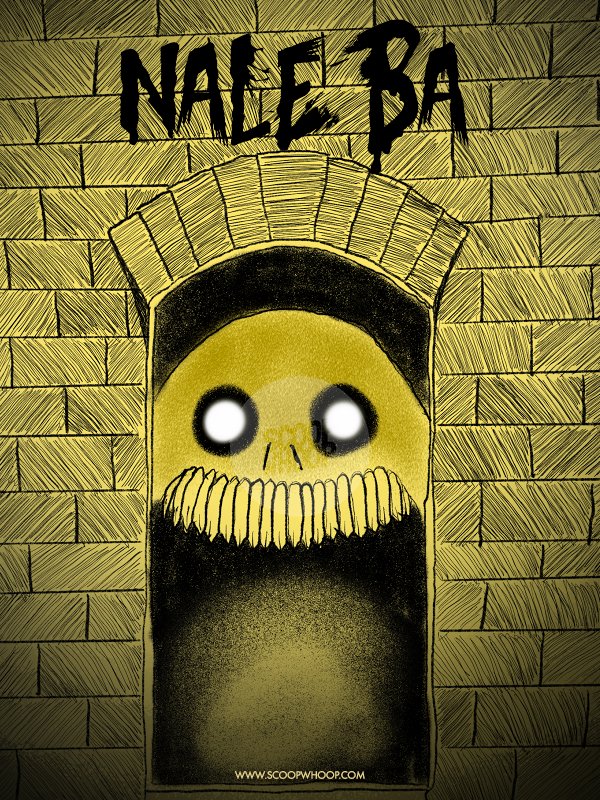 Check Out – Signs That Indicate There Might Be A Ghost Around You
5. Baak – An aqueous creature that hides its victims deep underwater. 
In Assam, people believe the Baak is a grotesque looking creature that inhabits ponds and lakes. It is notorious for its murderous nature – After killing the victim, it hides the body in deep waters, takes on the corpse's appearance and goes out in search of more prey. It also loves eating fish.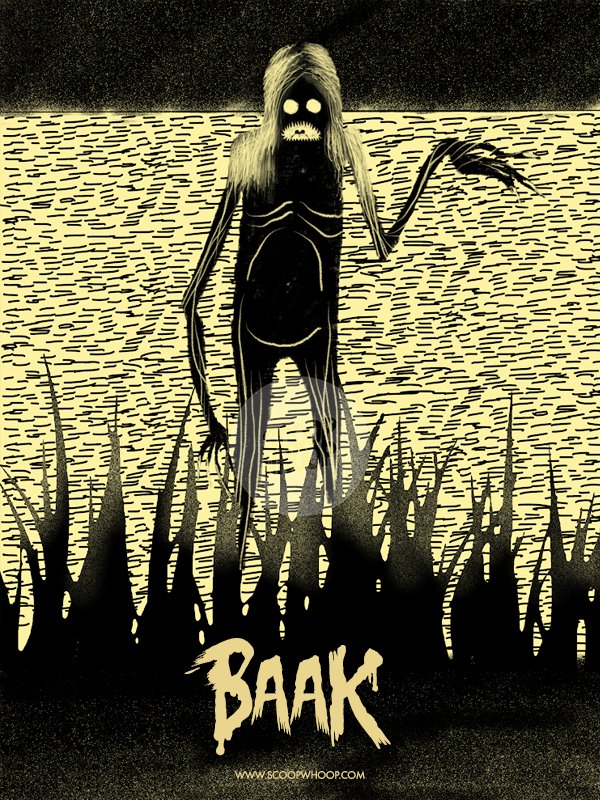 6. Daula – Bends bamboo sticks which then hurt passing villagers.
This strange spectre, believed to inhabit every Assamese village, apparently bends down bamboo shoots which fall on your path. As you walk over them, they release and get you right in the nads. Honestly, I can't think of anything scarier.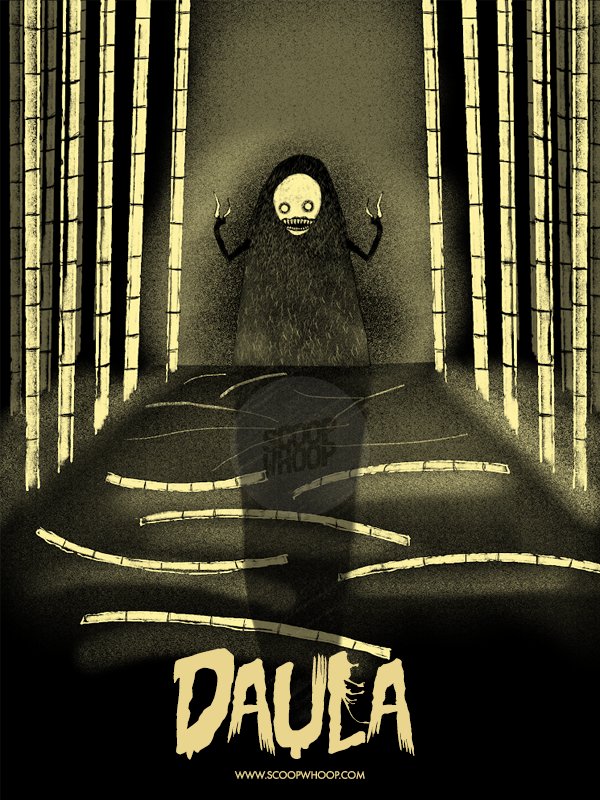 7. Boba – A creature that attacks people in their sleep.
In Bengali culture, the Boba is a malevolent entity that attacks people who are sleeping on their backs. It strangles them to death, and is believed to be a more supernatural explanation for sleep paralysis.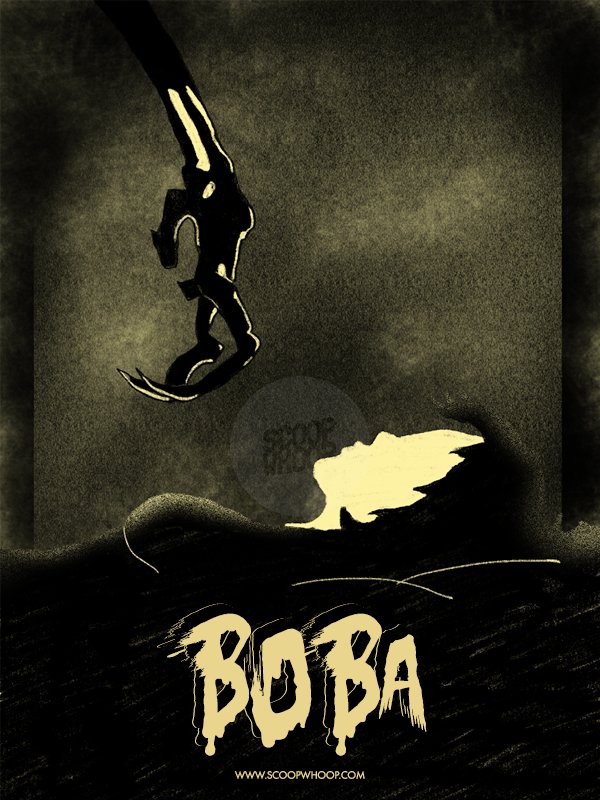 Check Out – How to Summon a Ghost and Talk To The Dead
8. Pishach – A demon that possesses people's minds and drives them insane.
These demons are believed to feed on the flesh of the dead, usually inhabiting graveyards and places associated with death and dirt. It can possess minds, instantly driving the vicitim to insanity.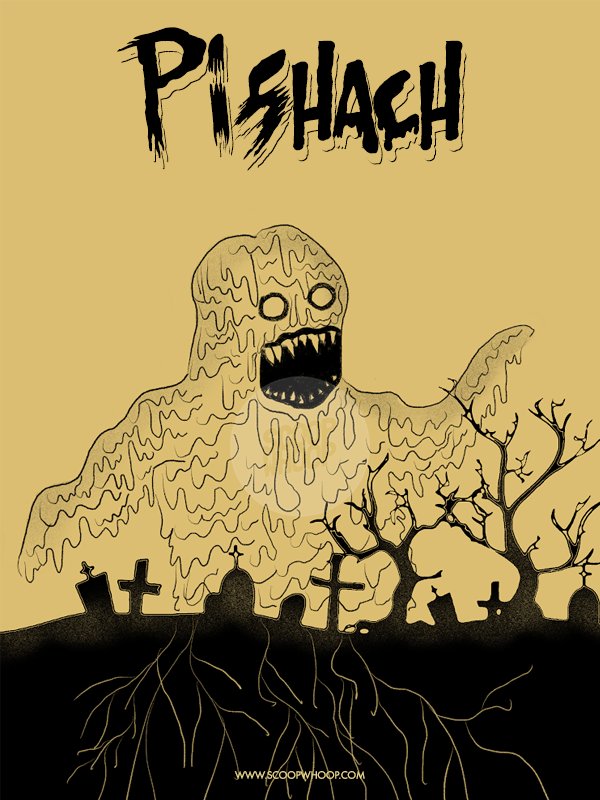 9. Mohini – A ghost that haunts old wells and attacks couples.
This female ghost is believed to haunt the old wells, coconut trees and forests of South India. It is said to be the spirit of a woman who killed herself without ever knowing love. She has a strong, deadly fragrance and legs of fire.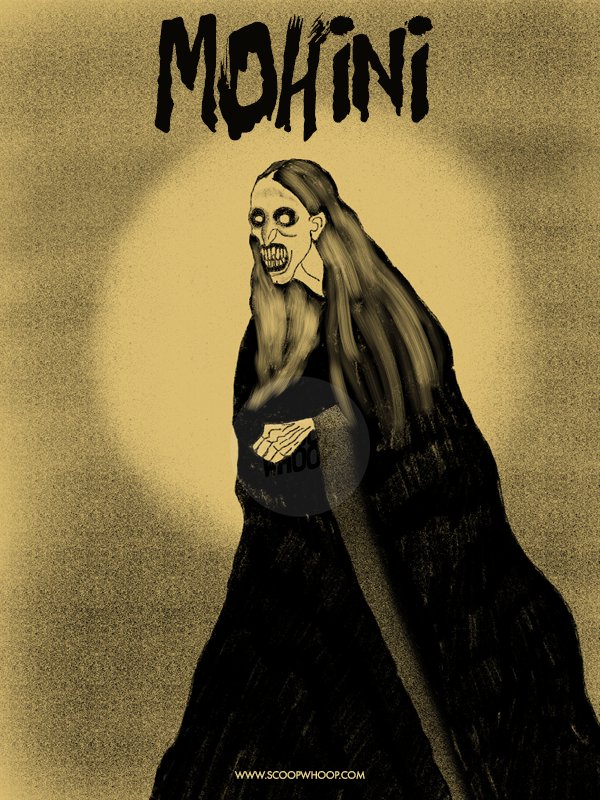 10. Yakshi – A ghost that lures men atop palm trees before killing them and drinking their blood.
A ghost most notorious in Kerala, this treacherous seductress is believed to have been a woman who died a violent death. She lives atop tall palm trees, adopts the form of a beautiful woman, and lures men to her leafy abode, where she drinks their blood.
11. Odiyan – A shapeshifter who can turn into any animal and is adept at killing.
The Odiyan, from Kerala, is believed to be a black magic practitioner who can turn into any animal. He covers himself in a pungent oil made from baby's blood, and then pursues his victims at night. Even a mere touch from an Odiyan can lead to instant death.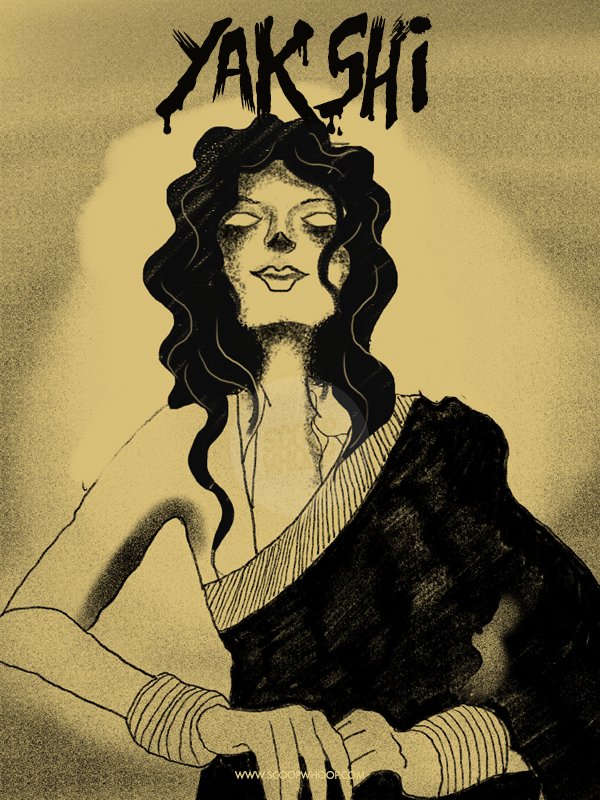 Our ghosts are wild!
Designs by Saransh Singh.
follow scoopwhoop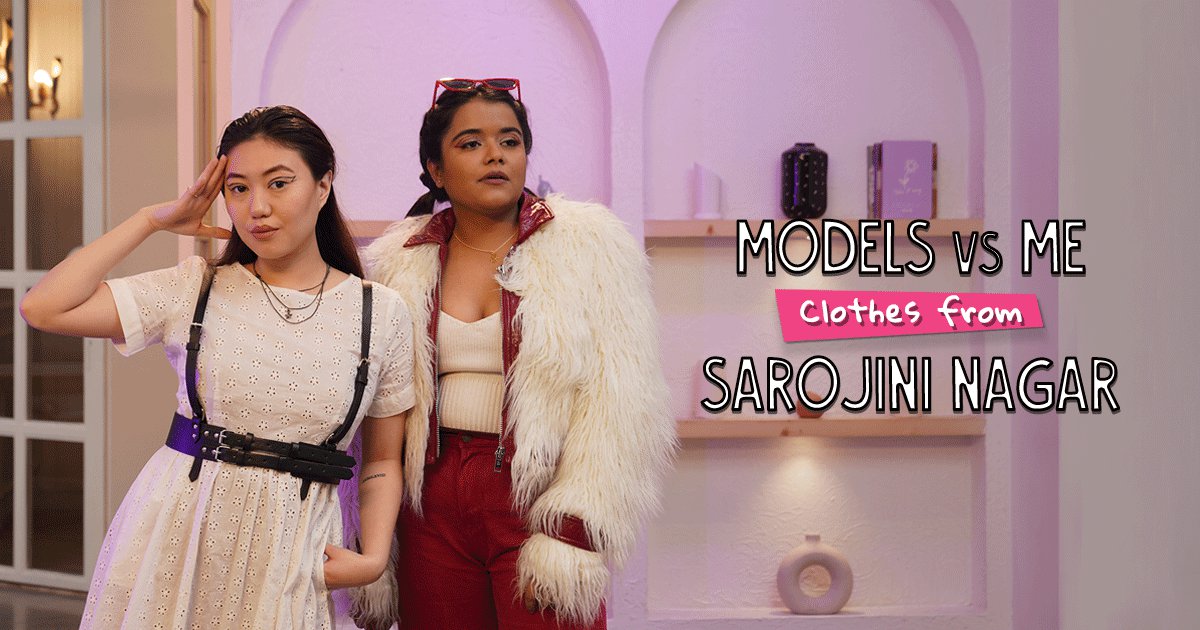 Models Vs Me: Clothes From Sarojini Nagar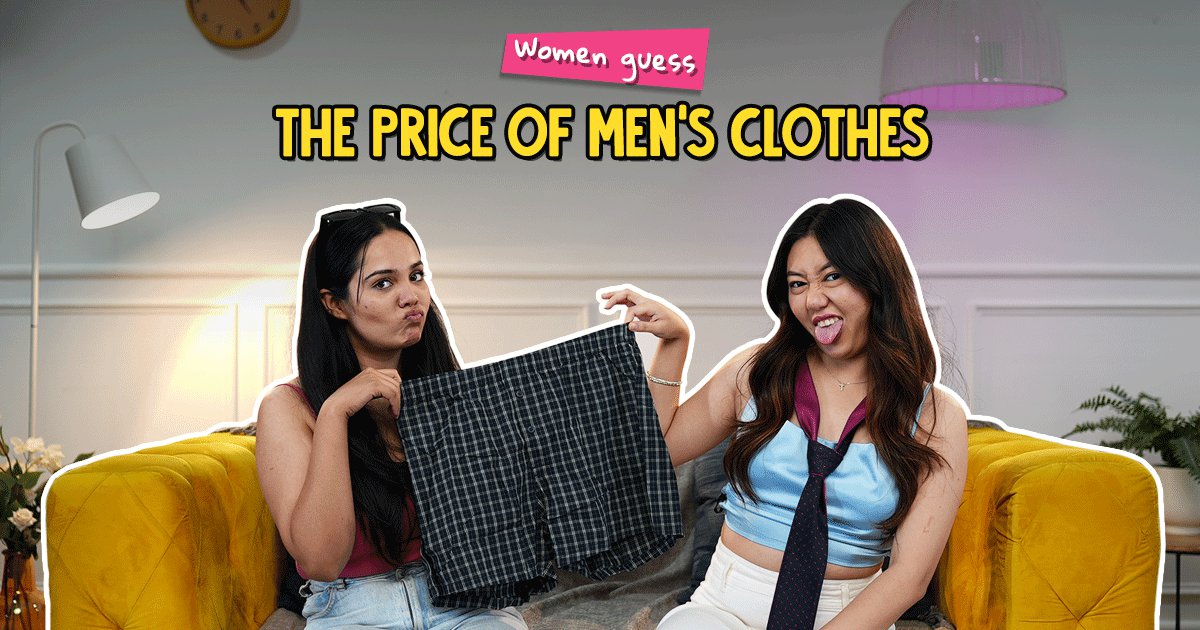 Women Guess The Price Of Men's Clothes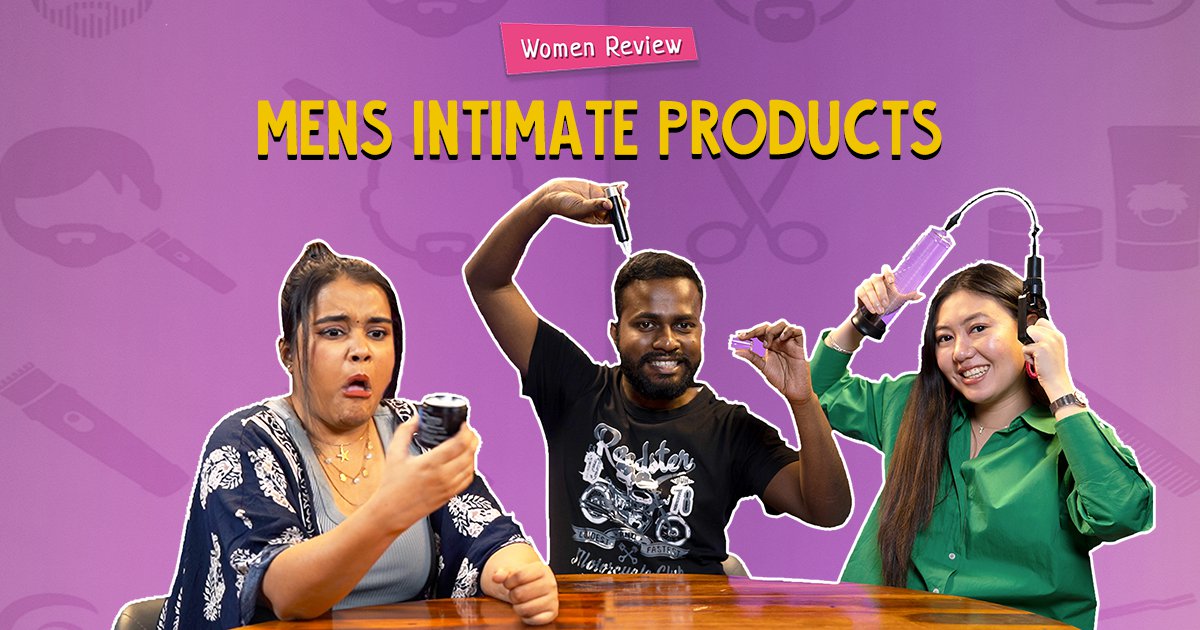 Women Review Mens Intimate Products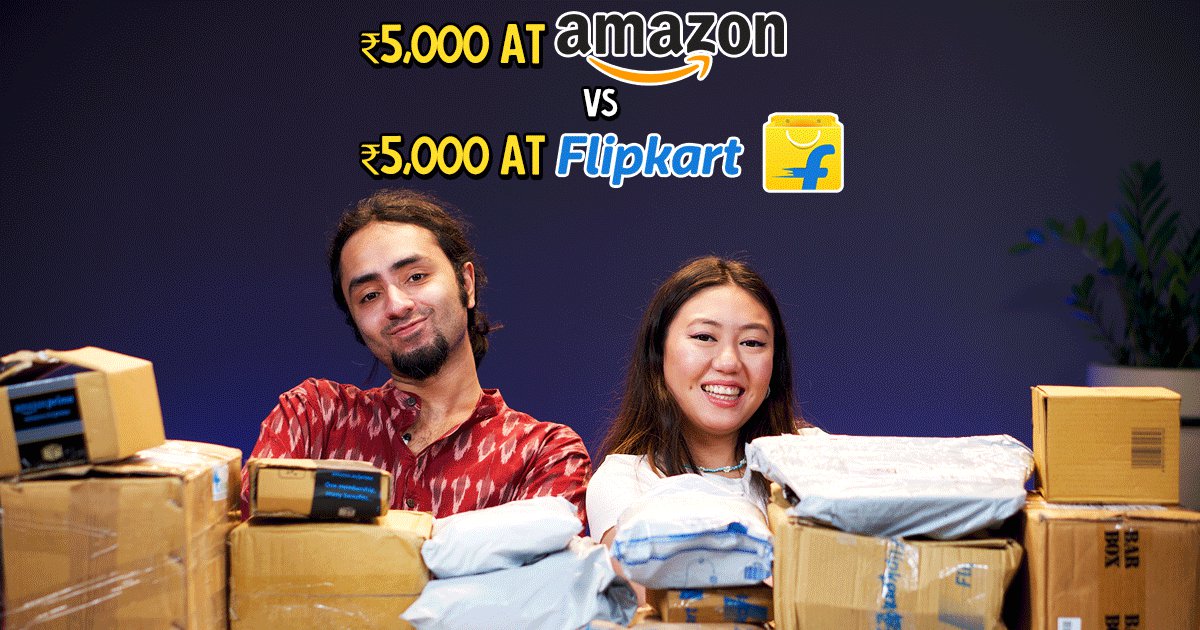 ₹5000 At Amazon Vs ₹5000 At Flipkart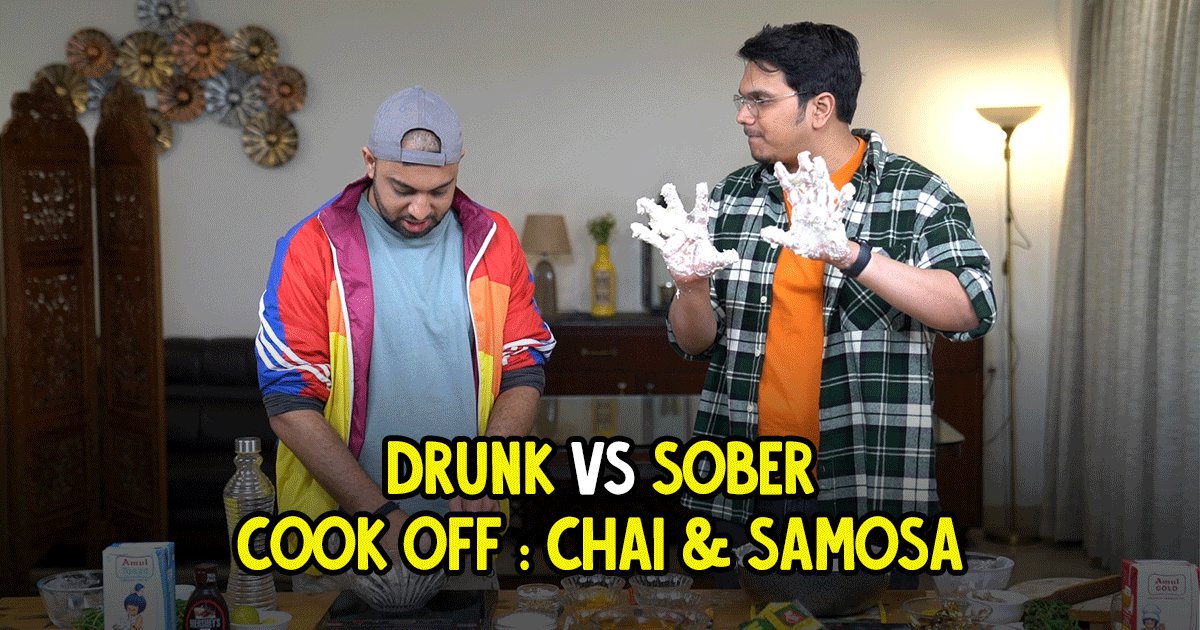 Drunk Vs Sober Cook Off: Chai & Samosa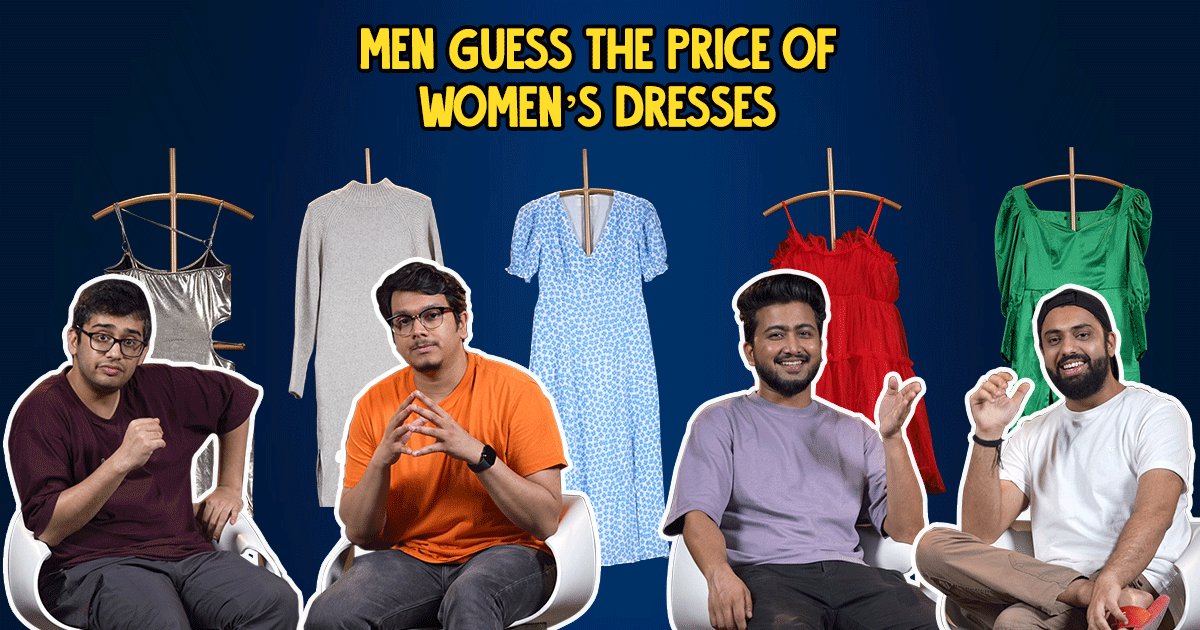 Men Guess The Price Of Women's Dresses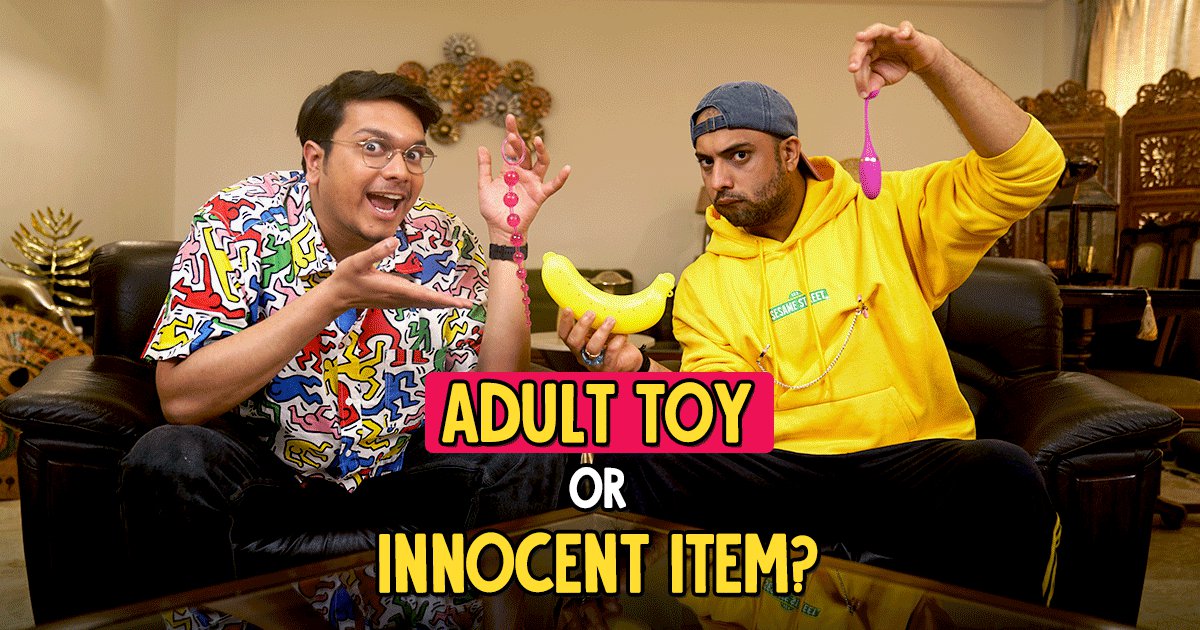 Adult Toy Or Innocent Item?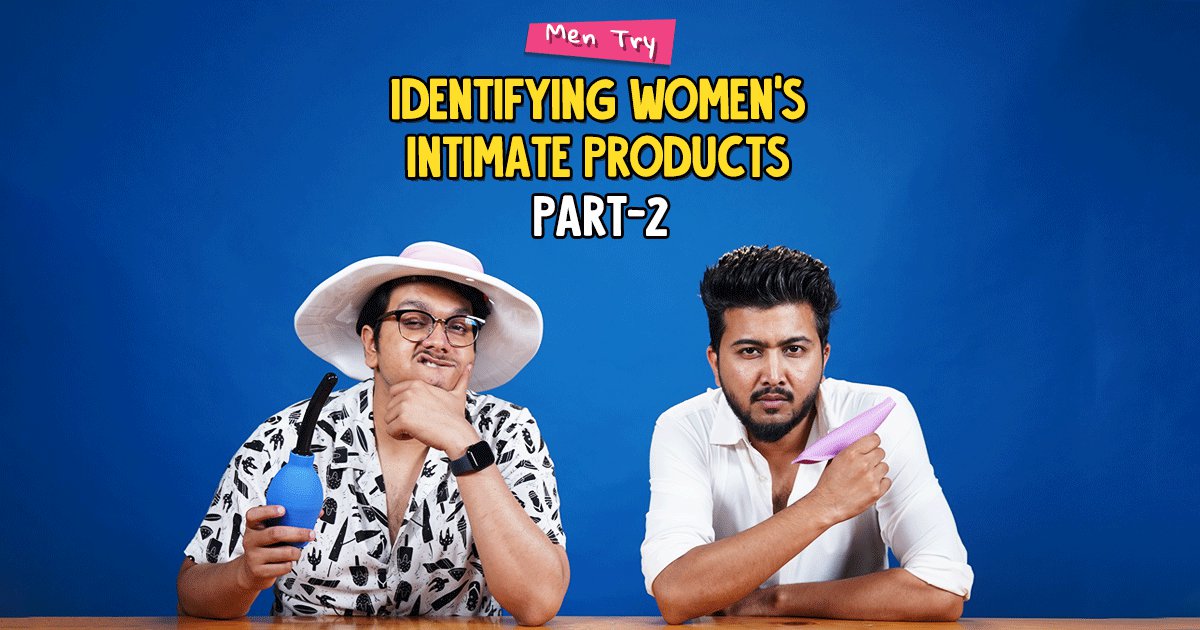 Men Try Identifying Women's Intimate Products Part 2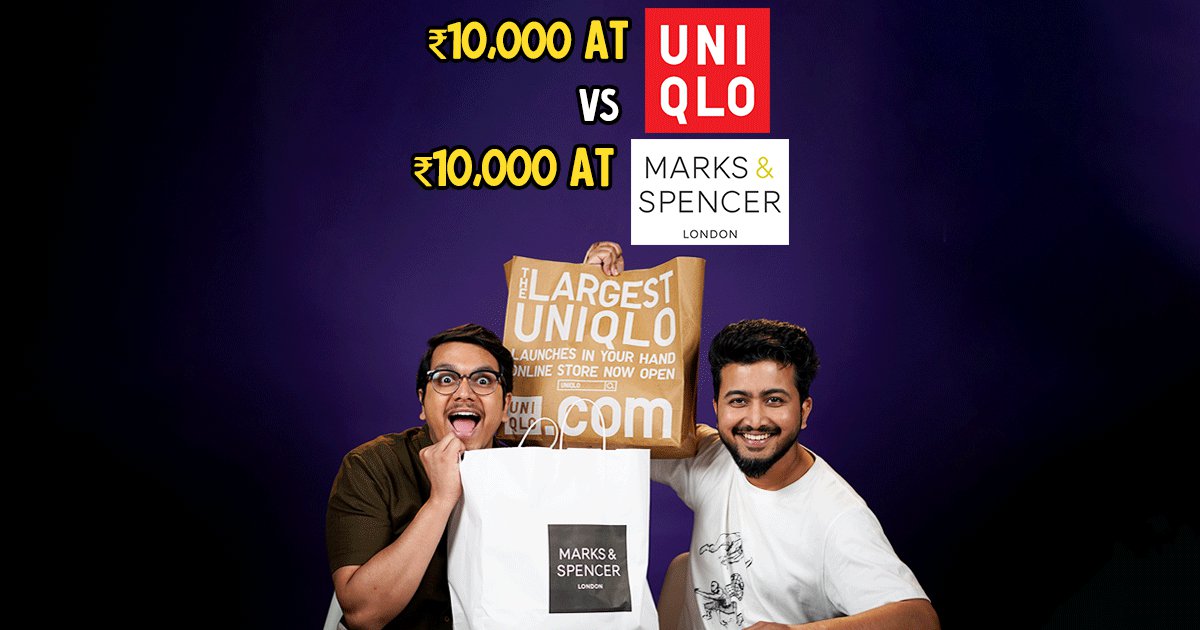 ₹10,000 At Uniqlo VS ₹10,000 At Marks & Spencer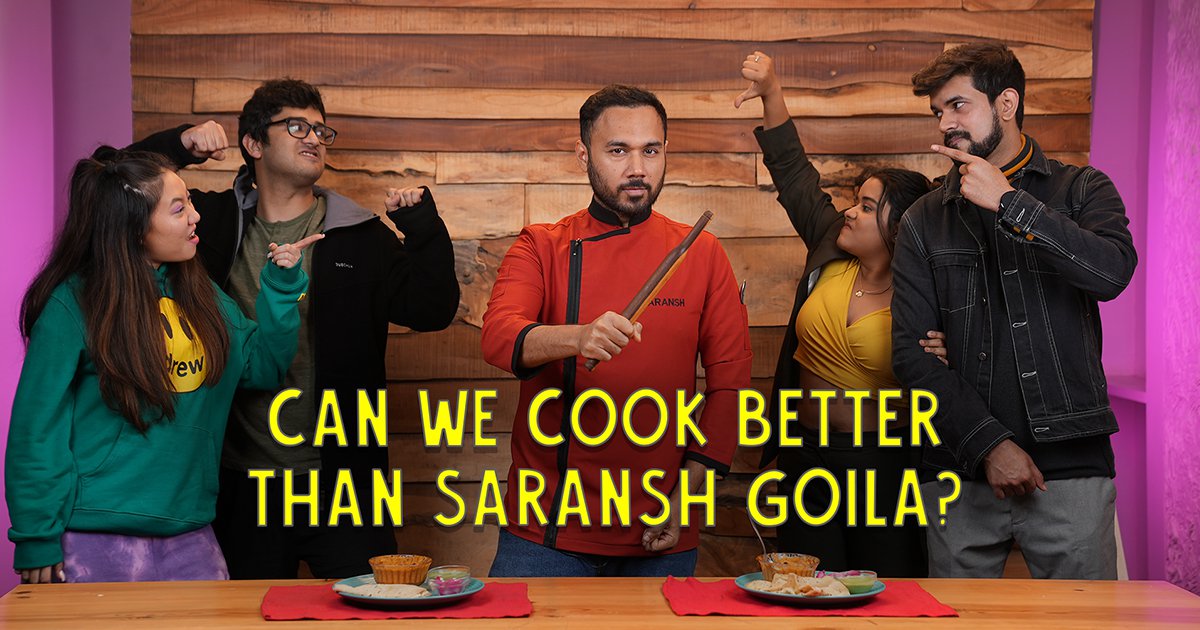 An encyclopedia of India's ghosts, demons and monsters, Blaft's latest goes beyond scary stories and macabre myths
'we're hardwired to tell ghost stories,' says rakesh khanna of blaft publications, who has co-authored the encyclopedia..
Cover for Ghosts, Monsters, and Demons of India. Image via Blaft Publications.
Ghosts, demons and myths are as old as civilisation in India. Belief and superstition drive most of these stories that are also symbolic of how we, as a people, understand mythology and spirituality. Co-founder of Blaft and co-author of the book Ghosts, Monsters and Demons of India , Rakesh Khanna discussed writing a book that was as hard to research as it seemed infinite in scope and its social and spiritual implications.
Ghosts, Monsters, and Demons of India is described as "an encyclopedia of evil entities and folkloric fiends from across the country, from Ladakh to Kerala, Lakshadweep to Nagaland, Naraka to Tuchenkwaka" and features illustrations by Appupen, Priya Kuriyan and Samita Chatterjee, among others. It also includes poetry by Joseph Furtado and Jyoti Prasad Agarwala. J Furcifer Bhairav ao-authors the book with Khanna.
This book immediately sounds like lots and lots of research. For a country that is poor even in its archiving of history of the living, where and how does one even begin with ghosts? What were your greatest challenges?
Related Articles
Upamanyu chatterjee: a third follow-up to english, august is certainly overdue, a decade in indian writing: jerry pinto's fiction to sampurna chattarji's poetry, notes on 10 years of reading.
I think the greatest challenge was forcing ourselves to stop. We kept finding out about new legends and new cryptids and new ghostly characters that just had to be included.
There are a lot of books from the British period that catalogue ghosts and demons — some by foreigners, like Edgar Thurston's Castes and Tribes of Southern India , and others by Indians, like Benudhar Rajkhowa's Assamese Demonology . We used those lists as a baseline, and then went to more recent anthropological research. We looked at pulp fiction and movies, and then at sites like YouTube and Quora and Facebook where you have all kinds of citizen folklorists posting the stories their grandmothers told them. We also bugged people we met at book events — I must have pestered hundreds of people who bought Blaft books at Comic Con for their favourite ghost story from their native place.
Oral histories account for a large part of the many fiends that, as you say, populate Indian culture. What part has religion played in the survival of these narratives (granted that it is in most cases also the author)? Is it as simple saying, rationale would wipe them out?
Oh, I don't think there's much of a line between religion and oral history or folklore, they're all mixed up together. Just because some of the stories have been codified and written down and printed, and people call them sacred texts or mythology, doesn't make them very qualitatively different from oral legends of local demons and ghosts.
Humans will always tell ghost stories. We're hard-wired. Even if some huge rationalist movement happens and everybody becomes an atheist, we'll still produce monster movies and horror fiction.
Were there ghosts or characters here that you wished you could get more information on and research further, but for a lack of sources? If so which ones?
Oh, lots. The folklore from the Andaman Islands, for one — a lot of that mythology has probably died out, but we included whatever we could find of the demons of Pucikwar and Onge folklore, and it's super amazing. Onge cosmology has 13 planes of existence, with humans living in the middle one, and different sorts of ghostly beings populating each plane. Sometimes some of them visit the human plane and try to eat us.
Another entity I find really interesting is Swkal. That's the Kokborok word, from Tripura. It's a sort of demonic force that possesses people, and once they're possessed they become a Swkaljwk. The Swkaljwk (it's usually a she) casts evil curses on people with her eyes. She usually manages to go undetected, but sometimes her limbs and neck get all disjointed, so they can all rotate 360 degrees, and she starts crawling around like a crazy spider. The Garos of Meghalaya call a similar demon Skal, and the Dimasa call it Sakainjeek. The Garo version can turn herself into a giant demonic firefly with a long tongue, and it has contagious saliva that can turn other people into Skals. There's a common thread through all of these that the Swkal — the force itself, not the possessed humans — is a set of seven sisters. There's a goddess called Swkalmwtai who is sort of a tutelary deity to these Swkal, and who is again sometimes referred to as being sevenfold in nature. She's also associated with the highest mountains of the Himalayas. There's not a lot written about these legends, at least not much that we managed to find in English, and I'd love to read more.
What fraction of this imagination/belief, while you were putting together this book seemed like the work of men? A lot of ghost stories I heard growing up, were a version of the churail (now an insult), for example. Is there a common thread across languages in this context?
Well, there's definitely a degree of misogyny in the witch legends. In the real world, women are more often victims of witch hunts and witch murders — although men are sometimes targeted too. That said, I think it's roughly 50-50 in terms of the gender of the demons, and also (I imagine, though I can't be sure) in the gender of the storytellers that have kept these tales alive.
How do you see these stories translating across cultural and language borders. Is there for example, something more common in the Hindi belt, or something peculiar about the stories of the east?
Well, for example, your standard Hindi-heartland style  bhoot is well known over most of the country, but they change a little bit with geography. Like the Telugu Deyyam is more or less like a  bhoot , but while a  bhoot can stretch its arms really far, the Deyyam tends to do that with its tongue.
Bugarik by Samita. Image via Blaft Publications.
A lot of the spirits and demons of the Hindi belt are familiar from Hindu stories — they are the nagas and rakshasas and asuras of the epics and puranas, of Doordarshan and Amar Chitra Katha comics. Our book mentions those, but we don't spend a lot of time on them - their stories are usually the stories of the gods who defeated them, and we didn't want to make a book on Hindu mythology.
As for North East India, we love how almost every state and tribe has a legend of a gigantic monster that demands regular human sacrifice and is eventually defeated by a hero wielding a magic weapon. For the Khasis it's U Thlen , the bloodthirsty dragon; for the Garos it's Wakmanggochi Aragondi , the seven-headed boar demon; for the Lepchas it's Laso Mung Pano , the shapeshifting king of the Mung; in Manipur it's Paubi Lai , the serpent demon of Loktak Lake. Most of these monsters are said to have created the hills and valleys when they were thrashing around in their death throes.
The scope of the book is vast, ranging from Ashwatthama to Monkey Man, the ancient to the modern. What does this incredibly vast timeline of myths, their survival especially say of our social fabric and our understanding of the spiritual?
Like I said, we're hard-wired to tell horror stories. We've probably been doing it since before we were properly human, before we had anything like a proper language. We all remember the thrill of the scary stories that freaked us out when we were young, and those of us who have children usually pass those stories on.
Airi by graphic artist Appupen. Image via Blaft Publications.
It would be hard to pick one, because a lot of these stories are intriguing. But what was the one lesser-known tale that really spooked you or piqued your interest and why?
Okay, I'll pick one, the Bhoota Vahana Yantra , or "spirit movement machines", which were said to have guarded the relics of the Buddha in Pataliputra. This story dates from around the 11th century or earlier. It first shows up in a book written by a Burmese fellow named Saddhammaghosa, but it's about flying drone assassin ghost-robots built with stolen Roman engineering technology that were installed in a stupa in what's now Bihar. They were eventually defeated by Ashoka the Great. This story completely blew my mind.
Join our Whatsapp channel to get the latest global news updates
Published on: January 12, 2021 12:32:08 IST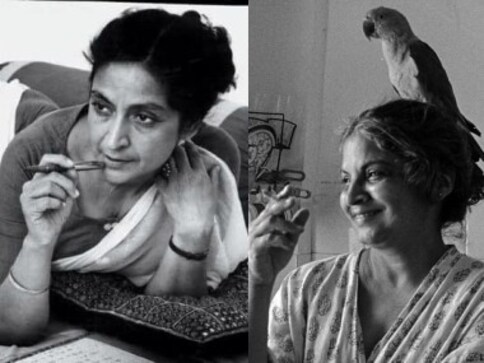 Women writers, regional literature and translation: Notes from a multilingual poets' meet
At a recent meet of the Asiatic Society of Mumbai, poets reflected on the paucity of translators for regional languages and the representation of women in Indian writing | #FirstCulture
What spooked Soori? Tamil actor shares video of 'ghost' encountered during late night drive
Actor Soori posted a video depicting an incident he calls 'My Real Ghost Encounter, Unbelievably True'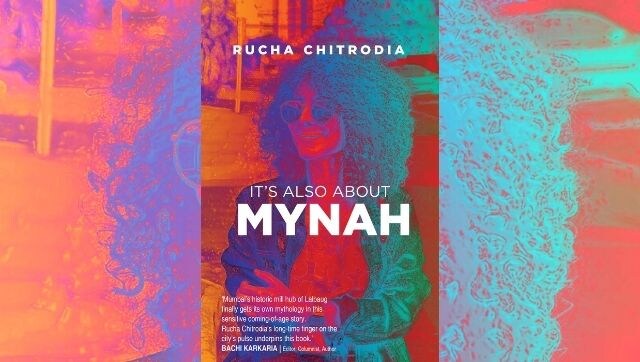 Read an excerpt from It's Also About Mynah, Rucha Chitrodia's contemporary take on adulting in a big city
It's Also About Mynah is a coming-of-age narrative that unfolds through the eponymous Mynah's experiences of living in the old mill district of Mumbai and of the hard truths about 'adulting' that she must learn along the way.
Smithsonian Voices
From the Smithsonian Museums
NATIONAL MUSEUM OF THE AMERICAN INDIAN
Native Ghosts and the Supernatural
In the new book, "Living Ghosts and Mysterious Monsters," a Native storyteller shares ancient and contemporary scary stories
Dennis Zotigh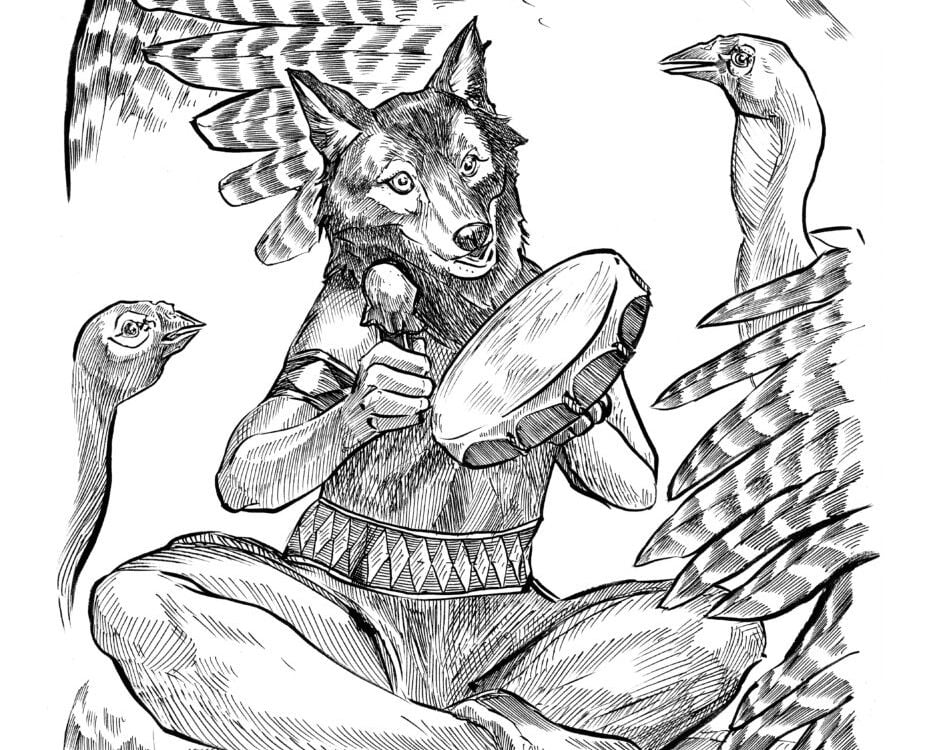 I was raised by my maternal grandparents. My grandfather was a full-blooded Isanti Dakota from Nebraska. My grandmother was a full blooded Okay Owingeh Pueblo from New Mexico. They were my link to culture and history from the early reservation days and beyond.
Each night when I was very young, we had a ritual of storytelling where they would share stories passed down to them or they had personally experienced. Some of these stories were humorous, others taught life's lessons. But my favorites were the scary stories that I requested over and over. Looking back at my childhood these stories left many questions in my mind that were left unexplained until now. 
"Stories of the unknown come in many shapes and forms that tell of unexplainable—sometimes horrible—things. Some are about demons or evil spirits," says writer and storyteller Dan SaSuWeh Jones (Ponca). 
"Others are about inanimate objects, like glowing orbs, apparitions, or even dolls that take on the breath of life. In this book, I have divided the world of American Indian ghosts into five categories: "Ghosts," "Spirits," "Witches," "Monsters," and "The Supernatural," to give a clearer, more defined picture of what you may encounter—from an unseen noise to a hideous face to maybe something no one else has ever experienced."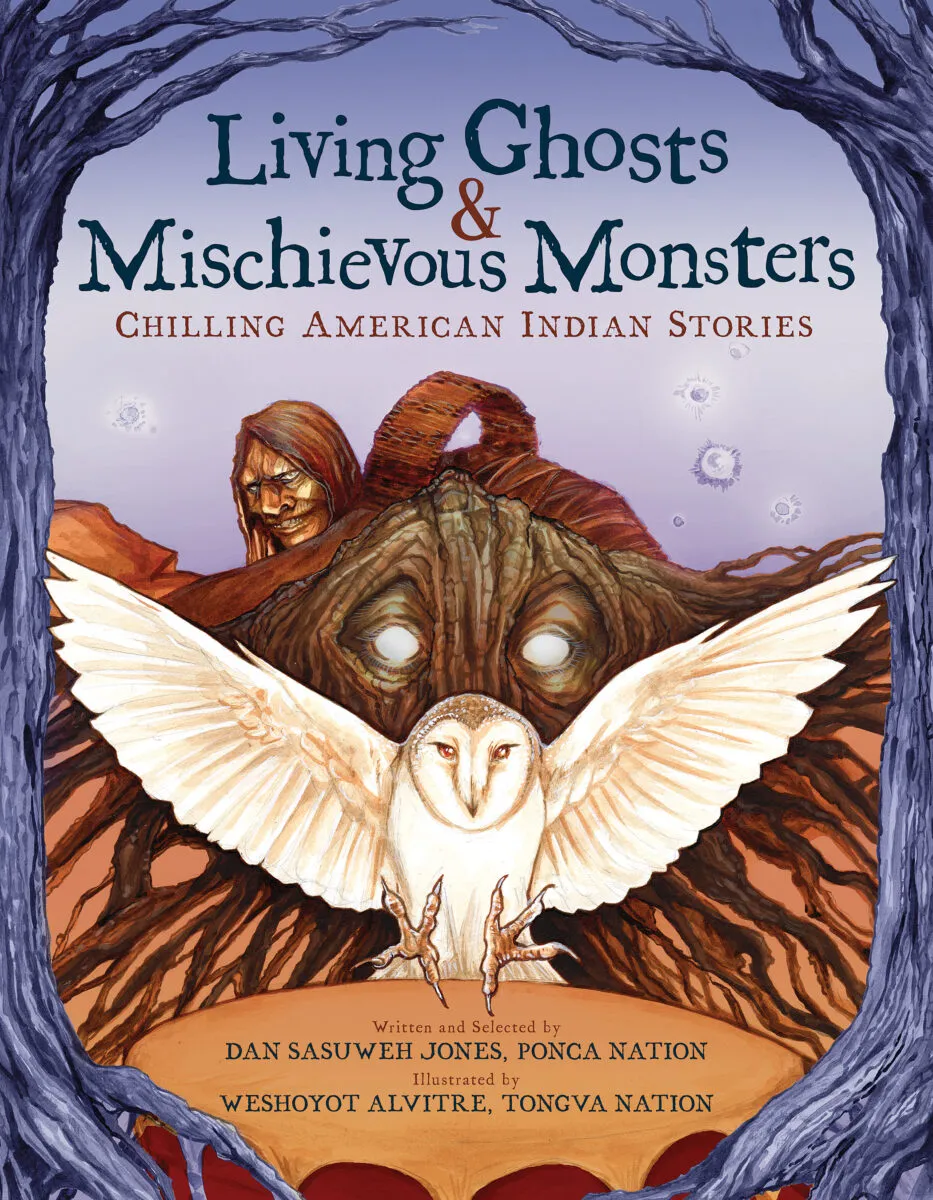 The supernatural aspects of American Indians are not normally shared with the outside world. Superstition and tribal protocols keep many stories from becoming public domain. Recently, I read a book that picked up where my grandparent's scary stories left off: of Native tricksters; shape shifters, skin-walkers and entities that thrive in the shadows of darkness. In Living Ghosts and Mysterious Monsters: Chilling American Indian Stories (Scholastic Press, 166 pp., $26.99 and $12.99) Dan SaSuWeh Jones (Ponca Nation) writer and storyteller, and Weshoyot Alvitre (Tongva) illustrator, weave ancient and contemporary scary stories from tribal groups from Canada, the United States and Mexico. Thirty-two short stories are told in chilling vivid detail and collected from the thriving tradition of telling Native ghost stories. Tribal definitions and their meanings are explained to help give the reader valuable information to preface each story.
Stories of the unknown come in many shapes and forms that tell of unexplainable—sometimes horrible—things.
In a time when the internet, social media and cell phones were not the principal means of communication, Native people looked forward to sharing good stories. Winter was especially chosen as the primary storytelling season as tribal communal groups were not travelling and had to remain inside for long periods during inclement weather.
In the Western Hemisphere trading stories is an integral part of Native culture, a norm that is still carried on by modern Native peoples. At the end of this book, the writer gives credit in detail of how each of his stories was obtained. As a Native writer this consideration made me feel good that these stories were obtained and are being passed on "in a good way." With this being said … wait until nightfall, pick up the book and prepare to enter the world of Native ghosts and the supernatural.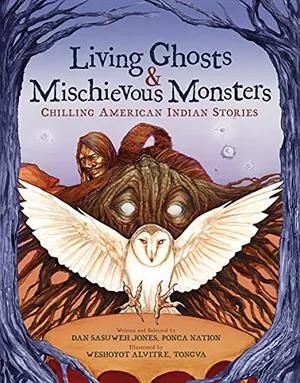 Living Ghosts and Mischievous Monsters: Chilling American Indian Stories
Dan SaSuWeh Jones (Ponca Nation) tells of his own encounters and selects his favorite spooky, eerie, surprising, and spine-tingling stories, all paired with haunting art by Weshoyot Alvitre (Tongva).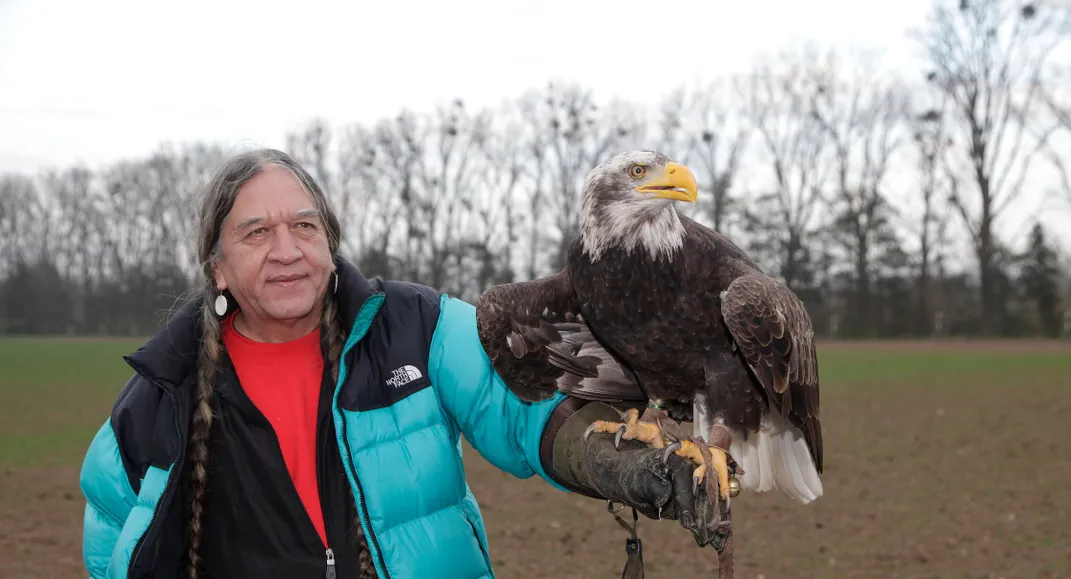 Dan SaSuWeh Jones is the former Chairman of the Ponca Tribe of Indians of Oklahoma and member of the Producers Guild of America. He is a filmmaker who has produced work for Sesame Street, NBC, TBS, and other national and international networks. He worked as an honorary Imagineer and consultant for the Walt Disney Company's Disney America theme park and as a field producer for the television miniseries 500 Nations , produced by Kevin Costner. As a bronze sculptor, he was a finalist in the competition for the American Indian Veterans Memorial at the National Museum of the American Indian on the Washington D.C. Mall. He holds a seat in the House of Warriors, a traditional Ponca Warrior Society. He was storytelling author and consultant for National Geographic Encyclopedia of the American Indian , 2019.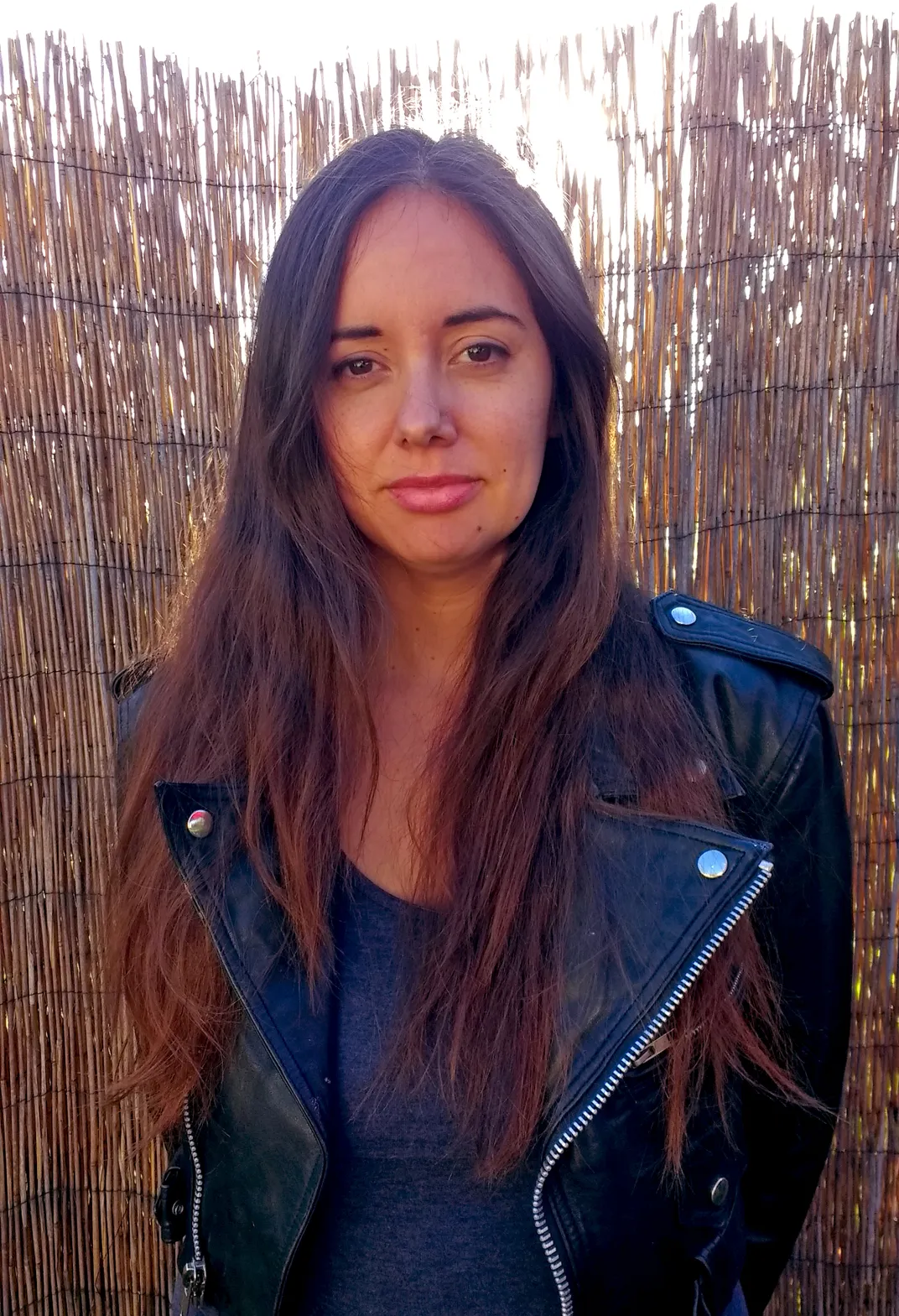 Weshoyot Alvitre is a female author and illustrator from the Tongva tribe of Southern California. She currently resides with her husband and two children on Ventureno Chumash Territory in Ventura, California. Her work focuses on an Indigenous lens and voice on projects from children's books to adult market graphic novels. She has recently been published as an artist in Ghost River: The Fall and Rise of the Conestoga , written by Lee Francis 4 and edited by Will Fenton; At The Mountains Base written by Traci Sorell; and was Art Director on the video game "When Rivers Were Trails." She enjoys spinning yarn and collecting antiques.
Dennis Zotigh | READ MORE
Dennis W. Zotigh (Kiowa/Ohkay Owingeh Pueblo/Isante Dakota Indian) is a member of the Kiowa Gourd Clan and San Juan Pueblo Winter Clan and a descendant of Sitting Bear and No Retreat, both principal war chiefs of the Kiowas. Dennis works as a writer and cultural specialist at the Smithsonian's National Museum of the American Indian in Washington, D.C.
#donaldtrump
#republicans
#benjaminnetanyahu
#openthread
#climatechange
#dailykoselections
#kevinmccarthy
#stevescalise
Indians 101: American Indians Beliefs about Ghosts
The idea that the soul leaves the physical body at death and journeys to the land of dead is found in Native American cultures throughout North America. In some instances, the soul may remain in the land of the living and become a ghost.
Belief in ghosts is common in many American Indian cultures. In their book The Encyclopedia of Native American Religions, Arlene Hirschfelder and Paulette Molin report:
"The conviction among many Native Americans is that there is a malignant influence associated with a dead person released at death and capable of return to earth as an apparition. Many groups believe that ghosts haunt burial grounds or return to earth to plague the living."
Arlene Hirschfelder and Paulette Molin also report:
"Despite the overall fear of ghosts, some tribes feel ghosts are harmless and some even seek their protection."
Briefly described below are some of the American Indian beliefs regarding ghosts. These are grouped by culture area: a geographical area which has shared cultural characteristics.
Southeastern Culture Area
The American Indians in the Southeast were farmers who lived in permanent villages. In his book The Southeastern Indians , Charles Hudson writes:
"The Southeastern Indians believed that each individual had a soul that lived on as a ghost after death. Ghosts were believed to have an ability to materialize so that some individuals could see them though others could not."
At death, the people of the village would shout to frighten the ghost so that it would make it journey to the western sky. A ghost that stayed around could cause illness and even death.
Southwestern Culture Area
Among the Navajo, an Athabascan-speaking Native American group in the North American Southwest, ghosts are felt to be the malignant part of a dead person who has returned to avenge some offense or some form of neglect. In a 1946 essay republished in The Human Way: Readings in Anthropology, Clyde Kluckhohn and Dorothea Leighton report:
"Ghosts appear after dark or just before the death of some family member, in human form or as coyotes, mice, whirlwinds, spots of fire, or indefinite dark objects. They are usually dark or black."
With regard to the Apache Indians of the American Southwest, Morris Opler reports:
"Ghosts almost always chose the night to strike. They often appeared in human guise in dreams or as black, amorphous objects. They made whistling noises to frighten their victims; therefore whistling at night was discouraged."
California Culture Area
Among the Hupa, an Athabascan-speaking people in Northern California, ghosts are usually a temporary phenomenon. In his report on the Hupa in the Handbook of North American Indians, William Wallace reports:
"Before journeying to the land of the dead, an individual's soul was believed to haunt the village for four days, endeavoring to reenter its former residence."
On the fifth day, the souls of the dead went to an underworld, but they could return at times to bother the living, especially relatives.
Northwest Coast Culture Area
The Makah are a Northwest Coast tribe who live on the western coast of Washington's Olympic Peninsula. In her ethnography The Makah Indians: A Study of an Indian Tribe in Modern American Society, Elizabeth Colson reports:
"Ordinarily, the 'ghosts' are not seen, though people are certain that they are about the village and along the beach. They do appear in the dreams of the living, and this is regarded as a warning of some impending calamity, for it is thought that the dead have come back to guide some living relative to the land of the dead."
Plateau Culture Area
Among the Cayuse, Umatilla, and Walla Walla in the Plateau area of Washington and Oregon, the ghosts of people who had recently died craved the company of their kin and sought to abduct them. In his report on these tribes in the Handbook of North American Indians , Theodore Stern also reports:
"Though most souls in the afterworld lived as in life, there were those—some say, those of the unclean dead—that remained on earth as ghosts, normally invisible, signaling each other and mortals by whistling, and playing pranks on humans."
Great Basin Culture Area
Writing about the Indian nations of the Great Basin culture area in the Handbook of North American Indians , Åke Hultkrantz writes:
"The ghost was dreaded because it wanted to fetch the living and take them to the other world for good. Ghosts appeared in dreams, but also in daily life, and took the forms of human beings, animals and whirlwinds, the last an idea spread all over the Basin."
For some of the American Indian cultures in the Great Basin culture area, ghosts are feared as they are felt to be associated with illness, death and bad fortune. Writing about the Washoe in the Handbook of North American Indians , Warren D'Azevedo reports:
"Spirits of the dead or ghosts were greatly feared as the cause of illness and misfortune: such spirits were thought to travel in whirlwinds seeking their former places of abode."
With regard to the Western Shoshone, David Hurst Thomas, Lorann Pendleton, and Steven Cappannari, in their chapter in the Handbook of North American Indians , report:
"The ghost believed to leave the body immediately at death, was feared by California and central Nevada groups, and dreaming about a dead person was regarded as a bad omen."
Great Plains Culture Area
Ghosts are not always associated with a particular dead person. With regard to the Cheyennes on the Great Plains, Peter J. Powell, in his book Sweet Medicine: The Continuing Role of the Sacred Arrows, the Sun Dance, and the Sacred Buffalo Hat in Northern Cheyenne History, writes:
"Ghosts cause the Cheyennes some uneasiness. Ghosts, or Mistai, are rarely seen, but are often felt or heard. They are spirits derived from the dead, but they are not the ghosts of particular people. When a Cheyenne hears weird or whistling noises outside his lodge, he knows the Mistai are abroad."
In his book The Cheyenne Indians: Their History and Lifeways, George Bird Grinnell describes the Cheyenne concept of ghosts this way:
" Mitsai is always alarming, but never, so far as known, does any actual harm. It seems to take pleasure in frightening people, and to be somewhat like the white man's idea of a hobgoblin, or malicious elf."
Another Great Plains tribe, the Blackfeet, felt that the dead could not be seen by the living, but could communicate with the living. In his book The Blackfeet: Raiders on the Northwestern Plains , John Ewers writes:
"The Blackfeet claimed that the ghosts of the dead sometimes returned to communicate with the living in weird, whistling sounds."
Among the Cree on the Rocky Boy Reservation in Montana, a ghost is a soul that remains on earth. In his book The Montana Cree: A Study in Religious Persistence, Verne Dusenberry reports:
"Some of the informants maintain that they can see ghosts, while others say that they can merely feel their presence. All agree, however, that ghosts frighten people."
For the Montana Cree, ghosts are similar to other people and they wear the same clothes they were wearing when they died. Verne Dusenberry also writes:
"In other ways, ghosts are different from the living. For example, they cannot touch the earth when they are walking or dancing because they are dead, so they stay about twelve inches above ground. Since they are capable of walking through the logs or walls of a house, they do not need to use a door. Sometimes, but not always, a person can hear a ghost but cannot see it."
Among the Canadian Cree, David Mandelbaum, in his book The Plains Cree: An Ethnographic, Historical, and Comparative Study, reports:
"The failure to provide a suitable funeral feast might cause a soul to linger until the feast was finally given. Such souls made their presence known by weird noises and were called tcipayak , ghosts."
Subarctic Culture Area
The Hare Indians are a subarctic Athapascan-speaking group whose homeland is in northwestern Canada. Traditionally, the Hare placed the body of the deceased on a scaffold with a pennant near the site. The pennant was used to keep the ghost amused and thus prevent it from haunting the living. In their chapter on the Hare in the Handbook of North American Indians , Joel Savishinsky and Hiroko Sue Hara write:
"Ghosts were greatly feared, and a number of propitiatory acts were performed to placate them: travelers passing near a grave offered food to the deceased, and morsels of food were thrown into a fire when it hissed in answer to what was interpreted to be a call from the dead."
Indians 101
Indians 101 is a series  exploring American Indian cultures, histories, and current concerns. More from this series:
Indians 101: Supernatural Entities Among the Eastern Algonquian Tribes
Indians 101: Suppressing Peyote in 1918
Indians 101: Plateau Indian Spirituality (Photo Diary)
Indians 101: Spirituality and Jimsonweed among California Indians
Indians 101: Ute Spirituality
Indians 101: American Indian Beliefs About an Afterlife
Indians 201: Wobziwob's Ghost Dance
Indians 101: Northern Plains Indian Spirituality
More about ghosts from the Religion 101 series:
Religion 101: The Meaning of Ghosts
Religion 101: Ghosts in Different Cultures
Sorry, your search returned zero results for "indian_ghost_movie"
Have you tried doing the following:
Check for spelling errors or typos
Clear search filter options
Use fewer keywords
Real Ghost Photos Hd Wallpaper Gallery
Stairway to Heaven Specter in the Tea Room Unseen Bridesmaid Girl on the Floor Thing Under the Bridge Boy in the Window Hied Photos The Ghost at Guilford's Mount Forest Willard Library Ghost Photos Collection
BOLLYWOOD ACTRESS
HOLLYWOOD ACTRESS
BIKES WALLPAPER
CARS WALLPAPER
CRICKETER WALLPAPER
Friday, 18 March 2016
Top 12 indian ghost images caught on camera, see her caught on camera photos of indian ghost real ghost ianda`s images india ex atma pictures chudel photos indian natree ghost for women hd wallpapers in the forest .
top horror ghost images download free
top ghost images free download for my blog
free 3d ghost wallpaper download desktop
real horror ghost images HD for mobile
download ghost images in 3d quality
pyore language danger bhoot wallpaper online
Indian Women Ghost Videos Gallery

I have an awesome picture of a ghost and want to show it around.what do i do...
Anushka Sharma PC Wallpapers, HD Images Ghost Photos Blog
Photo Gallery, of Anushka Sharma. Must Beauty Young Indian Heroin Anushka Sharma Images Top model With Film Producer Wallpaper on Instagra...

Bihar: Over 5 lakh 'ghost' students, causing Rs 300 cr loss to state, removed from government schools
The removal of over 5 lakh 'ghost students' from the government schools' enrollments is a part of a reform drive launched by the bihar education department aiming to improve the attendance of children in the schools..

The action by the Education Department hinted at a scam which was going on as the government provides several benefits to the students. The reports suggest 'fake or ghost students' were availing government benefits which were meant for the genuine students. Now, according to the reports, the state exchequer will save approximately Rs 300 crore after excluding over 5 lakh students from the government data. The move will help the government to get the real enrolment figures in government schools in Bihar.
KK Pathak, the additional chief secretary of the Education Department, launched several initiatives a few months ago to reform the education system in the state. The "weeding out" operation is part of his initiatives. The reports suggested that Pathak ordered to strike off the names of students after he, during his school visits, found students were absent for extended periods. People, in the know, suspect that a large number of "ghost students" were enrolled elsewhere or studying in private schools or school staffers might have involvement in the alleged corruption.
The Education Department will soon launch a door-to-door survey to cross-check the enrollment registers. The officials will also identify the families whose children are not attending schools.
Meanwhile, the Bihar government spends over Rs 3,000 crore on benefits for students under the Direct Benefit Transfer (DBT) which means the "ghost students" cost a huge loss to the state exchequer.
Also read: Uttarakhand: PM Modi offers prayers at Parvati Kund in Pithoragarh
Read all the Breaking News Live on indiatvnews.com and Get Latest English News & Updates from Bihar

PM Modi offers prayers at Adi Kailash, Parvati Kund in Devbhoomi | PICS

The Vaccine War: Oscars library invites Vivek Agnihotri's film for Academy Collections

World Cup, AUS vs SA: From Pitch report to records, all you need to know about Ekana Cricket Stadium
Related Bihar News

Bihar train accident disrupts rail traffic, several trains including Rajdhani Express affected

Bihar train accident UPDATES: Northeast Express derails near Buxar, 4 dead, ex-gratia announced

North East Express train derails in Bihar's Buxar, at least four dead, over 50 injured

'Nitish Kumar was beaten by goons of Lalu': BJP's Samrat Choudhary hits out at Bihar CM | VIDEO

Is Governor post on agenda? Jitan Ram Manjhi addresses speculations ahead of his Delhi visit
Latest News

Mission WIPE OUT Hamas: Military to launch massive ground operation with 3,60,000 forces in Gaza

Parvati Kund in Pithoragarh: A detailed guide to reach religious shrine

MP elections: Congress wants my destruction as it is scared of me, says Shivraj Singh Chouhan

Aap Ki Adalat
Aaj Ki Baat
Kurukshetra
Haqiqat Kya Hai
Entertainment Aaj Ka Rashifal: From Aries to Pisces, know how will be your day from Acharya Indu Prakash Super 100 : Watch Top 100 News of The Day Superfast 200: Watch Top 200 News of The Day Aaj Ki Baat: Israel will not stop until Hamas no longer exists? Haqeeqat Kya Hai: Why did Congress support Palestinians? Will Manish Sisodia get bail today? SC to hear pleas of AAP leader in Delhi excise policy scam IPS official DC Jain promoted as CBI Special Director just before retirement

Uttarakhand: PM Modi offers prayers at Parvati Kund in Pithoragarh

Bihar train accident: What Railway Minister Ashwini Vaishnaw said on Northeast Express derailment 'He said we are...': Naveen reveals chat with Kohli after reconciliation act in IND vs AFG clash IND vs AFG: Virat Kohli creates all-time record in World Cups with sedate fifty against Afghanistan

IND vs AFG: Ruckus breaks out between fans at Arun Jaitley Stadium | WATCH

Virat Kohli does Steve Smith 2.0 during India vs Afghanistan; urges crowd to not boo Naveen ul Haq Rajasthan poll date changed from November 23 to November 25 due to 'large scale weddings' Will continue to play Candy Crush: CM Baghel after BJP's Malviya tweets his pic playing online game BSP releases second list of 17 candidates for Chhattisgarh Assembly polls

Watch video: Shivraj Singh Chouhan campaigns for Alok Sharma, BJP candidate from Bhopal North

'There is excitement...': Ex-CM Raman Singh on upcoming Assembly election in Chhattisgarh 'Israel will wipe out Hamas from Earth as world eliminated ISIS': PM Netanyahu's stern message Israel-Hamas War LIVE: Egypt rejects proposals to establish corridors out of Gaza

Israel-Hamas conflict: US mourns loss of its 22 citizens

Israel asks residents in Ma'alot-Tarshiha town to 'stay home, lock doors' after Intel input Amid rift rumours, Kartik Aaryan to appear on Karan Johar's show Koffee With Karan 8? Know more Kangana Ranaut SLAMS Bollywood for 'maintaining friendships' with Pakistan and China artists

Bigg Boss 17: THIS Lock Upp contestant to participate in Salman Khan's show? | Know full story

Hiten Tejwani, wife Gauri Pradhan to reunite on-screen after 8 years | More deets inside

IND vs AFG, World Cup 2023: Rohit Sharma, Jasprit Bumrah boost India to huge win over Afghanistan X corp takes strong action: Bans over half a million accounts in India Oppo Find N3 Flip launch event on October 12: Expected specs, price, and other details OnePlus Open foldable phone: Launch details, expected price and features in India

Apple's latest iOS 17.1 Beta 3 now available for testing: Check what's new

Know how to enable emergency alert notifications on your Android smartphone Horoscope Today, October 12: Financial condition to improve for Gemini Horoscope Today, October 11: Pisces will follow path of spirituality; know about other zodiac signs Horoscope Today, October 10: Happiness in family awaits Gemini, know about other zodiac signs

Weekly horoscope (Oct 9 to Oct 15): Scorpios need to focus on mental health; know about others

Horoscope Today, October 9: Relaxing day for Aquarius; know about other zodiac signs World Sight Day 2023: Blinking to Eye Roll, easy exercises to improve eyesight and reduce strain What is Rheumatoid Arthritis? Know causes, symptoms and importance of early diagnosis 12 essential nutrition tips for new mothers with diabetes; foods to eat and avoid

World Arthritis Day 2023: Know causes, symptoms and prevention tips for the disease

World Mental Health Day 2023: Know why support system is crucial for mental health