Mugs & Spoons
Pre-Built Meal Kits
Build Your Own Meal Kit
Gluten Free
Peanut Free
Tree Nut Free
High Calorie
Our History
Partners & Community
Sustainability
Blog: Inside The Pantry
Pro Series Adventures
Trail Family
In the Press
instagram Instagram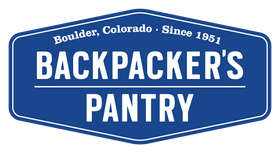 6 Terrifying Haunted Hikes In Colorado
Creepy Colorado Hikes
Halloween weekend is a great opportunity to take a haunted hike. Even when it's not spooky season, going on a haunted hike is a great way to add something new and thrilling to your outdoor experience.  Like most western states, Colorado is home to Native American spirits, abandoned ghost towns and creepy landscape. If you're looking to get your adrenaline really revved up, here are six spooky spots to explore. 
Helen Hunt Falls | Colorado Springs
This spot was named after the poet, writer and Native American activist Helen Hunt who was buried in Colorado Springs. Hikers have reported hearing strange voices at the falls where the area is steep, dangerous and has unfortunately claimed many lives. The crisp air and autumn trees will certainly add to the creepiness factor of this haunted spot. 
Great Sand Dunes National Park | San Luis Valley
If you are a self-proclaimed UFO buff, then you'll really enjoy visiting the UFO Watchtower as many sightings have been reported here along with some creepy and unexplained cattle mutilations. This part of Colorado offers a wide variety of exploration, as it hosts with the Great Sand Dunes and the beautiful San Luis mountain range.
Stormy Peaks B-17 Crash Site | Glen Haven
In 1943, an Army Flying Fortress bomber left Rapid City, South Dakota, and was bound for Denver. It never arrived. The military plane crashed in the Comanche Peaks Wilderness, killing all eight passengers on board. Today, you can hike to the eerie crash site where the wreckage remains. The site is reported to be heavy, spooky, and sad. With that said, it's important that you leave the wreckage untouched if you choose to take this haunted hike. 
Horsechief Canyon | Fruita
The Horsechief canyon was once a corridor for horse smugglers. It's said that a woman was trampled to death by a smuggled herd of horses in this canyon and that her ghost now wanders the trails.  Perhaps she is looking for a hiker like you to be her companion . . .
Ghost Town Hallow | Pikes Peak HWY
This former mining camp is a ghostly site that houses Oil Creek Tunnel, a blocked passageway that was once used for mining gold and where many accidental deaths of miners took place. Old log houses and remnants from its historical past make Ghost Town Hollow a great place to visit for a spooky experience. The only catch is that you'll need to travel for a bit on the Pikes Peak Highway to locate Ghost Town Hollow, but the trek is worthwhile. 
Mount Vernon Cemetery | Jefferson County
An unmarked cemetery? Now that's creepy. The Mount Vernon Cemetery has one of the oldest known graves in the state dating back to 1860. Make this hike a night hike for an even more bone-chilling experience. 
You may also like View all
Latest News
Colorado History
Environment
Social Justice
Transportation
Latest Food & Drink
Openings & Closings
Restaurant Guide
Top 100 Bars
Top 100 Restaurants
Recipes: Presented by FamilystyleFood
Latest Arts & Culture
Visual Arts
Latest Music
Concert Calendar
Latest Cannabis
Ask a Stoner
Dispensary Guide
Colorado Cannabis Laws
Psychedelics
Strain Reviews
Find Weed - Presented by Weedmaps
Westword Burger Week
Westword Feast
Westword Out to Brunch
Westword Pizza Week
Westword Tacolandia
Arts & Entertainment
Cannabis & More
Food & Drink
Music & Venues
Shopping & Services
Readers' Choice
Newsletters
Advertise with Us
Flipbook Archive
Promotions & Free Stuff
Support Westword
Where To Find Westword In Print
Welcome, Insider
My Newsletters
Get Outside: Ten Haunted Hikes in Colorado for Ghost Hunting
Sign up for our newsletters
Tattered Cover's Next Chapter: Small Business Reorganization and Closing Three Stores
By Patricia Calhoun
Arts & Culture News
Photos: museum of illusions is a trippy addition to the 16th street mall.
By Emily Ferguson
Steve Martin, Martin Short Announce Two Colorado Shows
Meet the Couples of Married at First Sight , Denver Edition
View This Week's Print Issue
Arts & Culture
Things To Do
Advertise With Us
Terms of Use
Privacy Policy
Westword Careers
Shop Cover Art
Voice Media Group
Dallas Observer
New Times Broward-Palm Beach
Miami New Times
Phoenix New Times
10 Scariest Haunted Attractions in Colorado
Colorado, with its inviting climate and stunning landscape, is a great place to take a vacation.
Exploring the wilderness and enjoying all those great outdoor activities, not to mention the fantastic city life in Boulder, Denver, and elsewhere is a blast.
The Centennial State is home to skiing, hiking, climbing, museums, botanical gardens, haunted attractions, and supernatural threats from beyond the grave.
Photo credit left: coloradorealestatediary.com right: flickr/danielle-tunstall
Updated 2/9/2020 – Wait, back that up?
That's right. There are ghosts and spirits in Colorado just like anywhere else.
If anything, Colorado is more prone to haunting than many other states.
The state was a key part of the Old West, always a great source to find some spookiness to exercise your thermal camera .
Colorado was part of the Civil War, too, contributing soldiers to both sides.
Regiments formed during the War Between the States later took part in conflicts with Indian natives of the region.
All of that conflict and high emotion leads to paranormal activity , and that's not even getting into more typical spirits like the White Lady , poltergeists, and floating orbs.
Suffice to say, any seasoned or aspiring ghost hunter will find much to love in Colorado's haunted attractions.
There's nothing quite like getting the wits scared out of you, and then enjoying some fine dining or a tasty craft beer in one of Boulder's many gastropubs.
Table of Contents
1 10 – Museum of Colorado Prisons
2 9 – Richthofen Castle
3 8 – Garden of the Gods
4 7 – Fort Francisco Museum
5 6 – Imperial Hotel and Casino
6 5 – Hiwan Homestead Museum
7 4 – Mount Vernon Country Club
8 3 – Pasquini's
9 2 – Brown Palace Hotel
10 1 – Cheesman Park
10 – Museum of Colorado Prisons
Photo credit: uncovercolorado.com
This in Canon City was once a prison itself, and is home to a number of ghosts and spirits from those dark days.
The haunted attractions here include a laundry room rife with cold spots .
The smell of tobacco can sometimes be detected there, even though nobody has smoked in there for years.
Cell 19 is outright haunted, apparently by the ghost of a female prisoner who died in the cell.
She appears as a floating orb in photographs, and sometimes manifests the sound of coughing.
It's unknown whether she is recreating her passing, or simply doesn't like the spectral smoke in the laundry room.
9 – Richthofen Castle
Photo credit: coloradorealestatediary.com
This honest to goodness stone castle located in Denver was owned by family members of the famous German World War I flying ace known as the Red Baron.
Although the ghosts here aren't pilots themselves, they have a breed of haunted attractions all their own.
The strongest spirit in the castle is a glowing translucent figure who appears in one of the towers in the small hours of the morning.
It's harmless, but will reach out to touch visitors.
They report a feeling of intense cold as the hand reaches them, though nobody has yet been brave enough to let the spirit actually make contact.
8 – Garden of the Gods
Photo credit: wikiwand.com
This sprawling natural preserve was once a sacred Indian burial ground.
That always works out well!
Tourists visiting the haunted attractions of the park today start feeling the ghosts before they even step out of their vehicles.
The ghosts like to enter approaching cars, imparting a noticeable chill on the passengers and making them feel as though they are being watched.
The spirits have been known to do more with the poor cars, as well.
One story tells of a car that died in the middle of the road, its engine simply stopping without explanation.
When a passing police officer stopped to help, he found all four doors open and not a sign of the driver or passengers.
They were just gone.
7 – Fort Francisco Museum
Photo credit: cohauntedhouses.com
The West Wing of this fortress turned historical exhibit is haunted by two very well-known ghosts.
Their names are The Candle Lady and The Floating Lady.
The pair of women are locally famous as haunted attractions.
The Candle Lady typically appears simply as a candle in a window, while the Floating Lady is a bit stronger.
She's been known to materialize in front of guards at night, scaring them out of their wits.
Cold spots and floating orbs are also common here, as well as bizarrely malfunctioning lights.
6 – Imperial Hotel and Casino
Photo credit: durangotrain.com
The staff of the Imperial says it is full of haunted attractions.
One has been known to state that it's absolutely guaranteed that visitors will see something out of this world.
Young men and women dressed in 1800s garb have been reported appearing out of nowhere and disappearing through walls.
A man falls down the stairs, only to vanish just before hitting the ground.
The staff is so confident in the Imperial's paranormal activity that they have written a book, Not a Ghost of a Chance!
5 – Hiwan Homestead Museum
Photo credit: colorado.com
This cultural center's haunted attractions are centered around the old Spinning Room.
Stand alone in there, and you might hear a strange voice calling you over.
Turn around, and you should hope you see nothing.
You might, though, see a shockingly strong apparition.
She's enormously tall, seven or eight feet, and wears a floor-length gown.
Phantom footsteps permeate Hiwan as well, and floating orbs have been captured on film numerous times.
4 – Mount Vernon Country Club
Photo credit: mountvernoncc.com
The club restaurant is closed on Monday, but that's when it earns its status as one of Colorado's most haunted attractions.
A club manager has often spoken of hearing footsteps in the lobby, even though he's the only one working.
The ghost has been known to throw empty straws and other light objects at him when he calls out, which is usually his cue to leave.
Sometimes, after a particularly strong Monday haunting, a ghost will call the front desk.
The phone system will be set to not answer any calls so the receptionist can check voicemails, but a caller will get through anyway.
The receptionist doesn't like to relate what the spirit says to her, but she's quite sure the caller is not of this Earth.
3 – Pasquini's
Photo credit: thrillist.com
A historic restaurant in Louisville is currently operated as Pasquini's Pizzeria.
Years ago, it was a speakeasy during Prohibition.
The basement still has an entrance to an old bootlegger's tunnel, from which they would supply an illegal gambling hall.
Violence was common in those days, and a man and his girlfriend were shot over a poker game.
The girl who just wanted a night out on the town and ended up dying to protect her man is today one of Colorado's haunted attractions.
She shifts the temperatures in the basement, particularly near the old tunnel entrance, and sometimes interferes with the lights.
2 – Brown Palace Hotel
Photo credit: denverpost.com
One of Denver's most haunted attractions is the Brown Palace Hotel, which has stood since the 1800s.
The paranormal activity here is so strong that the hotel offers private ghost tours.
The spirits of Brown Palace are poltergeists.
They love to exert physical influence on our world, from unscrewing lightbulbs to opening and closing doors.
Ghost hunters have loved the Brown Palace Hotel for years, and it's been featured on documentaries and in books.
The stories of many of the spirits here are unknown, but they are legion and they are strong.
Visitors should come equipped for detection , and be careful.
1 – Cheesman Park
Photo credit: Heather Shields
Easily topping the list of Colorado's most haunted attractions is Cheesman Park in Denver.
The park is so extremely haunted that it was the inspiration for the classic horror film Poltergeist .
Cheesman was built right on top of a graveyard, and what's worse, many of the bodies were disrespectfully exhumed during construction.
The spirits are restless indeed at Cheesman, and they tend to bubble up and infest the nearby homes as well as the park itself.
It's thought that some of those homes actually sit on top of graves themselves, such was the haste of the exhumation and construction.
Floating orbs are the most common manifestation at the park, and it's a wonderful, if scary, source for evidence of the supernatural.
11 Most Haunted Places in Colorado to See Ghostly Sightings
This website may contain affiliate links and we may be compensated (at no cost to you!).
A park built on top of a cemetery. Spirits that haunt one of the most historic hotels in Colorado.
A ghostly apparition that plays slots at a casino even when it's closed. These are all unexplained reports of the most haunted places in Colorado.
With a history steeped in gold rushes and ghost towns, it's no wonder that Colorado has some great paranormal activity.
Ghost tours , scary sightings, and haunted stories are reported at numerous locations across the state, both indoors and out!
Here are the most haunted places in Colorado, ranging from century-old mining towns and haunted casinos, to spooky mansions.
1. Cheesman Park in Capitol Hill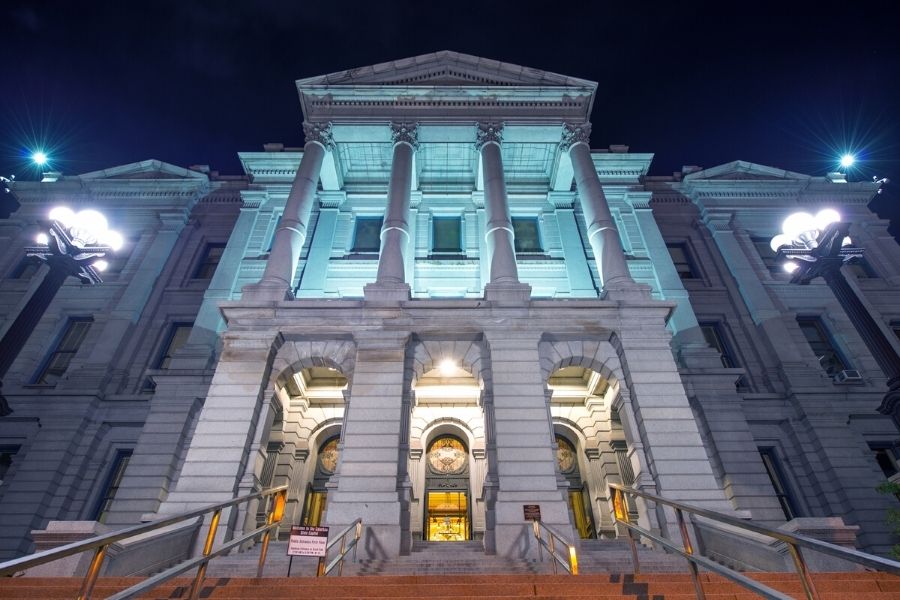 In the popular Denver neighborhood of Capitol Hill you'll find a beautiful city park called Cheesman Park.
It's a great spot for walking, jogging, picnicking and enjoying the sounds of the city. You can even go on a ghostly walking tour of the area, day or night!
However, the park was originally built on top of a cemetery known as Mount Prospect Graveyard.
In the late 1800s, when the graveyard was turned into a park not all of the bodies were relocated. (Like they couldn't think of anywhere else to put the park?!)
And many believe there are still lots of human remains buried beneath the park today.
In fact, Cheesman Park was the inspiration for the movie Poltergeist, turning it into one of the most haunted places in Colorado.
Many of the nearby mansions and houses are said to be haunted with the spirits of people who were buried at the cemetery decades before.
And many people have reported having ghostly experiences or even seeing apparitions when walking the park at night.
This coupled with the fact that the Capitol Hill neighborhood is one of the most haunted places in Denver, makes Cheesman Park a very spooky place.
2. Museum of Colorado Prisons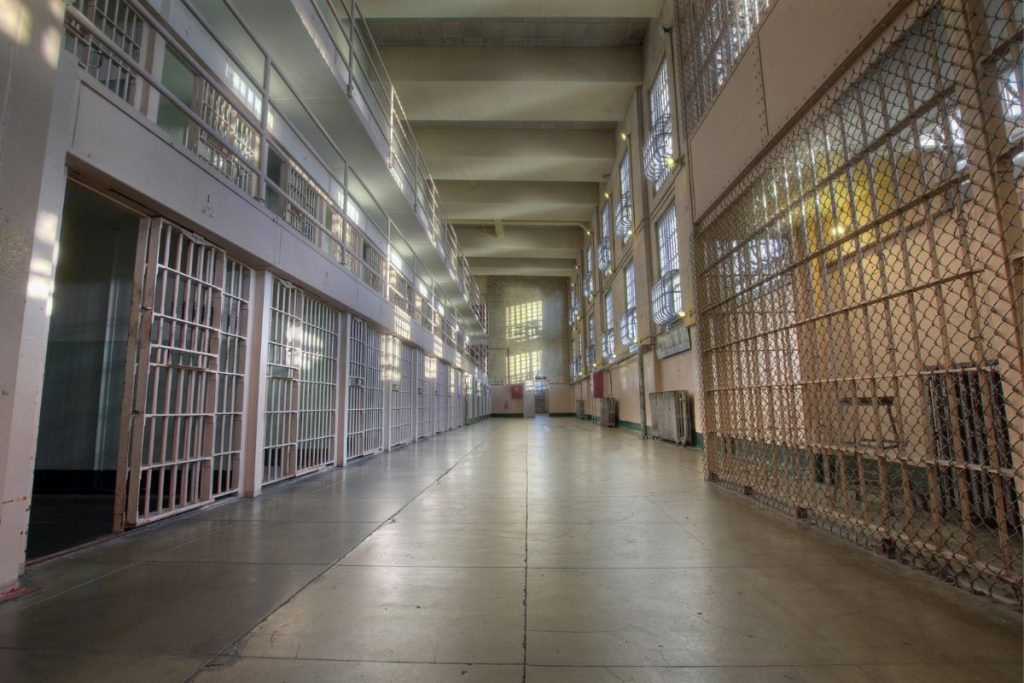 The Museum of Colorado Prisons in Cañon City has one of the most unique facts about it.
The museum shares a wall (including armed towers) with a prison that has been continuously in operation since even before Colorado was a state.
This just adds to the genuine feel and authenticity of a museum such as this.
Many of the exhibits are literal jail cells, dining halls, and archive storage that were used for over the past 140 years.
Prisoners from many decades ago claimed to hear voices from their cells in the middle of the night. And guests now claim the exact thing from inside the same cells!
They have even spotted disembodied orbs floating between cells and explicable scents and chills that are said to accompany the supernatural. It's not uncommon to spot an all-night ghost hunting event on the calendar at Museum of Colorado Prisons.
Work with experts, learn modern techniques and use the latest equipment in capturing proof of the paranormal.
3. Molly Brown House Museum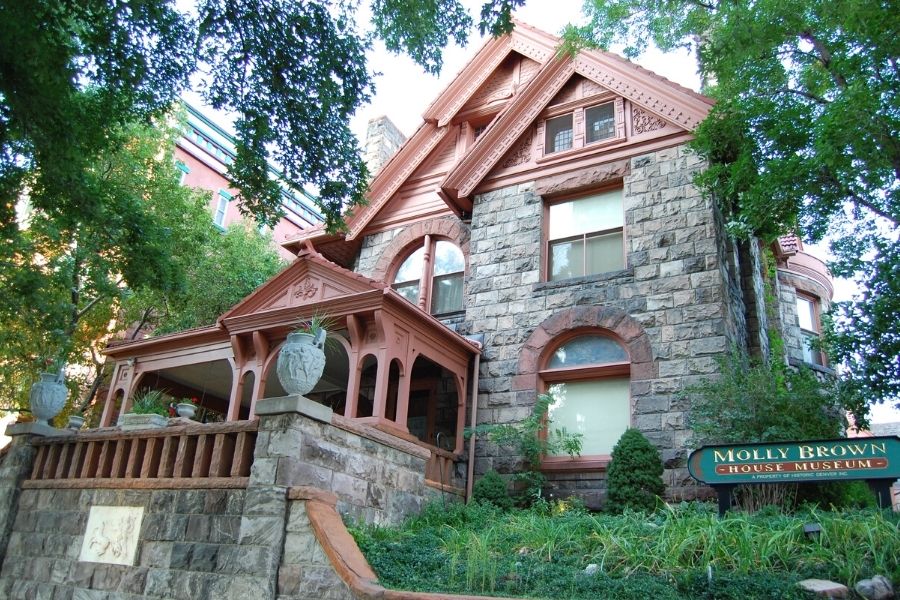 The life of Margaret Tobin Brown, aka Molly Brown, is intriguing to say the least. She was one of the few survivors of the Titanic, and became known as the Unsinkable Molly Brown.
She purchased her new home, located on Pennsylvania Avenue, in 1894 and was a long-time resident of Denver.
This Victorian home, now called the Molly Brown House Museum, features architecture, furniture, letters, and books from the early 1900s.
And you can book a tour of the museum and explore all the history and stories that downtown Denver has to offer.
It's been said that Molly's spirit can be felt in the house and many people have reported her spirits' activity here.
Light bulbs often unscrew themselves, furniture sometimes gets rearranged on its own, and the doors to the kitchen are said to open and close at will.
The Molly Brown House is one of the most popular haunted places to visit in Colorado when looking for paranormal activity.
Book your own tour of the Molly Brown House Museum and check it out for yourself.
Related: The Best Walking Tours in Denver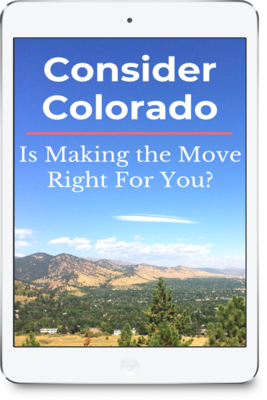 Thinking of living in Colorado? This guide will help you avoid costly mistakes and remove the stress of planning so you can experience the joys of mountain living.
4. The Stanley Hotel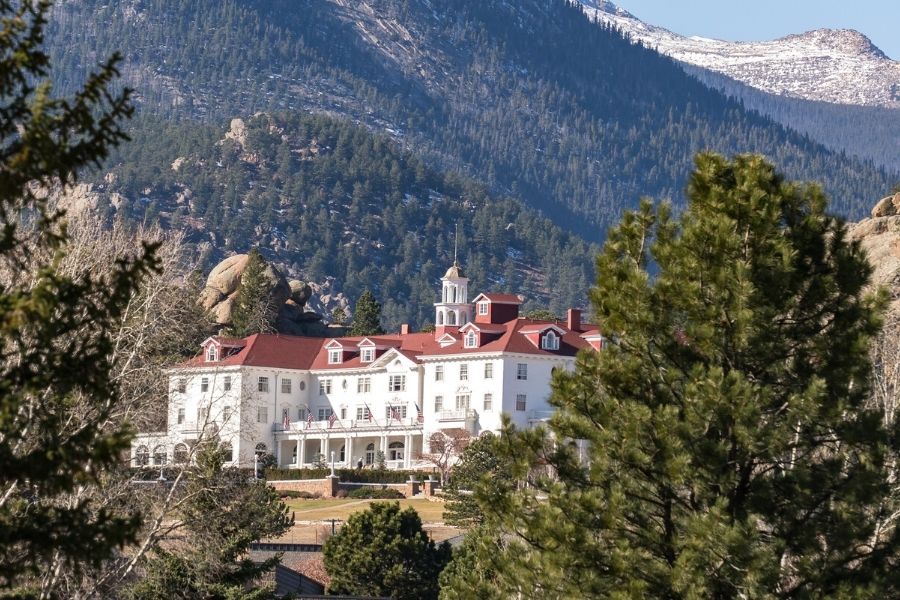 Located in Estes Park , the Stanley Hotel is more than 100 years old. It's full of history and strange happenings.
The hotel is said to be haunted with a history full of ghost stories and creepy events.
In fact, four different spirits are said to occupy the hallways and roam the corridors.
Over the years, guests have said to hear the faint sounds of children's laughter or mysterious footsteps in the passageways.
Lights flicker at all hours of the day, and sometimes piano music can be heard coming from the empty ballroom.
Because of its old and spooky feel it made the perfect place for Stephen King's novel, The Shining .
If you enjoy this sort of thing, you can immerse yourself into the dark history of the Stanley Hotel by booking one of their Spirited Night Tours .
These tours will take visitors on a walk at night through the grounds and darkest areas of the hotel, including an underground tunnel.
5. Colorado Grande Hotel & Casino
The town of Cripple Creek has a murky history of corruption, murder, two-timing and good ol' fashioned debauchery.
In fact, many of the town's casinos are said to be haunted and often have reports of ghosts or strange activities.
These days Cripple Creek is considered a casino haven, and ghostly one at that.
One casino is said to be inhabited by the spirit of a young girl who draws on the walls. Another has bar glasses that fly through the air on their own and crash to the floor.
The building that houses the now Colorado Grande Casino has been standing since 1898.
The Spirits that live here are said to linger on in the Grande Hotel are mostly benign.
Lily and Maggie are the two female spirits that supposedly still walk the halls of this historic landmark and most common apparitions to see.
Also reported within the Colorado Grande Hotel include disembodied singing voices and footsteps dancing to an unheard tune on the 3rd floor ballroom.
Sights of apparitions using the slots, blue floating orbs and a certain proclivity to see purple balloons have all been reported.
6. Outlaws & Lawmen Jail Museum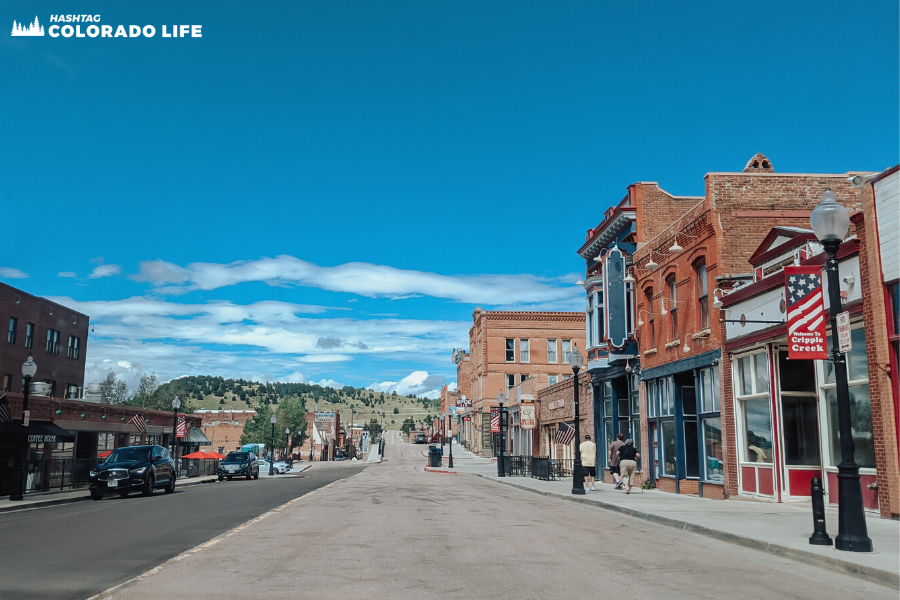 Speaking of Cripple Creek, the town seems to always be featured or mentioned on some sort of haunted list.
It has a history of being a gold mining town with a long storied past.
Not only that but visitors can tour the Outlaws & Lawmen Jail Museum that details the shadier life of the inhabitants of Cripple Creek.
Visitors who tour the jail can read real police reports and newspaper clippings, and check out the jail cells where prisoners were kept.
But BEWARE, you may hear the faint echoes of footsteps going up and down the stairs, or see the ghosts of past guards or prisoners.
The jail actually operated from 1901 until 1991 when it was closed because it doesn't have an exercise yard. This is a modern requirement for a fully operating jail in Colorado.
7. Hotel Colorado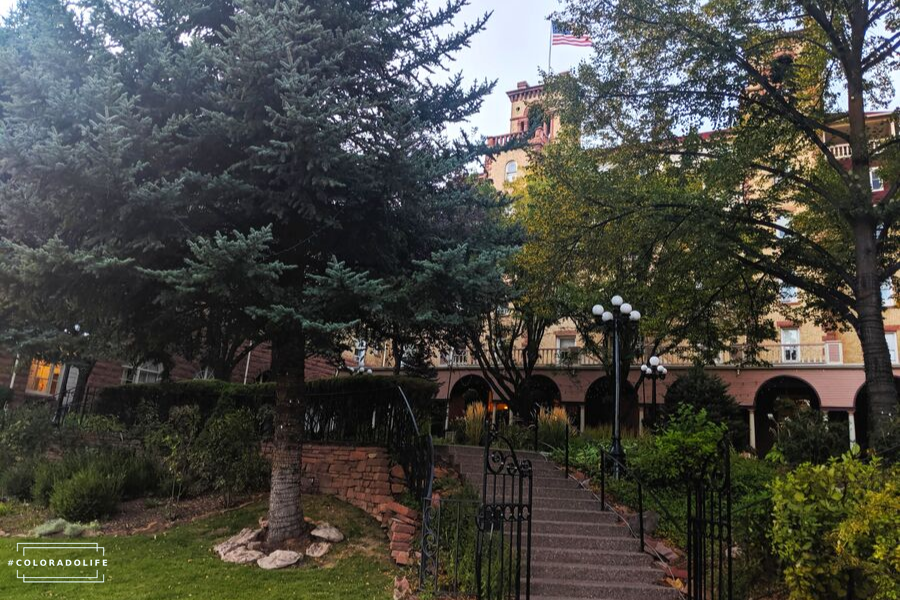 In the heart of Glenwood Springs , you'll find the beautiful and spacious Hotel Colorado.
Historical figures such as Teddy Roosevelt, William Howard Taft, and the Unsinkable Molly Brown have all been guests of Hotel Colorado.
Over the decades, this haunted hotel has a reputation for ghost stories and strange happenings.
During the time of World War II, more than 500 wounded soldiers were housed here.
And giant ovens deep in the basement of the hotel were used to cremate those who didn't survive.
With the horrors that were seen during the war it's easy to understand how this place could be haunted.
Many people who stay at Hotel Colorado have said they heard strange noises, like a woman wailing, and even saw random objects moving on their own.
Other paranormal activity that's often reported includes apparitions and ghost sightings.
Today you can take a self-guided tour through the hotel to check out some of the rooms with the original furnishing, clothing, and books from that time period.
8. Colorado Springs Pioneers Museum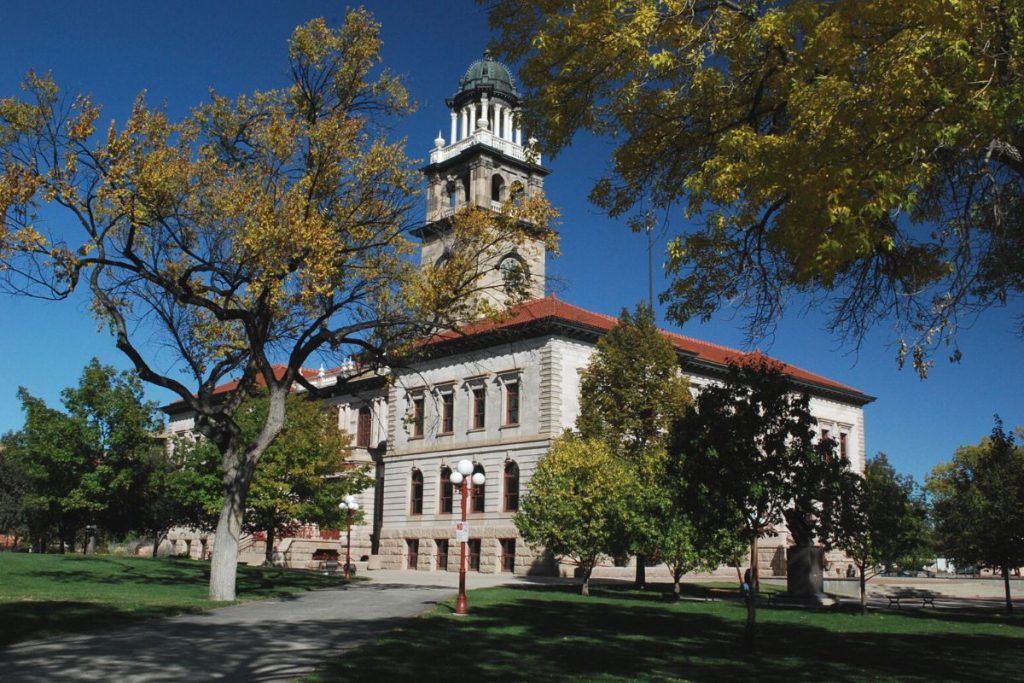 Is there always a correlation between a ghastly murder or other violent act(s) in the past, and the sightings of apparitions or ghosts in the present?
We think so. And the Colorado Springs Pioneers Museum is no different.
From 1903 to 1973, it was the courthouse and administrative building for the entire Pikes Peak region.
As a courthouse, its walls and columns undoubtedly bore witness to the aftermath of heinous events and travesties from the area.
But it was in 1959 when a disgruntled custodial employee shot and killed one of his managers over a check dispute.
Nowadays, the once courthouse has been restored to its former glory. And today it exists today as a museum that hosts an array of exhibits.
These displays detail the history of the area with events and exhibits being held year round.
Although the Colorado Springs Pioneers Museum doesn't actively offer ghostly tours on their event list, you may still experience creepy moments.
It is said that you still get an uneasy feeling or hear faint echoes of the past near the courtroom or in the same area the previous murder happened.
9. Brown Palace Hotel
From presidents to royalty and rock stars to sports stars. The Brown Palace Hotel has hosted guests from every walk of life and from every corner of the world.
Completed in 1892, the Brown Palace Hotel was set to be the crown jewel of Denver.
The building was meant for the upper crust of society and completed to reflect the style of Italian Renaissance on a triangular intersection.
The Brown Palace Hotel set itself apart from all other Denver hotels for its opulence and luxury for socialites.
Its existence was sustained even through tumultuous events in American history like the Great Depression, Prohibition, and many wars.
Which means this hotel undoubtedly has some stories to tell, and a few ghosts too.
Calls from unoccupied rooms or rooms undergoing renovation are said to be the most common spectral occurrence.
Hearing string instruments and spotting the quartet are said to happen in the ballroom.
Hearing babies cry, seeing wait staff walk through walls, old train conductors, and children playing in the halls, are all things that have happened in this historic Denver hotel.
10. Central City Masonic Cemetery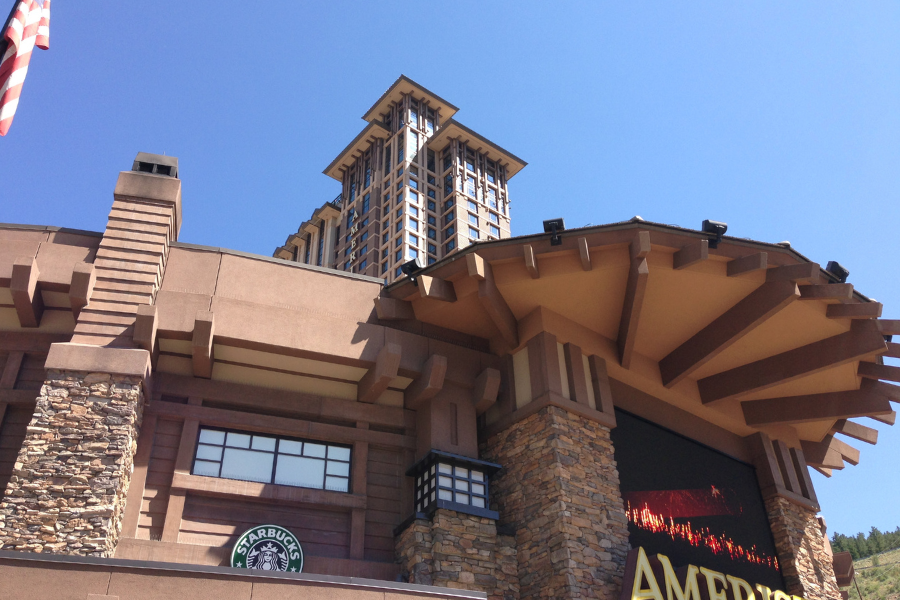 Cemeteries. I mean there isn't really a better place to find some ghosts. Unless you perhaps paired it with an already haunted town with sullied beginnings. Central City Masonic Cemetery, near the town of Central City and Black Hawk , was once referred to as the "richest square mile on earth".
The town existed before gold was found in the area in 1859, and by 1860 the population had swelled to over 10,000 residents.
The Masonic Cemetery sits above Central City and might be a great place for some sightseeing if it weren't for the creepy vibe.
Keep your eyes and ears open for strange sounds and sightings of the past residents that are still said to walk these grounds.
In April and November, the graveyard is visited by a "Lady in Black". A mysterious figure that, according to legends, appears to lay flowers on the grave of a certain John Edward Cameron.
And if the cemetery wasn't scary enough, Central City is said to be haunted with its own ghosts and specters from the past.
The town itself is already a hotbed of paranormal activity making it one of the most haunted places in Colorado.
11. Denver International Airport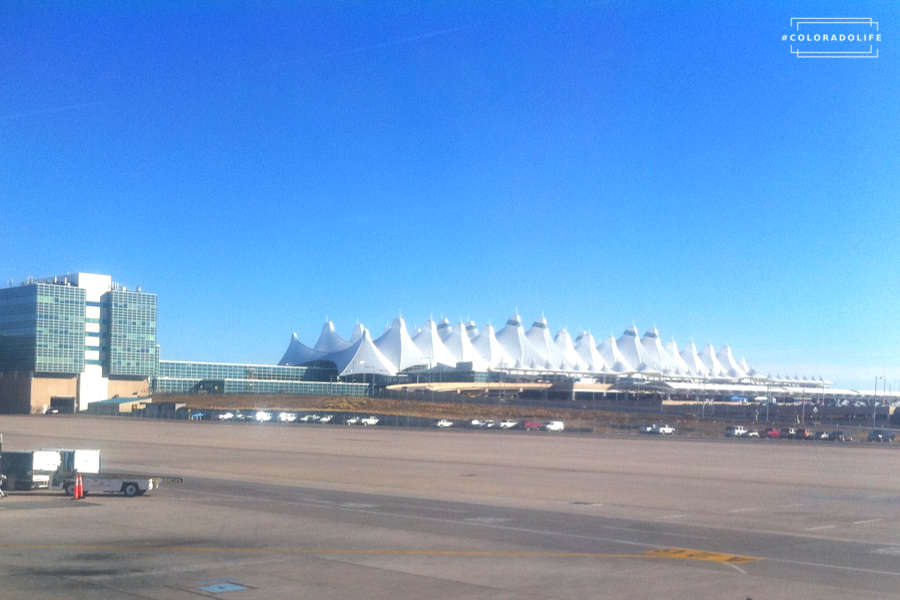 If you are seeking out the most haunted places in Colorado, then there might be none better than the Denver International Airport (DIA).
It's easy to get off the plane and you're in a purportedly haunted place supposedly built on an Indian burial ground.
And I don't just mean being jinxed or cursed nowadays by the inevitably late flights and seemingly phantasmic lost baggage that seems to plague all airports.
DIA seems special in not all the right ways. Starting with the iconic statue "Blue Mustang" (or known by locals as "Blucifer") adorns the entrance as you're driving in.
The statue literally killed its creator and sculptor before it was even installed.
Denver International Airport has been riddled with conspiracy since being built in 1995.
Secret tunnels, Nazi propaganda, Freemason cornerstone, underground post-apocalypse government headquarters, biological weapons; the wild claims that come out of DIA is endless. So ghosts and haunted areas inside the airport aren't too far a stretch. Feelings of unease and otherworldly presence is said to be felt in the terminals. Stories of guests taking elevators to only end up in some spooky area of the airport.
Denver International Airport has many secrets and a haunted past that may neve be fully uncovered.
From prisons to epic ghost tours , these are the most haunted places in Colorado that you can visit in the Pikes Peak Region.
Professional Writer & Travel Blogger
Carrie Smith Nicholson is one of the co-founders of Hashtag Colorado Life. After living in Texas for her whole life she moved to Colorado 7 years ago. As a travel blogger and entrepreneur for the past 11 years, her writing has been featured on NBC News, HuffPost Live, Glamour Magazine, Inc Magazine and many other media outlets. When she's not writing about new travel locations, she enjoys spending time outdoors hiking and trying new foods. You can follow her outdoor adventures on Instagram, @hashtagcoloradolife.
Similar Posts
7 Colorado Wine Tours to Tantalize Your Taste Buds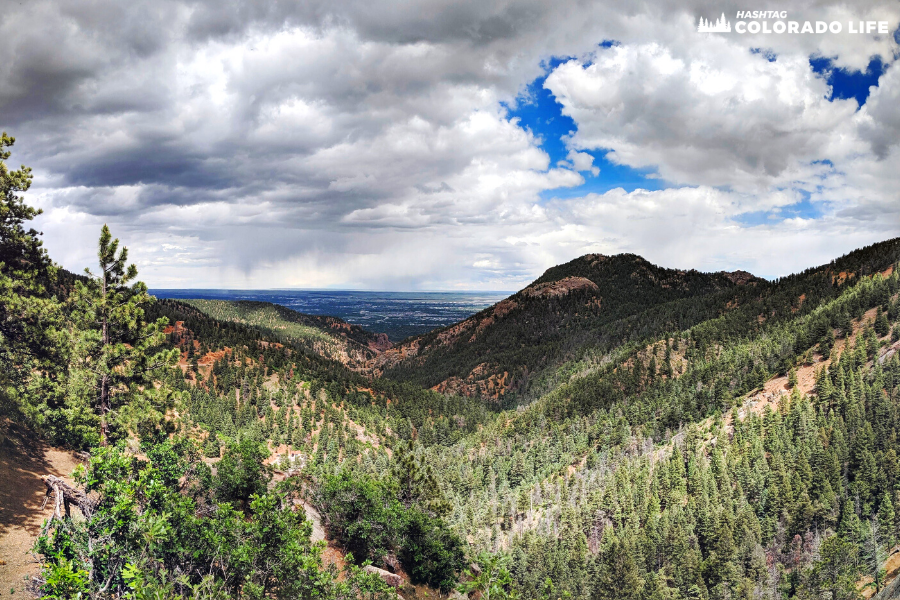 North Cheyenne Canon in Colorado Springs: Best Hiking & Jeep Tours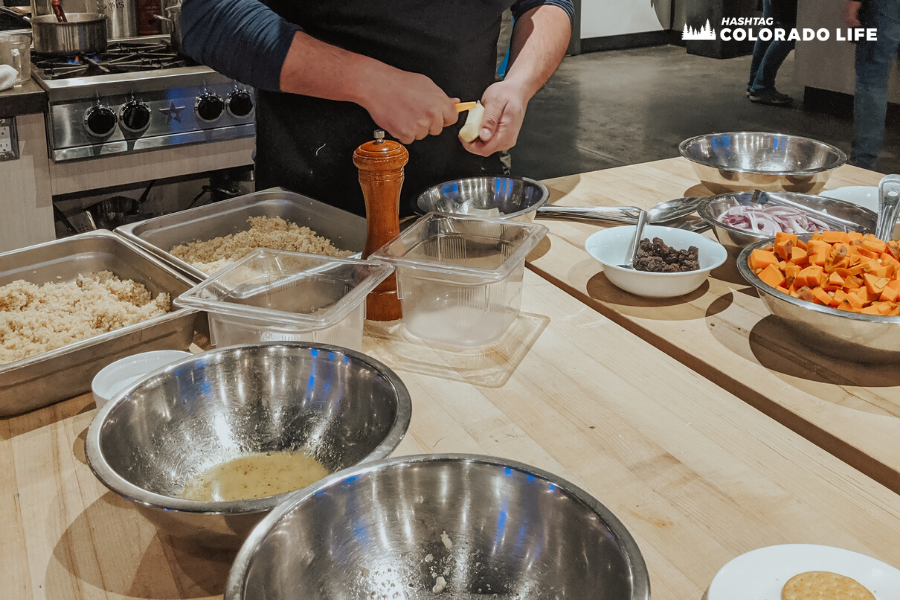 11 Unique Winter Date Ideas and Activities for Everyone to Enjoy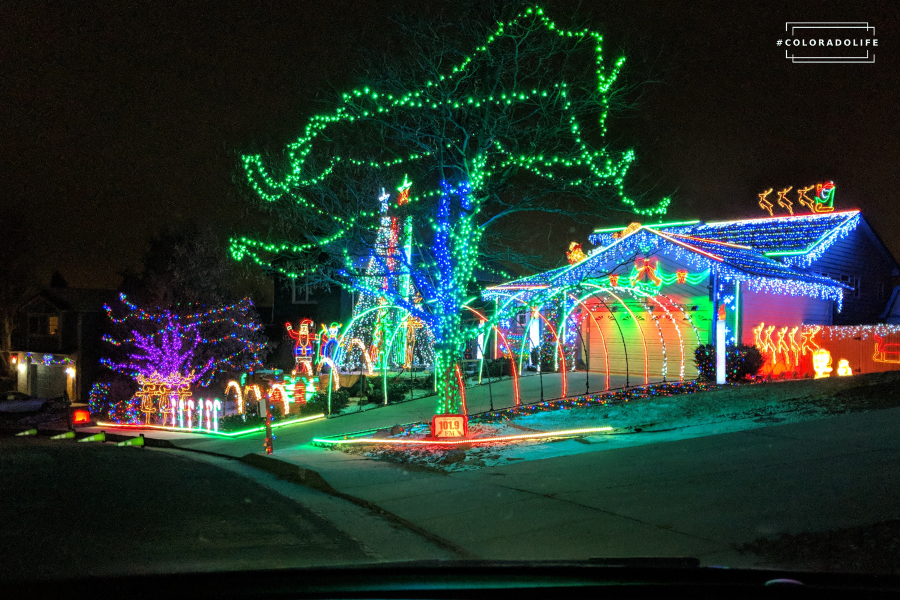 8 Best Places to See Christmas Lights in Colorado Springs [2022]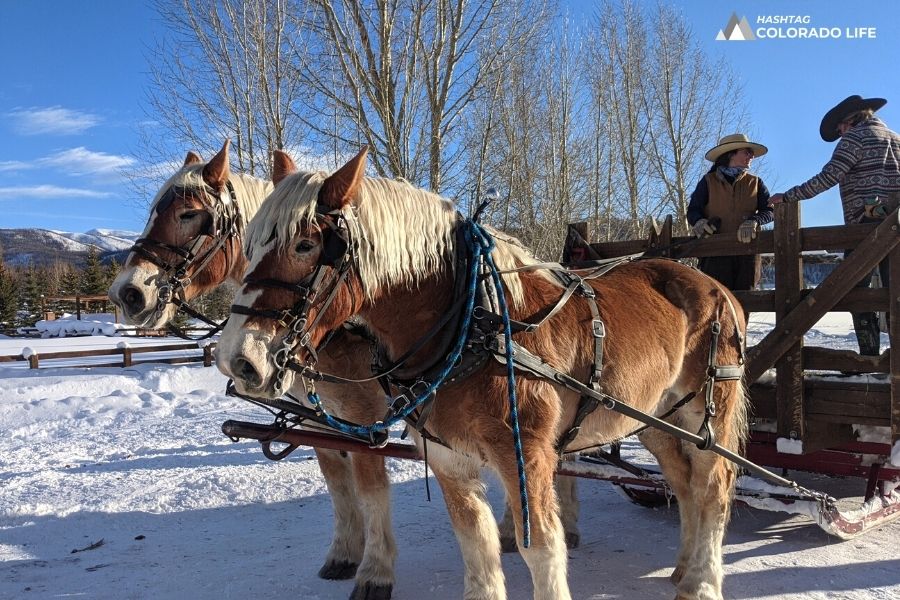 Dude Ranch Vacations: 9 Reasons to Visit a Colorado Guest Ranch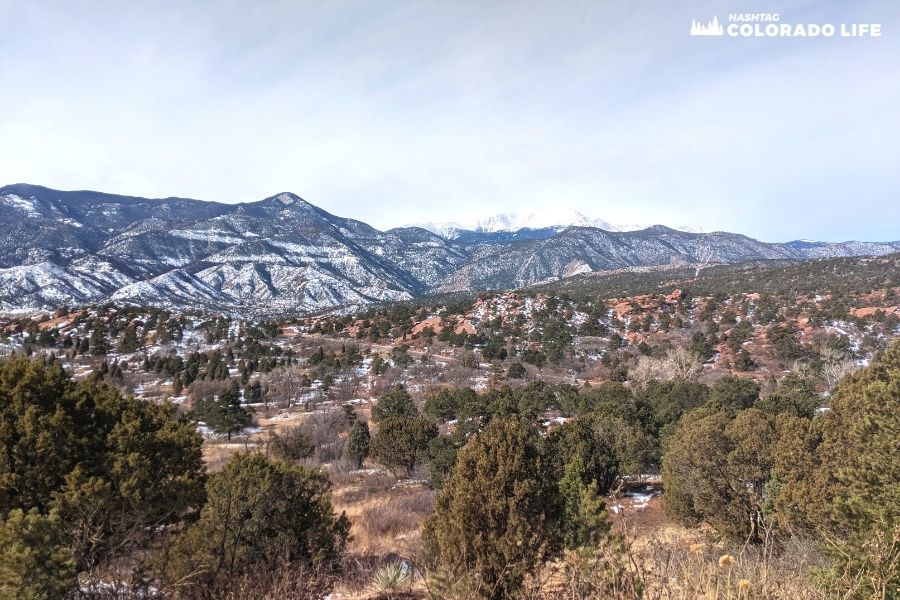 11 Most Expensive Cities in Colorado to Live in 2023
Visit These 5 Creepy Ghost Towns In Colorado At Your Own Risk
Annie is a freelance writer, content editor, and marketing whiz with a background in broadcasting and a passion for chicken nachos.
More by this Author
What is it about ghost towns in Colorado that are so intriguing? Is it the life that was lived in that dilapidated home? Or the likely happy times that occurred in the old church hall? If those walls could talk, can you imagine the tales of triumph and despair that they would share? Sadly, we will never know all the history behind these 5 ghost towns in Colorado (all which happen to be former mining areas), but here are a few of their stories: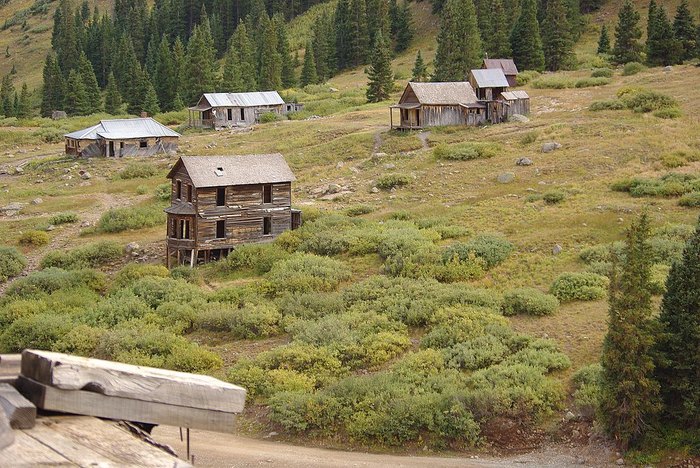 Related Stories
The Gorgeous 1.2-Mile Hike Through A Colorado Forest That Will Lead You Past An Abandoned Mine And Other Ruins
This Colorado Ghost Town Has Been Sold And Moved Across The State Two Different Times
The Colorado Ghost Town That's Perfect For An Autumn Day Trip
Have you ever visited any of the above ghost towns in Colorado? How did it feel to be there? We'd love to hear about your experiences! Join in on the conversation by leaving a comment below.
OnlyInYourState may earn compensation through affiliate links in this article.
Want more Colorado in your inbox?
Get the latest on things to see, do, and eat around Colorado!
Thank you! You'll receive your first newsletter soon!
An error occured.
More to Explore
Ghost towns in colorado.
What is the most haunted place in Colorado?
The state of Colorado is renowned for its breathtaking scenery, from the towering Rocky Mountains to the picturesque plains and farmland. Yet the Centennial State is not without its fair share of haunted locations. One of the most haunted places in Colorado is the Central City Masonic Cemetery. Those who have photographed the area at night have noticed some unexplainable orbs appearing in their pictures. There are also reports of a little boy's ghost who has been seen wandering the property and hiding behind trees whenever addressed. Looking for more haunted hot spots? Check out this list of Colorado's most haunted places .
Can I go ghost hunting in Colorado?
For those who are daring enough to experience something paranormal in Colorado, there are plenty of ghost hunts available. The historic Stanley Hotel, which is considered to be a top destination for paranormal activity, offers nightly ghost tours of the hotel. The Historic Stanely Night Tour offers a fascinating overview of the hotel's history. Plus, you might even spot a ghost! Stephen King is said to have found inspiration for his famous book, The Shining , at this very landmark. There are also several ghost tours in Denver for those looking to experience some of the city's most iconic haunted places.
What haunted hiking trails can I take in Colorado?
Colorado's hikes are notorious for being challenging and beautiful, and some even have a reputation for being haunted. The Black Forest of Colorado is a particularly chilling region. Not only is it home to one of the most haunted houses in the state, but it's also an area known for its eerie trail occurrences. Carter Lake in Loveland, Colorado is also said to be haunted. Allegedly, the ghost of an old man carrying a bag disappears into thin air when approached. Talk about eerie! Of course, there are plenty of haunted campgrounds, too. You can click here to learn more .
Related Articles
The Story Behind This Colorado Ghost Town Is As Heartbreaking As It Is Haunting
Follow This Abandoned Railroad Trail For One Of The Most Unique Hikes In Colorado
The Abandoned Atlas E. Missile Site In Colorado Is Being Called One Of The Eeriest Places In America
Most People Have Long Forgotten About This Vacant Ghost Town In Rural Colorado
A Hike Along Wager Bulch Road In Colorado Leads You Straight To An Abandoned Village
One Of The Coolest, Creepiest Ghost Towns In America To Visit Is The Historic Ironton In Colorado
There Is A Colorado Ghost Town That Never Really Died... And You Are Going To Want To Visit
This Colorado Ghost Town Is Surrounded By Some Of The Most Vibrant Fall Foliage
Explore Colorado
Featured addresses.
See Taylor Swift in Paris
Wings for a Year
Colorado Fall and Halloween
Colorado Eagles Hockey
CSU Rams Sports
This Colorado Trail Takes Hikers To Evidence of an Asteroid
Share on Facebook
Share on Twitter
Colorado has many hikes that lead to rewarding destinations. From stunning views and crystal clear alpine lakes to historic homesteads and other interesting proof of the Centennial State's past, there's no shortage of incredible trails to explore.
One of Colorado's most unique hikes can be found inside  Trinidad Lake State Park . The Trinidad K-T Boundary Natural Area  is located within the park, and it's here that visitors are led to an incredibly important geological feature.
This historic southeastern Colorado site features significant evidence of an asteroid impact that scientists believe led to the mass extinction of non-avian dinosaurs and other life forms at the end of the Cretaceous period. This is believed to have taken place approximately 66 million years ago and was considered to be the fifth extinction event the planet has experienced. It's said that the asteroid put a hole in the ground more than 20 miles deep and more than 60 miles wide. The impact also sent waves of radioactive dust across the earth , which blocked the sunlight and inhibited photosynthesis.
On a vista of claystone, exposure of the Cretaceous-Paleogene boundary (formerly known as the Cretaceous-Tertiary, K-T) can still be observed.
The K-T boundary is a thin layer of ash that can be seen on a rock outcropping at the southern end of Trinidad Lake State Park. Visitors can view the K-T boundary via the Long's Canyon trail. The easy hike is 3/4-mile in length along a one-way trail.
Researchers have been studying the layered Las Animas County formation for years, learning so much about prehistoric life before, during, and after the asteroid impact. The thick rock is  rich with iridium and packed with fossils from eons ago.
A State Parks Pass is required to enter Trinidad Lake State Park. The park is situated along Highway 12, just west of town. Follow signs to "Long's Canyon Viewing Area" to hike to the K-T Boundary.
The Most Haunted Hikes In Colorado You've Already Visited
10 colorado hikes with beautiful views that anyone can do, 5 hikes that are perfect for colorado history buffs, more from k99.
Take a Hike to Colorado's Haunted Helen Hunt Falls Take a Hike to Colorado's Haunted Helen Hunt Falls
Bond House For Sale: A Chance to Own a Piece of Wyoming History Bond House For Sale: A Chance to Own a Piece of Wyoming History
Adventure Awaits at Colorado's Devil's Staircase Adventure Awaits at Colorado's Devil's Staircase
The History Behind Colorado's Abandoned South Platte Hotel The History Behind Colorado's Abandoned South Platte Hotel
Take a Hike to the Remains of Colorado's Historic Crags Hotel Take a Hike to the Remains of Colorado's Historic Crags Hotel
Check Out the Hike to Colorado's Hanging Lake Before You Try It Check Out the Hike to Colorado's Hanging Lake Before You Try It
Colorado's Fun Backcountry Swimming Holes Are Just What You Need Colorado's Fun Backcountry Swimming Holes Are Just What You Need
Colorado's Lower Bear Creek Preserve is a Magical Woodsy Paradise Colorado's Lower Bear Creek Preserve is a Magical Woodsy Paradise
Easiest Hikes With the Prettiest Views Near Fort Collins Easiest Hikes With the Prettiest Views Near Fort Collins
Ghost Hunt Gift Cards
Colorado's Haunted Hotels
Haunted Colorado Springs, CO
Denver's Haunted Hotels
Search for:
No products in the cart.
The 10 Most Haunted Places in Colorado
Colorado is, without a doubt, a beautiful state with rolling plains and majestic mountains as far as the eye can see. It is also incredibly haunted. Almost every Colorado town and city has at least one haunted hotel or creepy visitor attraction.
So let's get right to it! Here are the ten most haunted places in Colorado.
1. Molly Brown House, Denver
It does seem like poor Molly Brown can't catch a break! First, she gets all caught up in the sinking of the Titanic, and now her house is known as one of the most haunted places in Colorado!
Her house in Denver was built in 1889, although Molly and her husband, James Joseph Brown (JJ), didn't buy it until 1894. When Molly died in 1932, her home was split into 12 separate apartments. It was later a gentleman's boarding house before being leased to the city to serve as a home for wayward girls,
Several entities are said to haunt the Molly Brown House, including both Molly and her husband JJ. It is said that their daughter Catherine Ellen is also still around.
Catherine died young due to disease, and now the blinds in her room go up and down of their own accord.
At least six other spirits are in the building, and a number seem to come and go, much as Molly's many guests would have done while she was alive.
Related: Haunted Hotels in Denver
2. Central City Masonic Cemetery, Denver
The Central City Masonic Cemetery lies about 35 miles west of Denver in an area known as 'The Richest Square Mile on Earth.' It came into use in the 1860s, and although it is now decaying and damaged, this is down to wear and tear over the years rather than vandalism. Like many cemeteries, it is also said to be incredibly haunted.
A local story says that every April 5th and November 1st, a beautiful lady in a black satin gown comes to lay flowers on the grave of one John Edward Cameron.
He passed away on November 1st, 1885, of paralysis of the heart. The lady planted a rosebush by his grave, which would bloom every Spring. Is her presence here on April 5th her returning to tend the roses?
She would also visit on the anniversary of his death and lay a bunch of columbines on his grave. She stopped visiting his grave in 1888, but a few years later, she started making her twice-annual visits and has done so ever since.
Related: Haunted Places in Denver
3. Hotel Jerome, Aspen
Aspen is perhaps best known for Skiing, but the town also harbors a few ghosts! Many of which hang out at the Hotel Jerome. Room number 310 is haunted by the spirit of a little boy who unfortunately died when he drowned in the hotel's pool.
He often appears to guests wet and shivering with the cold. He will then vanish suddenly, leaving behind a trail of wet footprints. Room 310 was the room that his family stayed in 1936 when he died.
The 'Water Boy,' as he is known, is by no means the only spirit on the third floor, and some of the staff refuse to work up there because of the hauntings and an evil presence.
See also: 11 Most Haunted Hotels in Colorado
Other ghosts said to make their home in the hotel include a maid called Katie and a miner called Henry.
Read more on the haunted happenings at the Hotel Jerome
4. The City of Cripple Creek
The City of Cripple Creek in Colorado gives a new meaning to ghost town! There isn't a building in the city that isn't haunted! Let's take a brief look at one or two of the scarier buildings in Cripple Creek.
The Hotel St. Nicholas was built in 1898 as a hospital for prospectors and their families. Over the years, it was expanded upon and later began caring for mentally ill patients. It was closed down when the population started to dwindle as the gold rush ended.
One witness account from two women who checked into room 11 describes how they slept with the television on since they were so uncomfortable in the room.
One of the ladies felt something sit on the end of her bed by her feet but could not see anything. However, the following morning her friend said she had awoken to see a shadow in that spot but hadn't said anything as she thought it was just her eyes playing tricks on her!
Another spooky hotel in Cripple Creek is the Palace Hotel, where a lady in a nightgown is often seen walking around the halls carrying another nightgown.
Learn more about the haunted experiences at Cripple Creek
5. The Stanley Hotel, Estes Park
There isn't a paranormal or horror fan alive who hasn't heard of The Stanley Hotel in Estes Park, Colorado. If you can't quite put your finger on why you know the name, perhaps the words 'Here's Johnny!' will refresh your memory?
Of course, the hotel is the one that inspired Stephen King's classic The Shining, and the horror master is said to have written at least part of the book while staying at the hotel.
Guests and staff alike have experienced the many examples of paranormal activity within the hotel. There are many spirits here, but the two most active seem to be the former F.O. Stanley and his wife Flora.
It is said that even in death, Flora enjoys sitting in the ballroom playing her piano. Incidentally, this was a gift from her husband in celebration of the hotel's grand opening, and it still has pride of place in the ballroom. Some have witnessed their keys moving independently, while others have seen Flora sitting at the piano.
Read more on the ghosts of the haunted Stanley Hotel in Estes Park
Related: The Most Haunted Hotels in Colorado
6. The Museum of Colorado Prisons, Cañon City
Cañon City in southern Colorado is home to the Museum of Colorado Prisons, originally an all-female prison that opened in 1935. Still, it now houses prison artifacts that date back more than 140 years!
The cries and the pain from the past inmates and souls attached to the artifacts are trapped within its walls to this day. People have reported seeing shadow figures lurking in the cells, hearing disembodied female voices, full-bodied apparitions, and several poltergeist-type occurrences.
The museum is currently not in operation as a prison; however, next door to the museum is a prison that has been in operation since 1871. The present and formerly imprisoned combine to create an energy so dark and disturbing that paranormal experiences are a constant. Book a Colorado Prisons Museum Tour if you dare!
7. The Broadmoor, Colorado Springs
Located in the Broadmoor area of Colorado Springs and sitting amongst the spectacular backdrop of picturesque mountains, The Broadmoor is a luxury resort retreat with a difference. It's haunted by the spirit of the original owner, Julie Penrose.
One day Julie mysteriously went missing in the woods. She was discovered in the early morning, unclothed and confused about how she got there, dying shortly after that. Her unexplained disappearance and subsequent death have caused her spirit to be permanently tied to the Broadmoor, roaming the halls and penthouse where she once stayed.
Related: Most Haunted Places in Colorado Springs
8. St. Elmo Ghost Town, Chaffee County
Founded in 1880 after discovering silver and gold, St. Elmo in Chaffee County is Colorado's most intact ghost town. While the preservation is popular with tourists from all over the state, perhaps the most intriguing draw is its history of paranormal activity.
As you wander around the remaining buildings, you may come face to face with St. Elmo's most famous long-time ethereal resident, Annabelle Stark. The Starks were part of the town's elite. They managed the general store and adjoining Home Comfort Hotel.
After the death of Annabelle, the grandchildren of a family friend were playing in a room of the hotel when suddenly the temperature plummeted 20 degrees and all the doors slammed shut. The children were traumatized, refusing to set foot in the hotel again.
Later one of the older grandchildren in her 20s tried to fix up the building, leaving one night with all the cleaning equipment put neatly away. She returned the following day to find it scattered all over the floor.
This continued for several nights until they started locking them away, only to find them on the floor again the following morning.
9. Highlands Ranch Mansion, Highlands Ranch
Built in 1881, this stately mansion is now rented out for corporate events and weddings. However, during the early to late 20th century, several families lived here at different times.
Some of these deceased family members have stayed behind as there are countless reports of paranormal goings-on throughout the mansion.
One common sighting is of Julia, the 11-year-old daughter of Frank Kistler. She died in 1937 in the upstairs bedroom, a room where her apparition is regularly seen. Julia has also been witnessed walking down the hallways and peering out of the windows.
Among the many other spirits that haunt the Highlands Mansion is a woman who can be heard sobbing and a dark figure that moves around an otherwise vacant house.
10. Hotel Colorado, Glenwood Springs
Established in 1893, this grand hotel is one of the oldest in Colorado. The hotel quickly became the summer retreat of choice for some of the country's most famous guests, such as Presidents Theodore Roosevelt and William Howard Taft, earning it the nickname "the little White House of the West."
As far as ghosts go, if the ones that haunt here weren't famous in life, they most certainly after death.
Several spirits are said to wander here, and the most common of which is a young Victorian girl, often seen playing with a ball.
There's the spirit of a woman who likes to peer over male guests in their beds, an angry male presence hanging around the fifth floor, and more.
Username or email address *
Password *
Remember me Log in
Lost your password?
WHAT'S HOT:
See Taylor Swift in Paris
We Are Grand Junction
Abandoned Colorado
Hiking in Colorado
KEKB On Demand
Download the KEKB App
Breast Cancer Awareness Month
Ghost at Colorado's Barr Lake Known to Throw Sucker Punches
Share on Facebook
Share on Twitter
You've undoubtedly heard of several Colorado hauntings , but have you ever heard of one where the spirits actually physically assault people? This was reported at a house near Colorado's Barr Lake .
In this case, the ghost throws punches. Even worse, they're sucker punches.
The Haunting of Barr Lake, Colorado
The website Legends of America shared a story about "Haunted Barr Lake, Colorado." The author, Cecilia, tells of a haunting at her home near Barr Lake back in 2005. According to Cecilia, she ignored talk from neighbors describing items mysteriously moving around and feelings of a "presence" in their homes.
'Attack' Happened After They Moved Out
Cecilia reports she and her family had already moved out of the home at Barr Lake before the encounter. She returned to the house for some last-minute cleaning before the move-out was finalized.
She Was Alone In The House
While alone in the house, Cecilia says she heard some strange noises the house typically made. She adds, though, her cat was acting strangely. It was while mopping a bathroom that the nightmare began.
Cecilia says, " As I was leaning into the bathroom from the hallway, something or someone hit me – hard, on the back. It felt as though a fist had slammed into my back! When I spun around, nothing was there." At the same time, the aforementioned cat was "...at the end of the hallway, hair standing on end, and hissing."
More Than One Spirit In The House
It is Cecilia's opinion the house is haunted by three spirits, a woman in her 20s, a young girl, and an older man. She believes it was the older man who sucker-punched her. Cecilia says her back remained warm and red where she was punched, but the area was not left bruised.
Where Is Barr Lake?
You'll find Barr Lake just 20 minutes northeast of Denver . Visitors enjoy boating, fishing, a nature trail, and a Nature Center. The area is surrounded by housing , much of it in the $500,000 to $1M range.
Have There Been Other Hauntings Reported In The Area?
No. Not a one. After a hefty search, no reports of other hauntings have been found in that area.
Is It Normal For Ghosts To Hit People?
According to The Lineup , poltergeists have a habit of being noisy, throwing things, and on some occasions going so far as to rearrange the furniture. The Lineup adds, "...accounts of poltergeists throughout the ages include some of the only instances of ghosts pinching, striking, tripping, and even biting the living."
Are You Brave Enough to Stay In This Haunted Colorado Brothel Airbnb?
You told us these grand junction locations are haunted, 5 haunted colorado hikes well worth the fright this fall, more from 99.9 kekb - grand junction's favorite country.
Colorado Town Clearly Named To List Of Best Places For Halloween Colorado Town Clearly Named To List Of Best Places For Halloween
What is the Lonely Colorado City Who Made National Safety List? What is the Lonely Colorado City Who Made National Safety List?
Colorado Spooky-Awesome Haunted House Rated Top in US Colorado Spooky-Awesome Haunted House Rated Top in US
Haunted Legends of Colorado's Historic Brook Forest Inn Haunted Legends of Colorado's Historic Brook Forest Inn
Colorado Bed Bug Alert: 1 City Unveiled As An Infestation Hotspot Colorado Bed Bug Alert: 1 City Unveiled As An Infestation Hotspot
Colorado City Lands in Top 20 That Have A 'Bed Bug Problem' Colorado City Lands in Top 20 That Have A 'Bed Bug Problem'
Explore Three Things About Exorcism Services in Colorado Explore Three Things About Exorcism Services in Colorado
Beautiful Europe-esque Colorado Towns You Just Need to Visit Beautiful Europe-esque Colorado Towns You Just Need to Visit
Is This Small Colorado Town the Best Main Street For Shopping? Is This Small Colorado Town the Best Main Street For Shopping?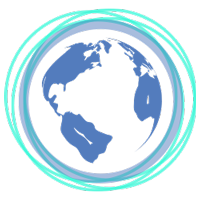 10 Most Haunted Places In The World As Of 2023
Haunted destinations can be found all over the world, from forests in Romania to hotels in the US. These locations are filled with eerie stories and paranormal encounters.
The Hoia-Baciu Forest in Romania is known as the "Bermuda Triangle of Transylvania" due to its strange paranormal phenomena. Ghost hunters from around the world are drawn to this haunted forest.
The Aokigahara Forest in Japan, also known as the "Suicide Forest," is one of the most haunted places in the world. With a history of suicides and eerie stories, this forest is not for the faint of heart.
As Halloween draws near, travelers around the world are drawn to the spooky and unexplained. While there are plenty of haunted locations around the US worth visiting , the entire world is filled with eerie destinations.
Forests, hotels, and abandoned churches, nearly every corner of the world has a ghost story to go with it. While historic locations like The Catacombs in France have long been known for their paranormal sightings, many more recently discovered locations are proving that they have secrets of their own.
As of 2023, these ten locations are considered some of the most haunted places around the world, with countless ghostly interactions that are enough to make even the bravest go running for the hills.
Related: 10 Best, Spookiest, & Scariest Haunted Attractions In The U.S.
Hoia-Baciu Forest, Romania
Forests are frequently some of the most haunted places anywhere in the world, with a number of them hiding some of the best haunted hiking trails around. The Hoia-Baciu Forest in Romania first gained notoriety in 1968 when a "UFO" was spotted in the woods. Since then, the paranormal encounters have only gotten stranger, with many dubbing it the " Bermuda Triangle of Transylvania ."
The forest's very name stems from a creepy mystery. Hoia-Baciu refers to the name of the shepherd who lived nearby. He, along with his flock of 200 sheep, simply disappeared into the forest one day, never to be seen again. Then, in 1968, a military technician named Emil Barnea found "The Clearing," a circular patch in the forest where nothing grows. Here, Barnea supposedly photographed a UFO, and from then, the forest has been a magnet for ghost hunters from around the world.
As the unexplained disappearances and strange sights have continued, this unsettling forest has continued its reign as one of the most haunted places in the world.
About the Hoia-Baciu Forest
Permitted Activities: Hiking, Biking, Camping
Hours: 24/7
Want to tour the Hoia-Baciu Forest but don't want to go in alone? Numerous night tours, including the Night Tour in Hoia-Baciu Forest through Viator , provide a guided chance to explore this sinister forest.
The Stanley Hotel, Estes Park, Colorado, USA
There is a reason this destination inspired a movie as dark as The Shining , and it isn't for the scenic mountain views. There is plenty to know about spooky The Stanley Hotel , which has long been rumored to have a few ghostly guests, including the Stanleys themselves. In particular, many guests note that the piano seems to play itself from time to time.
In addition to staying in one of the hotel's eerie rooms, guests can also catch a show at the newly added outdoor pavilion on the grounds. Regardless of how tourists choose to enjoy this historic building, deemed one of the most haunted hotels in the world, they should be prepared to see a few unique visitors wandering at the edge of their vision.
About The Stanley Hotel
Address: 333 E Wonderview Ave, Estes Park, CO 80517
Amenities: Outdoor Pool, Restaurant, Bar/Lounge, Spa and Wellness Center
Haunted By: The Stanleys, A Cowboy, A Young Boy, A Maid
St. George's Church, Czech Republic
While this building has been around since 1352, it didn't join the ranks of the world's most haunted buildings until far more recently. The building's misfortunes began in 1968 when the roof partially collapsed in the middle of a funeral service. Churchgoers were convinced this was a sign that the building was haunted and left it to fall into disrepair.
In 2012, however, an art student was inspired by these ghostly tales to restore the church and add a creepy twist. In addition to the freshly restored pews, thirty ghost statues were added, bowing reverently in the ancient church.
Even today, visitors to the "Ghost Church" claim that the statues aren't the only ghosts living in the building. Look carefully; those statues may just start to move.
About St. George's Church , AKA The Ghost Church
Address: Luková, 331 62 Manětín, Czechia
Hours: Saturdays 1pm-4pm
Cost: FREE (donations welcome)
Haunted By: Sudeten Germans expelled from the Czech Republic
Al Madam, United Arab Emirates
Ghost towns are, by their nature, one of the most sensational destinations for ghost-hunting adventurers. In the UAE, Al Madam has gone the way of many small towns, falling into disrepair in the 1970s and leaving only hints of the once-thriving village behind.
As sand slowly reclaims the town, many visitors find themselves asking, why did the townspeople leave? And are they really gone? While the living have long since abandoned this place, visitors can't help but feel they are being watched. Locals claim that it was the djinn, powerful shapeshifters, that scared the townspeople away and are continuing to spook travelers today.
Ghosts of the townspeople or mystical djinn, there is no doubt that some kind of presence doesn't want people hanging out at this extremely haunted destination.
About Al Madam, AKA The Ghost Village
Address: E55, Al Madam, United Arab Emirates
Haunted By: Former Townspeople, Djinn
Related: 10 Hikes That Will Lead You To Ghost Towns Throughout The U.S.
Larnach Castle, New Zealand
A sprawling mansion, this 19th-century home is considered one of the most haunted houses in the world. The property was once the home of politician William Larnach, who built this faux castle for his favorite daughter's 21st birthday. Unfortunately, that same daughter died just five years later of typhoid, shrouding the mansion in eternal sorrow.
The 3,000-foot ballroom is a particular hotspot for haunted activity, with many claiming the daughter, Kate, can still be felt dancing in the halls. Visitors shouldn't be surprised if they hear someone whispering in the halls or feel a gentle tap on their shoulder; it's simply Kate forever enjoying her lavish gift.
About the Larnach Castle and Gardens
Address: 145 Camp Road, Larnachs Castle, Dunedin 9077, New Zealand
Ways to Enjoy Larnach Castle: Book a Stay; Take a Castle Tour (~$27/person 14+); Attend An On-Site Event
Haunted By: Kate Larnach
La Recoleta Cemetery, Buenos Aires, Argentina
Cemeteries, by their nature, are unsettling destinations. Places of death and loss, every cemetery has a ghost story or two. La Recoleta Cemetery in Buenos Aires, Argentina, is one of the largest cemeteries in the world and is unique for its unusual, intricate statues that mark the graves of those who are buried here.
One of the most haunted locations in the world​​​​, the 6,400 statues, crypts, and tombs have created a maze of death running through the city, and it seems both the living and the dead can be found wandering the aisles.
Some of the most famous ghosts of La Recoleta Cemetery include its old caretaker, David Alleno, who is said to have worked at the cemetery for 30 years before killing himself, and Rufina Cambaceres, a 19-year-old girl who was found lifeless by her family and subsequently buried in the ornate cemetery.
From the jangling keys of the caretaker to the flutters of a ghostly dress, La Recoleta Cemetery is undoubtedly one of the most haunted places in the world.
About La Recoleta Cemetery
Address: Junín 1760, C1113 CABA, Argentina
Entrance Fee: FREE
Hours: Daily 8am - 6pm
Guided Spanish Tours: Tuesday-Friday, 11am and 2pm; Saturday, 11am and 3pm
Haunted By: David Alleno, Rufina Cambaceres, A Young Bride, Various Other Ghosts
Related: 10 Beautiful Cemeteries That Defy All Logic When It Comes To Scenery
Fairmont Banff Springs Hotel, Canada
Banff may be at its best and most scenic in summer , but come fall, it is a great destination for those seeking out the world's most haunted destinations. The Fairmont Banff Springs Hotel has been drawing visitors since 1888, but its most famous ghost is a far more recent addition.
In the late 1900s, the Fairmont Banff Springs Hotel had established itself as a premiere tourist destination, owed largely to the dedicated staff that created a warm and welcoming atmosphere. One such employee, Sam, the bellman, was so taken with the place that he claimed he would haunt the hotel when he passed, which he did in 1975. Since then, more than one overwhelmed guest has claimed to receive some help from Sam, the friendly bellman.
For those hoping for a spookier ghostly visitor for the Halloween season, have no fear; there is also a bride who haunts the stairs. Supposedly the same stairs that caused her death on her wedding day, she floats along, forever bound to her bridal look.
About the Fairmont Banff Springs Hotel
Address: 405 Spray Avenue, Banff - Alberta T1L1J4, Canada
Nightly Rate: $$$
Amenities: Golf Course; Spa and Wellness Center; Restaurant
Haunted By: Sam the Bellman; A Young Bride
Haw Par Villa, Singapore
Haw Par Villa in Singapore may be a theme park, but it certainly is not for the faint of heart. Far from the roller coasters and smiling characters of most theme parks, Haw Par Villa depicts something far more macabre.
Pulling from East Asian literature, art, and theater, the 1,000+ wax statues around the park depict a variety of severe punishments and torture methods in colorful detail. An educational theme park, the terrifying scenes are a harsh lesson in mortality.
Thankfully, the park closes at 8pm each day. After that, Haw Par Villa belongs to the dead. It is said that the pained souls of the dead take over the wax statues , making them move and filling the air with their piercing, tortured screams.
About Haw Par Villa
Address: 262 Pasir Panjang Road, Singapore 118 628
Park Entrance Fee: FREE
Hell's Museum Entrance Fee: $18/person
Park Hours: Monday - Sunday: 9am – 8pm
Hell's Museum Hours: Tuesday – Sunday: 10am – 6pm
Haunted By: Those Who Faced the Depicted Punishments
While they may not be ghosts, a family of otters also calls the park home. Please be respectful of their space and do not offer them food.
Borgvattnet Haunted Vicarage, Sweden
An inn so haunted that the owners will give anyone who makes it through the night a certificate of accomplishment, the Borgvattnet Haunted Vicarage has sent more than one guest retreating. The parsonage was originally built in 1876, and since the 1960s, strange noises have been recorded filling the halls.
The area itself is slightly underwhelming: a simple, rural part of northern Sweden ideal for snowmobiling, skiing, and staying in haunted bed and breakfasts. The quiet, non-touristy nature of the region makes it easy to hear the phantom footsteps in the hall and see the laundry being pulled from suitcases.
Three women can often be heard crying in the rooms, making it hard for even the deepest of sleepers to rest in one of the most haunted places in Sweden and perhaps the world.
About the Borgvattnet Vicarage Bed and Breakfast
Address: Borgvattnet 760, 830 76 Stugun, Sweden
Haunted By: The Hedlund Family and Others
Aokigahara Forest, Japan
One of the most classic examples of a haunted forest, the Aokigahara Forest in Japan, is undoubtedly one of the most haunted places in the world, and it is getting more haunted every year. Nicknamed "Suicide Forest," Aokigahara Forest has long been the source of stories of spirits and ghosts.
The forest has, for centuries, lured hikers into the unknown, with many getting lost in the dense trees. Additionally, high levels of iron often confuse compasses, adding to the confusion. As more and more individuals disappeared into the woods, many began to wonder if it was intentional.
As this rumor spread, it became a self-fulfilling prophecy. Since the 1950s, as many as 500 people have taken their own lives in the forests, leaving strings to help officials locate their bodies. With approximately 30 wayward individuals adding to that number each year , even the strongest of hearts may think twice before venturing into these trees.
About the Aokigahara Forest
Size: 13.5 square miles
Haunted By: The Souls of Those Who Died in the Forest
More for You
AFC Playoff Picture through 6 weeks shows North best conference in the NFL
15 vintage songs that made huge comebacks over a decade after they were released
AT&T attempts to block Elon Musk's latest SpaceX move
What is a strong El Niño? Meteorologists anticipate a big impact in winter 2023, but the forecasts don't all agree
Layoffs hit coding community Stack Overflow as software engineers increasingly shift to AI for help
Fact Check: Did the US Under Obama Give Iran $150 Billion?
How to jump start a car: How to use jumper cables to get your vehicle up and running
The most popular restaurant chain in the US isn't McDonald's, according to data. See the top 50.
U.S. to appeal sentences of five Proud Boys in Jan. 6 Capitol riot case
Putin meets with Hungary's prime minister in rare in-person talks with an EU leader
It will never change
Will We Ever Get Rid of Daylight Saving Time?
CVS, Walgreens and Rite Aid are closing thousands of stores. Here's why
The 5 Best Canned Soups To Buy at Costco
Turkey's drones are a big hit in Ukraine, but they're also showing how they can pose a threat to the US
Iran Makes Ominous Threat To US
How the Dolphins' prized missing piece will fit in
Missed the 'ring of fire' solar eclipse? An even better one is coming in 2024.
Daily horoscope today: October 17, 2023 astrological predictions for your star sign
National Pasta Day 2023: The best deals at Olive Garden, Carrabba's, Fazoli's, more
Northeast Ohio street ranked No. 3 most haunted road in U.S.: TikTok survey
Updated: Oct. 12, 2023, 12:37 p.m. |
Published: Oct. 12, 2023, 11:51 a.m.
Dead Man's Curve, a nearly 90-degree turn on Interstate 90 near downtown Cleveland, is the third-most haunted road in the U.S., according to a report from SIXT. (Marvin Fong / The Plain Dealer) The Plain Dealer The Plain Dealer
Zach Mentz, cleveland.com
Spooky season is here and we're all entitled to one good scare.
Haunted houses, hayrides and skeletons are all the craze during Halloween season, but what about visiting haunted roads? For those seeking a fall fright in Ohio, one of the most haunted roads in America is located right here in the Buckeye State.
Dead Man's Curve in Cleveland, Ohio, is the third-most haunted road in the United States, according to rankings from SIXT, an international car rental company.
Dead Man's Curve is a nearly 90-degree turn on Interstate 90 near downtown Cleveland, just south of Burke Lakefront Airport, which legend holds is haunted by a faceless hitchhiker ghost. The sharp turn has also led to a number of semi-truck rollovers over the years.
"As the ominous name indicates, this road outside of Cleveland, Ohio, is host to several ghost sightings. Most notably, a chilling tale of a hitchhiker who died on this turn, causing numerous other fatal traffic accidents," SIXT writes in its rankings. "When it comes to Ohio, this state has reported more than 500 ghost sightings along their roads so be wary when traveling in Ohio."
RELATED: Cleveland drivers among the worst in U.S., report says
SIXT compiled its rankings of the most haunted roads in the U.S. by measuring which haunted road had the most views on TikTok. The rankings measured the number of views per hashtag and the most popular haunted roads video on TikTok to rank. SIXT also utilized ghost sighting data from GhostsOfAmerica.com.
The top 10 most haunted roads in the U.S., according to SIXT's rankings, are:
1. Clinton Road in West Milford, New Jersey (8.7 million views on TikTok)
2. Riverdale Road between Thornton and Brighton, Colorado (5 million)
3. Dead Man's Curve in Cleveland, Ohio (4.3 million)
4. Resurrection Mary in Justice, Illinois (721.7K)
5. Route 375 in Rachel, Nevada (534.8K)
6. Highway 666 (now U.S. Route 491) in Gallup, New Mexico (433.1K)
7. Sandhill Road in Las Vegas, Nevada (225.7K)
8. Boy Scout Lane in Stevens Point, Wisconsin (202.2K)
9. Shades of Death Road in Warren County, New Jersey (89.6K)
10. Bragg Road in Hardin County Park, Texas (86.8K)
RELATED: Ohio trail makes 10 Most Historical Trails to Hike in U.S. list
If you purchase a product or register for an account through a link on our site, we may receive compensation. By using this site, you consent to our User Agreement and agree that your clicks, interactions, and personal information may be collected, recorded, and/or stored by us and social media and other third-party partners in accordance with our Privacy Policy.