Last added items
Subtotal: $0.00
Plus Members Only - Exclusive
Backpacks, Bags, Totes
Clothing, Costumes, Cloaks & More
Fantasy Decor - Candleholders, Wall Hangings, Etc
Fantasy Statues
Goblets, Mugs, Drinking Glasses
Incense Burners
Lamps and Lighting
Aromatherapy Oils & Burners
Enchanted Bath Bombs
Enchanted Bath Salts
Enchanted Body Wash
Enchanted Lip Balm
Enchanted Soaps
Essential Oils
Potion Lotion
Dram of Perfume - $5
1/3 Ounce of Perfume - $8
Ounce of Perfume - $12
4 Ounces of Perfume - $35
Astrology Huestrology
Binding Magic Boxes
Charging Boxes
Charging Bags, Chains, Misc
Charging, Magic, Portable Stones
Cheap Magic Items for just $1
Conjure Bags & More
Construct, ThoughtForm, Servitor
Creepy Hollows Exclusives
Creepy Hollows Freebies
Customer Service
Haunted Dolls
$1 Magick Spells
Dispel / Remove
Psychic / Divination
SPEEDY SPELLS
Wealth / Prosperity
Wisdom / Intelligence
Ability, Gifts, & Powers Readings
All About You Readings
Ancestor Readings
Astral, Star, Universe Readings
Aura & Chakra Readings
Biographies, Spirit, Entity, or Immortal Readings
In Your Blood Readings
Life Event Readings
Magick Name Readings
Past Lives Readings
Past, Present, Future, Fortune Readings
Personal Discovery Readings
Profile Readings
Soul Level Readings
Spirit Guide, Totem Animal Readings
Tarot Cards Readings
Limited Time Only
Astral Realm Entities
Spiritual Realm Entities
Elite Living Entities of Dark Arts
Elite Living Entities of White Arts
Gateways & Portals
Living Entities for Beginners
Living Entities Keep & Be Kept
Living Entities of Dark Arts
Living Entities of White Arts
Paranormal Artifacts
Altar Boxes & Supplies
Scrying Teacup
Ouija Boards, Spirit Communication Boards
Divination Mirror, Scrying Mirror, Scrying Glass
Crystal Ball, Scrying Ball
Enchanted Pillows Cushions
Herbs, Seeds, Mortar & Pestles, & more
Incense, Smudge Sticks, & More
Magick Wands
Pendulums and Divination Accessories
Spell Candles
Witch Balls
Witch Rosary and Pagan Prayer Beads
Magic Clubs
All Jewelry & OOAK
Empty Vessels & Jewelry
Attunement Services
Banishment, Curse Removal, Hex Breaking, Evil Eye Services
Binding Services
Boost Services
Cleansing Services
Energy Services
Evolution Services
Exclusive Services
Illuminatis Service
Full Infusions
Semi-Infusion Services
Energy Pulse
Life Support Services
Pairing Services
Simple Spells Services
Synchronization Services
Master Vessel
30 Day Evolution
All Services
Career Services
Classes & Instruction
Custom Conjuration for Living Entities
Custom Conjuration for Spirits
Custom Tailored Services, Bindings, & Conjurations
Development of Powers or Gifts
General Services
Haunted Estate Artifacts & Bindings
Master Services Monthly
Spell or Spirit Kit
Mortal Magic Tattoos
Mystery Bags!
Rare & Sacred Bindings - VERY LIMITED
3 Bodies Spells Bindings
African Magic Spells
Alchemus of Immortals
Astral Realm, Energy, Magic Spells Bindings
Spiritual Realm, Energy, Magic Spells Bindings
Earthen Realm, Magic, Energy Spells Bindings
Angelic Energy, Spells, Magic Bindings
Astral Time Travel Spells Bindings
Aura & Chakras Spells Bindings
Australian Spells Bindings
Blockage Removal Spells Bindings
Bone Amulets
Bundles, Kits, & Sets
Celtic Spells Bindings
Channels Spells Bindings
Chaos Energy Magic Spells Bindings
Chinese Spells Bindings
Cleansing & Healing Spells Bindings
Command Spells Bindings
Ancient World
Consciousness & Awareness
Agility & Dexterity
General Spells
Cultural Spells Bindings
Custom Magic & Spells
Dark Arts Spells Bindings
Dream Spells Bindings
Egyptian Spells Bindings
Earth Element
Fire Element
Water Element
Air & Weather Element
Four Elements
Essentials Spells Bindings
Faith, Religion, Belief Spells Bindings
Feather Flame Spells
Friday the 13th Spells Bindings
Friendship, Happiness Spells Bindings
Good Luck Spells Bindings
Halloween/October
Christmas/New Years
Immortal, Eternal, Divine Spells Bindings
India Spells Bindings
Japanese Spells Bindings
Kids Spells Bindings
Kinetic Powers, Abilities and Gifts
Motivation, Focus, & Success
Destiny & Opportunities
Confidence & Leadership
Victory & Achievement
Life Dreams & Desires
Bounty & Big Goals
Reincarnation & Next Life
Strength, Warrior Power, & Fortitude
Developing & Evolving Supernatural Abilities
Dormant & Hidden Supernatural Gifts
People & Situations
Positive Energy, Negative Energy, Balance
Family & Ancestor Spells
Peace, Calm, Patience, Meditation, Stress Relief Spells Bindings
Youthful Energy Spells Bindings
Change Transformation Spells Bindings
Entrepreneurial Self-Employed Job Work Spells Bindings
Charm Socialize Spells Bindings
Love, Romance, Sex Spells Bindings
Arthurian Spells
Dynamite Bindings
Knowledge And Learning
Strength & Power
Custom Spells
Enhancing & Casting Stronger Magick
Spell Blend
Magic Spells for Beginners
Middle East Spells Bindings
Mind Memory Control Spells Bindings
Moon Lunar Spells Bindings
Native American Spells Bindings
Nepal Spells Bindings
Norse Spells Bindings
Nursery Rhymes and Fairytales Inspired
Open Portals Spells Bindings
Past Life Reading Spells Bindings
Paths of Magic
Pets Spells Bindings
Physical, Body Spells Bindings
Portals, Channels, and Gateways Spells Bindings
Protection Against Black Magick
Banish Spells
Warrior Protection Spells
Protection Against Unbounds
Protection Against Psychic Attacks
Protection Against Negativity
Tools for Protection
Protective Field Spells
Arts Protection
General Protection Spells
Knowledge & Wisdom
Enlightenment
Rare Magic and Spells
Revenge, Retribution, Justice, Payback
Relationships Love Spells Bindings
Roman Spells Bindings
Sacred Day Spells Bindings
Sensuality, Virility Spells Bindings
Solar Sun Spells Bindings
Soul Exploration, Energy, Enchantment
Spell Blends Magic
Third Eye Spells Bindings
Totem Animal Reading Bindings
Tribute Spells Bindings
Tuner of Paranormal Gifts
Universe and Galactic Spells Bindings
Voodoo Spells Bindings
Wealth, Money, Prosperity Spells Bindings
Knowledge & Memory
Wish-Making & Wish-Granting Spells
Zodiac, Horoscope, Astrology Spells Bindings
Books of Spells & Magick
Empty Spell Books and Journals
Essential Spells of Magic
Spirit Keeping Books
University & Instruction Books
Special Offers
Special Offers For New Visitors
Spirits of Angels
Custom Conjured Angel Spirits
Angel Services for Interaction
Angel Mantras for Connection
Angel Gateways & Portals
Angel Charging Boxes
Angel Offerings & Kits
Angel Classes
Angel Worksheets
Aquatic Spirits
Custom Conjured Aquatic Spirits
Aquatic Spirit Services for Interaction
Aquatic Spirit Mantras for Connection
Aquatic Spirit Charging Boxes
Aquatic Spirit Offerings & Kits
Aquatic Spirit Classes
Custom Conjuration of Astral Realm Spirit
Spirits of Creatures
Custom Conjured Creature Spirits
Creature Spirit Services for Interaction
Creature Spirit Mantras for Connection
Creature Spirit Charging Boxes
Creature Spirit Offerings & Kits
Creature Spirit Classes
Bundles, Kits, Sets
Custom Conjure Spirit Companions
Dark Arts Spirits
Custom Conjured Dark Arts Spirits
Dark Arts Spirit Services for Interaction
Dark Arts Spirit Mantras for Connection
Dark Arts Spirit Charging Boxes
Dark Arts Spirit Offerings & Kits
Dark Arts Spirit Classes
Djinn Genie Spirits
Custom Djinn Genie Spirits
Djinn Spirit Services for Interaction
Djinn Gateways & Portals
Djinn Spirit Mantras for Connection
Djinn Spirit Charging Boxes
Djinn Spirit Offerings & Kits
Djinn Spirit Classes
Djinn Worksheets
Spirits of Dragons
Custom Dragon Spirits
Dragon Services for Interaction
Dragon Mantras for Connection
Dragon Gateways & Portals
Dragon Charging Boxes
Dragon Offerings & Kits
Dragon Classes
Dragon Worksheets
Spirits of Elves
Custom Conjured Elf Spirits
Elf Services for Interaction
Elf Mantras for Connection
Elf Gateways & Portals
Elf Charging Boxes
Elf Offerings & Kits
Elf Classes
Elf Worksheets
Fairy Spirits
Custom Faery Spirit
Fairy Services for Interaction
Fairy Mantras for Connection
Fairy Gateways & Portals
Fairy Charging Boxes
Fairy Offerings & Kits
Fairy Classes
Fairy Worksheets
Familiar Spirits
Spirits of Gargoyles
Custom Conjured Gargoyle Spirit
Gargoyle Services for Interaction
Gargoyle Mantras for Connection
Gargoyle Gateways & Portals
Gargoyle Charging Boxes
Gargoyle Offerings & Kits
Gargoyle Classes
Gargoyle Worksheets
Historic Famous Spirits
Spirits of Humans
Custom Conjured Human Spirits
Custom Immortal Conjurations
Nursery Infant Child Spirits
Prebound Spirits
Prehistoric Spirits
Rare Spirits
Sensual Spirits
Custom Sensual Spirit Conjurations
Sensual Spirit Services for Interaction
Sensual Spirit Mantras for Connection
Sensual Spirit Gateways & Portals
Sensual Spirit Charging Boxes
Sensual Spirit Offerings & Kits
Sensual Spirit Classes
Sensual Spirit Worksheets
Spirits for Beginners
Spirit Rescue Adoptions
Ancient Worlds - Spirits & Spells
Spirell - Spirits & Spells with Specific Powers
Triumvirate
Spirits for Good Luck
Spirits for Love
Spirits for Magick
Spirits for Prosperity, Wealth
Spirits for Wishes
Spirits for Wisdom/Learn
Spirits for Sexual Influence
Spirits for Revenge or Justice
Spirits for Protection
Spirits for Health/Cleanse
Spirits for Psychic Power
Spirits for Creativity
Spirits for Astral Support
Spirits for Elemental Magic
Spirits for Communication Charm Socializing
Spirits for Blockage Removal
Spirits for Confidence, Leadership
Spirits for Warrior Skills, Personal Power
Spirits for Kindness, Happiness
Spirit Communication
Spirits for Kids
Spirit Keeping Support Bindings
Spirit Offerings
Spirits of Vampires
Custom Conjured Vampire Spirits
Vampire Services for Interaction
Vampire Mantras for Connection
Vampire Gateways & Portals
Vampire Charging Boxes
Vampire Offerings & Kits
Vampire Classes
Vampire Worksheets
Wild Kingdom & Pet Spirits
Fantasy Coffee Mugs
Greeting Cards
Metaphysical Hats
Paranormal Tote Bags
Supernatural Shirts
University - Non-Personal Use - Certifications
Celtic Magic
Conjurations
Interaction
Creating Tools
Free Classes
Monthly Classes & Instruction
University - Personal Use - Certificate Programs
Altar Bells & Tingsha
Altar Tables
Altar Tiles
Book Holders
Altar Cloths
Banners, Flags, & Pennants
Best Sellers
Calendar, Magazines & Almanac
Divination, Astral Dreams, Meditation & Astrology
Healing, Crystals, Oils and Herbs
Leather Journals - all
Resin Journals
Journals - Made in the USA
Kids Books, Craftwork and Design
Magic, Aleister Crowley, Egyptian and Eastern
Occult, Psychic and Sexuality
Spellcraft, Candle Burning & Santeria
Tarot books
Witchcraft, Paganism and Goddess Worship
Angels, Fairies and Mythology
Anglo-Saxon Traditions
Ziplock & Open End Bags
Bottles & Jars
Decorative Boxes
Pewter Trinket Boxes
Tarot Boxes
H - M Bumper Stickers
N - Z Bumper Stickers
Small Stickers
A - G Bumper Stickers
Charged Amulet Pillars
Charged Ritual Candles
Chime Candles
Herbal Votives
Reiki Charged pillars
Soy herbal votives
Square votive set
Chakra Pillars
Figure Candles
Household & Taper Candles
Lailokens Awen ritual candles
Pillar Candles
Tealights & Floaters
Colored Votives
Palm oil votives
Scented Votives
7 Day (Solid Colors)
7 Day Jar Candles (purpose)
Candle Accessories
Candle Holders
Clearance & Super Deals
Sarongs & Ritual Wear
Stoles & Prayer shawls
Cloth Patches
Faceted Crystals
Scrying Mirrors & Pendulum Mats
Crystal Ball & Mirror stands
Crystal Balls
Day of the Dead
Tea Accessories
Herbal Teas
Herb by the Pound N - Z
Herbs by the Pound A - M
Herb packets A - M
Herb packets N - Z
1618 Gold Herb 1oz packs A - M
1618 Gold Herb 1oz packs N - Z
Liquid Incense
Nag Champa & Super hit incense
Rope Incense
Ancestral Incense
Floral Incense
Herbal Incense
1618 Gold Stick Incense
Anna Riva Stick Incense
Assorted stick incense
Auric Blends
AzureGreen Stick Incense 100 g
AzureGreen Stick Incense 20 pack
AzureGreen Stick Incense 500 g
Escential & Lunar Essences
Flower Child Natural Incense
HEM incense sticks
Kamini Incense
Morning star & Flora Stick Incense
Nature Nature Stick Incense
Prabhuji's
Sage Spirit Sticks & cone Incense
Charcoal & Sand
Hem Cone Incense
Kamini Cone Incense
Lailokens Awen loose incense
Powdered Incense
1.2 oz packets
1618 Gold Granular Incense
1618 Gold 1 lb Powdered Incense
1618 Gold 1 oz Powdered Incense
Ancient Offerings 1/3 oz
Charme et Sortilege Resin/herb
Granular Incense
Incense Burners and Accessories
Neck Chains
Pentacles & Pentagrams
Wicca & Witches
All Necklaces
Crosses, Saints & Angels
Mixed Genre
Oil Bottles & Scent Lockets
Tumbled Stones
All Pendants & Charms
Crosses, Saints and Angels
Mixed Stones
Pendulum Bracelets
Prayer Beads
Sterling Silver
Accessories
All Jewelry
Anklets & Bracelets
Bronze Jewelry
Coins & Assorted Items
Earrings & Belly Button jewelry
Animal Totems
Charme et Sortilege (Made in Canada)
Ecosmart Designs (Made in USA)
Magick Crafts (Made in USA)
Metal Rock Mfg. Co. (Made in USA)
Mistic Products
Charms & Talismans
Magic Symbols & Seals
Pocket Stones
All Amulets & Talismans
Magical Wands
Mortar & Pestles, Grinders and Spoons
Mugs - Coffee
Novelty & Gift Items
Ritual Bowls
Scrying bowls
Singing Bowls
Offering Bowl
OPO Essential-Frangrance Oils
Solid Perfumes
Witch's Oil
4 dram oils
Anna Riva 16 oz oils
Anna Riva 2 Dram Oils
Archangel oils
Aura Accord's 16oz oils
Aura Accord's 1 oz Oils
Aura Accord's 2 dram oils
Auric Blend Perfumes
AzureGreen 1oz Oils
AzureGreen 2 dram Oils
AzureGreen 16oz oils
AzureGreen 4oz oils
AzureGreen Essence Oils
AzureGreen Essential Oils
Bayou Witch
Espiritu Oils
Foxcraft Oils
Lailokens Awen oils
Medicine Wheel & Asst oils
Mistic Oils
Oil rings and Diffusers
AzureGreen Bath Salts
Bath Oils & Mixes
Charme et Sortilege Bath Salts
Ritual Bath Kits
Fairy Dust & Glitter
Herbal Mixes
Herbal Trio Kits
Lodestones & Magnetic Sand
Parchment, Ink, & Writing kits
Ritual Athames
Ritual Items and Spell Supplies
Ritual Kits
Ritual Powder
Ritual Smoke blends
Eye Pillows
Massage oils
All Smudge Sticks
Ancient Aromas
Sage Spirit
Wall and Window Hanging
Wind Chimes
All Statues
Dream Catchers
Buddhist, Hindu & Eastern Statues
Celtic & Norse Statues
Door Knockers
Egyptian Statues
Greek and Roman Statues
Novelty Statues
Occult Statues
Santeria Statues
Worry Stones
Arrowheads, Speres & Fossils
Bulk Tumbled Stones
Salt & Selenite lamps
Stone Crafts
Stone Hearts
Tapestries & Curtains
Tarot Deck & Book Sets
Tarot Decks and Cards
Divination Kits & Oracle Decks
Spirit Boards
Velveteen Bags
Velveteen Pouches
Organza Pouches
Satin pouches
Charme et Sortilege Spell & Ritual Components
Poppets & Voodoo Dolls
Ritual Beads
New Arrivals!
Coming soon
Free Horoscope
Loyalty Program
Responsible Magick
Resource Center
HAPPY HALLOWEEN CELEBRATION!
Use coupon code HALLOW50  for 50% off all discountable items on your order :)
It's a Month-Long Celebration for the Most-Magickal Month of the Year!
Here you can find both haunted dolls and living dead dolls.
The first type of dolls is haunted by spirits or spellcast with a variety of enchantments. They are ready to work with, without going through long-time and complicated rituals or ceremonies. The dolls are just the vessel, you can contact the spirits inside of them. The information about the spirits is attached to the descriptions. Each doll is unique, as well as the spirit inside.
The living dead dolls can be used to build a collection or to bind a spirit or a spell. These dolls are creepy and splendid. Pay attention to the appearance of our dolls. Most of the dolls feature realistic glass-look eyes. Some of them (as the star-crossed pair of Beauty and the Beast) have exquisitely crafted clothing. Each of the Emerald City's dwellers and travels are dressed in new emerald outfits. And the Halloween dolls from series 32 have special vintage style costumes.
Also, we have several dolls of film monsters such as Beetlejuice that will intensify your dreams and Frankenstein where the detailing is incredible.
Besides, here you can find Mahulda – the most haunted doll in the world. Don't hurry up to buy it. You should be ready for the changes in life that this doll involves and you'll be required to sign a waiver before Mahulda will be passed to you.
Recommended
Newest first
Price Low - High
Price High - Low
Exorcist Doll - The Spooky Horror Comes Home With You
The Hand of Glory
Estate Artifacts & Paranormal Objects
History of Yule
© 2005 - 2023 Creepy Hollows. All rights reserved.
Powered by X-Cart
10 Haunted Items You Can Buy Online Right Now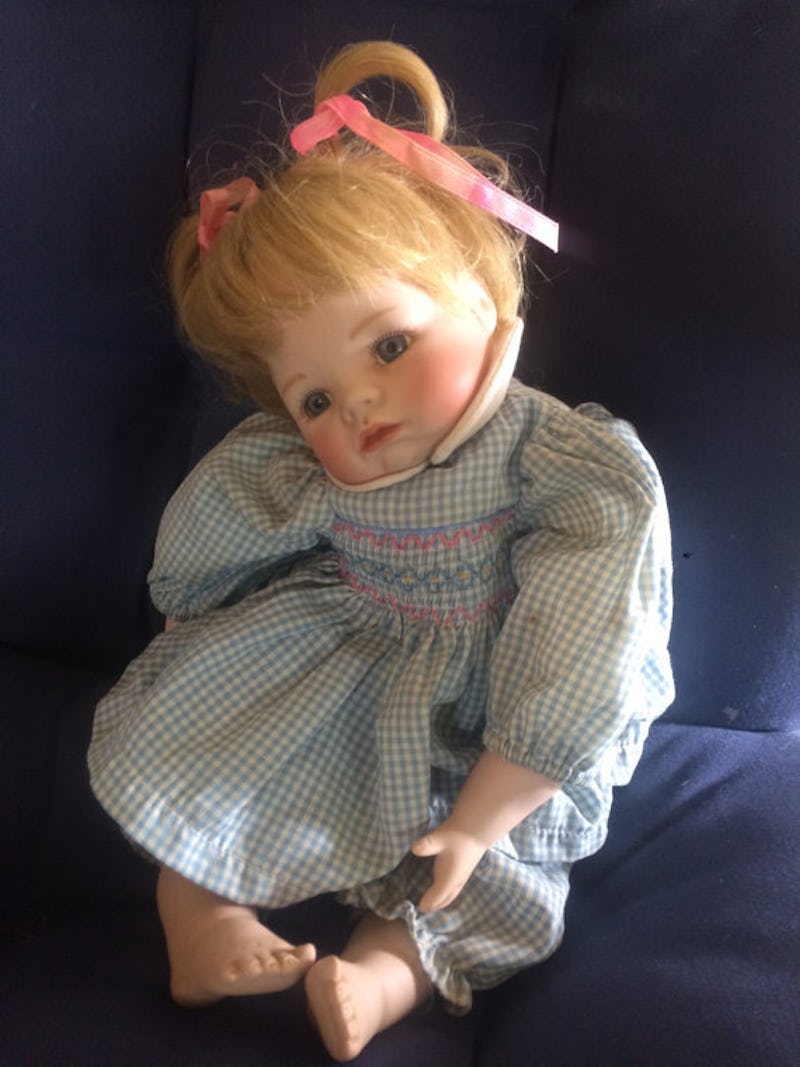 We stand perched on the precipice of Halloween weekend , which means that there are only about 80 more hours in 2016 when you can openly obsess over the eerie, murderous, unsettling, and demonic without thoroughly alienating your loved ones, (or, at the very least, making Thanksgiving pretty awkward). Luckily for you, there's one surefire way to make the Halloween season last into November, and also possibly the rest of your natural life: by purchasing a haunted object online, and thus knowingly inviting a ghost into your home. Hey, it's probably more exciting than watching the Halloween episode of Malcolm in the Middl e or whatever else you had planned for tonight!
The sale of haunted objects online is, of course, controversial — a number of users on sales and auction sites have posted "buyer beware" (literally) notes warning potential purchasers that items sold as haunted may not actually be haunted , and that as a result, you may just be paying $60 for an empty box or a broken Teddy Ruxspin. Some sites have gone so far as to ban the sale of allegedly haunted objects altogether, so before you go poking in any of the spooky online commerce below, know that whatever your specific, personal beliefs regarding ghosts, you just cannot be guaranteed that anything you buy online will contain one...or contain one that you like (insert bone-chilling laughter here, obvi).
But seriously: if you buy a haunted doll online and it turns out not to be haunted, don't come crying to me (and also, if you buy a haunted doll online and it turns out to be haunted, also do not come crying to me). We clear? OK, then, let's jump into the wonderful world of haunted items that are just a few clicks away.
Also, I was just joking before: the Halloween episode of Malcolm in the Middle is amazing .
Haunted Jewelry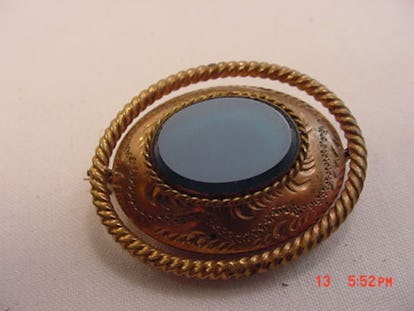 If you were a ghost, would you opt to spend your afterlife cooped up in some dingy old manse, spooking only the occasional unwary urban explorer or pair of high schoolers looking for an isolated space to explore the wonders of second base? Or would you haunt a small, mobile object, that could take you into countless homes, where you could constantly travel to new places, meet new people, and then appear before them doing that blurry-face thing that freaks everyone out? Yes, the answer is obvious. Which must be why so many sites offer sales of haunted jewelry , with options that range from "this piece of jewelry is blessed" to "we have to keep this scary brooch in the barn" to " this haunted ring was found with a severed head (severed head not included in shipment)."
Haunted Paintings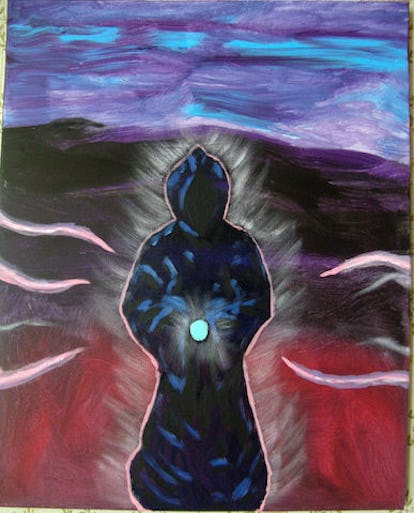 Why settle for decorating your home with a regular old dumb painting made of stupid regular ghost-free paint, when you can spruce up your place with a painting that will lead to apparitions, eerie noises, and other paranormal activities? It's details like that that make a creepy house a creepy home! Haunted paintings , which are available on most of your major online auction/ sales sites, may be just the touch of sophistication your apartment needs to make the jump from "post-dorm living situation" to "cool adult apartment where there is always faint, wordless shrieking."
Lloyd Rognan Original Framed Oil Painting Haunted House 1961 Illustration Art , $796, Ebay
Haunted Mirrors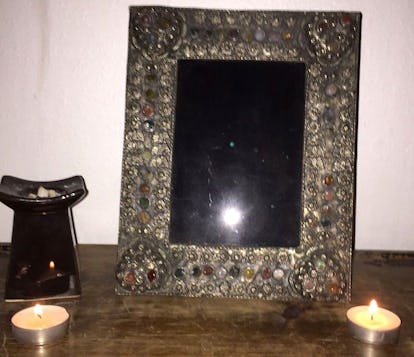 Is any mirror a haunted mirror if you just put it up next to a TV playing Poltergeist ? God, you're such an amateur! I am really getting sick of it, you know. Anyway, the answer is no — a real haunted mirror is one where previous owners have spotted eerie faces, which will appear at random and surprise you while you're trying to flat-iron your bangs and make you burn your forehead.
Haunted Ouija Boards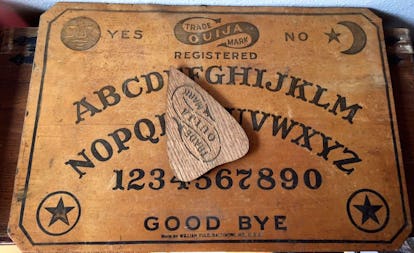 What do you think I am, some kind of moron who would not provide you with the resources to purchase a tool for communicating with the dead that is already inhabited by the dead?
Haunted Dolls
As a consumer of haunted goods and services, you'd think you would have the most options when it comes to dolls. Yes, haunted dolls should be an example of spooky capitalism at its finest, right? WRONG. Seems that ghosts mostly like to take up residence inside traditional porcelain dolls that you would totally believe were haunted even if no one told you anything about it. Where are the haunted action figures? Or Barbies? WHERE ARE THE HAUNTED BEANIE BABIES? If had to choose a spooky place for my eternal unrest, it would definitely be in a Pinchers the Lobster (new with tags).
However, you do get variety in haunted dolls in that some are fairly benevolent spirits who will come to you in dreams to tell you where you left your extra set of keys, while others are explicitly interested in ruining your life . Why would you pay good money for a doll that wishes you nothing but harm? I don't know, why did you spend all that money to go base-jumping in college? That guy wasn't even a licensed base-jumping instructor, he was just someone you met at Margarita Madness Monday! And I think there was a part of you that knew that.
Authentic Vintage Raggedy Andy Doll With Cage Paranormal , $1,149, Etsy
Haunted Reflex Hammers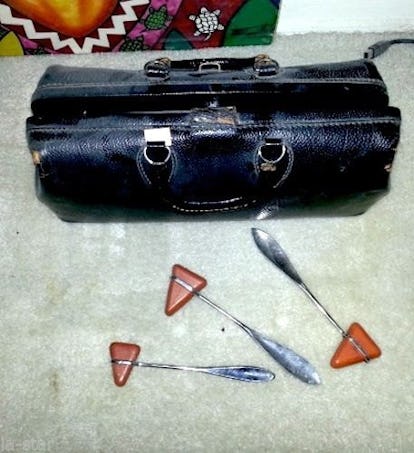 Oh, I supposed you'd prefer non- haunted reflex hammers . That's why you run the least-fun medical practice in town!
Haunted Reflex Hammers , $40, Etsy
Haunted Clowns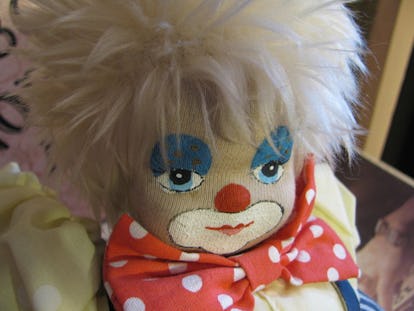 OK, fine, they're mostly haunted clown dolls . But you have to admit, they're even spookier than regular porcelain haunted dolls, which, as we have already gone over, are pretty spooky. Plus, this haunted clown box comes with a free dead spider! Thrifty!
Haunted Puppets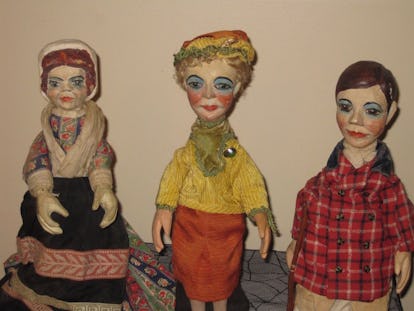 Puppets are already terrifying, and now THERE ARE GHOSTS IN THEM WHAT COULD GO WRONG.
A Guide To Creating Haunted Items
Unsatisfied with the range of haunted items currently available? Then pick up this handy guide , which will supposedly teach you how to lure ghosts into dolls, mirrors, shoes, houses, undergarments, pens, buildings, and "personal hygiene items"(I personally have never heard about a haunted tampon, so if you can successfully pull that one off, you may be able to sell it for enough money to buy upwards of 50 haunted puppets).
The Amityville Horror House
Yep, you can order everything online now — including this house, which inspired several hit books and movies about the demonic activity that supposedly took place there (as well as some controversy about whether the hauntings reported by the former residents were actually true ). Is this house really a horrific vortex filled with angry ghosts and Satanic pigs ? Or is it just a spacious home with a great selling price (presumably because teens come by most nights to scare each other and then attempt to explore the wonders of second base)? If you have a spare $850,000 lying around, you can move in, find out, and let me know.
Images: Ebay ( 1 , 2 , 3 , 4 , 5, 6 , ), Etsy ( 1 , 2 ), Giphy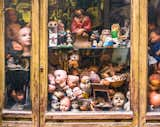 A Haunted Doll Seller Explains, Well, Why
Kathi Blowers spends most weekends evaluating old dolls for paranormal presences. For more than 10 years, she has worked as a full-time haunted items purveyor, first curating an Etsy shop focused on haunted dolls specifically before opening the online storefront FugitiveKatCreations , which, in addition to listings for antique toys like Veronika, a 1960s stockinette doll described on the site as "very active, posh, judgy, wise, in certain ways," or Liliane, a French Bru Jne reproduction who according to her shop bio "thinks modern humans are 'like animals' and is very disgusted by all of us," also offers peculiar, but not necessarily paranormal, objects like scented "manifestation candles" and brass bells "for altar or crystal display."
Blowers runs the haunted items shop from the Arizona home she shares with her husband, Mike, and her parents. All four help run the business, she says, though her parents prefer to not indulge in the paranormal evaluations (and aren't too crazy about the haunted dolls that sit in their home awaiting potential buyers). The self-proclaimed Paranormal Enthusiast says she comes from a long line of fortune tellers and psychics and considers herself blessed with the gift of telepathy and intuition. Surprisingly (or not, depending on how deep your Internet dives go), she's not alone in her endeavors—there are a number of other haunted item merchants running similar operations on eBay and Etsy, and enough believing (or at least curious) buyers to keep the market afloat. Blowers once told Vox that aside from high demand for witches around Halloween and leprechauns near St. Patrick's Day, her best-selling dolls are usually those inhabited by "goddess-type" female spirits. Dwell recently sat down with Blowers to talk about the real work of being a haunted items seller. This conversation has been edited and condensed for clarity.
Dwell: Most people try their best to steer clear of anything on the horizon of 'paranormal' or 'haunted,' which is to say, it's not everyday you meet a professional haunted dolls vendor. How'd you get here?
Kathi Blowers: I used to do probate auctions, where we bought up the estates of dead people . We purchased the estate of a woman who had hundreds of dolls—and it was not just dolls, but tons of weird journals, witchy stuff, bones, and jars of dead things. It was interesting, to say the least. A friend noticed that the dolls had really weird energy, though by then we had already sold a few on eBay. Some of our buyers got back to us telling us that something was 'going on' with the dolls. One customer told me she knew hers was haunted. That began the quest of determining which of the remaining dolls were haunted and figuring out how to sell them to people who wanted haunted dolls. So we started an Etsy shop and have since grown our website. As we started selling more, people would send us dolls they had in their homes that seemed weird to them. We created an evaluation method to determine if they were indeed haunted, and then if they were safe to sell or not.
So that was your first experience with the haunted world? How did you distinguish haunted dolls from normal ones?
Yes. I had always been a psychic child, but I had never done anything with that, until then. My friend helped me determine exactly how we should do this. They already knew a demonology guy, which is something we needed to know if these spirits were safe or not. After that, we just invited all of our friends who had good intuition. We have a team—quite a professionally diverse one in fact. Other than my husband and I, we have the demonology guy, a professional electrician, a trance meditation expert, and a yoga teacher and PTA mom. Another friend in our team, who's a school teacher, is a highly skilled medium. We use tools such as the pendulum, Ouija board, EVP [electronic voice phenomena] recorder, K-II EMF [electromagnetic field] meter, and a spirit box called PSB-7. It's harder than it sounds.
Each of us spends time with the vessel, and we compare our experiences and the data we collect. Our demonologist takes home the scariest vessels. I say vessel because it's not always a doll. Sometimes we get rings, knives, jewelry boxes, gloves, and masks, too. A spirit can attach to any object. We see a good amount of dangerous and angry spirits, though I try to keep them out of my shop. Our evaluation method is rather intense and can take a couple of years, so people know that our vessels have been through everything possible to make sure they are active and friendly.
Wait, not all spirits are dangerous?
In my opinion, very few spirits are dangerous. I'd say 25 percent of spirits that I handle could be considered scary. I believe that the so-called 'scary spirits' tend to haunt houses and places rather than objects, while the spirits that haunt objects want attention from the living. They are the ones that can't cross over because they cling to some need that is not fulfilled or wasn't fulfilled at the time of their death. It is rare to get a spirit that is just hateful, but we do get them.
Angela, one of the spirits that we currently have with us, is very friendly. She is easy to communicate with, so if someone were to adopt her and sit down with her with a pendulum or spirit box, she would love to chat and would make herself available. She loves the attention. Then, there are also the 'watcher spirits' that like to keep an eye on everything going on in the house. They are also usually very friendly and protective. My theory is that they feel the need to protect their caregiver because they were not protected in life. Apart from those, we get a ton of neglected children's spirits. I believe they should be given a chance to find a new family that will give them the love they never received while alive. Many child spirits tend to act like angels because they think they are angels.
How do you determine prices for these haunted items—do you take into account the types of spirits?
I try to only charge what the actual item is worth. If I have a haunted ring, I search eBay to find a similar ring, sans the spirits, and set the pricing of my ring to match that. Same with the dolls. I look up whatever that doll would be worth and charge accordingly. I've been told I should charge much more because of all the time that goes into the evaluation process. But if I price them at a higher rate, then people in my own tax bracket wouldn't be able to afford this experience and I want to keep it accessible to all. I grew up poor, and though I make enough money from this business to support myself, it's important to me that I keep my items affordable.
Have you ever met a spirit that was too strong to handle?
We recently had one that is a lot like the Annabelle type , though she is rare. We call her Nameless. While most of the vessels we deal with are friendly, needy, and ready to communicate, Nameless is one of those spirits that needs to be left in an abandoned house forever, or even destroyed. But there are some people who like the challenge of dealing with such spirits. I'd say about three percent of my clients are into the harder, scarier spirits, but the rest of us love the friendly ones.
Tell me about some of your past spirit interactions.
I have these interactions daily. I hear children laughing and feel spirits brush up against me. I tell them, 'I can hear you,' and I feel like they know I'm there and feel safe with me. We've seen the faces of dolls change expressions a lot, too. We've had things move in the house, we've had vessels move. Once, I had this vessel with a newborn baby spirit, and I could feel the baby wanting to be held. As soon as I picked her up, it felt exactly the same as picking up a crying infant. So weird! I could sense her relaxing in my arms.
You've probably had something haunted with you at some point and didn't even know it. Ever go to a thrift store and feel someone's energy in an old chair? Ever get goosebumps out of nowhere? Being consciously aware of another's spiritual presence is what it's like to have a haunted item in your home.
There's a lot of skepticism around this industry. What do you have to say to people who think haunted item sellers are frauds?
I have learned to ignore the haters and disbelievers because those people shouldn't be buying haunted items to begin with. I have been in this business for a little more than a decade. My shop has a really good reputation and people have really important, authentic experiences with my dolls.
Have you or your family experienced that negativity personally?
Oh god, yes. We live in a rural, heavily Mormon area. And it's a small town, and they talk. Even to this day, when we go to the store in town, we can hear people whispering, 'There's that witch,' or '[That's] the girl with the dolls.' But my family is used to that, especially with me. I've always been the troublemaker. They're just happy I'm employed.
Top Image courtesy Education Images/Universal Images Group/Getty.
Related Reading:
The Ethical Quandaries of Estate Sales
The Uncanny Joy of Gawking at Ugly Things
Get the Dwell Newsletter
Be the first to see our latest home tours, design news, and more.
Welcome to our store
Item added to your cart
Collection: haunted dolls, mary ellen haunted doll ~15" porcelain victorian doll ~ paranormal ~ died on a ship ~ strange dreams ~ weird sea death energy~ highly active, bettie haunted doll ~ 18" dolly dingle face reproduction vessel ~ paranormal ~ sent from england ~ super active ~ positive ~ constant worry, but she is just overly caring, reserved tianna 9/25 hailey haunted doll ~ 18" sleeping porcelain baby doll ~ positive spirit ~ paranormal ~ very protective energy despite being needy ~ very young ~ needs physical contact, elizabeth haunted doll ~ 19" victorian porcelain vessel ~ paranormal ~ trauma ~ severe dance mom survivor ~ pageant girl vibes, reserved rebecca b 10/5 editka haunted doll ~ 19" victorian porcelain woman ~ paranormal ~ spirit guide ~ strong psychic ~ dreams ~ astral ~ witchy, millie haunted doll ~ 17" contemporary porcelain schoolgirl vessel ~ paranormal ~ kind of needy ~ good with younger kids, shelly haunted doll ~16" 1960s vinyl fashion doll ~ paranormal ~ highly active ~ angry ~ motivational ~ kind of an anarchist/activist ~ died in 1971, reserved tiana 8/22 eric haunted doll ~ 18" vinyl boy baby vessel ~ child spirit ~ paranormal ~ very rambunctious ~ highly active and mobile ~ sweetheart ~ child spirit, savi haunted doll ~ 17" victorian ooak porcelain vessel ~ paranormal ~ needs to be with women ~ does not like men, reserved strangequill 9/29 essie haunted doll ~ 17" porcelain vessel ~ intuitive ~ traumatic death ~ highly active ~ albert price doll, audra haunted doll ~ 21" victorian porcelain doll vessel ~ paranormal ~ old hollywood ~ society wife ~ fixer vibes ~ boojee, joselyn haunted doll ~ 20" rare porcelain girl contemporary modern vessel ~ paranormal ~ emotional ~ spoiled ~ trauma with babies ~ highly active, kadare haunted doll ~ 17" harlequin french mime bonus mini french mime ~ paranormal ~ boss bitch ~ mystic ~ puppet master personality ~ highly active, lanying haunted doll ~ 18" sitting porcelain asian toddler ~ angelic ~ sweet ~ good energy, reserved raymonica 10/10 jenny haunted doll ~ rare 18" unique 1974 tiffany taylor doll ~ paranormal ~ hillside strangler victim ~ very alive eyes ~ highly active, felicity haunted doll ~ 17" victorian tummy crawling girl vessel ~ paranormal ~ child spirit ~ human child ~ guardian energies ~ fae-like.
Choosing a selection results in a full page refresh.
Opens in a new window.
Cookie banner
We use cookies and other tracking technologies to improve your browsing experience on our site, show personalized content and targeted ads, analyze site traffic, and understand where our audiences come from. To learn more or opt-out, read our Cookie Policy . Please also read our Privacy Notice and Terms of Use , which became effective December 20, 2019.
By choosing I Accept , you consent to our use of cookies and other tracking technologies.
Site search
Israel-Hamas war
2024 elections
House Speaker race
Supreme Court
Open enrollment
All explainers
Future Perfect
Filed under:
Inside the haunted doll markets of eBay and Etsy
Haunted doll sellers and collectors say buyers should beware.
Share this story
Share this on Facebook
Share this on Twitter
Share All sharing options
Share All sharing options for: Inside the haunted doll markets of eBay and Etsy
Thirty years ago, the world was introduced to a 29-inch-tall doll in overalls named Chucky. With eyes bluer than a White Walker's, hair more fiery than Ed Sheeran's, and a smattering of freckles à la Emma Stone, he looked like the perfect childhood buddy.
Unfortunately, Chucky, the tiny antagonist of the 1988 movie Child's Play , was possessed by a serial killer with a knack for slaughtering people with butcher knives, yo-yo strings, and anything else he could find around the house. Today, almost everyone knows that if a wild-eyed doll asks, "Wanna play?" the only acceptable response is to run as fast and far as you can.
Then there are people like Kevin Cain , a paranormal investigator in Alabama who owns hundreds of haunted dolls and other items. "I lost count a long time ago," he says. While Cain may be an especially prolific collector, he's far from the only one. In fact, there is a thriving marketplace for haunted dolls on the internet.
According to Cain, things really took off after the Annabelle doll appeared in The Conjuring (2013), followed by a solo film, Annabelle: Creation (2017). Annabelle, a vintage porcelain doll with smeared lipstick, a cracked pupil, and claw marks on her face, is possessed by a demonic spirit that enjoys ruthlessly murdering people. That she's based on a real-life haunted Raggedy Ann doll adds to the intrigue.
With the next installment of the Conjuring series, Annabelle Comes Home , and a reboot of Child's Play both hitting theaters in late June, there's sure to be a new wave of people curious about haunted dolls — and perhaps even eager to get their hands on one.
Gone are the days when you'd have to trek to a shady part of town, down a darkened alley, and into a questionable-looking antiques shop to get your haunted doll fix (although if you're ever in New Orleans, Bloody Mary's Haunted Museum and Spirit Shop is worth a visit). Etsy and eBay list thousands of dolls purportedly inhabited by everything from evil witches to judgmental spirits that might call you fat to young children and fairy spirits .
Most haunted dolls sell for around $50 plus shipping, but the most highly prized ones are priced well into the four figures . There's a formula, too, for how they're sold: Each listing contains a detailed overview of the spirit's life story, details of said spirit's death, and a description of their personality. Dolls are labeled "active" or " highly active " if paranormal phenomena are said to occur frequently in their vicinity.
Some are advertised as being able to move objects, make noises , or communicate via telepathy or Ouija board , while others are meant to act as creative muses, play matchmaker by revealing potential lovers in dreams, or emit positive energy .
Kat Blowers, whose Etsy shop FugitiveKatCreations specializes in haunted dolls, says best-sellers tend to be inhabited by female spirits that have some sort of "empowerment" angle. "We have a lot of goddess-type spirits or women who have survived terrible situations and thrived." She also sees high demand for witches around Halloween and leprechauns near St. Patrick's Day.
While there are con artists looking to take advantage of uneducated buyers, many haunted item purveyors hold themselves to what they see as high ethical and scientific standards. "It costs us a fortune in tools," says Blowers. Whenever she acquires a new doll, Blowers and her husband put it through an intense investigation that lasts one to three months.
First, the doll is separated from any other paranormal objects in the house. Then it's examined with a K-II EMF meter, a device used by paranormal investigators to detect electromagnetic energy, for a period of three to five days. Blowers then places the doll in a sound box ("basically a foam box"), with a voice-activated recorder to see if she can hear any words or phrases. "We've heard music before, which is really weird," she tells me.
Finally, they conduct lucid dreaming sessions, which involve sleeping next to the doll alongside a piece of amethyst (which is supposed to be a potent lucid dreaming crystal) to see if they have any weird dreams. Blowers typically ends up with a 15-page report by the end of each investigation.
Unlike in horror films, real-life haunted dolls aren't necessarily bloodthirsty beings with a penchant for sharp objects. "Not everything is evil," says Cain. "Yes, there are demons, and Annabelle is example number one of that, but also good spirits. If a ghost can haunt a house or building or ship, why can't it just hang around an item it once owned or reminds them of something in their past?" He theorizes that spirits like to hang around dolls and other toys because of their familiarity and strong emotional connection.
View this post on Instagram Lexi is such a mellow friendly sport you can help but be happy when she's around. #paranormalactivity #paranormal #ghost #spiritualawakening #etsy #spirit #haunted #haunteddolls #orbs #positivevibes #paranormalinvestigation A post shared by Alice (@home2spirits16) on Apr 30, 2019 at 5:59am PDT
However, this doesn't mean buyers shouldn't beware. Cain routinely refuses people who email begging to purchase one of his haunted dolls. "I tell them it's not for everybody. You don't know what you're asking for," he says. "These dolls aren't for entertainment or fun. These are actual haunted items with spirits attached who want to be respected. Then you have those who, if you're not careful, are demonic and ready to tear into your soul."
He describes an episode where a young woman bought a doll online that was supposed to be haunted by a kind, positive spirit, but she ended up with something dark and malevolent. After a string of strange occurrences culminating in feeling tiny hands around her neck one night, she contacted Cain and shipped the doll off to him. Luckily, he knew how to bind the demonic spirit, ultimately sealing the doll in a box coated in holy water and storing it on the highest shelf in his home, where it remains.
Demons aside, selling haunted dolls online comes with some technical challenges. For one thing, eBay isn't too keen on the whole concept and has a policy that specifically forbids the selling of souls. According to a statement from the company back in 2000, "eBay does not allow the auctioning of human souls for the following reasons: If the soul does not exist, eBay could not allow the auctioning of the soul because there would be nothing to sell. However, if the soul does exist then, in accordance with eBay's policy on human parts and remains, we would not allow the auctioning of human souls." In 2012, eBay further banned metaphysical items including spells, hexes, potions, and magical services.
Some sellers found creative workarounds, including winking claims that their dolls are "for entertainment purposes only" or "sold as is." They also often state there's no guarantee of paranormal activity and indemnify themselves from the consequences of anything that does or doesn't happen. Others, deterred by eBay's crackdown, simply packed up and moved to Etsy.
The haunted doll market certainly isn't disappearing anytime soon. Cain expects there'll be a huge surge in demand this summer thanks to Annabelle and Chucky's big-screen appearances — something he's not particularly thrilled about. For anyone considering a haunted doll purchase, he has one message: "Be careful what you buy. It may be phony — or, worse yet, it may be something demonic."
Want more stories from The Goods by Vox? Sign up for our newsletter here.
Will you support Vox's explanatory journalism?
Most news outlets make their money through advertising or subscriptions. But when it comes to what we're trying to do at Vox, there are a couple reasons that we can't rely only on ads and subscriptions to keep the lights on. First, advertising dollars go up and down with the economy. We often only know a few months out what our advertising revenue will be, which makes it hard to plan ahead. Second, we're not in the subscriptions business. Vox is here to help everyone understand the complex issues shaping the world — not just the people who can afford to pay for a subscription. We believe that's an important part of building a more equal society. We can't do that if we have a paywall. That's why we also turn to you, our readers, to help us keep Vox free. If you also believe that everyone deserves access to trusted high-quality information, will you make a gift to Vox today?
We accept credit card, Apple Pay, and Google Pay. You can also contribute via
Next Up In Money
Sign up for the newsletter future perfect.
Each week, we explore unique solutions to some of the world's biggest problems.
Thanks for signing up!
Check your inbox for a welcome email.
Oops. Something went wrong. Please enter a valid email and try again.
The Supreme Court's very brief, very revealing new decision about guns, explained
The complicated relationship we have with Will and Jada Pinkett Smith's complicated relationship
How Speaker Jim Jordan went from unthinkable to quite possible
Solve Vox crosswords in our first-ever puzzle books
The third season of Starstruck isn't a rom-com anymore
Dog breed bans are about human prejudice — not the dogs
This site uses cookies to improve user experience. By continuing to browse, you accept the use of cookies and other technologies.
9 Scariest Haunted Dolls You Do Not Want in Your Home
Harmless toys or the Devil's plaything?
Photo Credit: Visit El Paso / Flickr (CC)
As kids, we find comfort in dolls; they're a fun and delightful companion during playtime. As we grow older, however, these once cherished playthings transform into pure nightmare fuel. The vacant eyes and frozen grins are scary enough. But what happens when a doll stirs in the night—and starts moving around on its own?
The haunted dolls below are known for haunting dreams, scurrying through homes, and bringing misfortune upon anyone unlucky enough to come into contact with them. Some, such as Annabelle or Robert the Doll, are infamous. Others are less well known but just as chilling. Whether these toys are truly possessed is up for you to decide. Either way, you can't deny that they're downright creepy to look at.
1. Annabelle
Lorraine and Ed Warren with Annabelle 
Annabelle is a Raggedy Ann doll, now imprisoned in special glass case in the collection of the famous paranormal investigators Ed and Lorraine Warren . Annabelle is so famous that she was the inspiration for a movie and a sequel .
Related: Something Spooky This Way Comes
In the movie, Annabelle is played by a much creepier looking doll. In real life, Annabelle has the same sweet face of any Raggedy Ann. Her story, however, is not sweet at all. According to the Warrens, Annabelle was given to a young nursing student named Donna by her mother in 1970. The doll would move around the apartment when Donna and her roommate Angie weren't home. The young women were willing to put up with a doll that moved around on her own, but things soon got scarier. The doll left notes asking for help. Then she attacked Angie's boyfriend. When the young women found blood on the doll's dress, they called in a psychic. The psychic revealed the doll was possessed by the spirit of a girl named Annabelle.
The girls' next call was to the Warrens who took Annabelle out of their hands, putting her in a glass case with a written warning to the unsuspecting: "Positively Do Not Open."
2. Robert the Doll
Robert the Doll on display at the East Martello Museum
Robert was an inspiration for the terrifying Chucky doll of the Child's Play series. Robert is a life-sized doll, which is rather unusual in itself. It was reportedly made by the famous Steiff toy company in Germany. It was given to the Florida artist Robert Eugene "Gene" Otto as a birthday present when he was a child in 1904. His grandfather had bought it while on a trip to Germany.
The creepy doll wears a sailor suit that was probably a childhood outfit of the real Gene. Another story has it that the doll was a gift from a malicious voodoo-practicing maid as revenge for some unknown wrongdoing by the family.
Stories of the doll's odd behavior began early, with reports of the doll changing expressions and moving around the house on its own. One theory says that Gene himself unleashed the doll's powers by blaming his childhood misdeeds on the life-size doll who wore his clothes and had his name. Those who lived in the house reported hearing Gene talking to Robert—perhaps not that unusual, but Robert would talk back.
Related: Robert the Haunted Doll
As the years went on, Robert's deeds turned darker. The doll is blamed for many misfortunes including financial collapse, broken bones, and car accidents. Robert remained in the Otto family home in Key West, Florida throughout Gene's life and even after his death. The house passed to new owners who kept the 'living' doll for twenty years. Robert now resides in a museum in Key West, where brave tourists can visit him.
Want more haunted dolls? Sign up for The Lineup's newsletter, and get our best paranormal stories sent straight to your inbox.
The furry red Elmo doll is one of the most successful toys ever sold. Talking Elmo dolls have been a must-have holiday gift since the first one was sold in 1996. Early Elmos giggled when they were tickled. They acquired larger vocabularies as the years went on. But that doesn't explain the Elmo Knows Your Name doll purchased by the Bowman family in 2008 for their two-year-old son James. Elmo Knows Your Name was programmed to speak its owner's name along with a few other phrases. But when the Bowmans changed Elmo's batteries, he started ad-libbing. In a sing-songy voice, the doll chanted "Kill James." Not something any parent is likely to find endearing.
4. Mandy the Haunted Doll
 Mandy in her case at the Quesnel Museum
Mandy does not play well with others. In the Quesnel Museum in Canada where she now lives, staff say they must keep her in a separate display case. When she is displayed with other dolls, she knocks them over. Staff also report their lunches disappear and that visitors' cameras often fail when taking pictures of the doll. Mandy is a porcelain baby doll, probably manufactured in Europe around 1910. The woman who donated her reportedly told the museum she was getting rid of the doll because it would cry at night.
Related: What's That in the Window? The Creepy Legend of the Janesville Doll
5. The Haunted Gang
Photo Credit: dollhousecam.us
Most haunted dolls are dumped by their owners when they start behaving badly. But the owners of these eight terrifying dolls were reportedly interested in paranormal phenomena and bought this collection because they were said to be possessed. Their names: Chrystal, Monika, Sharla, True, Isaac, Lilly, Cameron and Ashley. The owners have a camera constantly recording the dolls and other parts of the house. In 2009, one camera appears to have recorded something strange : a ghostly boy appearing at the bottom of a staircase.
6. Ruby the Haunted Doll
Photo Credit: The Traveling Museum of the Paranormal and the Occult
Like a few of the dolls on this list, Ruby could never stay in one place at a time. Its owners often found the doll in different rooms of the house. What's more, picking Ruby up induced feelings of sadness and nausea.
According to its former owners, Ruby was passed down from generation to generation. The doll's spooky origin traces back many years ago to a young family relative, who was said to have passed away while clutching the figurine. After jumping between different family members, Ruby has now found her forever home at The Traveling Museum of the Paranormal and the Occult , where visitors often feel an overwhelming feeling of sorrow from the doll.
7. Charley the Haunted Doll 
Photo Credit: Local Artisan
Charley was first discovered in the attic of an old Victorian home in upstate New York in 1968. Charley was locked away inside a trunk with newspapers dating back to the 1930s and a yellowed piece of paper that had the Lord's Prayer written on it. The family placed the figurine on display with their other dolls and toys. Soon, however, Charley seemed to move on its own, swapping places with the other toys.
RELATED: 9 Famous Witches Throughout History
Not long thereafter, the family's youngest daughter claimed that Charley spoke to her in the middle of the night. The parents dismissed the claim, chalking it up to their daughter's overactive imagination. But the little girl and her siblings were terrified of Charley; they refused to go near it. When mysterious scratches appeared on the little girl's body, the family decided to lock Charley back up in the attic trunk. Charley now resides at Local Artisan , a Beverly, Massachusetts oddities shop just minutes away from Salem. Swing by and say hello!
8. Island of the Dolls
Photo Credit: Esparta Palma / Flickr
The Island of the Dolls is located in the Xochimilco canal system just south of Mexico City. The isle is completely covered by broken and decaying dolls that hang from the trees. The dolls were placed there by Julián Santana Barrera, the former owner of the island who festooned the island with dolls in an effort to appease the spirit of a girl who drowned nearby.
The site is only accessible by boat. Given its eerie backstory and unsettling state, the Island of the Dolls is a popular tourist destination. Those who visit the island and walk among the dolls often claim the figurines "whisper" to them. Visitors are also encouraged to leave offerings or other dolls on the island to add to the collection.
9. Letta the Haunted Doll
Letta the Doll, also known as Letta Me Out, is truly one of scariest looking haunted dolls out there. The child-sized figurine is said to be about 200 years old, and is made of carved wood and real human hair. The doll's owner, Kerry Walton, claims to have found Letta in the 1970s while exploring a deserted home in Wagga Wagga, Australia.
Walton brought back the figurine to his home in Queensland. Soon thereafter, strange events began to occur . Household items shifted positions. Scuffmarks appeared on the floor. Walton's children complained of nightmares; one night, they woke up screaming that Letta was talking and moving around on its own. Dogs turned aggressive whenever they were near the doll while guests claimed to see the doll move. At some point, Walton tried to sell off Letta—only to find that he "physically couldn't get him out of the car."
RELATED: 10 Wild Tales of Feral Children
Walton asserts Letta's origins trace back to Eastern Europe. He believes the doll is a vessel, haunted by the spirit of a boy who drowned many years ago. Letta currently tours around Australia with Walton, sitting on the laps of those who are brave enough to take a picture with the grinning figurine.
Featured photo: Visit El Paso / Flickr ( CC ); Additional photos: tiffany terry / Flickr ( CC ); Quesnel TV / YouTube ; Doll House Cam ; The Traveling Museum of the Paranormal and the Occult ; Local Artisan ; Esparta Palma / Flickr ( CC ); Facebook page of Letta Me Out
Get our eeriest tales and best book deals delivered straight to your inbox.
© 2023 OPEN ROAD MEDIA
We are a participant in the Amazon Services LLC Associates Program, an affiliate advertising program designed to provide a means for us to earn fees by linking to Amazon.com and affiliated sites.
The Weird World of 'Haunted' eBay: 'Purchase With Caution'
By Alicia DeSantis Oct. 25, 2019
An artist's obsession with listings for the cursed, doomed and otherwise unexplained.
"BUYER BEWARE," warns the eBay listing for the " Haunted Vintage Antique Evil Active Possessed Witch Demon Doll ." "So many things have happened when this doll is near," writes sellintreasures-7. "She must go. I cannot have her in my home any longer." The doll, which has been photographed atop a Ouija board, can be purchased for $99.99 plus $7.70 shipping. The Ouija board is not included.
"I just got obsessed," said the artist Eric Oglander, 31, speaking of the night two years ago when he first came across a listing like this one. The item was described as a "haunted box," and he immediately began searching for others. That night he captured screenshots of more than fifty similar listings, and has been looking for them ever since.
Oglander describes himself as a "collector of aesthetics," and his material is the ephemera of the world around us. For him, it is not the item on sale, but rather the listing itself which becomes the object. The listings are "a way of containing a story and also telling a story," he said. The images here are taken from this collection.
His previous work includes " Craigslist Mirrors ," a popular Tumblr site that was published as a book in 2016. Seemingly simple in conceit, it consists exclusively of screenshots of listings of people selling mirrors on Craigslist. The images are funny, poignant and often unintentionally telling, revealing strange corners of peoples' lives.
"I appreciate the fact that these photos are being taken for the sole intent of selling an object," Oglander said. Once they are put into a new context, however, "they can then be appreciated as something aesthetic." By collecting the listings in this way, Oglander brings out patterns that may go otherwise unnoticed, and if so, only in passing.
The "haunted" eBay listings include many ordinary objects: feathers, coins, pebbles, pieces of wood. Often they are said to be enchanted, for luck or for fortune — good or ill. "You will be able to feel the vibrational energy from your coin. Must be a positive environment and attitude for it to work," advises one seller. "Please note, this chip is for MONEY LUCK only, not general good fortune or finding love which are different spells," warns another.
Other items are said to have powers all their own. "Hearing voices is really common. Sounds, faces appearing," Oglander said. "But also, misfortunes happening, a string of negative events happening in peoples' lives — like these objects have cursed them."
The claims are, of course, difficult to verify. The site's rules dictate that all listings must "offer a physical item or a tangible service." Many listings include disclaimers about the objects' supernatural attributes. "As required per eBay's policy on the sale of paranormal items, this is for the sale of a tangible item only, no promise of a spirit attached," writes one seller. "Purchase with caution," writes another. "Not recommended for Children to play with."
Still, such disclaimers do not entirely prevent instances of negative feedback from disappointed customers, which sellers sometimes address. "They often reply and say that you need to exist with it for a while before you start experiencing things," said Oglander. "You didn't give it enough time."
In this context, "BUYER BEWARE" serves as both a disclaimer and as a potential selling point. As one listing put it, "I do not take any responsibility for, if anything at all happens, blown fuses, divorce etc!" The item, a vintage teddy bear, sold for $560 after 46 bids.
When asked if he was superstitious, Oglander said, "I guess I believe in spirits. I want to at least hope that there's some magic in the world — some underlying thing we can't see."
Still, he has never bought a "haunted" item.
Sellers, in order of appearance: sellintreasures-7, tetris145, misslucine, asylum_gift_n_thrift, jenns_enchantments_316, vintagechicfla, lily-dale-hauntings, kreepee, jp.markets.
Produced by Raillan Brooks, Alicia DeSantis, Gabriel Gianordoli, Jolie Ruben and Josephine Sedgwick. Surfacing is a weekly column that explores the intersection of art and life.
Explore Our Style Coverage
The latest in fashion, trends, love and more..
'The Golden Bachelor': Gerry Turner, 72, is the lead of ABC's new dating show — and ready to look for love again. Just don't call him a silver fox .
Instagram's Favorite Bookseller: Idea, a popular rare-book seller, built its business largely on the back of the app's early infrastructure. But it wants to leave social media behind .
The Super Bowl of Leather Goods: A sample sale for the accessories brand Clare V. drew thousands of shoppers to Los Angeles. We spoke to some of those in attendance .
Carine Roitfeld:  The former editor of French Vogue and renowned stylist discussed the changing fashion week runways and why she finally got her first tattoos .
Do You Speak 'Marriage Language'?: Couples are sharing their weirdest personalized lexicon and dialects  on TikTok.
 Family Intrigue and Inheritance: The heirs of the designer Pierre Cardin are in an epic battle over his legacy . The French fashion world is getting the popcorn ready.
Advertisement

Paranormal Webcams Let You See Ghosts Live on Stream
Try your luck at spotting a ghost.
Have you ever thought about going ghost hunting, but realized that all of the best haunted spots are too far away? With today's modern technology, you can hunt for spirits from the comfort of your own home by viewing ghosts live on stream using paranormal webcams.
Below, read about 10 of the internet's most fascinating paranormal webcams.
10. Furman Theater Paranormal Webcam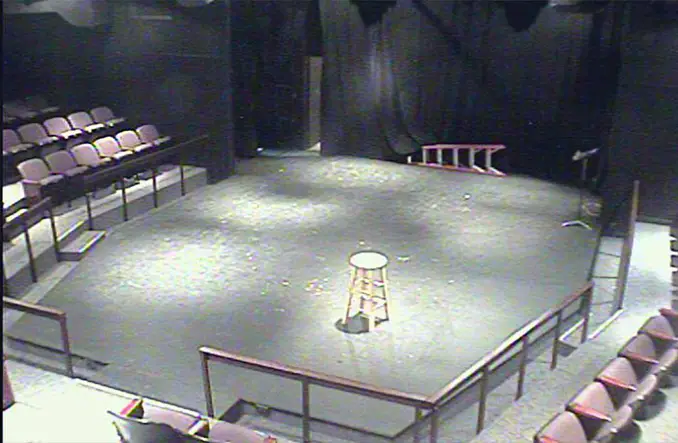 Theaters are a common space for hauntings. The dramas and tragedies that are acted out on the stage create the perfect atmosphere for ghosts to stay rooted in the realm of the living. Using the live video of the Furman Theater, you can see theater students attending classes, performances, or even ghosts live on stream.
According to the theater department at Furman University in Greenville, South Carolina, this particular stage is haunted by numerous ghosts. No one knows exactly who the ghosts are, but they believe they are most likely former students who couldn't bring themselves to leave the stage, even after death.
Most of the encounters people have had with the ghosts of this theater occur during live performances. Theatergoers will be sitting in the dark, and suddenly hear a mysterious voice whispering in their ear. They are hoping that those watching the cam will report their sightings so they can gain solid proof of their paranormal residents.
Watch here: http://drama2014.furman.edu/dramadept/TheatreWebCam.html
9. Willard Library Paranormal Webcams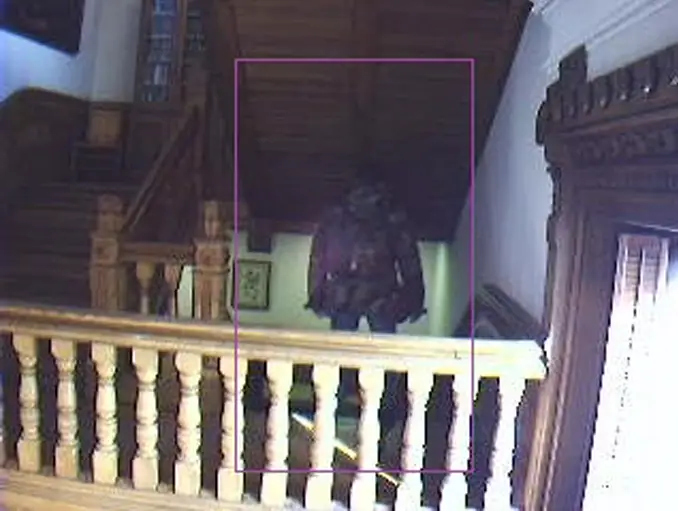 According to those who have worked at or visited the Willard Library, there is definitely a supernatural entity or two walking the halls of the building. To prove it, they have set up paranormal webcams so that ghost hunters around the world can keep a close eye out and send in screenshots when they spot something ghostly.
There are a few types of ghosts that have been spotted by viewers and patrons of the library. The most common entity to make an appearance on film is different colored orbs hovering in various places, usually the stairwell. However, employees of the library have reported spotting a Grey Lady and a young boy haunting this stairwell. They believe that the orbs are merely how the ghosts manifest on camera.
Willard Library's webcams are on round-the-clock, so you can pop by any time to try your hand at spotting one of their resident spirits.
Watch here: http://www.willardghost.com/ghostspottings/
8. Hell's Kitchen Paranormal Webcams
With a name like Hell's Kitchen, it isn't surprising that this New York neighborhood would be home to numerous ghosts. One run-down residence in Hell's Kitchen even gives amateur ghost hunters a chance to catch its ghosts live on stream.
According to many people who frequently view paranormal webcams, the Hell's Kitchen Haunted Hallway is a sure thing. If you watch the feed for long enough, they say that you're guaranteed to spot something not of this world.
The feed uses a single camera and focuses on a dark stairway in an old-looking building. No one knows exactly where the building is, but it is said to be an old apartment building. Watchers believe that the entities they have caught on camera are most likely the ghosts of former residents who died in the building.
Is this live stream really a sure thing? The only way to know is to try your luck by watching.
Watch here: http://darkartsmedia.com/LIVEFEED.html
7. Lincolnshire Radion Buildings Paranormal Webcams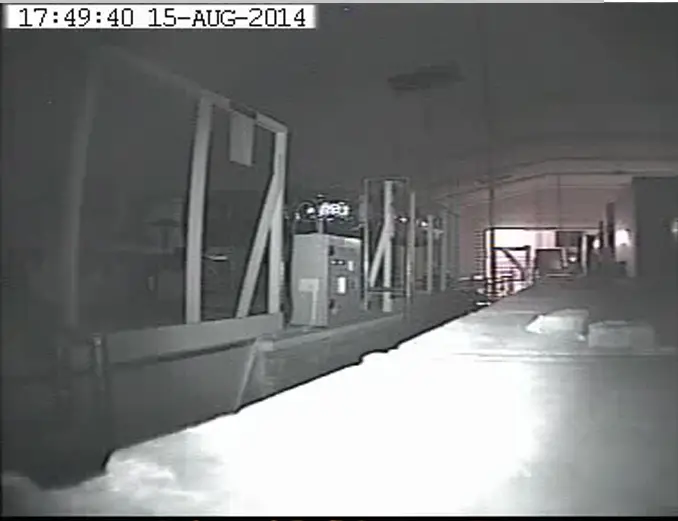 Most paranormal webcams are set up by business-owners attempting to catch resident ghosts live on stream, most likely in an attempt to scare up business. However, the Lincolnshire cam in the old Radion Buildings is unique in that it is managed by the British Broadcasting Corporation. Having the stamp of approval from such a well-established organization certainly gives this stream some extra legitimacy.
The old Radion Buildings where the webcam is set up are no longer in use. However, the buildings used to contain a popular cinema. Right now, all that you can see on the cam is what appears to be an old storage area. However, one of the building's most popular ghosts is said to have been an employee of the cinema.
In its heyday, the cinema served ice cream as a treat for theatergoers. According to the the BBC, the woman who was in charge of serving the ice cream now haunts the abandoned cinema. Viewers of the stream regularly tune in hoping to catch the Ice-Cream Lady as she goes about her hauntings.
Watch here: http://www.bbc.co.uk/lincolnshire/content/webcams/lincs_ghost_webcam.shtml
6. Ireland's Eye Paranormal Webcams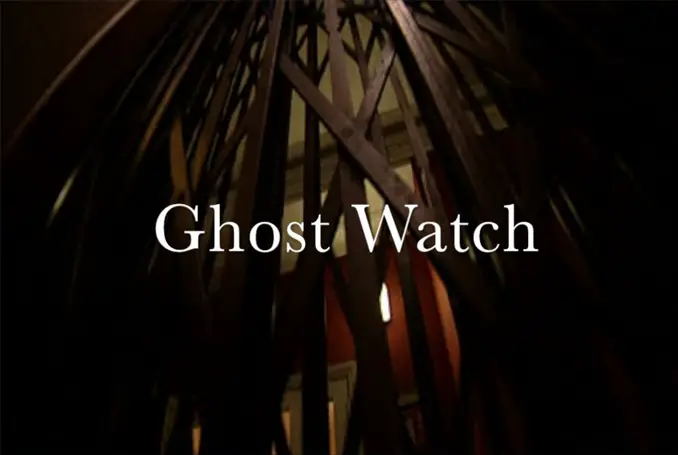 In 1912, a young woman named Helena Blunden was hard at work in a linen factory in Belfast Ireland when she tragically fell to her death. The mill building was eventually taken over by a printing company. Employees of the company began to hear strange footsteps as they went about their days. Some even reported spotting the apparition of a young woman in old-fashioned clothing. They believe that it is the ghost of Helena Blunden.
The printing company eventually contacted paranormal researchers who set up a webcam in the old mill. They encouraged viewers to watch closely and report any unusual sightings. In their investigation of the building, the researchers were also able to locate a recording of Helena singing, which viewers can listen to on the same website as the cam.
According to the statistics compiled by the researchers, it is most common to spot the ghost early in the morning (local time). Is this young woman still haunting the mill that took her life? Watch the steam and find out for yourself.
Watch here: http://www.irelandseye.com/ghost/webcam/gwatchnj.shtm
5. Gettysburg Battlefield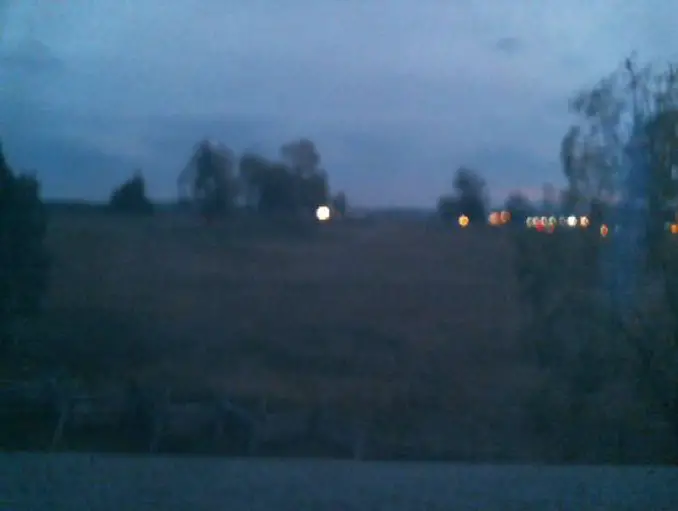 Battlefields are a common place to spot ghosts. Thanks to a stream known as BattleCam, you may be able to see the Gettysburg ghosts live on stream.
The webcam gives watchers a view of the large field that comprised the majority of the battlefield for the infamous three-day Battle of Gettysburg during the American Civil War. Over 7,000 people were killed during this epic bloodbath, and many believe that some of those soldiers stuck around long after the war ended.
The BattleCam is not meant to be a ghost hunting stream; its intention was merely to share a view of the iconic battlefield. However, the small town in Pennsylvania is known to be one of the most haunted places in America , so it isn't surprising that many amateur ghost hunters have added it to the list of paranormal webcams.
Do ghosts walk the Gettysburg Battlefield amid the countless tourists that pass through every day? This live stream may hold the answer.
Watch here: http://www.gettysburgaddress.com/HTMLS/Battle.html
4. Victorian House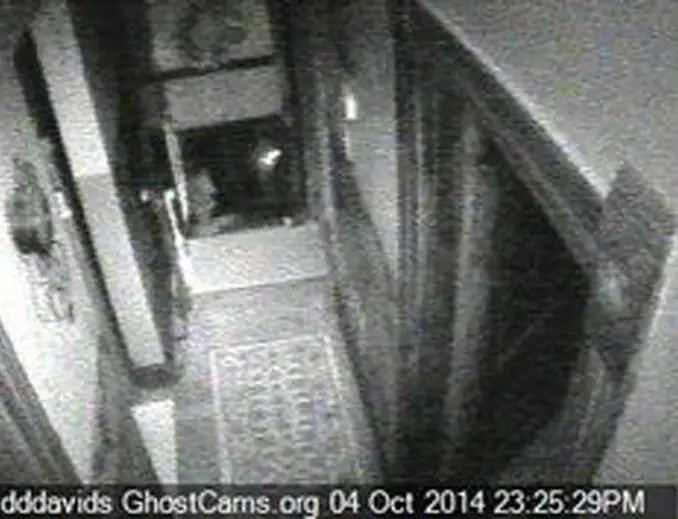 Unlike many of the paranormal webcams on this list, it's difficult to pinpoint exactly where this live stream takes place. They are known as "dddavid's webcams," and they evidently show the inside of an old Victorian house.
The stream features 4 different cameras in various parts of the house. Viewers can see two bedrooms (one that appears to be a child's bedroom), a sitting room, and a living room. According to the person running the cams, he has recorded EVP in all of these rooms and has seen the shadows of ghosts as he moves through the house.
While we don't know the history of this particular house, the reports of paranormal activity suggest that something dark once happened here. EVP recordings have picked up the sounds of children and babies crying and a woman's voice yelling, "go!" The person who set up the cams also notes that the doors in the 4 rooms where he placed cameras have locks on both sides of the doors, which he believes is evidence of a sinister history.
Watch here: http://www.dddavidsghostcams.org/Ghost/GhostArea3.html
3. Paris Catacombs
The catacombs that lie beneath the streets of Paris are legendary to anyone with an interest in the macabre. In this necropolis, you can walk amongst the dead for miles. It isn't surprising that there have been countless ghost sightings in the massive crypt over the years. However, what many tourists don't know is that the catacombs actually have their very own webcam.
The webpage for the cam describes it as follows: "Vision of a gallery with infrared … It's up to you … If you pass, do something weird, the world is watching you … Reload the page to have a new view …" This description suggests that the primary purpose of the cam is to watch tourists visiting the catacombs in the hope of catching them doing something strange in the dark. However, most people who regularly watch the catacomb cam do so for the ghosts.
It would be impossible to describe all of the creepy things that have happened in the Paris Catacombs over the years. If you aren't able to travel to Paris to visit this eerie sight, this paranormal webcam is the next best thing.
Watch here: http://chriskta.chez.com/webcam.htm
2. Craig Y Nos Castle
Craig Y Nos Castle in Wales is rightly known as one of the most haunted castles in the world. Much to the delight of ghost hunters, the castle now features three paranormal webcams where they can try to spot ghosts live on stream.
One of the reasons that the Craig Y Nos Castle is known for its ghostly activity is that it used to serve as a sanatorium for those suffering from tuberculosis. TB was a deadly disease, and many people met their end in the sanatoriums meant to keep the disease from spreading. One of the webcams at Craig Y Nos Castle is positioned on the floor that used to be the children's ward of the sanatorium. The castle's staff regularly spot apparitions of children in this area, and ghost hunters watch the cam avidly hoping for a glimpse of the ghostly youths.
The castle is also the former home of 19th-century opera prima donna Adelina Patti and her husband, the tenor Ernesto Nicolini. The couple's marriage was marred by a love triangle with composer Gioachino Rossini. It is said that all three still haunt the castle, forever living out their disastrous romance. Another of the castle's cams shows a view of the dressing room where the diva prepared for performances: a common spot for spotting the phantom trio.
Watch here: https://www.craigynoscastle.com/most_haunted_castle_-_ghost_cameras_at_craig_y_nos_castle.html
1. The Haunted Dollhouse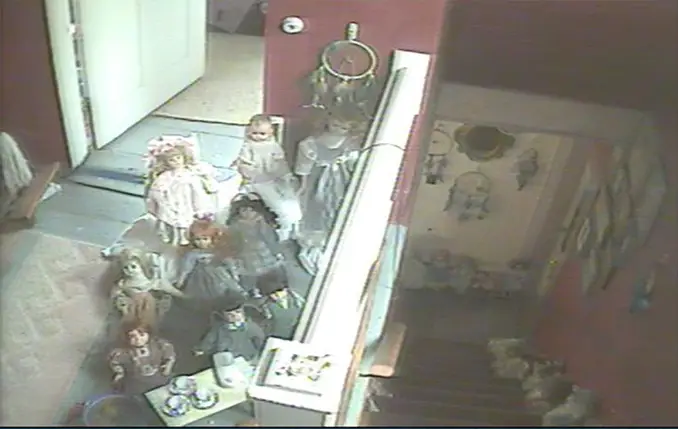 Unlike the other paranormal webcams on this list, this final stream is focused on a much smaller venue: a dollhouse. According to the masterminds behind this stream, the porcelain toys that fill the dollhouse are haunted by various spirits. A team of ghost hunters regularly tracks down haunted dolls from all around the world to place in their dastardly toy house. Viewers can even "adopt" the haunted dolls if they dare.
Viewers of the cam regularly report seeing faces in the mirrors or a ghostly girl on the stairs of the dollhouse. Many ghost hunters find this to be one of the creepiest ghost cams on the internet. Dolls tend to have an eerie vibe, with their still, yet lifelike eyes, so setting up a webcam to watch the possessed toys is certainly a chilling idea.
Sadly as of now, the live stream seems to have been decommissioned. But here's a chilling archived video posted to their facebook page:
On the morning of March 20th, 2009 the webcam that once watched the stairway caught something truly chilling. At 11:26 am an apparition can be seen manifesting at the bottom of the stairs. It's a small child-like figure. You can clearly make out a head and body but it's grey and translucent. The mysterious entity appeared live on stream for nearly two minutes before vanishing into thin air.
The owners of the dolls ran the footage through various light spectrums and in each enhancement you can clearly make out a body.
What do you think the figure is? Could it be the spirit of one of the possessed dolls? Let us know your thoughts in the comments below.
Here's an archived version of their original website: http://knightparanormal.com/dollhousecam/index.html
Related Posts: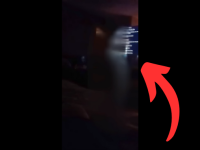 Copyright © 2023 Slapped Ham
Home /
Blog /
Legends & Folklore /
10 Infamously Haunted Dolls That Will Murder You
Believe it or not, haunted dolls are not altogether hard to find.
Many people list these dolls for sale online, along with other haunted objects.
But what once was a rare and terrifying item has somehow evolved into a marketing ploy.
Creepy Annabelle Doll
Updated 2/10/2020 – Are there dolls out there that are truly haunted?
In short—yes.
They may be hard to find, but there are creepy haunted dolls in the world that have a horrific history…and even terrifying abilities.
These dolls have been known to move on their own.
Some believe they are possessed by the spirits of demons.
One doll is even known to have the ability to cause mischief from afar.
There are people in the world who believe that there is no such thing as a haunted doll.
These very people often change their minds after encountering dolls such as Robert or Annabelle.
Read on to discover more about them and the other eight most genuinely supernatural dolls in the world.
The Ten Most Haunted Dolls In The World
Table of Contents
1 10) Peggy, The Doll Who Gives You Chest Pain
2 9) The Janesville Doll
3 8) Mandy, the Crying Doll
4 7) The Haunted Barbie
5 6) The Italian Doll
6 5) Joliet, the Cursed Doll
7 4) The Dolls of Satan
8 3) The Real Annabelle Doll
9 2) The Doll in the Abandoned House
10 1) Robert the Doll
10) Peggy, The Doll Who Gives You Chest Pain
dailymail.co.uk
Jayne Harris is a leading paranormal investigator in England who deals almost exclusively with dolls that are haunted.
One day Jayne received a package and a letter in the mail.
The package contained a blonde haired doll.
In the note, a woman said the doll's name was Peggy and that she was haunted.
Jayne began a case study on the doll, and posted many photos and disturbing videos of Peggy online.
Soon she began to receive letters and emails from people who saw the photos and videos and claimed that Peggy caused them to experience nausea and intense migraines.
One unfortunate woman even suffered from a heart attack after looking at a photo of Peggy.
Mediums have reported that the spirit of someone who died in the Holocaust dwells within the doll.
9) The Janesville Doll
najel/panoramio
During the 1970s, a man lived by himself in Janesville, Minnesota.
There was a small square window in the attic that faced the street.
In 1976, the man took a porcelain doll and placed it in the window.
Children noticed the doll in the attic window and became weary of it, claiming its expression would change.
Overtime, the entire town of Janesville believed the doll to be haunted.
Some theorized that the man once had a daughter who he murdered.
Afterward, he deeply regretted his decision and placed the doll in the window as a memorial to her.
Folks believed her spirit had transferred itself into the doll.
Nobody is quite sure why the doll was placed by the window on that fateful day, which further lends to creepy stories and legends.
The truth behind the doll, and it's paranormal abilities, may never be known.
8) Mandy, the Crying Doll
In 1991, the Quesnel and District Museum received an anonymous donation in the form of an antiquated baby doll.
The donor informed them that she could no longer endure hearing the doll cry in the middle of the night.
Puzzled, the museum curators included the doll in one of their exhibits, against the local psychic's advice.
Soon, visitors began to claim they heard disembodied footsteps in the room where Mandy was kept.
Anytime someone attempted to photograph the doll, their cameras would malfunction.
Even creepier is the fact that when Mandy has been placed in the same cases as other dolls, the other dolls become damaged and on the floor of the display case.
7) The Haunted Barbie
dolls.icapemay.com
It may be hard to believe, but one of the most haunted dolls in the world is in fact a Barbie.
During World War I, British occupied Singapore was once home to a family of German spies.
Once discovered, the British chased the family out, and the teenaged daughter fell from a cliff.
The local townspeople built a shrine for the little girl near the Cliffside.
Fast forward to 2007, when an Australian man began having dreams of a dead German girl who guided the man to the local toy store.
Once there she pointed to a Barbie doll in the display window.
The man had this dream three nights in a row and was convinced it was the German girl from Singapore.
He went to a toy store and bought the very doll the girl had pointed to, and took it to the girl's shrine.
Now, hundreds of people believe the soul of the German girl now lives in the Barbie.
6) The Italian Doll
thecoverage.my
During the 1920s, a little girl in Italy received a doll.
The doll was primarily made of felt, but had a head covered in real human hair.
The girl became inseparable from the doll immediately.
She named her Pupa and prized her above all other possessions.
As the girl spent more time with Pupa, she began to insist that the doll was alive and would often speak to her.
The girl grew to be a woman and kept the doll until her death in 2005.
Her family kept Pupa and placed her in a glass case as a tribute to the woman.
The family has said that Pupa does not like to be confined and can be heard knocking on the glass at night.
Occasionally she likes to sneak out and roam around the house as well.
5) Joliet, the Cursed Doll
youtube.com
Many years ago, a woman discovered she and her husband were going to have a baby.
Delighted by her good fortune, she shared the news with her best friend.
That friend had been trying to have a baby for a long time, and was intensely jealous.
The friend acquired a doll with a terrible curse and gave it to the pregnant woman as a gift.
Nine months later, the woman gave birth to a healthy baby boy…who mysteriously died three days later.
After the death of her son, the woman began to hear her baby's cries emanating from the doll.
A few years later, the woman had a baby girl, who grew up and acquired the doll.
Her son also died three days after being born.
For four generations the women in the family all had sons who died on their third day of life, and each could hear the sounds of their crying babies come from the doll.
4) The Dolls of Satan
creolemoon.com
During the 1800s many affluent families lived in New Orleans.
One of those families had a daughter who was ready for marriage.
The young woman had had a secret affair with a boy in town, but was arranged to wed a wealthy Scotsman.
When her lover found out, he sought the help of voodoo queen Marie Laveau.
The girl was married and soon became pregnant.
But she did not give birth to an ordinary baby.
Instead, she gave birth to a grotesque, deformed monstrosity everybody believed to be the spawn of the devil.
The good people of New Orleans began to believe that the baby would wander the city at night and attack anyone in the streets.
Some began to believe that by carving a likeness of the baby into a gourd and leaving it on the porch would protect them from Satan's child.
To this day, the devil gourd dolls are still made.
Many believe they are still cursed objects, courtesy of Marie Laveau.
3) The Real Annabelle Doll
blumhouse.com
Many horror fans know about Annabelle from The Conjuring, and the movie that was made about her a few years later.
But the story of the real Annabelle doll is quite different.
In 1970, a young woman named Donna received a Raggedy Ann doll from her mother.
She kept the doll around her apartment.
Soon, Donna and her roommate Angie began to notice that the doll would often change position or be in a different room altogether.
The girls decided to call a psychic who told them a girl named Annabelle once died in their apartment complex.
Saddened by the story, the girls invited Annabelle's spirit to fully transfer itself into the doll.
The doll then began to emit a blood-like substance from its hands…it even attempted to strangle one of their friends.
Today, Annabelle lives at Ed and Lorraine Warren's Occult Museum.
2) The Doll in the Abandoned House
Kerry Walton grew up in Wagga Wagga, New South Wales.
There was an abandoned house on the street that Kerry and his friends all believed to be haunted.
After Kerry grew up and moved away, he decided to visit his hometown and the abandoned house.
Hidden underneath the floorboards he discovered a historic marionette doll.
Intrigued, Kerry put the doll in his car and began to drive home.
During the drive he heard the doll cry out "Ledda me out!" and decided to call it Ledda.
After Kerry brought Ledda home, people would scream and grow extremely uncomfortable in the presence of the doll.
They started making appearances on television shows, and one cameraman insisted that the doll turned his head to look at him.
Kerry still has Ledda, and has gone on several Australian television shows with what is now considered one of the most evil dolls in existence.
1) Robert the Doll
cellphonesusie/flickr
Robert the doll is considered one of the most haunted dolls in the world.
In 1904, a boy named Robert Eugene Otto received a doll from the family's maid.
Robert, who went by the name Eugene, decided to call the doll Robert.
Not long after he got the doll, Eugene told his parents the doll destroyed his other toys and would knock furniture over during the night.
When Eugene became an adult, he moved out of the house and left Robert behind.
The house was converted into a bed and breakfast and the owners said they heard Robert moving around at night, and he would often laugh to himself.
Today, Robert the doll lives at the Fort East Martello Museum.
Rumor has it that the staff routinely receive letters of apology written to Robert by those who acted rude around him when they visited the museum.
Automated page speed optimizations for fast site performance
Weird But True
Sex & Relationships
Viral Trends
Human Interest
Fashion & Beauty
Food & Drink
trending now in Lifestyle
I slept with 300 people in a year — haters say I'm 'disgusting'...
Here's what happens to your body when you quit alcohol for 30 days
Scientists say this simple eating habit sheds pounds like a....
Wild airport act stuns travelers: 'Imagine being stuck beside him'
Google hack for cheap flights goes viral on TikTok: 'Did I unlock...
21-year-old receives 'devastating' diagnosis after mysterious...
10 foods that need to be refrigerated — but not everyone does
Here's the pasta that aligns with your zodiac sign, ghost hunter 'cursed' after visiting 'most haunted doll in the world', social links for tracy swartz.
View Author Archive
Get author RSS feed
Thanks for contacting us. We've received your submission.
Legends of the doll.
A professional ghost hunter from Nashville says he visited the "most haunted doll in the world" — and now people are convinced he's cursed.
Kalani Smith , 25, and a Canadian YouTuber known as Exploring with Josh performed a blood ritual sacrifice to the terrifying Robert the Doll.
"Many of the people that have come here and looked into Robert's eyes have experienced car troubles, marriage troubles, and some people have even gotten cancer," Smith said in a TikTok last month that has scared up 36,000 views.
Robert lives in a museum in Key West, Florida. The doll, a boy dressed in a sailor suit holding a small dog, is said to have been gifted to a boy who grew to be an eccentric artist.
Robert allegedly has supernatural abilities that allow him to move and giggle — and he is believed to have inspired the 1988 Chucky film "Child's Play." One look at the toy can reportedly unleash his curse.
"The doll is rumored to curse people that film or video him without permission — and we didn't ask. We didn't pick [him] up, and he stayed in his case while we were outside of the room, but once we unveiled him, an electric and heavy feeling filled the air," Smith admitted to Jam Press .
"We got some voices that came through on our voice recorder and equipment going off in the chamber. There was also something that came through the spirit box, which said it wanted us to stay."
For his part, Josh posted an hourlong haunting YouTube video last week that showed the pair's blood offering to Robert. Things quickly turned negative.
"We got attacked after the blood ritual was performed and felt like we caught on fire. It got insanely hot, and then we both ended up throwing up," Smith explained to Jam Press.
"Josh was considering going to the hospital if his condition didn't improve. He was laying [down] pouring water on himself, and we had to eventually leave the property for 20 minutes, before returning to continue our investigation in [Robert's] chamber."
Josh films himself struggling to breathe before almost throwing up.
He claimed that since shooting that clip, he has suffered bad luck that included a canceled flight, lost baggage, and inflammation and pain in his eye.
He said he apologized to Robert and plans to undergo a cleanse, as he "can't take this anymore."
Social media users did their best to creep it real in the comments section.
"You don't have to gamble yourself just to make a good video. Next time be careful [paranormal investigators]," one person advised.
"Dude this is too much, think of your own safety," another recommended.
"Please take care of yourself Josh and be careful. I feel really worried about you," a third chimed in.
Share this article:
Advertisement
lol Badge Feed
win Badge Feed
trending Badge Feed
Browse links
© 2023 BuzzFeed, Inc
Consent Preferences
Accessibility Statement
I Bought A Haunted Doll From eBay And Now She's My Friend
Her name is Mary. She wants to be your friend.
BuzzFeed Staff
A few months ago, a "very haunted" laptop went up for auction on eBay. Obviously, my co-workers and I wanted to buy it immediately, but it was too pricey. Shockingly, we were not granted permission to expense a $3,000 haunted laptop.
That was how I started a search that led me to Mary.
You can buy a lot of haunted things off the internet. Or, if you're a skeptic, you can buy a lot of "haunted" things off the internet. I try to be a skeptic, but if I'm being totally honest, I'm very afraid of ghosts. I can't sing the Ghostbusters theme song without lying. I realize that makes a lot of people think I'm a huge idiot, but I'm not the only idiot. According to a BuzzFeed poll , 55% of respondents said they believe in ghosts. (Just kidding, guys, I know we're not idiots.) And if you don't believe in ghosts, congratulations. You don't have to deal with the stress of walking past a mirror at night and worrying you might see a horrific face. MUST BE NICE.
When the laptop didn't work out, I went looking for a more affordable ghost. One of the easiest to find comes in the form of the classically terrifying haunted doll: eBay has dozens of creepy haunted dolls for sale — many at reasonable price points! You can even get a haunted Beanie Baby. See below for a haunted Beanie Baby frog.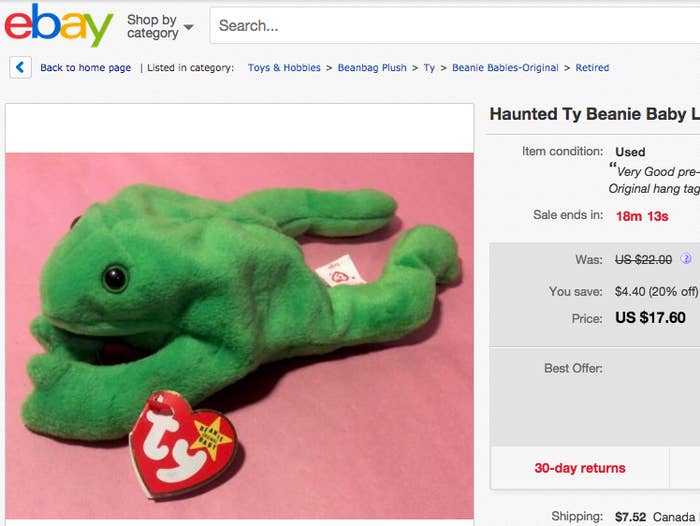 I decided to buy a haunted doll, but I had to choose the right one. While browsing eBay's vast selection, I learned a lot about the doll-collecting world. Apparently, a problem that arises for people with large collections of dolls is that at least one will be haunted. But it can be impossible to tell which one, leading many doll enthusiasts to sell off their entire collections to try to eliminate the ghosts in their homes.
"I am having way too much paranormal activity in my home as I have collected over 400 dolls," said one eBay listing .
Another doll listing stated, "I started buying dolls online and in antique stores and shortly after started experiencing things like my doors opening and closing on their own, my bedroom door knob jiggling when I'm home alone, and hearing whispers."
One seller even said her daughter threatened to move out of the house unless she got rid of the dolls.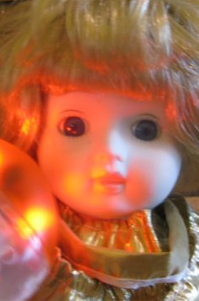 This doll below also came with some guidelines.
"This is Buddy. Buddy is a 4 year old little boy that is anchored to this nice clown doll… If you are afraid of the paranormal, please do not bid on him. Fearful people tend to not make good homes for spirit children."
Hold up, "NICE clown doll"? Come on.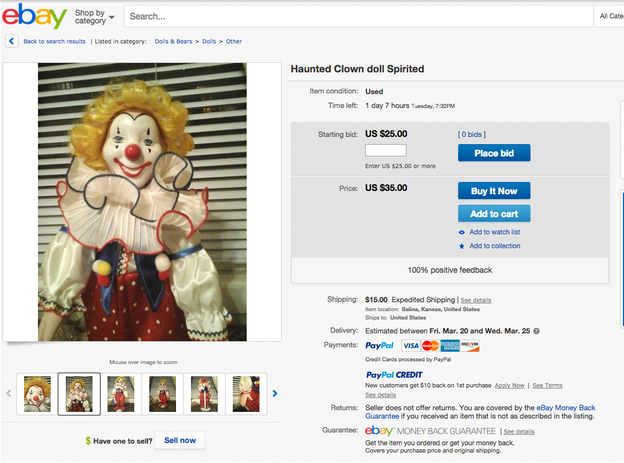 I knew I wanted to find a doll that seemed haunted but not TOO haunted and definitely not too scary-looking.
So, not this one.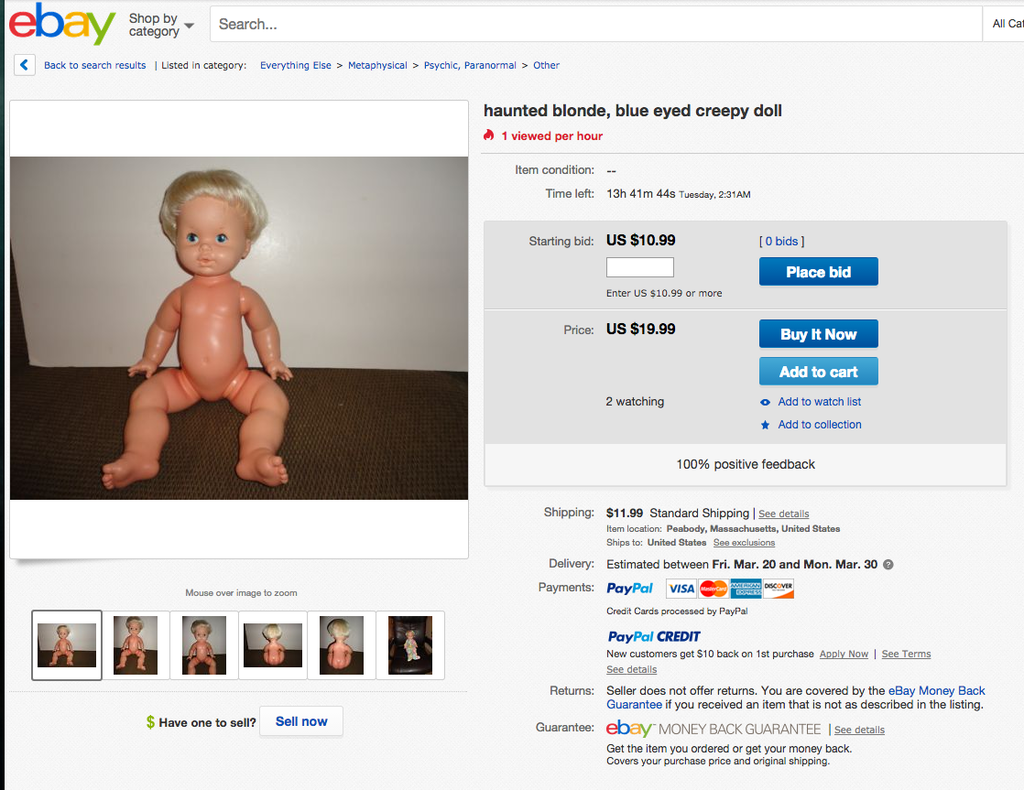 Or this one.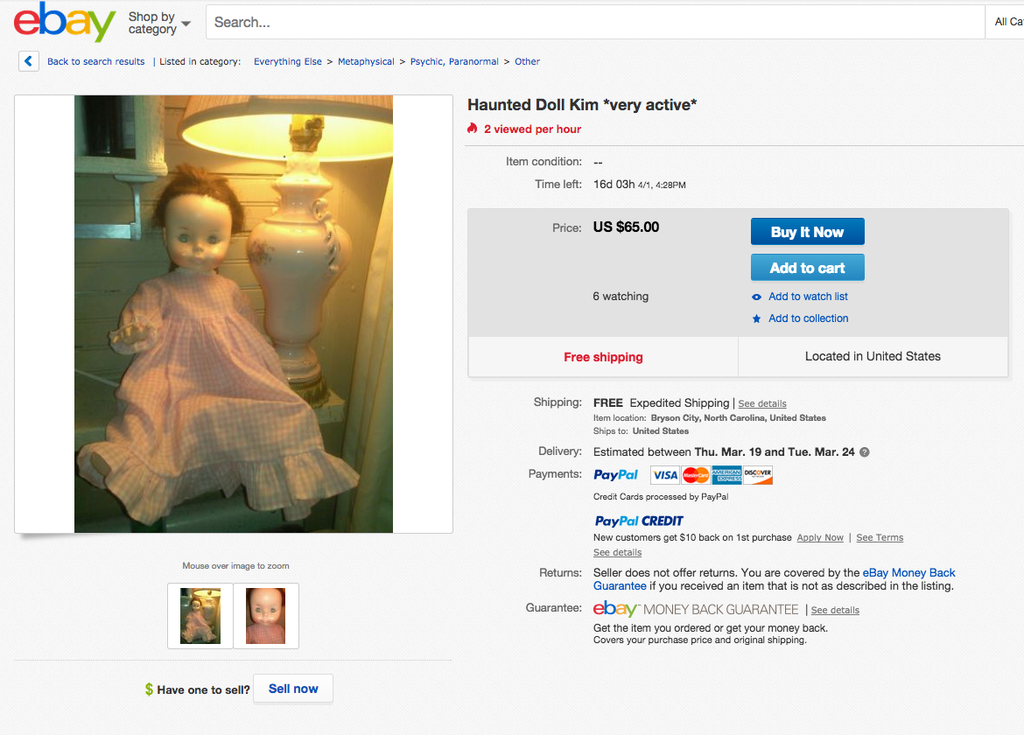 Oh heyyyyyy.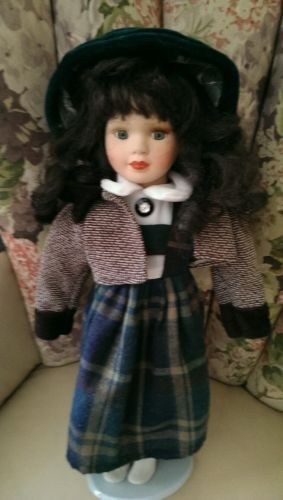 That's when I came across Mary.
She didn't look horrifying. The eBay listing insisted she was a "positive spirit," which seemed nice. There was also an incredibly detailed backstory about how the ghost anchored to the doll was a teenager in the 1950s who lived in Ohio and liked to paint. How did the seller know this? Well, naturally, the ghost of Mary came to the doll's owner in a dream and revealed this information. The listing stated that if you bought the doll, she would come to you in your dreams too. Compared to doors slamming on their own, a dream haunting actually seems quite pleasant. I was sold. (For $33.99.)
Do I really think all the "haunted" dolls for sale on eBay are actually haunted? Ehhh, probably not. But would I keep one in my home? Hell no. Instead, I had Mary shipped to my office.
On the day she arrived, my co-workers looked on with skepticism as I unboxed my new haunted doll. I immediately felt like I had to treat her with respect or risk the wrath of a ghost. "I feel bad that she's wrapped in bubble wrap," I said as I freed her. "It's a doll!" replied a co-worker, who would likely regret taking that tone with Mary the haunted doll. The doll smelled musty, wore a tasteful plaid dress, and had some weird yellow gunk on her eyes.
My co-workers were largely not thrilled to have a haunted doll in the office. The negative reaction was stronger than I anticipated. The phrase "el diablo" got thrown around a lot. People wanted to burn sage. Our workplace harassment training did not cover paranormal activity, so I wasn't sure if I was creating a hostile work environment or not. Mary was supposed to be a positive spirit! How could anyone be afraid of something wearing such a jaunty velvet hat?
Matt Bellassai @MattBellassai well @robotics got a haunted doll from ebay & had it sent to the buzzfeed office so i will be working from home until that demon is removed 07:05 PM - 02 Apr 2015 Reply Retweet Favorite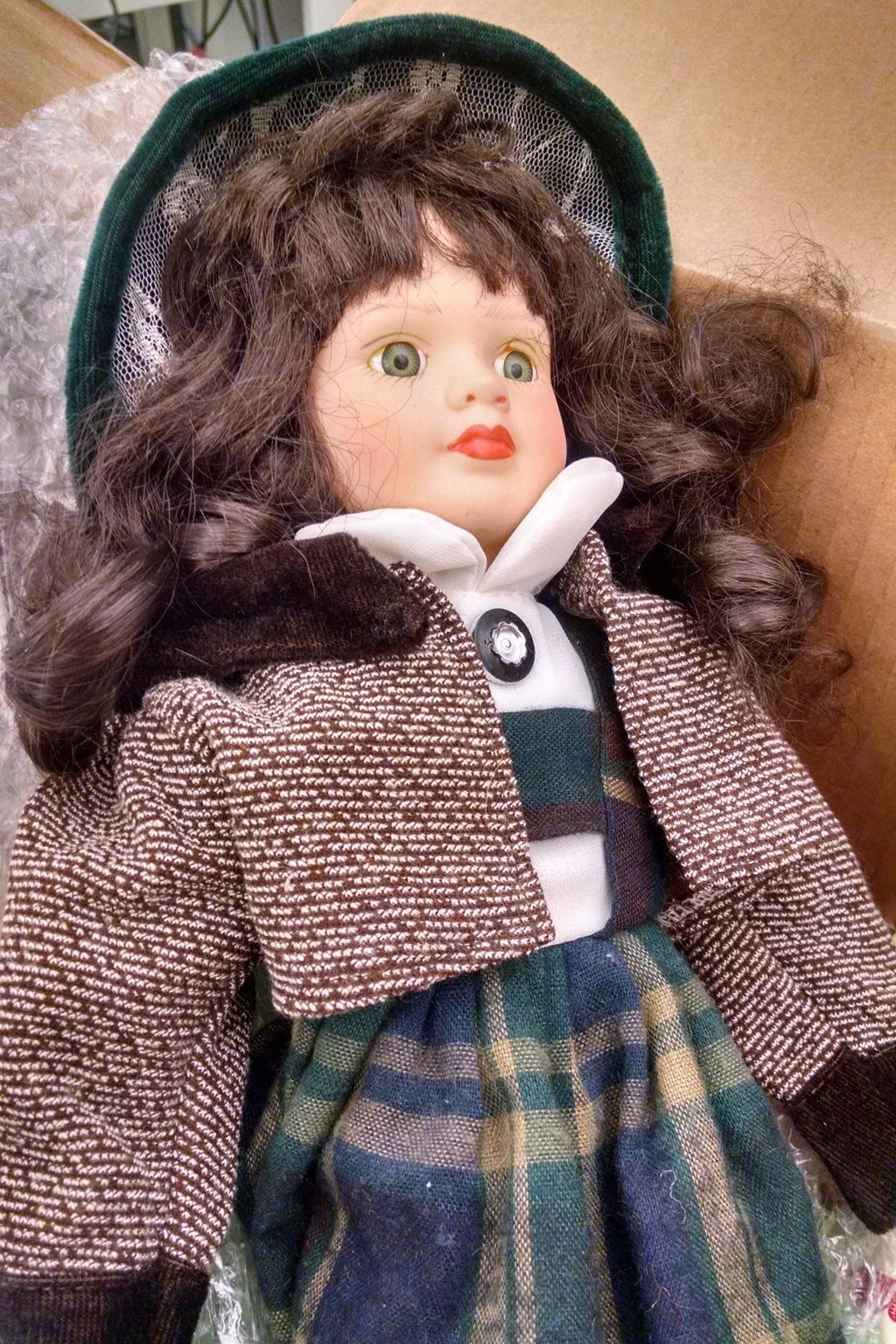 I polled BuzzFeed readers to see if they thought the doll was scary. Readers ended up being braver than BuzzFeed employees — only 35% of respondents thought Mary looked haunted. But to be fair, they did not have to spend time with her.
I sent an email reminding everyone not to touch my haunted doll. My warning was promptly disregarded. I'm not sure what part of "don't touch my haunted doll" is so difficult to understand, but people couldn't quite grasp it. Needless to say, people moved the doll. And took selfies with it.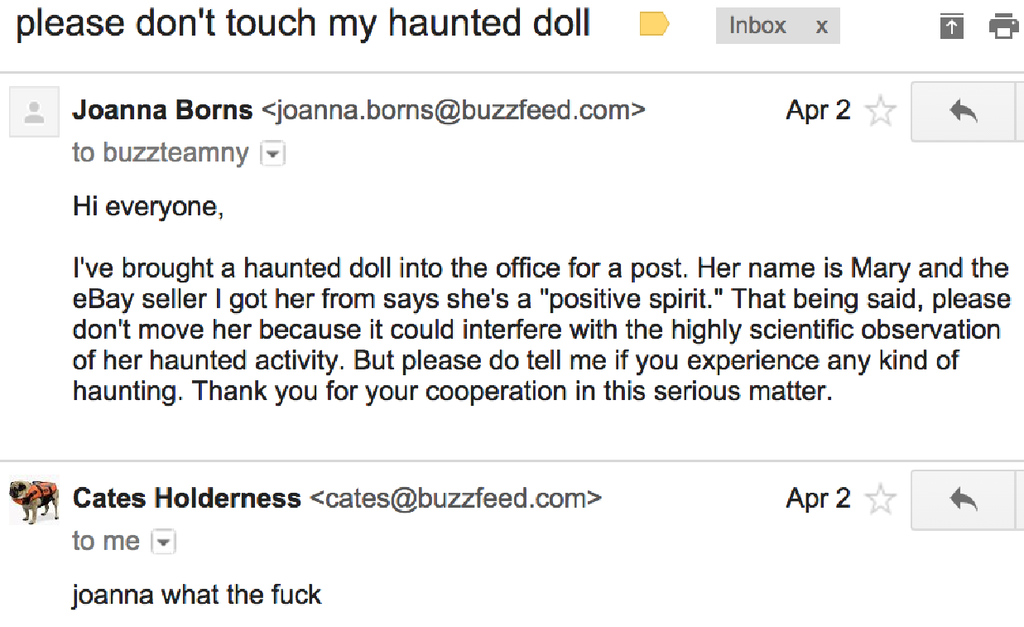 Some people obviously didn't fear the potential consequences of mocking a ghost. (By the way, Mary does NOT need a boyfriend. Her ghost is only 16 years old and would rather focus on her painting, I assume.)
So I put up a sign to make sure everyone knew that this was a haunted doll and not just some regular, non-haunted doll.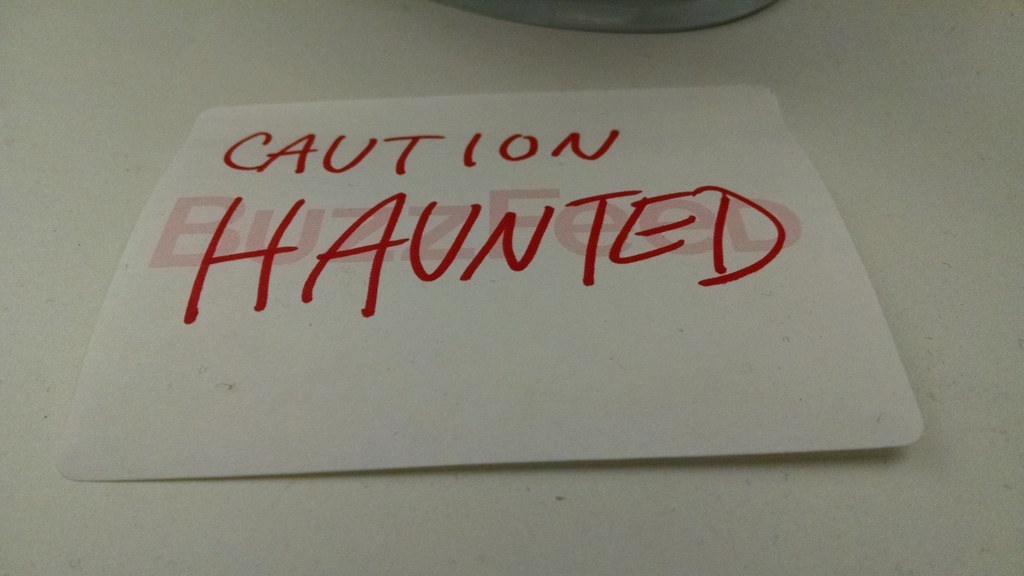 Eventually, Goosebumps author R.L. Stine got his hands on Mary. His professional opinion was that she is in fact haunted.
In spite of R.L. Stine's assessment, nothing ghostly seemed to be happening around the office, though it's possible all of the haunting occurs at night when no one is around (thank god).
Things got more interesting when I started using a ghost-tracking smartphone app called Ghost Radar . The app claims to make it possible for paranormal energies to manipulate your phone. As a result, the app tells you when a ghost is allegedly nearby, and also translates words that a ghost is trying to communicate with you.
Any time I used the app around Mary, it said it detected a ghost. One of the first words the app detected around Mary was the word "loving." (So maybe she IS a positive spirit.) I took Ghost Radar for multiple strolls around the office to see if it detected ghosts in other places, but it rarely detected anything. There was almost no activity on the app unless my phone was around Mary — except for one other corner of the office containing a water cooler and a life-size cardboard cutout of Ryan Gosling , which also seemed particularly haunted according to the app.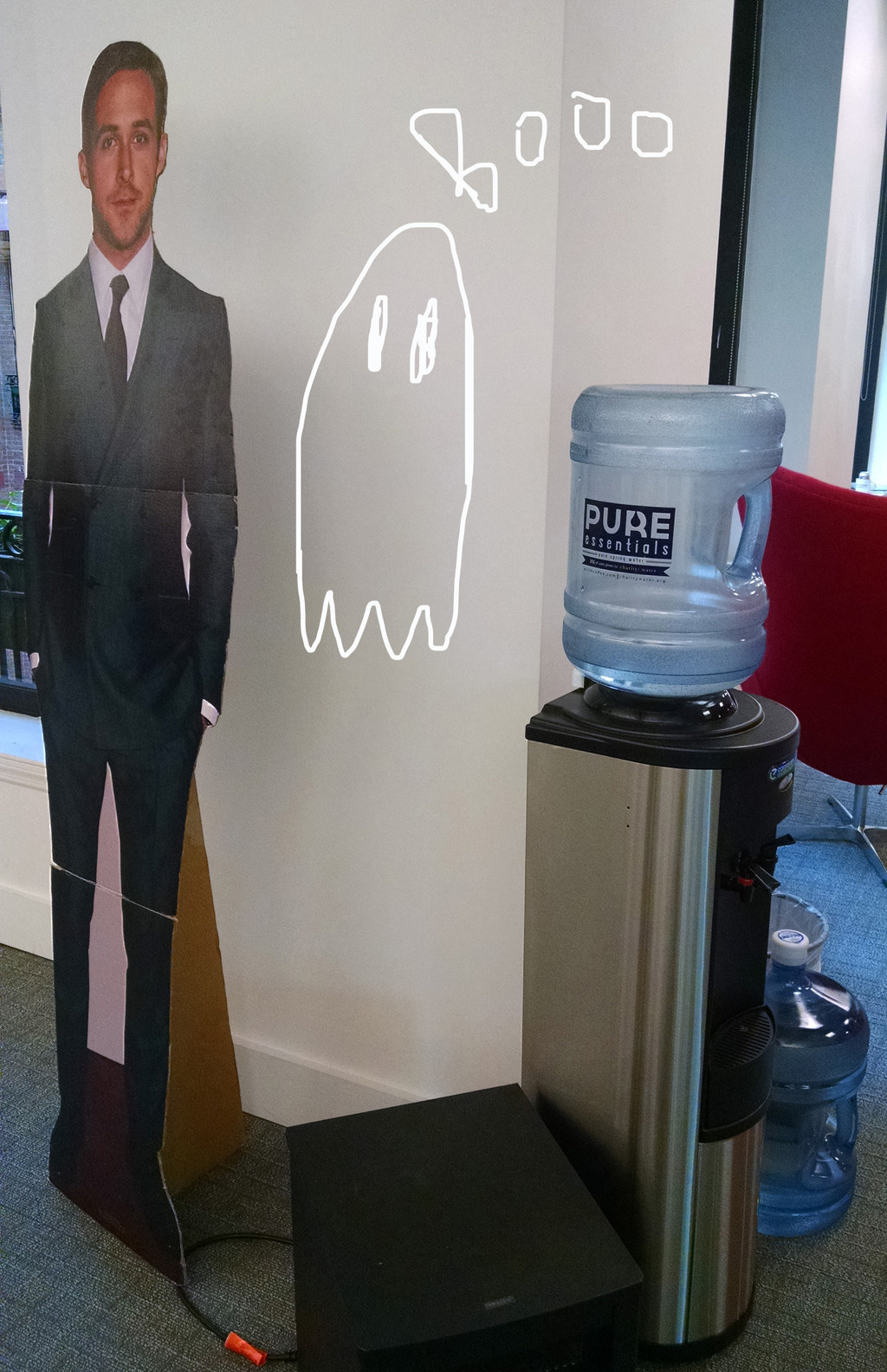 The words the app picks up from the spirit world seem very random, though sometimes disturbing. The first time I felt scared of Mary was when the ghost app detected the word "incubus" in her presence. I was also not a fan of the word "nightmare." Another disturbing sequence of words was "cave," "earthen," and "bones." Had Mary been murdered and buried in a cave? It seemed likely.
The most relevant thing the ghost app picked up from Mary was the word "Ohio." Mary's seller on eBay said the ghost had lived in Ohio when she was alive. Another ghostly coincidence occurred when I skipped a kickboxing class to go to happy hour. I pulled out my ghost app at the bar, and the spirit world said "exercise" and "tonight." Apparently ghosts will not miss an opportunity to shame you for your life choices.
Plus an added benefit of having a ghost app on your phone is you can pull it out during awkward silences at a bar when you've run out of things to talk about and just start hunting ghosts until people decide to stop talking to you completely because you're being too weird.
The eeriest thing the app picked up from Mary were the words "fear," "astral," and "release." Was her spirit trapped inside the doll? Did we need Jennifer Love Hewitt from the canceled CBS show Ghost Whisperer to help her spirit cross over and finally be at peace? This was getting intense, and I was starting to grow fond of Mary. Maybe too fond. Some of my co-workers theorized that Mary had possessed me. I found myself saying things like "I am her keeper and I'll do as I please," which was a little disturbing, but not necessarily paranormal.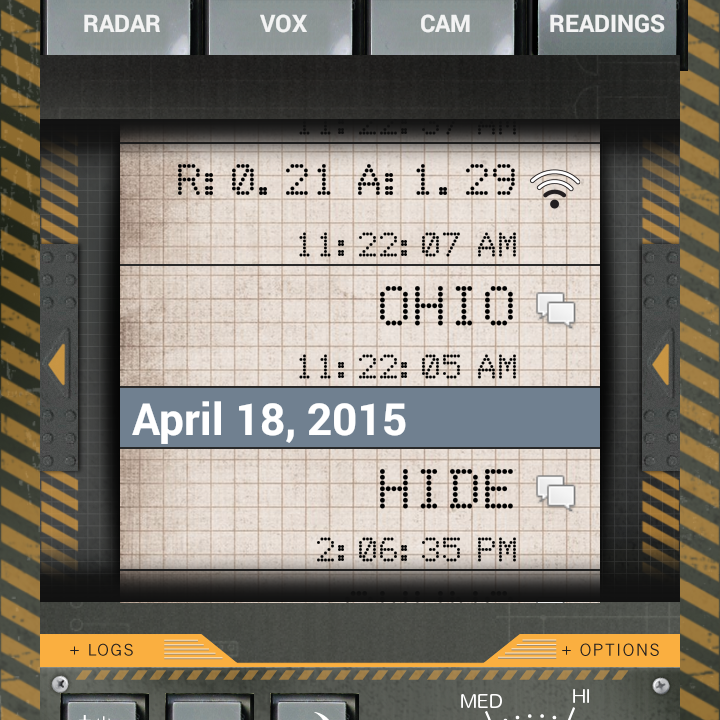 The only notably weird physical thing that happened was the time I was talking about Mary and a piece of plaster fell off the ceiling. People nearby blamed Mary. But my office building is pretty old, and that just didn't seem like her style.
In the time that has passed since Mary's first day in the offices, attitudes toward her have shifted. One co-worker who threatened to quit when Mary first came out of the box recently hugged her (even though she still smells musty as hell) and said, "We love and respect Mary." Either this doll is not haunted at all, or she's managed to possess us all.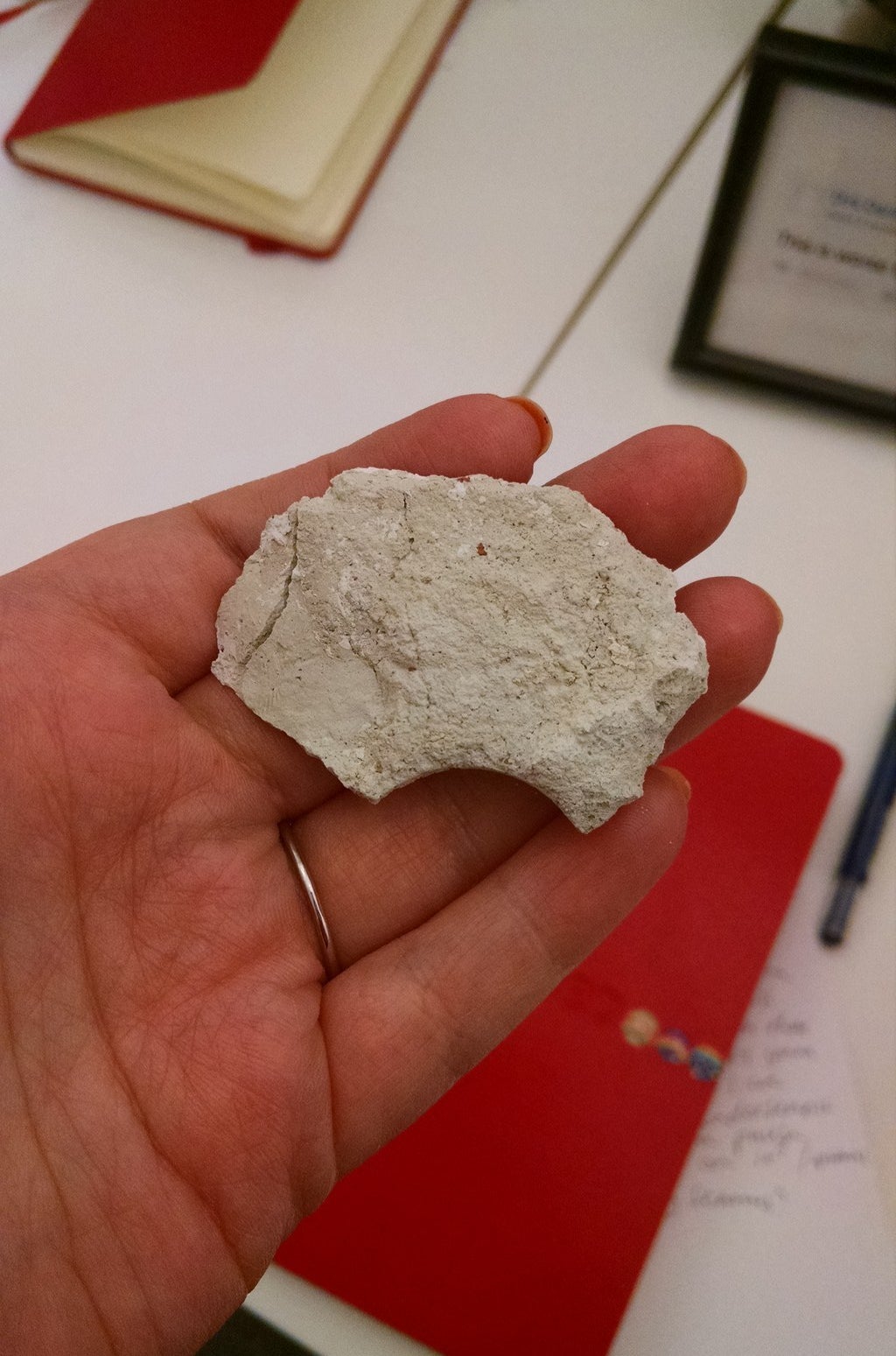 READ MORE: A Psychic Said My Creepy Doll Was Haunted
buzzfeed.com
Share This Article
24 scariest haunted dolls you do not want in your home
Real Haunted Dolls are a very popular subject because there are so many victim reports that have bad experiences with haunted dolls from all over the world. Several stores sell haunted dolls, and some people have a vast collection of haunted dolls. Such dolls include Robert the Doll, Amanda, Pupa the Haunted Doll, Mandy the Doll and the famous Annabelle Doll currently showcased in the Ed and Lorraine Warrens' Occult Museum. Besides these famous names, there are so many others that haunt people terribly.
1 | Robert – The Evil Talking Doll
Robert the Doll is said to be one of the most haunted dolls in history. The museum where he currently lives claims that Robert moves around at night on his own and follows you around with his beady eyes. One of the museum rules is, if you don't ask Robert for permission before taking a photo, he will cause misfortune in your life for disrespecting him.
2 | Annabelle – The Haunted Doll
In 1970, a mother purchased an antique Raggedy Anne doll as a present for her daughter Donna on her birthday. Pleased with the doll, Donna placed it on her bed as a decoration. With time, she noticed something very strange and creepy about the doll. The doll apparently moved on its own and even changed its position and much worse, would be found in a completely different room from which it was placed.
Donna later seeks the advice of a priest who then contacted expert paranormal investigators, Ed and Lorraine Warren, who after visiting Donna, took the ragdoll with them when they left. Annabelle's antics were so bad, she is now locked inside a protective glass case in an occult museum to keep her at bay. It is still reported that Annabelle somehow manages to turn up in the strangest of places.
Even though she lives in a glass case, Annabelle is still responsible for many deaths. Years ago, a teenage boy and his girlfriend visited the museum in Ohio, where Annabelle resided. The boy insulted the doll, slamming her case, saying how it's bullshit, he was then kicked out. The boy and girl got on a motorcycle and left. As they were driving, the boy lost control of his bike and slammed into a tree, he died on impact, but his girlfriend survived without a scratch. Right before they crashed, they were laughing about the doll.
3 | Okiku – The Haunted Japanese Doll
According to modern Japanese folklore, in 1918, a teenager named Eikichi Suzuki purchased a large doll from Hokkaido for his younger sister, Okiku, who gave the doll her name. When Okiku died, her family came to believe that Okiku's spirit was inhabiting the doll and the hair on the doll was growing. The doll resides in Mannenji Temple in Hokkaido, where it is claimed that a priest regularly trims Okiku's still-growing hair.
4 | Letta The Doll – The Gipsy Doll That Cries Out "Letta Me Out!"
Kerry Walton, of Brisbane, Australia has appeared on a number of television programs with a doll he claims to have found while visiting an abandoned building in 1972 in Wagga Wagga, Australia. According to Walton, he named the doll "Letta Me Out" because of its supposedly supernatural characteristics. Kerry claims that people have seen the doll move in front of them, and that the doll has left visible scuff marks around the house. Currently, Letta Me Out is owned by Kerry in Warwick, Queensland.
5 | Pupa – The Haunted Doll With Real Human Hair
According to stories published on the internet, Pupa is a doll said to "contain the spirit" of a dead Italian girl. Pupa the Doll was made in the likeness of her owner, a young girl in Italy in the 19203. Pupa became that little girl's best friend and secret keeper, until the end of her life in 2005. Since then, Pupa has been kept in a display cabinet, which she does not seem to like at all. They often find the doll positioned differently than where they left her. The family who now owns Pupa says objects in the display case where she is kept are frequently moved around. On several occasions, they have heard a tapping on the glass of the case. Upon hearing the noise, they look to find Pupa's hands pressed against the glass.
6 | Mandy – The Cracked Face Doll
Made in England or Germany between 1910 and 1920, Mandy is a porcelain baby doll donated to the Quesnel Museum in British Columbia in 1991. Mandy is also said to have supernatural powers. It is claimed that Mandy's eyes follow visitors as they walk in the room. The doll gained notoriety when it appeared alongside the curator and donor of the doll on the Montel Williams Show.
7 | The Pulau Ubin Barbie Doll
The German Girl Shrine, also known as Berlin Heilingtum, is situated on the island of Pulau Ubin and is one of the most unconventional shrines in Singapore, dedicated to an unnamed German girl who is worshipped as a local deity. An altar is placed within a hardwood structure that was built in the place of a small yellow hut to honour her memory, where visitors pay tribute to the unnamed German girl by leaving behind an array of items like candles, fruits, perfumes, nail polish, and lipstick as offerings.
Inside the hut, there is a cross and a cased barbie doll placed at the altar. Though, numerous stories surround the origin of the German Girl Shrine, the most widely believed one is that during World War I an 18-year old German girl jumped to her death in a bid to run away from the British forces who were rounding up German families on the island. Locals and travellers pay their tribute to the memory of the young German girl whose body was found by the coffee plantation workers.
8 | The Doll That Aged
When dolls age they tend to look quite creepy: hair falls out, colour fades, cracks appear and, at times, the eyes go missing. It's a natural process that comes with time and neglect. But this doll is different. A couple, who had children, one birthday or Christmas they bought their young daughter a doll. Although the doll had been well played with it was still in a rather good condition when it was placed in an attic and forgotten about. Eleven years later, the family was having a cleanout of the attic when they stumbled across this rather odd-looking doll. The doll was wrinkled and aged like a person does, though much more rapidly. Therefore, it has led many to believe it to be a haunted living doll.
9 | The Peruvian Anabelle
The Nunez Family, who live in EL Callao, Peru, claim to have suffered seven years of misery at the hands of a "possessed angelic-looking doll" since it was given to them as a gift. They usually see strange lights, hear weird noises in the house and the doll apparently moves around the house on its own. And the most strange thing is that the bizarre scratches which often appear on their children. The blue-eyed doll has been dubbed the 'Peruvian Anabelle' by netizens.
10 | The Cookie Monster Doll And The Elmo Doll
In the 1980s, many reports of children having nightmares, brought on by sleeping with a cookie monster doll. What got people worried about this was not because the children were having nightmares, but that all the nightmares were the same. They would wake up in their bed in the dark, and see a man in the shadows staring at them. Over the years, this happened less and less, however, children with Elmo Dolls are now experiencing these nightmares.
The furry red Elmo Doll is one of the most successful toys ever sold. Talking Elmo Dolls have been a must-have holiday gift since the first one was sold in 1996. Early Elmos giggled when they were tickled. They acquired larger vocabularies as the years went on. But that doesn't explain the 'Elmo Knows Your Name' doll purchased by the Bowman family in 2008 for their two-year-old son James. 'Elmo Knows Your Name' was programmed to speak its owner's name along with a few other phrases. But when the Bowmans changed Elmo's batteries, he started ad-libbing. In a sing-songy voice, the doll chanted "Kill James." Not something any parent is likely to find endearing.
11 | Charley – The Haunted Doll
Charley was first discovered in the attic of an old Victorian home in upstate New York in 1968. Charley was locked away inside a trunk with newspapers dating back to the 1930s and a yellowed piece of paper that had the Lord's Prayer written on it. The family placed the figurine on display with their other dolls and toys. Soon, however, Charley seemed to move on its own, swapping places with the other toys.
Not long thereafter, the family's youngest daughter claimed that Charley spoke to her in the middle of the night. The parents dismissed the claim, chalking it up to their daughter's overactive imagination. But the little girl and her siblings were terrified of Charley; they refused to go near it. When mysterious scratches appeared on the little girl's body, the family decided to lock Charley back up in the attic trunk. Charley now resides at Local Artisan, a Beverly, Massachusetts oddities shop just minutes away from Salem. Swing by and say hello!
12 | Ruby – The Haunted Doll
Like a few of the dolls on this list, Ruby could never stay in one place at a time. Its owners often found the doll in different rooms of the house. What's more, picking up Ruby induced feelings of sadness and nausea.
According to its former owners, Ruby was passed down from generation to generation. The doll's spooky origin traces back many years ago to a young family relative, who was said to have passed away while clutching the figurine. After jumping between different family members, Ruby has now found her forever home at The Traveling Museum of the Paranormal and the Occult, where visitors often feel an overwhelming feeling of sorrow from the doll.
13 | Mercy – The Haunted Evil Doll
The haunted evil doll Mercy is said to be possessed by the spirit of a seven-year-old girl and remains haunted due to its presence. Several unusual happenings surrounded the doll and many owners reported that the doll changes the positions of its own and the radio or television station changes when the doll is around.
14 | Amanda
Amanda was considered to be a doll with a lonely spirit who was sold more than 10 times without staying in the same place for long. Many believed that the doll brought bad luck and others reported that the doll made unusual noises and tends to change its positions of her own.
Peggy was believed to be haunted that triggers headaches and chest pain and has an effect on those who have never ever been around her. The videos and photos of the doll caused many to suffer from anxiety, headaches and other mental disorders and it also resulted in a heart attack to a woman after viewing the online videos of the doll.
16 | The Blindfolded Doll
With its name unknown, the doll was commonly known as the "Blindfolded Doll" with its eyes covered by a blindfold. The reports about the ability of the doll to move around of its own, moving its head from side to side and that it speaks in an adult woman's voice altogether left the doll haunted. However, many believed that whoever lifted the blindfold was indeed followed by the creepiness of the doll.
17 | Caroline
This haunted porcelain doll is said to be haunted by three spirits and was found at a Massachusetts antique shop. In regards to the spirits, they fight for control of the doll, often acting as one entity. While this may sound bad, it is believed that the spirits that currently possess Caroline were actually the former owners of the doll and that they are actually benevolent.
Caroline reportedly never harms her owners, but instead, she plays harmless pranks on them. She would do things like hiding books behind the bookshelves or put unlit candles in the oven while it was off, and she would purposefully misplace objects. many believe that when you hold the Caroline doll up to your ear, it may start talking and whispering to you.
18 | Christina – The Peaceful Haunted Doll
"Christiana, The Peaceful Haunted Doll" was bought on eBay over 4 years ago and she still has a few haunted tricks up sleeves. If you look closely at her eyes, you can see that something paranormal is going on. Christina loves having her pictures taken but when she has had enough, then watch out! The series of photos of her will start to change as you see the ghost inside her manifest itself. At times, she just sits peacefully in her chair, at other times she will be found out of her little chair and onto the floor. She also changes positions or she is slumped to one side of the chair as if asleep. If you brush the knots out of her hair, it gets tangled the very next day. It seems that Christina likes watching television.
19 | Joliet – Haunted Doll
Joliet is a strange doll that belongs to a woman named Anna. Joliet has been in Anna's family for four generations. A friend of the family gave Joliet to Anna's great grandmother as a baby shower gift when she was expecting a child. However, this friend was not a true friend; she harboured envy and malice, though it is unclear why.
The doll brought a curse into the family, and therefore, negative things began to take place. The curse would dictate that each woman, starting with Anna's great grandmother, would have one boy and one girl. Each boy would die soon after being born, while the daughter would grow up to perpetuate the curse. This is exactly what happened over and again in a series. First, to Anna's great grandmother, then to Anna's grandmother, mother, and ultimately her. She too had a boy that died three days old.
The doll is currently said to possess four spirits, and the family refuses to part with it. They can now hear multiple cries coming from Joliet, and they truly believe the spirits of those four children are in Joliet. They will continue to care for the doll as a part of the family, and Anna's daughter will one day inherit Joliet, who will wait patiently for her next victim.
20 | Katza – The Cursed Russian Dol
Katja is a cursed doll! This name was given by Tsar Mistresses in Russia in 1730. A mistress was pregnant and wished for a baby boy; the opposite happened and the baby girl was burnt alive. It was said that the baby girl had some defects.
When this happened, the baby's mom made a doll from the baby's ashes and mixed the same with ceramic and porcelain. After that, all generations have guarded the doll because they believe it's cursed. Some people say that when you stare at it for 20 seconds, it blinks at you. In fact, this is a sign of something bad happening. The doll was up for sale on eBay but soon, the company closed the thread because some weird incidents were reported.
21 | Emilia – The Haunted Italian Doll
This over 100-year-old haunted doll came originally from one of the royal guards to King Umberto I. Umberto I was the King of Italy from 9 January 1878 until his death on July 29, 1900. He was deeply loathed in left-wing circles, especially among anarchists, because of his hard-line conservatism and support of the Bava Beccaris massacre in Milan. He was killed by anarchist Gaetano Bresci one year after the incident. He was the only King of Italy to be assassinated. This doll named Emilia was said to be given to Ulvado Bellina one of his most trusted and respected friends and personal Captain of the Royal Guard who was also assassinated. Then Emilia was sent as a gift to Ulvado's daughter Marie from Humbert I.
The doll survived WWI and WWII only losing both her arms and scalp in the second war to a bomb on a train to Udine, Italy. Because she was a prized gift to Marie Bellina from the king no matter what condition she was in, the doll was rescued from the rubble. And from that day on, she was haunted by the soul of the woman who died trying to rescue herself and the doll for Marie as they fled the explosion. Emilia the Haunted Doll is said to open and close her eyes, and her soundbox is still heard at times in the darkness of the night crying for its mama. Though her original voice box no longer works. Marie loved this doll so much she even named her daughter Emilia.
22 | Harold – The First Haunted Doll Ever Sold On eBay
The man who sold this doll on eBay was petrified by its presence. He had bought it at a flea market from a desolate father who wanted to sell the doll because he believed it was responsible for his son's death. He was warned that the doll was 'eerie' but he didn't believe until he lost his cat, his girlfriend and started suffering from chronic migraines. He kept it in an armadillo coffin in his basement for a year from where he could hear the laughing and crying of a baby. He also claimed that the doll seemed to have a pulse. The doll has changed several hands by now. Beware when you're shopping online!
23 | The Voodoo Zombie Doll That Attacked Its Owner Several Times
One must listen to the directions of the salesman when buying something, especially when buying a haunted doll. A woman in Texas learnt this the hard way. She bought a haunted voodoo doll on eBay and not taking the warning seriously, took it out of its coffin. She was attacked by the doll and severely injured. she hurriedly put it back in its place but to no avail. Her attempts to sell the doll or burn it were a failure. She would find it sitting in the living room at night, making weird noises. Several attacks later, she called for a priest who blessed the doll and locked it up in her basement.
24 | Smoking Demon Doll
In 2014, residents in Jurong West reported sightings of a demonic doll at the void deck of a block of HDB flats. Only one grainy picture ever provided proof of these sightings and it's already giving major evil spirit vibes.
It's hard to pick up anything other than its horns, tufts of jet black hair, squarish jaw and strange sitting position. People who saw it claimed it was holding a cigarette in its hand. Residents haven't seen it again since that one incident. Maybe it left its lepak spot after a good smoking session. That could explain the vague smile on its face.
The Doll Island
Just south of Mexico City, between the canals of Xochimilco, there's a small island that was never meant to be a tourist destination, but through tragedy has become one. Legend has it that a girl was found drowned under mysterious circumstances on the island, and to quell her spirit thousands of dolls found their way to the island. There are severed limbs, decapitated heads and blank eyes that just stare at you. The rumour has it that she inhabits the dolls, so it's not odd to see them opening their eyes or moving.
San Diego County's scariest haunted houses and trails, ranked
The options for getting spooked in San Diego County this Halloween season include a haunted amusement park, scream zone, haunted trail and haunted corn maze
Show more sharing options
Copy Link URL Copied!
Spooky season has officially commenced in San Diego, and you should be afraid... very afraid.
Across the county, haunted locales are horrifying visitors who dare to enter, including an abandoned amusement center, a chilling walk through Balboa Park and a corn maze not for the faint of heart. The Union-Tribune's guides reporters aren't experts in fear, but we do have a pretty good idea of the things that make us jump.
So during the first few weeks of October, we set out to rank the most frightening haunted experiences in San Diego County. At each, we were forced to confront our fears head on: darkness, claustrophobia, clowns, the roar of a chainsaw and the suspicious, inescapable feeling that someone is following you.
Visitors might not be scared at every turn, but we guarantee there's something creepy for everyone at the locations on this list. It will be updated online as more haunted experiences open throughout the season.
1. Haunted Corn Maze
Corn fields have provided the backdrop for plenty of scary movies, but walking through one during Halloween season, knowing it's "haunted" by various unknowns, is its own kind of terrifying. I was so scared walking through this maze — and screamed so often — that I could barely catch my breath to prepare for the next frightening encounter. The worst part is hearing the screams of other visitors, not knowing how far away they are among the tall stocks of corn, or what might be hiding around the next turn. Don't be fooled by the pumpkin patch, food and drink stands, beautiful marigold fields, animal encounters and cute photo opportunities surrounding the entrance: an adrenaline rush awaits anyone who dares to find out what lurks within. 7 to 10 p.m. every Friday and Saturday in October. Carlsbad Strawberry Company, 1050 Cannon Road, Carlsbad. $10 for general admission, plus $25 for the haunted corn maze. (760) 603-9608, carlsbadstrawberrycompany.com/pumpkin
— Abby Hamblin
2. Haunted Amusement Park
In the late 1960s, Marshal Scotty's Playland Park opened in El Cajon, with the slogan, "You'll never want to leave!" After decades of attempts at renovation and redevelopment, the business failed. With the amusement park abandoned, its buildings fell apart, weeds grew wildly and tree branches twisted themselves through the remnants of an old Ferris wheel. All this is to say: on its own, the old amusement park feels pretty haunted. Combine this inherent creepiness with the Haunted Amusement Park experience — an annual scare trail that takes visitors on a roughly one-mile walk through the grounds — and you'll be feeling a shiver down your spine. There are ghoulish clowns galore and several jump scares as visitors make their way through a circus maze, haunted house and the ride repair shop, plus more hands-on sections like walking through 3-D bumper cars and crossing through a tunnel on a swinging platform. I didn't stop screaming and laughing for the 30 minutes it took to walk through, which, to me, was perfect: just enough scariness to have me thoroughly freaked out while still having a good time. Every weekend from now through Oct. 31. 14009 Ridge Hill Road, El Cajon. $25. scaretrail.com
— Maura Fox
3. The Haunted Trail of Balboa Park
This Halloween attraction starts off terrific with the terrifying 3,500-square-foot eXperiment Maze that takes about 10 minutes to get through. In this dark network of twists and turns, you hear spooky music playing, evil laughs and screaming. There are also strobe lights and machine-made fog that give just enough visibility to see various childhood fairy tales turned into frighting installations, like "Goldilocks and the Three Bears," "Little Red Riding Hood" and "The Three Little Pigs." After exiting the maze, you walk toward the Haunted Trail. The highlight for me was the dilapidated school bus where zombie prisoners, some fake and some real, scare you off the back door into a foggy graveyard. The open area of the trail is less scary since you can see what's coming up next, so the element of surprise and the unknown is taken away somewhat. Oct. 11-15, 18-22, 24-31. Corner of Balboa Drive and Juniper Road, San Diego. $32.99-47.99. (619) 696-7227, hauntedtrail.net
— Carlos Rico
4. The Del Mar Fairgrounds Scream Zone
Each fall, a section of the Del Mar Fairgrounds transforms into The Scream Zone, featuring a haunted hay ride and two immersive walk-through experiences, the first of which takes visitors past characters from famous horror movies and the second forcing them to find their way out of a trippy labyrinth. The walk-throughs were genuinely frightening, but the hay ride was more impressive as we cruised through the fairground's stables and were confronted with elaborate and believable sets. The Scream Zone would have been scarier if it weren't for the long lines to enter the three experiences, since each are separated by their own line. Even though horrifying characters wandered around scaring waiting thrill seekers, I felt my fear dissipate the longer I stood there — a more sustained fright would have made this haunted experience all the better. Open most nights except some Mondays and Tuesdays, now until Oct. 31, 7 to 11 p.m. 2260 Jimmy Durante Blvd., Del Mar. $33 for general admission. (619) 231-0131, thescreamzone.com
5. SeaWorld San Diego's Howl-O-Scream
The appeal of this spooky experience is the amount of time and space available for absorbing every sight, smell and scare. Howl-O-Scream spans much of the SeaWorld San Diego site, with five scary outdoor walk-through zones, five indoor haunted houses and five entertaining live performances known as "vile vignettes." There are a startling number of fears represented, including creepy dolls, aliens and even snakes and crocodiles. I did scream and slosh my drink in the air at one point, but with themed food and drinks, visually intriguing horror scenes rivaling movie quality and the opportunity to ride roller coasters, this haunt ranks higher for its entertainment than its fear factor. Open Thursdays-Sundays in October and Halloween night. SeaWorld San Diego, 500 Sea World Drive, San Diego. Tickets start at $41.99. (619) 222-4732, seaworld.com/san-diego/events/howl-o-scream/tickets
Screen Rant
29 product placements in disney's haunted mansion.
Disney's Haunted Mansion features an abundance of product placement throughout its run, which varies from the subtle to the blatantly obvious.
Disney's Haunted Mansion is full of product placement, which has been criticized for distracting from the film's important elements.
Popular brands like U-Haul, BMW, Dell, Flutterbye, Zillow, and Tito's Handmade Vodka make appearances in the Disney movie.
Some product placements are more subtle than others, but overall, the film extensively promotes various brands, many of which are associated with Disney in some way.
Disney's Haunted Mansion is littered with product placement throughout its run. Product placement is a common occurrence in cinema and often provides essential funding for the movie. However, audiences and critics alike have commented on the excessive product placement in Haunted Mansion , which distracted from the more important elements of the film.
Disney's Haunted Mansion features an ensemble cast in an adaptation of one of its most iconic rides. It stars LaKeith Stanfield as Ben Matthias, an astrophysicist tasked with dispelling the titular mansion's ghosts, and Rosario Dawson as the mansion's new owner. Despite some criticism of its use of product placement, there is still speculation of a Haunted Mansion 2 .
A U-Haul trailer can be seen repeatedly throughout Haunted Mansion 's opening sequence. It first appears as Ben is beginning his walking tour. It's later seen turning a corner midway through the tour, as Ben is asked if the nearby buildings are haunted. The U-Haul trailer is then seen pulled by a red car during the New Orleans funeral parade before ferrying Gabby and Travis to the titular haunted mansion.
During the opening credits of Disney's Haunted Mansion , Gabby and Travis are shown traveling to their new home. The car they are driving is a red BMW. This is depicted rather explicitly in several shots during the movie's opening.
Throughout Haunted Mansion , Ben repeatedly uses a Dell laptop. The electronics manufacturer's logo can be seen on the laptop behind Father Kent (Owen Wilson) after he lets himself into Ben's apartment. Ben subsequently uses this laptop to monitor the cameras placed in the mansion, and it is later seen during the séance scene. Interestingly, Disney already has ties to Dell, using Dell technology to animate Frozen (via Dell Blog ).
26 Flutterbye
When Ben first arrives at the haunted mansion, he is introduced to Travis, who is hiding inside a tent. One of the toys Travis throws out of the tent is a Flutterbye doll from Spin Master. The Flutterbye toy, designed to spin and fly into the air, is modeled after Disney's Tinkerbell. There is a whole range of Disney characters released by Spin Master under the Disney Fairies range.
25 Black Panther
Another toy featured in Haunted Mansion is a Black Panther action figure. It sits outside of Travis' tent during Ben's initial visit to the mansion. Black Panther , along with all other Marvel properties, has been owned by Disney since 2009. Its inclusion in Haunted Mansion promotes one of Disney's successful movie franchises and its merchandise.
Zillow is a popular real estate website based in the U.S. It is referenced directly in Haunted Mansion, when Gabby is introducing Ben to Travis. Discussing their move to New Orleans, Gabby comments on the mansion, stating, "I found this place on Zillow." Interestingly, Disney has started selling real-estate properties in a neighborhood on its Orlando site called Golden Oak. Several Golden Oak properties listed on Zillow .
23 Pentax Camera
Repeatedly during Haunted Mansion , Ben uses a modified camera to take photographs of ghosts. The camera used is a model produced by the camera manufacturer Pentax. The Pentax camera features heavily throughout Haunted Mansion , and it's used in several key scenes, including the séance and inside Ben's house when he first discovers ghosts.
22 Fujifilm
Throughout Haunted Mansion , Ben uses his phone as a screen for his camera. This is done using the Fujifilm Camera Remote app. Ben uses it to monitor and display his spectral photography numerous times, most notably when he is attempting to photograph the ghosts in his own home.
21 Tito's Handmade Vodka
After Ben returns from the mansion for the first time, he attempts to watch a documentary about ghosts, but the channel keeps changing to a fishing program. As the camera pans across the television toward Ben, there is a brief glimpse of his drink trolley. One of the bottles is Tito's Handmade Vodka. This is a fitting choice for product placement in Haunted Mansion , as it is served in various cocktails at Disney Resorts (via AllEars.Net ).
20 Budweiser
A bottle of Budweiser beer is also visible atop Ben's drink trolley, and another is visible on his coffee table when he photographs his sofa. Since 2008, Disney has been mounting yearly Disney On Ice productions. Every year, they appear at the Budweiser Gardens arena in London, Ontario. At the time of Haunted Mansion 's release, Budweiser Gardens had begun advertising for Disney On Ice: Into the Magic .
19 Jose Cuervo Tequila
Another alcoholic beverage spotted in Haunted Mansion is Jose Cuervo tequila. The Mexican liquor is also nestled on Ben's drink trolley as he attempts to watch the ghost documentary. Jose Cuervo tequila's distinct bottle is one of the few discernable in Haunted Mansion and is also served across Disney Resorts.
When Ben first starts believing in ghosts and is tormented by a spirit in his home, he uses his camera to take a picture of the ghost sitting on his sofa. When the flash triggers, a bag of Fritos can be seen on the coffee table. Since 2002, Frito's manufacturer, Frito-Lay, has had a sponsorship agreement with Disney (via The Walt Disney Company ). Frito-Lay's products can be purchased across all Disney parks and sponsor several rides.
17 Marvel Comics
More of Disney's Marvel properties are used during the "Superstition" montage in Haunted Mansion . As Father Kent explains his plan, he places two Marvel action figures on a table. The first is Namor, who appears in 2022's Black Panther: Wakanda Forever ; and the second is a 1990s-era Storm from The X-men, who will feature in Marvel's animated reboot, X-men '97 . Ben later plays with a Doctor Strange figure, poorly imitating it flying while talking to Travis.
16 Monopoly
Hasbro's Monopoly is also featured in Haunted Mansion 's "Superstition" montage. It is held and played with by Travis while Ben mounts cameras on the mansion's walls and the pair discusses Travis being chased home by other children. It is a Marvel Comics Collector's Edition, promoting Disney's own toy range beneath the Hasbro umbrella.
Yelp is a customer review platform mentioned by Father Kent during the "Superstition" montage. Father Kent is discussing Harriet's psychic abilities, and he says, "She's been doing readings at Bar Mitzvahs but gets a very solid Yelp score." Likewise, Disney's various locations have very solid scores on Yelp.
14 Benihana
Also appearing in Haunted Mansion 's "Superstition" montage is the restaurant chain Benihana. The restaurant's name is obscured slightly, but the chain's distinctive chef outfits and unique table-side grills are on full display. It appears during Bruce's (Danny DeVito) explanation of the mansion's history, with the chef flicking food into Bruce's mouth. As mentioned by Bruce, Benihana's is known for its happy hour, and it also has a restaurant at Disneyland Orlando.
13 Yankee Candle
Yankee Candle is a popular candle maker that specializes in scented candles. One appears during Haunted Mansion 's séance scene and is referenced directly by Harriet. As she begins the séance, Harriet gestures to the candle and remarks, " And just to confirm, the only thing we have available to us is this French Vanilla Yankee Candle? "
After Harriet questions the use of a Yankee Candle, Gabby replies, "Yeah, I keep forgetting to cancel my subscription to Amazon." It is one of the most blatant instances of product placement in Haunted Mansion , referring to Amazon's repeat subscription service. Amazon also has entire departments dedicated to selling Disney products and merchandise.
Another unsubtle product placement occurs during the Haunted Mansion séance scene. Harriet refers to CVS Pharmacy, saying, "If you have a message that you'd like to leave us, or a greeting of sorts, here's a pen and pad that I purchased from CVS." CVS is one of the many outlets where Disney sells toys and merchandise.
10 Chevrolet
Vehicles manufactured by Chevrolet appear a couple of times in Haunted Mansion . The most notable example is the ambulance that takes Bruce to the hospital after he's violently ejected from the mansion and hit by a truck. Disney has had a long-time partnership with Chevrolet since the 1940s.