JavaScript seems to be disabled in your browser. For the best experience on our site, be sure to turn on Javascript in your browser.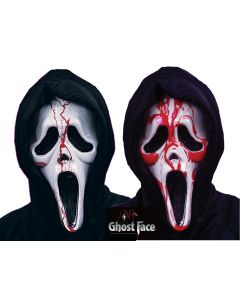 No products in the cart.
Signed Ghostface mask
Hand signed by the Original Ghostface himself, Lee Waddell. No need to worry shady counterfeit masks. Get them from the source!
Please send an email to [email protected] to let us know the name of the person you would like mentioned if it's not your own.
1.) Where you would like Lee to sign it. Here are the 3 places that work best:
2. What would you like to write?
Lee often signs
1: Kill you later! 2. I'll gut you like a fish! 3. What's your favorite scary movie?
..and his name.
— OR —
There are no reviews yet.
Your email address will not be published. Required fields are marked *
Save my name, email, and website in this browser for the next time I comment.
Related products
Lee Waddell - Headshots - Version 2
Lee Waddell - Headshot Version 1
Lee Waddell - Headshots - Version 3
Privacy overview.
Content is protected. Right-click function is disabled.
SAME DAY DISPATCH · Service Hotline: +49 89 / 632 033 89
Halloween Costumes Men
Womens Halloween Costumes
Halloween Kids Costumes
Halloween Costumes XL
Carnival Costumes Men
Carnival Costumes Ladies
Carnival Costumes Kids
Carnival Costumes XL
Halloween Dog Costumes
Halloween Capes
Halloween Petticoats
The Suicide Squad
All License Categories
Halloween Make Up
Professional Theatrical Make-up
Make Up Brushes & Sponges
Artificial Eyelashes
Artificial Fingernails
Hairspray & Hair Dyes
For The Complexion
For The Eyes
For The Lips
For The Cheeks
Makeup & Contour Pencils
Latex Horns
Latex Wounds
Latex Noses
Latex Bald Head
Gelatin Wounds
Foam Latex Applications
Vampire Fangs
Horror Teeth
ich bin versteckt
Colored Contact Lenses
Sclera Contact Lenses
Halloween Masks
Horror Masks
Foam Latex Masks
Satin PVC Masks
Science Fiction Masks
Animal Masks
Carnival Masks
Venetian Masks
Halloween Animatronics
Halloween Decoration Figures
Halloween Decorations
Halloween Pumpkin
Halloween Table Decoration
Halloween Candy
All Halloween Decor Categories
Table Fireworks
All Year Fireworks
Firecrackers
Birthday Party
Carnival Decoration
Carnival Garlands
All Carnival Decor Categories
Disposable Tableware
Foil Balloons
Foil Balloon Giant Numbers
Foil Balloon Birthday
Foil Balloon Wedding
Foil Balloon Valentine's Day
All Balloon Categories
Bags & Pouches
Pantyhose & Stockings
Halloween Hats
Halloween Gloves & Feet
Halloween Glasses
Halloween Headdress
Shirts & Shirts
High Heels & Shoes
Pants & Leggings
Jackets & Coats
Costume Accessories Other
Costume Jewellery
Walking Sticks & Canes
Inflatable Article
Ladies Wigs
Cosplay Wigs
Beards & Sideburns
Doctor & Nurse
Fancy Costumes
Bachelor/ette Party
Professional Costumes & Uniform
Disco & Hit Party
Unicorn Costume
Angel & Devil
Hawaii Party & Summerfest
Witches & Wizards
Hippie & Flower Power
Horror Clowns
Fairy Tales & Legends
Middle Ages & Live Role Play
Monks & Nuns
Neanderthal & Stone Age Man
Ninja & Samurai
Oktoberfest Party
Easter Party
Pirates & Buccaneers
Pilots & Stewardesses
Policemen & Gangsters
Romans & Gladiators
Sexy Costumes
Show & Musical
New Year's Eve
Skeletons & Reapers
Sportsman Party & Fan Articles
St. Patrick's Day
Superheroes
Day Of The Dead
Animal Costumes
Travesty Show & Men Ballet
Vampire & Gothic
Vikings & Barbarians
Wild West Party
Gifts & Home
Gothic Decoration
Gothic Corsages
Gothic Accessories
Gothic Blouses & Tops
Gothic Shirts & Shirts
Gothic Pants
Gothic Skirts & Dresses
Gothic Coats & Jackets
Gothic Shoes & Platform Boots
Gothic Jewellery & Accessories
Gothic T-Shirts
Reduced Halloween Costumes
Reduced Carnival Costumes
Reduced Masks
Halloween Make-Up Reduced
Costume Accessories Reduced
Decoration Reduced
Gothic Reduced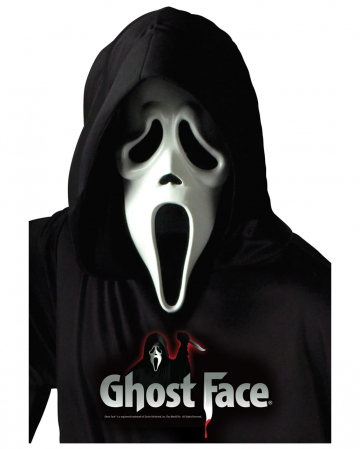 Original Scream Mask
Sadly this item is currently sold out, by filling out this form we'll contact you as soon as it's back in stock.
Tip: Reserve for inquiry is completely nonbinding and you don't commit to anything yet
Fast shipping with DHL
Secure payment thanks to SSL Encryption
Many Payment Options & Pay Later*
From Halloween fans for Halloween fans
Ghostface mask from Wes Craven horror movie "Scream"
The horror film "Scream" tells the story of Woodboro Killers terrorizes a masked killer with phone calls and threats an entire town.Sidney Prescott (Neve Campbell), whose mother was killed in the previous year, is the main character and the target of the killer with the Ghostface mask.The horror film "Scream" runs like a detective story, is suspected in nearly every character as a murderer.Scream has convinced many critics and revived by its huge success in the nineties the horror genre.
The mysterious, original Scream mask of common serial killer is made of soft vinyl and has a sewn, black fabric hood.The original Scream mask is highlighted on the eyes with a black mesh around the own eyes to hide.Ghostface as a mask of the serial killer is one of the most famous film masks of the modern horror film and thus perfect for Halloween and theme parties.Possession with the Scream mask a classic among the Halloween and horror masks!
Complete your appearance as a sadistic serial killer best with our original licensed Scream articles like the Scream Knife Metallic , the Scream Costume With Mask and rough Film Blood / FX Blood 30ml !
Delivery: 1 x Original Scream Mask
Color: Black-and-white
Size: Adult size
Material: Mask: 100% vinyl; Hood 100% Polyester

The Original Ghostface Mask Designs That Would've Completely Changed the 'Scream' Franchise [Images]
One of the most iconic movie masks of all time almost never made it on screen.
The mask that Scream forever immortalized as Ghostface was originally a mass-produced mask that bore the name "Peanut-Eyed Ghost." Inspired by Edvard Munch's painting "The Scream," the mask was released by Fun World in the early '90s, and the story goes that Wes Craven and his production team stumbled upon it in an abandoned house while they were scouting locations for Scream . Craven loved it and wanted to use it in the film, but alas, Fun World owned the rights and they wanted more money than Dimension was willing to pay.
So Craven devised Plan B…
What was Plan B, you ask? Unable to use the "Peanut-Eyed Ghost" mask, Craven tasked KNB EFX with designing a new mask that was inspired by the Fun World mask he wanted to use. Some of the designs stayed fairly true to the original mask, while others deviated so wildly that they would've completely changed everything about Scream and the Ghostface killer.
Kevin Williamson recalls in a recent 25th anniversary featurette , "No one could agree on a mask, and I remember we were on a location scout and we found Ghostface… in a box of stuff in a garage. We asked the owner if we could take it because Wes immediately looked at it and said, 'This is like the famous Scream painting.' So we took that to our production and we said, 'Can you make something… riff on this and see if you can make something like this. They must've done twenty different designs, and every one of them was rejected by the studio."
Eventually, of course, Fun World and Dimension reached an agreement, and the "Peanut-Eyed Ghost" mask became Ghostface – or "Father Death," as the costume is named in Scream .
"Finally we were like, 'Why don't we just get the rights to this mask?' In the script it did say it was a dime store Halloween mask… so that's exactly what we found," Williamson recalls.
It's interesting to note that the origins of the Michael Myers mask are much the same as the origins of the Ghostface mask, with John Carpenter and his team similarly converting an existing William Shatner Captain Kirk mask into the terrifyingly blank visage of Michael Myers. Sometimes horror icons are already out there in the world, long before we meet them.
Want to see a handful of those original KNB concepts? Below you'll find twelve drawings of vastly different masks that were pitched to Craven (many of which are VERY wacky), and underneath you'll see four of those designs that Scream superfan Mikey Aspinwall had artist Crash Cunningham draw up for him. Aspinwall even had an artist turn one of the concepts into an actual mask, which gives you an idea of what it would've looked like had it been used on screen. Huge thanks to Aspinwall for sharing these images and allowing us to publish them.
A version of this article was originally published on December 21, 2016.
Writer in the horror community since 2008. Editor in Chief of Bloody Disgusting. Owns Eli Roth's prop corpse from Piranha 3D. Has four awesome cats. Still plays with toys.

You may like
Taking Inventory on All the Horror Movies That Have Haunted TV [Halloweenies Podcast]
Spirit Halloween: 10 Costumes That Aren't Barbie and Ken
Spirit Halloween: 10 Essentials for Every Horror Home
Blumhouse Horror Movie 'Imaginary' Gets New Release Date; Trailer Playing in Theaters
Lionsgate recently acquired worldwide rights to the Blumhouse horror movie  Imaginary , and the first trailer for the movie is attached to Five Nights at Freddy's – only in theaters.
The upcoming film also has a new release date:  March 8, 2024 .
Expect the trailer to make its way online in the near future.
Blumhouse's Jason Blum will produce, with  Jeff Wadlow  ( Cry Wolf, Kick-Ass 2, Truth or Dare, Fantasy Island, The Curse of Bridge Hollow ) producing and directing.
In  Imaginary , a young woman returns to her childhood home only to discover that the imaginary friend she left behind is very real and very unhappy she left.
The screenplay is by Jeff Wadlow, Greg Erb, Jason Oremland, and Bryce McGuire.
Ryan Turek will Executive Produce Wadlow's  Imaginary .
As the theater lights dim for #FiveNightsAtFreddys , close your eyes…and imagine. Experience the first ever imaginary trailer – ONLY in theaters. #ImaginaryFilm pic.twitter.com/SwXDM2kfF8 — Blumhouse (@blumhouse) October 27, 2023
"R.L. Stine's The Haunting Hour" – This Anthology Series Is Gateway Horror at Its Finest
Christmas Comes Early: 'Terrifier 3' Teaser Slashes Down the Chimney ONLY IN THEATERS on November 1st
'The Nightmare Before Christmas' Joins the "Monster High" Collection with Jack and Sally Skullector Dolls
'Halloween: A Match Made in Terror' – Official Mobile Game Just Launched for Halloween!
'Hocus Pocus' Cast Returns to Salem for a Special 30th Anniversary Celebration [Event Report]
You must be logged in to post a comment.
The Origin Of The Ghostface Mask In Scream Is Delightfully Mundane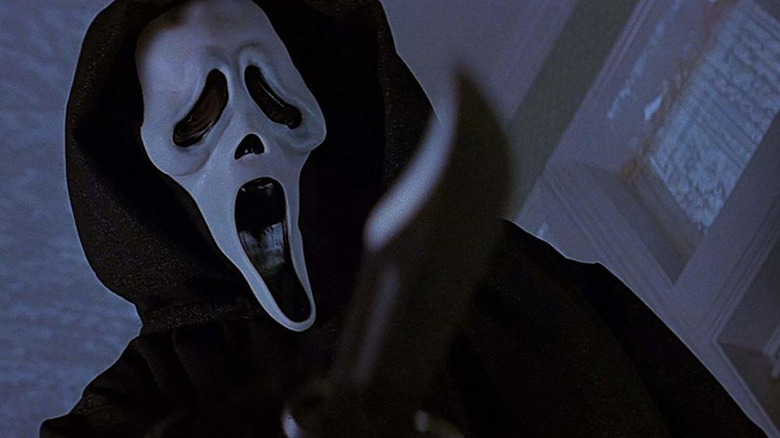 Horror fans love a masked slasher, but not all masks are created equal. Designing a quality disguise for a masked villain is crucial not only for scaring the bejesus out of the audience, but for the future merchandising possibilities. Michael Myers' modified Captain Kirk mask, Jason Voorhees' hockey mask, Leatherface's patchwork skin mask, and the Silver Shamrock masks have enjoyed generational longevity, as has the horrifying Ghostface mask from " Scream ," now celebrating its 25th Anniversary.
The Ghostface mask is so effective, it feels like it must have been developed in a nightmare lab dedicated to scarring the lives of six-year-olds catching a commercial for the film late at night while walking through the living room. (No, just me?) However, as Kevin Williamson discusses in a new video for the anniversary of " Scream ," the real backstory behind the iconic mask is a lot more mundane, yet somehow delightfully perfect for what "Scream" is all about. Check out the exclusive clip below from IGN.
Ghostface Was A Cheap Halloween Costume Mask
It's been relatively common knowledge for a while that the Ghostface mask was meant to emulate Edvard Munch's painting "The Scream," one of the characters on the cover of the Pink Floyd album "The Wall," and the ghostly characters that appeared in the 1930s "Betty Boop" cartoons. However, what many may not realize, is that the mask was not created for "Scream," it was an existing costume mask sold by a company called Fun World and designed by a woman named Brigitte Sleiertin. "Scream" screenwriter Kevin Williamson had this to say about finding the mask:
"No one could agree on a mask and I remember we were in a location scout, and we found Ghostface... in a box of stuff in a garage... Wes [Craven] immediately looked at it and said, 'This is like the famous Scream painting.' And so we took that to our production and we said, 'Riff on this... make something like this.' They must've done 20 different designs. Every one of them was rejected by the studio, and finally we were like, why don't we just get the rights to this mask?"
The maks was created in 1991 as part of the Fun World "Fantastic Faces" collection, and Dimension Films was able to reach an agreement to use the mask. This proved extremely profitable for Fun World, who owns both the mask design and the name "Ghostface." Since the production of "Scream" in 1996, the Ghostface mask has become the most worn and sold costume for Halloween in the United States. Yes, that does include that awesome blood-pumping Ghostface mask we all owned in the early 2000s.
Get your Ghostface masks for the Halloween season now, and prepare for the fifth "Scream" movie due out in theaters on January 14, 2022.