JOIN THE FAMILY
Stay up to date on the latest industry news.
Check out our great international shipping rates!
"Search by Category"
SHOP BY ARTIST
SHOP BY GENRE
SHOP BY CATEGORY
COLLECTIBLES
STEREO SHOP
REVOLVER ICONS
Login to my account
Enter your e-mail and password:
New customer? Create your account
Lost password? Recover password
Recover password
Enter your email:
Remembered your password? Back to login
Create my account
Please fill in the information below:
Already have an account? Login here
Your cart is empty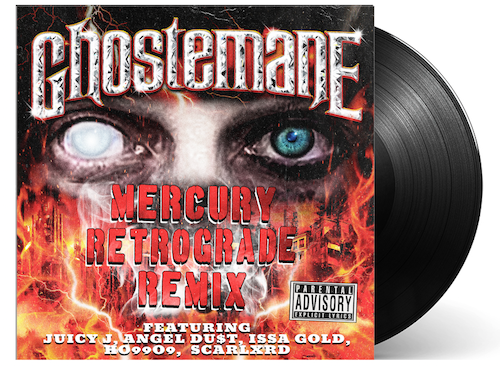 GHOSTEMANE 'MERCURY RETROGRADE' REMIX 12" — ONLY 600 MADE
Description.
Exclusive to   Revolver , this limited-edition Ghostemane 12" includes two new remixes of 2017 cult classic "Mercury Retrograde": Side A featuring Juicy J, Angel Du$t, Issa Gold, Ho99o9 and Scarlxrd, and a "chopped and screwed" remix on Side B.
It's limited to 600 — 333 available as part of   Revolver' s Ghostemane Winter Issue collector's bundle, and the remaining 267 available solo. Get yours before they're gone!
PLEASE NOTE: DUE TO MANUFACTURING PROCESSES, PRODUCTS MAY VARY FROM IMAGE MOCK-UP.
Payment & Security
Your payment information is processed securely. We do not store credit card details nor have access to your credit card information.
Refund Policy
ITEMS NOT ACCEPTED FOR RETURN/EXCHANGE - FINAL SALE:
Memberships
Collectibles
We   strongly   suggest you check with any STATE RUN FACILITY website under mail rules before placing any orders. We hold NO RESPONSIBILITY for MAGAZINES that may be   damaged, confiscated, or not delivered.   All sales are final, if shipped. 
Revolver Mag must receive the merchandise within 14 days from the date of delivery. (You may find this date on the order confirmation sheet included in your shipment). If your return is received after 14 days of the date of delivery, it will be returned to sender unless you receive authorization from the customer service team for a late return. With this being said, WE ARE FLEXIBLE. Please don't hesitate to contact the customer service team at  [email protected]  or call us 1-888-265-3590. ALL returns and exchanges will be issued in the form of an Revolver Gift Card:
All gift cards will be applied to your Revolver account
If you do not have a Revolver Shop account, one will be created for you using your email address. Your login and password will be emailed to you once the account is created
NOTE: Revolver Shop is not responsible for return shipping cost on any returns or exchanges unless the fault is ours. If this occurs, in order to provide you with a return label you must contact  [email protected]   with your order number and an explanation of the issue. ALL RETURNS MUST:
NOT HAVE BEEN WORN, ALTERED, WASHED OR DAMAGED
Have ALL tags attached
We cannot accept returns that smell like cigarette smoke, have animal hair on them, or show any wear or tear
ALL returns MUST be in the original packaging
Include a note with your   Name ,   Order Number , and   Instructions   for your return/exchange (otherwise you'll automatically be issued Revolver Shop gift card)
If your return is not received by the appropriate date then it will not be accepted. We recommend you use a shipping service with tracking and/or insurance, as this will provide you with evidence of the return in the event that your package is lost in transit. Without tracking, Revolver Shop is not responsible for lost or missing returns. If return tracking shows that your item was shipped before the 14-day deadline, your return will be accepted. RETURNS OR EXCHANGES SHOULD BE SENT TO: Revolver Shop ATTN: Returns
3103 Philmont Avenue #120
Huntingdon Valley, PA  19006
1-888-265-3590 *Please include the original shipping label or note with your FULL NAME, ORDER NUMBER, and WHAT WE CAN DO TO HELP (exchange or return). You will be notified when your return is processed via an email to the email address provided during the transaction. INTERNATIONAL RETURNS: We do accept returns from Canada, but Revolver Shop does not pay for International return shipping at this time. We recommend that you use a shipping service with tracking and/or insurance, as this will provide you with recourse in the event that your package is lost in transit. Revolver Shop is not responsible for packages that are shipped by other means. If you discover a service failure related to any international shipments (e.g. damaged or lost in transit, shipping error, etc) please contact us as soon as possible and our team will resolve the situation for you. WRONG, DAMAGED OR DEFECTIVE ITEMS: If you received the wrong product from Revolver Shop, or if it arrives defective or damaged in transit, please contact [email protected] within 7 days of receipt so we can resolve the problem. In these rare cases, Revolver Shop will pay return shipping and provide a cash refund if requested. EXCHANGES: Give us a shout… we're here to help! If you need a different size or changed your mind on the style and you are interested in returning an item in exchange for something else on the site contact [email protected] or 1-888-265-3590 and we'll be glad to help you exchange your purchase or issue a store credit.
YOU MAY ALSO LIKE
Recently viewed.