Whatever Happened To The Cast Of Ghost Whisperer?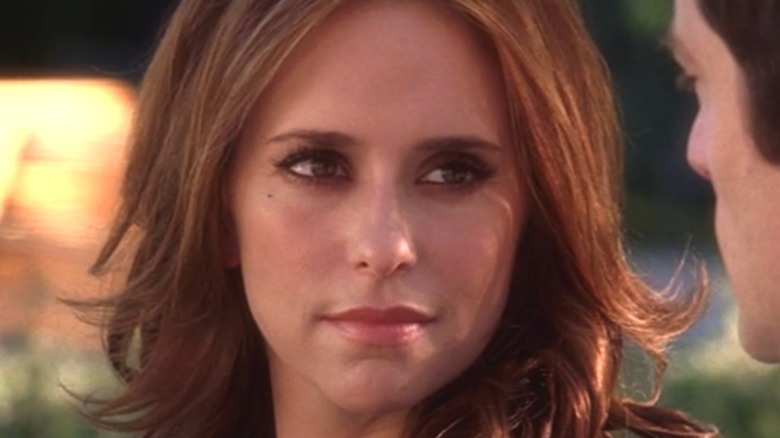 They say the truth is stranger than fiction — but when dealing with " Ghost Whisperer ," it's hard to know just what to believe. What we know for sure is that the CBS drama ran for five seasons from 2005 to 2010. It starred 1990s icon Jennifer Love Hewitt, who was presumably looking for a steady TV gig after being part of the cast of "Party of Five"  years earlier. She found it in the role of Melinda Gordon, a shop owner with a hunky husband, supportive friends ... and the ability to talk to spirits. The supernatural show was never a critical hit, but it did have a loyal fan base who petitioned (unsuccessfully) to see it brought back to life. 
What you may not know was that it was rooted in fact, so to speak. As Today reported, it was inspired by Mary Ann Winkowski , who claims to be a real-life communicator with the dead, and one of the producers was medium James Van Praagh . Whether ghost stories are real is, of course, up to the viewer to decide.
Fortunately, although the show has been deceased for more than a decade now, we do not need any otherworldly services to catch up on what the main cast members have been doing. Want to know what happened to the cast of "Ghost Whisperer"? Simply read on — no seance required. 
Jennifer Love Hewitt returned to TV after a three-year hiatus
When "Ghost Whisperer" passed into the after life, Jennifer Love Hewitt's career did not go with it. After saying goodbye to her character of Melinda Gordon, the actress kept going, with one TV performance after another (via IMDb ). First up was "The Client List," a TV movie in which she starred as a mother who offered erotic massages to support her family. It was a hit, earning the actress a Golden Globe nomination, and it was spun out into a series . Alas, the show lasted just two seasons — but the actress has been married to her husband Brian Hallisay , whom she met on set, since 2013. 
Her next major role was as Kate Callahan in " Criminal Minds ," though she only stayed for a season. And then the actress ... disappeared. She didn't work for three years. The hiatus, she told Working Mother , was intentional: "They were like, 'You're in the middle of a career; you can't do that.' But I was like, 'I can because that's what's in my heart.'"
Nowadays, it seems she's found a way to make juggling a career and motherhood work for her. Since 2018, she's had a lead role on "9-1-1," and in May 2021, Hewitt revealed she was expecting her third child (via People ). 
Aisha Tyler has enjoyed an animated career
Aisha Tyler has kept incredibly busy since she played best friend Andrea Marino on "Ghost Whisperer" — but that doesn't necessarily mean you've been seeing much of her. Yes, she's done guest star appearances on hit shows like "Modern Family," "Glee," and "Two and a Half Men" (via IMDb ). Her biggest role to date, however, doesn't require her to show her face. Since 2009, she's voiced the character of Lana Kane on "Archer," an adult animated spy series. It's been a surprisingly challenging role, she told the Chicago Tribune : "The interesting thing about doing voice work, in some ways it's harder. ... You're standing in a padded room by yourself screaming into the void."
The actress has expanded her resume in other ways as well. Besides starring on "Criminal Minds" as Dr. Tara Lewis and hosting "Whose Line Is It Anyway?," she was a host on " The Talk ," until she left in 2017. Since then, she's been doing more work behind the camera, like  directing an episode of "Fear the Walking Dead." In 2021, it was announced she would be directing the feature film "Silent John" (via Deadline ). And she also launched a line of premixed cocktails called Courage + Stone in 2020, as noted by  The Spirits Business .
Her personal life hasn't been such smooth ride, however. After more than two decades of marriage to lawyer Jeff Tietjens, the couple divorced in 2017, and the actress was required to pay $1.5 million in spousal support, E! reported. 
David Conrad returned to the stage
For the full five-year run of "Ghost Whisperer," David Conrad played Jim Clancy, a paramedic married to Jennifer Love Hewitt's Melinda. The fact that he lasted the whole series is surprising considering that (spoiler alert!) his character died in the fourth season. Then again, it was a show about ghosts — and the actor knew from the get-go that being killed off was likely to happen, he told the Pittsburgh Post-Gazette .
Once the show itself was firmly in its grave, Conrad kept the paychecks coming with guests spots on drama series such as "The Good Wife" and "Masters of Sex" (via IMDb ). He also took on the recurring role of businessman Ian Quinn in "Agents of S.H.I.E.L.D," making eight appearances over the years. 
Looking beyond the small screen, he has returned to his acting roots. Before "Ghost Whisperer," Conrad, who trained at New York's famed Juilliard School (via The New York Times ), was a successful stage actor who even appeared on Broadway (via Playbill ). And in 2019, he tread the boards again, playing a greasy club owner in "The Legend of Georgia McBride," which is about an Elvis impersonator who became a drag queen, at a theater in his hometown of Pittsburgh (via the Pittsburgh Current ). "Coming back to Pittsburgh suddenly made more sense to me than being some place else," he told the Tribune-Review . 
Camryn Manheim got really involved in the Screen Actors Guild
Camryn Manheim is one of those actors who seems to always be on TV — never the star of the show, but consistently turning in a strong, straight-talking performance. It was that way on "Ghost Whisperer," on which she played Delia Banks, the somewhat skeptical friend and colleague of main character Melinda Gordon. Since the show ended, she has racked up an impressive list of acting credits, according to her  IMDb  page, including recurring roles in both sitcoms and dramas. In 2015, she ventured onto the stage, making her Broadway debut in an unusual run of "Spring Awakening," as reported by the  New York Daily News . The musical was performed simultaneously in English and American Sign Language, in which the actor is fluent. In 2021, she signed on to play Coach McCarthy, a rival basketball coach to the one played by lead John Stamos, in "Big Shot" (via Deadline ). 
Judging from her Instagram , she was excited about a non-acting role she took on in 2019, that of secretary-treasurer for the Screen Actors Guild — American Federation of Television and Radio Artists (SAG-AFTRA), the powerful union for actors. She was elected in 2019, winning by a wide margin (via Los Angeles Daily News ). She also spends time encouraging everyone to vote in regular elections. Speaking up about injustices has always been important to her career, as she told The Hollywood Reporter , "I've made my mark by being vocal." 
Jay Mohr offers 'life coaching' now
On "Ghost Whisperer," Jay Mohr spent three seasons playing Rick Payne, a university professor who taught an occult class and helped Melinda work on hauntings. Perhaps it was that role that encouraged the actor to pursue a rather peculiar side gig. On his website , he advertises his services as a life coach, describing himself as an "intuitive" and warning that what he does is "a little spooky" — "like a psychic but real." He promotes several rave reviews.
When it comes to more typical entertainment , he launched a podcast in 2012 called " Mohr Stories ," but doesn't seem too committed to it, considering he hasn't posted a new episode since March 2021. He also hasn't bagged any notable TV or movie roles since "Ghost Whisperer" ended besides the CBS show "Gary Unmarried" — but that's not to say he isn't working. 
A standup comedian before he landed himself on TV, Mohr had his big break was "Saturday Night Live" (via The Daily Beast ), and he seems to have had the most success on that front, touring regularly across the United States. He has been open about suffering mental health problems, incorporating his experiences with depression and substance abuse into his shows and specials. After focusing on seeking treatment and getting sober, his entire approach to comedy changed, he told UPI . "Being transparent and honest has made the audience pretty uncomfortable at times, but it was rewarding for everybody, and they kept coming back," he said. 
If you or anyone you know is struggling with addiction issues, help is available. Visit the Substance Abuse and Mental Health Services Administration website or contact SAMHSA's National Helpline at 1-800-662-HELP (4357). 
Christoph Sanders found sitcom success
In terms of TV success, Christoph Sanders has arguably found the most consistent work of all "Ghost Whisperer" regulars. The actor, who played Delia's son Ned Banks as a teenager from Season 3 on, was a core cast member of the sitcom " Last Man Standing " for its entire nine-season run (via IMDb ). That show, which starred Tim Allen as a dyed-in-the-wool conservative, first aired on ABC in 2011. Sanders took on the role of Kyle Anderson, who works at the same outdoor store as Allen's character and later marries one of his daughters. Originally it was only going to be a small part, but the two actors had such great chemistry that the writers expanded it, according to the  Sioux City Journal . The show went on to garner decent ratings, the Florida Times-Union reported, but was canceled in 2017. After fan outcry, Fox picked up the show for the rest of its run, which ended for good in 2021 (via Deadline ). 
Needless to say, the sitcom kept Sanders busy, but he did find time to appear in the occasional movie, including "Big Kill" in 2019 and "Faith Based" in 2020. The former was a Western, which the actor told Red Carpet Report was a "dream." So what's next? Well, it seems his first big break might have influenced his career goals. "I would love to play a superhero or ... get, like, out of the human realm," he told  SheKnows  in 2013.
Jamie Kennedy took on a controversial role
Jamie Kennedy joined the cast of "The Ghost Whisperer" in 2008 as Eli James, a professor who suffers a near-death experience. Ultimately, things work out for the character. Unfortunately, real life was not so kind to the actor.
Around the same time the show ended, so did Kennedy's off-screen romantic relationship with co-star Jennifer Love Hewitt, People reported. And while he enjoyed some regular voice work, including on "The Cleveland Show," his on-camera acting career never really took off (via IMDb ). He does hold the "honor," however, of having hosted what  The A.V. Club dubbed the "world's worst New Year's broadcast" to welcome in 2013, a shambolic special broadcast on a local Los Angeles TV station. He later told The New York Times it was planned to be that way on purpose, but it's safe to say no one got the joke.
Kennedy found himself dealing with a much more serious situation after he agreed to appear in "Roe v. Wade," a film loosely based on the historic Supreme Court ruling that legalized abortion in the United States. Although the actor played Larry Lader — who was a leading abortion rights advocate — he took heat for the overall tone of the movie, which has been panned for essentially being anti-abortion propaganda, according to  The Daily Beast . "I just thought it was a very cool role," the actor said. "Did I know how controversial it was going to be? No."
Kenneth Mitchell was diagnosed with a debilitating illness
Kenneth Mitchell had one of strangest roles in "Ghost Whisperer" — and that's saying something. He played Sam Lucas, a motorcycle driver killed in a crash. So far, so simple. But then his body is taken over by the spirit of Jim Clancy, Melinda's dead husband. So the majority of screen time still went to David Conrad, with Kenneth Mitchell basically only appearing when the character saw his reflection.
Which is too bad, because Mitchell went on to prove himself to be a fine actor in the fantasy realm — although he traded the supernatural in for science fiction. After regular parts in a few television series, including "The Astronaut Wives Club," he joined a fabled franchise, playing multiple roles in "Star Trek: Discovery" (via IMDb ) — a feat made possible thanks to the heavy makeup required to play a Klingon. 
But then in February 2020, the actor shared heartbreaking news with People magazine: In 2018, he was diagnosed with  amyotrophic lateral sclerosis , or ALS — an incurable nervous system disease — and has required the use of a wheelchair since October 2019. The illness has not meant the end of his career, however. "Discovery" created a chair-bound character just for the actor. And in an  Instagram post, the actor shared what appears to be his motto: "Be bold, be brave, be authentic, be purposeful, BE KIND. And maybe a side salad of silly."
Connor Gibbs is out of the limelight
Young Connor Gibbs played Aiden Lucas, Melinda's son, in 22 episodes of "Ghost Whisperer" (via IMDb ). He scored the part when he was just 8 years old  — and it remains his biggest job to this day. In 2016, he appeared in one episode of "Modern Family" as "Bowtie Kid," but aside from a handful of other bit parts, he appears to have put Hollywood behind him. And he's also decided to show his true colors as a redhead; yes, even as a little tyke, the actor had to dye his brown, as he told Hollywood the Write Way .
Whether Gibbs is staying quiet in Hollywood by choice or by circumstance isn't clear, but it seems obvious he is not one of those former child stars who live insanely lavish lives . If he has decided against pursuing a further acting career, it doesn't appear to be the result of any bad experience while filming "Ghost Whisperer." In 2020, he wished a happy 15th anniversary to the show on his Facebook page and gave a shoutout to Jennifer Love Hewitt in particular "for giving me the opportunity to work with such a talented cast and crew."
Join or Sign In
Sign in to customize your TV listings
By joining TV Guide, you agree to our Terms of Use and acknowledge the data practices in our Privacy Policy .
Seasons & Episodes
TV Listings
Cast & Crew
Ghost Whisperer - Full Cast & Crew
29   Metascore
Drama, Science Fiction
Watchlist Where to Watch
Newlywed Melinda Gordon tries to help the dead communicate with loved ones, 'but sometimes the messages she receives are intense and confusing.' Most of Melinda's efforts involve resolving conflicts that are preventing the spirits from passing over. The sentimental drama is 'inspired by the work of medium James Van Praagh.'
Screenwriter
Executive producer, co-executive producer, supervising producer, co-producer, assoc. producer, cinematographer, production company, art director, sound effects, special effects, choreographer.
Screen Rant
The ghost whisperer cast: where are they now.
The Ghost Whisperer was one of the most popular paranormal dramas of the 2000s. Here's what the cast is doing now!
Ghost Whisperer ran for five seasons from 2005 to 2010 on CBS. It was one of many supernatural dramas that appeared in the mid-2000s, but it managed to attract a dedicated, loyal fan base.  Ghost Whisperer  also inspired a video game, a graphic novel, and several novel adaptations.  Ghost Whisperer was something of a cult hit, but it received strong fan ratings and averaged 10 million viewers during the first and fourth seasons. Some of the cast members have returned to film, but most have moved on to animation, sitcoms, or genre TV. Even though it ended 9 years ago, Ghost Whisperer still stands out as a popular supernatural drama with memorable characters and a strong supporting cast. The series is currently streaming on Hulu and Amazon Prime.
RELATED:  Where Are They Now: Saved By The Bell Cast
Since the show ended, the cast members have moved on to a wide variety of films, shows, and projects. Some have remained with CBS productions, and others have branched out into other genres and networks. Here is a list of their recent projects, shows, and movies.
Jennifer Love Hewitt
Jennifer Love Hewitt stars as Melinda Gordon, a life-long psychic with the keen ability to see and assist lost souls, or "earthbound spirits". She is part of a powerful psychic family and inherited the ability to speak with the dead from her mother and grandmother.
RELATED:  The 10 Best Criminal Minds Episodes, Ranked
Since leaving  Ghost Whisperer,  Jennifer Love Hewitt has starred in several shows, including crime dramas like Ryan Murphy's 9-1-1 and the long-running  Criminal Minds . Hewitt also made guest appearances on shows like  Law & Order: SVU and  Hot in Cleveland . Her most recent role as Maddie Kendall on  9-1-1  is a starring role, and the show was recently renewed for another season. She also appeared on Lifetime's The Client List for two seasons.
David Conrad
David Conrad plays Jim Clancy, Melinda Gordon's husband. Jim is a paramedic and one of the few people who knows about Melinda's psychic abilities. He helps his wife as much as he can during the series, but he tragically dies in season four. Jim later returns in a new body, and the couple is reunited.
RELATED:  Agents of SHIELD: 8 Unanswered Questions After Episode 2, "Window of Opportunity"
They eventually have a child, Aiden, and they continue to work together as a team. Since leaving  Ghost Whisperer , David Conrad has appeared on popular series like  Castle , and  Law & Order: SVU . Conrad has also appeared on  The Firm ,  The Good Wife , and  CSI: Miami . His most notable role since  Ghost Whisperer was Ian Quinn on  Agents of S.H.I.E.L.D. , a role that he recently returned to in season 5.
Camryn Manheim
Camryn Manheim portrays Delia Banks on  Ghost Whisperer . Delia is a recently-widowed mother of a troubled teen. She meets Melinda Gordon when her son attempts to rob her antique shop. Delia eventually joins the main cast as an employee in Melinda's antique shop.
RELATED:  The 10 Craziest Things to Happen on The Magicians
She also learns about Melinda's psychic abilities, and although she is quite skeptical at first, they become best friends. Delia supports Melinda's desire to help lost spirits, and she remains an important part of the cast for several seasons. Since the end of  Ghost Whisperer , Camryn Manheim has appeared on  Harry's Law ,  Criminal Minds , and  The Magicians . She also guest-starred as the villainous Control on  Person of Interest .
Cristoph Sanders
Christoph Sanders stars as Ned Banks, Delia's teenage son. He starts off as a rebellious teen with a penchant for trouble and shoplifting, but Ned grows up during the course of the series. He learns about Melinda's abilities by accident, but he later chooses to help Melinda.
RELATED:  Tim Allen's Last Man Standing Renewed For Season 8 by Fox
Ned later studies the occult at Rockland University, and he returns to assist Melinda with his newfound expertise. Christoph Sanders replaced actor Tyler Patrick Jones as Ned Banks in season 3. Since  Ghost Whisperer , he has appeared on  CSI and in the film  In Time . However, his most prominent role to date is Kyle Anderson on the popular sitcom  Last Man Standing , where he plays middle daughter Mandy's husband.
Jamie Kennedy
Jamie Kennedy portrayed Eli James for two seasons on  Ghost Whisperer . Eli survived a near-death experience and gained the ability to hear ghosts and spirits. However, he is unable to see them. Eli later befriends Melinda and helps her guide spirits o the other side. He also works as a part-time lecturer at Rockland University.
RELATED:  Ad Astra & Artemis Fowl Movie Release Dates Delayed
After the conclusion of  Ghost Whisperer , Jamie Kennedy appeared on shows like  Kingdom and  Lucifer . He also voiced several characters on hit animated series like  The Cleveland Show  and  Star vs. the Forces of Evil . Kennedy is also scheduled to appear in 2019's  Ad Astra , a sci-fi film directed by James Gray. He also appeared in Showtime's  Surviving the Wild and Nickelodeon's  Fanboy & Chum Chum .
Jay Mohr played Professor Rick Payne for two seasons on  Ghost Whisperer . He made his first appearance as a guest star in season 2. Rick Payne is a genius professor of occult studies at Rockland University. He meets Melinda when she asks him for assistance with a dark spirit called Romano. Rick joins Melinda on many adventures and even helps save her life on occasion.
RELATED:  Nathan Fillion Revisiting Firefly Role For ABC's American Housewife
Rick is an eccentric character, but he is a vital part of Melinda's life. Since Ghost Whisperer ended, Jay Mohr has appeared in several shows, including  Suburgatory ,  Law & Order: Criminal Intent , the recently-renewed sitcom  American Housewife , and  The Mick .
Aisha Tyler
Aisha Tyler portrayed lawyer Andrea Marino on  Ghost Whisperer  in season 1 and early season 2. Andrea was one of Melinda's closest friends and one of the first people to learn about her gift. She works in Melinda's antique shop and also helps spirits and ghosts cross over. Andrea dies in a plane crash at the end of season 1, but she makes an appearance in season 2. Aisha Tyler has appeared in many popular series since the end of  Ghost Whisperer .
Her most prominent role has been Dr. Tara Lewis on  Criminal Minds , although animation fans might be more familiar with her voice work as Lana on  Archer or Sextina Aquafina on  Bojack Horseman . She also hosted the revival of  Whose Line Is It Anyway?  on the CW.
NEXT:  10 Awesome References You Missed From Archer Season 8
Lost in the Shadows
Episode aired Nov 20, 2009
When the ghost of a little girl who passed away from leukemia befriends Aiden and threatens Melinda to stay out of her way, Melinda worries for her son's safety. When the ghost of a little girl who passed away from leukemia befriends Aiden and threatens Melinda to stay out of her way, Melinda worries for her son's safety. When the ghost of a little girl who passed away from leukemia befriends Aiden and threatens Melinda to stay out of her way, Melinda worries for her son's safety.
P.K. Simonds
Laurie McCarthy
Jennifer Love Hewitt
David Conrad
Christoph Sanders
1 User review
1 Critic review
See more at IMDbPro
All cast & crew
Production, box office & more at IMDbPro
Did you know
Trivia All entries contain spoilers
Soundtracks Up Up & Away (uncredited) Performed by Shelly Fraley (plays faintly at the coffee house/book store as Melinda and Delia discuss Julia)
User reviews 1
November 20, 2009 (United States)
United States
Stage 19, Universal Studios - 100 Universal City Plaza, Universal City, California, USA
Sander/Moses Productions
CBS Television Studios
ABC Signature
See more company credits at IMDbPro
Technical specs
Related news
Contribute to this page.
IMDb Answers: Help fill gaps in our data
Learn more about contributing
More to explore
Recently viewed
Aiden Lucas
"I meant what I said you know, you were my hero tonight."
"Just like you are mom, every day..."~ Melinda & Aiden
Aiden is the five-year-old son of Melinda and Jim Clancy . He is more powerful than Melinda since he has more abilities. During his birth, Amber, a woman who died giving birth to her son Tyler, believed Aiden was her son. Every year she'd return on his birthday, and he'd get sick or something would happen to Jim or Melinda. After finding this out, Melinda finds out Tyler is alive and safe, and Amber is convinced Aiden is not Tyler. Amber then crosses over never haunting him again since he saves Tyler in a bowling accident.
Season 5 [ ]
Birthday Presence
See No Evil
Till Death Do Us Start
Cause For Alarm
Head Over Heels
Devil's Bargain
Dead Listing
List In The Shadows
Excessive Forces
Blessings In Disguise
Living Nightmare
Old Sins Cast Long Shadows
On Thin Ice
Lethal Combination
Blood Money
Dead Ringer
The Children's Parade
Powers and Abilities [ ]
Mediumship: Like his mom Aiden can see and communicate with spirits, but he is more powerful than his mother. He can see the Shinies, the spirits of children that have crossed over, and the Shadows, the dark pieces of broken spirits that got left behind after they crossed over,; something Melinda can't see, which have no faces and are made of light and darkness.
Empathy: Carl reveals to Melinda that Aiden is not only a ghost whisperer but also an empath and he can feel emotions. He can also connected with Melinda (having dreams or visions that relate to ghosts and he somehow channels them to his mother but upon waking up he doesn't remember them) but she keeps it secret so he can have a normal life (and because some of the dreams/visions he shares with her are frightening).
Name Origin [ ]
Aiden Lucas Clancy was named after  Jim 's father and Sam Lucas whose body Jim is inhabiting. Aiden was conceived shortly before Jim's death, and Melinda and Jim found out she was pregnant after Jim's 'awakening'.
In recovery, Melinda tells Jim that the baby's name is Aiden after his father's father and Lucas after Sam.
1 Jim Clancy
2 Sam Lucas
3 Andrea Marino
By clicking Sign Up, you agree to our Terms and Conditions and that you have read our Privacy Policy .
Sign In with your social account
We won't post to any of your accounts without asking first
Your password must include:
Min 8 characters
Min 1 lowercase character
Min 1 uppercase character
Min 1 number
Privacy Policy
Cookie Policy
Do Not Sell
Accessibility statement
Social icon facebook
Social icon instagram
Social icon twitter
See What the Cast of 'Ghost Whisperer' is up to 7 Years After the Finale!
Total Transformation! See Kelly Clarkson's 40-Pound Weight Loss in Photos
Former Disney Star Dan Benson Feels 'Badass' Doing Porn: 'Empowerment'
Brad Pitt and Angelina Jolie's Teen Daughter Shiloh's Transformation
'Never Say Never!' Victoria Beckham's Plastic Surgery Transformation
Lainey Wilson Shows Off 70-Lb. Weight Loss: Before and After Photos
It's hard to believe that it's been seven whole years since Ghost Whisperer came to an end after five spirit-filled seasons. But given the recent string of TV reboots, it's no surprise that fans of the CBS series would love Jennifer Love Hewitt , David Conrad, and the rest of the gang to return for a second round of spiritual problem-solving.
Though none of the cast members have spoken out about a possible reunion, getTV has been airing back-to-back episodes of the supernatural show daily since September, so you can always revisit your favorite characters on there. A "Reboot Ghost Whisperer" Facebook page has also popped up in the hopes that network executives will bring back the fantasy thriller.
Back in 2010, when the series was canceled, Jennifer shared how upset she was that GW was ending. "For me, it was a total shock… I thought our next season probably would be the last, just because the show had been on for a really long time," she said at the time. "It's hard to come up with new things that will keep people intrigued, but I never thought in a million years that was going to have been our last season." Scroll down to see what the cast has been up to since the series finale!
CBS, Getty Images
Jennifer Love Hewitt (Melinda Gordon)
The actress, 38, went on to have starring roles in Criminal Minds and The Client List , meeting husband Brian Hallisay while filming the latter. Currently, she's focused on raising the couple's two children — Autumn, 3, and Atticus, 2.
David Conrad (Jim Clancy)
The 50-year-old had a guest-starring stint on ABC's Agents of S.H.I.E.L.D. , and most recently appeared in the TV movie, The Curse of the Fuentes Women .
Camryn Manheim (Delia Banks)
The actress, 56, has appeared on shows such as Harry's Law , Extant , and Person of Interest since 2010. Her most recent guest role was on the TNT series, Major Crimes .
Christoph Sanders (Ned Banks)
The 29-year-old most recently starred as Kyle Anderson on the Tim Allen series Last Man Standing , which was unexpectedly canceled earlier this year after six seasons.
Jamie Kennedy (Eli James)
After breaking up with co-star Jennifer Love Hewitt in 2010, the 47-year-old has done voice work for The Cleveland Show and appeared on the short-lived NBC series, Heartbeat .
Jay Mohr (Professor Rick Payne)
The comedian, 47, has had guest stints on Suburgatory and Law & Order: Criminal Intent , and currently has three films in the works. He and his wife, Nikki Cox, separated in May 2017.
Aisha Tyler (Andrea Marino)
The 47-year-old became a co-host on The Talk in 2011 during the show's second season, but announced in 2017 that she would be leaving due to her busy schedule. She currently stars as Dr. Tara Lewis on the hit police procedural, Criminal Minds .
Connor Gibbs (Aiden Lucas)
The 16-year-old appears to have stepped away from acting. His only credit since Ghost Whisperer ended is a guest-starring role on Modern Family in 2016.
Jennifer Love Hewitt
television series
Exclusive Rande Gerber Reveals His Top 5 Tips for Throwing an Epic Halloween Bash
Exclusive Kelly Clarkson Denies Using Diet Drug Amid 40-Lb. Weight Loss
Exclusive Kourtney Kardashian's Family Doesn't 'Really Like' Travis Barker
Exclusive Travis Kelce Promised Taylor Swift Their Romance Wouldn't Be a 'Fling'
Who Is Aaron Schwartzman? All About the 'Bachelor in Paradise' Star
Who Is Golden Bachelor's Ellen Goltzer? Meet the 2nd Solo Date Winner
The Cast of 'Love Island Games' Has Been Revealed! Meet the Islanders
Who Got the First Impression Rose on 'The Golden Bachelor?' Meet Faith
Where Is 'Bachelor in Paradise' Filmed? Show's Filming Location Revealed
'Bachelorette' Contestant Erich Schwer's Ex Amanda Kaylor Dead at 27
Love on the Beach! See the 'BiP' Season 9 Cast and Premiere Details
Reality TV Antiheroes! Meet the Cast of E!'s 'House of Villains'
Toms! Slade! See the List of Most Hated Hubbies in 'Housewives' History
'LPBW' Alum Audrey Roloff Loves the Beach! Her Best Bikini Photos
Forgotten 'Real Housewives' Cast Members: Where Are They Now?
What Happened to the Forgotten 'Vanderpump Rules' Cast Members?
GHOST WHISPERER Cast – Where Are They Now?
Melinda Gordon ( Jennifer Love Hewitt ) sees dead people – spirits who can't cross over because they have unresolved personal issues. She talks to them too, and to their family, acting as a sort of spiritual social worker. This power, passed down from her grandmother ( June Squibb ) and mother ( Anne Archer ), is both Melinda's gift and her curse. 
Created by  John Gray  and based in part on the life of "spirit communicator"  Mary Ann Winkowski ,  Ghost Whisperer  entertained audiences for five seasons and 107 episodes on CBS. It's been eight years since Melinda whispered to her last ghost, so we thought we'd take a look at what the one-time residents of Grandview, New York have been up to.
1. Jennifer Love Hewitt (Melinda)
From a 10-year-old singer and dancer (credited as "Love Hewitt") on the Disney Channel's  Kids Incorporated , to a veteran actress and producer, Jennifer Love Hewitt has literally grown up before our eyes. And unlike other child stars, her maturation in the public eye didn't result in bankruptcy, rehab, or arrest. Today, JLH is 39, married, and a mother of two: Autumn, born in 2013, and Atticus, born in 2015.
After  Ghost Whisperer , Hewitt played a suburban Texas prostitute with a coke habit in the 2010 TV Movie  The Client List  and a two-season spinoff series. Brian Hallisay, who played her husband on the show, went on to marry JLH in real life in 2013. She also had a recurring role on the sitcom  Hot In Cleveland  as the daughter of Wendie Malick's character. In 2014 she was cast as former FBI agent Kate Callahan on CBS's  Criminal Minds.  She left after one season to have her second child and was replaced by an actress who will be familiar to  Ghost Whisperer  fans…
2. Aisha Tyler (Andrea Marino)
One of the saddest  GW  episodes came early in season two when  SPOILER ALERT  Melinda helps her best friend Andrea pass over after she was killed. Since then, the now-47-year-old actress, comedian and host has been busier than ever. Most recently she replaced JLH on  Criminal Minds , where she remains a cast member. She also spent six years as a co-host of the daily chat show  The Talk , is currently the emcee of the revival of  Whose Line Is It Anyway? , and hosted 260 episodes of the podcast  Girl On Guy with Aisha Tyler . Tyler has also had a second career as a voice artist in animation, voicing Lana Kane on  Archer  and characters on  Bojack Horseman  and  The Boondocks.  And in 2017 she added directing to her resume with the action thriller  Axis  (2017) starring Sam Rockwell and an episode of  Criminal Minds !
3. David Conrad (Jim Clancy)
Melinda's paramedic husband Jim doesn't mind his non-living houseguests, perhaps because he was saving Melinda's life when they met. In real life, David Conrad attended New York's Juilliard School, made his Broadway debut in  The Deep Blue Sea  opposite Blythe Danner in 1998, and appeared in films like  Men Of Honor  (2000) and  Wedding Crashers  (2005). After  GW , he guest starred on  CSI: Miami ,  The Good Wife ,  Law And Order: SVU ,  Castle , and  Masters Of Sex . Since 2013 he's had a recurring role on  Marvel's Agents Of S.H.I.E.L.D  as businessman and HYDRA operative Ian Quinn. In 2006, Conrad was named one of TV's sexiest men by  TV Guide  for his work on  Ghost Whisperer . We're happy to report that he's currently a still-sexy age 50.
4. Camryn Manheim (Delia Banks)
Before  GW , Manheim was best known for her Emmy winning role as Ellenor Frutt on  The Practice  (with guest appearances as the character on  Boston Legal ,  Ally McBeal , and  Gideon's Crossing ). She also played Gladys Presley, The King's mother, in the 2005 miniseries  Elvis . Following her four seasons as Melinda's best friend and co-worker Delia, Manheim and Hewitt reunited for  Jewtopia  (2012), a comedy based on the off-Broadway play. Manheim also was a cast member on  Harry's Law  with Kathy Bates,  Extant  with Halle Berry, and  Person Of Interest  with Michael Emerson and can currently be seen on the sitcom  Living Biblically .
5. Jay Mohr (Professor Rick Payne)
Previously best known for  Jerry Maguire , Mohr joined the cast in season two as Rick Payne, a professor at Rockland University and Melinda's frequent partner in paranormal investigation. Mohr left after season three to take the lead role in the sitcom  Gary Unmarried,  which aired for two seasons. He also was featured in Clint Eastwood's  Hereafte r (2010), a feature film dealing with death and the afterlife. Since then, Mohr has appeared in  Suburgatory , Adam Carolla's  Road Hard  (2015), and can currently be seen in a recurring role on the sitcom  The Mick . He's also the host and creator of the podcast  Mohr Stories  and was previously the emcee of  Jay Mohr Sports , a syndicated sports talk show.
6. Jamie Kennedy (Professor Eli James)
When Mohr left after season three, fellow comedian Kennedy took on the role of Melinda's wisecracking professor sidekick. But Eli James had a twist: he had a near death experience that gave him the power to hear ghosts, but not see them. Before  Ghost Whisperer , Kennedy was probably best known for his role in the  Scream  film franchise. Post- GW , he was a recurring voice artist on the animated series  The Cleveland Show , and guested on  Entourage ,  CSI ,  Lucifer , and  Criminal Minds . He was also a cast member on the sitcom  Heartbeat  and starred in two installments of the  Tremors  film series:  Tremors 5  (2015) and the upcoming  Tremors: A Cold Day In Hell  (2018). He and Jennifer Love Hewitt were also a real life couple from March 2009 until March 2010, ending their relationship as the show was concluding production.
7. Christoph Sanders (Ned Banks)
Delia's son Ned (originally  Tyler Patrick Jones ) was introduced in season two – actually, his attempted theft of vintage Grateful Dead tickets at the antique shop is how Melinda and Delia meet. But the character was recast for season three and given a larger role. Prior to  Ghost Whisperer , Sanders was best known for the controversial film  Hounddog  with Dakota Fanning. Following the series, he was a cast member on the ABC sitcom  Last Man Standing , playing star Tim Allen's employee-turned-son-in-law.
8. Grace Fulton (Young Melinda)
Although she only appears in five episodes over the first three seasons, Young Melinda plays an important role in the series. Her early appearances are how we discover Melinda's origin, and episodes like  Melinda's First Ghost  with  Abigail Breslin  help define who our heroine is as an adult. Fulton was 9 when the pilot aired in 2005 and 11 when she made her final appearance in season three. Since then, she's been featured in ABC's  Revenge , the horror film  Annabelle: Creation  (2017), and she'll play Billy Batson's twin sister Mary in DC's superhero film  Shazam!  (2019).  
9. June Squibb (Mary Ann, Melinda's grandmother)
Like Young Melinda, her grandmother only appears in a handful of shows. But those appearances are key. After a long career in theater, Squibb began working in film and TV in her 60s. When she scored an Oscar nomination for her performance as Bruce Dern's sassy wife in  Nebraska  (2013), Squibb became an overnight success in her 80s! She's been busy ever since, including on  Living Biblically  with Camryn Manheim.
10. Anne Archer (Beth Gordon, Melinda's mother)
Like Melinda, Beth has the gift to communicate with the dead. But unlike her daughter, she rejected it. And that rejection contributes to a troubled relationship between the two. Archer's appearances on  Ghost Whisperer  are few, but the episodes are important to the show's overall mythology. Pre- GW , Archer was perhaps best known as an Oscar nominee for  Fatal Attraction  (1987). Post- Whisperer , he's appeared in  Felon  (2008),  Ghosts of Girlfriends Past  (2009),  Lullaby  (2014) and  Trafficked  (2017), as well as the TV shows  Privileged  and  The Grinder .
For more information,  visit the getTV schedule .
Stay Connected
Sign up for the newsletter to get the latest updates about getTV.
Newsletter Signup
By clicking SIGN UP, I certify that I am a United States resident, I agree to receive email updates from Game Show Network, I acknowledge that my information will be handled and used by Game Show Network in accordance with the Game Show Network Privacy Policy , and I agree to such handling and use by Game Show Network.
Glad to have you on board!
Thank you for subscribing!
Your subscription to our list has been confirmed.
Need to rescan your antenna? It's easy, just follow these steps...
Channel Scan ( Or Autotune)
Enjoy Great Entertainment Television!
For further instructions click the link below to your TV model
The Ghost Whisperer
The Ghost Whisperer News
The Ghost Whisperer Reviews
The Ghost Whisperer Spoilers
The Ghost Whisperer Watch Online
The Ghost Whisperer Episode Guide
The Ghost Whisperer Quotes
The Ghost Whisperer Cast
The Ghost Whisperer Pictures
The Ghost Whisperer Videos
Follow The Ghost Whisperer
The Ghost Whisperer Season 5 Episode 9
Lost In The Shadows
← Prev Episode
Next Episode →
Melinda finds Julia Miller in Aiden's closet. She is the little girl who has befriended him and only him. When Melinda asks Julia to go into the light, she becomes enraged and throws furniture and shiny metals around the kitchen. Obviously, she doesn't want any help from Melinda.
That night, Melinda has a nightmare that she poisoned Aiden. She wakes up to find him gone. Aiden has run away with Julia to help her.
Frantic Melinda gets a vision of Aiden on a bus – but she has no idea where he is off to. The FBI agent realizes that Melinda is speaking the truth about her ability and sends every cop to track the city buses within region.
Later on, Julia's parents stop by Melinda's house and inform Delia and Eli that in their daughter's diary, she confessed to killing her friend. At first they are unsure if she is a good or bad ghost, but later on realize that she wasn't trying to kill her friend, but help save her from her sickness.
Aiden and Julia are off to an old train station. Julia has been so sick in the hospital that she did not know about the station being abandoned. They wait there because the Shinnings are supposed to come and protect her from the Shadows.
Jim finds out from a bus driver that Aiden got off at an intersection that is near a forest. He sees Aiden's toy car and realizes he is on their tail. The further he goes in the forest, the more of Aiden's toys are leading him in the right direction. After talking with Melinda they both understand that this is a path to their son.
Aiden and Julia are about to leave when she sees the Shadows approaching. Aiden tells her to stay in the light and they are about to be defeated by the Shadows, but Aiden saves the day by placing all the shiny objects around her.
Melinda and Jim rush in to find Aiden and Julia safe and sound. Back at home, Julia confronts her parents about her friend's death. She realizes that it wasn't her fault that she died – it was leukemia. She sees her friend in the light and joins her.
That night while tucking Aiden to bed, both Melinda and Jim realize that Aiden wasn't the one leaving the trial – it was the Shinings.
The Ghost Whisperer Season 5 Episode 9 Quotes
You don't know what you are dealing with. Julia Permalink: You don't know what you are dealing with. Added: November 21, 2009
I have a gift - and I can see ghosts. Melinda Permalink: I have a gift - and I can see ghosts. Added: November 21, 2009
Episode Guide
The Ghost Whisperer Season 5
October 2023
September 2023
August 2023
February 2023
January 2023
2022 Archives
2021 Archives
2020 Archives
2019 Archives
2018 Archives
2017 Archives
2016 Archives
2015 Archives
2014 Archives
2013 Archives
© 2023 TV Fanatic | About Us | Copyright Inquiry | Privacy Policy | Contact Us
© 2023 TV Fanatic
Ghost Whisperer
Serienmacher
Episodenguide
Episodenreviews
DVD-Rezensionen
Interessante Gastauftritte
Charakterbeschreibungen
Darstellerbiographien
Andere Charaktere
Andere Serien
Synchronsprecher
Licht & Schatten
Was uns bewegt
Aiden Lucas
Aiden ist der Sohn von Melinda Gordon und Jim Clancy , der am 25. September 2009 im Rockland Memorial Teaching Hospital in Grandview geboren wurde. Sie benannten ihn nach Jims Vater, Aiden, und Sam Lucas. Aiden ist ein aufgeweckter Junge. Melinda verschweigt ihrem Sohn, dass er eine besondere Gabe hat, da sie möchte, dass er ein normales Leben führt, denn er ist wie seine Mutter in der Lage, Geister zu sehen und kann mit ihnen kommunizieren. Aiden ist des Weiteren ein Empath und kann die Gefühle anderer nachempfinden und erleben, was anderen Menschen bereits passiert ist. Zu seiner Mutter hat er eine einzigartige psychische Verbindung. Aiden kann außerdem Sachen sehen, die Melinda gar nicht wahrnimmt. Dazu gehören unter anderem die Lichtgestalten ohne Gesichter und die Schattengeister, doch im Vergleich zu seiner Mutter vergisst er seine Visionen sofort wieder. Diese drückt er allerdings oft in seinen Zeichnungen aus. Laut des Beobachters Carl ist Aiden sogar stärker und mächtiger als seine Mutter. Bis zu seinem fünften Geburtstag wurde der Kleine immer zur selben Zeit, nämlich seiner Geburtszeit, schwer krank, so auch im Jahr 2014. Delia und Melinda nannten dies den Geburtstagsfluch, doch später stellt sich heraus, dass der Geist von Amber Heaton dahinter steckte. Sie starb während der Geburt ihres Sohnes Tyler im Jahr 2009. Zur selben Zeit brachte Melinda den kleinen Aiden zur Welt. Amber ist überzeugt, dass der Geist ihres Sohnes in Aiden steckt, bis Melinda herausfindet, dass Tyler gar nicht gestorben ist und anonym adoptiert wurde. Nach der Aussprache mit den Adoptiveltern und ihrem Sohn geht Amber ins Licht und lässt nun auch Aiden in Ruhe. Zu seinen imaginären Freunden gehören insbesondere die Lichtgestalten, die keine Geister sind, sich jedoch vor den Schattengeistern fürchten. Aidens Angst vor den Schatten wächst mit der Zeit immer mehr. Jim hält das Verhalten seines Sohnes für ganz normal, während sich Melinda immer mehr Sorgen macht. Als Aiden zaubern lernt , stellen seine Eltern fest, dass er dabei von einem geistigen Freund Hilfe bekommt. Es ist die vor Kurzem an Leukämie verstorbene Julia Miller. Diese versteckt sich seit geraumer Zeit vor den Schattengeistern bei Aiden im Kleiderschrank. Er möchte zwar seinen Eltern von ihrer Anwesenheit berichten, doch sie droht ihm, dass er das nicht darf, da sonst etwas Schlimmes passieren würde. Aiden lässt sich schließlich von Julia überreden , einen Ausflug zu machen. Sie kommen in einer Halle an, die das Mädchen die "Stadt der Reisenden" nennt. Als Aiden Angst bekommt und nach Hause möchte, lässt sie ihn nicht gehen. In einer anderen Halle tauchen dann die Schattengeister auf und bedrängen Julia, doch Aiden kann sie mithilfe seiner Freunde, der Lichtgestalten, und mit Taschenlampen vertreiben.
Als die Schatten drohen, Melinda und Aiden zu vernichten, versuchen seine Mutter und Jim den Kleinen zu überzeugen, dass es in Wirklichkeit keine Geister gibt, doch Aiden weiß, dass dies nicht stimmt. Er verheimlicht seinen Eltern, dass er trotzdem noch welche sieht. Da die Schatten für Aiden immer eine größere Gefahr werden, wird Carl zu seinem Beschützer und auch Cassidy , die jetzt eine der Leuchtenden ist, gehört zu seinen neuen Freunden. Gemeinsam mit anderen Kindern, die ins Licht gegangen waren und die jetzt Leuchtende sind, bekämpfen sie mit Aiden als Anführer die Schatten, als diese von Melinda Besitz ergreifen und sie nicht mehr sie selbst ist. Danach darf Aiden offen mit seiner Gabe umgehen. Seine Eltern machen ihm klar, dass diese ein Geschenk sei.
Dana Greve - myFanbase
Weitere Charaktere aus "Ghost Whisperer"

Meistgelesen
Inhalt: élite - inhalt, staffel 6, serien: serienstarttermine in deutschland, charaktere: élite - charaktere (staffel 6 und 7), biographien: gavin mchugh, news: kurz & knapp: the girl with the dragon tattoo, anansi boys, the white lotus, black doves, superman & lois, all american: homecoming, the big bang theory - charakterbeschreibungen: sheldon cooper, aktuelle kommentare.

29.10.2023 06:26 von Chili vanilli
Friends: Friends
Oh nein, gerade habe ich vom Tod Matthew Perrys... mehr
27.10.2023 12:16 von Chilli_vanilli
Bodies: Bodies
Nun habe ich die Serie beendet und bin sehr zufrieden... mehr
mehr Kommentare
Verpasst keine News und Updates
Ghost Whisperer – Stimmen aus dem Jenseits

Michael O'Neill (1 Folge)
Tom Wright (1 Folge)
Kirk B.R. Woller (1 Folge)
Peyton List (1 Folge)
Amanda Bird (1 Folge, 2007)
J. E. Bentley a ďalší. (1 Folge, 2006)
G. Fultonová (1 Folge, 2006)
E. Jones (1 Folge, 2006)
W. Marquez (1 Folge, 2006)
Ian Sander (16 Folgen, 2005–2010)
John Gray (15 Folgen, 2005–2010)
Eric Laneuville (15 Folgen, 2005–2010)
Peter Werner (7 Folgen, 2006–2009)
Gloria Muzio (6 Folgen, 2007–2010)
Kim Moses (5 Folgen, 2007–2010)
Peter O'Fallon (5 Folgen, 2005–2007)
Fred Toye (5 Folgen, 2006–2008)
James Chressanthis (4 Folgen, 2006–2009)
James Frawley (4 Folgen, 2005–2007)
John Behring (3 Folgen, 2009–2010)
Jennifer Love Hewitt (3 Folgen, 2009–2010)
Steven Robman (3 Folgen, 2008–2009)
Mark Rosman (3 Folgen, 2008–2009)
Joanna Kerns (2 Folgen, 2005)
Jefery Levy (2 Folgen, 2009–2010)
Jan Eliasberg (1 Folge, 2010)
Karen Gaviola (1 Folge, 2009)
Ralph Hemecker (1 Folge, 2010)
Victoria Hochberg (1 Folge, 2006)
Kevin Hooks (1 Folge, 2005)
David Hugh Jones (1 Folge, 2006)
Ron Lagomarsino (1 Folge, 2005)
Kenny Leon (1 Folge, 2009)
Bill Norton (1 Folge, 2005)
Steve Robman (1 Folge, 2007)
John Showalter (1 Folge, 2006)
John Gray (58 Folgen, 2005–2010)
Laurie McCarthy (20 Folgen, 2007–2010)
P.K. Simonds (16 Folgen, 2007–2010)
Mark B. Perry (13 Folgen, 2008–2010)
Jeannine Renshaw (12 Folgen, 2006–2010)
Catherine Butterfield (6 Folgen, 2005–2006)
Joy Blake (4 Folgen, 2008–2010)
Melissa Blake (4 Folgen, 2008–2010)
Lois Johnson (4 Folgen, 2005–2007)
Jed Seidel (4 Folgen, 2005–2006)
Stephanie Sengupta (4 Folgen, 2009–2010)
David Fallon (3 Folgen, 2005–2006)
Breen Frazier (3 Folgen, 2006–2007)
Jim Kouf (3 Folgen, 2006–2007)
Teddy Tenenbaum (3 Folgen, 2007)
Emily Fox (2 Folgen, 2005–2006)
Christina M. Kim (2 Folgen, 2008–2009)
Karl Schaefer (2 Folgen, 2007–2008)
John Belluso (1 Folge, 2005)
Ben Chaney (1 Folge, 2010)
Alan Di Fiore (1 Folge, 2007)
Steve Gottfried (1 Folge, 2010)
Vivian Lee (1 Folge, 2008)
Wendy Mericle (1 Folge, 2007)
Pamela Norris (1 Folge, 2010)
Melissa Jo Peltier (1 Folge, 2007)
Doug Prochilo (1 Folge, 2005)
Ann Shrake (1 Folge, 2008)
Daniel Sinclair (1 Folge, 2008)
Rama Stagner (1 Folge, 2006)
John Wirth (1 Folge, 2005)
Originalkonzeption
John Gray (4 Folgen, 2008–2010)
Jennifer Love Hewitt (105 Folgen, 2005–2010)
Barbara Black (85 Folgen, 2005–2010)
Ian Sander (101 Folgen, 2005–2010)
Kim Moses (98 Folgen, 2005–2010)
Juanita F. Diana (94 Folgen, 2005–2010)
John Gray (75 Folgen, 2005–2010)
Jeannine Renshaw (61 Folgen, 2006–2009)
Laurie McCarthy (55 Folgen, 2007–2010)
James Van Praagh (54 Folgen, 2005–2009)
P.K. Simonds (50 Folgen, 2007–2010)
Lois Johnson (42 Folgen, 2005–2007)
David Fallon (41 Folgen, 2005–2007)
Joanie L. Woehler (40 Folgen, 2005–2009)
Breen Frazier (37 Folgen, 2006–2008)
Catherine Butterfield (36 Folgen, 2005–2007)
Jed Seidel (36 Folgen, 2005–2007)
Armen V. Kevorkian (31 Folgen, 2007–2010)
Mark B. Perry (31 Folgen, 2008–2009)
Sander (26 Folgen, 2005–2010)
Terry Chupak (26 Folgen, 2007–2009)
Moses Productions (26 Folgen, 2005–2010)
Joe Dishner (22 Folgen, 2005–2006)
Armen. Kevorkian (23 Folgen, 2007–2009)
Emily Fox (21 Folgen, 2005–2006)
Jim Kouf (21 Folgen, 2006–2007)
Christina M. Kim (17 Folgen, 2008–2009)
Adam Mesinger (14 Folgen, 2008–2010)
Mary Courtney (13 Folgen, 2005–2006)
Karl Schaefer (12 Folgen, 2007–2008)
Joy Blake (9 Folgen, 2009)
Melissa Blake (9 Folgen, 2009)
Stephanie Sengupta (9 Folgen, 2009)
ABC Signature (4 Folgen, 2009–2010)
John Wirth (4 Folgen, 2005)
Billy Crawford (3 Folgen, 2005)
Kari Hobson (1 Folge, 2005)
Nicholas Rich (1 Folge, 2009)
Produktionsfirma
ABC Studios (24 Folgen, 2008–2010)
CBS Television Studios (21 Folgen, 2009–2010)
CBS Paramount Network Television (14 Folgen, 2006–2009)
Moses Productions (12 Folgen, 2009)
Sander (11 Folgen, 2009)
Touchstone Television (4 Folgen, 2005–2007)
ABC Stud (3 Folgen, 2009)
Paramount Network Television (2 Folgen, 2005–2006)
Mark Snow (107 Folgen, 2005–2010)
Dan Beyer (1 Folge, 2009)
James Chressanthis (56 Folgen, 2005–2010)
Crescenzo Notarile (33 Folgen, 2006–2009)
Michael Rizzo (27 Folgen, 2005–2007)
Bruce Buehner (23 Folgen, 2007–2009)
Crescenzo G.P. Notarile (8 Folgen, 2006–2010)
Linda A. King (4 Folgen, 2008–2009)
Bruce M. Pasternack (3 Folgen, 2008–2009)
Jack Taylor (3 Folgen, 2008)
Scott E. Steele (2 Folgen, 2006)
Bruce Pasternack (1 Folge, 2009)
Nancy Schreiber (1 Folge, 2007)
Neil Mandelberg (32 Folgen, 2006–2010)
Anthony Miller (28 Folgen, 2006–2010)
Michael N. Knue (12 Folgen, 2008–2010)
John Duffy (7 Folgen, 2005–2010)
James Coblentz (6 Folgen, 2006–2007)
Tom Walls (6 Folgen, 2005–2006)
Scott Vickrey (4 Folgen, 2005–2010)
Regis Kimble (3 Folgen, 2006)
William Flicker (2 Folgen, 2007)
Matthew Colonna (1 Folge, 2008)
Donald Krafft (26 Folgen, 2007–2009)
Cherie Day Ledwith (14 Folgen, 2005–2007)
Mary E. Gullickson (5 Folgen, 2005–2006)
Garry Allyn (15 Folgen, 2007–2009)
Michael S. Ward (8 Folgen, 2006–2007)
Brian McManus (6 Folgen, 2005)
Gina Homan (5 Folgen, 2008–2010)
Cyndilee Rice (4 Folgen, 2008–2010)
Kent Nelson (3 Folgen, 2006)
Janice Kavanagh (1 Folge, 2010)
Michael Reitz (1 Folge, 2007)
Stephanie Scott (1 Folge, 2008)
Solina Tabrizi (1 Folge, 2006)
Monica Di Venti (1 Folge, 2006)
Dorothy Amos (6 Folgen, 2008–2010)
Joseph A. Porro (1 Folge, 2007)
Regieassistenz
Richard Feury (39 Folgen, 2005–2010)
Terry Ham (33 Folgen, 2006–2010)
Dan Leatham (28 Folgen, 2005–2006)
Larry Lerner (15 Folgen, 2005–2006)
Melody Beam (14 Folgen, 2007–2008)
Suzanne Bornstein (14 Folgen, 2007–2009)
Karen Reinhart (11 Folgen, 2007–2008)
Paul F. Bernard (10 Folgen, 2006–2007)
Jackie C. Lee (9 Folgen, 2010)
Rachel Caproni (8 Folgen, 2006)
Derek E. Johansen (8 Folgen, 2007–2008)
Chad Silver (8 Folgen, 2007)
Timothy J. Lonsdale (7 Folgen, 2005–2006)
Suzanne Saltz (7 Folgen, 2008–2009)
Michael R. Melamed (5 Folgen, 2005–2006)
Bradley Morris (4 Folgen, 2005–2006)
Molly Rodriguez (3 Folgen, 2008)
Drew Ann Rosenberg (3 Folgen, 2006)
Markus von Allmen (3 Folgen, 2005–2007)
Neil Lewis (2 Folgen, 2006)
Anne Carroll (1 Folge, 2006)
Alicia Cho (1 Folge, 2010)
Peter J. Dowd Jr. (1 Folge, 2007)
Roberta Doheny (21 Folgen, 2006–2010)
Bob Costanza (18 Folgen, 2006–2008)
Nate Arrigoni (11 Folgen, 2005–2007)
Robert Edmondson (11 Folgen, 2008–2010)
Mark Hopkins McNabb (9 Folgen, 2008–2010)
David Torres (8 Folgen, 2008–2010)
Frank Fleming (6 Folgen, 2009–2010)
Tim Chilton (4 Folgen, 2006)
Damon P. Harris (4 Folgen, 2010)
Antony Zeller (4 Folgen, 2009–2010)
Brendan Beebe (3 Folgen, 2008–2009)
David Hadder (2 Folgen, 2009–2010)
Tim Terusa (2 Folgen, 2008)
Spezialeffekte
Roy K. Cancino (28 Folgen, 2006–2009)
Ben Campanaro (10 Folgen, 2008–2010)
Armen V. Kevorkian (4 Folgen, 2006–2007)
Arthur J. Codron (3 Folgen, 2007–2009)
Milton Adamou (1 Folge, 2005)
Stefan Bredereck (1 Folge, 2009)
Armen. Kevorkian (1 Folge, 2009)
Rick Ramirez (1 Folge, 2008)
Mark Stanton (1 Folge, 2008)
Jeff West (1 Folge, 2005)
John Ziegler (1 Folge, 2006)
Alex Daniels (20 Folgen, 2006–2009)
Jonathan Arthur (2 Folgen, 2009–2010)
Brian Avery (2 Folgen, 2006–2008)
Eddie Braun (2 Folgen, 2005–2006)
Peewee Piemonte (2 Folgen, 2006)
Heather Arthur (1 Folge, 2010)
Simone Bargetze (1 Folge, 2006)
Jacob Chambers (1 Folge, 2007)
Whitney Coleman (1 Folge, 2008)
Shawn Crowder (1 Folge, 2005)
Laura Dash (1 Folge, 2005)
Paul Eliopoulos (1 Folge, 2006)
Tanner Gill (1 Folge, 2006)
Alison Sieke (1 Folge, 2008)
Thom Williams (1 Folge, 2006)
Nancy Young (1 Folge, 2005)
Erinnerungs-Service per E-Mail
Ghost Whisperer auf DVD
Staffel 5 (6 DVDs)
Staffel 4 (6 DVDs)
Staffel 3 (5 DVDs)
Staffel 2 (6 DVDs)
alle DVDs und Blu-rays
Auch interessant…