Ghost Rider 3: Will Keanu Reeves Play the New Johnny Blaze?
By Mack Ashworth
Talk of Keanu Reeves playing Johnny Blaze in a potential new Ghost Rider 3 movie is appearing on social media and forums. This is largely thanks to a fanmade trailer showing a "What if?" scenario with Keanu Reeves being the new Ghost Rider actor, following in the footsteps of Nicolas Cage. Here's what we know so far about Keanu Reeves coming to the MCU.
Is Keanu Reeves going to be the new Ghost Rider actor?
No, Keanu Reeves is not confirmed to be the next Ghost Rider actor.
At the time of writing, there's not even confirmation of a new Ghost Rider movie being in the works. For now, the IP is in a state of limbo, much like the hero himself.
The notion of Keanu Reeves being Ghost Rider is nothing new, as Reeves himself said that he could see himself playing the character. Back in October 2022, Reeves revealed his "dream Marvel role" on Jimmy Kimmel Live, confirming that it's Ghost Rider.
Hyping up the idea of Keanu Reeves as Ghost Rider are various fanmade trailers. The latest, by Stryder HD, combines clips of the original Ghost Rider movie (with Nicolas Cage) with various Reeves' movies including John Wick and Constantine.
Is Keanu Reeves coming to the MCU?
No, Keanu Reeves is not coming to the MCU.
At the time of writing, Keanu Reeves is not officially confirmed to be coming to the Marvel Cinematic Universe, nor have any credible leaks suggested that the actor will be appearing in upcoming Marvel movies or TV shows.
If Keanu Reeves does end up being announced for a Marvel role, you can expect ComingSoon.net to report on it.
For more entertainment content, here's how IT & IT Chapter Two almost conquers adapting Stephen King's epic tale . Also, here's why Zack Snyder should direct the Gears of War movie .
Mack is slowly grinding his way to Level 100. With each article you read, he gets 1 XP! // 23,597 XP UNTIL NEXT LEVEL //
Share article
Robin Williams' Estate Cleared New Genie Lines, No AI Was Used
Martin Scorsese Confirms His Next Project Is The Wager Starring Leonardo DiCaprio
Oppenheimer Digital, 4K Blu-ray Release Date Set for Christopher Nolan Biopic
Marvel and dc.
The Marvels TV Spot Teases an MCU Cameo Appearance
Kevin Feige: MCU Has 'Barely Scratched the Surface' After 32 Movies
The Marvels Posters Preview Stars of MCU Sequel
Ghost Rider: Is Norman Reedus Johnny Blaze in the New Disney Plus series?
Alan Ritchson Reveals How Keanu Reeves Almost Played a Role in Fast X
Keanu Reeves Wants to Join the Marvel Cinematic Universe
Keanu Reeves Offers Constantine 2 Update, Wants to Play Wolverine
by Padraig Cotter
ScreenRant.com
Similar News
by Jeremy Dick
Comic Book Resources
The Dark Knight
by Jakob Barnes
The Digital Fix
by Andrea Sandoval, Vincent LoVerde
by Scott Roxborough
The Hollywood Reporter - Movie News
by Screen staff
ScreenDaily
by Max Goldbart
Deadline Film + TV
More to explore
Recently viewed.
Nicolas Cage's Ghost Rider 3 - Will It Ever Happen?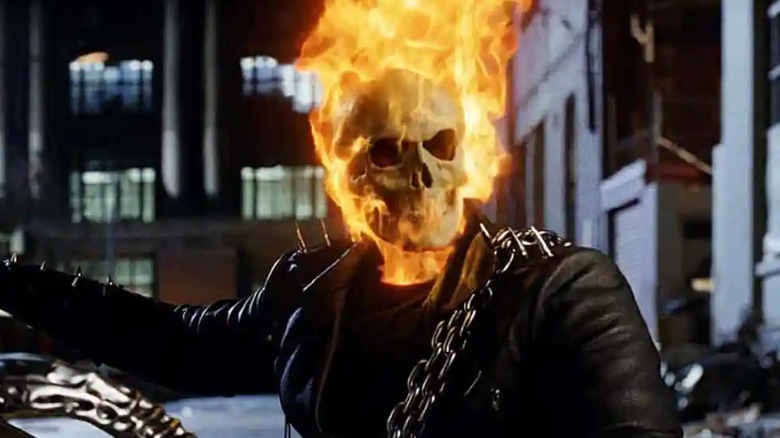 Way back in 2007, Marvel Comics-based movies were in a much different spot than they are in the 2020s. Their quality was hit or miss, and some of the most unexpected characters were enjoying the big screen spotlight without the shackles of a shared superhero universe. One of these heroes was Nicolas Cage's Johnny Blaze, aka Ghost Rider , whose first solo film arrived that year. It provides a decent crash course on the character's history in addition to some wild action, drama, and plenty of Cage wackiness to go around.
While far from a critical hit or a box office success, "Ghost Rider" did well enough to turn heads in a world quickly becoming populated by Marvel adaptations. Thus, it landed a sequel in the form of 2012's "Ghost Rider: Spirit of Vengeance": a truly odd feature that released right as the Marvel Cinematic Universe was hitting its stride. Failing at the box office and turning away fans and critics alike, "Spirit of Vengeance" put to rest one of the last remaining non-MCU Marvel franchises in the cinematic landscape.
Despite how rough the second "Ghost Rider" movie turned out to be, there are still those out there holding out hope that the trilogy will someday be completed. Here's what we know about the likelihood of "Ghost Rider 3."
Why isn't Ghost Rider 3 happening yet?
The obvious question to ask regarding the status of "Ghost Rider 3" is why isn't it happening yet. Well, first and foremost, it's important to remember that both "Ghost Rider" and "Ghost Rider: Spirit of Vengeance" were far from runaway successes. According to The Numbers , "Ghost Rider" only made around $229 million on a $110 million budget, and "Spirit of Vengeance" only took in $149 million on a budget between $57 million and $75 million. Neither were financial losses, but they weren't major moneymakers either.
Aside from box office struggles and a lack of positive critical assessments, the big thing to remember is that the rights to the Ghost Rider character no longer reside with Sony and Columbia Pictures. In early 2013, not long after "Spirit of Vengeance" came and went from the movies, the film rights reverted back to Marvel Studios. Thus, it was free to do whatever it wanted to Johnny Blaze and his associated characters. Given the struggles of the previous two films and the MCU's success, it only makes sense that Marvel Studios elected to leave this non-MCU franchise behind.
What Nicolas Cage has said about Ghost Rider 3
Around the time of the theatrical debut of "Ghost Rider: Spirit of Vengeance," directing duo Mark Neveldine and Brian Taylor spoke with IndieWire about it and a potential third film in the series. Neveldine said, "There's been talk about [a sequel]. I know Nic[olas Cage] wants to do it, he's very pumped about it." Based on that comment, one would assume that Cage was very much on board for "Ghost Rider 3." In reality, according to the eccentric actor himself, he was pretty much done with the Johnny Blaze role.
In 2013, Cage spoke to Collider about "Ghost Rider 3" and the likelihood that he'd sign the dotted line to return as the titular hero. His comments were less than encouraging. "I've said what I have to say. I don't want to say never...anything's possible. But I doubt, highly, that I would be in a third installment of that," he told the publication, spelling out plainly that if a third "Ghost Rider" movie did manage to defy the odds and become a reality, someone else would play the character instead of him.
What could be explored in Ghost Rider 3
It has been over a decade since "Ghost Rider: Spirit of Vengeance" premiered, so if "Ghost Rider 3" were to happen, the story could take many different forms. While the third film could directly follow the events of its predecessor, to account for the noticeably aged actors, a time jump is the best way to go. The feature could follow a much older, experienced Johnny Blaze as he continues to fend off the forces of evil from corrupting or destroying Earth. With Mephisto (Ciarán Hinds) seemingly defeated in "Spirit of Vengeance," perhaps Ghost Rider villains such as Nightmare or Lucifer could step up as the main antagonist.
Additionally, a hypothetical "Ghost Rider 3" would be remiss not to give a bigger spotlight to Danny Ketch. The character is introduced in "Spirit of Vengeance," portrayed by Fergus Riordan, and becomes an ally of Blaze, who protects him. If "Ghost Rider 3" went ahead with a time jump, an adult Ketch could join Blaze on what could be his last adventure as the motorcycle-riding hero. In the end, either due to his death or retirement, Blaze could pass on the Ghost Rider mantle to Ketch. After all, Ketch is easily the most well-known individual to take on the alias on the pages of Marvel Comics next to Blaze himself. Maybe even the Robbie Reyes Ghost Rider could appear as well.
Who would star in Ghost Rider 3
Of course, when discussing "Ghost Rider 3," it's impossible not to speculate on who should join the film's cast. First and foremost, Nicolas Cage should be at the top of the list, seeing as his wild performances in the previous two "Ghost Rider" films are among their most memorable elements. It's only right that he returns to complete the series and wrap up his take on Johnny Blaze's story. To join him, maybe the likes of Carter Slade (Sam Elliot) and Roxanne Simpson (Eva Mendes) could return to bring the trilogy full circle.
As far as the villain goes, even though someone new would be the best choice for "Ghost Rider 3," that's not to say that Mephisto cannot return. Both Peter Fonda and Ciarán Hinds have taken on the role in the "Ghost Rider" franchise, so either Hinds could return for another go-around, or yet another new actor could take over. Speaking of replacements, it stands to reason that the minds behind "Ghost Rider 3" would recast Danny Ketch if he were to factor into the plot as an adult. Then again, Fergus Riordan is in his mid-20s now, so there's no reason why he couldn't come back to the role.
It's wise to never say never when it comes to superhero blockbusters. At the same time, while it's not impossible that "Ghost Rider 3" makes its way to the big screen down the line, it's very much unlikely.
Screen Rant
Ghost rider fan trailer delivers the mcu's perfect keanu reeves casting.
Keanu Reeves became Ghost Rider for the Marvel Cinematic Universe in a new fan trailer, showcasing why he should be cast as the Spirit of Vengeance.
Keanu Reeves has expressed interest in playing Ghost Rider in the MCU, but no official comment or tease has been made about a potential movie featuring the character.
A Ghost Rider fan trailer recently debuted, showcasing what a solo adventure focused on the Spirit of Vengeance could be like in the MCU.
The introduction of supernatural characters in the MCU has laid the foundation for a potential Midnight Sons project, making it a perfect time to bring Ghost Rider into the action.
A new Ghost Rider fan trailer shows what Keanu Reeves would be like as the iconic Marvel superhero. Despite his popularity, Johnny Blaze, AKA Ghost Rider, has yet to debut in the MCU as he was last seen on the big screen played by Nicolas Cage in the mid-2000s movies before the rights went back to Marvel Studios. Despite having the rights back, no comment or tease has been made about a potential Ghost Rider movie made by Marvel Studios.
Despite occasional rumors tying the actor to a role, Reeves has yet to actually take a Marvel Cinematic Universe role. Reeves has even expressed interest in playing Ghost Rider , but thus far, nothing has come out of the actor's and fans' wish to see it happen.
Stryder HD recently debuted a Ghost Rider fan trailer, to serve as a proof of concept for what a solo adventure focused on the Spirit of Vengeance in the MCU could be like from Marvel Studios. The footage retreads on Agents of SHIELD's Robbie Reyes, played by Gabriel Luna, while pitching Reeves as Johnny Blaze, with his story being told through his successor.
RELATED: Why Ghost Rider 3 Will Never Happen
Why Hasn't The MCU Cast Its Own Ghost Rider Yet?
Despite having introduced several new heroes and villains in the MCU throughout Phases 4 and 5, Ghost Rider hasn't yet been teased or appeared. However, the MCU has begun laying the foundation for a potential Midnight Sons project with the introduction of supernatural characters like Werewolf by Night and the upcoming Blade reboot. This would be the perfect time to finally get Ghost Rider in action, whether it be continuing with Robbie or using Johnny.
Related: Casting Ghost Rider For The MCU
Agents of SHIELD did the groundwork for not just Robbie but also Johnny, as he made a brief cameo in season 4. It was revealed during Robbie's origin story that Johnny was the one who passed on the power of the Spirit of Vengeance to him. In one way or another, Johnny is somewhere out there in the MCU without being used and could have been fleshed out at this point, while also reigniting Agents of SHIELD's Ghost Rider mythology in the franchise. It would even be incredible if the MCU found a way to feature Johnny and Robbie together as Ghost Riders at the same time.
A Ghost Rider TV show almost happened at Hulu , but the project ultimately never came to light due to creative differences. Given that the MCU is using Marvel TV characters again, with Daredevil set to headline his own Disney+ show, there is no reason why Marvel Studios couldn't consider doing the same for Ghost Rider. Hopefully, whether it be soon or in the MCU's more distant future, Ghost Rider will eventually have a regular place in the MCU in one way or another.
Source: Stryder HD /YouTube
Key Release Dates
The marvels, captain america: brave new world, marvel's thunderbolts, blade (2025), marvel's fantastic four, avengers: the kang dynasty, avengers: secret wars.
Ghost Rider: Spirit of Vengeance
Ghost Rider: Spirit of Vengeance is a 2012 superhero film, based on the Marvel Comics superhero of the same name . The film is a sequel to Ghost Rider . The film was released on February 17, 2012 in the United States.
The film is directed by Mark Neveldine and Brian Taylor , and stars Nicolas Cage as Johnny Blaze/Ghost Rider ,
4.1 Locations
4.4 Vehicles
4.5 Sentient Species
4.6 Creatures
4.7 Organizations
4.8 Mentioned
5.1 Development
5.2 Filming
6.1 Box Office
7 Canceled Future
8.1 Trailers
10 References
11 External Links
Synopsis [ ]
Still struggling with his curse as the devil's bounty hunter, Johnny is hiding out in a remote part of Europe when he is recruited by a secret sect of the church to save a young boy from the devil. At first, Johnny is reluctant to embrace the power of the Ghost Rider, but it is the only way to protect the boy and possibly rid himself of his curse forever.
Nadya was a young gypsy, wanting out of the gypsy lifestyle so she hooked up with Ray Carrigan, a gun and drug runner. But when a gun deal goes bad, Nadya has to jump from a three-story window to her death. But as she's dying, the Devil as the form of Roarke arrives and makes her a deal. He will restore her body if she agrees to provide him with a son.
13 years later, the son named Danny, is about to turn 13 and the devil in the Roarke body for several years needs a new body that can actually contain the power. Danny, being only half human, is that body. But it can only be done at sunrise on the boys 13th birthday, so he hires Carrigan to abducted Danny and bring him to him. But groups of monks lead by Frenchman Moreau is out to rescue the boy.
Carrigan, leading a group of mercenaries to capture Danny in a monastery and Moreau tries to help Danny and Nayda but Nayda confuses him with one of the monks and shots at him. Knowing only the Ghost Rider can protect the boy, Moreau goes to Johnny Blaze whose been hiding in eastern Europe after his deal with Roarke trying to deal with the evil spirit the dwells within him. Moreau makes Johnny a deal if Johnny uses the Rider to rescue the boy, Moreau and his groups of monks lead by Methoties will remove the demon from Johnny's body.
So Johnny changes into the Ghost Rider, several battles break out where the boy is first captured by Carrigan, and then rescued by the Rider, then the Rider and Danny bond over there demonic natures while Carrigan killed in a battle and resurrected by Roarke as Blackout, a demon who decays everything he touches. Johnny, Nadya, and Moreua take Danny to Methoties and the monks for fill there promise. They remove the Ghost Rider from demon after telling Johnny the background of the demon. The demons name is Zerithos and he was an angel, a spirit of justice sent to protect man. But he was taken to hell, corrupted and his mission of protecting the innocent turned into punished the guilty and he turned into the devil's Spirit of Vengeance. But the monks rid Johnny of the Rider, then they decide that Danny is dangerous and born with his power and they can not remove it so they decide to kill the boy. But Blackout shows up, kills the monks and captures Danny.
Delivering the boys to Roarke, the ceremony to put Roarke's soul in Danny's body begins. Knowing that this means the end of the earth, Johnny, Moreua, and Nadya go to stop Roarke, Blackout kills Moreua, Johnny is about to be killed as well, but Danny realizing that he has all of Roarke's powers puts the power of Zerithos back into Johnny. Once again as the Rider, Johnny kills Blackout and a road chase occurred with the Rider chasing Roarke and the boy. Ghost Rider crashes Roarke's car and sends him back to hell and Danny is killed in the crash. But Johnny can feel the angelic part of Zerithos and his hands glow with blue fire as the angel resurrects the boy. With Roarke beaten, Johnny rides into the night, not as the Spirit of Vengeance, but as the Spirit of Justice.
Ionut Cristian Lefter as Young Johnny Blaze
Ciarán Hinds as Roarke
Violante Placido as Nadya Ketch
Idris Elba as Moreau
Johnny Whitworth as Ray Carrigan/Blackout
Fergus Riordan as Danny Ketch
Christopher Lambert as Methodius
Anthony Head as Benedict
Spencer Wilding as Grannik
Sorin Tofan as Kurdish
Jacek Koman as Terrokov
Cristian Iacob as Vasil
Jai Stefan as Krakchev
Vincent Regan as Toma Nikasevic
Tobias Öjerfalk as Dude (Forest)
Appearances [ ]
Locations [ ].
Uzak Gokten
Texas (recap)
San Venganza (recap)
Ghost Rider's Chain
Vehicles [ ]
Sentient species [ ], creatures [ ], organizations [ ], mentioned [ ], production [ ], development [ ].
On February 9, 2007, Marvel producer Avi Arad announced the development of  Ghost Rider 2  at a press event. Peter Fonda had also expressed a desire to return as Mephistopheles. In early December 2007, Nicolas Cage also expressed interest to return in the lead role as Ghost Rider.  Shortly after, in another interview he went on further to mention that he would enjoy seeing a darker story, adding, "He's not eating jelly beans anymore; he's getting drunk." He suggested that the film could do with newly created villains. It was also rumored that the sequel would feature Danny Ketch, another Marvel character who took up the Ghost Rider mantle in the comics.
In a September 2008 interview, Cage informed IGN that Columbia had taken meetings to start a sequel. Cage noted conversations about the story, where Ghost Rider may end up in Europe on behalf of the church, having story elements "very much in the zeitgeist, like  Da Vinci Code ."
In February 2009, an online source stated Columbia Pictures had greenlit a sequel to  Ghost Rider . Nicolas Cage was slated to reprise the lead role, whilst the studio was in search of writers.
On September 23, 2009, it was reported that screenwriter David S. Goyer had signed on to write the script for the sequel.
Goyer spoke to MTV about the sequel, stating that the story would pick up eight years after the events of the first film and that he hopes to start filming by 2010.
The sequel is finally titled  Ghost Rider: Spirit of Vengeance  and was produced by Mike De Luca, and pre-screened with a PG-13 rating.
On July 14, 2010, it was confirmed that Nicolas Cage would return, and Mark Neveldine and Brian Taylor were announced to direct the film, with editor Brian Berdan and cinematographer Brandon Trost reuniting with the directors from the  Crank  films.
Christopher Lambert underwent three months of sword training just as he did in Highlander (1986), and he has shaved his head for his role as the Monk Methodius.
Filming [ ]
In July 2010, Cage revealed shooting was to start in November. In an interview with Superhero Hype!, Eva Mendes revealed that she would not be back as Roxanne for the sequel. The film was shot in Romania and Turkey. The film started principal photography in Sibiu, Romania in November 2010, using mostly local talent. Principal photography was completed on January 24, 2011. On March 16, 2011, it was confirmed that Johnny Whitworth would be playing the antagonist, which was also confirmed to be Blackout. Later, the film was converted in post-production to 3D release.
Three scenes were shot on set Castel Film Romania. Among the places in the country chosen were Transfăgărăşan, Targu-Jiu, Hunedoara Castle and Bucharest.
Filming in Turkey took place in Cappadocia, a historical region in central Turkey with exotic chimney topped rocky setting. The scene with the Greco-Roman theatre was filmed in Pamukkale where the ancient Greek (of the Seleucid Empire) city of Hierapolis once stood.
Reception [ ]
Reviewers who viewed an early preview screening at the December 2011 Butt-Numb-A-Thon in Austin expressed negative reactions to the film, with two attendants saying it was worse than the first  Ghost Rider  film, and one even going so far as to say that the sequel makes the first film "look like  The Dark Knight " by comparison.
On Rotten Tomatoes the film holds a 18% rating  based on 132 reviews with the consensus stating: "With a weak script, uneven CG work, and a Nicolas Cage performance so predictably loony it's no longer amusing,  Ghost Rider: Spirit of Vengeance  aims to be trashy fun but ends up as plain trash." [1] On Metacritic, the film has a score of 32 based on 20 reviews. [2] IGN gave the movie four out of five stars. [3]
Box Office [ ]
Despite its negative reviews, it opened in 3,174 theaters at #3 with $22,115,334, behind  Safe House , which moved to #1 on its second weekend and  The Vow  the holdover of the last week, less than half of the first Ghost Rider' s opening weekend of $45,388,836. As of June 4, it has gone on to gross $51,774,002 at the domestic box office and $80,789,928 overseas for a worldwide total of $132,563,930, that's why it became a box office bomb.
Canceled Future [ ]
On February 2012, directors Mark Neveldine and Brian Taylor discussed producing a potential  Ghost Rider 3 and having someone else direct it.  Neveldine told The Playlist that Nicolas Cage has expressed interest in appearing in another  Ghost Rider  film, hinting that the film could move forward provided that  Spirit of Vengeance  was a success saying "I know Nic wants to do it, he's very pumped about it.....We'll just have to see how well [this] does."
In March 2013, when Nicolas Cage was asked about a possible third installment, Cage said "It's possible, but it won't be with me... Anything's possible. But I doubt, highly, that I would be in the third installment of that."
According to MTV, Cage believes that another  Ghost Rider  film might happen "down the road" saying "It would be interesting if they did it with a female Ghost Rider," but he insisted that his days as Johnny Blaze are behind him for now. Cage also said "Personally, I'm done," he said. "I've done what I had to do with that part. You never say never, but right now, today, I would say that I'm done."
On May 2, 2013, Marvel Studios President Kevin Feige announced that the film rights to Ghost Rider had reverted to Marvel Studios, though also stated that the studio had no immediate plans to make another  Ghost Rider  film.
On July 2016, it was announced that the new iteration of Ghost Rider will debut in the fourth season of Agents of S.H.I.E.L.D.
Trailers [ ]
Ghost Rider: Spirit of Vengeance - Original Motion Picture Score
References [ ]

↑ https://www.rottentomatoes.com/m/ghost_rider_spirit_of_vengeance
↑ https://www.metacritic.com/movie/ghost-rider-spirit-of-vengeance
↑ https://web.archive.org/web/20120219232447/movies.ign.com/articles/121/1218966p1.html
External Links [ ]

1 Phantom Rider
3 Ghost Rider
10 Actors Besides Ryan Gosling Who Could Play Ghost Rider In The MCU
Gosling would make a stellar Ghost Rider, and so would these 10 other actors!
Marvel character Ghost Rider starts out as motorcycle stuntman Johnny Blaze, who sells his soul to Mephisto in return for curing his stepfather's cancer. Mephisto bonds him with the demon Zarathos, which transforms Blaze into Ghost Rider when evil is near so he can return it to hell. Leather-clad with a flaming skull for a head, Ghost Rider's many powers include superhuman strength, regeneration, invulnerability to fire, and of course his Penance Stare, during which he locks eyes with his victim and ravages their soul by making them experience all the pain and suffering they've caused.
Johnny Blaze was previously portrayed by Nicolas Cage in Ghost Rider (2007) and its sequel, Spirit of Vengeance (2011). He was played by Tom McComas on Agents of S.H.I.E.L.D . Ryan Gosling 's name has been favored in talks of recasting Ghost Rider for future MCU projects. While he'd likely be an excellent choice, there are lots of other ways it could go. These actors could all play Ghost Rider and do a bang-up job of it.
Norman Reedus
Best known for playing Daryl Dixon on The Walking Dead , Norman Reedus already has eleven seasons' experience with a comic book adaptation, though his character was specifically developed for the show. Daryl Dixon is physically and mentally strong, traits that would translate well to Ghost Rider. And after fending off zombies and predatory survivors for 175 episodes , fans of The Walking Dead can certainly attest to Reedus' believable combat skills.
Before his first acting gig, Reedus worked in a Harley Davidson motorcycle shop. Since gaining notoriety, he's translated his enthusiasm for bikes into the AMC show Ride with Norman Reedus where he and a guest ride to different destinations while exploring biker culture. He'll look at home on Blaze's motorcycle.
Charlie Hunnam
Charlie Hunnam 's television experience is even more applicable than Reedus'. He played biker outlaw Jax Teller for 92 episodes on FX series Sons of Anarchy . Jax was the motorcycle club's president and spent most of the series riding a 2003 Harley-Davidson Dyna Super Glide Sport with a black powder coated engine and high-risers for handlebars. Jax also had the highest kill count of the series, so presumably Hunnam will wield Ghost Rider's Hellfire Shotgun with authority.
Hunnam took up boxing and Brazilian Jiujitsu to prepare for his role in King Arthur , so he's physically capable of bringing the heat. And he was considered early on to play Thor before Chris Hemsworth blew everyone away, which may mean that the MCU is his destiny.
Common is a rapper and actor with an impressive range of roles under his belt, including action films like Wanted , Terminator Salvation , and John Wick: Chapter 2 . He's also got some comic book bona fides, having briefly appeared in the DCEU in David Ayer 's Suicide Squad as Monster T, a crime boss in Gotham City who openly ogles Harley Quinn at a strip club and promptly gets shot in the head by Joker.
RELATED: Perfect Characters For A New 'Suicide Squad'
Common wouldn't be the first or the last to crossover between Marvel and DC films. In fact, Nicolas Cage himself has straddled both, voicing Spider-Man Noir in Spider-Man: Into The Spider-Verse and Superman in Teen Titans GO! To The Movies .
Keanu Reeves
Aside from 2005's Constantine and voicing Batman in DC League of Super-Pets , Keanu Reeves ' name has been regularly suggested for all kinds of superhero roles, but the actor has yet to join the MCU. The man is an avid comic book fan though and has even recently created and written one with Matt Kindt and drawn by Ron Garney. BRZRKR follows an immortal warrior as he fights his way through the ages; Netflix is already developing a live-action film starring Reeves as well as a follow-up anime series.
RELATED: Keanu Reeves to Return in 'Constantine' Sequel
A vision and leather and a known motorcycle enthusiast, Reeves once brought a Harley-Davidson to bike builder Gard Hollinger for customization that eventually retained only the Harley engine. They liked the result so much they formed the Arch Motorcycle Company together. Reeves clearly likes bikes, but does he like Marvel? When Jimmy Kimmel recently asked him what character his 10-year-old self would have wanted to play, he answered "Ghost Rider."
Joshua Jackson
Known since childhood for roles in The Mighty Ducks and Dawson's Creek , Joshua Jackson 's most relevant film credit may be a little-known indie called One Week , in which he plays a man diagnosed with stage IV cancer who buys a used motorcycle and drives across Canada instead of having treatment.
Other television roles seem to have prepared him to play Ghost Rider: in Doctor Death , he routinely takes lives, in Fringe he encountered the supernatural, and in Little Fires Everywhere , flames shoot out of his skull. That last one may not be true, but there's already more than enough evidence to prove Jackson is a viable fit for the role.
Steven Yeun
On Amazon Prime' s Invincible , Steven Yeun voices Mark Grayson, the teenage son of the world's most powerful superhero, Omni-Man (voiced by the MCU's J.K. Simmons ). Invincible is based on the comic book written by The Walking Dead creator, Robert Kirkman . Yeun's work on the show is so lauded by fans, they've clamored for him to take a live-action superhero role in the future.
RELATED: Best Adult Animated Series
Ghost Rider seems like a good fit for Yeun, particularly when you factor in the probability of Ghost Rider being introduced to the MCU via the upcoming film Blade , starring Mahershala Ali , who, coincidentally, voices Titan on Invincible. Since Blade also has ties to the supernatural, it seems inevitable that he and Ghost Rider will cross paths.
Andrew Scott
Andrew Scott is one of the most versatile working actors today, with memorable roles including Moriarty in Sherlock , Bond's careless boss in Spectre , and an aficionado of the supernatural in His Dark Materials , not to mention voicing several characters for the Big Hero 6 series.
Perhaps most importantly, it feels right that Fleabag 's Hot Priest should be doing the devil's work. Ghost Rider can rain down hellfire, purge souls, eat sins, invoke damnation, and perform exorcisms. This role will require someone familiar with both sides of the occult.
Lenny Kravitz
Rock star and actor, Lenny Kravitz would at the very least nail Johnny Blaze's coolness. His best-known acting credit is as Cinna in The Hunger Games and its follow-up, Catching Fire , but fans needn't dig too deep to ascertain his primary qualification: looking killer in leather.
And since his daughter, Zoë Kravitz , has appeared as Selina Kyle in The Batman , and his Eskimo brother Jason Momoa as Aquaman , it seems only fair that Lenny should get his shot too.
Justin Theroux
Full disclosure: Justin Theroux appeared briefly in Joker in the uncredited role of actor Ethan Chase, also the name of Zach Galifianakis ' character in Due Date , another film by director Todd Phillips which co-stars Iron Man, Robert Downey, Jr . Blink and you'll miss him; Theroux's only seen on a television screen as a guest on the Murray Franklin show. Currently, he does not appear to be revisiting the role for the film's sequel, leaving him open for a possible spot in the MCU.
RELATED: What We Know About The 'Joker' Sequel
While Theroux has never appeared in the MCU, he did write the screenplay for Iron Man 2 (he was personally recommended by Downey since Theroux also co-wrote Tropic Thunder ) . Combine those chops with his effortless biker style and a stable of four motorcycles he rides regularly, and you've got the makings of a terrific Ghost Rider.
Stephanie Beatriz
Johnny Blaze is supposed to be blue-eyed and strawberry blond while Ghost Rider is bald with flames coming out of his empty eye sockets. He's also, technically, supposed to be a man, but who says Jenny Blaze can't be the stunt woman behind the flaming skeleton?
Stephanie Beatriz is so perfect for the role, she already has one she could easily cut-and-paste: Rosa Diaz from Brooklyn Nine-Nine .
Rosa is tough, no-nonsense, used to hauling in perps , and prone to leather. Beatriz could do this with one skeletal hand tied behind her back.
NEXT: Stephanie Beatriz To Voice Batwoman