Subscribe to get my free monthly newsletter. Sign up today!
Pineapple Mango Ghost Pepper Hot Sauce Recipe
Learn how to make Pineapple Mango Ghost Pepper Hot Sauce. This hot sauce is an absolutely delicious combination of sweet and spicy with the additions of other complex tastes including smoky, earthy, and tart. It is amazing on chicken wings. I also love adding it to sub-sandwiches, tacos, and pizza. Despite the notorious reputation of ghost peppers, this is NOT painfully spicy due to addition of the fruit.
Confession: I'm Addicted to Hot Sauce and Growing Hot Peppers…
I have a love affair with hot sauce. And pretty much all spicy things. Naturally, this means that I also love growing hot peppers, and I always grow at least: jalapenos, serranoes, and habaneros. In addition to those top three hot peppers, I also like to add tons of different varieties of other hot peppers to my garden and I swap them out with other hot pepper varieties every year.
This year, in addition to my top three hot peppers, I'm also growing: Georgia Flame, Hot Portugal, Hungarian Hot Banana, Brazilian Starfish, Ancho Poblano, and….Ghost Peppers. I will ALWAYS grow ghost peppers from now on in my garden. Forever and ever.
You see, last year, my darling hubby decided to surprise me with a gift of a ghost pepper plant (usually I start my own seeds , but I did not consider growing this one, so he bought me the plant from a nearby nursery). The thing about growing hot peppers is that oftentimes, the hotter the pepper, the longer the growing season needs to be for the harvest.
So, last November, my homemade salsa tomatoes and peppers were all harvested and either eaten or preserved (here's my list of tons of ways to preserve hot peppers and here's my FAVORITE pickled jalapeno/serrano recipe ). At about the time all of my milder peppers were done for the year, THEN my ghost pepper plant was loaded with ghost peppers that were finally ready to harvest.
My Adventures Into Making Homemade Hot Sauce
As I stared at my basket of ghost peppers, I knew without a doubt that I needed to invent my own ghost pepper hot sauce recipe. I have already played around with making my own hot sauce with my Roasted Hot Pepper Hot Sauce recipe and my Citrus Grapefruit Habanero Hot Sauce recipe and my Roasted Poblano Habanero Hot Sauce recipe , but ghost peppers were a whole new level of hot sauce seriousness for me.
I started by gathering all the varieties of ghost pepper hot sauce recipes that I could find on the internet and in various canning books and cookbooks that I already owned.
My goal was to make my own twist on a recipe for ghost pepper hot sauce and not just copy another recipe. I had papers all around me as I wrote down ingredients that I liked and didn't like from the various recipes and started thinking about ratios for the ingredients as well. It took forever, but I finally figured out my ingredients.
THEN I started playing in the kitchen. Making homemade hot sauce is a special type of challenge because it's possible to leave spicy imprints everywhere. I wore two layers of gloves and had to keep remembering what I touched so I could wipe it down.
I have a lot of experience with making things with hot peppers in my kitchen, so I've gotten really good at…"learning hot pepper lessons" that includes things like:
If you touch the refrigerator door with glove that touched hot peppers, your fridge door handle is now covered in hot spicy pepper and it needs to be washed off;
If you turn on your kitchen faucet to wash your gloved hands so you can take your gloves off, you now need to wash the faucet handle because it's covered with hot spicy peppers;
If you touch kitchen utensils, pot handles, the kitchen counter, or ANYTHING while handling hot peppers, you need to take note of them so you can wash them off.
So yeah, if you start making hot sauce at home, PLEASE be extra careful by wearing gloves and cleaning every kitchen surface possible. Your eyes and skin will thank you for all the cautions you take.
The result from all of my research and trial-and-error was the most delicious hot sauce I've ever had. I seriously cannot WAIT for my next garden harvest of ghost peppers so that I can make more of this super tasty Pineapple Mango Ghost Pepper Hot Sauce!
Pineapple Mango Ghost Pepper Hot Sauce: The Ingredients
A lot of the other homemade ghost pepper hot sauce recipes I found focused on using only one type of fruit as the addition to the ghost peppers. I understand that fruit helps smooth out the spicy and edge from ghost peppers, so obviously fruit needed to be added to my recipe.
But I couldn't help but wonder…what would happen if you combined mango AND pineapple with the ghost peppers instead of choosing just one of those fruit? The combination of these two fruit was amazing. I find pineapples by themselves too sweet and mangoes too…earthy? Mangoes have a taste to them that I don't care for on it's own, but I've always loved them with spicy things (you HAVE to try my homemade mango salsa recipe …YUM). The two fruit together helped keep the flavors from being too sweet or too 'earthy'.
I also added lime juice. This helps keep the hot sauce from turning an off-color and also helps brighten up hot sauce with a tart-edge.
The Peppers:
The first time I made my pineapple mango ghost pepper hot sauce recipe, I used 4 ghost peppers. This made a lovely medium-spicy hot sauce. Since I love spicy things, after I finished my first quart of hot sauce(I'm an addict!), I then made another batch with 6 ghost peppers. I liked the kick and heat from the extra ones. If you are not sure if you like super spicy things, I suggest you make your first batch of this hot sauce with 4 ghost peppers and add more in your next batch of hot sauce if necessary.
I also added 2 jalapenos to my hot sauce. They have a bit more…pepper taste/girth to them. I can't think of another word for it. Basically, the hotter the peppers, the thinner the walls of the peppers. When the peppers are thinner, they have less pepper-taste to them. So I added a few jalapenos for that pepper-taste.
Other Ingredients:
I didn't want a cilantro-heavy hot sauce because my darling hubby hates the stuff. I love it, though, so I compromised with a small-ish amount of cilantro. If you love cilantro, you could add another tablespoon or two of cilantro to this hot sauce and I think it would taste really good.
I also added some honey as a sweetener. I didn't want to add sugar because I hate the stuff, but some type of sweetener helps smooth out and sweeten the hot sauce. Honey worked perfectly for this.
I also added smoked paprika because smoked paprika is my favorite spice ( here's more culinary tips on how to use paprika , in case you're interested). Plus, a bit of smoky flavor added the perfect amount of complexity to my hot sauce.
I don't have canning instructions for this hot sauce recipe. I kept mine in the refrigerator. I kept it in a quart mason jar (this recipe makes quite a lot). It stayed good in the fridge for at least 4 months. That's about how long it was around, because I kept adding it to all of my foods (and I was licking the spoon afterwards so I didn't waste a single drop).
This hot sauce can last around 6 months in the fridge if you used clean bottles and also keep the bottles clean as you use it (I'm notorious for leaving hot sauce dribbles on the lids/rims).
Yield: Approx. 1 quart
Ingredients:
1 tsp. olive oil
1 mango, diced
1 pineapple (about 2 cups), diced
4-6 ghost peppers, diced (see notes below)
2 jalapenos, diced
1/2 cup yellow onion, diced
4 garlic cloves, roughly chopped
1 cup water
1 cup white vinegar
Juice of half a lime
3 tbsp. cilantro
1 tbsp. honey
2 tsp. smoked paprika
1 tsp. salt
1/2 tsp. pepper
Directions:
Heat olive oil in a tall soup pot. Sauté the fruits and vegetables for 5 minutes (mango, pineapple, ghost peppers, jalapenos, onion, and garlic).
Add the remaining ingredients, cover the pot, and simmer for 20 minutes.
Use an immersion blender ( like this ) to blend the ingredients into a sauce.
Strain with a mesh strainer into glass bottles (don't forget to label & date them!).
Store in the refrigerator and use within 4-6 months.
**For "normal" heat-loving hot sauce folks, I suggest you use 4 ghost peppers. It's the perfect amount of heat, similar to many hot sauces made with ghost peppers from the store. If you're crazy-in-love with heat (almost to the point of pain) like me, try making this hot sauce with 5 or 6 ghost peppers instead. I made both: one batch with 4 ghost peppers and one batch with 6 ghost peppers and I liked them both.
**As mentioned a bajillion times in both this article and my other hot sauce recipe and hot pepper articles, PLEASE WEAR GLOVES AND AVOID TOUCHING YOUR EYES.
**A tall pot is the best option for making this hot sauce. It makes it easier to avoid splashing hot sauce in your face when using an immersion blender than if you use a shallow pot (ask me how I know…).
Did You Try My Ghost Pepper Hot Sauce Recipe?
PLEASE let me know if you liked my ghost pepper hot sauce recipe! I love getting feedback from folks who try my recipes!
And if you like spicy things, make sure you check out my other articles:
Roasted Hot Pepper Hot Sauce Recipe
Citrus Grapefruit Habanero Hot Sauce Recipe
Roasted Poblano Habanero Hot Sauce Recipe
Ways to Preserve Jalapenos and Serranoes
Refrigerated Pickled Jalapeno (or Serrano) Slices (MY FAVORITE!!!)
Homemade Salsa Recipe
Homemade Chili Recipe (my family-favorite recipe)
Similar Posts
Dandelion Root Herbal Coffee Recipe
This article includes a recipe for dandelion root herbal coffee, which combines dandelion root with burdock root, chicory root, and spices to make a roasted, delicious "coffee" tasting beverage that is perfect for afternoons when you don't want caffeine, or if you want to break a coffee addiction, or if you love herbal beverages that…
How to Grow Garlic
Learn how to grow garlic. Garlic is an odd garden crop, so learn the tips on how to grow garlic and have the best successful harvests. How to Grow Garlic Garlic is such a popular item in the kitchen that it should always be on the top-ten list of things to grow for any gardeners….
How to Properly Test Your Soil
If you're wondering why certain plants struggle in your garden, why other people have better harvests, or why your plants aren't fruiting at all then you need to do a soil test. Don't worry, it's easy! Learn how to properly test your soil so you can have the healthiest garden possible. How to Properly Test…
How to Grow Ginger
This is a continuation of my Spice Series. Welcome to my information on How to Grow Ginger! **Ginger is a tropical plant that has green-purple flowers and an aromatic underground stem (called a rhizome). It is commonly used for cooking and medicinal purposes. **Even though ginger is a native plant to Asia, it is easy to grow and…
DIY Herbal Hair Rinses
DIY Herbal Hair Rinses Herbal hair rinses are a wonderful and natural way to help you keep your hair healthy. Some of the ways herbal hair rinses can help include: they can soften your hair, prevent oily buildup, soothe scalp issues, bring a natural boost of color, and more. Learn more about the benefits of…
The Insanity of Spring: A Gardener's Reflection
This is the first article for my new Gardener Reflections series. I'm reflecting today on the chaos and insanity of spring when it comes to gardening, as well as how I am (trying) to keep up on the garden chores and what sparks joy for me right now in nature. I'm hoping to occassionally get…
This was so good!! I normally don't care for ghost pepper sauces. I used 3 ghost peppers in my batch. It's still hot, but this recipe has amazing flavor! I will be making this again. Thank you!
Yay! 🙂 I am SO GLAD you like my recipe! Thank you for commenting about your experience. I really appreciate it!
Do you have any advice on canning this recipe ? I want to make this but I want to can it for long shelf life.
If you want to can it, you'll have to follow the advice from safe canning resources like the National Center for Home Food Preservation ( https://nchfp.uga.edu/index.html ) or safe canning resources like Ball books. Off the top of my head, you'll have to learn the correct ratios of vinegar in your hot sauce as well as citrus acid (like from lemon juice or lime juice) so that your canning recipe is safe.
Leave a Reply Cancel reply
Your email address will not be published. Required fields are marked *
Save my name, email, and website in this browser for the next time I comment.
This site uses Akismet to reduce spam. Learn how your comment data is processed .
Skip to primary navigation
Skip to main content
Skip to primary sidebar
Skip to footer

Recipe Index
Privacy Policy/Disclaimer
Pineapple Ghost Pepper Hot Sauce
Published March 13, 2018 . Last Modified September 11, 2022 By Teri
Pinterest 5262
Facebook 68
This post may contain affiliate links. Please read my disclosure.
For lovers of all things hot, a homemade fiery hot sauce made with home-grown ghost peppers and made slightly sweet with a touch of fresh pineapple. Try this...if you can handle the heat!
I'm a huge fan of dousing a lot of my food with tasty, spicy hot sauce. And different types of foods call for different types of hot sauces. Sometimes you need a tangy one, a smoky one, an earthy one, a sweet one...us hot sauce lovers need to have all of our options available. This one fills my need for a slightly sweet, but really hot, hot sauce.
At our homestead, my husband has taken up the hobby of growing his own hot peppers. And by growing, I mean straight up from little tiny, baby seeds that he purchases online. This whole seed germination and following through to actually having a thriving, growing plant is quite the process. I have the brown thumb in our family, so I'm not allowed to assist with the process. And I'm quite fine with that. I just take over after the harvest and figure out what to do with the bounty. Hot sauce seems to be the best option for a bundle of very hot peppers!
If you feel like you want to try to grow your own peppers, these are the ones we use.
Next, he is planning on growing the Scorpion pepper and the Carolina Reaper pepper so there'll be more super hot sauce in our future. I'll keep you posted on how those pan out!
Tips for Making your own Hot Sauce
If you are cooking a sauce with really hot peppers like ghost peppers, try to stay back from the steam coming off of the pan. I learned this the hard way, unfortunately. Unless you like watery, burning eyes and five minute coughing fits.
If you want to give away some of your hot sauce as gifts, Amazon sells these bottles that have worked out pretty well for us. You'll also want to purchase a funnel to actually get the sauce into the jars, and not all over your counters or sink.
Dry cook the hot peppers in the skillet first. They'll get a little bit of a char on the outside skin which will give an extra depth of flavor
Cooking all of the sauce ingredients until soft will make it easier to blend, and give you a better consistency.
Ingredients
▢ 8-10 ghost peppers with seeds
▢ 5 dried habanero peppers
▢ 1 yellow pepper
▢ ¼ teaspoon roasted garlic base
▢ ¼ teaspoon beef base
▢ ¼ fresh pineapple chopped
▢ ½ cup white vinegar
Instructions
Cut off the tops of the ghost peppers.
Dry roast the ghost peppers in a medium-large skillet until they have a slight char.
Add all remaining ingredients and cook until peppers are soft, about 15 minutes. Add a little water if the vinegar evaporates too much. There should be enough liquid to cover the bottom of the pan.
Cool mixture slightly and blend thoroughly in a blender until the sauce is a smooth consistency.
Add to hot sauce bottles or glass storage container like a mason jar.
More Sauces and Condiments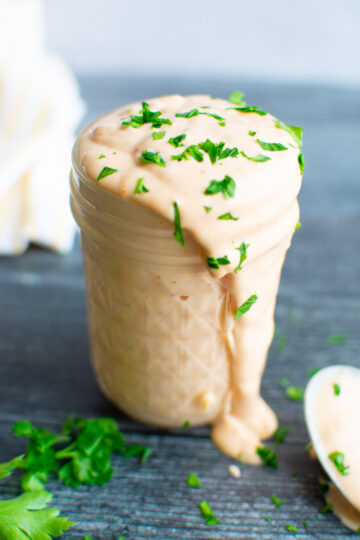 Reader Interactions
M. Ellithorpe
March 13, 2018 at 10:22 pm
Whoa, I won't be trying this but for anyone that loves spicy stuff, this sounds like it will do the job.
March 15, 2018 at 3:42 pm
It's hot, but I've had hotter. I think the heat calms down when the peppers are cooked.
April 04, 2019 at 12:04 pm
If you want super hot then use a combination of Scorpion, Habanero, Ghost and scotch bonnet. Use pineapple, apple cider vinegar and ginger. grilled red onion, Kosher salt, Black Pepper Corn, Curry powder, Lemon and orange zest,
April 05, 2019 at 9:39 am
That does sound super hot and really good too! We're starting our new peppers soon, so maybe we'll try this combo! Thanks for the suggestion.
September 20, 2020 at 6:36 pm
How many ounces does this make? For how many peppers you add like if I use the 30 servings option. It doesn't explain how many ounces to a serving
November 30, 2020 at 1:45 am
I'm going to be making this again soon, so I'll reconfirm the serving size and total ounces. I believe the serving is 1 tablespoon and 15 ounces total. I'll update the recipe when I make this again. Thanks for the feedback, so I can make the recipe crystal clear!
September 26, 2020 at 11:18 pm
What is beef base ?
November 30, 2020 at 1:36 am
It's a highly condensed version of broth or stock, and it's a paste-like consistency. You can find it in the grocery stores near the broths, stocks and bullions.
September 01, 2021 at 2:40 pm
September 24, 2021 at 10:23 pm
When I make a batch, I usually give a lot to friends and family and normally only keep one or two. I keep them in the fridge and they seem to be fine for about a month, but they are pretty much gone by then too. I haven't kept them for long term storage so not exactly sure. I don't cook them in hot water, since I'm not sealing them. I'm not sure the bottles I use work like that.
Leave a Reply Cancel reply
Your email address will not be published. Required fields are marked *

Privacy Policy
10 Stunning Ghost Pepper Hot Sauce Recipes
Ghost peppers are considered to be amongst the spiciest peppers in existence. In fact, in early 2007, the Ghost Pepper was even inducted into the Guinness Book of World Records as the hottest chili pepper in the World.
If you've never tasted one before, they can best be compared to Tabasco sauce. Imagine the spicy kick of even just a drop of Tabasco sauce… Think about how it makes your mouth tingle and your tastebuds dance… Now imagine that times 170… It's some seriously mind-blowing stuff.
However, the Ghost Pepper isn't just a wild and exotic novelty, but it also has many applications in ordinary cuisine. Not only does the pepper create a fiery spiciness, but it also has a sweet and slightly fruity flavor, which makes it perfect when added to any number of already beloved dishes.
If you've managed to get your hands on ghost peppers of your own, and want to try them out while also creating delicious host sauces, then look no further than our list of the top 10 ghost pepper hot sauce recipes, so you can create a marinade or a dip that will blow your guests socks off!
Chili Pepper Madness
To start with, let's look at a nice, simple, and traditional recipe. Now keep in mind that creating this hot sauce can take a decent amount of time, as you want the chilis to really release all of their important juices and spices to create the best hot sauce on the planet.
This recipe only requires a few ingredients, such as chopped tomatoes, vinegar, and onions. Simply fry the peppers and those other ingredients together with some oil, along with some salt and water. Simmer those for about 20 minutes to get the flavors to release.
Once the ingredients have cooked and simmered, they'll have become extremely soft and malleable. Pour them into a food processor and allow them to process until it comes out as one smooth and orange-colored sauce.
Then you can simply pour your finished sauce into your chosen containers, and then they're ready to be broken out when you need them!
This sauce has a sweet but slightly salty taste that, of course, is finished by the spicy kick of the chilis.
Pineapple Ghost Chili Sauce
Adding some pineapples to a traditional ghost chili sauce recipe goes a long way towards creating an entirely new taste. Surprisingly, the added pineapple goes a long way towards making the intense spice of ghost peppers far more bearable for those who are usually a little bit more spice-averse.
The sweet taste of pineapple is also perfectly blended with the sweet taste of the chilis themselves, to create a sweet chili sauce that would make for a perfect dip alongside a serving of tortillas. It would also make for a perfect marinade for meats!
This recipe only takes just under an hour to make and uses just a few ingredients you likely already have, such as garlic, sugar, cumin, and cinnamon. This blend of sweet and savory seasonings goes a long way to completing the satisfying and rich flavor profile of this sauce.
Simply blend the ingredients together in a food processor, and then cook for a good 20 minutes until the sauce becomes smooth and yellow in color.
Fox Valley Foodie
Many people who have tasted ghost peppers (after they've come down from the mind-melting spice) find that they quickly become addicted to the amazing flavor. This is exactly what happened to 'Fox Valley Foodie', and is what led him to make this Ghost pepper sauce.
This sauce draws out all of the natural flavors of the chilis and exaggerates them, while also not compromising the spice. This means that everyone can experience the amazing taste of the ghost pepper more clearly than they could elsewhere!
This sauce uses the same method as many others, but instead blends in roast carrots to the mix, to give it an extra flavor that goes a remarkably long way!
Ghost Chili Mango Hot Sauce
Mangos give this amazing ghost chili hot sauce a vibrant and exotic twist that really makes its flavor pop. Not only is this sauce incredibly sweet and fun to taste, but it quickly becomes very addictive.
Serve it as a dip alongside a serving of tortillas and you will soon have yourself a favorite dish at a party. Make sure to make plenty if you're hosting a party of your own!
Again, this recipe uses mostly the same method as other recipes and requires about an hour of careful stirring and observation to ensure that the flavor comes out perfectly from all of the ingredients.
You can adjust the recipe as you see fit, such as adding more lime juice, salt, vinegar, or even more chilis to create not only the perfect taste but also the perfect texture. you'll be able to tell when it's just right. It will be slightly thick, but still very runny.
Jeanette's Healthy Living
This recipe creates some truly concentrated hot sauce that has ounces of flavor and spice in every single individual drop. Sprinkle just a small amount into a sandwich or a wrap and you can easily turn any ordinary lunchtime into a flavor party!
Just make sure to wear some gloves when handling these ingredients. You might not believe it, but it turns out you can feel the spice even just through contact with your fingers or through the air! That goes to show just how potent these little peppers are, but also how irresistible they really are.
Roasted Ghost Pepper And Garlic Hot Sauce
Ghost chili hot sauces are great not only for setting your mouth on fire but also for bringing just about any recipe to life. Have a boring dish that you want to bring some excitement to? Just add some of 'Pepper Powered's amazing ghost pepper hot sauce and you'll create a meal you won't soon forget.
This recipe is very easy and produces probably the most classically styled sauce we've encountered yet. This is definitely the recipe to try if you're new to these peppers, as it will give you the best and most unfiltered taste to experience them for yourself.
Bhut Jolokia Hot Sauce
Turns out you can take a slight edge off of a ghost pepper hot sauce by adding a few extra ingredients. This recipe makes use of carrots, onions, and garlic to add not only a little bit more flavor to the already sweet ghost pepper, but also to make the intense heat of the pepper easier to survive!
This sauce from 'Pepper Joe's' is seriously fire-breathing stuff that will have you feeling like a dragon, protecting an old castle.
This sauce makes for a great dip and a great marinade, or just something a little extra to drizzle over your next chili. No matter what you put it on, you best be ready to have your mouth kick off like a party is taking place inside of it. And be even more cautious of how addictive this sauce is. One taste is never enough.
Sandia Seed Company
This particular ghost pepper chili sauce has a smoky finish that further helps to make the sauce taste like pure concentrated fire in liquid form.
This recipe encourages you to experiment and play around with ingredients to find entirely different flavor combinations and to find other ways to complement the already existing sweet taste of the pepper.
You never know, you just might produce the next hit ghost pepper hot sauce recipe that takes the world by storm. (You might even find yourself on a list like this!)
Yum To The Tum
6 to 8 chilis are all you're going to need to create this explosive sauce. Careful, you might have trouble containing it in a jar; as it is really just that damn powerful. Its rich aromas spill out from a jar or a container the second you lift the lid, and soon its immense flavors will spread across your tongue.
It's truly amazing just how much flavor and intensity can be packed into the small and cute shape of a ghost pepper, but we're all the happier for it. This sauce tastes incredible on the tongue and feels even better, with a smooth texture that glides across the palette, leaving fire in its wake.
Ghost Pepper Green Sauce
Turns out appearances can definitely affect how food tastes. Remarkably little is different about this recipe and its ingredients, but its green color helps to give it a lively and exotic flavor that is totally unmatched.
This recipe employs jalapeno peppers, and slightly fewer ghost peppers to create a tangy but simultaneously fiery taste that is much more welcoming to newcomers.
It seems appropriate that this sauce would be colored green when it has so clearly been designed to help those who have never tried a ghost pepper to try it in a safe place first!
We seriously cannot sing the praises of this sauce enough!
To Finish Off
We're sure your mouth is definitely watering by now, imagining those flavors and spices bouncing around your mouth. Well, if you follow one of these amazing recipes above you'll be able to experience everything we did all for yourself.
Trust us, you don't want to miss out on the opportunity, it's an amazing introduction to an entirely new world of flavor and texture that you've likely never experienced anywhere else before. So grab some chilis, a blender, and a pan, and get going!
Related Posts:
Leave a Comment Cancel Reply
Your email address will not be published. Required fields are marked *
Save my name, email, and website in this browser for the next time I comment.

Continue Shopping
Your Cart is Empty

Pineapple-Mango Rum Ghost Pepper Hot Sauce Recipe
August 08, 2017 0 Comments
In today's video recipe, I'll show you how to make Pineapple-Mango Rum Ghost Pepper Hot Sauce. We're using a combination of pineapple, mango, brown sugar and rum for sweetness along with ghost peppers and jalapeno peppers for the heat .
Ingredients
1 teaspoon olive oil
2 ghost peppers, chopped
1 cup freshly cut pineapple, chopped
½ cup chopped mango
1 jalapeno, diced
1 cup water
½ cup distilled white vinegar
2 tablespoons chopped cilantro
3 teaspoons brown sugar
1 teaspoon smoked paprika
1 teaspoon salt
½ teaspoon pepper
Recipe adapted from http://www.chilipeppermadness.com/
Cooking Directions
Add all ingredients to a large pan over medium high heat and bring to a simmer for 8 to 10 minutes.
Remove from heat and let cool.
Add to a blender or food processor and blend until smooth.
Pour into sterilized bottles and serve!
Also in Recipes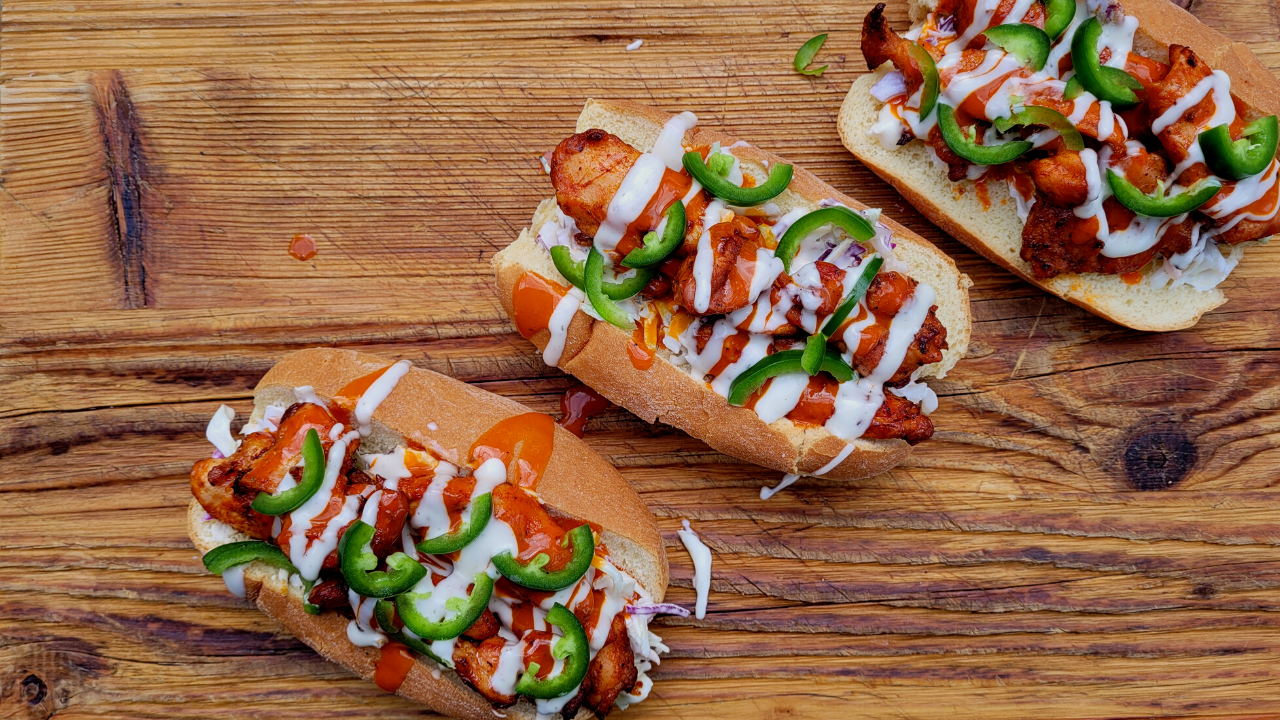 Buffalo Ranch Bird Dawgs
January 15, 2023 0 Comments
View full article →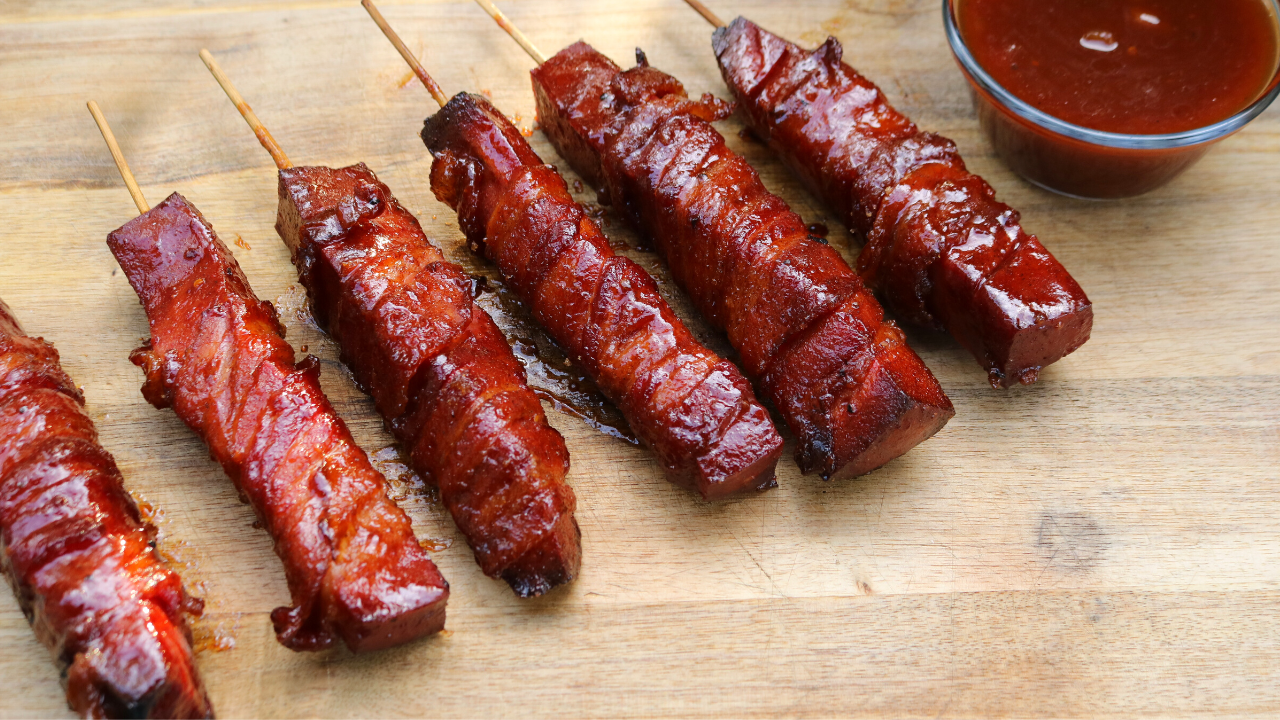 Bacon-Wrapped Candied Bologna Sticks
January 08, 2023 0 Comments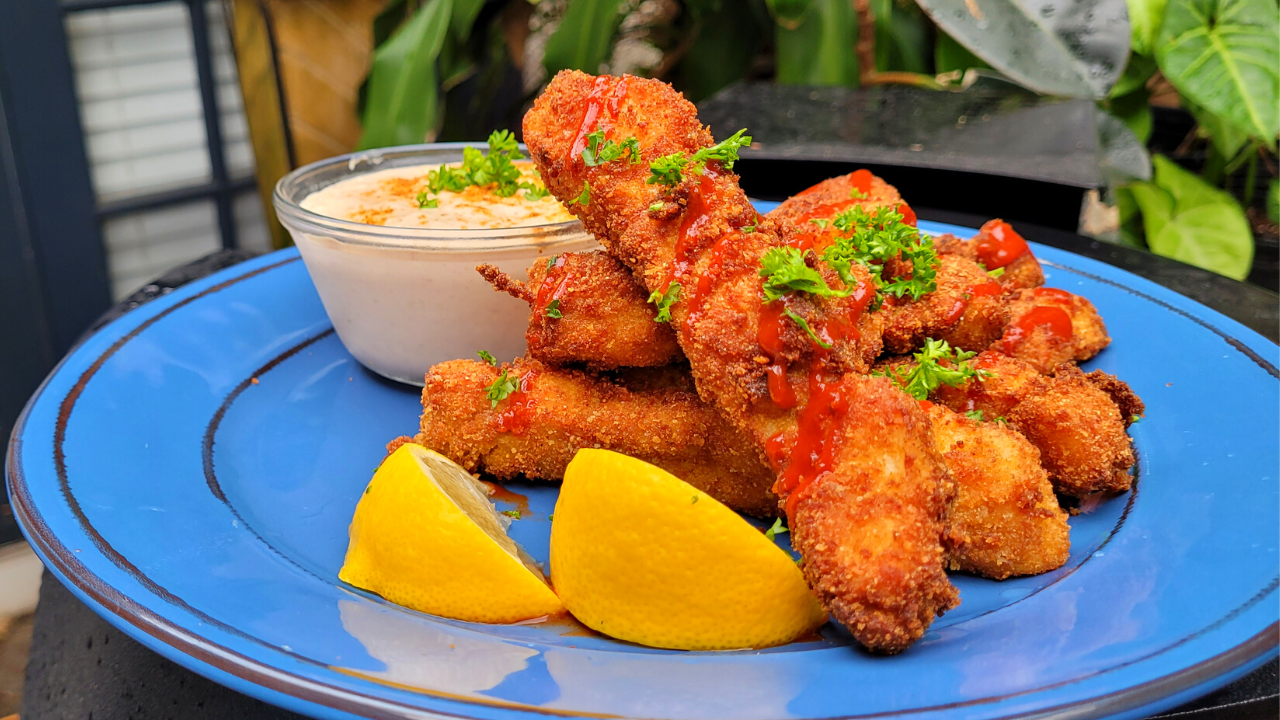 Ultimate Crispy Chili Fish Fingers with Aoili Dippin' Sauce
January 01, 2023 0 Comments
News & Updates
Sign up to get the latest on sales, new releases and more…
Customer Service
Armadillo Pepper Resources
Armadillo Pepper TV
BBQ & Smoking Guide
© 2023 Armadillo Pepper . All rights reserved.
FREE Recipes! Exclusive Discounts!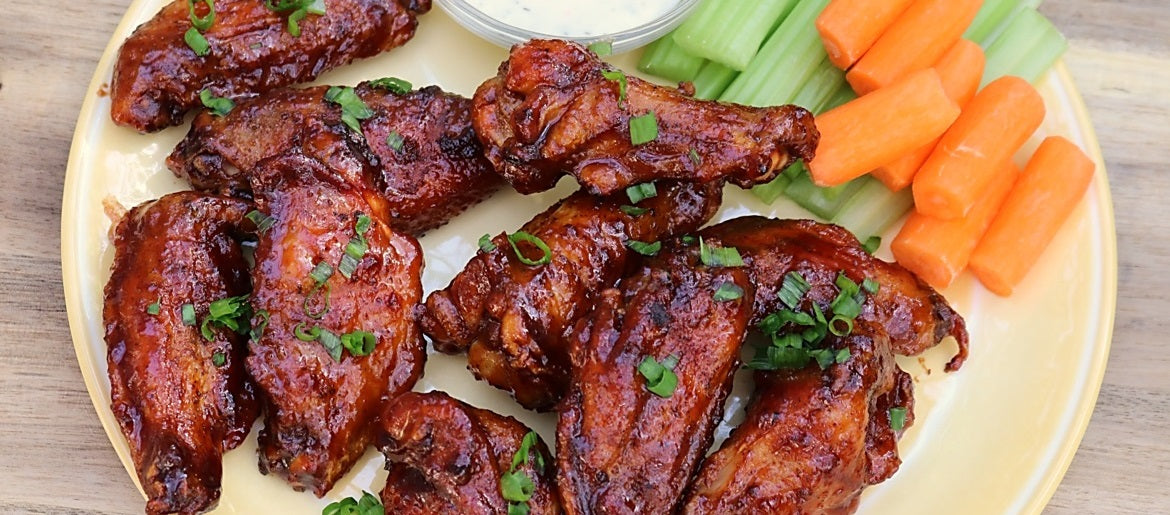 Join the Armadillo Pepper community and get monthly recipes, new product information and discounts only for Armadillos!
How to Make Ghost Pepper Hot Sauce
Last Updated: March 18, 2020 References
This article was co-authored by wikiHow Staff . Our trained team of editors and researchers validate articles for accuracy and comprehensiveness. wikiHow's Content Management Team carefully monitors the work from our editorial staff to ensure that each article is backed by trusted research and meets our high quality standards. There are 7 references cited in this article, which can be found at the bottom of the page. This article has been viewed 10,205 times.
The ghost pepper, also known as the bhut jolokia, is infamous for once being the hottest pepper in the world. Naturally, that makes it fun to incorporate into a hot sauce. You can make a simple sauce with a few vegetables or oven roast the peppers for a different flavor. To balance out the heat, try adding sweet fruits like pineapples. Add the sauce to any recipe you would like, but keep a few glasses of milk on hand to cool your taste buds.
Ingredients
Vegetable sauce.
1 tablespoon (15 ml) olive oil
6 ghost peppers, chopped
1 small onion, diced
2 tomatoes, chopped
2 tablespoons (30 ml) red wine vinegar
½ cup (120 ml) water
Oven-Roasted Pepper Sauce
6 ghost peppers
1 lb (0.45 kg) cherry peppers
5 cloves of garlic
¾ cup (180 ml) white vinegar
½ cup (120 ml) honey
¼ cup (60 ml) Chinese black vinegar
1 tablespoon (15 ml) dijon mustard
1 teaspoon (5 ml) soy sauce
Pineapple Sauce
16 oz (450 g) pineapple, cubed
4 ghost peppers
1 small onion, cubed
1 carrot, chopped
¼ cup (60 ml) golden raisins
4 garlic cloves
1 ⁄ 2  oz (14 g) ginger, chopped
½ teaspoon (2.5 ml) turmeric
½ teaspoon (2.5 ml) cumin
¼ teaspoon (1.25 ml) cinnamon
¼ cup (60 ml) sugar
1 tablespoon (5 ml) salt
1 ½ cups (350 ml) vinegar
Be careful of any lingering pepper juice. Wash it off when get the chance. Avoid touching your eyes.
When the oil is hot, it glistens. It flows smoothly if you tip the pan. It should not smoke, so if you see smoke, move the pan off the heat. [4] X Research source
Canola oil is a standard replacement for olive oil. It has less flavor. Other vegetable oils, including corn oil or peanut oil, may also be used.
Again, wear gloves when handling the peppers. Cut off the stems, then cut the peppers into pieces the same size as the pineapple chunks. You don't have to remove the seeds.
Process the ingredients until they reach a smooth consistency like mashed potatoes. This is a puree.
Make sure the water is about 2 in (5.1 cm) above the jars. You may need to add more water before beginning the 10 minute countdown.
Community Q&A
You can always cut the peppers in half and scoop out the inside flesh and seeds. This takes away some of the heat, but ghost peppers are so hot it's hard to notice. Thanks Helpful 0 Not Helpful 0
Get creative when making the sauce. Use alternative fruits, vegetables, and spices to give your sauce a unique flavor. Thanks Helpful 0 Not Helpful 0
Ghost peppers can be used in place of peppers in other recipes to create a hotter sauce. Thanks Helpful 0 Not Helpful 0
These peppers are extremely hot. Wear rubber gloves when handling them and keep your arms covered. Avoid touching your eyes or skin after handling the peppers. Thanks Helpful 0 Not Helpful 0
Eat with caution! Thanks Helpful 0 Not Helpful 0
Things You'll Need
Making a vegetable sauce.
Rubber gloves
Mixing spoon
Food processor
Bottles or jars
Refrigerator
Using Oven-Roasted Peppers
Baking sheet
Oven and stove
Making a Pineapple Sauce
Water bath canner (optional)
You Might Also Like
↑ https://www.chilipeppermadness.com/chili-pepper-recipes/hot-sauces/ghost-pepper-hot-sauce-recipe
↑ http://startcooking.com/hot-peppers-and-how-to-handle-them
↑ https://www.thekitchn.com/quick-tip-how-to-tell-when-oil-53815
↑ https://www.canitgobad.net/can-hot-sauce-go-bad/
↑ https://nomageddon.com/wtf-sauce/
↑ http://www.geniuskitchen.com/recipe/pineapple-ghost-chili-sauce-438373
↑ https://www.simplycanning.com/water-bath-canning.html
About this article
Did this article help you?
About wikiHow
Terms of Use
Privacy Policy
Do Not Sell or Share My Info
Not Selling Info

[ July 6, 2023 ] Pineapple Salsa Recipe Marinades/ Rubs/ Sauces
[ June 26, 2023 ] Spicy Charred Tomatillo Salsa Recipe Marinades/ Rubs/ Sauces
[ June 6, 2023 ] Baked Mac and Cheese Recipe Appetizers
[ March 22, 2023 ] Roasted Potatoes with Fresh Herbs Recipe Appetizers
[ March 21, 2023 ] Roasted Garlic Polenta Recipe Appetizers
Ghost Pepper Hot Sauce Recipe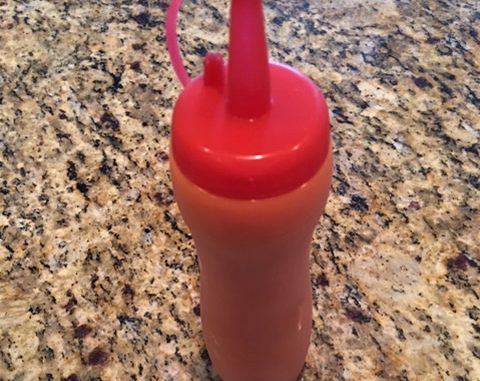 This Ghost Pepper Hot Sauce recipe uses real Ghost Peppers which are ranked in the top-10 for the hottest peppers with a Scoville Heat Units (SHU) of 855,000 – 1,041,427 (or 107 – 417 times hotter than a jalapeno.) So the Ghost Pepper is no joke; however, this recipe actually tones down the heat of the Ghost Pepper. The ingredients give the sauce a nice flavor with that burn that you would expect at the end. This hot sauce is great on hamburgers, in some stews or soups as well as rice dishes. The recipe makes one bottle of hot sauce, and we typically put it in a small condiment squirt bottle and keep it in the refrigerator (Makes roughly one cup of sauce). This recipe is property of GreatChefRecipes.com Ingredients: 1 tablespoon olive oil 6 Ghost Peppers chopped (also referred to it's Indian name of Bhut Jolokia Peppers) 1 small onion diced 2 medium sized tomato 2 tablespoons red wine vinegar 1 teaspoon salt 1/2 cup water Directions: 1. Heat oil in a pan and add chopped Ghost Peppers and onions, sauté. 2. Once the mixture starts turning soft add tomatoes and cook for about 10-minutes. 3. Add vinegar, salt and water and simmer for 20-minutes on low heat. (This allows the flavors to blend.) 4. Once done, transfer mixture to a food processor or blender and process until smooth. 5. Transfer to container and refrigerate until ready to use!
Have you tried this recipe? If so, leave us your comments below!
Pepper Recipes
Stove Top Recipes
Related Articles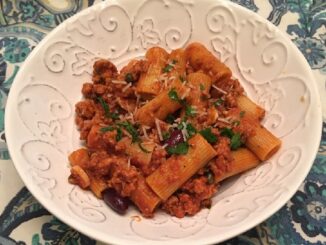 Ground Turkey Puttanesca Recipe
Ground Turkey Puttanesca Recipe Puttanesca was created in Naples in the mid-20th century. The sauces ingredients generally consist of tomatoes, olive oil, olives, capers and garlic. The Ground Turkey Puttanesca recipe uses traditional ingredients alongside […]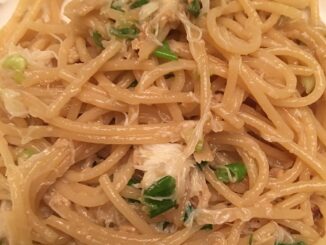 Garlic Noodles with Dungeness Crab Recipe
Garlic Noodles with Dungeness Crab Recipe Our Garlic Noodles with Dungeness Crab recipe is a dish which is often found in San Francisco. You can substitute other types of crab, use shrimp or omit it […]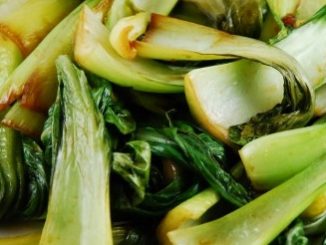 Sauteed Bok Choy Recipe
Sautéed Bok Choy Recipe Bok Choy also known as Pak Choi is a type of Chinese cabbage. This sautéed Bok Choy recipe is very easy to prepare and Bok Choy pairs well with fish, chicken […]
Be the first to comment
Leave a reply cancel reply.
Your email address will not be published.
Save my name, email, and website in this browser for the next time I comment.
Copyright © 2021 | GreatChefRecipes.com | Privacy Policy | Terms of Use
Ghost Pepper Hot Sauce Recipe
Is your taste for heat insatiable? Love big flavors? Then this homemade ghost pepper hot sauce is for you! Best of all it can be prepared in 10 minutes.
Ghost Pepper hot sauce is one of the most coveted sauces around with a fiery flavor that can satisfy even the most stringent chili pepper aficionado. Ghost peppers have the honor of being one of the spiciest peppers in the world, which is why they're perfect for a super spicy hot sauce.
This recipe is jam-packed with fresh and hot ground ghost peppers. Additionally, it has vinegar and salt for balance and an extra texture from tomatoes. Enjoy a hot sauce infused with quintessential ghost pepper flavor, but full of fresh ingredients!
Get ready for an explosion of flavor in your mouth with this ghost pepper hot sauce recipe. Prep time is around 10 minutes and cook time can range from 35-45 minutes. The result is a concentrated ghost pepper hot sauce that you'll love slathering over scrambled eggs. It is very easy to make, so get the ingredients and enjoy!
The perfect way to spice up your cooking, this ghost pepper hot sauce recipe will have you begging for more. Hot sauce is the perfect way to bring the heat and spice up any bland dish.
To take your favorite recipes to the next level, simply add Ghost Pepper hot sauce with all the fresh ingredients at only 12 calories per tablespoon.
Be careful when pouring – we don't want you to hurt yourself! Let's get ready to spice things up!
How To Make Ghost Pepper Hot Sauce
Give your foods a little zing with this ghost pepper hot sauce. It tastes delicious with just about anything. It's bold, smooth, sweet, and smokey, with a fiery kick from the ghost peppers. This ghost pepper hot sauce recipe will become your go-to hot sauce for all things fried, grilled, or poached.
This ghost pepper hot sauce recipe is not for the faint of heart. Be prepared to be blown away as this ghost pepper hot sauce recipe makes about 2 cups of hot sauce. The best part? It's easy to make up to 20 servings!
Whether you're looking for a new condiment or a gift for a friend, this is the hot sauce that tops them all.
What You'll Need
Cutting board
Food processor
Check out our Ghost Pepper hot sauce recipe! It's made with fresh ingredients and is sure to fire up just about anything.
Ingredients
1 tablespoon 1 olive oil
6 6 ghost peppers, chopped
1 1 onion diced
2 2 tomatoes chopped
2 tablespoons 2 red wine vinegar
1 teaspoon 1 salt
½ cup water
First, heat oil in a pan, add peppers and onions and saute. Next, add tomatoes and stir. Let it cook for about 10 minutes.
Gradually add vinegar, salt, and water. Let the mixture simmer for about 20 minutes to allow all the exciting flavors to develop and mix thoroughly.
Transfer contents to a food processor and process until smooth.
Transfer to a container. Seal and refrigerate until ready to use.
Please note that if you plan on preparing it yourself, the fumes from the chili peppers may get into the air and you may want to wear a mask and goggles. If you decide to try this sauce, do so with caution.
Like this recipe?
Follow us @recipefairy on Pinterest
Tips and Tricks
The Ghost Pepper, also known as the Bhut Jolokia, is one of the most intense peppers in the world. Scoville Heat Units (SHU) measure a pepper's heat level measurement of over 1 million SHU, which puts Ghost Peppers on another level.
The hottest pepper in the world is just a seed away, but working with hotter peppers takes some special care. When handling hotter peppers it is important to wear gloves; the oils can get on your skin and cause burning, especially if you touch your face and eyes. Be sure to wash your hands thoroughly with soap after you are done processing.
Far from your standard hot sauce fare, this exotically flavored and potent concoction is not for the faint-hearted.
Is it necessary to ferment hot sauce?
Fermentation amplifies the flavor of hot sauce and makes it good for your gut. Fermentation of hot sauce takes roughly 5-7 days. The longer you ferment it, the more complex the flavor will be, but a week should suffice. It's not absolutely necessary to ferment hot sauce but it does make it last longer and taste better.
How can you make shelf-stable hot sauce?
You will need a pH of 3.4 to prevent bacteria from thriving. The acidity creates an environment where bacteria cannot live. Use citrus fruits like lemons or limes, or a high-quality vinegar, to attain this balance.
How long will homemade hot sauce last?
The hot sauce contained in properly sterilized and canned jars should be shelf-stable for up to a year. I recommend keeping this hot sauce in the refrigerator since we are not adding any preservatives here. Store your hot sauce in a cold, dark place or the refrigerator. You can also keep a small container out and freeze or can the rest!
How can I make my homemade hot sauce better?
Add something with a bit of extra flavor like honey, agave, maple syrup, or brown sugar. This will add a hint of sweetness without taking away from the heat. The best spicy foods have flavor and spice, not just spice.
Other Recipes
Freddy's Fry Sauce Recipe
Nashville Hot Sauce
Gigi Hadid Pasta Sauce Recipe
Arby's Horsey Sauce Recipe
Red Robin Campfire Sauce Recipe
Raising Cane's Dipping Sauce Recipe
Conclusion
This Ghost Pepper hot sauce combines the legendary heat of the Bhut Jolokia (Ghost Pepper) with the fruity flavor of red bell peppers and a hint of garlic, giving it an amazing depth of flavor. Use it on everything, because this is the hottest hot sauce around.
The flavor is fairly mild because this hot sauce is all about the heat. Just a couple of drops will level up any dish. This is as hot as it gets!
This ghost pepper hot sauce recipe is perfect for the most daring and adventurous palates. This delicious ghost pepper hot sauce is the perfect topping for tacos, sandwiches, and salsas – you name it!
Laura Ritterman
Hi, I'm Laura and having studied an MSc in Nutrition, becoming a professional chef and appearing on major publications with my recipes I decided to create a website of my own. This website is where I share unique recipes, tips and cooking inspiration that will allow your culinary skills flourish. You can contact me here . For more information, you can find more about me .
Leave a Comment Cancel
Your email address will not be published. Required fields are marked *
Email Address *
Save my name, email, and website in this browser for the next time I comment.
Sign me up for the newsletter!
Hi, I'm Laura and I love fashion, my kids, but lets not forget the flavors in life. I'm a food enthusiast living in the United States, a wife and a mom to my two beautiful kids.
New Recipes
Starbucks pumpkin spice latte recipe, starbucks egg bites, starbucks cinnamon dolce latte, starbucks peppermint hot chocolate recipe.
Skip to primary navigation
Skip to main content
Skip to primary sidebar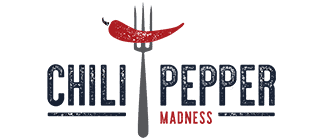 Recipe Index
All Recipes
Pepper Info
Chili Pepper Types
The Scoville Scale
Growing Chili Peppers
Chili Pepper Health Benefits
Frequently Asked Questions
Cooking Tips
Home » Recipes » Roasted Ghost Pepper Sauce
Roasted Ghost Pepper Sauce
by Mike Hultquist · Oct 26, 2018 · 66 Comments · Jump to Recipe
This roasted ghost pepper sauce recipe roasts several ghost peppers with carrots and garlic to make a very spicy yet also sweet sauce that can be used to enhance many dishes.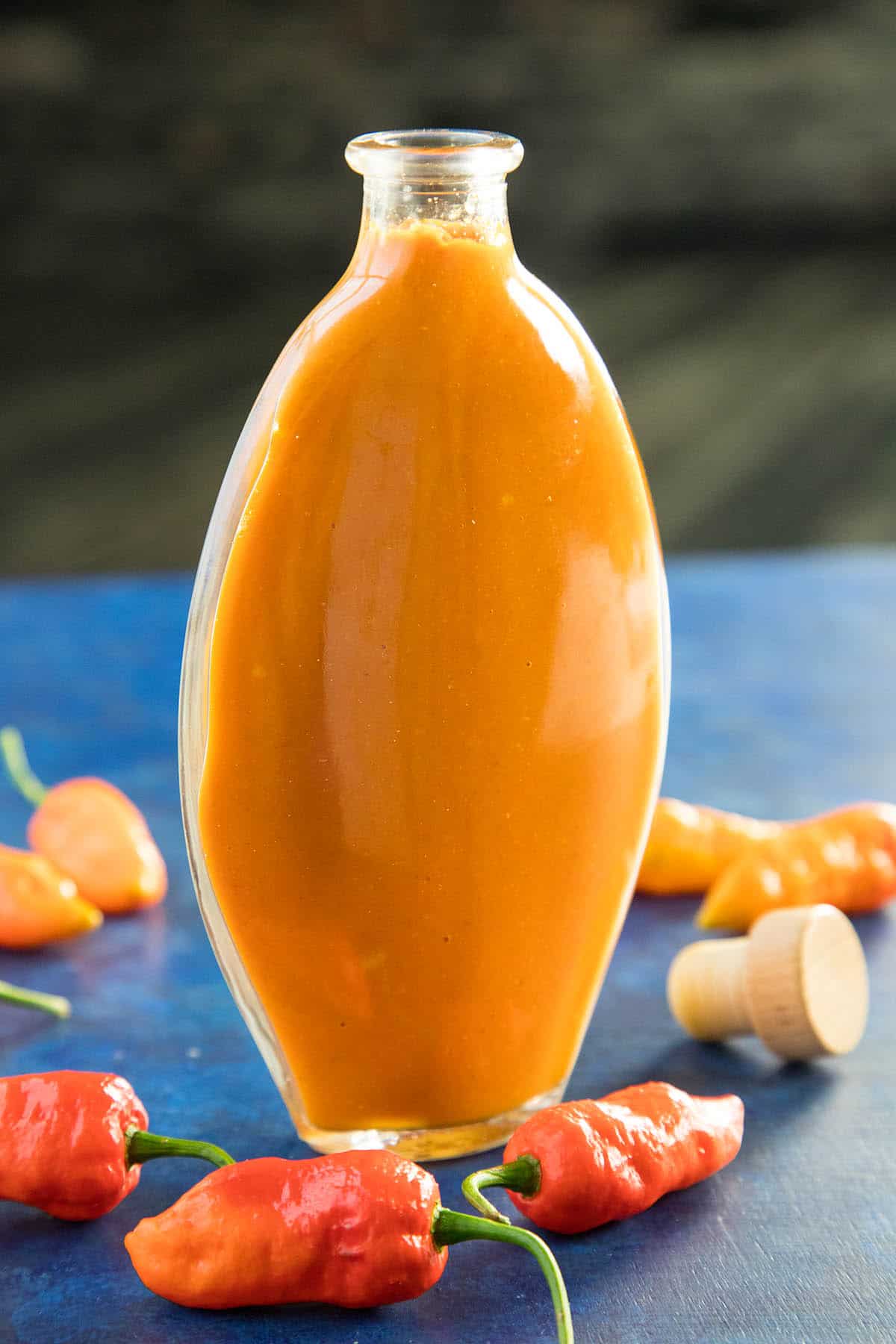 More ghost pepper recipes , my friends! This time in the form of HOT SAUCE! Super excited.
Hot sauces always excite me. There isn't a better condiment out there. Hot sauces can be used to flavor and spice up practically every food there is - we're talking breakfast, brunch, lunch, dinner, dessert, snack time, come on! When DON'T we need hot sauce?
Don't answer that. Because I always need a good hot sauce on hand to add that pizzazz we all crave.
If you want to cook with ghost peppers, you need to be ready for the heat. Ghost peppers, aka Bhut Jolokias, top out at over 1 Million Scoville Heat Units, which is roughly 200+ times hotter than an average jalapeno pepper .
Learn more about ghost peppers here .
Hot sauces are one of my favorite things to make. I've become a bit fanatical about it, really. You can tell by the growing collection of Hot Sauce Recipes on the web site.
I've made a number of different ghost pepper sauce and hot sauce recipes on the web site - I'll link to those below - but for this sauce I'm oven roasting the ghost peppers first along with garlic and carrots to bring a unique and satisfying flavor.
Wait, Carrots? YES!
Carrots have an innate sweetness that brings that quality as well as substance to the finished sauce, especially when they're roasted. You'll be surprised at the flavor of the finished sauce.
Let's talk about how we make this particular ghost pepper sauce, shall we?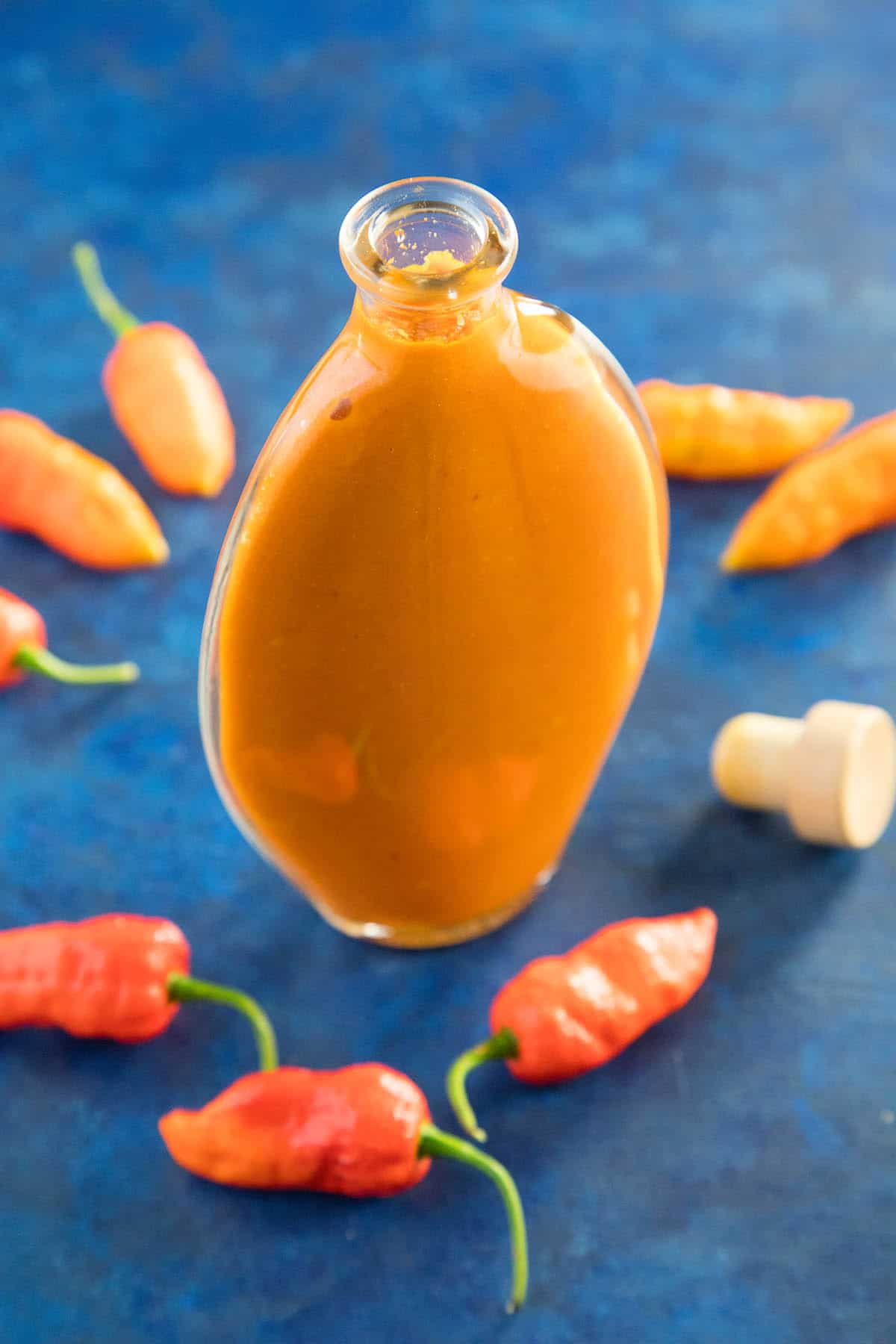 How to Make Roasted Ghost Pepper Sauce - The Recipe Method
First, preheat your oven to 350 degrees F. Slice the ghost peppers in half lengthwise (be sure to wear gloves!) and place them on a lightly oiled baking sheet.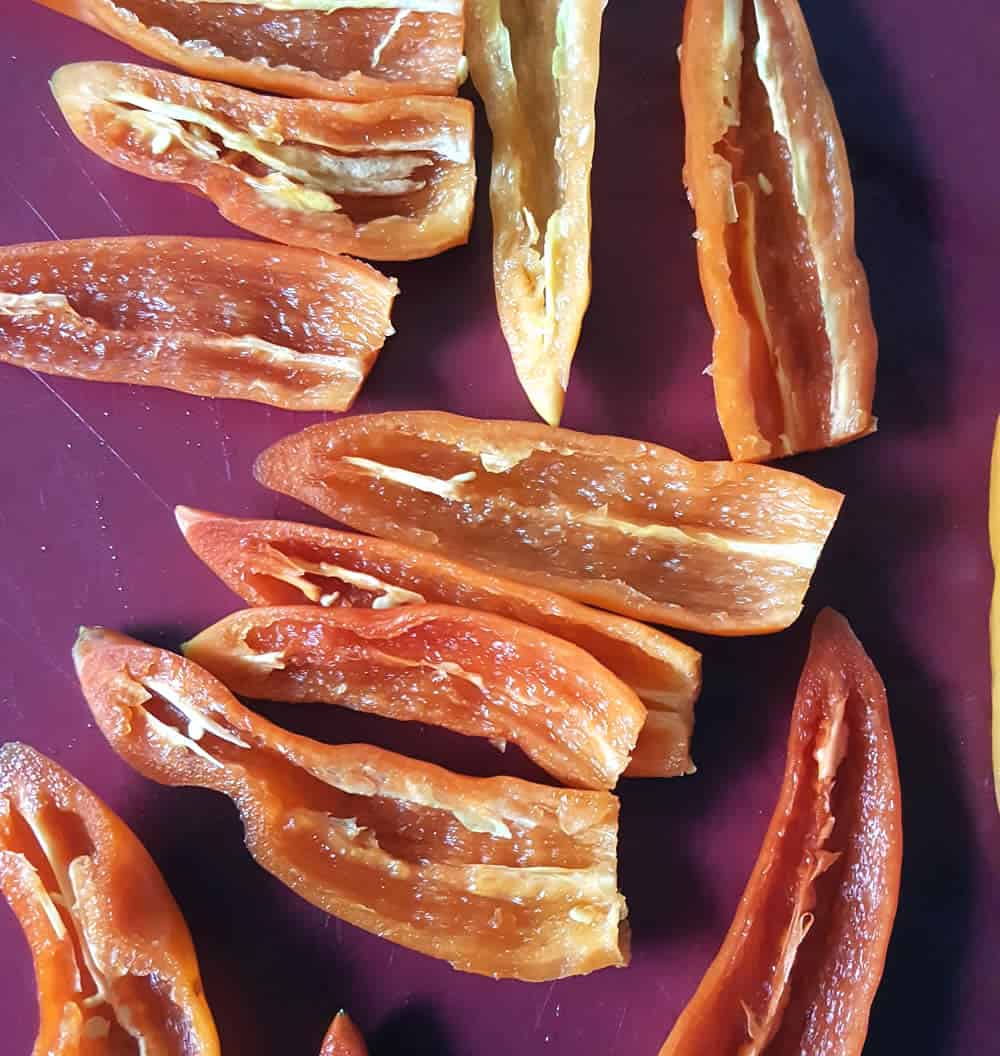 I removed the seeds from my ghost peppers, but you don't have to.
Next, peel and slice the carrots in half and set them on the baking sheet.
Slice the ends off of the garlic cloves and set them on the baking sheet. This will let them squeeze out of their skins easily.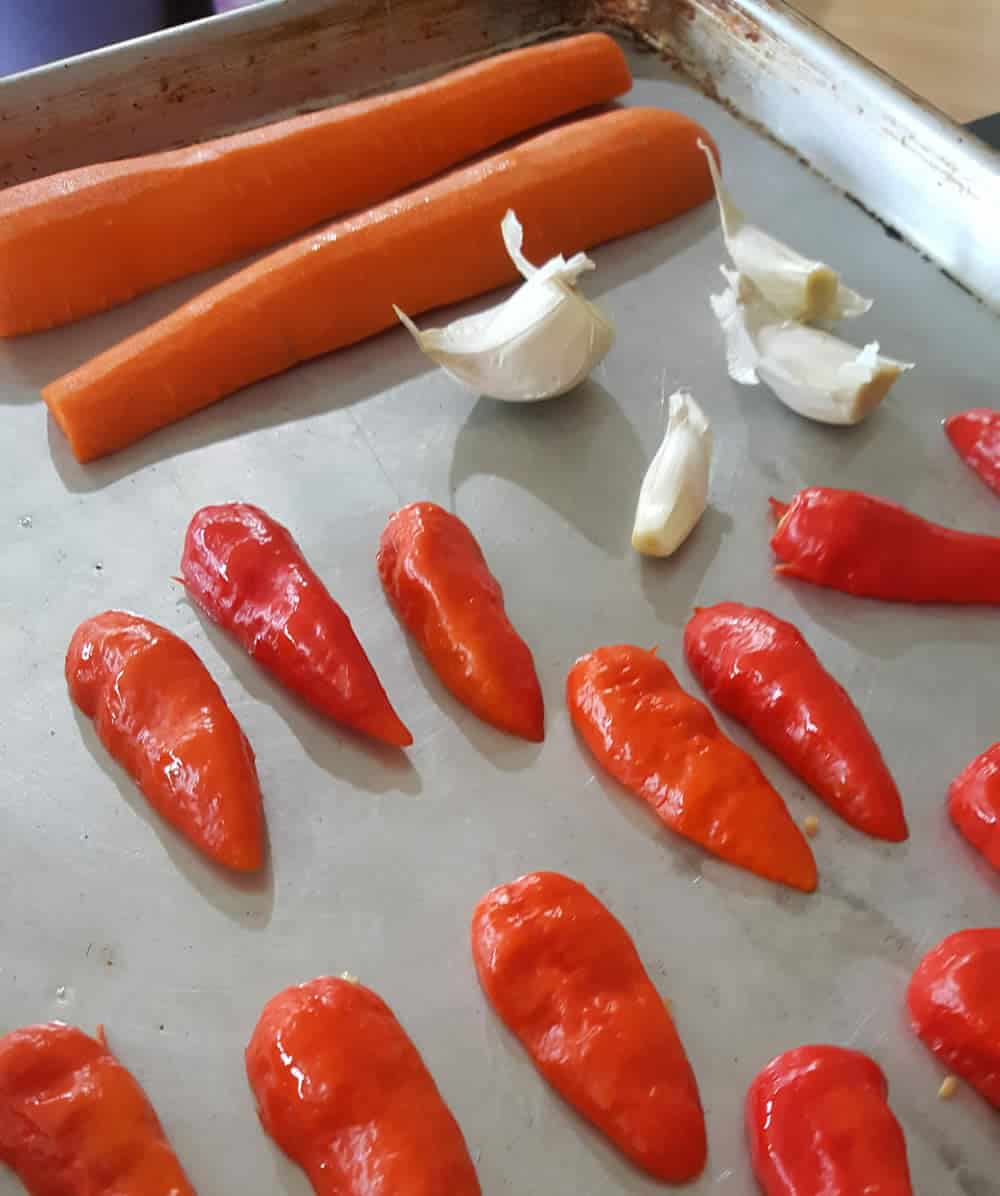 Bake the veggies for 20 minutes, or until the carrots have sufficiently softened.
Remove and give the carrots and ghost peppers a rough chop. Set them into a food processor.
Squeeze the garlic out of their skins into the food processor.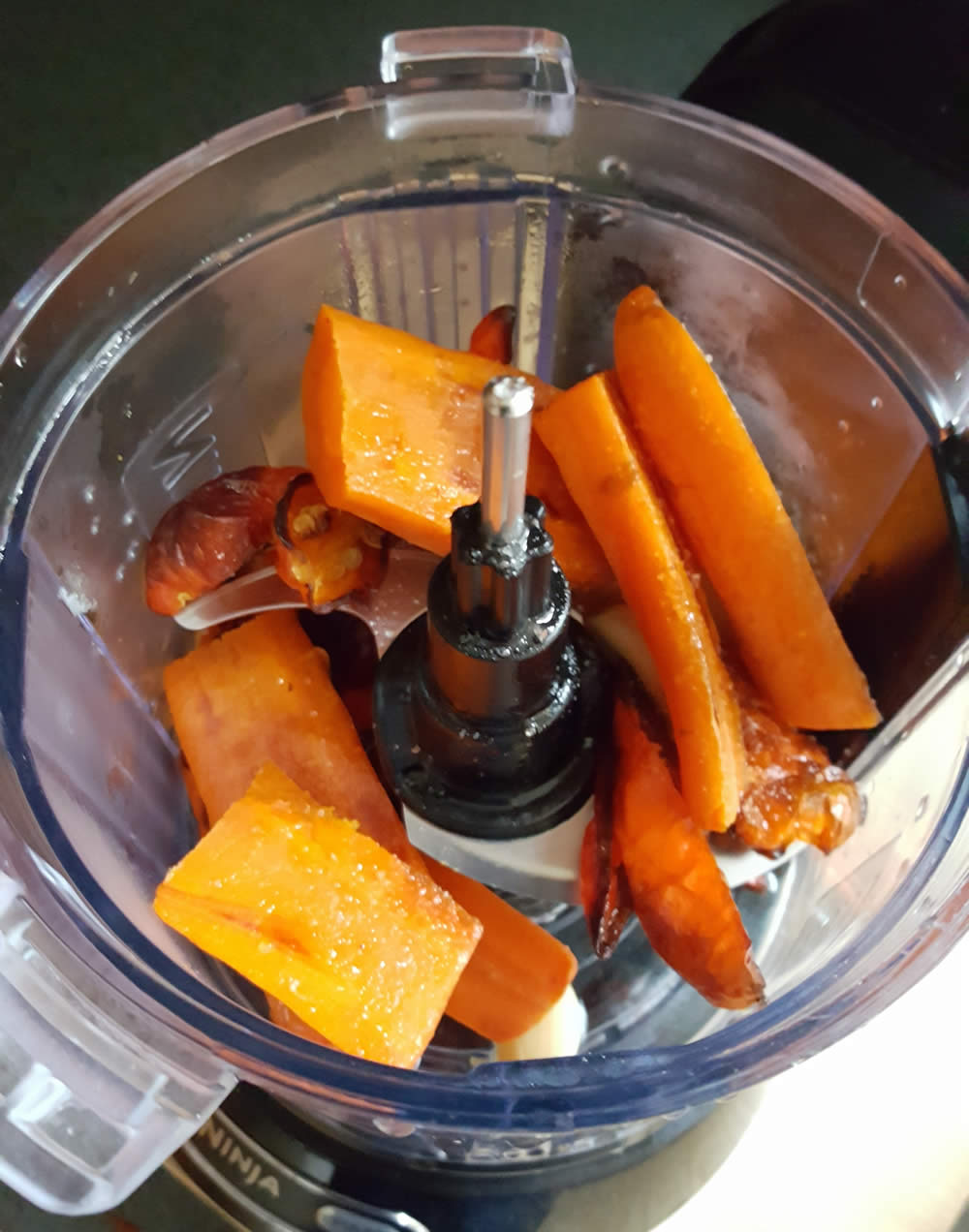 Add in a bit of apple cider vinegar, lemon extract, salt to taste and about a quarter cup of water. Process until smooth. It should be fairly thick at this point.
Adjust the consistency of the sauce with a bit more water to your personal preference. Enjoy!
Recipe Tips
Ghost Peppers. The recipe calls for 2 ounces of ghost peppers, which is roughly 5-6 average weight pods. However, you can add more of them if you'd like more heat and more pronounced ghost pepper flavor.
Add Sweetness. If you're looking for a sweeter version of this sauce, add in a bit of honey or agave nectar to the mixture. Fruits are also great for this. Brown sugar would be an interesting addition as well.
Flavor Adjustments. You can also round out flavors to your preference with fresh or dried herbs, other chili peppers, and/or powders.
Water Alternatives. Instead of water, consider broth or beer, but I would simmer the sauce about 15 minutes first to let those flavors meld.
Safety Advice
When working with hotter peppers, including superhots, it is important to wear gloves when handling the peppers both in raw and dried forms. The oils can get on your skin and cause burning sensations. See above.
Need help? How to Stop the Chili Pepper Burn On Your Skin .
Also, the fumes from the chili peppers and/or the fine powders may get into the air if you are not working in a well ventilated room, so you may want to wear a mask and goggles. Superhot chili peppers , truly, are called superhots for a reason.
Here are some answers based on the many comments I get on other sauces. Here goes:
How long will this hot sauce keep?
It should keep a few months easily in the fridge, or even longer. It's all about the acidity. To be technical, target level ph for shelf stable foods is below 4.6 ph, but should probably be lower for home cooks, around 4.0 or lower, to account for errors. I have not measured the ph of this sauce, but I won't have it around very long anyway. If you're concerned, add more vinegar or a citrus to lower the ph.
The best ph meters that I recommend are from Thermoworks. Get yourself a ph meter from Thermoworks today . I am a happy affiliate.
Where'd you get that hot sauce bottle?
Can I process this hot sauce for longer storage?
Absolutely. Just be sure to use proper canning/jarring safety procedures.
What should I do with hot sauce?
Aside from drizzling it over anything you please, here's a post I did about How to Cook with Hot Sauce . As if you need even MORE reasons to eat hot sauce. I hope you find it helpful!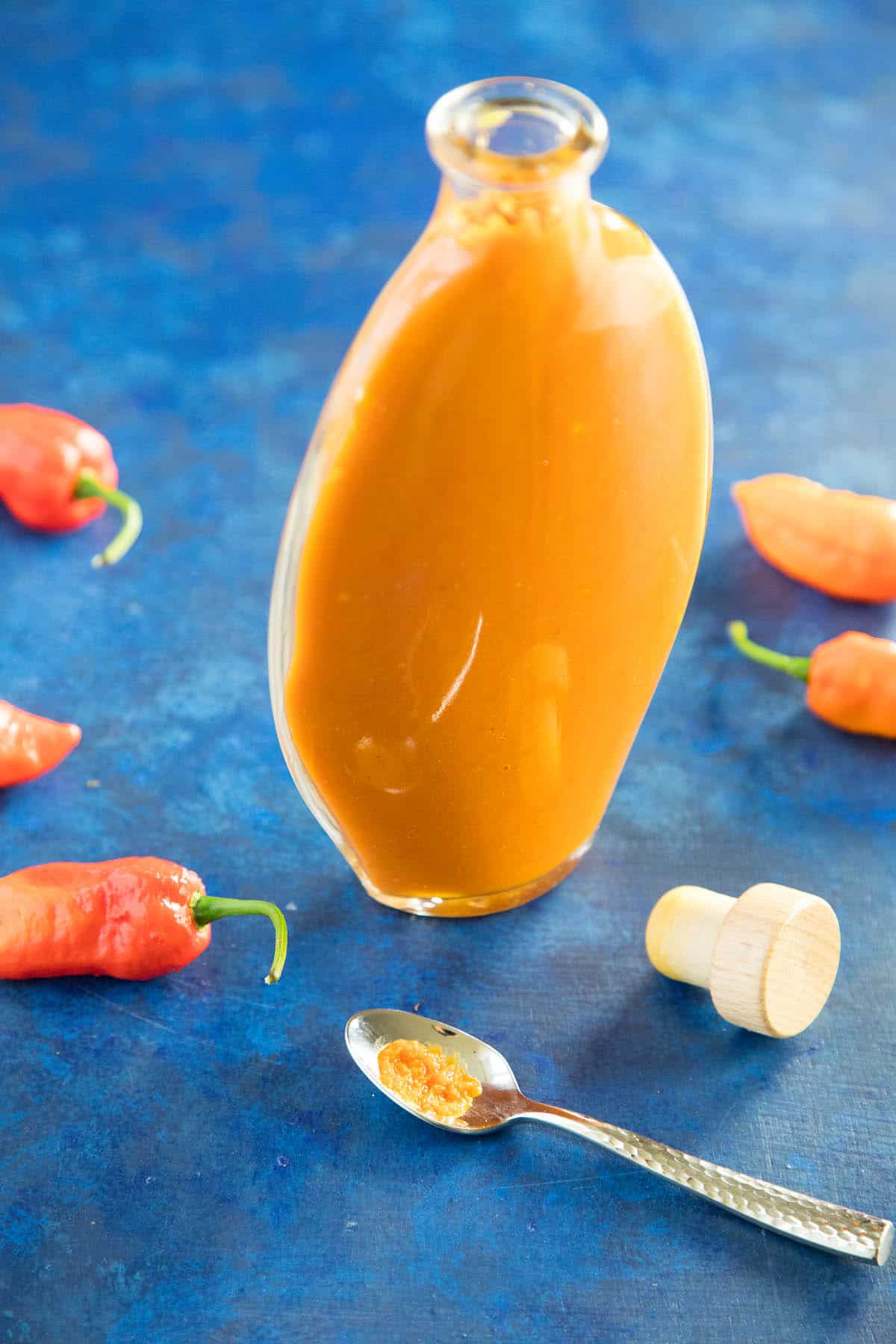 Try Some of My Popular Ghost Pepper Recipes
Ghost Pepper Hot Sauce
Homemade Ghost Pepper Chili Hot Sauce
Sweet Ghost Pepper-Pineapple-Pear Hot Sauce
Ghost Pepper Chicken Curry
Fresh Ghost Pepper Salsa
Ghost Pepper Salsa
Ghost Pepper Jelly
Check out more Hot Sauce Recipes or learn more about How to Make Hot Sauce - The Ultimate Guide .
Got any questions? Ask away! I'm happy to help. If you enjoy this recipe, I hope you'll leave a comment with some STARS. Also, please share it on social media. Don't forget to tag us at #ChiliPepperMadness. I'll be sure to share! Thanks! -- Mike H.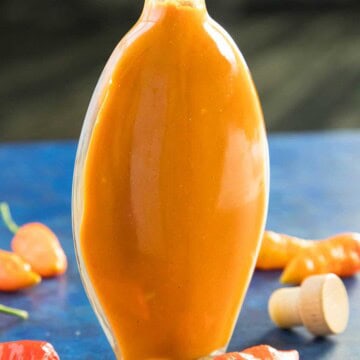 Roasted Ghost Pepper Sauce – Recipe
Ingredients.
2 ounces ghost peppers about 5-6 average sized ghost peppers
6 ounces carrot about 1 medium sized carrot
3 garlic cloves
2 tablespoons apple cider vinegar
¼ teaspoon lemon extract or use the juice from 1 lemon
Salt to taste
½ cup water for thinning, or use more as desired
Instructions
Preheat your oven to 350 degrees F.
Slice the ghost peppers in half lengthwise (be sure to wear gloves!) and place them on a lightly oiled baking sheet.
Peel and slice the carrots in half and set them on the baking sheet.
Add the apple cider vinegar, lemon extract, salt to taste and about a quarter cup of water. Process until smooth.
Nutrition Information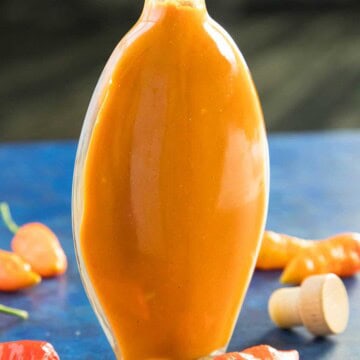 Reader Interactions
Leave a reply cancel reply.
Your email address will not be published. Required fields are marked *
JONESCRUSHER says
November 03, 2022 at 8:59 am
Where can I find a hot sauce recipe that starts off with 2 POUNDS of ghost peppers? I want to make a sauce/salsa that will rip a person's head off. Do you remember being in high school. There was always a guy( usually a jock) who bragged that he a "REAL MAN". I want to make a salsa that will rip a "REAL MAN"'s head off.
Mike Hultquist says
November 03, 2022 at 12:18 pm
If you're looking for EXTRA HOT, use hotter peppers, like reapers or other superhots.
Jim Schmidt says
September 12, 2022 at 6:06 pm
September 12, 2022 at 6:47 pm
So great to hear! Thanks, Jim! Very happy you enjoyed this one.
Brianna Evans says
April 30, 2022 at 2:08 pm
I love your recipes and that you use to HOT peppers that most people are afraid to touch! I can hot peppers from our garden, and I would like to try something like this recipe in bulk. I have a ton of reaper peppers that I will exchange for ghost for now, until my ghost pepper plants start producing. Should I multiply this recipe times the number of half pint jars I'm wanting to make or is this just a small batch recommendation??
May 02, 2022 at 6:50 am
Brianna, thanks! Yes, you can easily just multiply for larger batches. Enjoy!
October 23, 2021 at 7:03 am
Michael Hultquist - Chili Pepper Madness says
October 23, 2021 at 7:19 am
Thanks, Sue. You'll get more of a "raw" flavor with green pods, but doable! Enjoy!
August 30, 2021 at 1:39 am
I have been making hot sauces for a many years. I started following recipes on chili pepper madness and I find that I can't handle the heat from the peppers any longer. It there a way I can water down the sauce so its not so hot where it can enjoyed again?
August 30, 2021 at 5:47 am
Nancy, you can water it down, or make another batch of this with really mild peppers, like bell peppers, then combine the two to balance it out. Or add other ingredients, like tomato, to dilute the heat. Let me know how it goes for you.
August 14, 2021 at 1:22 pm
August 14, 2021 at 4:36 pm
Sounds great, Mimi. Enjoy the peppers. Nice selection. I don't can or process mine in a water bath, as I use them up pretty quickly and they last a long time because of the acidity. See my section on How to Make Hot Sauce ( https://www.chilipeppermadness.com/recipes/how-to-make-hot-sauce/ ) for more information on that. Enjoy the sauces!!
Derek T says
August 09, 2021 at 3:05 pm
August 09, 2021 at 3:16 pm
Awesomeness, Derek! I love it! Nice choice of peppers. I have a bunch mellowing in my fridge right now as well. Enjoy!
Peter B. says
August 02, 2021 at 6:38 pm
August 03, 2021 at 5:46 am
Awesome, Peter. Thanks for sharing. Yes, you can freeze this sauce. Glad you enjoyed it! Nice touch with the pecan chips.
Ken Moore says
March 06, 2021 at 7:26 am
March 06, 2021 at 7:31 am
I hear you, Ken! So good!
Raphael says
October 06, 2020 at 4:08 am
kind regards
October 06, 2020 at 6:03 am
Thanks, Raphael! Glad you enjoyed it.
Matt M says
August 20, 2020 at 12:59 pm
August 20, 2020 at 3:06 pm
Excellent! Sounds perfect, Matt!
Pamela Porosky says
May 27, 2020 at 5:27 pm
I'm just wondering if you would be able to can this in a water bath process
May 28, 2020 at 6:43 am
Pamela, yes, you surely can. Check the pH first, though. Shoot for a pH of 3.5 or lower for home jarring.
Kevin McKeown says
March 27, 2020 at 5:26 pm
Sounds great. How long will this sauce last in the refrigerator ?
Thanks, Kevin
March 28, 2020 at 9:41 am
Kevin, this hot sauce should keep a few months easily in the fridge, or even longer. It's all about the acidity. To be technical, target level pH for shelf stable foods is below 4.6 pH, but should probably be lower for home cooks, around 3.5 or so, to account for errors. If you'd like it to last even longer, add more vinegar or a citrus (such as lemon juice or lime juice) to lower the pH. Enjoy!
Christopher says
January 27, 2020 at 8:16 pm
Hey Mike. I was just wondering if I'd be able to used dry peppers. I dont know where to find fresh peppers this time of year in Minnesota. Thank you!
January 28, 2020 at 9:45 am
Hey, Christopher. Yes, you can absolutely use dried peppers for making this or any hot sauce. Just don't roast them in the oven, as they will burn. Instead, lightly toast them a couple minutes in a dry hot pan. You can rehydrate them then in hot water before making your sauce, or they will rehydrate in your liquids when you simmer everything. Let me know how it turns out for you. I made this sauce using dried pods, so review that one for some extra tips: https://www.chilipeppermadness.com/chili-pepper-recipes/hot-sauces/cilantro-habanero-hot-sauce/
Mark Ryan Crouch says
January 13, 2020 at 12:37 pm
I was thinking of using apple cider beer like angry orchard instead of water. Do you think that will have a weird taste with the apple cider vinegar?
January 13, 2020 at 2:27 pm
Hi, Mark. I think it would be very interesting to try apple cider beer in a hot sauce. I cook with beers all the time and they add excellent flavors. I say give it a go and see how it comes out for you. It's fun to experiment and play with new flavors. Good luck and enjoy!
January 22, 2020 at 3:38 am
Well. Not to bad with the apple cider beer. I stuck with the apple cider vinegar. And 9 ghost peppers. Lol. Oh I threw in some maple syrup. Made it really sweet!!! Thank you for the recipe!!!!
January 22, 2020 at 7:59 am
Great to hear, Mark! Nice touch with the ghosts!
Lynne beadle says
December 10, 2019 at 7:27 pm
Mike, first time trying to make hot sauce and we are picking yours! Sorry for the ignorance, but can we simply store the sauce in the bottles or do we need to prep the bottles before hand? I noticed one of your recipes mentioned sterilized bottles,,, ????????‍♀️ Can't wait to give it a try! Thanks! Lynne
December 11, 2019 at 8:19 am
Lynne, you can store the sauce in bottles, no problem. I like to wash them thoroughly before using with hot water. If your goal is longer term storage, then I would boil them or at least run them through a hot cycle in the dishwasher. Really just practice good sanitary practices. Let me know it turns out for you!
November 05, 2019 at 2:40 pm
Have you tried throwing in a small piece of pineapple for sweetness? Just wobdering if i should tey or will it ruin my whole batch.
November 05, 2019 at 2:44 pm
Suzi, absolutely. I add fruits to my hot sauces all the time, especially pineapple. Check out some of my other hot sauce recipes on the site that use pineapple. Let me know how it turns out for you.
October 29, 2019 at 11:48 am
Where did you find that very cool bottled pictured? I've seen it a few times on your site. I checked the links you provided but didn't see it.
October 29, 2019 at 12:31 pm
Thanks, Mike! I appreciate it. That bottle was actually recycled from a bottle of rum someone gave me. I kept it because it looks so cool! Haha. Great for photos.
Kasper says
October 10, 2019 at 10:50 am
Thanks for the recipe!
October 10, 2019 at 12:05 pm
Outstanding, Kasper! I love to hear this. Let the hot sauce flow!!! Thanks for the comments!!
Nicholas Keller says
October 03, 2019 at 2:28 pm
October 03, 2019 at 3:39 pm
Great, Nicholas! Great news!!!
September 29, 2019 at 4:09 pm
This recipe is killer. I used 15 ghosts and 4 carrots in a batch today for two 8 oz. bottles.. It is excellent tasting and outrageously hot. The peppers really shine through and the carrots add just the right amount of sweet.
Thanks again. Your cooking rocks. Tomorrow we try the pineapple mango fatali sauce.
September 29, 2019 at 4:31 pm
Excellent! I love to hear this, John. I greatly appreciate the comments, and I'm super happy you're able to cook with your superhots! Thanks! Glad you are enjoying it.
September 28, 2019 at 4:55 pm
September 29, 2019 at 8:09 am
Excellent, Alex! Glad you are enjoying the recipes!
September 15, 2019 at 8:07 am
Just curious why the recipe calls for lemon extract instead of lemon juice/zest?
September 15, 2019 at 3:06 pm
Didi, extract has more pronounced lemon flavor, but you can use zest instead if you'd like.
Karoline says
September 13, 2019 at 6:05 pm
Hello Mike!
Quick question: I take it this is supposed to be a thicker/chunkier type of hot sauce. Would adding more vinegar to it to thin it out ruin it? And if so, would you recommend more ACV or white? I'm looking to make it into a thinner "Tabasco sauce-like" consistency.
Thank you!!
September 14, 2019 at 9:00 am
Karoline, you can add vinegar, no problem. You can also strain it to get a thinner sauce and thin it with water if you'd like. For vinegar, both are good. Just use a top quality for flavor. Let me know how it goes.
September 09, 2019 at 3:08 pm
20 ghost peppers is way more than 2 ounces this must be a typo !!!! My Ghosts are almost an ounce each , what is it 2 peppers or 20 peppers ? Big diff LOL
September 09, 2019 at 3:19 pm
Tommy, yes, an average ghost pepper weighs about 1/3 ounce, so it's really 5-6 average sized pods. This recipe CAN take up to 20 of those, though. Still, it sounds like you have some good sized pods, so I would use 2-3 of them for the first time around, then adjust accordingly for the next batch. Let me know how it goes. I adjusted the recipe to make this clearer. Thanks!!
September 10, 2019 at 4:50 pm
Mike , I have some beautiful peppers this year , the best crop ever !! I used 6 ghosts and it came out great ! Yes it is hot but the smoky garlic flavor reall pops. Thanks Mike looking forward to trying some more of your recipes as I have at least 100 Ghost Peppers and a huge crop of Habaneros . All grown in NYC by the way .
September 11, 2019 at 6:53 am
Thanks, Tommy! Glad to hear the crops are popping! Such a wonderful thing.
Michelle says
September 03, 2019 at 5:20 pm
September 03, 2019 at 10:11 pm
That would be outstanding, and I would be super jealous because I would want some!!!
Andrea says
July 13, 2019 at 5:20 am
Hi Mike. I have loads of frozen Naga morich peppers from last year's harvest. This sauce seems like a good way of using them up. Do you think it is ok for me to roast peppers that have been frozen?
July 13, 2019 at 1:05 pm
Andrea, yes, you can roast those. Just make sure the pods are dried as much as possible after thawing. You can also pan cook them. Let me know how it turns out!
Curt Jones says
July 02, 2019 at 6:59 am
I want to produce this sauce in large quantity for bottling and selling in my small local shop.
To increase the volume do I just do a multiplication of all ingredients? I am looking at making 5 ltr (+-34 US Fluid Ounces) for bottling in 250ml bottles (+-8 Ounces)
July 02, 2019 at 7:48 am
Curt, yes, just multiply the ingredients to scale up. You might start with a smaller batch to test, then increase as needed. Let me know how it turns out for you.
May 21, 2019 at 1:55 am
May 21, 2019 at 6:07 am
Great, Kevin! Sounds awesome.
April 25, 2019 at 3:06 am
Tried this with Carolina reapers and birds eye chilies it's amazing
April 25, 2019 at 6:07 am
Jerry Johnson says
November 22, 2018 at 3:35 am
November 22, 2018 at 8:46 am
That's great, Jerry! Thanks for stopping in!
Bangor Daily News
Maine news, sports, politics, election results, and obituaries
5 Maine hot sauces to heat up your cold weather cooking
Share this:
Click to share on Twitter (Opens in new window)
Click to share on Facebook (Opens in new window)
Click to share on Reddit (Opens in new window)
Click to print (Opens in new window)
Click to email a link to a friend (Opens in new window)
Spicy doesn't often describe traditional Maine cooking. But then again, Maine cooking ain't your grandma's dinner table anymore, as fresh new restaurants have popped up around the state and specialized ingredients have hit kitchens and grocery stores in the past two decades.
Here are five Maine-made hot sauces that have sprung up in recent years that will liven up your cold weather cooking — whether it's taco or burger night, a takeout evening, a Maine seafood spread or a low-and-slow Sunday afternoon for roasts, stews and casseroles.
Bangor-based Hot Choy is made by John Patterson, a longtime area musician and connoisseur of spice. Hot Choy is a personal recipe honed by Patterson over the years, now available at the European Farmers Market on Saturday mornings on Buck Street in Bangor, where he also offers banh mi sandwiches and tostadas. There are two varieties of Hot Choy — the spicier Chipotle Lime, made with a blend of roasted peppers, lime, tamari, ginger, garlic and cilantro, and the milder Mango Habanero, made with fresh mango — all made with fresh organic ingredients. Bust it out on Chinese, Thai or sushi night, or dollop it on sandwiches or tacos.
Inner Beauty Hot Sauce
A mustard-based sauce flavored with Scotch bonnet and habanero peppers, citrus, pineapple and other tropical fruits. This cult classic hot sauce was first produced in Massachusetts in the 1980s, but about ten years ago, Bangor salsa purveyor Todd Simcox began making his own version of Inner Beauty. It's so popular that it regularly sells out, but you can find it on sites like Amazon, or, if you're in luck, on local grocery store shelves. Try it on kielbasa, tacos or burgers, mix it into baked beans, glaze a ham with it, make salad dressing — tons of possibilities.
Sanjeeva's Hot Sauce
Ellsworth South Asian restaurant Serendib has served up Indian and Sri Lankan cuisine for close to a decade now. A few years back it began jarring up chef and owner Sanjeeva Abeyasekera's customer-favorite homemade hot sauce — a mix of fresh chilis, garlic, ginger and other spices, in a blend of vinegar, oil and soy sauce. It's unsurprisingly fabulous on Indian, Thai and other southern Asian dishes, as well as on eggs, in soups and on noodles.
Maine Gravy
This Damariscotta-based hot sauce brand makes four varieties inspired by towns in Lincoln County. There's Boothbay Blues, a gently spice blueberry hot sauce; the vinegar-based classic sauce Pemaquid Piquant; the spicy and numbing Midcoast Mayhem flavored with miso and Sichuan peppercorns; and Damariscotta Damnation, featuring everybody's favorite face melter, ghost pepper. Try the Pemaquid Piquant on fried seafood, or on some fresh Maine oysters, or on some shepherd's pie on a cold winter day.
Resurgam Fermentation
These hot sauce mad scientists in Portland create wild fermented hot sauces featuring unusual flavors, including Original Leek, made with leeks, an array of hot peppers, maple syrup and spices, naturally fermented with no vinegar added. It also makes Spruced Up, a green sauce kicked up with the flavor of Maine spruce tips, and Habanero!, made with, shocker, habaneros, as well as carrots and onions. Douse your avocado toast with it, or shower it on pulled pork or pot roast.
More articles from the BDN
Emily burnham.
Emily Burnham is a Maine native and proud Bangorian, covering business, the arts, restaurants and the culture and history of the Bangor region. More by Emily Burnham
15 Types Of Peppers And When To Use Them
Pepper is almost always synonymous with "hot." Enjoying them is often a fine line — you may be one of those who avoids them at all costs or someone who douses your food in hot sauce. But, with so many pepper varieties, you may be surprised to learn they aren't all that spicy. From mild, sweet bell peppers and banana peppers to intense, fiery Carolina reapers, peppers truly come in a range of flavors. Each variety has its uniqueness, making them versatile ingredients in a multitude of cuisines worldwide.
When it comes to the different kinds of peppers, it's all about understanding how they taste and how they can best be used. Some peppers are best suited for spicy cuisine and others add an extra element as a topping or garnish. It all depends on what your tastebuds can handle and how spicy you're willing to get. Here, we'll delve into several types of peppers, how to identify them when shopping, what they taste like, and ways you can incorporate them into your cooking.
You may be more familiar with cayenne peppers in their ground, powdered form, which is often how it's seen. However, fresh cayenne peppers are also readily available and used in a variety of ways. These peppers are long, skinny, and bright red — yep, like the emoji. Their heat comes from capsaicin, which is present in most spicy peppers and also has various antioxidants from beta carotene to vitamins A, C, and E. Oftentimes, it's used as a supplement because of its many health benefits. Aside from the antioxidants in capsaicin, cayenne peppers also have folate, potassium, magnesium, iron, and other important nutrients.
Cayenne typically ranges from 30,000 to 125,000 Scoville Heat Units (SHU) per the Scoville scale, which puts it around a medium level for spiciness. Most people can handle the heat of cayenne, which makes it a very easy pepper to use. Cayenne has a distinct peppery flavor, but it's also slightly fruity and is ideal for adding to eggs or chocolate, especially in powdered form. If you're using whole cayenne peppers, they are a delicious addition to chili, sauces, soups, a Bloody Mary , and really any cuisine that you want to have an extra kick, particularly Asian cuisine.
2. Bell peppers
Bell peppers, or sweet peppers, are perhaps one of the most bearable types of pepper (spice-wise). A relative of chili peppers, these peppers (also known as Capsicum annuum) range in size from petite and slightly rounded to large and bulbous — like the ones known for stuffed peppers . They contain several essential vitamins and are particularly rich in vitamin C, but are typically not spicy at all. Bell peppers also vary in color, from green when they are technically underripe to yellow, orange, and red. Even though they aren't nearly as common, bell peppers are also found in shades of purple, white, and brown.
If you've ever taken a bite of raw or cooked sweet peppers, you know they have a great crunch. Typically, you should remove the seeds because they can taste bitter, but they aren't harmful by any means. Red bell peppers are certainly the sweetest, with yellow and orange following close behind, and green bell peppers are usually more bitter. As far as cooking bell peppers, they are incredibly adaptable. You can easily eat them raw on a veggie tray, stuff them, or sauté them. They're great for pasta, goulash, soups, or including as a side, like in this recipe for roasted fish with sweet peppers.
3. Piquillo peppers
Piquillo peppers are a type of red chili pepper native to the northern region of Spain, particularly the Navarre region. Spanish for "little beak," piquillo peppers are shaped like exactly that! Oftentimes, they are sold in jars after they've been fire-roasted, peeled, and de-seeded. On the Scoville scale, they sit at 500 to 1000 SHU, which is remarkably low. Despite being a pepper, they aren't extremely hot. Like bell peppers, they have a sweet bite to them, but they are also known to be tangy in flavor.
Their triangular, almost heart-shaped form makes them ideal for stuffing. This is probably one of the most common uses for them, and they work well with fillings such as cheese, meat, seafood, or vegetables. You can also pickle them, fry them, or roast them, all of which will intensify their mild flavor. Piquillo peppers are tasty when cooked in paella or added to eggs, sandwiches, salads, or pizza.
4. Chipotle peppers
Chipotle peppers are red jalapeño peppers that have been dried and smoked. Typically, they can be purchased whole, canned, or in ground form. These peppers are an integral ingredient in Mexican and southwestern cuisine, known for their smoky, earthy flavor and moderate heat. Seeing as how they are made from jalapeño peppers, they have the same level of heat — 5,000 to 10,000 SHU. You can also make them at home by smoking your own jalapeños.
In particular, chipotle peppers are often used to make adobo sauce . Besides that, they're also a good pepper for tacos, fajitas, and chili. As a powder, chipotle makes a great rub or marinade, or a spice for eggs and baked foods like cornbread or chocolate desserts. When cooking with chipotles, it helps to pay attention to the heat level. While regular chipotle peppers are more common, morita chipotle peppers are a variant that is typically spicier.
5. Tabasco peppers
You've likely seen Tabasco peppers in the infamous hot sauce, but these tiny peppers can be used in many more ways. Native to Mexico, these peppers come in around 30,000 to 50,000 SHU, which gives them an average level of heat close to that of cayenne. While Tabasco sauce is pretty heavy on salt, the actual peppers boast many health benefits. Like other peppers, they contain vitamins like A and C as well as a small amount of dietary fiber and some protein.
Surprisingly juicy for their smaller size, they pack a burst of flavor perfect for various recipes, particularly Mexican cuisine. Even though they have some heat, they're also somewhat smoky and can taste fruity once they're ripe and red. You can make your own hot sauce with the peppers at home, with a simple mixture of the peppers, salt, and vinegar. Moreover, the peppers are great in marinades, dips, salsas, and even cocktails. Tabasco peppers are also ideal for stuffing or pickling if that's more your style.
6. Anaheim peppers
As their name suggests, Anaheim peppers are named for the city in California but are sometimes called Magdalena, California chili, or New Mexico peppers. With the Scoville scale placing them around 500 to 2,500 SHU, they're fairly mild, making them an ideal pepper if you don't like a lot of heat. And, much like bell peppers, they have a sweeter, fruity flavor that makes them perfect for even snacking. When shopping for them, they might look similar to jalapeño peppers, as they're both green and oblong, but Anaheim peppers tend to be sharper in shape than jalapeños, which have a rounder top to them. 
One of the most popular uses of Anaheim peppers is in chiles rellenos , a Mexican dish where roasted and peeled peppers are stuffed with cheese, meat, or a mixture of both. They are then dipped in batter, fried, and served with salsa or sauce. Anaheim peppers are also good for stuffing and roasting. If needed, they are a good substitute for poblano peppers.
7. Bird's eye chile pepper
Sometimes called Thai chile peppers, bird's eye chile peppers are extremely common in Southeast Asian cuisine from Thai food to Vietnamese cuisine. This variety is known for its bold, fiery flavor and intense heat, ranging from 100,000 to 225,000 SHU. To help you understand just how spicy that is, a jalapeño pepper has a score of 2,500 to 8,000 SHU. Small and slender, these peppers typically are bright red (often called red Thai peppers) or green, with a sharp, pointed tip resembling a bird's eye.
You can buy these peppers whole and dried, in powder or flake form, or even as a paste. You'll typically find these peppers in curries, sambals, stir-fries, and any spicy Southeast Asian dishes. It's also used to make prik nam pla (or nam pla prik), a traditional dipping sauce made in Thailand with bird's eye chile peppers, garlic, fish sauce, and lime juice. That sauce is often served in nam prik ong , a Thai appetizer.
Looking almost like skinny, little jalapeños, serrano peppers are definitely hot, but still a versatile variety. They're significantly spicier than jalapeños, with a score of 10,000 to 25,000 SHU. However, their earthy, mild peppery flavor is rather similar to that of a jalapeño, making them a decent substitute for one another. Unless it comes to stuffing — serrano peppers aren't optimal for that because of their slender size. Just like other varieties, serrano peppers range in color from a ripe red, a lesser ripe orange and yellow, and an unripe green — finding green serrano peppers is very common. Typically, they are hotter when they are smaller and more mild if they are underripe. They're found at many larger grocery stores as well as Mexican grocery markets and can usually be purchased fresh or dried.
In your cooking, serrano peppers are perfect for topping pizza and tacos and adding to guacamole, salsa, or chili. They also work well sautéed as a side or in stir-fry or other rice dishes. We recommend using them in a spicy serrano pico de gallo.
9. Scotch bonnet
Scotch bonnet peppers are incredibly common in the Caribbean, especially in Jamaica where they're primarily grown. This variety is one of the more intense peppers, with a Scoville rating of 150,000 to 325,000 SHU. Despite their Caribbean heritage, their name is derived from their shape — on the vine, they resemble a Scottish bonnet. Red is ripe, but these peppers transition through shades of green and orange as they grow.
When cooking Scotch bonnets, beware. They're about as hot as a habanero, and probably not a good starter option if you don't like a lot of spice. These peppers are key for dishes like jerk chicken and pepper sauces. Some other traditional Caribbean dishes that use this beloved pepper are callaloo and pepperpot stew. Depending on how you enjoy a sweeter kind of heat, Scotch bonnets make a great salsa, curry, chutney, or hot sauce for dipping as well as seasoning meat.
10. Banana peppers
You've likely seen banana peppers, if not on a pizza, then in the produce aisle. Because of their mild, slightly sweet flavor that is manageable for most, banana peppers are very common. Just as their name indicates, this variety is usually yellow by the time they're picked, but they ripen to shades of orange and red just like other peppers. Only going up to 500 Scoville Heat Units, this variety is rather tame. Perhaps it's good they won't make you sweat, as they also have many health benefits including a good amount of dietary fiber and vitamin B6, as well as potassium, folate, and calcium.
Very often, banana peppers are pickled or eaten fresh. You may see them on pizza, sandwiches, salads, or wraps. They're also a good choice for stuffing or frying. However, there are a multitude of unique ways to use banana peppers, from the typical grilling and roasting to incorporating them into salsas, relishes, and more.
11. Poblano
Typically found fresh, dried, or powdered, poblano peppers are a kind of chili pepper often viewed as a less spicy jalapeño. As far as their heat level, it ranges from 1,000 to 1,5000 SHU, which is pretty low. Green poblano peppers are generally less spicy than red poblanos, but when red poblanos are dried (called ancho chiles), they are smokier in flavor. Containing capsaicin adds to their nutritional value, as it's a powerful antioxidant and these peppers also have a lot of vitamin C — about 134% of the daily recommended.
Besides being a staple in Mexican cuisine, poblano peppers can be used in many different ways. Slightly sweet, they're the perfect addition to relishes and salsas, but they're also a unique element for cornbread. In general, they can be used universally in soups, chilis, casseroles, and more. They're great in this grilled salmon with tomato-olive salsa and poblanos and also think they're worth a try in this recipe for black beans and roasted corn with poblano.
12. Ghost pepper
If you're already sweating, don't worry — so are we. Ghost peppers are notoriously hot. In fact, they are one of the spiciest chile peppers on earth. They've become the fuel for contests everywhere, where just trying a bite has become a huge challenge. To put it into perspective, ghost peppers range from 600,000 to over a million SHU. Seeing as how the hottest habanero peppers only reach 577000 SHU, that's incredibly spicy! If you can get past the general heat, these peppers are said to have a smoky taste. Apparently, the hotter the pepper, the scarier it looks, and ghost peppers are no exception. While their coloring isn't different from other varieties, their skin is deeply wrinkled, giving them a distinct and kind of worrisome appearance.
Many might find this pepper far too hot to eat, but it's actually found as a flavor for chips, salsas, hot sauces, and candy — even Dunkin' Donuts released a ghost pepper donut for Halloween a few years back. If you're brave enough, try it in curries or chutneys, or even join a challenge to simply try eating one.
13. Habanero
Perhaps because it's on the hotter end of peppers, habaneros are often used for comparison when discussing spiciness. These chili peppers are hot and fruity, sitting between 100,000 to 577,000 SHU,  with the hottest, Habanero Red Savina, reaching up to 577,000 SHU. Before super hot peppers came into the picture, like ghost peppers and Carolina reapers, habaneros were reigning supreme as one of the spicier varieties. Some of the most common habaneros (and those lowest on the Scoville scale) are identifiable by their orange color and small, round body. Despite their spicy flavor, they do still offer plenty of vitamins A and C. 
Because of their intense heat, they provide a complement to sweeter recipes such as salsa, chutney, and jam, especially if they're made with tropical fruits like pineapple or mango. They can also be pickled, infused into an oil, or incorporated into dips and sauces. If you're down for the heat, try making some pineapple habanero wings.
14. Pepperoncini
Pepperoncini is a type of chili peppers sometimes called sweet Italian peppers, Greek peppers, or Tuscan peppers. Even though they're commonly used in Mediterranean cuisine, they are often mistaken for banana peppers. When it comes to pepperoncini versus banana peppers, it really comes down to appearance. Just like banana peppers, pepperoncini peppers are sweet, mild, greenish-yellow, often pickled, and also found on sandwiches and salads. However, pepperoncini peppers are typically more wrinkled and more robust in shape than banana peppers.
Even though pepperoncini peppers are different from banana peppers, their uses are fairly similar. You can use this variety in soups, salsas, arrabbiata sauce, or as garnishes. More frequently, they are found in Mediterranean dishes involving grilled chicken, as well as Greek salad and antipasto boards alongside cheeses, cured meats, tomatoes, and nuts. If you want to switch it up from the norm, try them in this recipe for slow cooker Mississippi pot roast.
15. Carolina reaper
The hottest is saved for last and Carolina reaper peppers definitely deserve the spot. On the Scoville scale, they range from a whopping 1,500,000 to 2,200,000, which is more than twice as hot as ghost peppers. Suffice it to say, they may not be at the top of your grocery list. This may be for the best, as they're difficult to find, but relatively simple to grow. Just like ghost peppers, their skin is shriveled but they still have a bright, red color. Although they are extremely spicy, they are known to have a sweet flavor, too.
If you like a good challenge, you can definitely add Carolina reapers to your dishes. Still, it's best you always handle these peppers with extreme caution and use them in small amounts as you figure out the right level of heat for your recipes. Also, it's suggested never to eat them raw, even if YouTubers keep trying it live. Puckerbutt Pepper Company uses Carolina reapers in one of the world's spiciest hot sauces. At home, you can use them in your own hot sauces, salsa, stews, chicken wings, Asian noodle recipes, and spicier cuisines like Indian and Mexican.
14 insectes qui ressemblent à des coccinelles (mais qui n'en sont pas) View
Wings Of Fire: The Forgotten Tribes View
Five Nights at Freddy's View
Many Maui restaurants were destroyed in the fires. For those that survived, their future remains uncertain | CNN Business View
15 oiseaux de proie trouvés en Pennsylvanie (photos et informations) | Hype animale View
Tous les 344 différents types de colombes : images, tableau et classification View
9 différents types d'insectes qui ressemblent à des moustiques - Accueil Stratosphere View
12 différents types de moucherons (avec photos) | Maison surclassée View
16 petits insectes domestiques avec photos et noms - Guide d'identification View
Types de petits insectes volants dans la maison (avec photos) - Guide d'identification View
Amy Ruth's Mastered Chicken And Waffles In Harlem | Legendary Eats View
Maui Sued Big Oil in 2020, Citing Fire Risks and More View
Among the 388 Listed as Missing in Maui: Survivors Lost in the Paperwork View
Types de punaises et d'insectes volants (avec images) - Guide d'identification View
24 insectes qui ressemblent à des tiques | Guide d'identification (Mise à jour 2023) View
Florida Panthers vs Detroit Red Wings NHL Full Game Stream Commentary View
Types de petits insectes noirs (avec images) - Identification View
Red Robinson's Legends Of Rock - Gene Pitney View
31 insectes avec des ailes (liste de A à Z avec photos) – Faits sur la faune View
Des insectes qui ressemblent à des tiques View
5 insectes qui ressemblent et sautent comme des puces View
18 petits insectes volants dans la maison (et comment s'en débarrasser) View
Les huit principaux bogues couramment confondus avec les tiques View
Brogues & Wingtip Shoes Guide : How To Wear, Buying Tips & Style Advice View
Without advertising income, we can't keep making this site awesome for you.