Ghost's Imperatour line-up unmasked
An end-of-tour picture from Ghost's Imperatour has revealed the identity of the band's latest line-up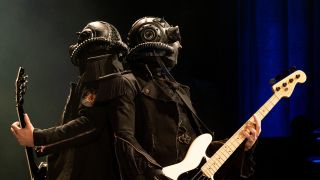 Ghost have wrapped up the first leg of their Imperatour and amidst the celebrations their official photographer has released an end-of-tour pic with the crew unmasked alongside tour supports Twin Temple and Uncle Acid And The Deadbeats.
One Ghost fan-page (Greek Ghost Fans) has gone the extra mile, saying they've tracked down the identities of the various Nameless Ghouls who have been enthralling arenas across Europe since April.
- Chris Catalyst (a.k.a. Aether) - Cos Sylvan (a.k.a. Rain) - Dylan Louise (a.k.a. Cumulus / Curvy) - Hayden Scott (a.k.a. Mountain) - Jutty Taylor (a.k.a. Swiss/Multi) - Laura Scarborough (a.k.a. Cirrus/ Tall) - Per Eriksson (a.k.a. Fire) - Sophie Amelkin (a.k.a. Sunshine)
A Twitter post by Catalyst confirmed his involvement at least, writing "that's that particular cat out of the bag. So great to be doing this again. Playing this fantastic music with these brilliant people makes me run out of superlatives."
Amaaaazing tour with our wonderful Ghost family. I suppose that's that particular cat out of the bag. So great to be doing this again. Playing this fantastic music with these brilliant people makes me run out of superlatives. X pic.twitter.com/wZR9criebA May 18, 2022
Chris Catalyst has previously been a touring member of Sisters Of Mercy, Ugly Kid Joe, as well as a member of the Ginger Wildheart band. He is also frontman of UK rockers Eureka Machines and a solo artist in his own right.
Per Eriksson was a member of Katatonia from 2009 to 2014, as well as a member of Bloodbath from 2007 until 2017. Jutty Taylor released music as Jutty Ranx and sings for indie group Greyface, while Dylan Louise is a multi-instrumentalist who records under the moniker Mad Gallica.
Details on the other members' extra-curriculars are more scant; Cos Sylvan, Sophie Amelkin and Laura Scarborough each release music as solo artists, and Hayden Scott was the touring drummer for AWOLNATION.
It's a diverse mix of musicians from across different musical spectrums, but as anyone who attended the first leg of the European Imperatour can attest, a talented line-up who helped bring Ghost's newest era to life.
Whether the line-up remains the same for the US leg of the Imperatour later this year remains to be seen, but with Mastodon and Spiritbox joining Ghost on the road it's fair to say they aren't dialing back their ambitions.
Metal Hammer Newsletter
Sign up below to get the latest from Metal Hammer, plus exclusive special offers, direct to your inbox!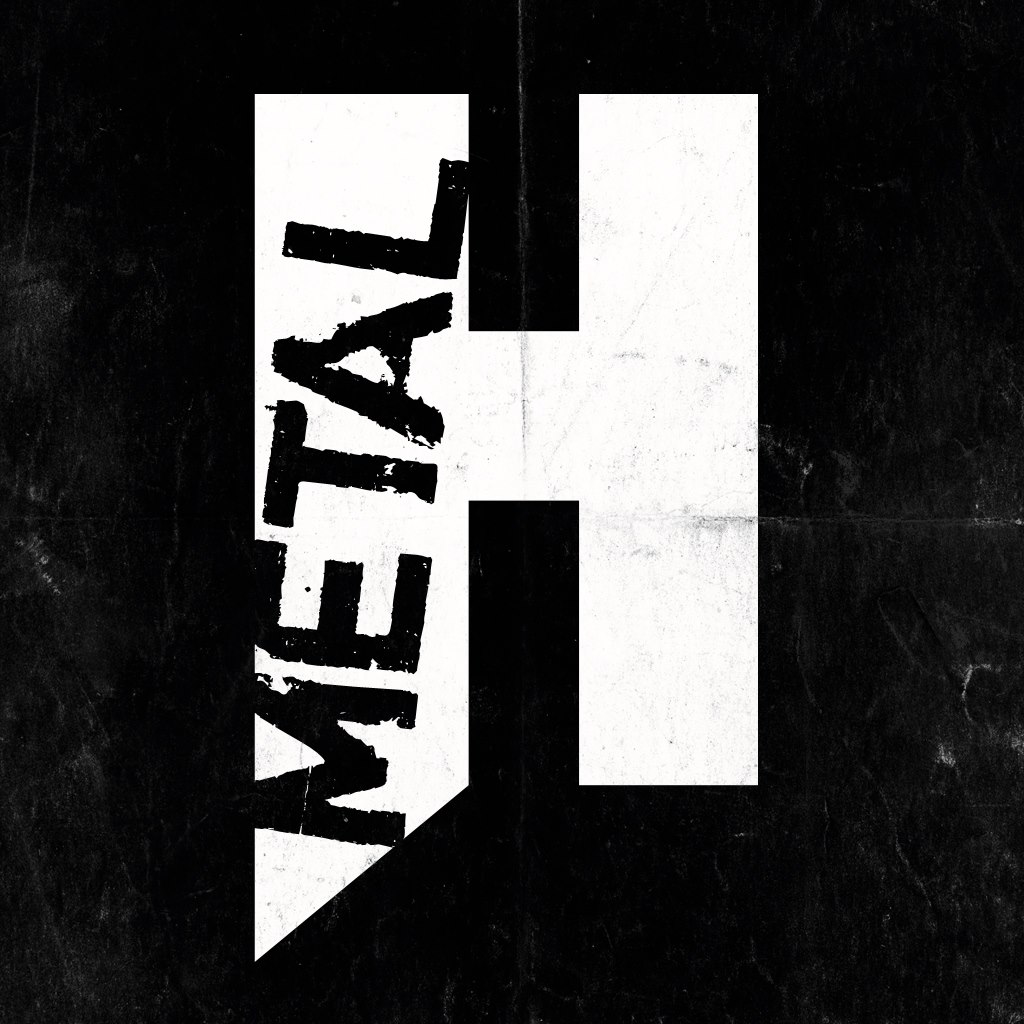 Founded in 1983, Metal Hammer is the global home of all things heavy. We have breaking news, exclusive interviews with the biggest bands and names in metal, rock, hardcore, grunge and beyond, expert reviews of the lastest releases and unrivalled insider access to metal's most exciting new scenes and movements. No matter what you're into – be it heavy metal, punk, hardcore, grunge, alternative, goth, industrial, djent or the stuff so bizarre it defies classification – you'll find it all here, backed by the best writers in our game.
"They do this crazy thing – they write good songs! And it doesn't sound dated!": My 80s Mixtape, by Clutch's Neil Fallon
Half of Bandcamp's staff have been laid off
"It really wasn't emotional… We walked to the front of the stage together and waved at the audience. He walked off, got into a car and drove off. That was it": How Kansas survived Steve Walsh's departure
Most Popular
By Fraser Lewry 16 October 2023
By Jerry Ewing 14 October 2023
By Classic Rock 14 October 2023
By Paul Brannigan 13 October 2023
By Jerry Ewing 13 October 2023
By Eleanor Goodman 13 October 2023
By Sian Llewellyn 13 October 2023
By Fraser Lewry 13 October 2023
By Paul Brannigan 12 October 2023
All GHOST's 'Imperatour' Nameless Ghouls Identified, Unmasked Photo Available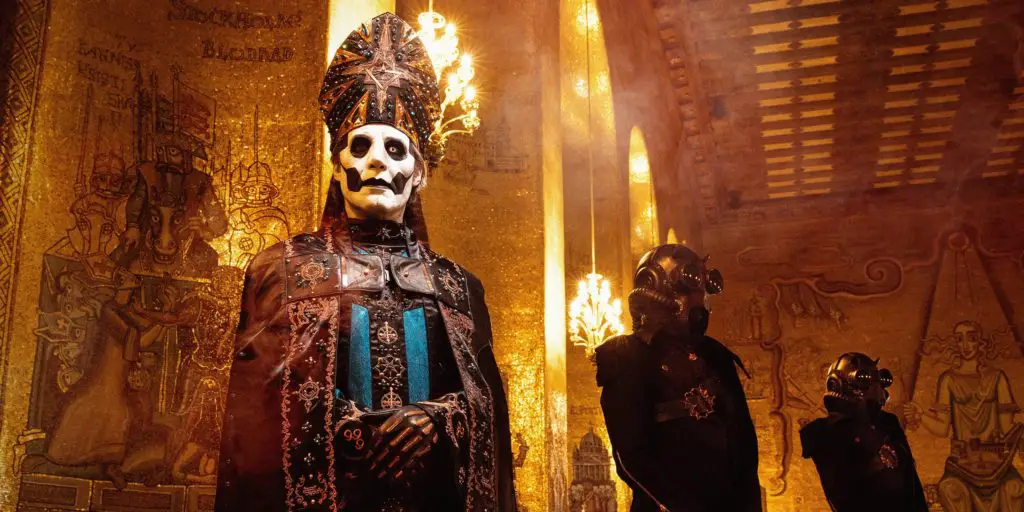 GHOST 's tour photographer has shared an "unmasked" picture of all of the band's Nameless Ghouls and their female keyboardists, The Ghoulettes.
Following the final arena date of  GHOST 's European  "Imperatour"  Wednesday night (May 18) at Papp László Sportaréna in Budapest, Hungary,  Ryan Chang , the Singaporean photographer who has been traveling with the  Tobias Forge -fronted outfit, uploaded a stage picture of the entire unmasked  GHOST  crew with support acts  TWIN TEMPLE  and  UNCLE ACID AND THE DEADBEATS .
He wrote in a post: "Tour done. I love these people."
  Greek Ghost Fans Facebook  page revealed all their identities, which are as follows:
–  Chris Catalyst  (a.k.a. Aether) –  Per Eriksson  (a.k.a. Fire) –  Cos Sylvan  (a.k.a. Rain) –  Hayden Scott  (a.k.a. Mountain) –  Jutty Taylor  (a.k.a. Swiss/Multi) –  Laura Scarbourough  (a.k.a. Cirrus/ Tall) –  Mad Gallica  (a.k.a. Cumulus / Curvy) –  Sophie Amelkin  (a.k.a. Sunshine)
Catalyst also shared the same photo on Twitter and wrote: "Amaaaazing tour with our wonderful  GHOST  family. I suppose that's that particular cat out of the bag. So great to be doing this again. Playing this fantastic music with these brilliant people makes me run out of superlatives."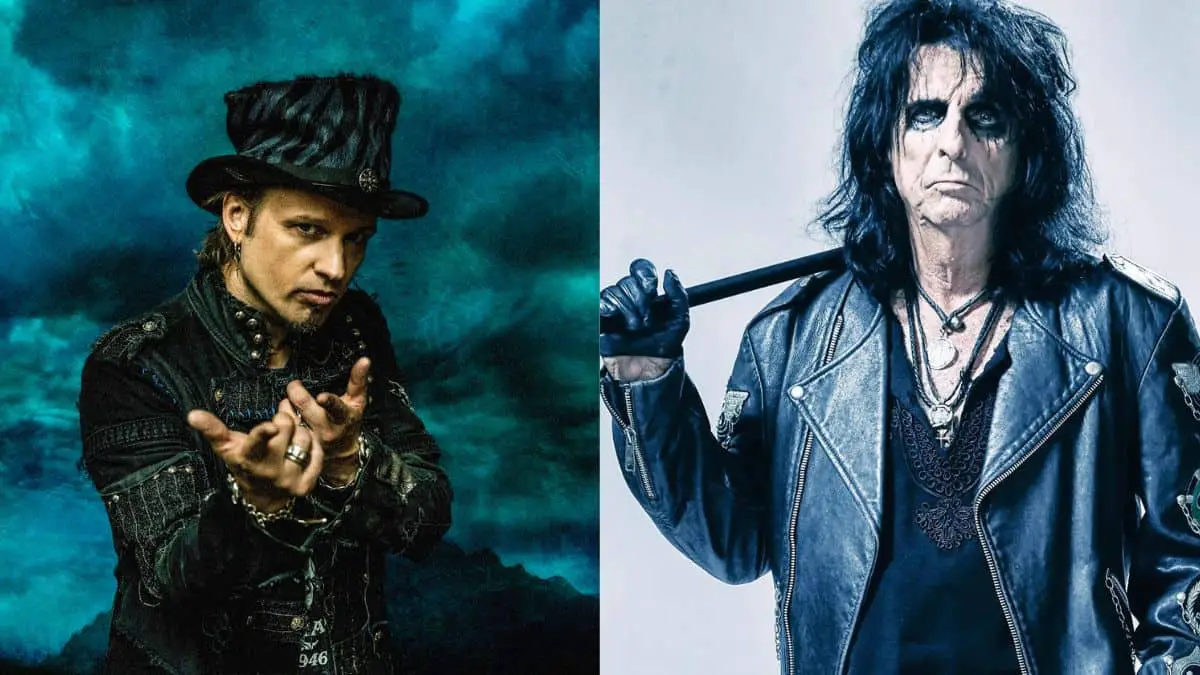 TOBIAS SAMMET Expresses Disappointment Over ALICE COOPER's 'Cancellation' Following Controversial Remarks On Gender-Affirming Care
Hotel Room Of WE CAME AS ROMANS's Guitarist Robbed, Thief Falls From Fifth Floor In Escape Attempt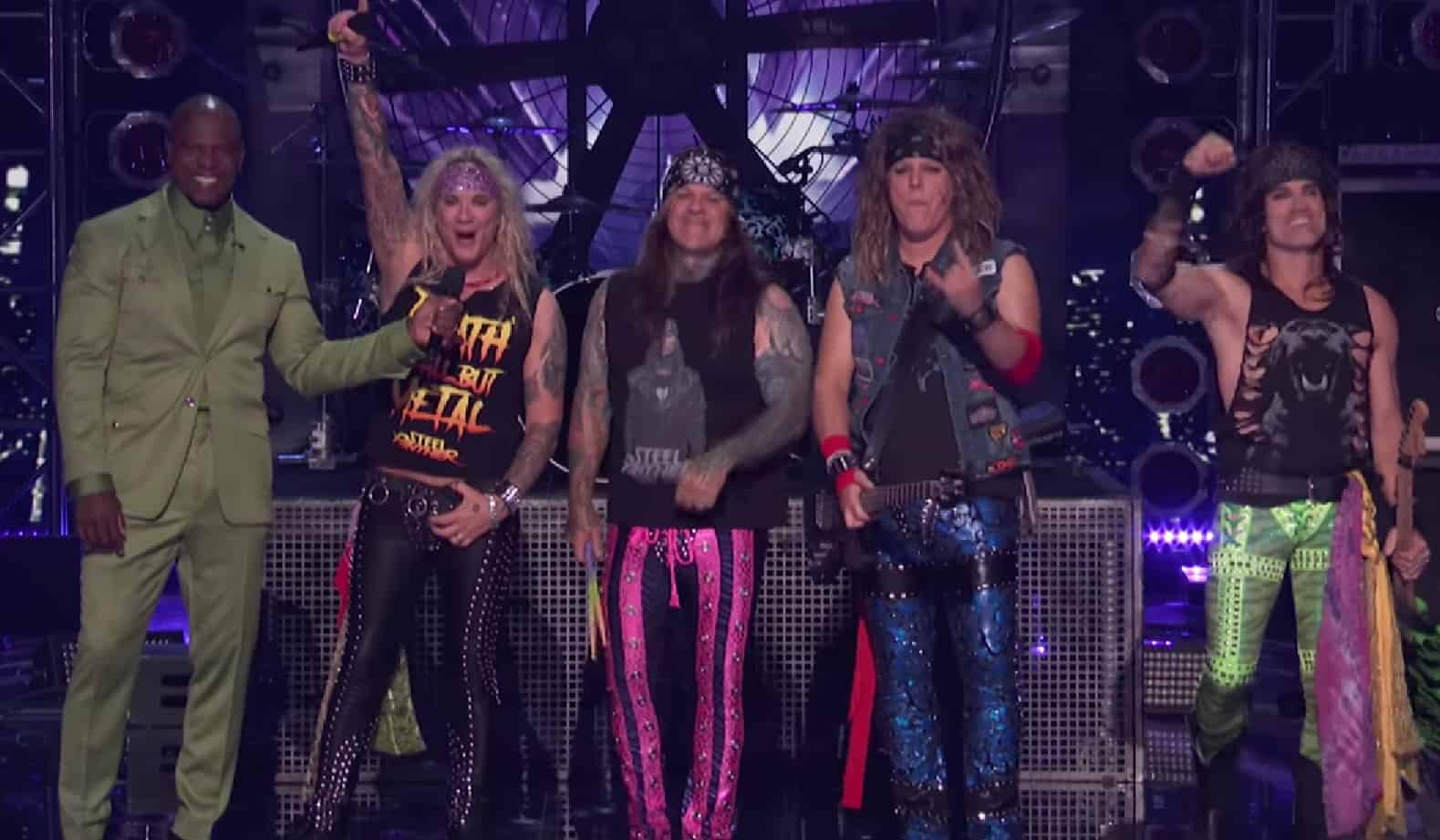 STEEL PANTHER Got Eliminated From 'America's Got Talent'
The identities of Ghost's current band of Nameless Ghouls have been revealed
An end-of-tour photograph let slip who has been assuming guitar and bass duties on the band's recent Imperatour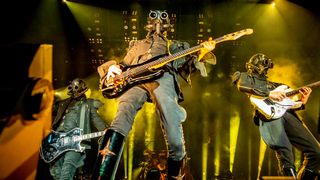 The identities of Ghost's current troupe of Nameless Ghouls have been revealed in a new photo commemorating the wrapping up of the band's recent European tour.
The photo – shared by guitarist Chris Catalyst, known for his work with Ugly Kid Joe and The Sisters of Mercy – shows Ghost's entire current lineup and crew – as well as support acts Twin Temple and Uncle Acid & The Deadbeats – with frontman Tobias Forge in the back row.
Catalyst, who can be seen to Forge's direct right, writes: "Amazing tour with our wonderful Ghost family. I suppose that's that particular cat out of the bag. [It's] so great to be doing this again. Playing this fantastic music with these brilliant people makes me run out of superlatives."
Amaaaazing tour with our wonderful Ghost family. I suppose that's that particular cat out of the bag. So great to be doing this again. Playing this fantastic music with these brilliant people makes me run out of superlatives. X pic.twitter.com/wZR9criebA May 18, 2022
Naturally, the chance to see all of Ghost's Nameless Ghouls unmasked got fans digging.
One Facebook fan page – Greek Ghost Fans – named the remaining Ghouls as guitarist Per Eriksson (of Swedish heavy metal outfit Bloodbath), bassist Cos Sylvan (Rain), drummer Hayden Scott (Mountain), multi-instrumentalist Jutty Taylor (Swiss/Multi), keyboardists Laura Scarborough (Cirrus) and Mad Gallica (Cumulus), and multi-instrumentalist Sophie Amelkin (Sunshine).
Responding to Catalyst's post on Twitter, English guitarist Ginger Wildheart – with whom he has worked in the past – told him to "keep kicking arse's arse", to which he replied: "Home tomorrow if you guys need any more silly vocals, or bollocks, or stupidity."
Excellent job, well done. Keep kicking arse's arse. May 18, 2022
While Chris Catalyst and Per Eriksson have been handling Ghost's guitar duties live, six-string parts on the band's latest record Impera were tracked by Opeth's Fredrik Åkesson.
In a recent interview with Total Guitar , Åkesson spoke of the immense amounts of layering that went into the album's production.
"There are a lot of Brian May-style parts on this album, with four-piece harmonies dubbed three times each plus octaves," he said. "I'd never recorded so many layers of guitars... It was fun!"
Thank you for reading 5 articles this month**
Join now for unlimited access
US pricing $3.99 per month or $39.00 per year
UK pricing £2.99 per month or £29.00 per year
Europe pricing €3.49 per month or €34.00 per year
*Read 5 free articles per month without a subscription
Prices from £2.99/$3.99/€3.49
Get The Pick Newsletter
All the latest guitar news, interviews, lessons, reviews, deals and more, direct to your inbox!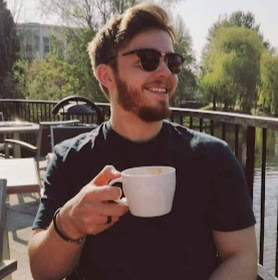 Sam was Staff Writer at GuitarWorld.com from 2019 to 2023, and also created content for Total Guitar, Guitarist and Guitar Player. He has well over 15 years of guitar playing under his belt, as well as a degree in Music Technology (Mixing and Mastering). He's a metalhead through and through, but has a thorough appreciation for all genres of music. In his spare time, Sam creates point-of-view guitar lesson videos on YouTube under the name Sightline Guitar .
"I don't think I will ever come close to the magic of the original, but I tried my best!": Marvel at Matteo Mancuso's unique technique as he absolutely nails Steve Vai's legendary Crossroads showcase Eugene's Trick Bag
This week's essential guitar tracks: Fresh eyebrow-singing solos from Judas Priest, and a former coma patient delivers jaw-dropping Dimebag-meets-EVH shred
"Stick to the pick!" Kirk Fletcher's blues masterclass
Most Popular
By Matt Parker 12 October 2023
By Matt Owen 12 October 2023
By Matt Owen 11 October 2023
By Matt Parker 11 October 2023
By Daryl Robertson 11 October 2023
By Jackson Maxwell 10 October 2023
By Matt McCracken 10 October 2023
By Daryl Robertson 10 October 2023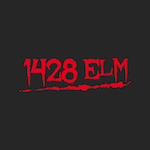 Nameless Ghouls from Ghost are unmasked! Is this for real?
Ghost has done it again in an instagram post we see what looks like some unmasked ghouls in kiss makeup. is this for real.
Ghost teases us with what could possibly be a fun Halloween prank on Instagram. Knowing the band's sense of humor, it could be a joke or it could be click bait.
Halloween is the time for hi-jinx and partying. However, It seems like we weren't the only ones celebrating. Celebrities love Halloween too but most of the time, they choose costumes that hide their identities.
However, there was one group this Halloween that did the opposite and it would seem their costumes MAY have given us more information on their identities than we've ever had. The members of the Swedish metal band Ghost showed off a little Halloween picture that could be unmasked Ghouls.
This is too awesome. Check it out.
Then again, it could be crew (most likely). No one really knows. Some people point out the walkies on the "KISS" members which indicate members of the road crew and some indicate the heights which could be the Ghouls.
Truth is, unless Tobias Forge , Cardinal Copia himself, tells us they were the Nameless Ghouls, we will never know for sure. Regardless, the picture is festive and adorable. All this is occurring during their recently started second round of a North American (and then European) touring with A Pale Tour Named Death .
Not only that, but Ghost was in Milwaukee for Halloween and dedicated the show to Jeffrey Allan Fortune, a Ghost fan who unfortunately passed away last June during the concert. A gofundme has been set up for Fortune's family.
Ghost's reaction to the tragedy and their love for their fans tells a lot about the band itself. Never have I seen a band care so much about their fans and that is why the Ghost family and fandom is so big.
We will be covering the Ghost live experience for A Pale Tour Named Death , so check back in a couple weeks to read on how this tour is different than Rats on the Road . If you're new to the band, check out our list of songs for new fans. If you're already a fan and looking for some new Ghost collectibles, check out this amazing artist that is merging Ghost and comic books.
Do you think the people in the picture are Ghouls or part of the road crew? Let us know in the comments!
Published on 11/02/2018 at 2:00 PM EDT
Last updated on 11/21/2019 at 3:10 PM EDT
1428 Elm 4 years Scream 5: David Arquette down for more if series keeps screaming
1428 Elm 4 years A Pale Tour Named Death begins as Ghost gets on the road again
1428 Elm 4 years Four spooky haunted house books to read this weekend
1428 Elm 4 years Tobias Forge of Ghost lawsuit verdict is being appealed
FanSided.com
Our 300+ FanSided Sites
Every Member Of Ghost Explained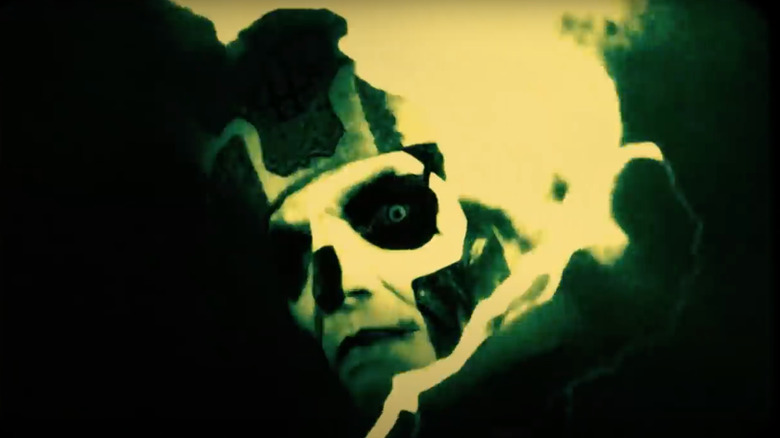 Ghost is not just a metal band — they are an entire phantasmagoria, haunted by the lore and rumors dreamed up by their lead singer and mastermind, Tobias Forge. 
Forge, who grew up in Linköping, Sweden, took on his brother's obsession with rock and amassed an enviable collection of metal magazines before he was 10 (via Los Angeles Times ). He got into the underground metal scene in his teens. He looks back at that time as having been deeply immersed in death metal and black metal, but those genres were hardly his only inspirations. As Total Guitar says, he was inspired by everything from Black Sabbath to Blue Oyster Cult and even ABBA (they are part of his Swedish heritage, after all).
Ghost started out with an inverse Pope who worshipped the devil and was often surrounded by his Nameless Ghouls. That Pope, Papa Emeritus I, was mysteriously killed off only to be replaced by his successor, Papa Emeritus II. The inevitable happened again: Forge (the only one behind those corpselike faces) buried the Papas for a while and performed as Cardinal Copia, who was eventually anointed as another Satanic Pope. But listen closely, because the lyrics are far from a musical black mass.
"The lyrics are not about God. They're about man," Forge told the Los Angeles Times. "We are, at the end of the day, an occult, pop, satanic sort of rock 'n' roll band meant to entertain a group of people who are already down with that stuff."
Papa Emeritus I (2010-2012)
Papa Emeritus I was the first demonic Pope character of Ghost who emerged with their premiere album "Opus Eponymous." It was the moment church went metal.
The skull-esque makeup, mitre, and robes adorned with upside-down crosses — which all the Papa iterations would wear in one form or another — were the brainchild of lead singer Tobias Forge. The Los Angeles Times observes that Forge had a different approach to occult metal as opposed to the expected chorus of screams and swears and explosive guitar riffs. He delivers the lyrics of a black sermon with a hypnotically melodic voice. Ghost first formed in 2006, and the release of "Opus Eponymous" in 2010 saw the emergence of the first of a line of anti-Popes blessing (or should it be damning?) the stage (via  Ghost Cult Magazine ).
The vestments of Papa Emeritus I are mostly black, crowned with a silver mitre and slashed with red panels glittering with the repeated Cross of Saint Peter. Watch Forge perform as Papa I singing "Death Knell"  at a 2011 concert, and it is clear he goes beyond just throwing on a costume to embodying the character — though the costume is a spectacle in itself. His hand motions appear to be leading a blasphemous mass as he walks solemnly across the stage.
Papa Emeritus II (2013-2015)
As "Opus Eponymous" gave way to the band's second album, "Infestissumam," Papa Emeritus I was overthrown by Papa Emeritus II. The successor to Emeritus I appeared with an even ghastlier face and more elaborate vestments that were almost completely black, with the only flashes of heavenly light coming from his silver mitre and ornamental inverted crosses. According to  Seattle Weekly , "Infestissumam" is an album devoted to the mythical birth of Satan. This disturbed some printers to the point that they actually refused to print the album art for the deluxe edition, which features — among other unholy things — a throwback to the 16th century in the form of a massive Renaissance orgy. It was because of this that the release ended up being delayed.
Forge was still anonymous at this point — as anonymous as the Nameless Ghouls who made up the rest of the band. In the middle of 2014, one of the Ghouls leaked the impending replacement of Papa Emeritus II to Louder  as the "Infestissumam" cycle came to a close and teased possible candidates for the Papacy. The Ghoul in question was referring only to the character and not Forge himself, but remember that Forge still cloaked himself in anonymity during this era. Deepening the mystery was the mention of the band considering candidates when the only ones to be considered were coming into being in Forge's imagination. Blabbermouth.net  gave away that Papa Emeritus II was last seen, appropriately enough, holding up a coffin lid on the cover of Sweden Rock Magazine.
Papa Emeritus III (2015-2017)
Papa Emeritus III is actually supposed to be the younger brother of Emeritus II, born only three months later — how that works out biologically remains a mystery (via  Louder ). This Papa's skull face is more abstract, and his papal robes are slashed with purple, a slightly less nightmarish departure from his predecessor. Metal Insider announced the transformation in 2015 when Ghost supposedly recruited Papa III for their latest album, "Meliora." When Forge still went unidentified, the band wanted fans to believe that each Papa was a new singer rather than a different persona their only lead singer conjured up.
Another Nameless Ghoul told Loudwire that the succession of Papas was not unlike different actors playing the same role. That same Ghoul went on to say that the imagery and music of Ghost are inextricably linked. The band had no visuals when they put out their first EP, but their ghoulish image soon followed. In another Loudwire interview, Forge himself admitted that he had a reason for killing off previous Papas. While they all succeeded, and he never had a favorite, he needed to keep his audience (and himself) engaged somehow. "If we just continued with Papa to Papa to Papa to Papa, that would grow very boring," he said.
The Papa characters vanished temporarily after Papa III's "death" (though they are briefly seen as corpses in the "Chapter Three: Back on the Road" video). In a move that almost seems sacrilegious, the next frontman of the band was a mere cardinal.
Papa Nihil (2017-2020 and 2022-present)
Also known as Papa Emeritus Zero, Papa Nihil is the most ancient Papa character, and he first appeared at a Gothenburg concert and announced, "The Middle Ages begin now."
Papa Nihil has the sunken face of a mummy and the gilded robes of an archangel. He always seems to be on his last breath, shambling onstage with a walking stick in one hand and an oxygen mask over his mouth, according to Kerrang . This Papa is a central character in Ghost's promo videos from his wheezing entrance in "Chapter One: New Blood," where he insists his bloodline goes back generations upon generations, to his remembered '60s youth in "Chapter Eight: Kiss the Go-Goat".
The videos unravel Nihil's backstory, revealing that he was once a rocker in '60s Los Angeles. As Kerrang also remembers, the band supposedly played their first gig — to promote their new EP "Seven Inches of Satanic Panic" (released by Galaxy Recordings) — at the Whiskey-A-Go-Go Bar right on the Sunset Strip. "Seven Inches" was Ghost's actual 2019 vinyl record, which his aging fingers revealed at the end of "Chapter Eight," as he claimed it was time to rerelease the EP that gave his band their big break in 1969. He appears on the cover as a psychedelic nightmare.
Inevitably, Papa Nihil went on to die like the others, but unlike them, he was eventually resurrected. Planet Radio named him as the band's official anointer and saxophonist.
Cardinal Copia (2018-2020)
The poster ghoul for the album "Prequelle" wasn't an undead Pope but a cardinal sans white face paint, though still rocking the look of blackened eye sockets. Cardinal Copia has no relation to the exalted bloodline of the Papas. This is something Papa Nihil keeps endlessly complaining about starting in "Chapter One: New Blood."
As Loudwire observed, the video "Chapter Seven: New World Redro" is an homage to Stephen King's "The Shining." Papa Nihil repeatedly types, "All work and no play makes Papa a bad dad," while Cardinal Copia navigates the clergy headquarters — already a shadowy mausoleum — on a tricycle and runs into the same sorts of terrors Danny Torrance encounters in the movie. Notably, there is a pair of twin girls who walk on either side of Papa Nihil in some of the videos. They channel those creepy twins that beckoned Danny to come play with them by having them materialize in front of the Cardinal and try to get him to join in a ghostly game of Red Rover before they suddenly vanish.
Forge started rumors that Cardinal Copia could survive for more than one tour, as he told Australia's "The Music" podcast (via Loudwire ) in 2019. "Right now, if everything goes according to plan, we're hoping for Cardi to be strong enough and cool enough to possibly do something that none of the previous ones have done, and that's basically to do two cycles," he explained.
Papa Emeritus IV (2020-present)
Turned out Cardinal Copia escaped the fate of death to be reanointed as Papa Emeritus IV. No wonder he inherited Cardinal Copia's eye makeup.
Though Tobias Forge previously said he wasn't going to create any more Papas, he morphed Cardinal Copia into one. The unholy anointing happened during a 2020 concert in Mexico City, which also marked Forge's 40th birthday (via Revolver ). The transformation is captured in Ghost's "Life Eternal" video, in which a clip of Cardinal Copia somberly walking down the hall of the Clergy's mausoleum headquarters gives way to legions of adoring fans with and without makeup and masks (and sometimes mitres). The video ends in an explosion of smoke and confetti that makes way for the newly mitred Papa.
Papa Emeritus IV is the flashiest Papa character yet, with jewel-encrusted vestments decked out in gold thread. He went from Cardinal to Pope to usher in the era of Ghost's latest album, "Impera", according to Distorted Sound Magazine . Kerrang announced an epic crossover when Iron Maiden made this Papa a character on their "Legacy of the Beast" mobile game. Forge himself is a Maiden fan — something he focused on in a 2018 interview with Loudwire  — and has even toured with them. "There's a lot of cross-pollination between Iron Maiden and Ghost nowadays," he told the outlet. "They have been extremely important for my whole reason wanting to be here and the reason why I've gotten to the place where I am now."
Omega (Martin Persner, 2010-2016)
Ever wonder who those spooky masked figures behind Papa (or Cardinal Copia, depending on the era) are? The Nameless Ghouls of Ghost had their identities set aside for more emphasis on the music and the mythos that Forge created for the Ghost universe. Ghouls have come and gone — but at least some have been revealed.
Guitarist Martin Persner was one iteration of the Nameless Ghoul known as Omega, according to Metal Injection . The former bandmate of Forge's — who played alongside him in Magna Carta Cartel pre-Ghost — was also the first Nameless Ghoul to reveal his human form. Initially, there was skepticism surrounding whether he was telling the truth since his face always remained hidden behind some sort of mask. But the rings he wears in the video announcing his parting ways with the band in 2017 are the same as those Omega wore up until then.
"I wrote some songs [for Ghost], but mostly it was [Tobias's] own songs, and I would come along, maybe, and say, 'Oh, it should be like...' and we would fight — as always," he told GoetiaMedia . Why Persner gave up Ghost may always be a mystery. He gave a cryptic response when asked the question, telling GoetiaMedia that he would rather not talk about it because it was too personal and only let on that "something horrible happened."  Loudwire found out that Persner resurrected Magna Carta Cartel and has been with them since his exit from Ghost.
Aether (Chris Catalyst)
Chris Catalyst is the face behind the Nameless Ghoul, otherwise known as Aether. The former Sisters of Mercy guitarist, who has also played with bands such as Terrorvision, Ugly Kid Joe, and Ginger Wildheart, recently unmasked himself on Twitter after Ghost's European Imperatour (via  Planet Radio ). "Amazing tour with our wonderful Ghost family," he tweeted. "I supposed that's that particular cat out of the bag."
The entire band is unmasked in the group photo he tweeted (along with the members of supporting acts Twin Temple and Uncle Acid and the Deadbeats). If you really zoom in, you can see him flashing a peace sign over Tobias Forge's right shoulder. The face to the left of Forge is thought to be guitarist Per Eriksson, formerly of Katatonia and Bloodbath, whose Ghoul alias would be Fire if he really is one of these creatures. There has been no confession from him yet.
Some ex-Ghouls left the band with a lawsuit, as Blabbermouth reveals. In 2017, four of them sued Forge after being fired because they believed he was breaking a partnership agreement by withholding their share of the profits. It was this lawsuit that gave away Forge's identity after years of going incognito behind heavy stage makeup. Some of the Ghouls in question — Air and Water — eventually formed the cyberpunk band Priest.
When the Colorado Springs Independent (via Blabbermouth ) asked Forge whether he could have dodged that lawsuit by making the Ghouls' identities known, he said he believed so.
The Ghoulettes (2018-present)
The Nameless Ghouls were all male until 2016, when two Ghoulettes were introduced to the band. As MetalSucks remembers, the identity of the first Ghoulette slipped when a finger tattoo identified her as bassist Megan Thomas of all-female Led Zeppelin tribute band Lez Zeppelin, who had also been missing from concerts for no apparent reason. How long she stayed on with Ghost is unknown. As of 2018, the PRP noted that another Ghoulette had joined the lineup because of a telltale mask style.
The Ghouls started out as faceless and genderless beings in hooded black robes. When Papa Emeritus I swapped out his black vestments for ghastly white, the Ghouls did the same, with masks that covered their entire faces except for two eerie eye holes (via Planet Radio ). With the rise of Papa Emeritus II, they were back in black, with black leather masks covering all but their eyes. The Ghouls backing Papa Emeritus III wore mouthless horned demon face masks. It was the shinier versions of these chrome masks that appeared in 2018, which had female versions that featured longer molded "hair."
Ghoulettes now touring with Ghost are thought to be Cirrus and Sunshine — aka Laura Scarbourough of Diamond Kobra — and musical theatre performer Sophie Amelkin  (per  Planet Radio ). Their suspected identities haven't been officially confirmed or denied. Forge's inspiration for the current post-apocalyptic Ghoul masks were the (once again genderless) Tusken Raiders of "Star Wars," as he told Revolver . He was into the dead look.
Sister Imperator (2016-present)
Supposed nun Sister Imperator is the forbidden lover of Papa Nihil in Ghost lore — whatever vows these members of the clergy took evidently did not involve chastity. Sister is the only main character who does not play with the band. Her main role is to build mystery and anticipation in Ghost's music videos and series of promo videos, and according to Revolver , Forge uses her to do just that and still leave fans wondering at the end. She is first seen in "Chapter One: New Blood,"  when she announces to a curmudgeonly Papa Nihil that fresh blood is needed in the Clergy, and that fresh blood later turns out to be Cardinal Copia. Whether he actually belongs there is something they continue arguing about.
Nihil and Sister argue even through her lengthy stay in the hospital after nearly being crushed in a car accident in "Chapter Four: The Accident,"  in which the hearse she drives is sidetracked and goes up in flames. In "Chapter Five: The Call,"  a completely bandaged Sister makes her best attempt to dial him on a rotary phone, and they proceed to review the "Omen" movies. Alternative Press noticed that Sister was flaunting a stunningly new look after the bandages were removed.
The sexual tension between Nihil and Sister is obvious in the videos they appear in, coming to a climax in a Valentine's Day video clip . ( Metal Hammer  confirms suspicions that they are recreating the infamous "horny pottery" scene from the movie "Ghost.")
The Clergy (2010-present)
Shrouded in mystery, the Clergy are supposed to be the larger (fictional) cult from which Ghost spawned. They are never seen, but always heard on social media. Metal Hammer  describes them as beyond powerful but never actually appearing anywhere. While the Papas, Sister, and Cardinal Copia are regarded as clergy since they are supposed to be nuns and priests, they are still not the Clergy, who are supposedly some higher power. The Clergy surrounded Cardinal Copia when he was reanointed to become Papa Emeritus IV. They can also decide when it is time to kill off the latest Papa — or potentially morph him into something else.
The Clergy members are most visible through their announcements. Ghost's social media posts and YouTube videos often open with "[MESSAGE FROM THE CLERGY]" — and of course, an omnipotent power like them would use all caps to get the importance of the message across. This is always followed by "we wish to inform you" before the announcement is made (via  Twitter ). But who are they? What we do know is that Sister Imperator is the head, according to Revolver . So she is both clergy and Clergy.
Even after all the reveals, Ghost continues to be shrouded in mystery, and there are some things that may never crawl out of the inner sanctum.
Maiden Tour Dates
Best 21st Century Albums
Disturbed/FIR Tour
Loudwire Nights
Ghost: Four Former Nameless Ghouls Reveal Identities, Ex-Guitarist Speaks Out on Papa Emeritus Lawsuit
Wow! The dam has just burst on four former Ghost members' lawsuit against frontman Tobias Forge (Papa Emeritus). All four members of the Swedish band have been identified, thanks to a Facebook post from former guitarist Simon Söderberg.
A few days ago, it was revealed that four former Nameless Ghouls had filed suit against Forge for unpaid compensation totaling $22,000. According to Söderberg, the four ghouls are:
Simon Söderberg (guitars, "Alpha," member since 2010) Mauro Rubino (keyboards, "Air," member since 2011) Henrik Palm (guitar, "Ether," member since 2015) Martin Hjertstedt (drums, "Earth," member since 2014)
This makes a total of five Nameless Ghouls who have been identified. Former guitarist Martin Persner was the first to come out publicly , claiming he had left the band in July 2016 and now plans to focus on his band Magna Carta Cartel.
Söderberg's Facebook statement on Ghost isn't available to the public, but someone who is Facebook friends with the guitarist managed to capture the text via screenshot [ via MetalSucks ]:
The Ghost camp has yet to comment publicly on the litigation being brought upon Tobias Forge. Stay tuned as this story continues to develop.
Where Do Ghost Rank Among the Top 50 Metal Bands to Release Their First Album in the 21st Century?
Ghost - Wikipedia: Fact or Fiction?
Entertainment App Guide
Ghost's Nameless Ghouls Have Been Identified, See Unmasked Photo
Ghost just completed a European leg of their ongoing tour in support of their new album, Imperator and the lineup of nameless ghouls and their real identities have been revealed.
The band now employs a total of eight backing musicians, which puts them in league with the mighty Slipknot for biggest rock/metal bands with nine masked members. As much as leader Tobias Forge has worked to keep the identities of the various Nameless Ghouls over the years, details gradually leak over time.
Rumors have been floating around regarding which musicians are currently in the live lineup and, with the completion of the latest tour leg and before another North American run starts up this August (with Mastodon and Spiritbox ), it was time to reveal Ghost's supporting cast.
A photo of all the bands (including Uncle Acid and the Deadbeats as well as Twin Temple) and the road crew was shared on social media and many of the Nameless Ghouls indulged in the opportunity to reveal what they've each been up to these last few months.
Some of the Nameless Ghouls are quite recognizable names and their experience also includes time spent in Bloodbath , Katatonia , AWOLNATION , The Sisters of Mercy and more.
After poking around the depths of the internet, here is what we've been able to piece together about each Nameless Ghoul. View all the details below and, if you want to know who the six outside writers were on Imperator , head here .
Ghost, Nameless Ghoul Lineup — Real Identities
Chris Catalyst (Aether)
Instrument: guitar
Associated Acts: The Sisters of Mercy (guitar, 2005-2019), Eureka Machines (vocals, guitar, 2007-present)
Per Eriksson (Fire)
Instrument: lead guitar
Associated Acts: Bloodbath (guitar, 2008-2017), Katatonia (guitar, 2010-2014)
Cosmo Sylvan (Rain)
Instrument: bass
Associated Acts: Cos Sylvan (solo)
Hayden Scott (Mountain)
Instrument: drums
Associated Acts: Paramore, AWOLNATION
Justin "Jutty" Taylor (Swiss/Multi)
Instrument: backing vocals
Associated Acts: Jutty Taylor (solo), Jutty Ranx
Laura Scarbourough (Cirrus/ Tall)
Instrument: keyboard, keytar
Associated Acts: Laura Scarbourough (solo)
Mad Gallica (Cumulus / Curvy)
Instrument: keyboard, tambourine
Associated Acts: Mad Gallica
Sophie Amelkin (Sunshine)
Associated Acts: Skål Chamber Collective, musical theater performer
15 Rock Songs That Are Actually Really Creepy
A rock song that's unambiguously creepy can certainly be unsettling. But what about the kind of tune that sneaks up on you with its creepiness? It might have a sunny melody or what seems like a simple lovelorn lyric. Yet, beneath the surface, something more deceivingly dastardly lurks. Here are just a few examples of rock songs that are actually really creepy.
Rate this content?
Average rating 0 / 5. JouleGage 0
Welcome to AppFlicks! Behind AppFlicker#1, is AppFlicks tiny Admin Team. We thank you for visiting AppFlicks and hope you are enjoying the content and engagement tools we have created. We are continually working to improve the experience and truly appreciate your support.
'We Will Never Do GHOST Officially Without Masks,' Says Nameless Ghoul
On of the Nameless Ghouls from Swedish occult rockers GHOST was recently interviewed on the U.K. digital radio station Planet Rock . You can now listen to the chat in the YouTube clip below. A couple of excerpts from the chat follow (transcribed by BLABBERMOUTH.NET ).
On how the idea for GHOST 's image came about:
Nameless Ghoul : "The idea was… I mean, obviously, now we've become a commercial entity, but in the early beginnings, it was actually very aesthetic… for aesthetic reasons. Especially [during] the build-up that led up to the first album, the idea was to possibly record one album and become a band that would maybe do a few festivals every year, go down to Roadburn [festival in the Netherlands] and do a 'Holy Mass' and then disappear."
On how they managed to keep their identities a secret in the early days when they were playing very small venues:
Nameless Ghoul : "We became very, very obnoxious prima donnas and demanded our own dressing rooms. We've blown it so many times. It's so hard, especially in the early days when we came to festivals. There was always someone who just accidentally opened up our door and [went], 'Oh, shit. I'm not supposed to see this, right?' Part of the intention with the band of being nameless or faceless or these just beings on stage was… My first time being in London was with my mom, coming here when I was 13, and two things that we did that really, really made a big impression was me was seeing [the musicals] 'The Phantom Of The Opera' and 'Cats' . And as a 13-year-old, going to 'Cats' is very interesting because of the cats. And it was a bit with that background, I had the idea that… I wanted, as an attendee at a GHOST show, you would have a similar feeling of not knowing, and that would, in turn, be a turn-on, I guess."
On the periodic changing/renaming of GHOST 's frontman, Papa Emeritus , and accompanying costume adjustments:
Nameless Ghoul : "The thinking was, since we knew already very early that having this imagery, with the possibility of us making more records, is gonna seriously paint us into a corner. So we figured that, in order for this to feel like it's changing, we need to really come up with eras and themes in order to make it interesting. I mean, obviously, yeah, it's premeditated, it's thought through, it's sort of strategic. Obviously, there isn't a day when we are not wishing, for the sake of practicality, that we were just a normal band, in a way, because it's so much easier just to let your face do the aging. But the attention span of the world right now is so short, so… We also knew that one thing that will probably aid people to understand and cling on to what we do is to quickly create nostalgia by having eras. I mean, it's proved to be working, because people are very much clinging on to… 'Ah, I like the first more.' 'I like the second more.' And as crowds got more vivid and bigger, we felt that it might be well worth the risk in having a third Papa who's actually wearing pants, who's able to… I don't know… go down into the crowd. Because, as much as the sort of papal Papa looks cool, it's very impractical. We're surprised that he hasn't killed himself over the years."
On whether GHOST will ever pull a KISS and one day remove their masks:
Nameless Ghoul : "We have been completely accepting the idea of being revealed ever since we got our first record out, because we thought that it's just a matter of two shows and then someone will [be], like, 'Here they are. There you go.' And now, five [or] six years later, it's still sort of uncertain, which is to our surprise. And we want to differentiate between being masked and anonymous, and this is because of several reasons. Becase we don't feel very anonymous, because usually, after a show, there's always people outside our bus and we always sign things and we always hang out and all that. We don't take pictures, but we don't cut people off or shy away from meeting people face to face. But we will never do GHOST officially without masks. For the same reason I don't wanna see 'The Phantom Of The Opera' with their normal street clothes; that wouldn't make sense. We don't promise to have side projects where we will be anonymous and masked, and if that is a problem, tough shit."
Comments Disclaimer And Information
BLABBERMOUTH.NET uses the Facebook Comments plugin to let people comment on content on the site using their Facebook account. The comments reside on Facebook servers and are not stored on BLABBERMOUTH.NET. To comment on a BLABBERMOUTH.NET story or review, you must be logged in to an active personal account on Facebook. Once you're logged in, you will be able to comment. User comments or postings do not reflect the viewpoint of BLABBERMOUTH.NET and BLABBERMOUTH.NET does not endorse, or guarantee the accuracy of, any user comment. To report spam or any abusive, obscene, defamatory, racist, homophobic or threatening comments, or anything that may violate any applicable laws, use the "Report to Facebook" and "Mark as spam" links that appear next to the comments themselves. To do so, click the downward arrow on the top-right corner of the Facebook comment (the arrow is invisible until you roll over it) and select the appropriate action. You can also send an e-mail to blabbermouthinbox(@)gmail.com with pertinent details. BLABBERMOUTH.NET reserves the right to "hide" comments that may be considered offensive, illegal or inappropriate and to "ban" users that violate the site's Terms Of Service. Hidden comments will still appear to the user and to the user's Facebook friends. If a new comment is published from a "banned" user or contains a blacklisted word, this comment will automatically have limited visibility (the "banned" user's comments will only be visible to the user and the user's Facebook friends).
Nameless Ghoul (Cirrus)
Cirrus is the fan-given moniker for one of the Nameless Ghoulettes of Ghost , who of which is portrayed by Laura Scarborough.
1 Introduction
2 Personality
3 History & Appearance - ERA IV
4 History & Appearance - ERA V
Introduction [ ]
During the later legs of the 2022 IMPERATOUR era, Cirrus' balaclava was pulled up to cover her mouth at times. The reason being is due to her face paint wearing off due to the warm temperatures of certain locations that were visited in the following tours: IMPERATOUR - North America 2022, RE-IMPERATOUR Europe & U.S.A. 2023. During the RE-IMPERATOUR cycle, she has been seen wearing a backup mask that consists of no patches and long, slim horns; this is only due to the fact that her original mask is getting deep-cleaned due to the same reasoning as to why she has her balaclava pulled up during her solo. Her mask has a patch next to her right lens mesh.
She is formerly known to hand out roses that were made out of Mummy Dust bills during the Prequelle era (Rats! On The Road - A Final Gig Named Death), but hasn't done so ever since.
Personality [ ]
Cirrus is one of the more affectionate ghouls of the lineup and is often seen interacting with other ghouls during and after live shows. She often interacts with the crowd from her riser and often portrays a high-energy personality by jumping and/or dancing.
History & Appearance - ERA IV [ ]
Cirrus' first show with Ghost was on May 4th, 2018 @ The Roxy Theatre in West Hollywood, California, she was - and as of writing: still is - one of the - at the time - two female ghoulettes, often referred as Ghulehs or Lionesses by Cardinal Copia for when they got their introduction during the live performance of If You Have Ghosts . Cirrus contributed to the band by being the equivalent of the former Air Ghoul by playing a total of four keyboards, one keyboard rack that was on the right side of "the cage" - an extension of the Prequelle era set where both lionesses were stationed - and the middle keyboard rack that was shared with Cumulus , Cirrus also provided percussion by playing tambourine and shaker - sometimes even double shakers - for certain songs, and she also provided backing vocals for some songs, although she was and still isn't as audible as she is the bass to the harmonies, unlike Cumulus who is the lead backing vocalist and is allowed to go a higher range. Cirrus was also - of course - notable for playing the keytar solo for the live performance of Mummy Dust, where she would station exactly in the middle on top of the steps to perform said solo. She was known to do a lot of gestures, most notably do the gesture of Baphomet , the infamous pose where she would cross her arms and have her hands doing the devil horns, and of course the heart hands. She also wore an identical mask to Cumulus; a silver devil mask that looked the same as the ghouls' , but with a feminine touch to it: longer hair, and slightly different eye cuts, more pushed out facial area, and a slimmer nose. Her dress shirt sleeves were usually rolled up to show her forearms and she's double-jointed and sometimes when she'd wave into the crowd, that would show. She also wore two golden rings on her left hand.
Cirrus also provided a lot of keyboard solos during certain live versions of songs. most notably on Dance Macabre , Square Hammer , Helvetesfönster , Miasma , and Cirice and usually she would act out to be sassy whenever she would play a solo that belonged to her. For the 2018 cycle, Cirrus played on the following keyboards: Nord Electro 6, Sequential Prophet 6, Little Phatty Stage II, and the Mellotron M400D, and she played a Roland AX-Synth keytar. Though, for the 2019 cycle, the keyboards changed to the following: Roland Juno DS-88, Roland A-500PRO (2 sets), and a Roland A-800PRO, and she played a Roland AX-Edge keytar, these equipment were used from 2019's European leg of A Pale Tour Named Death until 2022's North American leg of the IMPERATOUR .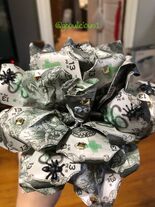 Cirrus was also interactive with the fans despite how far she usually was from them, but she also was very interactive with the rest of the band as well, most notably with her other ghuleh, Cumulus, Rain , Sodo , and Aether , especially whenever she would have a duo solo with any of them. Like mentioned before, she was also well-known for giving out flowers that were made out of Mummy Dust bills after shows to the crowd, and she also used to hold hands with Cumulus and walk around the stage giving out said flowers or handing out spare guitar/or bass picks from backstage. If the stage was set up correctly, Cirrus would not throw the picks into the crowd like the other ghouls would, she would instead get on her knees at the end of the thrust and politely hand out picks to fans in their hands.
History & Appearance - ERA V [ ]
Cirrus does everything the same she did in the previous era, although she is no longer contained in "the cage" and instead remains on her own platform that's positioned on the right side (crowd's left) of Mountain's platform, although, she still does play four keyboards as mentioned before, but as of RE-IMPERATOUR Europe 2023 the equipment has been changed out - at least, keyboard wise. The keytar still remains the same, however.
Cirrus now does more backing vocals than the previous era, however, she still doesn't sing every song. Cirrus will often shift her microphone stand from left to right depending on which side she's playing majority of the on-going song on. While she doesn't do backing vocals for every song, she does for some songs such as the live performances of Year Zero , Faith , Spillways , and Call Me Little Sunshine . It is often to hear her sing due to her being the bass for backing vocals and is often mistaken for Aurora .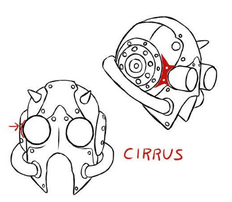 Cirrus typically wears her cape, although, she will take it off sometimes due to personal preference. She never wears her jacket that the rest of the ghouls - with the exception of Aurora , Cumulus , Mountain - wear. She has rolled up sleeves for her undershirt, she is double-jointed, and she's super energetic as mentioned before. As of August 2023: her mask may vary, but typically she will have a patch that is similar to Sodo's on her right lens, near the mesh. It is a pointy patch on both ends. She will typically have her mask straps tightened, causing the mouth cut to be squeezed in-ward a bit, and she's also slim and tall. Her backup mask is a mask with long, slim black horns and no patches to identify her, this is a backup mask and it is not permanent. Just like in Era IV , she wears two rings on her left hand and as of the U.S.A. leg of the RE-IMPERATOUR she's been known to make paper airplanes of spare setlists during the curtain call and throw them into crowds.
Her gestures still remain relatively the same from Era IV , but they always vary. She no longer hands out flowers made out of Mummy Dust, and she only hands out picks to the crowd like the other ghouls would, and during Mummy Dust she is known to be a lot more active and does her solo on the end of the thrust due to her keytar being wirelessly connected now unlike in Era IV where it was wired.
She is portrayed by Laura Scarborough
Cirrus' first show was on May 4th, 2018 @ The Roxy
Cirrus plays the following keys: Roland Juno DS-88 & two Novation LaunchKey MK3 49's & one 61
Cirrus plays a white Roland AX-Edge Keytar
Cirrus uses the following sustainer pedal for keys: Roland DS-10 Sustainer Pedals
Fans also call her by the following nicknames of: "Cloud" or "Tall"
Fans gave her the name of "Cirrus" due to the name being a cloud type resembling her height in terms of altitude: Cirrus clouds are short, detached, hair-like clouds found at high altitudes
Gallery [ ]
1 Nameless Ghouls
2 Papa Emeritus IV
Ghost reveal new look is inspired by Star Wars
Nameless Ghouls on current tour look familiar to sci-fi fans
Ghost leader Tobias Forge has revealed that the 'Star Wars' movie franchise has influenced the new costumes worn by the band's Nameless Ghouls.
Always masked, the ghouls perform with Ghost as the backing band for Forge's character, Papa Emeritus IV. Like the mainman himself, their look constantly evolves . Its latest incarnation has drawn comparison with both the Tusken Raiders (sand people) and the TIE Fighter pilots, both familiar to fans of the original 'Star Wars' film trilogy.
"As a 'Star Wars' fan, I've always been into the Tusken Raiders and their sort of lifeless look, so that was part of it," Forge told 'Revolver' magazine. "I wanted a sort of militant look, but any time you have people in uniform and in plural, you end up with a slight military vibe. I wanted to progress that from cult members to more like an army. So you have a little bit of '30s European there, and also old pilot helmets."
Reflecting on this year's dystopian-themed 'Impera' album , the singer also compared the 2020s to the 1920s. "Several things seem cyclical, almost to the year, in terms of a hundred years ago because of the Spanish flu and — we're obviously not there yet, but there are world war vibes," he said. One of Ghost's first singles from their new album was the eclectic 'Twenties' , featuring reggaeton beats paired with thunderous metal riffs.
Ghost have recently completed a rapturously-received set of UK dates and are currently on tour in Europe.
Listen to Planet Rock on DAB nationwide, on our free app, online, via your smart speaker ("Play Planet Rock") and on Freesat, Sky, and Virgin Media TV.
Gallery: The evolution of Ghost's guises throughout the years
Ghost's papa emeritus i.
Tobias Forge's Papa Emeritus, later known as Papa Emeritus I, was the Ghost frontman from 2008 to 2012 during the cycle for the band's debut album 'Opus Eponymous.' Pictured is Papa Emeritus backstage at Download Festival 2011. This is the first of two Papa Emeritus looks and features a red and black chasuble with upside-down crosses and a mitre with the black crucifix.
Papa Emeritus I – aka Tobias Forge – in his imperious live glory at Download Festival 2011. Ghost performed on the third stage (then known as the Pepsi Max Stage) on the Saturday.
A Ghost Nameless Ghoul
A blank-faced Nameless Ghoul dressed in black robes in 2011 during Ghost's European tour.
Towards the end of the 'Opus Eponymous' touring cycle in 2012, Papa Emeritus was tweaked significantly. Tobias Forge now wore white robes and mitre featuring an upside-down gold crucifix.
In keeping with their leader's image change, the Nameless Ghouls also wore all-white costumes with new Bauta masks.
Ghost's Papa Emeritus I and his Nameless Ghouls
Ghost leader Papa Emeritus I and his Nameless Ghouls band mates flaunt their new all-white guise in 2012.
Ghost's Papa Emeritus II
In late 2012, Ghost welcomed their second frontman Papa Emeritus II. Featuring more realistic skull face paint than his predecessor, Tobias Forge's second Papa wore black and green robes on stage with a silver and white mitre.
In keeping with the all-new Papa Emeritus II, the Nameless Ghouls also wore all black with Bauta masks.
A close-up at Papa Emeritus II's proper horrorshow face at Lollapalooza 2013.
Papa Emeritus II at Rock in Rio Festival, September 2013.
Ghost's Papa Emeritus II 'unmasked'
The identity of Papa Emeritus II himself Tobias Forge was still shrouded in mystery in 2014. However, for a 'Papaganda' interview with Vice magazine that year, Forge hilariously 'unmasked' himself as a bald Telly Savalas-like businessman with shades and a moustache. For some unbeknownst reason he also spoke in Italian. Comedy gold.
Ghost's Papa Emeritus III
Coinciding with Ghost's third studio album 'Meliora', in 2015 Tobias Forge unveiled his third Papa to the world - Papa Emeritus III.
Tobias Forge tweaked his make-up for Ghost's Papa Emeritus III. His papal gown was pure black with a white mitre featuring a gold inverted cross.
Ghost's Nameless Ghouls wore chilling silver devil masks for the 'Meliora' era.
A close-up of one of Ghost's Nameless Ghouls in 2015.
In early 2016, Tobias Forge introduced a second more stripped back version of Papa Emeritus III. Appearing at certain events and performances, the look featured a different outfit, white gloves and no mitre. Only the trademark make-up remained the same.
Ghost's Papa Nihil
On 30th September 2017, Ghost leader Papa Emeritus III was killed off on stage at Gothenburg venue Liseberg and his apparent elderly replacement Papa Zero (later known as Papa Nihil) shuffled on stage with a walking stick and breathing equipment. Ultimately, however, Papa Nihil wasn't the band's new frontman - he was actually the band's anointer (and a killer saxophonist to boot). However, in 2019, a young version of Papa Nihil appeared as Ghost's frontman in the 'Kiss the Go-Goat' music video, which was set in the 1960s.
Ghost's Sister Imperator
Sister Imperator is the head of the satanic clergy of Ghost and is the former lover of Papa Nihil. She was first introduced in the Meliora cycle and the 'older' version of Sister Imperator has been played by two actresses.
Ghost's Cardinal Copia
In April 2018, Papa Nihil anointed Cardinal Copia as Ghost's new frontman to mark the 'Prequelle' era of the band. Unlike his three predecessors, Cardinal Copia wasn't part of the Papa Emeritus lineage.
Wearing a latex mask, a variety of sharp suits and gloves, Tobias Forge was a lot more agile on stage as Cardinal Copia.
Ghost's Cardinal Copia and his Nameless Ghouls
A publicity shot of Ghost leader Cardinal Copia and his Nameless Ghouls in 2018.
Ghost's Tobias Forge unmasked
A rare photo of an Tobias Forge without his mask at the 2019 Grammy Awards in Los Angeles.
A Nameless Ghoul in a black devil mask on stage in 2019.
A young version of Sister Imperator in Ghost's retro 'Kiss the Go-Goat' music video in 2019. She's played by actress Liz Fenning.
Ghost's Papa Emeritus IV
On March 3rd 2020, at the last show of the Pale Tour Named Death, Cardinal Copia was anointed as Papa Emeritus IV. Note the subtle change to his face makeup. Pictured is Papa Emeritus IV in a publicity shot for Ghost's 'Impera' album in 2022.
Ghost's Nameless Ghouls
The 2022 incarnation of the Nameless Ghouls sees them don Star Wars-esque steampunk helmets and military uniforms.
Tobias Forge's 'stripped back' version of Papa Emeritus IV on stage in North America in February 2022.
Ghost guitarist Chris Catalyst
Following the final arena date of Ghost's European Imperatour in Hungary on 18th May, English guitarist Chris Catalyst shared a group photo backstage of the entire Ghost crew including himself standing next to Tobias Forge. Outing himself as a Nameless Ghoul, he wrote: "Amaaaazing tour with our wonderful Ghost family," Catalyst wrote. "I suppose that's that particular cat out of the bag. So great to be doing this again. Playing this fantastic music with these brilliant people makes me run out of superlatives. X"
Ghost guitarist Chris Catalyst masked.