Ghost Devil
The Ghost Devil ( 幽 ( ゆう ) 霊 ( れい ) の 悪 ( あく ) 魔 ( ま ) , Yūrei no Akuma ? ) is a devil that embodies the fear of ghosts.
1 Appearance
2 Personality
3.1 History
3.2 Eternity Devil arc
3.3 Katana Man arc
4.1 Physical Abilities
4.2 Devil Powers
4.3 Weaknesses
6 References
7 Site Navigation
Appearance [ ]
The Ghost Devil is a large devil with a somewhat cylindrical body; its torso is covered in white flowers with either yellow or pink centers and has several arms instead of legs. In the colored manga it seems to have skin (arms and legs) of a grey hue but change in tint depending on the scene. It's head appears old and desiccated, with long dark wavy or curly hair and sunken cheeks. The Ghost Devil's eyes and mouth are sewn shut. [1] In the anime, the flowers are pink on the outside and blue on the inside.
Personality [ ]
The Ghost Devil's personality is largely unknown except that it initially refused to fight against Katana Man because it considered Akane Sawatari to be scary, but after Himeno offered up her entire body as payment to the Ghost Devil, it quickly changed its mind and showed excitement. [2] During Aki Hayakawa 's final confrontation with the Ghost Devil, it is shown to harbor residual sentiment for its previous contract, Himeno, as it carried Aki's first cigarettes with it for years until Aki was ready.
History [ ]
At some point, the Ghost Devil formed a contract with Himeno allowing her to control its right hand in exchange for consuming her right eye. [3]
Eternity Devil arc [ ]
Himeno using Ghost Devil against Eternity Devil
Himeno uses an arm of the Ghost Devil to grab the Eternity Devil in midair so that Power can slice it to pieces. She explains that she has a contract with the Ghost Devil and reveals the nature of their contract. [4] When Power decides to test Himeno and threatens Kobeni Higashiyama , Himeno uses the Ghost Devil's arm to choke Power into submission. Power cannot touch the Ghost Devil's arm and Himeno relents after Power surrenders. [5]
After the Eternity Devil has trapped the group in the hotel and has increased in size, Himeno tries using the arm of the Ghost Devil to finish it off by gouging out chunks of its body but is unsuccessful. [6]
When Aki Hayakawa suggests using his sword to defeat the Eternity Devil, Himeno restrains him with the Ghost Devil's arm. [7]
As Denji battles the Eternity Devil in his transformed state, he is nearly defeated, but Himeno intervenes and uses the Ghost Devil's arm to pull Denji's cord which causes him to regenerate. [8]
Katana Man arc [ ]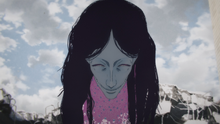 Ghost Devil appears
After Aki Hayakawa is slashed by the Katana Man , Himeno asks for the Ghost Devil's assistance, but it refuses as it considers Akane Sawatari to be too scary. Himeno responds by offering up her entire body to the Ghost Devil in exchange for all of its power, to which the Ghost Devil smiles eagerly and agrees to the deal. [2] Himeno summons the full body of the Ghost Devil and uses it to overwhelm the Katana Man until he calls for Akane's help. Akane summons the Snake Devil to swallow the Ghost Devil, seemingly decapitating it while Himeno's body vanishes. [9]
At a later date, during the raid on the terrorist's hideout, Aki comes across Akane and he orders her to surrender, but instead she commands the Snake Devil to spit out the Ghost Devil which is now subservient to her. [10]
The Ghost Devil attempts to strike Aki with its many arms, but he uses the future sight gained from the Future Devil to evade its attacks and cut off several of its arms. [11] Aki is quickly overwhelmed by the number of attacks and is eventually caught by the Ghost Devil who begins squeezing the life from him at Akane's command. [12] Before it can finish killing him, the Ghost Devil drops Aki to the ground and offers him a cigarette with the words "Easy revenge!" written on it. [13] Remembering a conversation he had with Himeno where she told him that the Ghost Devil can only sense through fear, Aki stops feeling afraid and climbs the Ghost Devil's body. He decapitates it with a blow from his sword, killing the Ghost Devil. [14]
Abilities [ ]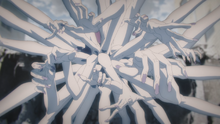 Ghost Devil attacks with its hands
As a Devil, the Ghost Devil possesses all of the standard devil abilities , such the ability to make contracts with humans for a price.
The only known contract is the one with Himeno ; in exchange for her right eye, Himeno can use the power of the Ghost Devil's right arm which stays with her at all times. [4] The Ghost Devil can communicate with Himeno through its right arm by forming a mouth. Later on, by sacrificing more of her body, Himeno can use the full power of the Ghost Devil's entire body for a brief period of time. [2]
Physical Abilities [ ]
Enhanced Strength : The Ghost Devil has a great deal of physical strength; with just one of its numerous limbs it could hit Aki Hayakawa hard enough to make him drop his sword and lift him into the air by his neck to choke him. [15]
Devil Powers [ ]
Ghost Physiology : As the embodiment of the fear of ghosts, the Ghost Devil has a body similar to ghosts. Its body is selectively intangible, preventing it from being touched by others, however special weapons can cut it [5] [16] and other devils can attack it. It can also become invisible as Himeno could use its right arm to invisibly grab the Eternity Devil without anyone seeing it. [4]
Fear Perception : The Ghost Devil has no eyes as it perceives through fear instead; however this can backfire on it as it cannot sense someone approaching who feels no fear. [17]
Weaknesses [ ]
Near Lack of Senses : As mentioned above, the Ghost Devil can perceive through fear, but it seems to lack several other senses. It is unknown how many senses it lacks in total but sight is one primary sense it lacks.
The Ghost Devil ranked 33rd in the First Popularity Poll with 413 votes.
The Ghost Devil ranked 42nd in the Second Popularity Poll with 646 votes.
References [ ]
↑ Chainsaw Man Manga: Chapter 25 , Page 6
↑ 2.0 2.1 2.2 Chainsaw Man Manga: Chapter 25 , Pages 3 - 5
↑ Chainsaw Man Manga: Chapter 15 , Page 5
↑ 4.0 4.1 4.2 Chainsaw Man Manga: Chapter 15 , Pages 3 - 5
↑ 5.0 5.1 Chainsaw Man Manga: Chapter 15 , Page 7
↑ Chainsaw Man Manga: Chapter 17 , Pages 3 - 4
↑ Chainsaw Man Manga: Chapter 18 , Pages 1 - 2
↑ Chainsaw Man Manga: Chapter 19 , Pages 12 - 13
↑ Chainsaw Man Manga: Chapter 25 , Pages 6 - 13
↑ Chainsaw Man Manga: Chapter 34 , Pages 16 - 19
↑ Chainsaw Man Manga: Chapter 35 , Pages 1 - 3
↑ Chainsaw Man Manga: Chapter 35 , Pages 4 - 7
↑ Chainsaw Man Manga: Chapter 35 , Pages 9 - 12
↑ Chainsaw Man Manga: Chapter 35 , Pages 13 - 17
↑ Chainsaw Man Manga: Chapter 35 , Pages 4 - 5
↑ Chainsaw Man Manga: Chapter 41 , Page 5
↑ Chainsaw Man Manga: Chapter 35 , Pages 13 - 15
Site Navigation [ ]
Chainsaw Man: Why Did the Ghost Devil Save Aki?
Aki had to face Himeno's Ghost Devil shortly after her death in Chainsaw Man, but the bond between the two may have saved his life.
The following contains spoilers from Chainsaw Man Season 1, Episode 9, "FROM KYOTO," now streaming on Crunchyroll.
The first season of Chainsaw Man brought about its fair share of tragic deaths, one of which was Aki's close friend Himeno. The devil hunter was Aki Hayakawa's first partner in Public Safety, and she taught him everything he knows about the trade. Following her death, he struggled with intense grief, but facing the Ghost Devil helped him process Himeno's passing.
The penultimate episode of Season 1 reintroduced the Ghost Devil, with it under a new contract with Akane Sawatari. This particular foe was difficult for Aki to face, and at first, it looked as though the Ghost had him bested. However, a gesture from the devil saw the odds of the brawl flipped on its head. Here's why this might have happened.
RELATED: Chainsaw Man Theory: Yoshida Is the Imposter Chainsaw Man
Himeno Fused With the Ghost Devil
During Special Division 4 's first face-off with Akane and other allies of the Gun Devil, the group struggled to fight Katana Man, so the fatally wounded Himeno exchanged her entire body for the help of the Ghost Devil. In doing this, she merged with the devil-- hence why there was no corpse left behind after the fight. This is also implied in Episode 9's ending, in which Himeno's body merges with the Ghost.
The imagery of outstretched hands is also symbolic of Himeno's character . She used the Ghost Devil's right hand as part of her contract, so whenever she was using the power, her arm reached out. As well as this, the Ghost devil has hundreds of hands instead of legs, presumably from other people who have merged with the devil. This symbolism is also suggestive of Himeno's future with her contracted devil .
RELATED: Chainsaw Man's Denji and Jujutsu Kaisen's Gojo Share One Unique Similarity
Himeno's Arm Reached Out to Aki
Just as it seemed Aki was going to be strangled to death by the Ghost Devil, it suddenly put the devil hunter down. One of its arms reached toward him, holding something in its palm, and when the hand unraveled, it held a cigarette labeled "easy revenge." This small gesture was obviously from Himeno, with the arm reached out being her own. When she fused with the Ghost Devil, Himeno became one of its many arms, so the one that reached out to Aki did so out of Himeno's resolve.
This sign from his mentor reminded Aki of Himeno, and more importantly, the things she told him about the Ghost Devil. Its eyes are sewn shut, so it sees fear rather than movement. Previously, Aki was scared when fighting the monster, but after being reminded of this by Himeno, his fear subsided and the Ghost Devil could no longer track his movement. This is why Aki was able to calmly maneuver onto the Ghost Devil and decapitate it with a blow from his sword, killing the devil .
Himeno was able to briefly take control of the Ghost Devil from Akane at just the right time, not only saving Aki but giving him the resolve to defeat the enemy. Shortly after these events, Aki decided to smoke the cigarette given to him -- his last physical reminder of Himeno -- showing he was finally able to say goodbye to his good friend and mentor.
Chainsaw Man Himeno GIF
Related GIFs
#power-rocking
#Chainsaw-Man
#Anime-Cool
#Chainsaw-Man-Trio
#Cute-Anime
Foos Stadium Tour
NBA Star's Emo Hair
How Korn Got Their Name
Loudwire Nights
See Ghost's Very NSFW 'The Devil's Hands' Documentary
There's a lot that goes into the production of a Ghost concert. The Swedish heavy metal band makes sure their shows are intricate and exciting, and now fans can get a taste for what goes into these vast displays, dramatized with a bit of humor. Ghost have finally publicly released their mini documentary  The Devil's Hands,  after showing it at various fan gatherings last year.
Going into the documentary, one should be aware that the actual members of Ghost are barely in the video at all. Instead, we follow the group's various crew members, including their tour manager, backline tech and more as they run through their role in Ghost's live production. Each member of the crew goof off throughout the video, including a NSFW shot of one member's... member, and one of the clergy's bare ass in full view of the camera. Jokes and lewdness aside, they go through how Ghost have a very specific rig that sets them apart from other bands, bringing their vision to life for many fans.
The short film concludes with a quick look at the band's dressing area, which includes separate rooms for Papa and the rest of the band, as well as a "cat petting room" and a sauna before they gear up to play. Why not, right?
Ghost have been keeping the holiday season exciting, with a recently released live album  Ceremony and Devotion . The album captures the band in their element, playing a full-set from front to back along with several videos detailing the performance in action. It's digital only currently, but will be coming out on CD and LP formats Jan. 19.
Watch  The Devil's Hands  above.
10 Unforgettable Ghost Moments
See Ghost on the Top 50 Most Important Metal Bands in the 21st Century
Call of Duty
Legend of Zelda
About Us & Contact
Privacy Policy
Review Policy
Why Did the Ghost Devil Stop Attacking Aki in Chainsaw Man? Explained
All according to keikaku.
The final confrontation between Aki and Akane is one which drips with deeper meaning, and one need look no further for proof than the actions of the Ghost Devil. Initially attacking Aki with everything it has, the Devil ceases its onslaught and hands Aki a memento from Himeno that helps give him the energy needed to win. If you're like most fans though, this scene probably left you asking: Why did the Ghost Devil stop attacking Aki in Chainsaw Man , and why did it hand him the "Easy Revenge" cigarette?
Well, after digging into the necessary chapters and episodes, we've got an answer for you.
Why Did the Ghost Devil Let Aki Kill it in Chainsaw Man?
As it stands, there are two potential reasons for why the Ghost Devil stopped attacking Aki in Chainsaw Man. One is backed up by the clues Aki drops as he delivers the finishing blow against the handsy horror, while the other is supported by specific scenes scattered throughout the Katana Man arc.
The first is that Aki stopped being afraid of both the Ghost Devil and his own death while they were fighting. Aki mentions as he delivers the finishing blow that Himeno told him about the Ghost Devil's weakness and that he knew about it prior to facing off against it to get to Akane.
That weakness was that it detects people through fear and that someone with no fear could defeat the Devil with little to no effort. However, it was likely difficult to stop being afraid of the Devil at first, as Aki wasn't expecting to see it and was likewise still adjusting to the future visions provided to him by the Future Devil.
The other is that Himeno was still exerting control over the Ghost Devil when Akane tried to attack Aki with it. The series hints at this being the case a couple of times, with the Ghost Devil acting in ways that wouldn't benefit it. The best examples of this are the dismembered Ghost Devil's hand pulling Denji's rip cord, and it's showing Aki the cigarette with the message "Easy Revenge" scrawled on it.
Why Did the Ghost Devil Give Aki the Easy Revenge Cigarette?
On that same note, you also wouldn't be blamed for being unclear on why the Ghost Devil gave Aki the cigarette with Himeno's message.
This was likely due to Himeno still having some control over the Ghost Devil. Either through a last command given to her Contractor or direct control via her deceased spirit, she made sure Aki would receive her message and take the chance to kill the Ghost Devil, thereby allowing him to capture Akane.
What Does the Easy Revenge Cigarette Mean in Chainsaw Man?
As for why her message was "Easy Revenge" written specifically on a cigarette, it likely referred to her predicting how Akane would use the Ghost Devil after having the Snake Devil consume it.
She knew Akane would believe that she had full control of this new weapon in her arsenal and that Aki would have no way of resisting it. This would leave her incredibly vulnerable should Aki defeat it, which was perfect in Himeno's eyes since it would better ensure Aki's ultimate survival.
She then left her message on a cigarette, and once Aki saw it, he immediately knew the meaning of her message, thanks in part to the importance cigarettes held for the two of them.
That's all there is to know about why the Ghost Devil stopped attacking Aki in Chainsaw Man . For more on the series, check out our other guides on topics like whether or not Akane is Dead , why Denji and Aki kicked Samurai Sword in the balls , and what the Ghost Devil's abilities are . We've also got a slew of other related articles, which can be viewed down below.
All Chainsaw Man Devil's Heart Codes in Roblox (September 2023)
All Anime Release Dates in 2023
Chainsaw Man Chapter 141 Release Date & Spoilers
Chainsaw Man Chapter 139 Release Date & Spoilers
Chainsaw Man Chapter 138 Release Date & Spoilers
About the author
Keenan McCall
Keenan has been a nerd from an early age, watching anime and playing games for as long as I can remember. Since obtaining a bachelor's degree in journalism back in 2017, he has written thousands of articles covering gaming, animation, and entertainment topics galore.
More Stories by Keenan McCall