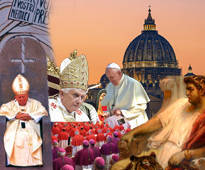 Online Store & Contact Info
E-Exchanges
Videos & Articles
Our YouTube Channel
St. Malachy's Prophecy
Fatima Message
Pope Leo XIII
Francis' Recent Heresies
Benedict XVI
John Paul II
John Paul I
A Heretic cannot be Pope
List of Antipopes
Great Western Schism
Was Vatican II Infallible?
Jewish Heresy
Unitatis Redintegratio
Orientalium Ecclesiarum
Lumen Gentium
Dignitatis Humanae
Nostra Aetate
Gaudium et Spes
Sacrosanctum Concilium
New Rite of Ordination
New Rite of Consecration
Other Sacraments
False Apparitions
Masonic Infiltration
Consecration of Russia
Counter "Church" Hierarchy
Sexual Scandals
Homosexuality In Seminaries
Annulment Fiasco
False Traditionalists
Mother Angelica
Mother Teresa Not A Saint
St. Peter, The First Pope
Virgin Mary
Jesus In The Eucharist
Justification
Confession To Priest
Did Paul Rebuke Peter?
Catholic Statues Idolatrous?
Jesus Is God
Is Saturday or Sunday The Holy Day?
Is the King James Bible Infallible?
Veneration To Saints
Best Argument Against "Baptism of Desire"
Pope St. Siricius' Papal Decree
Pope Leo The Great - No One Is Saved Without Baptism
Leo The Great Refutes "Baptism of Desire and Blood"
St. Gregory Nazianzen
Eastern "Orthodoxy" Exposed
Catholic Glossary
Few Are Saved
Natural Family Planning Is Evil
Rejecting The Lust & Impurity Of Hell
Steps To Convert
Profession Of Faith
Where To Receive Sacraments?
Traditional Catholic Calendar
The Holy Rosary
Catholic Prayers
Catholic Inquisition Myths Busted
Benedict XVI's Heresies By Book
Benedict XVI's Heresies Archive
Canonizations Are Infallible
Mary Is Not Co-Redemptrix
What's Wrong With Yoga?
Islam Is A False Religion
Bahasa Indonesia
EndTimes.Video
Help Save Souls: Donate
Buy $10 Small Package
Biblical Proof For Catholicism
Outside The Church There Is No Salvation
What Francis Really Believes (Video)
Francis' Recent Heresies
The Heresies In Vatican II
Vatican II "Catholic" Church Exposed
Apocalypse Now In The Vatican (Video)
"Magicians" Prove A Spiritual World Exists (Video)
Amazing Evidence For God (Video)
Catholic Calendar
Traditional Catholic Issues and Groups

Was Garabandal A True Marian Apparition?
Dear Brother Dimond: Please put us on your e-mail list.  We love your website, and have been reading and rereading your magazines for years.  I have some questions for you: Garabandal- What is your opinion?  Apparantly, Padre Pio claimed that these were authentic apparitions of Mary, but I'm not so sure about that. Holy days of obligation-These were changed by Paul VI if my memory is correct.  If that is the case, since these changes were illegitimate, what are the real Holy Days of Obligation??  And why are they different for different countries?  (I thought that they would be the same in a universal Church). Is it allright to make donations to nonCatholic organizations specializing in corporal works of mercy (ie Food for the Poor, Covenant House)? I would very much like to have answers to these questions.  Brenda
Thanks for the support. To answer your questions:
1. A certain person claims that Padre Pio endorsed the Garabandal apparitions.  But the accounts of this aren't clear and, frankly, we don't believe the man's story.  Even if it were true that Padre Pio endorsed Garabandal, the fact that Padre Pio thought they were true wouldn't prove it to be so, of course.
We believe that Garabandal is definitely a false apparition. We believe this for a number of reasons.
First, according to a friend of ours who has studied it (we have not yet been able to), the message states: "the Pope will reconvene the Council and it will be a great event in the Church." This means that Garabandal apparently refers to Vatican II as something that will be a "great event" in the Church and Paul VI as a "Pope" - both of which are totally false and, if stated in the message, prove without any doubt that Garabandal was a false apparition of the devil.
Second, all of the "seers" at Garabandal are in the Novus Ordo sect (a bad fruit) and none of them pursued religious vocations.  (Most of those who have visions such as this, like the real Sister Lucy of Fatima, pursue religious life). The original apparition occurred when they were stealing apples – not usually an activity that would be rewarded with a visit from the Mother of God, I would say.  The "seers" also walked backwards, something that is suggestive of Satanic influence. 
We believe that the purpose of the false apparitions of Garabandal was to focus people on the physical chastisement – a great warning, miracle, and ball of redemption – and direct people away from Satan's real attack, which concerns our Faith, not physical chastisements.  So, while people are waiting for what they think will be the "real" chastisement (what they expect to be a physical one) and remain in the false sect, the true chastisement (a spiritual one, the Vatican II sect) is already upon them and has (already) almost reached its consummation. 
2. The Traditional Holy Days of Obligation are : Circumcision (Jan. 1);  Ascension Thursday;  Assumption BVM (August 15);  All Saints' Day (November 1); Immaculate Conception (Dec. 8); Christmas (Dec. 25). 
3. One should not make a donation to a non-Catholic organization that specializes in corporal works of mercy.  One could donate clothes and possessions that one doesn't need, but not donations.  This is because, among other things, you don't know what the non-Catholic organization will do with the donation.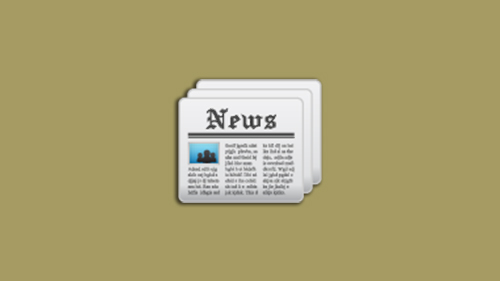 Sign up for our free e-mail list to see future vaticancatholic.com videos and articles.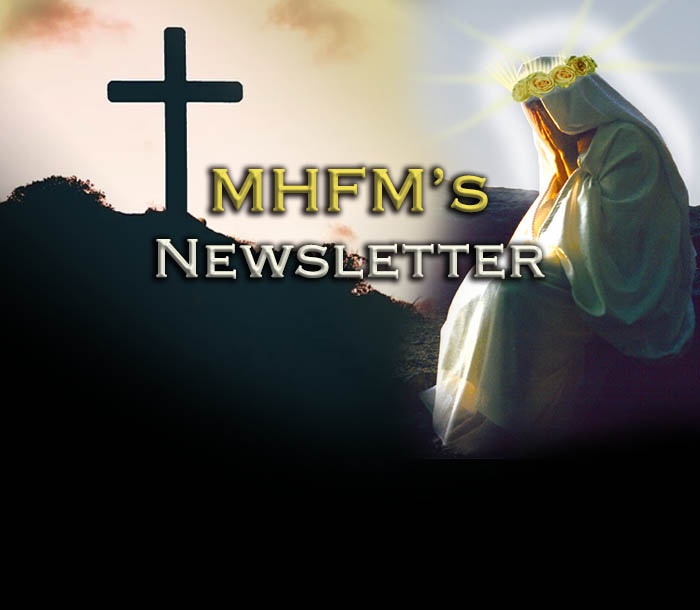 Recent Content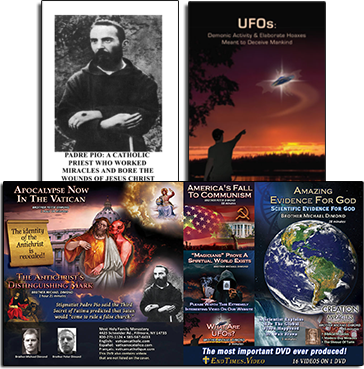 The Story of Garabandal
The last apparition
The Village
The Messages
Received graces
How to get there?
Where to stay?
Mass Schedule
Places to visit
Our Lady of Carmel of the Rock
Meditate on the Passion
In Mary's School
How to pray?
The Joyful Mysteries
The Mysteries of Light
The Sorrowful Mysteries
The Glorious Mysteries
What was the Blessed Virgin like?
Spirituality
You Must be Good
Who is Saint Michael?
My Mother in Heaven
Jesus Hidden in the Eucharist
I will walk
Ask for my life
Until Heaven
He's Waiting for You
On the Road
Conchita Speaks to You
A message for you
Young Person, I Say to You, "Look at Him!"
Fr. José María Alba Cereceda, S.J.
Fr. Valentín Marichalar
Dr. Ricardo Puncernau
Mr. Alejandro Damians Damians
Fr. François Turner, O.P.
Mr. Juan Alvarez Seco
Laura González
David Toribio
María González
Miguel Ángel González
Aniceta González
Miguel González
Serafín González
Simón González
Mother María de las Nieves García
Dr. Juan Hervás Palazón
Fr. Gustavo Morelos
Fr. Laffineur
José María Pemán and Garabandal
Maria Simma, the Souls in Purgatory, and Garabandal
Fr. Jorge Loring
The Church's Position
Statements from the Bishops of Santander
The Church's Position on Marian Apparitions
Going Deeper
Photo Album
We've read
Marian Reflections
Marian Apparitions
Month of May
Marian Feast Days
On March 3rd, 1962, the four young visionaries, Conchita, Mari Loli, Jacinta, and Mari Cruz received an anonymous letter in San Sebastián de Garabandal. The incident has been conveyed by Dr. Celestino Ortiz, a trustworthy witness. Fr. Eusebio García de Pesquera, in his book, "She Went with Haste to the Mountain," narrates the story. He explains it as follows:
"Félix López, a former student of the Major Seminary in Derio (Bilbao, Spain) and later professor in the school in Garabandal, was gathered together with a few others in the kitchen in Conchita's house. The girl had received a letter that she did not understand, and, therefore, asked Félix to translate it for her. It was written in Italian, and Félix, after reading it, said, «Based on his way of writing, it could be from Padre Pío»." Conchita asked if he knew Padre Pío's address and, receiving an affirmative response, asked if he would help her write a letter responding to Padre Pío and thanking him. Having finished the letter, they left it on the kitchen table unfolded. A short time later, Conchita entered into ecstasy and was praying the Rosary. When she returned to her normal stated Félix asked: "Did you ask Our Lady if the letter was from Padre Pío?" "Yes, and she gave me a secret response to send to him." The girl went up to her room, returning a little while later with a written note in her hand. In the presence of everyone she stuck the note in the envelope, which the professor had already addressed to Padre Pío, and then sealed it. The letter which had arrived to Conchita, without signature or return address but with Italian postage, said the following:
Dear children,
This morning at nine o'clock, the Blessed Virgin Mary spoke to me about you, dear children, and your vision. She told me to tell you:
"Oh blessed girls of San Sebastian de Garabandal, I promise to be with you until the end of time, and you will be with me until the end of the world and then in the joy Heaven."
Attached to this letter is a copy of the Holy Rosary of Fatima, which the Blessed Virgin ordered me to send you. The Blessed Virgin has dictated this Rosary, and She desires it to be made known for the salvation of sinners and to preserve humanity from the worst punishments that the good God is threatening it with. My recommendation is this: pray and encourage others to pray, because the world is on the way to perdition. They do not believe you or our conversations with the White Lady, but they will believe when it is too late.
On February 9, 1975 the magazine known as NEEDLES had recorded an interview with Conchita, during which they asked her about this surprising letter from Padre Pio: Q. Conchita, do you remember anything about the letter? Conchita: I remember that I received a letter in the mail that was addressed to me and the other three: Jacinta, Mari Loli, and Mari Cruz. They asked me what it was about, but since it was not signed, I kept it in my pocket until I saw the Blessed Virgin later that day. When she appeared I showed her the letter and I asked her who it was from. The Blessed Virgin told me that it was from Padre Pío. As I didn't know who Padre Pío was, I didn't ask any more questions. After the apparition, I told the people about the letter. A seminarian who was there explained to me who Padre Pio was and where he lived. So I wrote to him, saying that when he visited my country, I would like very much to see him. He answered me in a brief letter, saying: "do you think I can go up the chimney?" I was only 12 years old at the time, and I had no idea what a cloistered monastery was.
CONCHITA'S VISIT TO PADRE PIO In February of 1967, Conchita arrived in Rome with her mother, a Spanish priest, Fr. Luis Luna, Professor Enrico Medi and Princess Cecilia from Bourbon and Parma. She had been called by Cardinal Ottaviani, prefect of the Holy Office, today known as the Sacred Congregation for the Doctrine of the Faith. It was during this visit that Conchita had a private audience with Pope Paul VI, during which only five others were present. We have the reliable witness of Professor Medi, who at the time was president of the European Association of Atomic Energy and friend of the Holy Father; he was one of the five present. As Conchita had to wait a day before her interview with Cardinal Ottaviani, Professor Medi suggested that they go to San Giovanni Rotondo to see Padre Pio. Conchita herself tells about her visit, taken from her interview in NEEDLES magazine: We all agreed to go so we headed towards the monastery in Professor Medi's rental car. We arrived about 9 o'clock at night and we were told that we wouldn't be able to see Padre Pio until the next morning, after he celebrated the 5 a.m. Mass. Fr. Luna and the Professor went to the sacristy before Mass began. The Professor told me later on what had happened. He said that Fr. Luna told Padre Pio that the Princess of Spain was there to see him, Padre Pio replied, "I don't feel very well and won't be able to see her until later in the day." Then Professor Medi said to him, "There is someone else here to see you as well. Conchita wants to speak with you." Padre Pio replied, "Conchita of Garabandal? Come back at eight o'clock this morning." When we arrived we were brought into a small room, a cell, which had a bed, a chair, and a small table. I asked Padre Pio if this was his room and if he slept here, to which he replied, 'Oh no, you cannot see my room. This is a rich room.' At the time I did not realize what a holy man Padre Pio was, as I know him to be now. I was very young; I was only 16." Q : Who was in the room with you? Conchita : It was just my mother, Fr. Luna, and a priest from the monastery who spoke Spanish and took a lot of pictures. I don't remember the Princess or the Professor being their. Q: Can you tell us what was said during your visit with Padre Pio? Conchita : I only remember a little. I do remember that the priest who had been taking the pictures asked permission from Padre Pio who responded, "You have been taking them since you arrived." I remember that I had the crucifix that Our Lady had kissed and I said to Padre Pio, "This Cross was kissed by the Blessed Virgin. Would you like to kiss it?" Padre Pio took the crucifix and placed it in the palm of his left hand, over the stigmata. Then he took my hand and placed it over the crucifix, and closed his fingers around my hand. Then with his right hand he blessed my hand and the crucifix. He did the same with my mother when she asked him to bless her rosary that had also been kissed by the Blessed Virgin. I was kneeling the whole time I was with him, he held me by the hand, together with the cross, while he spoke to me.
PADRE PIO AND THE MIRACLE One of the reasons why Padre Pio became involved in the events of Garabandal was because he was granted the privilege of seeing the Miracle. The only other person who received this privilege was Fr. Luis Andreu S.J. The night of August 8, 1961, he had a vision of the Miracle while the girls were in ecstasies in the pines. The following day, Fr. Andreu passed away while he was on his way home. One of the prophecies of Our Lady of Garabandal concerning the Miracle is that the Holy Father will see it from wherever he is at the time, as well as Padre Pio. When Padre Pio passed away in 1968, Conchita was perplexed; she asked herself why the prophecy apparently had not been fulfilled. A month later she was consoled by a precious gift she had received. On October 16, 1968, Conchita received a telegram from Lourdes, from a lady that Conchita had met in Rome. The telegram requested that Conchita go to Lourdes in order to collect a letter from Padre Pio. Fr. Alfred Combe and Bernard L'Huillier, from France, were in Garabandal at the time and agreed to take Conchita and her mother to Lourdes. They left that same night and they were in such a hurry that Conchita forgot her passport. When they arrived at the border they were detained six hours, and were only able to cross the border thanks to a special passport signed by the Military Governor of Irún. In Lourdes they had an interview with the Padre Pio's representatives from Italy, among them Fr. Bernardino Cennamo O.F.M. Fr. Cennamo wasn't really from San Giovanni Rotondo, he belonged to another monastery, but he was well known by Padre Pio and Fr. Pellegrino. Fr. Pellegrino took care of Padre Pio in the last years of his life and it was he who wrote the letter that Padre Pio dictated to Conchita. Fr. Cennamo told Conchita that he hadn't believed in the Garabandal apparitions until Padre Pio asked him to give the cloth that would cover his face after his death to Conchita. When he gave Conchita the cloth and the letter she asked, "Why did the Blessed Virgin tell me that Padre Pio would see the Miracle, if he has died?" Fr Cennamo responded, "He saw the Miracle before he died, he told me himself." When Conchita had returned home she decided to write about the incident to a friend in Madrid. We will make reference once again to Conchita's interview in NEEDLES magazine in 1975: "I had the cloth in front of me while I wrote the letter when all of a sudden the room was filled with a fragrance. I had heard about the fragrances from Padre Pio, but I never paid any attention to them. The whole room filled with such a strong smell of perfume that I began to cry. It was the first time I experienced this, it happened after his death."
Documentation
The Witnesses
The Church's Position
We use cookies on our website. Some of them are essential for the operation of the site, while others help us to improve this site and the user experience (tracking cookies). You can decide for yourself whether you want to allow cookies or not. Please note that if you reject them, you may not be able to use all the functionalities of the site.
Visit of Angel
Our Lady Appears
Ecstatic Trances
Ecstatic Falls
Ecstatic Marches
Religious objects kissed by Our Lady
The "Fifth" Visionary
Witnesses and scientific opinion
The Visible Communion
OUR LADY'S MESSAGES
OUR LADY'S PROPHESIES
Joey Lomangino
St. Padre Pio & Garabandal
Principal English Language Distributor for Europe.
Back Issues
Padre Pio and Garabandal
Conchita's visit to Padre Pio
The interest which Padre Pio showed in Our Lady's Message underlines the importance of the Apparitions at Garabandal. In 1967, Conchita had been called to Rome by Cardinal Ottaviani, Prefect of the Holy Office, now called the Sacred Congregation for the Doctrine of the Faith.
It was during this time Conchita had a private audience with  Pope Paul VI. Since Conchita had to wait a day before meeting with Cardinal Ottaviani, it was decided that she, accompanied by her mother and the other members of the party, would visit Padre Pio at San Giovanni Rotondo.
One of the prophesies of Our Lady regarding the Miracle was that the Holy Father would see it wherever he may be at that time and Padre Pio would see it too . After the death of Padre Pio, Conchita visited Lourdes at the request of Father Cennamo OFM, a fellow Capuchin, who was well known by Padre Pio. Conchita asked Father Cennamo " How is it the Virgin told me Padre Pio was supposed to see the Miracle and he has died?" He answered "
He saw the Miracle before he died. He told me so himself.
Padre Pio's veil given to Conchita
Another significant event concerns the veil which covered the face of Padre Pio after his death. Father Cennamo was told by Padre Pio before his death to give the veil to Conchita. On handing the veil to Conchita, Father Cennamo told her that he did not believe in the Apparitions of Garabandal until Padre Pio told him to give the veil to her.
Padre Pio's life and sanctity reflect Our Lady's Message
It is also very significant that the life and sanctity of Padre Pio were a true reflection of the Message given by Our Lady to the world at Garabandal, a Message of prayer, in particular the rosary, penance and self sacrifice and an intense, deep rooted devotion to the Eucharist all of which were the central theme of Padre Pio's own life which he encouraged others to adopt  a model to follow.
First Apparitions & Phenomena
First Visit of Angel
Fr. Luis Andreu
Irish Garabandal Centre History
Little miracle of the visible communion
Our Lady's Messages
Our Lady's Prophesies
The Irish Centre
Our Lady's Message
© 2015 Garabandal - All Rights Reserved

Workers of Our Lady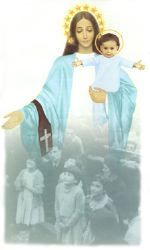 Main: (647) 799-7715
Toronto Local: (416) 238-6375
Picture History of Garabandal Apparitions #9
Joey Lomangino :
February, 1963 marked the first visit at San Sebastian de Garabandal of Joey Lomangino. He came as Padre Pio confirmed to him that " Yes, it is true, the Blessed Virgin is appearing at Garabandal."
Joey Lomangino was born on June 27, 1931 in Brooklyn, N.Y., USA. In 1947, while he was trying to change a flat tire, the tire rim blew off and forcefully struck him in the face crushing the bones of his forehead, and severely damaging the optic and olfactory nerves. For three weeks he was in a coma at the hospital. On the Feast of Our Lady of Mount Carmel (July 16th), he woke up. However, because of the accident, he was permanently blind.
In 1961, Joey Lomangino travelled to Italy and met Padre Pio for the first time at the monastery of San Giovanni Rotondo. Although they had never met, the famous Capuchin greeted Joey with these words: "Ah, Joey, how happy I am to see you!"
In February 1963, Joey made another trip to Europe where he went back to visit Padre Pio, who heard his confession and … miraculously restored the use of his sense of smell … while the nerve still remains severed! Evidently, Padre Pio, said: "I can't give him (Joey) sight for his eyes, but I can give him sight for his soul." As Padre Pio blessed Joey, Joey threw his arms up and plunged backwards to protect himself from, what he thought in his darkness, was an explosion. Actually it was a scent of roses. But as Joey had no sense of smell for so long, that the sensation suggested an explosion to him. Suddenly Padre Pio was next to him and said: "Joey, don't be afraid. … a little patience, a little courage and you're going to be alright." Joey then not only recovered his Christian Faith, but Padre Pio would encourage him to go to Garabandal after saying: "" Yes, it is true, the Blessed Virgin is appearing at Garabandal."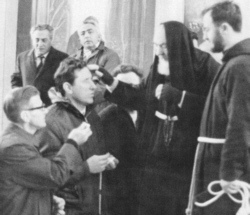 When he went back to the United States, Joey began giving slide-talk presentations on Garabandal and Padre Pio. (See more details in web site www.ourlady.ca/apparitions ) Throughout the years, Joey's Garabandal Apostolate and magazine reached thousands of people throughout the world. To this day, Joey has been the most famous promoter of the Garabandal apparitions outside the village.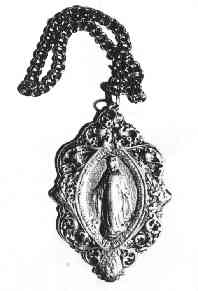 Our Lady said: "Through the kiss I bestow on these objects (She kissed rosaries, crucifixes, medals, wedding rings, and missals), my Son will perform prodigies – distribute them to others."
Conchita gave a medal kissed by Our Lady in Garabandal to Joey which Joey used at his conferences and through which many people were healed as Our Lady had promised. In addition, Joey arranged for many smaller medals with a piece of a missal that Our Lady kissed in Garabandal to be distributed. Even now, over 50 years later, some small medals with the priceless missal and kiss of Our Lady are still available. (SEE BELOW TO ORDER)
Sadly, Joey Lomangino died June 18, 2014, on the anniversary of St. Michael's first apparition in Garabandal. However, Joey's work continues to this very day. May he rest in peace knowing that he has helped us all. READ MORE: about Joey Lomangino .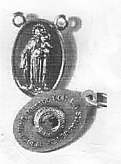 NOTE: JUNE 14, 2021: A limited number of small reliquary medals containing a piece of missal kissed by Our Lady is still available. ONLY ONE ITEM per order, please. Workers of Our Lady request a donation of $10 or more by check, Money order or PAYPAL ( see Button on bottom of any page of this website). Donations over $25.00 will receive a tax deduction receipt. God Bless you. This supply will be gone very quickly. No more are available. No orders accepted by phone or e-mail. Please send mail orders ,to: Workers of Our Lady, P.O. Box 76607, 1661 Denison St., Markham, ON Canada. L3R 0N5
Many stories of healings through the use of this "Kissed Medal" can be found in various web sites devoted to Garabandal, and on this web site: www.ourlady.ca/Recent Graces/ or www.garabandal.ca.
NEXT: Picture History of Garabandal Apparitions #10 (SOON)
Email Login
Subscribe to CE (It's free)
CE in the News
Apologetics & Education
Art & Culture
Culture of Life
Food & Travel
The Blessed Virgin Mary
Marriage & Family
Prayer & Spirituality
Spiritual Warfare
Discovering the Apparitions of Garabandal
A secret lay in the tiny village of Garabandal, like a whisper that moves unheard through the high mountain breezes of northern Spain. It is as significant a secret as one ever kept. And like most secrets, few even know it.
A Mount Rushmore of saints — Padre Pio, Teresa of Calcutta and John Paul II — each knew the secret, but they kept it mostly hidden, choosing instead to fold it up and tuck it away close to their hearts where they could pray, meditate and mourn over it. Pio and Teresa believed it to be true, but they couldn't speak of it; any commentary would have drawn rebuke. John Paul seemed to indicate his belief in the secret as well.
Garabandal's Secret
If you want to know the secret, you might type "Garabandal" into a search engine. But mysteries solved on computer screens unfold with hollowness, like the lonesome soldier in Kandahar who Skype-eavesdrops on his children unwrapping at the crack of Christmas dawn. As with anything worth absorbing, Garabandal's mystery is best understood; best appreciated in person.
But I'll save you the hassle. Since it's unlikely you'll be taking off for the Cantabrian mountains soon, I'll share what my wife, Krista, and I discovered on a recent trip to Spain to celebrate our 20th wedding anniversary — when we found ourselves, unsuspectingly, in the tranquil farming village carved into a green rock-strewn mountainside. We had no intention to visit Garabandal; we seemed pulled there.
Our drive to the interior landscape of Spain proved providential; we felt ourselves finally easing into the vacation while looking out our car windows. Mountains seemed to scrape the sky, casting shadows on the country folks tending to their fields and livestock. Many thousands of sheep looked indestructible in the shifting shadows of the sun and clouds as they grazed within what seemed the upper reaches of the world. We eased past Spaniards who rode bicycles that looked to be assembled during Franco's reign.
Santillana del Mar to Garabandal
We ended up pulling over at the stone-and timber-built town of Santillana del Mar, considered by guide books to be Spain's most prized medieval village. The Church of Saint Juliana, a former Benedictine monastery that seemed to throw back its shoulders as a proud Spanish artifact of Romanesque architecture, was footsteps from the restaurant where we sat down for lunch. Saint Juliana's doors were locked, though.
I pulled out a map of the Cantabrian region while chewing on a wild boar appetizer.
And I saw that word – that town. Garabandal (you'll pronounce it correctly if you let it roll off your tongue with silent vowels). Its name surfaced periodically in research for a book I had just finished writing; a plea for heroic Catholic priests — for true Fathers — and a rejection of the modern ones who were causing their flock to vanish. I had no earthly idea where Garabandal was until I saw it on the map I held in my hands.
I asked Krista to plug it into her cell GPS. G-A-R-A-B-A … It came up 79 km away.
Getting to Garabandal by car is a bullfight. For starters, it's nowhere near Madrid, Barcelona, Valencia or any other city or town, really. It's in proximity to the urban center of Bilbao, but no one goes to Spain for Bilbao. If you do end up making it to Garabandal, there is a final hurdle to overcome — the fierce Pena Sagra mountain range. It rises abruptly into the sky — with a single narrow and wild road that cuts through it like an eel. If your speedometer exceeds 10 mph on the four-mile drive up the mountain, you may become ill. If you've just eaten boar and anchovies, it is all but assured.
The poor little Fiat we had rented finally pushed up and into the village, where I parked on the side of the mountain beside a still-existing phone booth. I didn't check to see if the phone functioned, but considered using it because my cell phone had been stolen three nights earlier by a gypsy in the Gothic Quarter of Barcelona.
We walked up a narrow lane and into an inn that rested like an old black-and-white postcard of tranquility in the heart of the small town square, twenty-five footsteps from the town's parish church, St. Sebastian. We discovered that our inn was the town's gathering spot. Carmen, its happy-faced proprietor, offered three home-cooked Cantabrian-style meals a day at staggeringly low prices.
Meeting Maria
After dropping our bags, we found an outdoor bench that overlooked the square. We learned that few folks spoke English. One woman, Maria from Madrid, did.
It was when she sat beside us that the mystery of Garabandal began to slowly release, like an incense charcoal meeting a struck match. It was an hour before dusk. Shortly after Maria joined us, a stoop-backed woman — who looked no younger than Moses — was shuffling up a narrow lane, periodically ringing a bell. We looked at Maria quizzically as the woman passed by us, fully occupied by her slow-motion task.
"She is reminding everyone to pray for the dead," Maria said. "It is the tradition of this town." Maria explained that the bell ringing had been passed on for the last few hundreds of years to remind people of their eternal soul. "She'll walk past each house," Maria said.
Shortly after the bell ringer turned a corner, St. Sebastian's bells began a sustained peel. There seemed no reason for it.
"It's our reminder to pray the rosary," Maria told us beneath a deepening sky. "Would you like to join us?" Within a few minutes, Krista and I watched Garabandal seem to awaken from the dead, like Lazarus's town of Bethany. The tight lanes began to fill with spirited farmers, shepherds and visitors holding rosaries, strolling toward their rustic field-stone-built parish church that had a single door swung open.
We walked behind Maria and took a pew beside her, next to a crucifix that Our Blessed Mother is said to have kissed in 1961. Unlike the near-empty Buen Pastor Cathedral at San Sebastian at Sunday morning Mass, or the locked St. Juliana Church in Santillana del Mar, this little church, within minutes, filled with fifty or so villagers filtering into their dark, candlelit church to kneel for the Holy Rosary. I looked over at Maria and saw that she had covered her blonde hair with a bright scarlet veil. Each of the other women wore black and white veils. Maria stood out like a brilliant cardinal perched on a blanket of snow.
Later, over a lively dinner at the inn with a few new friends, I asked Maria, "Why red?"
"Because it's the color of blood," she said.
The Apparitions at Garabandal
Thereafter, while drinking coffee, Maria spoke plainly of the Garabandal apparitions – and of the St. Benedict medals that are affixed to the leather cords of the livestock's tinkling cowbells in the grassy meadows here. I knew what the St. Benedict sacramental stipulated; I straightened in my chair.
Maria told us that damned souls came to the consciousness of the village in 1965. Pio, Teresa and John Paul's ears pricked thereafter. When the Beatles were hitting their stride, Mary warned four young schoolgirls on June 18 that many "many cardinals, many bishops, and many priests are on the road to perdition and taking many souls with them."
The Church had been corrupted by rotten shepherds, who were dragging millions of souls to hell with them, Maria told us that Our Lady said.
Our Blessed Mother had already turned the village upside-down on a blazing-hot summer day four years earlier. On June 18, 1961, the tender-aged girls – Mari Loli Mazón, Jacinta Gonzalez, Mari Cruz Gonzalez and Conchita Gonzalez – were stopped on a rocky lane (la calleja they call it here) where they each reported that they saw an angel with large rose-colored wings. He appeared as a young boy wearing a long blue tunic. "[His tunic] seemed a piece of the sky," Conchita said. The angel appeared two weeks later, where the girls claimed he introduced himself as St. Michael the Archangel.
"[Tomorrow] the Blessed Mother will appear to you," the angel reportedly said. "As Our Lady of Mount Carmel."
The news spread rapidly to the 65 or so stone-built village hamlets. Within twenty-four hours, most of the entire town gathered on the steep incline of la calleja . It was the Feast of the Visitation; the timing not likely lost on the devout townsfolk. At around six in the evening, the girls fell to their knees onto the rocks. Within a brilliant light that only the girls could see stood a beautiful woman carrying an infant, they claimed. Two angels seemed to stand sentinel on each side. They recognized her as the Blessed Mother holding Jesus.
"We said the rosary while looking at her. She recited it with us in order to show us how to say it well," Conchita said.
This is Conchita's description of the apparition. "The Blessed Virgin appeared with a white dress, a blue mantle and a crown of small golden stars; her feet are not visible. Her hands are wide open with the scapular on the right wrist. The scapular is brown. Her hair is long. Dark brown and wavy … Her voice is very lovely, a very unusual voice that I can't describe. There is no woman that resembles [her]."
Thereafter, preternatural phenomena was both filmed and photographed in Garabandal, including a photo of the Eucharistic host appearing out of thin air and being placed on Conchita's tongue. (You can view photos online).
Second Fatima?
Due to Mary's pleas for conversion, warnings of hell and emphasis on reverence for the Eucharist and recitation of the rosary, Garabandal is referred to in Spain as the "Second Fatima."
Dissimilar to Fatima, though, lay the secret. Christ's mother identified Catholic clergy as the source of damned souls — which I imagine might be the reason some readers are hearing the secret revealed for the first time. Today, the town remains a popular place of pilgrimage, but Catholics have been reminded by the Holy See that the Garabandal apparitions are in no way approved.
Three of the greatest saints of the twentieth century testify to the validity of the apparitions. They believed the Church's skeleton in the cupboard to be true.
The Church today contends the alleged voice of Mary — and her verdict on many bishops and priests and laity — is not to be trusted.
It came to my attention this morning by a priest friend, over my cup of coffee, that Fr. Peter Daly, a retired priest from my diocese of Washington D.C., is offering an October retreat for "Gay Priests, Bishops, Brothers and Deacons." I'm not sure what to make of this type of spiritual get-away — a pervasive haze surrounds the Church today like an invisible gas.
Pew Research polls the past few years have repeatedly shown plummeting numbers of Catholics, who pour from the Church in greater numbers than any other denomination. Perhaps even more tragic, due to its corruption, very few want to join the besieged Roman Catholic Church today. Too many see Her as having succumbed to evil.
Now that I'm back from Spain, I regard events such as Fr. Daly's October retreat with a new set of eyes. I am just now thinking of the Church-rejected message of Garabandal, proclaimed by the Blessed Mother in arguably the most Catholic town in the world. I see things, for the first time, in a different way. Perhaps the haze pushed me here.
For instance — who do I believe — Pio, Teresa, and even John Paul?
Or the Church?
Who is the Church? — is it this small triumvirate of saints? Is it the workaday Catholics who arise each day striving to live as Christ?
Or is it merely the Holy See?
featured image: Angel Garcia Jaime / Shutterstock.com
Tagged as: Garabandal , marian apparitions , Mary , pilgrimage , travel
By Kevin Wells
Priest and Beggar: The Heroic Life of Venerable Aloysius Schwartz , will be released by Igantius Press on May 20. To learn more about Fr. Al and the work of the Sisters of Mary, visit TheSistersOfMary.org .
Subscribe to CE (It's free)
More on catholic exchange.
Under Don Dolindo's Umbrella
Holy Communion Brings Christ's Second Life to You
St. Marguerite d'Youville: "Tower of Trust in God"
Go to Catholic Exchange homepage
Adeodatus | The Renewal of Catholic Education feat. Dr. Alex Lessard
The Vocation of Consecrated Virginity | feat. Mary Beth Bracy
Modern Miracles at Lourdes | feat. Marlene Watkins
Most shared.
© Copyright 2023 Catholic Exchange. All rights reserved.
Catholic Exchange is a project of Sophia Institute Press .
Advertise on Catholic Exchange Design by Perceptions Studio .
Privacy Policy
Design by Perceptions Studio .
Books and Art
Catechetics
Dating & Singles
Faith & Spirituality
Health & Spirituality
Marriage & Family
Media & Culture
Money & Economics
Lives of Saints
Same Sex Attraction
Science and Discovery
The Story of Garabandal
Joey's Message
Padre Pio, Mary, And The Rosary
Padre Pio, the stigmatic Capuchin priest, was the first priest ever to bear the visible wounds of Christ in his body. This and other powerful charismatic gifts drew thousands of people each day to Padre Pio's monastery in the village of San Giovanni Rotondo, near Foggia on the Adriatic coast of Italy.
A very great source of this saintly man's exceptional spiritual power was his devotion to the mother of Jesus. It was second only to his devotion to the Eucharist which was manifested in a dramatic way through his ecstatic celebration of the Mass. Padre Pio's Mass deeply moved all who were privileged to witness it.
HIS PARENTS WERE OUTSTANDING CHRISTIANS The mind and heart of those destined by God for important missions are shaped by His grace as it works through human agencies, among which parents usually figure very prominently. So it was with Francesco Forgione, born in Pietrelcina near Benevento, Italy, on May 25, 1887, and later known by the name of Pio which he adopted when he entered the Capuchin branch of the Franciscan Order. His father Orazio and his mother Maria Guiseppa were outstanding Christians, poor in the things that the world esteems but rich in those that count with God.
Orazio went first to Buenos Aires from 1898 to 1905 to earn the necessary money. In 1910 he sailed again and until 1917 worked in New York and the Bay of Jamaica to defray the medical expenses that resulted from illness of the then Brother Pio. These were powerful lessons of self-sacrifice that would not be lost on the young man whom God had called to a special life of suffering.
From Maria Guiseppa, his mother, Francesco acquired those great twin loves of his life: the Eucharist and the mother of Jesus. The good Maria abstained from meat three times a week in honor of Our Lady of Mount Carmel, and she attended Mass on weekdays as frequently as she could.
So, we see again an example of the profound influence of parents on their children, a fact so often verified in the lives of the saints and which Our Lord reminded us of when He told us that good fruit comes from good trees (Matt: 7:16-20). Considering the example of his parents, we are not too surprised when we learn that young Francesco used to stop at the village church of Our Lady of the Angels to visit the Blessed Sacrament and to pray to Our Lady of Liberty, the special patroness of the area, or that he also prayed before images of Mary, St. Michael, and St. Anthony of Padua at a simple outdoor shrine near his humble home. Love of Mary and of the Eucharist would grow daily and at a parallel pace all during his life.
Special gifts of God manifested themselves very early in his youth and continued throughout his life. Before he was nine years old, he was enjoying frequent visions of Our Lady and the visible presence of his Guardian Angel. Diabolical manifestations also began to occur during his early youth and took on many forms over the years.
In 1911, when Padre Pio was 24 years old, he spent about 40 days, from October to December, in the Capuchin monastery in Venafro, a small provincial town of Isernia. He had been ordained on August 10 of the previous year and went to Venafro to study sacred eloquence under the guidance of Father Agostino of San Marco in Lamis.
Father Agostino had previously taught theology to the young Capuchin and had been his spiritual director and confessor for several years prior to his coming to Venafro. He would remain his spiritual director and confessor until he died in 1963, five years before the death of Padre Pio. THE DIARY OF FATHER AGOSTINO OF SAN MARCO IN LAMIS is one of our most authentic sources of information on the famed Capuchin stigmatist.
Padre Pio's 40 days at Venafro were like a blueprint or capsule preview of much of his life. All kinds of unusual happenings and special spiritual gifts filled this short period. Father Agostino was an eyewitness to these events, including the diabolical attacks, and he describes them in his DIARY.
Among these extraordinary happenings was a mysterious, on-and-off illness that defied doctors. This complicated malady included very high temperatures, pulmonary infections, coughing, agonizing chest pains, upset stomach, very painful headaches, crises of acute and paralyzing rheumatism, and on one occasion his sight was so menaced it was thought that he might go blind.
At Venafro, as well as during much of Padre Pio's life, there were manifestations of the devil, including severe physical beatings. But these appearances and molestations by the devil were richly compensated for by very frequent heavenly visions and ecstasies.
Padre Pio was able to live on the Eucharist alone without any other nourishment. At Venafro he stayed at least 20 days in this way. There, too, as later, he was given to know the hidden secrets of men, what they were thinking and the temptations they were enduring.
Father Agostino affirms that Padre Pio's apparitions and ecstasies began in his early youth and were continual. Because they started so early in his life and were so frequent, Padre Pio took them completely for granted. When he was asked why he had kept them hidden for so long, he gave the surprising and candid answer that he thought they were quite ordinary things that happened to everybody.
Father Agostino adds that one day Padre Pio asked him very naively if he had visions of the Madonna. When he replied that he did not, the Capuchin stigmatist replied: " You don't want to admit it because of humility."
According to Father Agostino, Padre Pio's ecstasies took place two or three times each day and lasted from one to two-and-a-half hours. They generally occurred after the diabolical manifestations and consisted of visions of Jesus and Mary, of his Guardian Angel (who was rarely missing during any apparition) and of the Saints, among whom St. Francis occasionally figured. The visions that followed the attacks of the devil were to comfort, console, and one time even physically restore him.
During one of these ecstasies at Venafro, Father Agostino checked Padre Pio's heartbeat and pulse. The heartbeat was exceptionally strong and rapid, as though the heart were about to burst. During the ecstasy, Padre Pio could be heard repeating: " Lord, what's the matter with my heart? Does it want to leave me? Take it, it's Yours! I love You, I love You."
Father Agostino's observations were verified later by Doctor DeVincenzi, a physician from Pozzilli, during the final ecstasy at Venafro, December 31, 1911. The doctor was amazed to discover that Padre Pio's heartbeat was not synchronized with his pulse. He was also enraptured by the beauty and vivacity of the monk's countenance during the ecstasy.
What Our Lady foretold came about as she had announced, and this woman's extraordinary case is presently being used in the cause of beatification and canonization of Padre Pio, the preliminary phase of which was initiated on November 23, 1969, just 14 months after his death (September 23, 1968). This particular incident of bilocation and prophecy also highlights still another of Padre Pio's gifts, one very special to him, that of his spiritual paternity. He had many thousands of "spiritual sons and daughters" throughout the world. These were people who had asked him directly for this relationship, or who automatically attained it by becoming a member of the Blue Army of Our Lady of Fatima. Padre Pio prayed regularly for all his spiritual children. He told them to lead good lives and to pray the rosary, and he said for all of them, "I will see you in heaven."
In his DIARY, Father Agostino says that one day he questioned Padre Pio about his gift of discernment. His answer is very enlightening: "In the souls of others, I see clearly through the grace of God, but in my own I see only darkness." Padre Pio had a spiritual director for his personal guidance all during his religious life. He leaned very heavily on him at first; later, as his soul was purified and enlightened and he gained experience, he was much less dependent upon him.
Some of the special gifts that Padre Pio received were specifically sanctifying gifts, such as the gift of prayer and contemplation. Also many of the apparitions of Our Lord, of Our Lady and of the Guardian Angel, though not directly sanctifying in themselves, were indirectly powerful aids to drawing Padre Pio closer to God. He was consoled and encouraged by them. He saw in them proofs of God's love for him, and this nurtured the powerful sanctifying virtues of faith, hope and love.
For example, Our Lady appeared frequently to Padre Pio. She spoke with him and comforted him. He developed a tender love for her and invoked her with the words, "Mamma mia." In a letter to Father Agostino, Padre Pio wrote that on that very morning his heavenly mother had lovingly accompanied him to the alter and that his heart had been filled with holy affection. "Poor little Mother, how much she loves he, " he wrote.
Padre Pio was chosen by God to teach and to remind the world of the redemptive value of Christian suffering. That is the divine purpose behind his mysterious, life-long illness, the long years of molestation by the devil, the tedious hours in the confessional and the 50 years of atrocious pain in his hands and feet, his side, shoulders, and head. God chose him to remind a world which had come to shudder at the very thought of pain and suffering that man is expected to share in the sufferings of Christ, after the manner of St. Paul: " In my own flesh I fill up what is lacking in the sufferings of Christ for the sake of His body, the Church" (Col. 1:24. See also II Cor. 4:10-11).
Continual prayer was vital to Padre Pio because of the continual crosses that he was called to carry. This began in his very early youth. When he was only six years old, he would leave home early in the morning to go to the mountain to pasture two sheep owned by the family. He went with another child of his age. Rather than play, as his friend wanted to do, he made little crosses with twigs of wood and planted them in the ground. The remainder of the time he spent reciting the rosary. The cross-in many forms- and the rosary. These would be the two most representative things of Padre Pio's life.
The rosary was part and parcel of Padre Pio's love for the mother of Jesus. He used this prayer to maintain and nourish his love of Mary. But he also used it as a most powerful intercessory aid for obtaining from God the help that he needed for himself and that he sought for others.
The saintly Capuchin's love of Mary and constant recourse to her through the rosary was based on the teaching and recommendations of the Church, for which he always had the greatest respect, also on his sense of faith, which was a gift of the Holy Spirit. His love for his heavenly mother and his confidence in the power of her intercession grew daily through what one priest has called, "the reality test"- the proof of experience.
As one would expect from someone so filled with the love of Mary and so convinced of the power of the rosary, Padre Pio recommended both to all who approached him and particularly to his "spiritual children" who sought his very special protection and help. He sent them all to the mother of Jesus and told them to say the rosary every day.
Padre Pio's example confirmed his words. He gave the example of private, personal use of the rosary, as well as public recitation of that prayer. Those who saw Padre Pio in what he called his free moments, as he walked from one place to another, will remember him holding the rosary to his breast and praying it as he walked. Father Eusebio of Castelpetroso, a Capuchin who was Padre Pio's constant companion for five years, once decoyed him into revealing that on a particular day he had said 60 rosaries of 15 decades. It must be remembered that Padre Pio slept at the most two or three hours a night, never continuously, and often he never slept at all. The precise number of rosaries he said each day, of course, is not the point. The point is that he prayed the rosary continually in his free moments.
It was one of Padre Pio's joys to officiate at the recitation of the rosary and Benediction of the Blessed Sacrament in the church. During the last years of his life when he could no longer officiate, he continued to attend faithfully, helped to the church by two brother Capuchins who supported him under each arm.
JESUS AND MARY Padre Pio is a man of our day. He died but a few years ago. Father Pellegrino, who spent the last two-and-a-half hours of Padre Pio's life in his room with him, says that the prayer "Jesus, Mary" was constantly on the lips of the dying stigmatist. These two words summarize his life.
As we study Padre Pio it becomes evident that the distinctive feature of his life was to recall to our modern world the redemptive value of suffering freely accepted and joined to that of Christ. A corollary lesson taught for our age by Padre Pio's life is in the Father's redemptive plan. The significance of this lesson is underscored by the fact that the American bishops, in November of 1973, and the pope, in February of 1974, have seen the need to issue major documents on Mary.
The vital link between Mary and Jesus can only be seen with the eyes of faith. Only the poor in spirit and the humble of heart like Padre Pio see it with any real clarity an act upon it with any consistency.
There was deep humility behind Padre Pio's constant praying of the rosary. He knew that the great gifts that men admired so much in him were entirely from God and did not make him any better than his fellow men. He was very conscious of the fact that as a man he was a sinner like everyone and needed help at every step of the way. "The anointing that comes from the Holy One" (1 John 2:20. See also 27), the deep teaching that the Holy Spirit alone can give, enlightened him, as it has all the saints, concerning the great power of intercession which God has freely decreed to confer on the mother of Jesus.
God teaches all of us through the lives of His faithful servants. These lives are beacons set on a mountain for all to see, that all may be guided by them. Many know Mary only with their minds. Padre Pio knew her with his heart. There is no doubt either that he gained this knowledge of the heart through the constant praying of the rosary. There is no doubt either that if he could speak to us at this very moment he would invite us to seek this same knowledge of the heart through the same simple means so dear to him, the rosary. back to top
Church's Position
Privacy Policy
Copyright Claim
© Works of Our Lady of Mount Carmel, Inc. All Rights Reserved.
Privacy Overview
Strictly Necessary Cookies
This website uses cookies so that we can provide you with the best user experience possible. Cookie information is stored in your browser and performs functions such as recognising you when you return to our website and helping our team to understand which sections of the website you find most interesting and useful.
Strictly Necessary Cookie should be enabled at all times so that we can save your preferences for cookie settings.
If you disable this cookie, we will not be able to save your preferences. This means that every time you visit this website you will need to enable or disable cookies again.
Saint Pio of Pietrelcina and Garabandal
Saint Pio of Pietrelcina is one of the most widely known saints of the XX Century. His mystical phenomena, the gift of reading of souls and the miracles he wrought moved thousands of people, not only to traverse Italy, but the whole world to find him. Padre Pio believed in the phenomena of Garabandal and corresponded by letter with the seers and personally met with one of them, Conchita González, in his convent of San Giovanni Rotondo. Several spiritual sons and daughters of Padre Pio have indicated that he spoke to them about Garabandal and invited them to learn what was occurring there, assuring them that it was true that the Virgin was appearing there to four girls. To delve further into this topic, we are providing you with an extract from the book entitled Garabandal, Message of Hope, the doctoral thesis of Father José Luis Saavedra, in which he addresses the special connection between Padre Pio and the phenomena of Garabandal. In March of 1962 a mysterious letter arrives in Garabandal. It is addressed to the four seers but unsigned. It mentions a supernatural communication received by the sender regarding Garabandal and is written in Italian and dated March 3, 1962. The sender's identity is soon discovered, giving rise to a close bond with the seers who will later on go to visit him. It was from St. Pio of Pietrelcina (1887-1968). Conchita opened the letter, and Félix López, a seminarian from Bilbao who was present, translated it for her. "Dear girls: At nine o'clock this morning, the Blessed Virgin told me to tell you: "Oh blessed girls of San Sebastián de Garabandal! I promise you I will be with you until the end of the times and you will be with me at the end of the world, and afterwards united with me in the glory of Paradise." I send you a copy of the holy Rosary of Fatima that the Virgin has ordered me to send to you. This Rosary has been dictated by the Blessed Virgin and must be propagated for the salvation of sinners and the preservation of humanity from the worst of the chastisements that the good God is threatening. I give you just one counsel: pray and encourage prayer, because the world is at the beginning of perdition. They don't believe in you or in your conversations with the Woman in White…They will believe when it is too late." The brief text of the letter contains several references to aspects of the apparitions: the closeness of the Virgin, the importance of prayer…but perhaps the most surprising is the almost literal reiterated response of Our Lady when the girls ask her for proof so that the people will believe. "They will believe," Our Lady always responded. "They will believe," the Capuchin now writes, "when it is too late." In February of 1975, in an interview for the magazine Needles, currently Garabandal Journal, Conchita talked about her reaction to this letter: "I was taken aback by what it said, and since it came unsigned, I kept it in my pocket until the next apparition. When our Blessed Mother appeared, I showed her the letter and asked her who it was from. Our Blessed Mother answered that it came from Padre Pio. I did not know at the time who Padre Pio was, and it did not occur to me to inquire further. After the apparition, we were discussing the letter. Then a seminarian who was there (Félix López) explained to me who Padre Pio was and where he lived. I wrote to him telling him that if he ever visited my country, I would very much like to see him. He answered me with a short letter that said: "Do you think I can climb in and out of chimneys?" At 12 years of age, I had no idea what a monastery could be." "Do you still keep those two letters?" "Yes." In February of 1966, Conchita traveled to Rome because Cardinal Ottaviani of the Congregation for the Doctrine of the Faith had invited her. The young woman set out with her mother Aniceta, Luis J. Luna (now the parish priest of Garabandal who had substituted Father Valentín the previous summer), and an illustrious lady, Cecilia of Borbón-Parma, a member of the Carlist royal family and "architect of the journey's eventual success." In this trip, one of the contacts of the small expedition was Dr. Enrico Medi, friend and personal doctor of Blessed [Saint] Paul VI. Medi suggested taking advantage of their trip to visit San Giovanni Rotondo and see Padre Pio. Conchita was overjoyed at this idea, since she vividly remembered the message that the Capuchin had transmitted to them on behalf of the Virgin: "I promise you that you will be united to me in the glory of Paradise." Conchita herself tells the story. "We arrived around nine o'clock at night and we were told that we could not see Padre Pio until the following morning at his 5:00a.m. mass. Before Mass, Father Luna and Professor Medi went to the sacristy. The professor told me afterwards what had happened there. He said that Father Luna had told Padre Pio that the Spanish Princess was there to see him (Cecilia de Borbón- Parma). Padre Pio then told Father Luna: "I don't feel well and won't be able to see her until later on today." Professor Medi then said: "There is another person who also wishes to see you. Conchita wishes to speak with you." Padre Pio then said: "Conchita from Garabandal? Come at eight o'clock this morning." Upon arrival, we were led to a small room, a cell with only a bed, a chair and a small table…I remember that I had the crucifix kissed by Our Lady and I told Padre Pio: "This is the cross kissed by the Blessed Virgin. Would you like to kiss it?" Padre Pio then took the cross of Christ and placed it on the palm of his left hand, over the stigmata. He then took my hand which he placed over the crucifix…He blessed my hand and the cross while he spoke to me. The young woman was sixteen years old, and between her excitement and nerves, she couldn´t recall what the saint of the stigmata had told her. Nevertheless, there are ample facts to demonstrate the benevolence and love with which the Capuchin viewed the phenomena of Garabandal, something that he will demonstrate on various occasions. In fact, there are several testimonies from individuals who have been sent to Garabandal by the stigmatized monk of Gargano. Among these is Joachim Boufflet, doctor and philosophy professor at the University of the Sorbonne in Paris and consultant to the Congregation for the Causes of Saints in Rome. On the afternoon of August 23, 1968, after having gone to confession with Padre Pio in the cloister of the convent of San Giovanni Rotondo, he spoke for a few minutes with him. At the end of the confession, Padre Pio told him: "Pray to the Madonna. Consecrate yourself to the Virgin of Mt. Carmel who appeared in Garabandal." Boufflet was confused, but Padre Pio insisted: "Consecrate yourself to the Virgin of Mt. Camel who appeared in Garabandal." Finally, the Frenchman asked him: "The apparitions of Garabandal? Then, are they true?" To which the Capuchin responded emphatically: "Of course they are true." By his effusive response, "of course they are true," Padre Pio demonstrated his appreciation for Garabandal. That is why he encouraged those whom he directed to approach the apparitions. Other saints have demonstrated their interest in the Garabandal phenomena. But the manner in which Padre Pio involved himself if quite unique. Conchita cites his name in her diary, indicating that according to Our Lady in an apparition, he will see the miracle from wherever he may be. That is why when the Capuchin monk died in 1968 Conchita was perplexed. Nevertheless, a month after the death of Padre Pio, on October 16, 1968, the young woman received a telegram from Lourdes. The telegram asked her to go there to receive a letter that Padre Pio had left for her. Two Frenchmen who were at Garabandal at the time, Father Alfred Combe and Bernard L'Huillier, offered to take Conchita and her mother to Lourdes. They left that very night. Father Bernardino Cennamo, OFM Cap was waiting for them there. Cennamo explained to the young lady that Father Pellegrino, a priest who took care of Padre Pio in his last years, had transcribed a note for her that had been dictated by the Saint. Father Cennamo acknowledged that he did not believe in Garabandal at the beginning, but shared with Conchita that when Padre Pio asked him to give her the veil that covered his face after his death, he changed his views. At Lourdes, on that day, "the veil and the letter were delivered to Conchita." But something else interested her more. And so she immediately asked Father Cennamo: "Why did the Virgin tell me that Padre Pio would see the miracle and he has died?" To which the Capuchin responded: "He saw the miracle before he died. He told me himself." That being so, then the saint of the stigmata has entered into a close circle of Garabandal protagonists who, just before their death, have seen the big announced miracle. It links Padre Pio to Garabandal in a much deeper way than having a spiritual interest in its message, having supernaturally seen the miracle, something not even the seers have experienced.
MESSAGES From OUR LADY Of GARABANDAL
"Yes, I saw them in ecstasy" Bishop del Val Gallo
Garabandal, Padre Pio, and other Saints
The Catholic Travel Guide
The Prophecies of Our Lady of Garabandal, Spain
First would come a world-wide warning:
Please enable JavaScript
An "illumination of conscience", that would allow everyone over the age of reason to see themselves as God sees them . This would apply to all people everywhere. It would be as if the earth stood still for a few moments–even planes in the sky.
It will be very short-lived as it will no doubt be a very intense experience for everyone. No one will necessarily die from it, but everyone will experience it.
This is an opportunity given to people to amend their ways and is a purification to prepare the world for the miracle that will follow.
Only one of the seers, Maria Loli, knew the exact date of the warning, but she died in 2009 and so far as we know she did not reveal it to anyone. Mari Loli did say that the Blessed Mother told her that the Warning and the Miracle are within the same year .
Events leading up to the world-wide warning prophesied in Garabandal:
There is no definite date given for the warning….at least none of which we are aware.  However, there are a few clues.  One of the girls said it would be during a Synod in the Church.  She had no idea what the word "Synod" meant…..she just repeated what the Blessed Mother had said.
Visionary Conchita Gonzalez said that prior to the warning, the pope would visit Moscow (editor's note:  not just Russia…specifically Moscow) and that, upon his return, "hostilities will break out in different parts of Europe."
Then, within the next 12 months, will come the Miracle:
In October of 1961, Our Lady promised, first to Conchita and then, later, to the rest of the girls, a Great Miracle. Conchita says that it will occur in March, April or May….. on a Thursday at 8:30 p.m. …. and it will last 15 minutes; however, a visible sign will remain in the pines until the end of time.
The sick present will be healed, sinners will convert, and non-believers will believe. Conchita knows the date of the Miracle and will announce it eight days beforehand.  Conchita said that the Miracle will coincide with , but not be connected to , a rare event in the Church (such as the proclamation of a Dogma). Conchita has said that this event has never before happened in her lifetime.
The Miracle will occur on the feast of a little-known martyr of the Eucharist according to what the villagers have said.
Others say it is on the feast of a Saint related to the Eucharist –so we are not sure what the correct version might be.  Some reports said a young martyr of the Eucharist …..our research has never found anyone who can substantiate that, so we assume that the age of the martyr was not revealed; however one possibility could be Saint Tarcisius, a young martyr of the Eucharist whose tomb is in Rome .
Conchita knows the date of the miracle but that is not for public knowledge .  She will announce the miracle 8 days in advance.Conchita emigrated to the U.S. where she got married and lives in New York City.  She is the mother of four children.
The sign will be able to be seen by the Pope, wherever he might be; it will be permanent; and will be proof that God does exist.
Concerning the date of the miracle, Conchita was given permission by Our Lady to announce the exact date of the miracle 8 days in advance.
Of the date for the miracle, the visionaries are quite specific. It will occur on a Thursday between the 7th and 17th of the month (but not to include either of these days) in either March, April or May .
After this , if people still do not repent, will come the Chastisement .
You must remember, however, that these were simple children at a time before cell phones and satellite TV, who had never even been out of the village and had almost no contact with anyone beyond their little hamlet.
It is worth mentioning that Padre Pio was a big believer in Garabandal, having had an apparition of the Blessed Mother in March of 1962 in which she told him about the girls and the apparitions…and the fact that the girls would be doubted.
Click here for our page on the fate of the Garabandal visionaries.
Click here for testimonies from the family members and neighbors of the visionaries……In Spanish…will open in a new window, this page will stay open.
⇐ Back to the story of the apparitions in Garabandal, Spain.
70 thoughts on "the prophecies of garabandal".
In my opinion by the great warning she is talking about COVID-19, because when all churches were closed down we were able to understand the state of our soul. That is our sacrifices are displeasing to God. As for the miracle in pines, we know that pines are symbolic of able to withstand numerous climates. I think it represents our lasting faith in the times of trials.
According to the Garabandal visionaries, the warning will be much more than simply closing down churches….as bad as that sound. For a few seconds, even planes flying in the sky will be in suspended animation….also, we will see our souls as God does….and that will apply to everyone whether they believe in God or not.
i think its some celestial object
Apophis 2029 (2004NM4), magnetosphere down shortly before pole shift. CME concurrent with warning. Miracle on feast of St Tarcius/ Dormition. Announcement during Dormition fast. Original thought was in spring because of flowers in bloom, but with change in weather (Beaufort Gyre), besides, if Blessed Virgin could have Castilian roses on Tepeyac hill, she could have superbloom in the pines.
Warning just before 2nd anniversary of start of war. 45 days of lent for people to repent. 5th Marian dogma will be her "crowning"/ miracle. 3 days of darkness after nukes. Heinrich event to knock off electricity. Apophis and concurrent "lavage"will be end of age. 40 years exodus/ hardship. Only youngest of age during chastisement will survive to see dawn of new spring and era of peace. Nuclear harm and sun's radiation to cause mutations to adapt to new atmosphere and when sufficient biosphere regenerates there will be similar to Cambrian explosion of new species.
I would hope that the Church come to a conclusion regarding the authenticity of the Aparitions at Garabandal long before the warning. These are scary times and the Satan has a very strong hand on this earth. And with the knowledge of Project Blue Beam, which can make it to appear as a miracle in the sky is already begun in the media.
It could well be October 2023, according to what it's known from the revelation of Garabandal. First the Sinodal meeting in Oct 2023, and then what the Bleesed Virgin Mary said about the 3 remaining Popes – Paul VI, JP 2 (She said she didn't count a Pope, JP1, that would die very soon) and then Benedict XVI, who hasn't still died – Francis would be the forth the moment Benedict dies.
Benedict XVI has passed. God rest his Soul.
I think April 10 2025 St. Michael de Sanctis – young saint associated with Eucharist. This date follows Oct 2024 conclusion of the synod where any likely Dogma announcement would follow thereafter
There is some confusion as to whether it will be a young person devoted to the Eucharist or a young martyr of the Eucharist. If it is the latter, then St. Michael de Sanctis was not a martyr, so he would not be the one. But, as I said, there is some confusion here. My thought is that we are not meant to know in advance, but to "stay awake" and look for the signs.
I think that she is talking about a Latter Day Saint as foretold by Saint Louis-Marie de Montfort. That is because of her description as the saint will be a little known martyr.
But he is not a martyr of the Eucharist. Maybe 2028, St Hermenegildo of Spain? Beheaded on April 13, 585 by his father's order
I think it's April 10 2025
Saint Michael de Sanctus. His feast day is celebrated on April 10th. In art and images he is usually depicted kneeling before an Altar where the Blessed Sacrament is exposed. The municipality of St. Michael de Sanctis, Quebec, Canada, is named in his honor. April 10 2025
In my opinion by the worldwide warning she is referring to COVID-19, because when all the churches were closed down we were able to see the state of our soul, and how pleasing are our sacrifices to God. And regarding the miracle, I think that the miracle is within. It is our faith in God despite the current crisis in the Church. She also told about a sign in pines, we know that pines are symbolic of able to withstand numerous climates. I think that by she is referring to our perseverance in Faith during persecutions.
I guess we won't really know when this event will take place? God only knows! I'm sure it will happen, I wish when it does happen, I could be there! ??
Even mother Mary said in one of the apparitions to the visionary that the church will not approve the apparitions as they will be so much confusion… I Pray our Lady of Mt Camel to give me that opportunity to live Cameroon my country and visit Garabandal and Fatima where our lady appeared… From my spiritual experiences, this apparitions took place for real… Even the sgigmatist, Padre Pio said they will believe when it is late…
But that's in October
The saint associated with the Eucharist could be young Saint Carlos Acuttis who was recently made a saint. He He prayed the Rosary every day from a young age; made his first Holy Communion a year early and then attended daily Mass thereafter; cared for the homeless each night; traveled regularly to Assisi; loved the saints; learned computers to design websites to spread his love of the Eucharist and Mary and to teach about angels. His feast day his 14th of October.
The only problem here is that Carlo Acutis is not a saint….he is a blessed, which is a step along the path to sainthood. A miracle due to his intercession would have to be approved and then the cause for his Canonization could proceed. Of course, that could happen before the miracle…we really don't know when that will be. If so, then he would certainly be a likely choice, although I believe that the saint was to be a young martyr of the Eucharist, but Carlo Acutis was not a martyr.
Check out our page on Carlo Acutis here .
My thoughts were immediately Saint Carlos Acuitis as well. His existence revolved around his love for the Holy Eucharist. Glory be to God. Holy Mary Mother of God pray for us sinners now and at the hour of our death. Amen
As we pointed out previously, Carlo Acutis is not a Saint….may happen one day but is not a Saint now.
What about St. Hermenegild????
He was a Visigoth in what is now Spain, young, and a Eucharistic martyr. Conchita said he is not of Spanish heritage but, technically, he lived well before the peninsula was unified as Spain. His feast day is April 13th. I think the miracle will occur on his feast day. April 13, 2034. It doesn't fall on a holy day that year.
he not a saint he is Blessed
Mis Hermanos y Hermanas el mensaje es para que nos preparemos desde ahora Jesús murio por nosotros y nuestra madre nos ama tanto que viene a advertirnos no nos hagamos los sordos y cumplamos sus mandatos
I truly beleive these apparitions.i remember watching a documentary about them as a child.May the whole world turn from sin,& be converted.May Jesus Have Mercy on our souls.God Bless Everyone.Amen
The Oct. 10 2021 Mass, which officially open the synodal process. The synod will be held October 2023. This may be the Church event that was talked about in Garabandal. That is interesting. It puts 2022 and 2023 in perspective.
I also saw Conchita on TV years ago in New York. She said "March, April, May, then said, "could be June". When does spring begin and end.
The miracle is due to occur at the same time as a joyful event in the Church…one that has never happened before in Conchita's lifetime. Not sure if the Synod quite qualifies as a "joyfull event"….maybe it does and maybe it does not.
No, it certainly does not. If you follow what this pope and his modernists cardinals and bishops are doing, you will see they are trying to destroy the Church.
I am not a disbeliever or believer in these apparitions. I look at at seers from the apparitions at Fatima Lucy who survived to lead an adult life was so inspired by the Blessed Virgin went on to a religious life. Saint Bernadette so inspired by seeing the blessed Virgin went on to a life also devoted to Jesus Christ. These children grew up moved married with little effects of seeing the Blessed Mother. Like the others in Medjugorje the seers went on to make a business out of the apparitions . This is why I hold back from fully believing. Seeing the Blessed Virgin would be the most holy experience and life changing. I don't believe such a devout honor would lead anyone to a normal life.
It could be argued that there is no higher calling than to be a wife and mother…and there was certainly no emphasis put on the children to enter the religious life. Insofar as profiting from the apparitions, I don't see any evidence to back up that theory, and in fact they endeavored to keep their lives private.
I dont know much about Garabandal but I failed to blv Medjogorie after hearing Ivan speak. I wasnt convinced grom what he was saying. I then heard he is living in Hollyhood I think and is martied to a model something I couldnt understand. I expressed the same sentiment, expectected it to be life changing like with Lucy and Bernadette. I dont think I will be able to lead a normal life after seeing our lady
Ivan does not live in Hollywood. He married the former Miss Massachusetts, Laureen Murphy, in 1994. They have four children and live in Boston for six months out of the year and then reside the other half the year in the parish of Medjugorje.
I don't think I would consider his life normal…very hard to retain privacy.
So you condemn 'normal' life? This is part of the problem. Conchita was told to marry. St Francis told one of his followers to marry. Jesus began His public ministry by turning water into wine at a wedding. And proclaiming a message without a commercial aspect is simply impossible.
Marriage is a very holy vocation. Mother Mary was married to Joseph. Sainthood is not just for people who are obedient to God via Religious life. People doing God's Will in any state of their life or their calling in life are or could be just as inspired by Mary.
Conchita has said in 2 video interviews that I have seen, "March April and May", and "April May and June" – So clearly March and June are excluded. It's either April or May. If some people think the miracle will be on holy Thursday it will be in April some people think that the model of the Eucharist is in May so then it would be May
May 13,2021 is a perfect fit. Then backtract 42 days for the Warning which will fall on Good Friday which also ties in perfectly for the event.
Its not this year. Some conditions are not yet in place. It will likely happen later this decade though.
I am more of the opinion that the warning will start on Ash Wednesday. Giving all of us all of Lent to prepare for the miracle
I am prepared. We are so close.
I think , it may be in 2038
What makes you think 2038?
I think Little Li, the Chinese martyr of the Eucharist from the Boxer Rebellion could be a good candidate. Give that China is a communist country and The Blessed Mother has always talked about the conversion of Communists. Also, the fact that she was only 10 years old and returned 32 days in a row (one for each year Her Son walked the Earth) to perform adoration and pick up each Eucharist knocked to the for and died after being shot and crawling to put the final Eucharist in her mouth. Thirdly, we know she made her Holy Communion in May (one of the months mentioned) but the exact date is not recorded (this happened thereafter) but God surely know the exact date. Finally, the soldier who killed her repented his actions after and said over her dead body, "if in every town there was such a little girl, no soldier would ever fight for the Communists!" This act of repentance is what Garabandal is about.
Hi Teresa, sorry for my ignorance but you mention Mary constantly talking about communism. This is new to me, could you give maybe 5 examples where Mary talks of communism. Thank you.
Hi Chris, Fatima- the children were instructed to have the 1917, Pope consecrate Russia to prevent her from spreading the errors of communism. Unfortunately, the Pope saw no need to do so as Russia was a Christian country. By the time the Pope recognized his error Russia was on the verge of going Communist and soon WW1 began and then communism spread to China and WW2. Wars that could have been avoided had the Pope heeded the message. Here are five reasons: Russia China N. Korea Cuba Vietnam And God forbid USA.
The consecration was not asked for until June of 1929. Pius XII did a consecration but was not universal one. John Paul also did a similar one. Sister Lucy said it was accepted but that is debated. Russia feigned a falling only to trick the world into getting money and now is threatening to start WWIII. Maybe the Great Warning will be this year and the Pope will be moved along with the Bishops to do the consecration.
Beautiful, thank you.
I have looked everywhere and cannot locate a feast day for this worthy candidate. Do you know her feast day?
I think it could possibly be the 8th of April 2021 or more likely 15th April 2021
Who do you think the little-known martyr of the Eucharist is?
St Imelda ?
Do you mean Blessed Imelda Lambertini ? Not a saint yet…but the prophecy only states "a little-known martyr of the Eucharist" although even that may mean someone with a great devotion to the Eucharist, and Blessed Imelda Lambertini was that for sure. The date certainly would fit.
Her feast day is May 13th.also the visionaries talked about letter "A". This thur. Is May 13th feast of Ascension & feast of Our Lady of Fatima. 3 events in 1 day
There is so much confusion, as far as I remember the letter "A" Had to do with what the warning was going to be that's why people think it was an astroid and had nothing to do with the day of the miracle. The letter "A" had nothing to do with the day of the miracle- I believe I read that in a book called the final hour from years and years ago decades ago. These things can be rechecked I just think people screw things up because there's so much
May 13th doesn't occur on a Thursday until 2038.
2021 is not possible. Conditions are not yet bad enough. Communism must first dominate and the church needs to be on the point of perishing. Later this decade is more likely. Also loli said the warning is in an even year.
It said it happen in a even year
I believe in Garabandal, it might not Happen in 2020, maybe in 2021?
I truly believe I Garabandal
Yes I do believe this very much & there is no dough in my mind that it the present state we are in Bcoz very thing has has come to a stop & ppl can't get into a church may be the miracle can happen on the 16th of April 2020 or14th of may 2020 just my thinking
Is conchita alive where is she we believe in this . Is this the days which we r facing the deadliest corona virus
Yes, she is still alive. To the best of our knowledge, she lives with her husband in New York City or possibly in a Fatima
She lives in Spain now. She moved a few years back.
No. She lives in new york still
Thanks Erik
Conchita lives in Ventura County, California as 2022
Leave a Comment Cancel reply
Privacy overview.
Electrostal History and Art Museum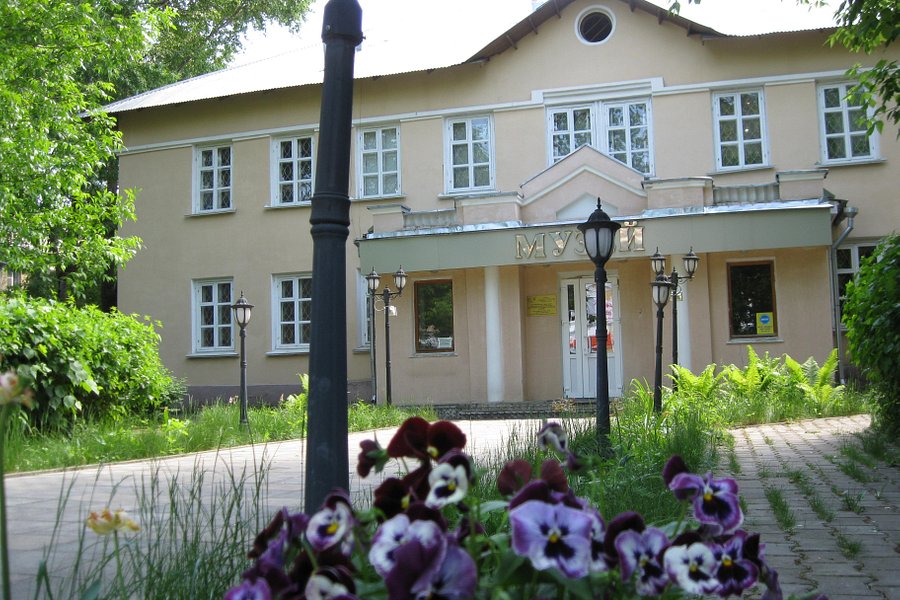 Electrostal History and Art Museum - All You Need to Know BEFORE You Go (with Photos)
(0.19 mi) Elektrostal Hotel
(1.21 mi) Yakor Hotel
(1.27 mi) Mini Hotel Banifatsiy
(1.18 mi) Elemash
(1.63 mi) Apelsin Hotel
(0.07 mi) Prima Bolshogo
(0.13 mi) Makecoffee
(0.25 mi) Amsterdam Moments
(0.25 mi) Pechka
(0.26 mi) Mazhor
Electrostal History and Art Museum Information
Moscow Metro Font
Moscow Metro is a multi-line display typeface inspired by the Moscow underground map. It comes in Regular and Color versions.
Moscow Metro is ideal for posters and headlines, neon signage and other artworks.
Designed by: Nadira Filatova Website
License: free for commercial use.