Interesting Literature
A summary and analysis of henrik ibsen's ghosts.
By Dr Oliver Tearle (Loughborough University)
Ghosts , perhaps Henrik Ibsen's most unremittingly bleak play, caused a scandal when it was first performed in 1882. It was memorably denounced as an 'open sewer' by one critic, for its frank exploration of sexual promiscuity and venereal disease.
Ghosts : summary
Ghosts has a very small cast of characters: just five, in fact. There's Mrs Helene Alving, a widow; her son, Osvald Alving, who is a painter; a pastor, named Manders; a carpenter, named Jakob Engstrand; and Regine, who is Mrs Alving's maid but also Engstrand's daughter.
Manders is managing the orphanage which Mrs Alving has set up in memory of her husband, who died ten years earlier. Meanwhile, Engstrand wants to set up his own establishment, a home for retired seamen, but it's hinted that it's really going to be a house of ill repute (in other words, a brothel). He wants Regine to come and work for him there.
We also learn that, years ago, Manders persuaded Mrs Alving to go back to her husband after Mr Alving was unfaithful to her. As a man of God, Manders played upon her moral responsibility to her son, whom she had abandoned when she walked out. Mrs Alving reveals that, among her husband's various infidelities, he had an affair with the servant girl. Meanwhile, Osvald, her son, is busy trying to seduce Regine, the maid.
However, Manders has discovered that Regine is not actually Engstrand's daughter at all: she's the illegitimate daughter of Mr Alving, who sired her when he had an affair with Johanna, a maid. Johanna then married Engstrand, who raised Regine as her own. This means that Osvald and Regine are related: Regine is Osvald's half-sister!
More secrets come out: we also learn that Mrs Alving was in love with Manders, after she left her husband. Osvald reveals to his mother that he has a debilitating illness which he believes is a punishment for his sins (such as lusting after Regine); Mrs Alving goes to tell him the truth – that he had inherited syphilis from his dissolute father – but before she can do so, Regine arrives with the news that the orphanage is on fire.
It turns out, the following day, that Manders was responsible for the fire, but started it by accident. Manders agrees to give Engstrand the money he needs for his establishment, if Engstrand agrees to take the public blame for starting the fire. Mrs Alving, desperate to exorcise the 'ghosts' of her family's past, tells her son the truth about his father, and Regine the truth about her father. Regine walks out, in pursuit of Manders.
Osvald tells his mother that his condition is fatal, eating away at his brain, and that if he should become incapacitated, he wants his mother to put him out of his misery with the morphine tablets he provides. The play ends with the sun coming up at the start of a new day, and Osvald in a chair, paralysed. Ibsen ends the play with Mrs Alving with the morphine pills, and refuses to show us whether she agrees to her son's wishes or not.
Ghosts : analysis
Ibsen once memory said that 'we sail with a corpse in the cargo'. In other words, we are all journeying through life carrying terrible secrets, the ghosts of our pasts. Perhaps nowhere is this more clear than in Ghosts itself, in which the sins of the father are very much visited upon the son.
The symbolism of the orphanage is key to an analysis of the themes of Ghosts . Orphan children are fatherless, of course, so it's ironic that Mrs Alving is setting up an orphanage to honour her dead husband, who fathered Regine and then failed to raise her himself. And, of course, his reckless pursuit of 'free love' leads to his contracting syphilis and then passing it on to his own son, who will die from it.
When the orphanage burns down, the lie that it represented is exposed, just as Mrs Alving finally tells Osvald and Regine the truth about their father.
The fact that Manders is the one who, by accident, burns down the orphanage is also significant. Ibsen had little love for organised religion and holy men, but he seems to be implying that this 'accident' can be interpreted as an act of God – something that's hinted at early on in the play, when Manders and Mrs Alving are discussing the insurance plans for the orphanage, and Manders tells her that insuring the building would show a lack of faith in the will of God, or Divine Providence.
Ibsen's plays often interlink in curious ways, with his next play building on his previous one. This is clear in Ghosts , where Mrs Alving, as critics have often remarked, is what Nora Helmer would have turned into if she had stayed at home with her husband, rather than striking out on her own and – famously – walking out on him and their children at the end of A Doll's House (1879), a play we have previously analysed here .
Ibsen wrote his plays to be read first, performed second. And he often talked of 'readers' as much as he did 'audiences'. By the time Ghosts was published in 1881, Ibsen was a famous figure in the world of European theatre, and his publisher printed 10,000 copies of Ghosts , hopeful that the play would sell well, especially in the run-up to Christmas. However, such as the opprobrium which the play attracted, that many copies of the play had to be remaindered.
It's easy to see why Ghosts caused such an uproar. Ibsen himself later told the King of Sweden that he had to write the play; elsewhere, he wrote that he knew the play would shock readers, and that if it didn't, he wouldn't have needed to write it in the first place. He knew he needed to give society a glimpse of itself in the mirror, what Oscar Wilde, a few years later, would call 'the nineteenth century dislike of realism [as] the rage of Caliban seeing his own face in a glass.'
At first, no European theatre would dare to stage Ghosts : it remained a play on the page rather than stage, largely unsold, and Ibsen's name was mud for a while because the play provoked such a strong negative response when it was published. Curiously, the first performance of the play was in Chicago, of all places.
When a London theatre (eventually) staged it, one critic called it 'an open sewer'. Ibsen, always quick to build on such constructive feedback, decided that his next play, An Enemy of the People , would be about just that: a man who finds out the water supply is polluted but nobody wants to listen to him and believe the ugly truth.
Share this:
Comments are closed.
Subscribe via Email
Enter your email address to subscribe to this site and receive notifications of new posts by email.
Email Address
Interesting Literature is a participant in the Amazon EU Associates Programme, an affiliate advertising programme designed to provide a means for sites to earn advertising fees by linking to Amazon.co.uk.
by Henrik Ibsen
Ghosts character list, mrs. helene alving.
Helene Alving is the wealthy widow of Chamberlain "Captain" Alving. She is about to open a memorial to her dead husband—an orphanage—and is pleased that their son, Osvald, is back from Paris. She considers herself to be forward-thinking and she reads many progressive books; however, when faced with complicated moral decisions, she still exhibits a more conservative perspective. She despises her late husband for his decadence and debauchery; she actually loved Pastor Manders once, but she agreed to do her duty in her marriage and try to keep Alving's reputation from the masses. She is forced to tell the truth about her husband when Osvald thinks his syphilis is his own fault when, in reality, it is inherited. At the end of the play, it is unclear if she will choose to assist her son in his death.
Pastor Manders
A local religious figure, Pastor Manders is concerned with his reputation and the morality of his parishioners. He does not approve of the supposedly immoral behavior of Osvald in Paris, nor of Mrs. Alving's progressive reading. He once loved Mrs. Alving, but he prides himself on his ability to turn her away and send her back to her husband. At the time of the play, he is helping her to conduct the business affairs of the orphanage, but he becomes privy to her confessions about how terrible Alving actually was and what the true relationship between Osvald and Regina is. At the end of the play, Engstrand rigs it so that it seems like Manders caused the fire at the orphanage; in order to preserve his reputation (and because he is so gullible), he falls for Engstrand's gesture to take the blame if Manders will support his plan for a seamen's home.
Osvald Alving
The son of Captain and Mrs. Alving—and, as it is revealed, Regina's half-brother. Osvald is a painter in Paris, where he delights in "the joy of life." However, he has been sick and cannot work, and, now back in Norway, he tells his mother that the doctor said he has been "worm-eaten" since birth. He decides that it was his own lifestyle that caused this, but eventually, Mrs. Alving tells him the truth about his father, whom he once saw as a paragon of perfection. Osvald does not want to live in a vegetative state and had planned to have Regina take care of him when the time came, but he turns to his mother at the end of the play to give him morphine tablets. As the sun comes up, Osvald's brain breaks and he begins to slip away. He is last seen muttering "the sun" over and over again.
Regina Engstrand
Mrs. Alving's maid. Regina is Jakob Engstrand's (adopted) daughter. She takes great pride in working for the Alvings. She has feelings for Osvald, though it may simply be that she is attracted to the family's wealth. As soon as she learns the truth about who she is—Captain Alving's biological daughter and thus Osvald's half-sister—she leaves the Alving household in disgust and annoyance.
Jakob Engstrand
An alcoholic carpenter who is skillful at manipulating others. He plans to open a brothel for seamen and wants Regina, his daughter (though technically not his daughter, as he married Regina's mother when she was already pregnant by Captain Alving) to come work there. He manipulates Pastor Manders by starting a fire at the orphanage and making it seem like it was the Pastor's fault, then offering to take that blame if the Pastor will help him out with the seamen's "home."
Captain Alving (unseen character)
Mrs. Alving's husband, who died ten years before the play starts. He was a debauched, dissolute, and selfish man who carried on torrid affairs with other women. He contracted syphilis and eventually died. Mrs. Alving had done a skillful job of preserving the secrets of his behavior, however, so when he died, he was viewed as a pillar of the community.

Ghosts Questions and Answers
The Question and Answer section for Ghosts is a great resource to ask questions, find answers, and discuss the novel.
What does Osvald thing about marriage? What did he inherit from his father in the drama "Ghost"?
Osvald believes marriage to be a sham... as most husbands he interacts with in the artisitic world are complete hypocrites. Osvald inherited syphilis from his father.
Comment on the representation of women in the drama Ghost by Ibsen.
Mrs. Alving, the female lead in the play, resists society in her own way. She tries to understand new ideas and orient those in her own way, yet she never wants to understand the truth. Her entire life is a disaster because she not only uses lies...
Significance of the title "Ghosts" by Ibsen?
In every Ibsenian drama, society is a dead institution and is no longer relevant to the quotidian. This is why the play has been entitled 'Ghosts'. It is the society, its dead customs, and its morals that act as ghosts, haunting and terrifying...
Study Guide for Ghosts
Ghosts study guide contains a biography of Henrik Ibsen, literature essays, quiz questions, major themes, characters, and a full summary and analysis.
About Ghosts
Ghosts Summary
Character List
Essays for Ghosts
Ghosts essays are academic essays for citation. These papers were written primarily by students and provide critical analysis of Ghosts.
The Role of Women in "A Doll's House" and "Ghosts"
Ibsen's Characters are Victims of Society's Expectations
Mrs. Alving's Monologue on Ghosts in Henrik Ibsen's play "Ghosts"
The Interference of the Past in "Ghosts"
Process of discovery in The Tempest and Ghosts
E-Text of Ghosts
Ghosts e-text contains the full text of Ghosts by Henrik Ibsen.
Wikipedia Entries for Ghosts
Introduction
Performance history

Join StageAgent today and unlock amazing theatre resources and opportunities.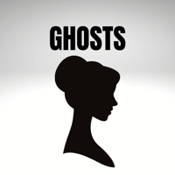 Writers: Henrik Ibsen Richard Eyre
Related Products
Useful Articles
Show Information
In Richard Eyre's Olivier-award-winning adaptation of Ibsen's groundbreaking masterpiece, long-held secrets are revealed, uncomfortable truths are faced, and a troubled family meets a cruel and unavoidable fate. On her estate in rural Norway, Helene Alving lives with the bitter memory of her cruel, philandering late husband. To escape the ghosts that plague her, she decides to tell her son, Oswald, the truth about his outwardly respectable father when Oswald returns home from Paris. However, Oswald has returned home with a secret of his own. After living as a painter in Paris, his health has deteriorated with the effects of long-term venereal disease and wretched Oswald holds himself accountable for his own fate. Aware of Regina's (Helen's maid) attachment for him, Oswald hatches a plan to marry her so that she can look after him as he gets progressively worse. However, Helene must reveal two uncomfortable truths that shatter Oswald's world. Not only is his syphilis inherited from his lecherous father, but Regina is his half-sister. With these secrets out in the open, Regina flees and Oswald quickly declines, begging his mother to end his life while she still can. Hard-hitting, emotionally gripping, and full of moral questions, Richard Eyre's production strips back Ibsen's work to it's most intense form
Editor's Note: Although it is written in 2 acts, this new adaptation was originally performed in 1 act of 90 minutes, without an interval.
Lead Characters
Helene alving, ghosts - play, oswald alving, pastor manders.
View All Characters in Ghosts
Guide written by
Alexandra Appleton
Ghosts guide sections
Sign up today to unlock amazing theatre resources and opportunities.
Auditions & Jobs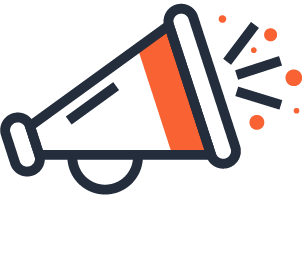 The History of The Mystery of Edwin Drood New York, NY
New York, NY
Toni Stone (Role of Toni Stone) - Submit for NYC New York, NY
Morning After Grace - Submit for NYC Appointments New York, NY
Half-Price Tickets
Jan 19 - Nov 9
Welcome To Greendale
Brooklyn, NY
Oops! This page is only accessible by StageAgent Pro members.
Take your performing arts career to the next level.
Gain full access to show guides, character breakdowns, auditions, monologues and more!
or log in to your account
You need a Pro account to access this feature.
UPGRADE TO PRO
or or log in to your account
JavaScript seems to be disabled in your browser. For the best experience on our site, be sure to turn on Javascript in your browser.
More on Ghosts
Introduction see all, summary see all, themes see all.
Freedom and Confinement
Lies and Deceit
Respect and Reputation
Memory and the Past
Society and Class
Guilt and Blame
Characters See All
Mrs. alving, oswald alving, pastor manders, analysis see all.
What's Up With the Title?
What's Up With the Ending?
Tough-o-Meter
Writing Style
Symbolism, Imagery, Allegory
Booker's Seven Basic Plots Analysis
Plot Analysis
Three Act Plot Analysis
Quotes See All
Mrs. Alving is intelligent and curious. She's a middle-aged woman, and there's no sense of being...
Oswald has a lot in common with Henrik Ibsen, the author of Ghosts. Oswald is from Norway but...
Ghosts is a civil war of ideas, with Mrs. Alving as the contested territory. Oswald is fighting...
Regina represents two important forces in this play: upward mobility and sex. She uses the latter...
With his twisted foot on a wooden block, Engstrand is the cloven-hoofed devil character Ibsen...
Ghosts Characters Study Group
Ask questions, get answers, and discuss with others.
Tired of ads?
Join today and never see them again.
This is a premium product
Please Wait...
Ibsen Character Names
Listen to character names and terms from the plays of Henrik Ibsen.
The speakers are in students at the Liverpool Institute for Performing Arts. Part 1 of the Ibsen sound files has the spoken character names from Ghosts, A Doll's House, Enemy of the People, The Wild Duck , and  Hedda Gabler .
Part 2 has the spoken character names from Peer Gynt, Pillars of Society , and  John Gabriel Borkman .
THE FIRST AUDIO SAMPLE
Read by Ida Kolsto, an Oslo native who attended Romerike Folk High School and LIPA, graduating in 2001. Roles include La Braukman in The Conquest of the South Pole , Joanne in Company , Dorine in Tartuffe , Emily in Our Town , and others. At the time of this recording, she was studying for a postgraduate degree in film directing. Recorded by Lise Olsen.
GHOSTS (1881) Mrs. Alving Oswald Alving Pastor Manders Engstrand Regine Engstrand
A DOLL'S HOUSE (1897) Torvald Helmer Nora Dr. Rank Mrs. Linde Nils Krogstad Anne Marie Helen
AN ENEMY OF THE PEOPLE (1882) Dr. Thomas Stockmann Mrs. Stockmann Petra Eilif Morten Peter Stockmann Morten Kiil Hovstad Billing Horster Aslaksen
THE WILD DUCK (1884) Haakon Werle Gregers Werle Old Ekdal Hjalmar Ekdal Gine Ekdal Hedvig Mrs Sorby (Soerby) Relling Molvik Graberg Jensen
HEDDA GABLER (1880) Jorgen Tesman Hedda Tesman Miss Juliana Tesman Mrs.Elvsted Judge Brack Eilert Lovborg(Loevborg) Bertha
THE SECOND AUDIO SAMPLE
Read by Hakon Moe, who graduated from the Liverpool Institute for Performing Arts in 2001. Hakon studied at Romerike Folk High School before coming to the UK. Roles in the UK included the title role in Henry IV , Caliban in The Tempest , and Lopakhin in The Cherry Orchard . A keen instrumentalist, he MD's The Edinburgh Festival five-star production of Falsettoland , which also won the Cameron Mackintosh Award for Musical Theatre.
PEER GYNT (1867) Aase Peer Gynt Aslak Solveig Helga Ingrid Kari Anitra Gudbrand Glesne Rasmus Gynt Mads Moen
Places: Gjendin Lunde Heggstad Hallingskarv Galdhoepiggen Haarteig Dovre Valfjeld
THE PILLARS OF SOCIETY(1875-1877) Karsten Bernick Berrt Olaf Martha Johan Toennessen Lona Hessel Hilmar Toennessen Roerlund Rummel Vigeland Sandstad Dina Dorf Krap Aune Holt Lynge
JOHN GABRIEL BORKMAN (1896) John Gabriel Borkman Gunhild Borkman Erhart Borkman Ella Rentheim Fanny Wilton Wildhelm Foldal Frida Foldal Hinkels
SEARCH THE ARCHIVE
Idea is supported by.
SUPPORT IDEA
Please consider supporting this free research website by clicking here.
LIKE IDEA ON FACEBOOK
What's new.
Introducing another W. Australia subject October 13, 2023
Welcome 5 Australians and new editor October 5, 2023
South Central L.A. joins IDEA August 31, 2023
Welcome a new Tennessee subject August 28, 2023
Introducing two new American subjects August 25, 2023
SHARE ON SOCIAL MEDIA
Copyright © 2023 · All Rights Reserved · IDEA: International Dialects of English Archive
Magazine Theme v4 by Organic Themes · WordPress Hosting · RSS Feed · Log in
book summaries and study materials
Character List
Mrs. Helen Alving Widow of Captain Alving, late Chamberlain to the King. [Note: Chamberlain (Kammerherre) is the only title of honor now existing in Norway. It is a distinction conferred by the King on men of wealth and position, and is not hereditary.]
Oswald Alving Her son, a painter.
Pastor Manders An overly pious and condescending "friend" of Mrs. Alving.
Jacob Engstrand A carpenter.
Regina Engstrand Mrs. Alving's maid.
Need Help With Essay Writing?
For Only $13.90/page
Hi! I'm Stephanie
Would you like to get such a paper? How about receiving a customized one?
Henrik Ibsen
Everything you need for every book you read..
Welcome to the LitCharts study guide on Henrik Ibsen's Ghosts . Created by the original team behind SparkNotes, LitCharts are the world's best literature guides.
Ghosts: Introduction
Ghosts: plot summary, ghosts: detailed summary & analysis, ghosts: themes, ghosts: quotes, ghosts: characters, ghosts: symbols, ghosts: theme wheel, brief biography of henrik ibsen.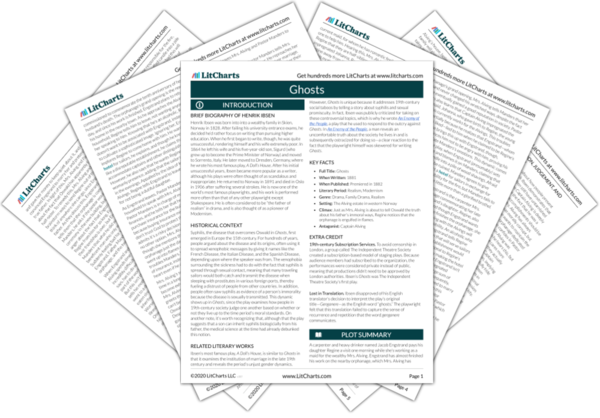 Historical Context of Ghosts
Other books related to ghosts.
Full Title: Ghosts
When Written: 1881
When Published: Premiered in 1882
Literary Period: Realism, Modernism
Genre: Drama, Family Drama, Realism
Setting: The Alving estate in western Norway
Climax: Just as Mrs. Alving is about to tell Oswald the truth about his father's immoral ways, Regine notices that the orphanage is engulfed in flames.
Antagonist: Captain Alving
Extra Credit for Ghosts
19th-century Subscription Services. To avoid censorship in London, a group called The Independent Theatre Society created a subscription-based model of staging plays. Because audience members had subscribed to the organization, the performances were considered private instead of public, meaning that productions didn't need to be approved by London authorities. Ibsen's Ghosts was The Independent Theatre Society's first play.
Lost in Translation. Ibsen disapproved of his English translator's decision to interpret the play's original title— Genganere —as the English word "ghosts." The playwright felt that this translation failed to capture the sense of recurrence and repetition that the word genganere communicates.
My Preferences
My Reading List
Henrik Ibsen
Literature Notes
Play Summary
Character List
Summary and Analysis
Character Analysis
Pastor Manders
Mrs. Alving
Oswald Alving
Jacob Engstrand
Henrik Ibsen Biography
Critical Essays
Theme of Ghosts
Structure and Technique in Ghosts
Symbols in Ghosts
Cite this Literature Note
Mrs. Alving is building an orphanage as a memorial to her husband. This edifice is to be dedicated the next day, and her old friend Parson Manders has come to perform the ceremonies. In a private conversation, Mrs. Alving tells the Parson that her husband had been a complete degenerate, and she is using the rest of his money to build the orphanage so that she can leave only her money to her son Oswald, who has just arrived home from years and years abroad.
In a private talk with his mother, Oswald confesses that he has an incurable disease which the doctors think was inherited. Oswald, however, believes his father to have been a perfect man. Mrs. Alving, then, must confess that Mr. Alving had indeed been a degenerated man and that Oswald caught the disease from his father. Oswald knows that he is dying and wants to take the maid as his mistress so that the maid, Regina, will give him poison when he is next struck by the disease. Mrs. Alving then explains that Regina is in reality his half sister. This does not bother Oswald, but Regina refuses to stay. Oswald then tells his mother that she must administer the medicine when the next attack comes. As the play closes, Oswald begins to have his attack and his mother does not know whether to administer the poison or to endure the agony.
Next Character List
has been added to your
Reading List!
Removing #book# from your Reading List will also remove any bookmarked pages associated with this title.
Are you sure you want to remove #bookConfirmation# and any corresponding bookmarks?