The Catholic Travel Guide
Knock, Ireland: The Silent Apparition
About the apparitions at knock:.
Please enable JavaScript
On August 21, 1879 an event took place that would forever have a profound impact on the tiny and relatively unknown town of Knock, Ireland.
Around 7:00 p.m. one of the villagers was passing by the church and saw an unusually bright light nearby. When another villager joined her they gazed in amazement at what appeared to be statues on the side of the church. The night was dark and rainy and yet these images appeared with bright lights as plain as under the noon day sun.
Soon, 15 people stood in silence……gazing spellbound at the strange apparition that had appeared at the gable wall of their church. The apparition, consisted of three figures: The Blessed Virgin Mary, Saint Joseph, and Saint John the Evangelist.
The Blessed Virgin Mary was dressed in white robes and wore a golden crown.  She had her hands raised in prayer. On her right stood Saint Joseph and on her left, Saint John. Saint Joseph was described by witnesses as an old man with grey whiskers, with his head bent in the direction of The Blessed Virgin Mary.  Saint John was described as wearing a Mitre and holding a book in one hand, which the townspeople recognized easily as St. John the Evangelist.  His other hand seemed to be indicating an altar behind him on which a young lamb could be clearly seen. And behind the lamb was a cross.
Here was all of Christianity in a nutshell perhaps: The Virgin Mary, Saint Joseph, Saint John and most importantly the lamb….the symbol of Jesus Christ. It was assumed by the villagers, according to their testimonies, that the apparition was to bring them solace at a time when famine and oppression were felt throughout Ireland.
They watched for over two hours in the pouring rain.  Most of those who witnessed this apparition were adults, but the youngest of these was only 5 at the time. He had to be lifted up by his older cousin so that he could witness the apparition.  More about this 5-year old below. 
Although there was only one apparition, and it was silent, the meaning behind this appearance was so significant to the downtrodden people of Ireland  that Knock became Ireland's most famous and popular pilgrim destination.   It is interesting that after this the visionaries went about living ordinary lives, and attracting little attention.
Some 10 days after the apparition, the first miracle was recorded: a 12-year-old girl from nearby Claremorris, Delia Gordon, was cured from deafness and violent pains in her left ear.
Check out this Youtube video for a great rendition of the song "Our Lady of Knock, Queen of Ireland".
The Shrine at Knock:
In the 1970's a new church was built, which Pope John Paul II visited in 1979. It was during the centenary celebrations that the pope raised the church to the status of Basilica of Our Lady Queen of Ireland.
Shown here is Mass being celebrated in the chapel that encompasses one of the walls of the original church.
During the months of May through September there are candlelight processions each evening.
The Shrine at Knock draws almost two million people each year and many healings have been reported there.
The Feast of Our Lady of Knock is now celebrated in the Roman Calendar on August 17.   The reason it is not celebrated on the 21st is that the date is reserved for the Feast of Saint Pius X on the Roman Calendar.  In Knock, however, they celebrate on August 21st , the date of the apparition.
A note about one of the visionaries:  The youngest of those who saw the vision, John Curry, who was 5 at the time, is buried on the grounds of Saint Patrick's Old Cathedral in New York City's Little Italy area.   Here is an interesting story about him.
You can find a great selection of Knock devotionals in our online store .
Traveling to Knock:
Most group pilgrimages to Ireland include Knock, and of course if you are traveling independently, it is easy to fit that into your itinerary. It is a little under 3 hours driving time if you are leaving from Dublin.  There is bus service direct from Dublin. There is no direct train service although you can take a combination of train and bus from Dublin.  Knock has its own airport, with limited service from cities in the U.K. Italy, Croatia and other countries.   Here is the airport website.
Address: Main Street, Knock, Co. Mayo
GPS coordinates: 53° 47′ 31.6320" N, 8° 55′ 1.7436" W
Tel:    +353 (0) 94 93 88100     Fax: +353 (0) 94 9388295
email:       [email protected]
Click here for the official website for the Shrine of Knock.
Find restaurants, hotels, B&B's in Knock, compare prices, and read what other travelers have to say at TripAdvisor
Other apparitions of St. Joseph:
Although few apparitions of St. Joseph have been reported, he also appeared in Fatima, Portugal and Contignac, France .
⇐ Back to Catholic Shrines and places of interest in Ireland
2 thoughts on "knock, ireland: the silent apparition".
My wife and I visited the Knock Shrine about 6 years ago. We purchased a CD in the shop entitled Hymn Of The Apparition At Knock, Track 1 Vocal Patricia Bourke D'Souza, Track 2 Instrumental Marie Dunne. We just love this CD and have worn it out by playing it so much over the years. Where can I get another new one?
I am a member of the Hibernians in Glen Cove, new York and I wonder how can I get prayer cards or info cards on Our Lady of Knock to give out to my 60 members. This is a lovely story of her that I will share today after Mass with my sister's. Thank you
Leave a Comment Cancel reply
Privacy overview.
H.M. Magazine H.M. is a bi-monthly magazine published in English, Spanish and Italian. It includes articles on formation, liturgy, values, with lively interviews and impressive testimonies of faith.
The History of the Apparition of Our Lady of Knock
Spiritual life.
By Fr. Dominic Feehan, SHM
On August 21, 1879, at approximately 8 o'clock in the evening, fifteen people from the village of Knock in Coounty Mayo, Ireland, witnessed an apparition of Our Lady, St. Joseph, St. John the Evangelist, a Lamb and a cross on an altar at the gable wall of their Parish Church. The witnesses watched the apparition in the pouring rain for two hours, reciting the Rosary. Although they themselves were drenched, not a single drop of rain fell on the gable wall or vision.
There were fifteen official witnesses to the apparition, most of whom were from the village of Knock and surrounding areas, and ranged from the ages of 5 to 74. Each of the witnesses gave testimonies to a Commission of Enquiry in October 1879. The findings of the Commission were that the testimonies were both trustworthy and satisfactory.
Here is a combined account from those witnesses: "The entire back wall of the church was bathed in a brilliant light, which could be seen from quite a distance away. Everything was raised about two feet off the ground . There was an altar, on top of which stood a Lamb with a Cross. The altar and Lamb were surrounded by Angels, hovering above. Around them were golden stars or small brilliant lights, glittering like glass balls."
"To the left of the altar were the three figures: St. Joseph on the left, Our Lady in the middle, and St. John the Evangelist on the right. St Joseph's hair and beard were gray and he leaned in a respectful manner toward Mary. St. John was dressed in Mass vestments with a bishop's miter on his head, a book in his left hand, and his right hand raised in blessing. Our Lady was life-sized; the other two were smaller."
"The Virgin's eyes were raised toward heaven with hands outstretched. Mary was beautiful . She wore a white gown and sash. A veil flowed from the back of her head to her feet. On top of her head was a gold crown. Between the crown and the edge of the veil was a gold rose. Mary was almost iridescent."
Many miracles such as healing miracles have been documented at the Shrine . Miracles began as soon as ten days after the apparition. A young girl, Delia Gordon, had experienced deafness and pain in her left ear. While visiting the apparition site, her mother put a small piece of cement from the wall of the church into her ear. Afterward, during Mass, Delia experienced an excruciating pain in her ear, followed by a complete healing of her deafness and no further pain . This is just one case of over six hundred documented miracles, which took place over many years at Knock. It is further proof of the powerful miraculous intercession of Our Heavenly Mother.
Archdeacon Cavanagh was the parish priest of Knock at the time of the Apparition until his death in 1897. He was known to practice special devotion to Our Lady and he worked tirelessly to serve the ever-growing number of pilgrims. Some months before the Apparition, Archdeacon Cavanagh made known to his parishioners his plan to say one hundred Masses for the souls in purgatory which our Blessed Mother wished released. These Masses were completed shortly before the Apparition.
The Archdeacon's workload increased significantly following the Apparition. His number of daily Masses and confessions grew, and his correspondence increased greatly. He kept a diary of the cures and healing miracles that took place and gave regular talks. Archdeacon Cavanagh was widely known for his humility, gentleness and piety. He died a holy death on December 8, 1897.
Knock Shrine is located in County Mayo in the west of Ireland. It is the National Marian Shrine where over 1.5 million pilgrims visit each year. From the time of the apparitions, huge numbers of pilgrims from all walks of life have made their way to the Shrine in order to seek the heavenly assistance of Our Lady. Numerous cures and conversions have been and continue to be experienced by many pilgrims. It is a place of great peace where one can rest away from the busy affairs of life. The apparition of Knock is a powerful message of hope for all Christians. It invites us to reflect on the importance of the Eucharist, on living the message of the Gospel and on raising our eyes towards heaven in humble and confident prayer . Our Lady of Knock continues to give hope and healing to many pilgrims.
© HM Magazine Nº207 March-April 2019
Guard the Good Deposit
We are going to interrupt the series on the ten commandments in order to deal with something that is of critical interest today: the Deposit[…]
Sister Clare
Help With a Wandering Youth Group
Sister Azul: "I asked Sr. Clare to make sure that none of these young people would be lost."
Community in Heaven
The Home is a path to reach holiness under Our Blessed Mother's protection. Some of our brothers and sisters—Mamie, Sr. Clare, Fr. Henry and Sr. Ruth Maria—have already "finished the race." Want to get to know them?
Click here to find out how you can help the Home of the Mother best.
Here you can follow the Home's live broadcasts. Every Saturday we broadcast the Mass from Spain and every Sunday a formation meeting.
Examining Your Conscience and Confession (14/21)
Why can't I confess my sins to God directly? Teresa's conscience won't leave her in alone... She can't take it anymore and finally decides to[…]
Choose Language
We use cookies on our website. Some of them are essential for the operation of the site, while others help us to improve this site and the user experience (tracking cookies). You can decide for yourself whether you want to allow cookies or not. Please note that if you reject them, you may not be able to use all the functionalities of the site.
Winter Mass Times
Valid from monday, october 9th 2023, november altar list, for the deceased, faith renewal events, autumn winter programme.

Latest News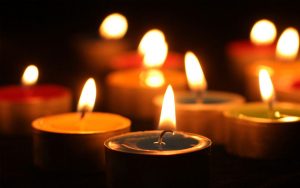 For the month of November, we are offering an opportunity to send a list of your deceased loved ones to us and a candle will ...
November Candles for the Deceased
Posted on: 09 October 2023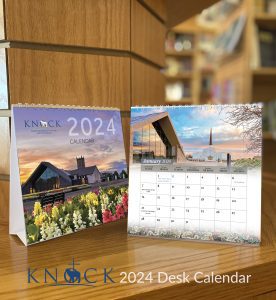 This beautiful desk calendar is a now available for 2024. The calendar includes important liturgical dates, Knock Shrine pilgrimage and Novena dates and bank holidays. Each ...
New - Desk Calendar 2024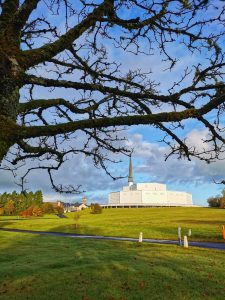 Winter Season Mass Times 2023/2024 Valid from Monday, October 9th 2023 Sunday Mass Times: 9.00am: Parish Church 10.30am: Parish Church 12 Noon: Knock Basilica 3.00pm: Knock Basilica Weekday Mass Times: 9.00am: Parish Church 12 Noon: Parish Church 3.00pm: Parish Church 7.30pm: Parish Church Confessions 10.30am to 4pm Daily
Winter Mass Times: Valid from Monday 9th October
Posted on: 06 October 2023
Stay up to date
Get the latest news from Knock Shrine direct to your Inbox
Re-live the amazing story of Knock Shrine
Learn more about the unique and compelling story of the Knock Apparition of 1879 and find out how a small village has grown to become  an international pilgrimage destination.
@knockshrine Gallery
Ireland's International Eucharistic and Marian Shrine, Knock, Claremorris, Co. Mayo, F12 Y226, Ireland
+353 (0) 94 938 8100
Mass Enrolments
Light a Candle
Place A Petition
Make A Donation
About Knock Shrine
Counselling Services
Frequently Asked Questions
Getting Here
Media Enquiries
Terms & Conditions
Sign up to receive latest Knock Shrine news and events
©2023 All rights reserved
Privacy Policy
Close this message