Search Search Please fill out this field.
Sweepstakes
2:22 A Ghost Story review: Constance Wu is haunted in eerie tale fit for a winter's night
The new Danny Robbins play offers thrills and chills — and some philosophizing.
Maureen Lee Lenker is a senior writer at Entertainment Weekly with over seven years of experience in the entertainment industry. An award-winning journalist, she's written for Turner Classic Movies, Ms. Magazine , The Hollywood Reporter , and more. She's worked at EW for six years covering film, TV, theater, music, and books. The author of EW's quarterly romance review column, "Hot Stuff," Maureen holds Master's degrees from both the University of Southern California and the University of Oxford. Her debut novel, It Happened One Fight , is now available. Follow her for all things related to classic Hollywood, musicals, the romance genre, and Bruce Springsteen.
What is a ghost really? A supernatural terror, a manifestation of our fear or our grief, something benign or far more sinister?
This is the question at the heart of 2:22 A Ghost Story, the spectral thriller now making its U.S. premiere at Center Theatre Group's Ahmanson Theater.
Jenny ( Constance Wu ) is being haunted — each night at 2:22 a.m., she hears what she believes is a ghost circling her baby's crib and crying. But when her husband, Sam ( Finn Wittrock ), returns home from a business trip and they welcome old friend Lauren ( Anna Camp ) and her contractor boyfriend Ben (Adam Rothenberg) for dinner, beliefs are challenged and old wounds are exposed.
Danny Robbins' script wants to both probe the very nature of haunting, and the cultural value of ghosts, while also delivering up some genuine scares in the process. Utterly rational Sam faces off against Jenny's certainty in what she's seen, as Sam tries to draw a drunken Lauren and spiritual Ben to his side in an evening that puts all of their faith (and their relationships) to the test.
The play itself perhaps wants to have its ghostly cake and eat it too. Is it a philosophical debate or a horror story? There's no reason it can't be both. Horror has long been a genre on which we project and probe some of life's greatest questions (and societal bugaboos). But the play never does seem to find the balance between those two aims, the pat-ness of its conclusion satisfying the horror narrative while slightly invalidating the provocative questions at its center.
This may be more a fault of Matthew Dunster's direction than Robbins' writing. While Wittrock and Rothenberg are grounded and believable as Sam and Ben, the women don't fare so kindly (one has to wonder if perhaps Dunster is just more adept at directing men). Both Wu and Camp come off a bit histrionic, as if their desire to play to the rafters (an admittedly difficult task in the Ahmanson) subsumes anything else. The result is that their performances carry a strong whiff of "acting" with a capital A.
Rothenberg — though the least recognizable name of the four as a Ozark season 4 series regular — is the show's ace in the hole. His blue-collar believer is at turns dryly funny, wearily indignant, and vociferously committed to the things he is certain are true. His expertly pitched Boston accent gives him a specificity of time and place that the other characters lack. Like near-ghosts themselves, the other three float through the action. Rothenberg is the only stolid presence here.
Wittrock does admirable, self-assured work as Sam, selling the smug non-believer act to a tee (though one does have to wonder what Jenny ever saw in him).
As the play ratchets up its terrors, Wu and Camp sink into their roles more decisively. If the first act notably feels like they're reciting a script, the second act gives them something to sink their teeth into. They both arrive at cataclysmic climaxes, and they carry those moments with a sense of shock and awe.
The show's design is deceptively effective, the cavernous set design of Anna Fleischle giving the characters a disturbingly cold and empty space in which to traffic. The design itself feels otherworldly, its gaping chasm between kitchen and living room unsettlingly off, but in a way that creeps into the audience's consciousness.
Above it all hovers a menacing red digital clock that counts down to the titular 2:22 with a perpetual dread. It's a brilliant hook, a blinking, ever-present reminder of the moment the characters and the audience are both waiting for with bated breath. It's never clear if the characters themselves can see the clock, making it an even more chilling presence, ticking away to a moment of truth.
So much of what makes an effective scare is dependent on sound — what we hear, what we don't, pregnant pauses, and things that go bump in the night. Ian Dickinson's sound design for Autograph is the stuff of true nightmares, a searing shriek that rends the proceedings, serving as a scene transition that makes audiences jump in their seats every damn time. The show's coyote howls are more cartoonish than hair-raising, but the nuanced use of diegetic sound helps sell the wide range of effects, from domestic to eerie, that dot the action.
2:22 A Ghost Story posits one explanation for hauntings — that of an experience akin to a Facebook memory, a reminder of an existence, a past that burns brighter in one's consciousness for the brief moment it is presented to you. It's a lovely notion, one far friendlier than the malicious intentions of a poltergeist.
But ultimately, 2:22 is less about what and why someone believes (there's a potent undercurrent here of gaslighting and the trenchant difficulties women face getting men to believe them) than it sets out to be. It's genuinely scary, a haunting piece of art in the literal sense. But the script is rife with plot holes and some persnickety pacing challenges (it'd probably be more effective as a 100 minute rollercoaster with no intermission). Its ending, while shocking and terrifying in equal measure, eliminates the purpose of much of its most intriguing philosophizing.
At its outset, the play is a frightening theatrical experience, but one that is also invested in metaphysical questions of belief and our need to project our fears, our loss, our loves, and our frustrations onto a spectral presence. But it ultimately pivots away from these larger questions of why we believe in ghosts and whether we should to satisfy a hunger for a conclusive explanation. It fails to recognize that the most haunting thing of all are life's questions for which there are no easy answers. B
Related content:
Almost Famous review: The Broadway musical misses a few notes
Topdog/Underdog review: Corey Hawkins and Yahya Abdul-Mateen II are at the top of their games
The Piano Lesson review: John David Washington makes electrifying Broadway debut in starry revival
By clicking "Accept All Cookies", you agree to the storing of cookies on your device to enhance site navigation, analyze site usage, and assist in our marketing efforts.
International edition
Australia edition
Europe edition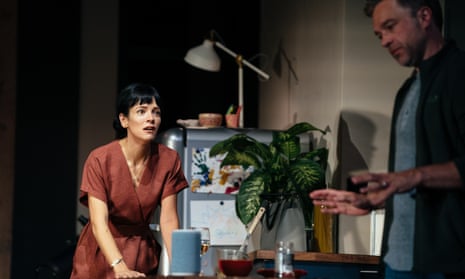 2:22: A Ghost Story review – Lily Allen gives you chills in slick, clever horror
Noël Coward theatre, London The pop star makes her West End debut in a contemporary haunted-house chiller that smartly plays with all the old tropes and leaves the room electric with fear
F ingernails dig into skin as we watch a neon red digital clock climb through the night. With a brilliant sense of mounting dread and just the right number of jump-scares, Danny Robins' new ghost story is a slick, chilling romp of a play.
Jenny ( Lily Allen ) is convinced the big new house she and her husband Sam (Hadley Fraser) have bought – a beautiful naturalistic set by Anna Fleischle – is haunted. Every night, she hears footsteps around her baby's room at exactly the same time: 2:22am. She insists the sound is real while Sam infuriatingly tries to explain it all away. When the pair throw a dinner party for Sam's old friend Lauren (Julia Chan) and her new man Ben (EastEnders' Jake Wood), the four of them decide to wait up to see who's right.
You wouldn't know this is Allen's first time acting in the West End. She is strong as the frantic, afraid and exhausted Jen, though the constant paranoia of her part leans towards feeling strained. Director Matthew Dunster has her constantly moving – tidying, cooking, pacing – though it's in her moments of stillness that the fear best finds its way in.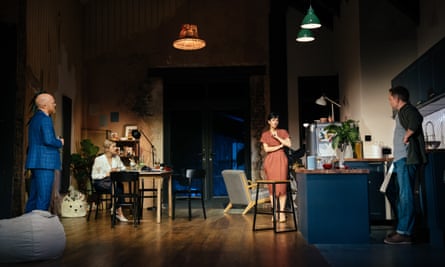 Together, the cast are gleaming. Fraser's Sam is so realistic it's hard to believe he's acting. Wood's part is written more broadly – Ben is primarily there to challenge Sam – but he revels in it, drawing out the humour and diving into the mysticism. Chan does a brilliant balancing act, shifting Lauren's loyalties throughout the night.
Robins' script is sharp, quick, and cleverly layered with clues. While his handling of horror is nothing new, it's done smartly, toying with the tropes. In one of the most chilling scenes, absolutely nothing happens yet the grand old room is electric with the fear of expectation. There's an overuse of deafening fox screams, and the arguments occasionally escalate into one-note yelling, but neither of these things do much to detract from the steadily growing tension. All the while, the red clock glares at us, ticking closer to 2:22.
This show is not scary enough to cause nightmares, nor is it gruesome or graphic or gory; it's more human than the creepiest horror movies. But there are genuinely chilling moments, scary enough that the whole theatre is tense and pin-drop quiet. Scary enough that sections of the play have a beat afterwards for the audience to catch their breath. Scary enough, perhaps, to have you turn on the light the next time you hear an unusual sound at night, just to check the time.
At the Noël Coward theatre, London , until 16 October.
Most viewed
Review: In the Ahmanson's '2:22 - A Ghost Story,' poltergeists are more believable than people
Show more sharing options
Copy Link URL Copied!
Horror seldom rears its ugly head at the better theaters. The genre is much more at home in the pitch dark of movie houses, where viewers can scream anonymously while comforting themselves with fistfuls of buttered popcorn.
But the stage is fully capable of terrifying an audience. (And no, I'm not talking about the recent deconstruction of "Oklahoma!" that upset so many Ahmanson subscribers.)
Centuries before "The Exorcist," Shakespeare was conjuring evil spirits in "Macbeth." Before "Night Must Fall" and "Wait Until Dark" had moviegoers on the edge of their seats, they were hit plays.
And the story is hardly dead and buried: Conor McPherson, a modern master of ghost dramas, has found poetic truth in inexplicable phenomena in plays such as "The Weir," "Shining City" and "The Seafarer."
"2:22 – A Ghost Story," which opened Friday at the Ahmanson Theatre, isn't just following in this tradition. The production, directed by Matthew Dunster, is trying to give sophisticated modern horror a run for its cinematic money.
Sound and lighting effects are engineered to fray nerves. The all-important dream home that becomes a living nightmare sprawls stylishly across the stage. A digital clock with devilish illumination counts down the minutes to the inevitable confrontation with the menacing unknown.
The U.S. premiere of "2:22 – A Ghost Story," which debuted in London's West End last year, seems determined to make theatrical fright nights fashionable again. The staging, as slickly modern as it is unapologetically sensationalistic, makes an appeal to a new and perhaps younger demographic — the kind of folks who might not think an Ahmanson outing is for them.
The show's obvious scare tactics can get a little campy, but laughter isn't incompatible with fear. Indeed, it may be a necessary safety valve.
The occasionally over-the-top staging isn't what ultimately holds the production back, though. The problem is the writing. The occult world is made to seem perfectly natural, but everyday reality sorely lacks credibility.
The script by Danny Robins, who created the popular podcast drama "The Battersea Poltergeist," strains the considerable talents of the American cast that has been assembled. It's a waste of acting resources to gather Constance Wu ("Crazy Rich Asians," "Fresh Off the Boat"), Finn Wittrock (Mike Nichols' Broadway revival of "Death of a Salesman," many Ryan Murphy endeavors) , Anna Camp ("True Blood" and the "Pitch Perfect" trilogy) and Adam Rothenberg (Mel Sattem on the final two seasons of Neflix's "Ozark") for a Center Theatre Group offering that is more surface than substance.
Entertainment & Arts
Review: 'To Kill a Mockingbird' arrives at the Hollywood Pantages with troubling timeliness
Aaron Sorkin's hit Broadway stage adaptation of Harper Lee's 'To Kill a Mockingbird' shapes the classic 1960 novel for a new era.
Oct. 28, 2022
The figures in the play — modern types whose identities are hastily compiled like errant Wikipedia entries — are portrayed with high television sheen. But they speak and act in ways that often don't compute. Psychological coherence takes a back seat to tricksy plotting.
The setting is a house undergoing renovation in a newly gentrified neighborhood in Boston. Jenny (Wu) is doing some last-minute paint touch-ups when we first encounter her. She has one ear cocked toward the baby monitor as the gurgling of a sleeping infant pipes through.
Time scrambles, and Jenny and Sam (Wittrock), her physics professor husband, are entertaining another couple. Lauren (Camp), who went to college with Sam, and her romantic partner Ben (Rothenberg), who grew up in the neighborhood before it became chic and has the thick Boston accent to prove it, have come to check out Jenny and Sam's new life and drink as much booze as characters in an Edward Albee play.
Jenny is noticeably short-tempered with Sam. She's angry that he didn't call to explain why he would be so late, but she's more upset that he left her alone in the house. Something happened the other night in the baby's room, at 2:22 a.m., that has convinced her that the house is haunted.
Sam gives no credence to the idea of ghosts. But his arrogant rationalism feels like a betrayal to Jenny, who resents living in a scary house she had reservations about from the start.
As glass after glass of wine is downed, supernatural tales are exchanged. Opinions on the subject are divided, but conflicts are inflamed by male egos, class resentments and simmering jealousies.
There's an obvious romantic backstory between Sam and Lauren, but neither character is convincingly drawn. Sam is writing "Astronomy for Idiots," but the science he trots out sounds like something from a prospective reader of the book. Lauren is ostensibly a mental health care professional, but her "professional psychiatric evaluation" of her friends calls for everyone to get hammered — a suitable laugh line for a character who acts more like an unstrung patient than a clinician.
Jenny and Sam share all the intimacy of tired commuters on a rush-hour train. Lauren and Ben have a spat that escalates so clumsily it's lucky that theatergoers don't have access to remote controls.
Human interaction shouldn't be the hardest thing to credit in a drama that has furniture moving on its own accord.
I'm working assiduously not to spoil any surprises, of which there are quite a few. Was I scared? Not particularly, but I was made jumpy by Ian Dickinson's tense soundscape (the baby monitor alone!) and Lucy Carter's unpredictable lighting, recreated here by Sean Gleason.
Anna Fleischle's scenic design succeeds in turning the house into one of the production's main characters. But the dimensions of the Ahmanson stage are so vast that it's as if cocktail banter were being traded across a canyon.
The ending is clever, but I rolled my eyes — partly in disbelief, partly in chronological confusion. The moments leading up to the final twist struck me as more persuasively original. But if I say another word I'll be haunted by scores of readers complaining that I spoiled the fun.
Where: Ahmanson Theatre, 135 N. Grand Ave., L.A. When: 8 p.m. Tuesdays through Fridays, 2 and 8 p.m. Saturdays, 1 and 6:30 p.m. Sundays. Ends Dec. 4. (Call for exceptions) Tickets: $40-$175 (subject to change)  Information: (213) 972-4400 or centertheatregroup.org Running time: 2 hours, including one intermission COVID protocol : Masks are strongly recommended.
It's a date
Get our L.A. Goes Out newsletter, with the week's best events, to help you explore and experience our city.
You may occasionally receive promotional content from the Los Angeles Times.

Charles McNulty is the theater critic of the Los Angeles Times. He received his doctorate in dramaturgy and dramatic criticism from the Yale School of Drama.
More From the Los Angeles Times
Phranc opens 'The Butch Closet' in Santa Monica. It's queer life meticulously documented in cardboard
Oct. 28, 2023
How the L.A. area creator of 'Otherworld' made the breakout podcast of paranormal encounters
Oct. 27, 2023
Robert Irwin, pioneer of Light and Space art who designed Getty's Central Garden, dies at 95
Oct. 25, 2023
Latino Life
Spanish-language radio icon María Elena Nava returns to KLVE and her loving listeners